July, 11, 2011
7/11/11
9:00
AM ET
No team in the Pac-12 wows you at defensive tackle. No team is a sure thing. There is a lot of "maybe" at the position. And probably some maybe not.
The uncertainty of quality -- both in terms of returning stars and depth -- made this a difficult position to rank. For example, Washington has a nice foursome at tackle, led by Alameda Ta'amu, who might be the best tackle in the conference.
That's great. Good for the Huskies. But they ranked 97th in the country in run defense last year. You sort of pause over that, you know?
So a lot of this ranking is feel thing, a projection of potential. And "great shape" here is relative to the conference. Nebraska, for example, wouldn't exchange its tackles -- Jared Crick and Baker Steinkuhler -- for any Pac-12 tandem.
Some of this figures to inspire a bit of debate.
Great shape
USC
: This may be in some part based on fumes from the Trojans reputation at the position. It definitely includes a vote of faith that they will get a 100 percent Christian Tupou back from the knee injury that killed his 2010 season. If so, the threesome of Tupou, George Uko and DaJohn Harris is strong. And if you toss in Armond Armstead -- who missed spring with an undisclosed medical condition that threatens his career -- you'd have a clear No. 1.
Washington
: Ta'amu seemed to find himself during the second half of last year, and the 330-pounder could end up getting some All-American consideration if he consistently plays like he did against Nebraska in the Holiday Bowl. Sione Potoa'e and Semisi Tokolahi are both experienced, and Lawrence Lagafuaina a space-grabbing, 344-pound redshirt freshman.
Colorado
: The Buffaloes are sneaky good here, even though they only ranked 48th in the nation in run defense in 2010. Both starters, Will Pericak and Curtis Cunningham, are back, but Conrad Obi was a revelation this spring. He looked like a future NFL draft choice, not a player who'd mostly been a bust. Nate Bonsu, who missed spring with a knee injury, also should help.
Good shape
Utah
: The Utes, who ranked 11th in the nation in run defense in 2010, lost Sealver Siliga, but they believe they have a budding star in, er, Star Lotulelei, while James Aiono, LT Tuipulotu and Joape Peta are solid. Also, Dave Kruger, who played end this spring, is 280 pounds and can play inside.
Arizona
: The loss of backup Willie Mobley to a knee injury hurts depth, but Justin Washington figures to take a step forward after an impressive true freshman season, Sione Tuihalamaka started four games in 2010. Depth is a question. The Wildcats ranked 33rd in the nation in run defense last fall.
Oregon
: On the one hand, Oregon lost both starting defensive tackles in Brandon Bair and Zac Clark from a unit that ranked 27th in the nation in run defense. On the other, they played so many guys last fall, the new starters are experienced players. Further, Ricky Heimuli, Taylor Hart, Wade Keliikipi, Isaac Remington and Jared Ebert played well enough this spring to suggest the position will be a strength in the fall.
Arizona State
: If Lawrence Guy didn't make his ill-fated decision to enter the NFL draft, the Sun Devils, who were 16th in the nation against the run last fall, would be in great shape here. As it was, Will Sutton had a great spring and looks like a potential All-Conference guy. Grinder Bo Moos is listed as the starter at the other tackle, though he could be eclipsed by Corey Adams. Toa Tuitea saw limited action last year.
UCLA
: The Bruins defensive line was terrible last year, ranking 108th in the nation against the run, but the talent is there for a significant turnaround. Cassius Marsh, Nate Chandler, Justin Edison, Donovan Carter and Seali'i Epenesa should do a much better job plugging the middle.
California
: Cal is actually fine here, despite the loss of NG Derrick Hill. For one, when you run a 3-4 defense, it's hard to rate your DTs, even if your DEs often operate like them. The Bears have two solid options at NG in Aaron Tipoti and Kendrick Payne, and it's also possible that touted 350-pound incoming freshman Viliami Moala will eclipse both of them.
We'll see
Oregon State
: Dominic Glover moves inside from end and Kevin Frahm has experience, but this unit didn't play well last year -- 89th in run defense -- even with one of the best DTs in the nation in Stephen Paea. 340-pound Castro Masaniai could help but he missed spring after shoulder surgery and has off-field issues. There's also Mana Tuivailala and Ben Motter.
Stanford
: Like Cal, Stanford runs a 3-4, so it naturally it is going to suffer a bit in DT rankings. More important: The loss of Sione Fua is significant. Terrence Stephens and Henry Anderson had solid springs but neither has much experience.
Washington State
: Brandon Rankin, a returning starter, was listed No. 2 on the depth chart behind Anthony Laurenzi after spring practices, with redshirt freshman Toni Pole No. 1 at the other tackle. Justin Clayton, Steven Hoffart and Xavier Cooper provide depth. It's not unreasonable for Cougars fans to expect improvement, perhaps significant improvement. But a team that ranked 115th in the nation in run defense the previous season is automatically a "We'll see" here.
October, 19, 2010
10/19/10
4:54
PM ET
By
ESPN.com staff
| ESPN.com
Oregon could be without
three defensive starters
against UCLA on Thursday after tackle
Zac Clark
(groin), end Terrell Turner (toe) and cornerback Anthony Gildon (ankle) didn't practice on Tuesday.
As Ken Goe pointed out in The Oregonian, a Tuesday practice this week is like a Thursday practice before a Saturday game.
Goe projects that "Wade Keliikipi will start in place of Clark, Dion Jordan in place of Turner and Cliff Harris in place in of Gildon."
While losing three starters is never good, the Ducks are deep on defense and play a lot of guys. All three of the backups are experienced and accomplished.
The Ducks also will be without backup running back
Kenjon Barner
, who suffered a head injury at Washington State on Oct. 9.
Here's a practice report from the
Eugene Register-Guard
.
October, 15, 2010
10/15/10
4:30
PM ET
By
ESPN.com staff
| ESPN.com
Oregon has the No. 1 offense in the nation in scoring and total yards. There are no questions about the Ducks offense. So when folks question the Ducks chances to contend for a national title, they focus on the Ducks defense. Which, by the way, is pretty darn salty, too.
The Ducks defense:
Has forced more turnovers (22) than any other team in the country (No. 2 has 18).

Is No. 2 in the nation in redzone defense.

Ranks sixth in the nation in passing efficiency defense

Ranks 15th in the nation on third downs, with opponents converting just more than 30 percent of the time.

Ranks 16th in tackles for a loss.

Ranks 20th in scoring defense (16.33 ppg).

The Ducks have allowed just 13 total points in the second half (12 quarters)
Sure, Oregon ranks a middling 45th in the nation in total defense (338.5 ypg), but that's mostly because the Ducks offense works so quickly that the defense sees a lot of opponent possessions. Opposing offenses have run 446 plays against the Ducks. No defense ranked in the top-75 has seen more.
[+] Enlarge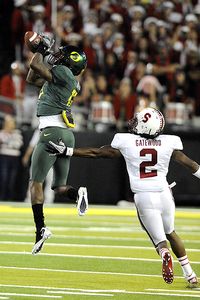 Steve Dykes/Getty ImagesStandout cornerback Cliff Harris has four interceptions for the Ducks this season.
The only defenses that have faced a comparable number of plays and rank ahead of the Ducks are Florida State at No. 28 (439 plays) and Auburn at 40th (423 plays).
Ergo: Coordinator Nick Aliotti and his troops are doing a pretty good job. He stopped by for a chat.
Give me your assessment of the defense so far: What are you guys doing well, and what are you unhappy with?
Nick Aliotti
: I continue to love the way our kids are running to the ball and flying around and finishing plays. I'm loving their effort. I'm loving the camaraderie. Just the way they're handling themselves. They are fun to go to work with. They care about the game and that makes it fun. I'm not unhappy with a lot of things. The thing I most unhappy with is we, collectively, give up too many plays that, with all due respect, sometimes our opponents don't earn. We just make a mistake here or a mistake there. If you were talking about tennis it would be an unforced error. I think we're smarter than that and should be beyond that. Coaches, you know, always want better. That's the thing I'm most unhappy with if I have to pick a thing I'm unhappy with.
It seems to us DT Brandon Bair is playing great for you guys. Am I correct on that and why such a breakthrough?
NA
: Brandon is a great worker first of all. It makes it easy to have a breakthrough when you have his kind of work habits. I think the biggest reason he's having this so-called breakthrough is just the way he works. He works hard all the time. I know it sounds like I'm saying the same thing over and over, but he works so so hard that he's going to have success.
Who else is playing well?
NA
:Linebacker Casey Matthews is, week-in and week-out, playing at a high-caliber. Most of the defensive line: [DT] Zac Clark and [DE] Kenny Rowe. They are playing very steady. In the secondary, we're playing so many guys back there. Obviously, cornerback Cliff Harris has had some great success making big plays. But he's also made some mistakes. Also [LB] Spencer Paysinger. So Matthews, Clark, Rowe, Bair and Paysinger -- they've all been very consistent.
Fans love CB Cliff Harris. He's made so many big plays. Why is he not a starter?
NA
: That's a tough question. I'll answer it the best I can. He's not a starter now because he needs to learn to go hard and do the things we ask him to do all the time. I think he'll get there. That comes across as negative and I don't really like that. But he's getting much closer to conforming to what we want. He's a really good kid and he really cares. He's getting closer to having a knowledge of what we want and conforming to what he needs to do.
The defense seems to assert itself in the second half: What's your secret to halftime adjustments?
NA
: I wish I had some great secret and could pat myself on the back and feel like, 'Wow, I'm really getting this thing done.' We do make adjustments, just like anyone else at halftime. But our greatest secret right now happens to be within the players. We play a lot of guys. And we play hard. And the fact that we practice so doggone hard, and we play a lot of guys, and I think we're in really good shape -- I think that lets us play harder for longer than our opponents. If I had to guess what our secret is, that would be the secret to our success. Now we don't go in there [the locker room at halftime] and twiddle our thumbs either, but as much as I'd like to say it's about this adjustment or that adjustment, the real secret is the kids being in shape. We're fresh and I think we wear people down.
How does this defense compared to the best defenses you've had?
NA
: I can answer that much better at the end of the season. I know you don't want an answer at the end of the season. I'll give you the best answer I can give right now. With a little bit more intelligence in the overall defense -- and part of that is our fault, because we need to impart that knowledge to them -- it could probably be a very, very good defense. One of the top ones I've ever had the opportunity to coach. But there's a lot of football left. We have to finish it. That's why I'm guarded to give them too much kudos at this time.
You've been around a long time [this is his 20th year with Oregon]. How do you feel about the Ducks being in the national championship race?
NA
: I think it's great. I think it's exciting. And it's nice to be mentioned in that light. But I really don't much attention to it, personally. Because like I said, there's a lot of football left. Until we get to something like the last game and we have a chance to do something like that, then I would feel better about discussing that then. But right now, there is so much football left to be played. We need to continue to take care of our own backyard. Continue to get better. I am proud we are mentioned in that light. I really am. But it doesn't mean a lot right now. How we finish this thing and end up at the end of the season, that's what matters. If that's what we're talking about then that would be fantastic.
August, 3, 2010
8/03/10
12:09
PM ET
By
ESPN.com staff
| ESPN.com
Defensive tackles clog the middle and collapse pockets. Dominant ones who demand attention from two blockers make life much easier for defensive coordinators, who suddenly see their linebackers running to the ball unmolested.
And it's typically not a strength position in the Pac-10. Coaches who have worked both down south and out west will tell you that one of the peculiar differences is how many more DTs there are in SEC and ACC country. (Quarterback goes the other way.)
[+] Enlarge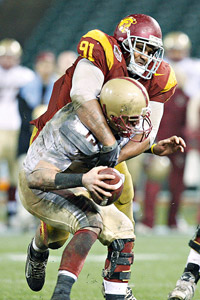 Tony Medina/SMICasey Jurrell had 54 tackles and four sacks in 2009.
In 2010, however, defensive tackle is solid in the conference. The three teams at the top of this list feature potential All-Americans at the position.
So how do things stack up?
Great shape
USC: The Trojans would rank among the nation's best at the position if not for the season-ending knee injury to Christian Tupou. Still, Jurrell Casey is a beast, Hebron Fangupo is huge and DaJohn Harris was one of the surprises of spring practices.

Oregon State: All-America candidate Stephen Paea is powerful and explosive and if he turns in a big season beating double-teams, he could end up a first-round NFL draft pick. Brennan Olander is a returning starter and converted end Kevin Frahm provides depth.

Arizona State: Both 2009 starters, Lawrence Guy and Saia Falahola, are back, and Corey Adams and Williams Sutton should provide quality depth.
Good shape
Oregon: Brandon Bair is underrated, and Zac Clark saw plenty of action as a backup in 2009. While inexperienced, there's young talent to provide depth.

Washington: The Huskies are solid with Cameron Elisara and Alameda Ta'amu, returning starters who turned in their best work this past spring.

California: Hard to rate teams that use a pure 3-4 because there's only a single nose tackle. Still, if Derrick Hill can stay healthy, he and Kendrick Payne will be an outstanding tandem making life tough for opposing centers.

Stanford: The Cardinal is breaking in its own 3-4 this year. Nose tackle Sione Fua is solid in the middle, with Terrence Stephens his backup. Stephens saw limited action as a true freshman in 2009.
We'll see
UCLA: The Bruins are replacing two starters, including the dominant Brian Price. David Carter, Justin Edison and Nate Chandler were solid in spring practices, so the position isn't a huge concern.

Arizona: The Wildcats are replacing two starters, including the underrated Earl Mitchell, a third-round NFL draft pick. After spring practices, Sione Tuihalamaka and Lolomana Mikaele topped the depth chart, which featured six names.

Washington State: Another position where the Cougars might be "better than you think," particularly if Bernard Wolfgramm can stay healthy. Touted JC transfer Brandon Rankin was impressive this spring, and true sophomore Anthony Laurenzi, a five-game starter in 2009, offers experienced depth.
April, 30, 2010
4/30/10
3:00
PM ET
By
ESPN.com staff
| ESPN.com
Part II of a Q&A with Oregon defensive coordinator Nick Aliotti.
Read Part I here
.
Let's take it through the three levels: How does the defensive line stack up? Obviously, we know about end Kenny Rowe and tackle Brandon Bair. Who steps in for end Will Tukuafu and tackle Blake Ferras?
NA
: It's a little bit too early to tell but I think that Zac Clark, in my mind, cemented himself as one of the top tackles, probably a starter at this point. And the combination of Dion Jordan and Terrell Turner will take Tukuafu's place. Who will end up starting there? It may be series by series. We'll just have to see what happens when we get back here in the fall. The D-line I feel very good about. I have no worries about where our D-line is, even though we lost some very good football players. I like what we've done. I like how we've progressed. We're on track to be as good as we were last year.
Heard a lot about Dion Jordan as just a pure physical specimen. Tell me what he's done transitioning from a tight end to a defensive end.
NA
: The guy is just relentless. He chases the ball. For a smaller guy -- in that he doesn't weigh a whole lot [listed at 223 though he's likely closer to 240] -- he knows how to use leverage and his body very well and can run like the wind. He can really, really move. He's going to be a surprise. A lot of people are going to say, 'Wow, where did this guy come from?' I think he's the surprise of spring camp. I'm very pleased with him. He's an excellent pass rusher. He's really doing more than I thought he'd do, physically, at the line of scrimmage. So that's exciting.
You guys seem wealthy at linebacker -- a lot of speed -- what's going on there? Spencer Paysinger and Casey Matthews are established guys, what about at strongside linebacker?
NA
: We're still going to have to figure that thing out, but it's not something I don't feel comfortable with. I like where we are there, too. What will happen is, when we get Josh Kaddu back, he and Boseko Lokombo and Bryson Littlejohn will fight that one out. But I feel good about those guys. You're catching me off of spring and not mid-way through the season, but I really like the way our defense played and practiced and I think we've got a chance to be pretty darn good.
I've read a couple of things about linebacker Michael Clay, too. Sounds like he'll see a lot of actions.
NA
: No question. Michael Clay will get a lot of action. He played a lot for us last year, too. That's no surprise really. He came in here not acting like a freshman. He came in acting like he's been doing this all along. He'll help us with a lot of valuable downs next year.
The secondary: You guys had a whole bunch of injuries last year, but it seems like that's going to pay off now because a lot of young guys got playing time.
NA
: Right. You know when I look at our defense, cutting to the chase, I think we are going to be just as talented on the D-line, if not more talented. We'll be faster. You never like to compare one team to the other, but I think we can be just as good and probably faster and obviously more experienced than what we were. The linebacker crew, with Kaddu and Bo at SAM, that gave us an opportunity to move Eddie Pleasant back into the secondary [from starting linebacker]. We'll be just as strong at linebacker, though [backup middle linebacker] Kiko Alonso will be out for the year after tearing his knee. That hurts the two-deep on the inside a little bit. That's a bad injury for us. But we should be just as good there. And with [safety] John Boyett playing a lot of downs last year and [safeties] Javes Lewis and Marvin Johnson all playing because of T.J. Ward going down early that should help. With Pleasant back there, I feel real good about the safeties. When we get a healthy [cornerback] Talmadge Jackson back, he's a guy who's played a lot of football for us, and then we're looking at Cliff Harris, Anthony Gildon, Scott Grady and Terrance Mitchell who are going to be the other corner. We have a chance to be as good if not better than we were last year.
March, 5, 2010
3/05/10
10:00
AM ET
By
ESPN.com staff
| ESPN.com
The fifth of a 10-part series that looks at where Pac-10 teams are strongest and weakest as they begin spring practices.

Oregon
Strong:
The backfield
Why it's a strength
: First, throw out all the off-field problems. Those will take care of themselves, and obviously negative conclusions for the Ducks would put a dent in this analysis. But as it stands, the Ducks are as good as any team in the nation with their quarterback-running back situation.
Jeremiah Masoli
is a potential Heisman Trophy candidate as a dual-threat quarterback in his third season as a starter, while
LaMichael James
became one of the premier home run threats in the nation as a redshirt freshman running back. Those two should be masterful next fall running the spread-option. Moreover, there's solid depth at the positions. Masoli's backups,
Nate Costa
and
Darron Thomas
, both have seen quality game action. Behind James is
Kenjon Barner
, a star of the Rose Bowl, not to mention a pair of outstanding incoming freshmen in
Lache Seastrunk
and
Dontae Williams
.
Weak
: The defensive line
Why it's a weakness
: While coach Chip Kelly is quick to reject the notion that this is a potential weakness, that doesn't change the fact that the Ducks lose only four position players from their 2009 starting lineup but two -- stalwart end Will Tukuafu and tackle Blake Ferras -- come from the D-line. They also lost backup tackle Simi Toeaina. End Kenny Rowe, one of the conference's best pass rushers, and steady tackle Brandon Bair return. Ends Terrell Turner and Taylor Hart and tackles Anthony Anderson, Zac Clark, Wade Keliikipi as well as 6-foot-7 JC transfer
Isaac Remington
are candidates to work themselves into a rotation that Kelly wants to run eight-deep. There's certainly potential to match or even eclipse last year's production up front, but the replacements still need to prove they are up to the task.
February, 19, 2010
2/19/10
11:38
AM ET
By
ESPN.com staff
| ESPN.com
Taking a look at what to watch for as teams head into spring practices, officially ringing the bell on preparations for the 2010 season.

Arizona
Spring practice starts:
March 5
Spring game
: April 10
What to watch
:
The new coordinators
: The Wildcats lost two outstanding coordinators -- Sonny Dykes on offense and Mark Stoops on defense -- and decided to replace them with four guys. Tim Kish, promoted from linebackers coach, and Greg Brown, hired away from Colorado, will run the defense, while Bill Bedenbaugh and Seth Littrell, both promoted from within, will run the offense, with an assist from new quarterbacks coach Frank Scelfo. These guys will need to develop a coaching rhythm this spring that will ensure things go smoothly in the fall.
The JC linebackers
: The Wildcats must replace three starting linebackers, and JC transfers Derek Earls and Paul Vassallo weren't brought in to watch. If they step into starting spots, then guys like sophomore Jake Fischer, redshirt freshman Trevor Erno and redshirt freshman Cordarius Golston can fight over the third spot and add depth.
Foles 2.0
: Quarterback
Nick Foles
was dynamic when he was on last year, but the shutout loss in the Holiday Bowl served as a reminder that he's not there yet. He's going to be surrounded by a lot of weapons at the skill positions, so he should be able to take another step forward this spring, even with the loss of Dykes.

Arizona State
Spring practice starts:
March 30
Spring game
: April 24
What to watch
:
The QB battle
: It's a wide-open battle between Michigan transfer
Steven Threet
and
Brock Osweiler
, though the new guy -- Threet -- is perhaps the most intriguing.
Samson Szakacsy
was supposed to join the battle, but his elbow problem is acting up again, coach Dennis Erickson said Thursday. The competition will be overseen by new offensive coordinator Noel Mazzone, who's been handed an offense that has sputtered the past two seasons.
O-line issues (take 3):
The Sun Devils' offensive line has struggled three years running, and it won't matter who starts at QB if the unit continues to get pushed around. First off is health. Will Matt Hustad, Zach Schlink, Garth Gerhart, Mike Marcisz and Adam Tello be ready to battle the entire spring? If so, there should be good competition here, particularly with a couple of JC transfers looking to break through.
The secondary
: The Sun Devils were very good against the pass last year, but three starters in the secondary need to be replaced. Both starting corners are gone -- though if Omar Bolden successfully returns from a knee injury he should step in on one side -- as well as strong safety Ryan McFoy. The good news is a number of guys saw action here last fall, so the rebuilt unit won't be completely green.

California
Spring practice starts:
March 6
Spring game:
N/A
What to watch
:
Embattled Riley
: When things go well, the quarterback often gets too much credit. When things go badly... well, you know. Senior
Kevin Riley
has started 22 games and has played well at times. But there's a reason he's in a quarterback competition for a third consecutive season. Will he be able to hold off a rising
Beau Sweeney
this spring?
Rebuilding the D
: The Bears had questions on defense even before coordinator Bob Gregory unexpectedly bolted for Boise State. Five starters need to be replaced, including mainstays like end Tyson Alualu and cornerback Syd'Quan Thompson, both first-team All-Pac-10 performers. And with Gregory gone, a new, likely more aggressive scheme now must be incorporated.
RB depth
:
Shane Vereen
is the obvious starter after the departure of
Jahvid Best
, but Cal has, during the Tedford years, always used two backs. So who's the No. 2? Sophomore
Covaughn DeBoskie
was third on the team with 211 yards rushing last year, while promising freshman
Dasarte Yarnway
redshirted. One or the other will look to create separation.

Oregon
Spring practice starts:
March 30
Spring game:
May 1
What to watch
:
The D-line:
The Ducks lost perennially underrated end Will Tukuafu, tackle Blake Ferras and backup Simi Toeaina up front. Considering the plan is to run an eight-deep rotation, there will be plenty of opportunities for players like ends Terrell Turner and Taylor Hart and tackles Anthony Anderson, Zac Clark, Wade Keliikipi as well as 6-foot-7 JC transfer Isaac Remington to work their way into the rotation.
The passing game
: The Ducks' passing game was inconsistent last year, though by season's end receiver
Jeff Maehl
was playing at a high level. Refining that part of the offense with quarterback
Jeremiah Masoli
would make the spread-option even more dangerous. The receiving corps is looking for playmakers, which means youngsters, such as redshirt freshman
Diante Jackson
, might break through.
Who steps in for Ed Dickson
? Oregon only loses one starter on offense, but tight end Ed Dickson is a big one.
David Paulson
was a capable backup last year, and mercurial
Malachi Lewis
may be ready to step up. Expect JC transfer Brandon Williams to work his way into the mix.

Oregon State
Spring practice starts:
March 29
Spring game:
May 1
What to watch:
Katz steps in
:
Sean Canfield
is off to the NFL, so the Beavers' biggest question this spring is crowning a new starting quarterback. Most observers feel the job is
Ryan Katz
's to lose, and the sophomore looks good throwing the rock around. Still, being a quarterback is about more than a good arm. If he falters, Virginia transfer
Peter Lalich
might offer an alternative.
Better defensive pressure
: The Beavers run a high-pressure defensive scheme, so when the stat sheet says they only recorded 17 sacks in 2009, which ranked ninth in the conference and was 22 fewer than in 2008, you know something is wrong. The entire defensive line is back, so the hope is a year of seasoning, particularly for ends Gabe Miller, Matt LaGrone and Kevin Frahm will mean better production this fall.
The O-line grows up
: The Beavers' offensive line returns four starters from a unit that got better as the year went on. Still, it yielded 29 sacks and the run game struggled at times --
Jacquizz Rodgers
often had to make yards on his own. Talented left tackle Michael Philipp, who did a solid job as a true freshman starter, should be much improved. A second year playing together with underrated senior center Alex Linnenkohl also should help.

Stanford
Spring practice starts:
March 1
Spring game:
April 17
What to watch:
Replacing Toby:
How do you replace
Toby Gerhart
and his 1,871 yards and 28 touchdowns? You do not. But the hope is sophomores
Tyler Gaffney
and
Stepfan Taylor
and senior
Jeremy Stewart
will provide a solid answer that keeps the Cardinal's power-running game churning. It helps to have four starters back from a good offensive line.
Rebuilding the D:
If you toss in linebacker Clinton Snyder and end Erik Lorig, Stanford must replace six defensive starters from a unit that ranked near the bottom of the conference in 2009. The secondary is a particular concern after giving up 23 touchdown passes and a 63 percent completion rate. The hope is good recruiting from coach Jim Harbaugh will provide better athleticism in the back-half. Another issue: There was huge coaching turnover, particularly on defense during the offseason, so new coordinator Vic Fangio & Co. will be implementing new schemes and learning about what sort of talent they have to work with.
Luck steps up
: This was Gerhart's team in 2009. Now it's Luck's. He might be the most talented QB in the conference. Heck, he might become a Heisman Trophy candidate before he's done. But life won't be as easy without defenses crowding the line of scrimmage because they are fretting about Gerhart. Luck will need to step up his game -- and leadership -- to meet the challenge.

UCLA
Spring practice starts:
April 1
Spring game:
April 24
What to watch:
Prince becomes king?
The fact that offensive coordinator Norm Chow has been such an advocate for sophomore quarterback
Kevin Prince
should tell you something: He's got the ability. Prince flashed some skills during an injury-plagued 2009 season, and it's important to remember he was a redshirt freshman playing with a questionable supporting cast, particularly the O-line. Prince needs to improve his decision-making, and the passing game needs to develop a big-play capability that stretches defenses.
Front seven rebuilding:
UCLA not only must replace six starters on defense, it must replace six guys everyone in the Pac-10 has heard of. And five of the lost starters come from the front seven, and the guys who were listed as backups on the 2009 depth chart won't necessarily inspire confidence. In other words, the Bruins will try to take a step forward in the conference with what figures to be an extremely green defense, particularly up front.
The running game?
Know what would help Prince and a young defense? A better running game. The Bruins were significantly better in 2009 than in 2008, but that merely means one of the worst rushing attacks in the nation moved up to ninth in the conference. There's a logjam of options at running back -- with a couple of dynamic runners in the incoming recruiting class -- and the offensive line welcomes back a wealth of experience. It would mean a lot if the Bruins could boost their rushing total to around 150 yards per game (from 114.6 in 2009).

USC
Spring practice starts:
TBA
Spring game:
TBA
What to watch:
Welcome, Lane Kiffin:
The Pete Carroll era is over. Enter Lane Kiffin & Co. In terms of scheme, things will be fairly consistent, seeing that Kiffin was formerly Carroll's offensive coordinator and Monte Kiffin was Carroll's defensive mentor. But there will be a period of adjustment. The guess is the hyper-intense Ed Orgeron might provide a bit of a shock to the D-linemen.
Matt Barkley Year 2:
Barkley won't have the president of his fan club -- Carroll -- around anymore. He's a true talent. Everyone knows that, even without Carroll's daily sonnets about his ability. But the numbers show he threw 14 interceptions in 12 games vs. 15 TD passes last year, so he's obviously not arrived. Kiffin runs the offense, so you can expect these two to work closely together. Barkley will have plenty of help on offense, but the talent won't be as good as it was in 2009, with six starters needing to be replaced, including his top two targets (receiver
Damian Williams
and tight end
Anthony McCoy
).
Secondary questions
: All four starters from the defensive backfield are gone, including center fielder Taylor Mays. It helps that cornerback Shareece Wright, an academic casualty in 2009, will be back. He was a projected starter last fall. There's plenty of talent on hand, but last year's team proved that the Trojans don't always just plug-and-play.

Washington
Spring practice starts:
March 30
Spring game:
April 30
What to watch:
Unleashing Locker:
The return of quarterback
Jake Locker
was the best news any Pac-10 team received this offseason. Locker's passing improved dramatically in just one year under coach Steve Sarkisian, so it's not unreasonable to expect him to be even better in 2010, particularly with nine starters back on offense and just about every skill player on the depth chart.
Replacing Te'o-Nesheim:
Daniel Te'o-Nesheim was a four-year starter who blossomed into an All-Pac-10 performer despite almost no supporting cast. He led the Huskies with 11 sacks in 2009, which was 8.5 more than any other player. Also, opposite end Darrion Jones is gone, and the cast at the position is extremely young. Who's the next pass-rushing threat?
The Butler did it:
Linebacker Donald Butler blossomed last year, earning second-team All-Pac-10 honors and leading the Huskies in tackles and tackles for loss (15.5). Toss in E.J. Savannah's failure to earn a sixth year of eligibility from the NCAA, and the Huskies have some questions at linebacker. Mason Foster is a sure thing at one outside position, and Cort Dennison likely will fill a second gap, but there's an opportunity for a young player to fill void No. 3.

Washington State
Spring practice starts:
March 25
Spring game:
April 24
What to watch:
Tuel time:
Coach Paul Wulff decided that freshman
Jeff Tuel
was the Cougars' quarterback of the future last year, so he opted to start him instead of going with a redshirt season. Tuel showed promise in six games, completing 59 percent of his passes with six touchdowns and five picks. Most of his supporting cast is back on offense, so the expectation is the Cougars' offense could take a significant step forward this fall.
O-line intrigue:
Some of the Cougars starting on the offensive line last fall didn't look like Pac-10 players. Injuries and youth made the line a glaring area of weakness, even with veteran Kenny Alfred at center. Alfred is gone, but the expectations are that last year's youth will be saltier after taking their knocks. Plus, a couple of juco additions should be in the mix for starting jobs.
Growing up:
There is hope in that 19 starters are back from a team that played a lot of underclassmen in 2009. That youth should mature in 2010. And solid recruiting classes the past two seasons should offer an infusion of young promise.
March, 10, 2009
3/10/09
3:39
PM ET
By
ESPN.com staff
| ESPN.com
Posted by ESPN.com's Ted Miller
The Pac-10 spring position reviews conclude with the defensive ends, the guys who get after the quarterback. Or are supposed to.
Even with four of the top five conference leaders in sacks gone, this is a fairly solid position across the board. The only team that raises a rebuilding red flag is Oregon State, which lost twin sackmasters Victor Butler and Slade Norris.
Of course, Washington and Washington State both produced only 16 sacks in 2008, tied for worst in the conference and among the fewest in the nation.
Great shape
California: Cal welcomes back underrated end Tyson Alualu, second-team All-Pac-10 in 2008, and rising star Cameron Jordan, a junior. They combined for 22 tackles for loss last year in the Bears' 3-4 defense. There's also solid, young depth behind them in sophomore Trevor Guyton and junior Keith Browner.
Arizona: Juniors Brooks Reed and Ricky Elmore combined for 15 sacks last year and both backups, D'Aundre Reed -- who started four games and had 2.5 sacks in 2008 -- and Apaiata Tuihalamaka are back.
Good shape
Arizona State: Dexter Davis had 11 sacks and 15 tackles for loss last season. James Brooks, Jamaar Jarrett, Jamarr Robinson and 25-year-old newcomer Dean DeLeone will battle it out to replace Luis Vasquez and provide depth.
Stanford: Tom Keiser had six sacks last year and earned freshman All-American honors while Erik Lorig has started 20 career games. Tom McAndrew provides experienced depth.
UCLA: Senior Korey Bosworth had 7.5 sacks and 11 tackles for loss in 2008, while junior Reginald Stokes started five of the final seven games last year. He will be challenged by sophomore Datone Jones.
Oregon: Sackmaster Nick Reed is gone, but that at least means Will Tukuafu might finally get some credit. He had 7.5 sacks and 17.5 tackles for loss last year. Competition will be hot to replace Reed, with juniors Brandon Bair, Zac Clark and Kenny Rowe in the running.
USC: Sure, both Kyle Moore and Clay Matthews are gone, but how many teams in the nation do you think would trade defensive ends with the Trojans? Everson Griffen, who had 4.5 sacks last year, is a true talent as a pass rusher, but he needs to be more consistent. Sophomore Malik Jackson and freshmen Wes Horton and Nick Perry each have huge upside.
Washington: The Huskies sneak in here mostly because of second-team All-Pac-10 end Daniel Te'o-Nesheim, a high-motor senior who had eight of the team's 16 sacks in 2008. Senior Darrion Jones returns at the other end and youngsters like Kalani Aldrich and Everrette Thompson showed flashes of promise.
We'll see
Oregon State: The Beavers also had to replace both starting defensive ends last season, but this year the backups don't arrive with 19.5 sacks split between them like Victor Butler and Slade Norris did. Sophomore Kevin Frahm and senior Ben Terry split two sacks between themselves in 2008.
Washington State: Matt Mullennix is gone, but Kevin Kooyman is back as is Andy Mattingly, but he might end up as an outside linebacker. But, really, the Cougars only had 16 sacks last year (in 13 games). Youngsters and newcomers will need to step up.
February, 26, 2009
2/26/09
10:00
AM ET
By
ESPN.com staff
| ESPN.com
Posted by ESPN.com's Ted Miller
Which Pac-10 newcomers might make a name for themselves this spring and put themselves into position to start or see significant action in 2009?
Let's take a look.
Arizona

QB Nick Foles & OT Phillip Garcia: Foles is a sophomore transfer from Michigan State who will compete with Matt Scott and Bryson Beirne to replace Willie Tuitama. Garcia was a JC transfer last January, but the 6-foot-7, 340 pounder hurt his knee and missed the season. He's in the mix at left tackle.
Arizona State

S Keelan Johnson, RB James Morrison, DE Dean DeLeone: Johnson, a redshirt freshman, is the sort of athlete who could end up playing both ways. Morrison was a true freshman walk-on destined to play last year before he broke his ankle. He's back this spring. The 25-year-old DeLeone, a JC transfer, is already drawing raves for his weight room work.
California
WR Marvin Jones & LB Mychal Kendricks: Jones was a touted true freshman last year but hurt his knee and never broke through. Kendricks had 16 tackles and a sack as a true freshman and is a frontrunner to fill one of the three vacancies at linebacker.
Oregon

DE Zac Clark & WR Lavasier Tuinei: Oregon has big-time needs on the D-line and at receiver, and these JC transfers will be given an opportunity to immediately ease those needs. Tuinei, at 6-foot-5, should give the Ducks receiving corps some size, while Clark will be eyeballing the vacancy left by Nick Reed.
Oregon State

WR Jordan Bishop & OT Colin Kelly: Receiver is a need area for the Beavers, and Bishop, a redshirt freshman, impressed on the scout team and during Sun Bowl practices. Kelly, a redshirt freshman, is in the mix on an offensive line that lost both starting tackles.
Stanford

QB Andrew Luck, OG David DeCastro, TE Konrad Reuland: Luck almost lost his redshirt last year while Tavita Pritchard struggled, and he'll have a good chance to win the starting job. DeCastro is presently No. 1 on the depth chart, while Reuland is a transfer from Notre Dame.
UCLA

QB Kevin Prince & TE Morrell Presley: Prince, a redshirt freshman, is the most likely candidate to unseat returning starter Kevin Craft. Presley, a true freshman, could make an immediate impact as a hybrid TE/WR.
USC

QB Matt Barkley, DE Nick Perry, RB Curtis McNeal: Barkley, the nation's No. 1 recruit in 2009, could jump over Mitch Mustain and Aaron Corp in the quarterback competition, while Perry, a redshirt freshman, is almost certain to be in the mix at end or perhaps outside linebacker. McNeal, a redshirt freshman, was a late arrival last year but made an impression with his explosiveness.
Washington

LB E.J. Savannah, C Mykenna Ikehara , WR Anthony Boyles: Savannah is not a newcomer -- he was the Huskies leading tackler in 2007 before finding his way into Tyrone Willingham's spacious doghouse and getting kick off the team. Pencil him in as a starter. Ikehara, a redshirt freshman, could replace Juan Garcia at center. Boyles, a redshirt freshman, was a touted recruit who didn't break through last year but is expected to be sharper this spring.

Washington State

DT Bernard Wolfgramm, CB Brandon Jones, RB James Montgomery: It's not unreasonable to go ahead and pencil in all three of these guys in as starters. Wolfgramm is a 2008 JC transfer who redshirted last year, while Jones and Montgomery both transferred from California.
February, 23, 2009
2/23/09
10:00
AM ET
By
ESPN.com staff
| ESPN.com
Posted by ESPN.com's Ted Miller
One of the charms of college football is the mostly predictable roster rotation. Young guys break through, become stars and then leave after their third, fourth or fifth year. Then a new cast tries to fill the void.
While there are numerous size 36 EEE shoes to fill -- figuratively speaking, of course -- in the Pac-10 this spring, we'll focus on five here.
| | |
| --- | --- |
| | |
| | Jeff Golden/Getty Images |
| | It's going to be tough for the Trojans to replace Rey Maualuga. |
And because quarterback competitions across the conference are so obvious, we're going to make this a "non-quarterback" category.
Also note that spring is a time for the experimentation. Coaches love to mix-and-match players, so there might be some surprises we didn't anticipate.
Big shoes: USC LB Rey Maualuga
Stepping in: Sophomore Chris Galippo
Out goes everybody's All-American Maualuga, in goes everybody's 2006 prep All-American Galippo, a sure tackler who packs a punch at 255 pounds. He had 12 tackles, two coming for a loss, and an interception last season. He saw action as a true freshman before suffering a herniated disk in his back, an injury that also limited him last season. He seemed healthy the second half of the season, but back injuries are tricky. That might be the biggest issue standing between Galippo and future stardom.
Big shoes: California C Alex Mack
Stepping in: Junior Richard Fisher or junior Chris Guarnero
Fisher is a former walk-on and a vegetarian. For real. He was listed as the backup behind Mack last season. Guarnero started the first three games at left guard before suffering a season-ending toe injury. He is expected back for spring ball. With a new offensive line coach, Steve Marshall, and lots of returning starting experience -- seven players have started at least one game -- there might be lots of experimenting up front this spring.
Big shoes: Oregon DE Nick Reed
Stepping in: Junior Brandon Bair, junior Kenny Rowe, JC transfer Zac Clark
Reed had 20 tackles for a loss and 13 sacks last year (29.5 for his career). His potential replacements had no sacks last season. Some Oregon fans took issue with my suggesting in our "What to watch this spring," that Bair was the frontrunner to replace Reed. I wrote that because Rowe was listed at 215 pounds on last year's depth chart and was almost exclusively a pass-rush specialist. Meanwhile, Clark is an unknown quantity as an incoming JC transfer. On the other hand, Bair is more in the mold of returning big end Will Tukuafu, so perhaps Rowe, who's listed at 230 pounds on the updated roster, and Clark will battle it out. Guessing this one is wide open, to be honest.
Big shoes: Arizona State FS Troy Nolan
Stepping in: Sophomore Clint Floyd leads a pack of possibilities
Nolan had 64 tackles and four interceptions playing center field for the Sun Devils' defense, and he'll be the toughest guy to replace for a unit that should be fairly salty next fall. Floyd will get first crack, but junior Max Tabach, redshirt freshman Keelan Johnson and senior Jarrell Holman could make a move.
Big shoes: Oregon State WR Sammie Stroughter (and WR Shane Morales)
Stepping in: Junior Darrell Catchings and redshirt freshman Jordan Bishop
Stroughter was the Pac-10's only 1,000-yard receiver last year. Morales added 743 yards, while this duo combined for 15 of the Beavers 25 touchdown receptions. Catchings caught only seven passes but was No. 2 on the depth chart. Bishop was impressive while redshirting, particularly during Sun Bowl practices. And slot receiver James Rodgers figures to see more balls downfield this fall after mostly being a fly-sweep specialist the past two seasons.