March, 12, 2014
3/12/14
12:00
PM ET
LOS ANGELES -- Through a crush of digital cameras and recorders, new USC head coach Steve Sarkisian was given the requisite initial questions following his first official practice as USC's head coach.
"What's it like being back?"
"How was the walk onto the practice field?"
"What's it like coaching some of the guys you recruited at Washington?"
Yada, yada, yada.
It didn't take long, however, for the queries to turn to the quarterbacks. Much like last season, anytime USC has a quarterback competition it's going to be in the national spotlight. For now, save the cards -- score, report or otherwise -- because to speculate on the quarterbacks after one practice barely scratches the surface of superficial. Particularly since, as Sarkisian noted, "we were practicing in our underwear."
[+] Enlarge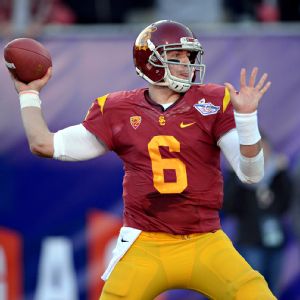 Kirby Lee/USA TODAY SportsCody Kessler led USC to 10 wins last season, but his status as starting quarterback is not guaranteed.
To be clear, the Trojans wore shorts and helmets. But the lingering question throughout spring and into the fall will be whether
Cody Kessler
will retain his starting job, or give way to
Max Browne
.
Neither quarterback seemed particularly thrilled to be talking about a competition on Day 1.
"I'm just trying to get better every practice," Kessler said. "I'm going to keep working. I've been competing my whole life. And even if (there wasn't a competition) I'd keep competing. It is what it is and I'm just going to keep trying to get better."
At first glance, the assumption is that Kessler has the inside edge given his experience. Last season he completed 236 of 361 passes for 2,968 yards with 20 touchdowns to seven interceptions. He posted a raw QBR of 59.7 with an adjusted QBR of 66.7 in guiding the Trojans to a 10-4 record and a victory in the Las Vegas Bowl, where he was named the game's MVP.
"I thought they both did some good stuff," Sarkisian said. "They both had some moments they'd love to have back. We have to look at the film. We're moving at a pretty fast clip out there, and you're trying to assess everything at once, and it's hard to do that. There's plenty of stuff for both of them to learn from."
Then again,
Max Wittek
had more experience than Kessler heading into spring last season. So as far as Browne is concerned, it's wide open.
"Since the day I got here we've all competed each and every day," said Browne, who redshirted last season. "My mindset hasn't changed. Even last year when it was a Week 7 game and I knew I was redshirting, I was still competing ... It's no secret he led us to 10 wins last year. We had a lot of success. But we're both going to come out and compete each and every day and see where the chips fall."
Max in the middle
Those in attendance for the open practice might have noticed big No. 75 playing center. You might recall that
Max Tuerk
spent about a week at center last spring but couldn't quite get the quarterback-center exchange figured out -- mostly because Tuerk's arms are so long.
But with
Marcus Martin
departing -- and the new scheme being installed by Sarkisian working almost exclusively out of the shotgun -- the versatile Tuerk could be the primary guy in the middle.
"We didn't snap any over the quarterback's head," Sarkisian said. "So knock on wood. And there were no grounders. That was the first thing I was concerned about coming out today."
Tuerk is obviously a fan of the shotgun. As a consummate team player, he's happy going wherever the team needs him, as he started 13 games at left guard and one game at right tackle last season. In his freshman season he started five at left tackle.
"He could probably play three different positions," Sarkisian said. "We have to see how we evolve. At some point we'll get
Aundrey Walker
back and
Zach Banner
and
Jordan Simmons
. We have some versatility on this front. But it is comforting to know you have an experienced player at center when you are operating at this pace."
Speaking of pace
The hot buzz word at practice was "tempo" because of the fast-paced offense that Sarkisian is installing. The Trojans ran approximately 120 offensive plays with little time to rest in between.
The upside is that the pace boosts conditioning and gets the Trojans more prepared for a game situation. The downside is it doesn't allow for much in-practice instruction.
"If you make a mistake, you're glad you're going right back," Browne said. "If you throw a touchdown, like I did today to
George Katrib
, you don't get to time to celebrate either. It works both ways. But it allows you to get into a rhythm. You can dink-and-dunk your way down the field and never really get time to breathe."
April, 3, 2012
4/03/12
3:30
PM ET
By
ESPN.com staff
| ESPN.com
Max Browne
(Sammamish, Wash./Skyline), one of the nation's top quarterback recruits, will announce his commitment Wednesday at 7 p.m. PT, according to
ESPN Recruiting
, which reports, "Browne has narrowed his choices to Alabama, Oklahoma, USC and Washington, although with recent visits to see the Sooners and Trojans, most think it will come down to those two programs."
So USC or Oklahoma for the 6-foot-5, 205 pounder?
Browne leaving for the Sooners would be a blow for the hometown Huskies, who are struggling to build the proverbial "wall" around their home state. During the 2011-12 recruiting season, most of the elite, local prospects crossed state lines to play football. The state featured five elite recruits: Offensive linemen Zach Banner and Josh Garnett, running back KeiVarae Russell, receiver Cedric Dozier and QB Jeff Lindquist. Only Lindquist signed with the Huskies.
Of course, the Huskies did much better in 2011 when they signed TE Austin Seferian-Jenkins, WR Kasen Williams, DT Danny Shelton
--
three players who, by the way, lived up to their recruiting hype as true freshmen.
Still, in order to return to the nation's elite, Washington must win most of the recruiting battles for in-state prospects most years. That's part of the reason coach Steve Sarkisian was willing to pay top dollar to lure ace recruiter Tosh Lupoi away from California.
While some prospects go in search of a warmer, sunnier climate, and there's little coaches can do to charm them out of that thinking, part of getting the Huskies back into the nation's top 25 is making elite recruits want to stay home. For every Jake Locker who decides to play for the Huskies, there are too many guys like Jonathan Stewart (Oregon), Stephen Schilling (Michigan), Taylor Mays (USC), David DeCastro (Stanford), Deandre Coleman (California) and Jake Heaps (BYU).
As for Browne, the situation at Washington would seem ideal for him.
Keith Price
would be a senior his redshirt freshman year, giving him a year to acclimate himself before fighting for the job in 2014.
From ESPN Recruiting: "Browne completed 70 percent of his passes for 4,034 yards and 45 touchdowns as a junior. He plans to enroll early at his school of choice and has a good shot to be recognized as the top quarterback in the class of 2013."
It will be a big loss for the Huskies if he opts to cross state lines.
January, 31, 2012
1/31/12
9:53
AM ET
Monday wasn't a Banner Day for Washington recruiting, but sometimes it takes a
Shaq to shelter a class
.
(I know. Sorry).

After offensive lineman
Zach Banner
(Lakewood, Wash./Lakes) picked USC over Washington, the Huskies shortly thereafter landed a commitment from perhaps the nation's No. 1 safety:
Shaq Thompson
(Sacramento, Calif./Grant).
Thompson was previously committed to California, so this could be termed the first flip from the Bears to the Huskies for former Cal assistant Tosh Lupoi.
It turns out, however, that the Huskies actually beat out Oregon for Thompson's services. From ESPN Recruiting's Greg Biggins:
Here's how close it was between Washington and Oregon. Last week, Thomson met with Arik Armstead and the two made a pact to play their college ball together. Oregon was the choice for both, and Thompson even went out and bought a Ducks hat and engraved his name in it.
Shortly afterwards, Thompson thought more about his decision and decided that Washington was a better fit. He let Armstead know and then took an unofficial visit over the weekend to Seattle to check out the Huskies one more time. Just one more look was all it took for the talented safety, and the Huskies landed what could arguably be their biggest recruit in years.
But, yes, Lupoi made a difference for the Huskies -- as well as new defensive coordinator Justin Wilcox:
"He was the one guy I was close with on the staff," Thompson said. "I knew he wouldn't be coaching me, but just knowing he was there was big for me. When he left, I immediately opened up my recruitment and decided to check out my options."
As big as Lupoi was, new Husky defensive coordinator Justin Wilcox might have played an even bigger role. Wilcox recruited Thompson's older brother Syd Thompson to Cal seven years ago, and the family was very comfortable with him.
The Huskies have
19 commitments
, and Thompson is the highest rated.
The Huskies will go up against Cal for a number of other recruits on Wednesday, national signing day. Will Lupoi make a difference again?
January, 30, 2012
1/30/12
6:08
PM ET
By
ESPN.com staff
| ESPN.com
Zach Banner
(Lakewood, Wash./Lakes)
announced his commitment
to USC over Washington and Oklahoma on Monday.
Banner will give the Trojans another elite prospect for a 2012 class that will be high on quality and low on numbers due to NCAA sanctions.
For Washington, it was another blow in a tough recruiting season. The Huskies have seen most of the best in-state prospects choose other programs, including offensive lineman
Joshua Garnett
(Puyallup, Wash./Puyallup), who picked Stanford, Keivarae Russell (Everett, Wash./Mariner), who picked Notre Dame, and
Cedric Dozier
(Lakewood, Wash./Lakes), who will pick between California and Washington State.
"The hardest part about this decision, and the thing that I was very nervous about, was letting down the hometown Husky fans," Banner told ESPN Recruiting's Greg Biggins. "They have been great with me and supported me like crazy over the last four years. I hope they can still be Zach Banner fans, because I need their support, and I've done my best not to make any enemies with anyone."
Meanwhile, USC and Stanford appear headed for a showdown on which program can sign the nation's best class of offensive linemen.
Banner is the fourth offensive line commitment for USC, joining
Chad Wheeler
(Santa Monica, Calif./Santa Monica),
Max Tuerk
(Rancho Santa Margarita, Calif./Santa Margarita) and
Jordan Simmons
(Encino, Calif./Crespi).
USC and Stanford are both finalists for highly rated offensive lineman Andrus Peat and Kyle Murphy.
October, 20, 2011
10/20/11
12:00
PM ET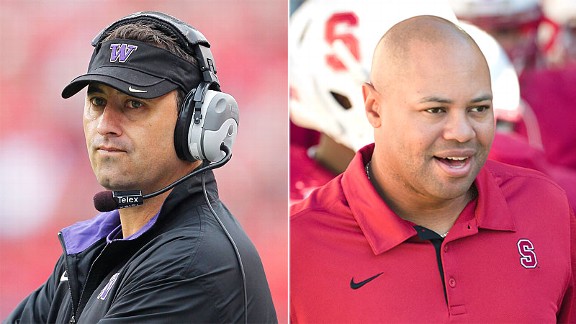 Getty ImagesWashington coach Steve Sarkisian, left, and Stanford's David Shaw both bring a physical brand of football into Saturday night's matchup.
Football folks often talk about a team being "physical." Or playing "physically." Yet those are general terms that don't tell us much, other than suggesting a team can run the ball and stop the run because it's solid up front.
You, of course, want specifics. What does it really mean?
"What's your deal?" That's what it means.
Harken back to the scene of beleaguered former USC coach Pete Carroll -- Carroll beleaguered! -- sharing an unhappy handshake in 2009 with former Stanford coach Jim Harbaugh, who had just aggressively run up the score on the Trojans in a 55-21 win. That was physical football writ loud and large and in your face with no apologies. The Cardinal rushed for 325 yards -- 178 yards and three touchdowns from Toby Gerhart -- and scored four fourth-quarter touchdowns. And on the third one, Harbaugh had opted to go for two.
"What's your deal?" Carroll asked Harbaugh.
His deal, Pete, was physical football, which is about a team mercilessly imposing its will at the expense of its opponent. New Stanford coach David Shaw was the Cardinal's offensive coordinator that day when USC's homecoming was ruined by its worst home loss since 1966, a beatdown that required only 144 passing yards from
Andrew Luck
.
Stanford is always called "physical" these days, and Shaw immediately cited the 2009 USC bludgeoning as his favorite example of that well-deserved reputation.
"It was 55 to whatever and we probably ran the same play 12 or 13 times in a row," he said. "And about 25-30 times in the game."
That play was Gerhart up the middle.
Washington also knows about Stanford playing physical football. The 25th-ranked Huskies visit No. 8 Stanford on Saturday with a 41-0 beatdown delivered in Seattle last year still fresh in their collective noggins. Stanford, which led 28-0 with 8 1/2 minutes left in the second quarter, outgained Washington 470 yards to 107, the lowest total for the Huskies under coach Steve Sarkisian.
"They just out-physicaled us," Washington linebacker Cort Dennison said. "Just beat us down. Plain and simple."
Harbaugh shared that take, gleefully gloating to his players afterward in the locker room, according to Bud Withers of
the Seattle Times
:
"Dominating!" Harbaugh hooted at his players. "We kicked their ass every which way! One hell of a job on both sides of the line! Dominant, dominant!"

Then Harbaugh referenced Pete Carroll, Lane Kiffin, Steve Sarkisian and the UW head coach's defensive coordinator, Nick Holt, and said, "What are you guys, 5-1, 6-1 against that group [in his four-year tenure]? That's the highest-paid coaching staff around!"
No one wants to hear that sort of talk from an opponent. But what could the Huskies say in return?
"You want to bring it to them, but they're bringing it to us," Dennison said. "It was hard."
Thing about that game, though, is the Huskies haven't been the same since. Sure, they got ripped the next week at Oregon, with some obscure quarterback named
Keith Price
recording his first career start for an injured Jake Locker. But they are 9-1 since the Oregon game, and clearly playing more physical football.
How did Stanford build a physical football team?
"It's really pretty simple," Shaw said. "You have really, really physical practices and the cream rises to the top. The guys who are physical and tough by nature, they stand out. And the guys that aren't, they start to wilt."
How did Washington take the same course?
"I think you have to practice it and you have to coach to it," Sarkisian said. "It has to be talked to and you have to give living examples of it. And you have to play the game that way, and I think you need to call the game that way. We've tried to dedicate ourselves to that."
And the Stanford game was a turning point, in large part because Sarkisian decided it would be, even if that didn't go over well with some of his players at the time. That included a fairly embarrassing film session showing guys getting pushed around. That included more hitting -- and yelling -- in practices.
"The coaches after that week definitely tested our will as a team," Dennison said. "But we didn't ever want to see that happen again. It was pretty embarrassing. We took it to heart."
It appears that is true. Stanford ranks third in the Pac-12 in rushing offense (181.7 yards per game). Washington ranks fourth (173.7 ypg). Stanford ranks first -- and second in the nation -- in run defense (59.5 ypg). Washington ranks third -- 17th in the nation -- (97 ypg).
Of course, being physical doesn't mean you don't throw the ball; these teams have combined for 40 touchdown passes -- it just means balance creates efficiency: Stanford is No. 1 and Washington No. 2 in the conference in passing efficiency.
Further, Washington isn't there yet. It's improved on both lines but it's not yet grading roads like the Stanford does. It starts in recruiting with an emphasis on linemen. Sarkisian surely looks enviously at the Cardinal's line, which includes guard David DeCastro, who is not only the nation's best run-blocker, but also a product of Bellevue (Wash.) High School, which is a short drive from Husky Stadium.
It just so happens that the two most talked about recruits in the state of Washington this year are a pair of offensive linemen:
Joshua Garnett
and
Zach Banner
. Both have offers from just about everyone, and Sarkisian needs to sign at least one. If he gets both, well, that would be quite a deal.
But that's the future. The present is the Huskies trying to win a "hello, world" game at Stanford, and the Cardinal trying to record a quality win that boosts its national-title contender Q-rating among those ranking teams in the national polls.
Both coaches will talk about turnovers and mistakes and execution and all of that. But the first question for the Huskies is if they can match Stanford's physical play.
Said Sarkisian: "They've done a nice job of that and they've dedicated themselves to being a physical football team. I think we have as well. We'll find out how far away we are on Saturday."
August, 24, 2011
8/24/11
7:45
PM ET
By
ESPN.com staff
| ESPN.com
Seventh in a series looking at potential dream and nightmare scenarios for all Pac-12 teams.
Understand: These are not predictions. They are extreme scenarios and pieces of fiction. You can read
last season's versions here
.
We're going in reverse order of my
post-spring power rankings
(which might not be identical to my preseason power rankings).

Up next
: Washington
Best case
It wasn't an impressive 2-0 start, but the hope among Huskies fans was that Washington had kept a lot of scheme under wraps during wins over Eastern Washington and Hawaii. Most believe the Huskies will need to open up a bag of tricks to put on a respectable show against a motivated Nebraska team in Lincoln.
"I'm not taking anything away from Washington," Cornhuskers All-American defensive tackle Jared Crick said. "They beat us in the Holiday Bowl. But we weren't there emotionally. That's out fault, though. We'll be 100 percent focused when in Memorial Stadium. We expect to make a statement."
On the Huskies first play of the game, they try a flea flicker.
Keith Price
just misses the a wide-open
Jermaine Kearse
, who'd slipped behind the Cornhuskers coverage.
On second down,
Chris Polk
rushes for four yards. On third down, Polk rushes for six yards. On first down, Polk rushes for six yards. On second down, Polk rushes for six yards. On first down, Polk rushes for eight yards. On second down, he rushes for two yards. On first down, he rushes for one yard. On second down, he rushes for 16 yards. On first down, he rushes for four yards. On second down, he rushes for four yards. On third down, he rushes for four yards.
On first down, Polk rushes ... no, it's play action: 19-yard touchdown strike from Price to true freshman
Kasen Williams
.
"That was a physically dominant showing that I don't think many saw coming," ESPN GameDay's Chris Fowler says of the Huskies 28-10 victory. "Polk rushing for 194 yards and two touchdowns. Price taking advantage with a couple of touchdown passes. And a bruising defensive showing on the road for a Pac-12 team."
"Did Alameda Ta'amu really eat
Taylor Martinez
?" Kirk Herbstreit replies. "I know that start out as just a silly rumor, but I'm hearing no one has seen Martinez since that third-quarter sack."
Martinez is later found safe in an airport bathroom in Lincoln.
The Huskies nip California 24-21 and rise to No. 12 in the rankings. But Price turns in his first poor performance at Utah in a 21-17 defeat, despite 140 yards and a touchdown from Polk. The Huskies bounce back with a home win over Colorado. Up next, a visit to No. 3 Stanford.
"Obviously,
Andrew Luck
is the leading Heisman Trophy candidate," says Fowler. "But what if Polk puts up a big number in a Huskies victory?"
Polk strikes an early blow, with first-half touchdown runs of seven and 28 yards, and the Huskies lead 14-10 at the break. Luck answers with two touchdowns in the third -- one running and one throwing -- and the score is knotted 24-24 with two minutes left in the game.
On a third-and-five from the Huskies 28, Luck scrambles away from pressure and finds tight end
Coby Fleener
wide-open in the endzone for a 31-24 lead. The Huskies have 40 seconds and one time out.
On third and 5 from the Washington 40, Price finds Polk on a hot route. Polk breaks a tackle and breaks away, sprinting all the way to the Stanford 17. Price lines up and spikes the ball.
There are eight seconds left. Price evades pressure, then shovels it again to Polk.
"Polk across the 10, to the five, breaks a tackle... dives... tttt... nooo," says Huskies play-by-play man Bob Rondeau. "He's ruled down inside the 1-yard line. Wow. The clock has expired. Unless the officials rule Polk got in, the game is over and Stanford wins."
Play stands.
"Chris Polk is the best player in college football," Luck says.
The Huskies take out their frustrations in a 35-20 win over Arizona, sacking
Nick Foles
five times. Up next, No. 1 Oregon.
"Yeah, I'm aware Oregon has won seven in a row against us, all by at least 20 points," Polk tells reporters. "I know this because Coach Sark has that factoid typed up and taped in all of our lockers."
Headline in the Eugene Register-Guard: "Will the Ducks overlook the Huskies?"
"We don't overlook anybody," Ducks coach Chip Kelly says. "We play a faceless opponent every week. Every game is a Super Bowl for us. We are not concerned with any outside influences. We have a vision for what this football program is supposed to be about and we prepare against that vision. We compete against that vision every Saturday and that's how we measure ourselves. Win the day."
Coach Steve Sarkisian gathers his team in the locker room. Above, Husky Stadium is throbbing.
"I don't need to tell you guys to play your hardest. I know you're going to do that. I don't need to tell you about this rivalry, or what that team over there has done against the Huskies for the past seven years. Sure you all know that. That's not what this is about. That's not why we're about to shock the nation. This is about us. What I want from you guys is to live in the moment tonight. I want you soak up every bit of joy from every moment of this game tonight. And I want you to take it from them. We have the players. We have the plan. We have prepared perfectly. It's going to be a lot of fun celebrating this victory, but our celebration won't be nearly as fun what will happen between the white lines, as we take this game from them, one play at a time. Go out there and take it, one play at time."
Oregon leads 28-24 with nine minutes left. A Jackson Rice punt rolls out of bounds on the Huskies 1-yard line.
On first down, Polk rushes for three yards. On second down, Polk rushes for eight yards. On first down, Polk rushes for four yards...
"Wow, this is tough to watch," Oregon play-by-play man Jerry Allen says. "16 plays, all Chris Polk runs. He's over 200 yards for the day, and the Huskies have first down on the Ducks 8-yard line with 40 seconds left."
Polk rushes for three yards. Polk rushes for two yards. Polk rushes for 2 yards. Polk scores the winning touchdown as time expires.
"Wow, Chris Polk just ripped the hearts out of Oregon fans everywhere!" says Allen.
The Huskies suffer a classic letdown the following weekend at USC, but roll over Oregon State and Washington State to finish the regular season 9-3 and earn a berth in the Alamo Bowl against Oklahoma State.
Polk finishes second to Luck in the Heisman vote, and wins the Doak Walker Award. The Huskies bury the Cowboys 38-20 and earn a final No. 10 ranking, their first top-25 ranking since 2001.
Oregon is blown out in the national title game by Alabama. Kelly bolts for the Oakland Raiders. The Ducks hire Joe Avezzano to replace him.
Polk opts to return for his senior season. Washington signs the nation's No. 5 recruiting class.
"Gee, I really like this team," says Bill Gates. "Is there anything I can do to help?"
"Maybe," replies athletic director Scott Woodward.
Worst case
And in the rubber match, Nebraska was plenty motivated.
The Cornhuskers humble Washington 41-10, making Price's day a miserable one with five sacks. It doesn't help that Polk's status remains unclear after arthroscopic knee surgery during preseason camp.
"Things aren't going as fast as we would like," coach Steve Sarkisian says. "He could sure help us but we're not going to rush him back."
The Huskies fall at home to California 21-17, again without Polk, and drop to 2-2 on the year. They lose at Utah in overtime but, with Polk back in the lineup, beat Colorado 27-24.
Things get ugly -- again -- at Stanford, which blasts the Huskies 42-17. The Huskies even their record at 4-4 with a win over Arizona. Up next: No. 1 Oregon.
"Did Chip Kelly run up the score?" a reporter asks after the Ducks whip the Huskies 55-14 in Husky Stadium, their eighth victory in a row in the series, each by at least 20 points.
Sarkisian pauses, "Well, it's our job to stop them. And I guess he thought getting
LaMichael James
rushing for 300 yards would help his Heisman Trophy chances."
With Polk limited to just 10 carries, USC whips Washington 33-20, intercepting Price three times. Polk sits out, and the Huskies bow out at Oregon State, 28-17.
"No, beating Washington State won't make up for a tough season for us," Sarkisian said. "But there's always a lot to play for in rivalry games. And they're trying to get bowl eligible, so we can ruin their season."
With five seconds left, Cougars quarterback
Jeff Tuel
takes on knee on the Huskies 5-yard line instead of added to a 35-24 victory. Huskies fans at CenturyLink Field bombard the Cougars with bottles and sundry trash as they leave the field.
"That's not who we are," Cougars coach Paul Wulff said. "We have classy fans. I guess the Huskies fans were frustrated. But we're excited about the postseason. What bowl is Washington going to? Kidding! I'm kidding."
Oregon wins the national championship. Washington State wins the Kraft Fight Hunger Bowl.
Joshua Garnett
,
Zach Banner
,
Jeff Lindquist
and
Cedric Dozier
sign with Washington State, giving the Cougars their first top-25 class.
"Gee, I really like the Cougars," says Bill Gates. "Is there anything I can do to help?"
"Maybe," replies athletic director Bill Moos.