August, 14, 2013
8/14/13
10:30
AM ET
We continue our day-by-day snapshots of each Pac-12 team heading into the 2013 season, in reverse alphabetical order, with the
Oregon State Beavers
.
Oregon State
Coach
: Mike Riley (81-67, 13th year)
2012 record
: 9-4 (6-3 Pac-12 North)
Key losses
: WR Markus Wheaton, CB Jordan Poyer, DT Castro Masaniai, RT Colin Kelly, TE Colby Prince, DT Andrew Seumalo.
Key returnees
: WR
Brandin Cooks
, RB
Storm Woods
, DE
Scott Crichton
, LB
D.J. Alexander
, CB
Rashaad Reynolds
,
Michael Doctor
, S
Ryan Murphy
, DE
Dylan Wynn
.
Newcomer to watch
: With the departure of Poyer, the coaching staff will look to replace him with a rotation of
Sean Martin
-- who saw some time last season -- and newcomer
Steven Nelson
, rated by one service as the No. 2 junior college cornerback in the country. Nelson, once a Georgia commit, comes from the College of Sequoias and, by all accounts, has had a solid spring and fall camp thus far.
Biggest games in 2013
: The Civil War at Oregon (Nov. 29) is always huge. But Stanford (Oct. 26) and Washington (Nov. 23) -- both home games -- will be big for establishing the pecking order in the Pac-12 North.
[+] Enlarge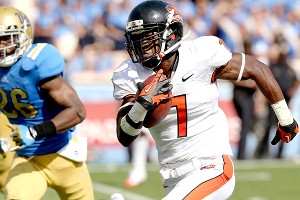 Stephen Dunn/Getty ImagesReceiver Brandin Cooks will surely be the top target for the winner of Oregon State's QB race.
Biggest question mark heading into 2013
: On the surface, the outcome of the quarterback competition seems like the biggest question. And it's an important one. Yet
Sean Mannion
and
Cody Vaz
have both shown they can win big games. Who they'll be throwing to, however, might be the more important question. Without a doubt, Cooks is an explosive playmaker. But we're still waiting to see who steps up opposite him. Much of Cooks' success last season (67 catches, 1,151 yards, five touchdowns) was because of Wheaton playing on the other side. Double-teaming either one was a nightmare because the other would break out.
Kevin Cummings
is a solid slot receiver. But the Beavers will need someone like
Obum Gwacham
or
Richard Mullaney
to provide a threat that opens things up for Cooks, or vice versa.
Forecast
: The Beavers are a really interesting team this season because of the way their schedule shapes up. You have to think they'll be favorites in their first seven games (though at Utah, at San Diego State and at California probably won't be walkovers). Just before Halloween, it starts to get nasty, with five straight against teams that will likely be in or hovering around the Top 25: Stanford, USC, ASU, Washington and Oregon.
It's not hard to believe the Beavers could replicate last year's 6-0 start, and possibly even press it to 7-0 before the schedule ramps up. There are a couple of ways to look at it; it's a good thing because it will give Riley more time to settle on either Mannion or Vaz, and it allows ample time for the receiving corps to come together. There are also some plug-and-play JC defensive linemen who could also use a few warm-up games.
The flip side is that outside of San Diego State, the Beavers won't be facing an FBS team that had a winning record last year until Stanford comes to town. How much will we really know about this team? Unlike last season -- when the Beavers scored quality wins at home against No. 13 Wisconsin and on the road at No. 19 UCLA and BYU in the first half of the season -- the Beavers will probably achieve a high ranking, though the résumé won't be there to support it.
But as they say, you can only play the teams on your schedule, and Oregon State should come out of the gates blazing.
Aside from Cooks, the Beavers have an explosive running back, Storm Woods. The ground game took a big step forward in 2012, and Woods is on the verge of becoming a 1,000-yard rusher (940 yards last year, 13 touchdowns). The offensive line continues to improve and returns four of five starters across the front -- headlined by center
Isaac Seumalo
, who was phenomenal as a freshman and has emerged as one of the top anchors in the country.
The secondary should also be one of the best in the league with the Martin/Nelson duo playing alongside Ryan Murphy,
Tyrequek Zimmerman
and Reynolds.
No doubt excitement will bubble over if the Beavers start 7-0. But what they do after those first seven will go a long way toward determining the program's success in 2013.
May, 9, 2013
5/09/13
7:00
PM ET
All players are equal, but some players are more equal than others. That's the basis of our Most Important Player series.
First off, quarterbacks are excluded to make things more interesting. It goes without saying, for example, that Oregon's
Marcus Mariota
is the Ducks' most important player.

And most important doesn't necessarily have to be "best." An All-American's backup can be pretty darn good, too.
Our most important guys are players who could swing a win total one way or the other, based on their living up to expectations. Or their absence.
Oregon State
: WR
Brandin Cooks
2012 production
: Caught 67 balls for 1,151 yards (one of only four Pac-12 receivers to break 1,000 yards) with five touchdowns.
Why Cooks is so important
: My initial thought here was
Michael Doctor
-- an extremely underrated linebacker who always seems to be near the ball and is highly productive. One of the best plays from 2012 that sticks out in my mind is him chasing down
Brett Hundley
from behind. Very impressive.
Then I thought about
Storm Woods
-- an up-and-coming running back with just the right balance of humility and swagger. No doubt, both of these players will be key in 2013.
But speaking with someone close to the program, they convinced me to go with Cooks. Not only because he's one of the most explosive wide receivers in the country -- but simply because there isn't a ton of game experience behind him.
For Oregon State to continue building on the momentum of 2012, the Beavers need him to be great.
Here's the caveat with Cooks, however. He was one of the nation's greatest benefactors of being a No. 2 receiver. Defenses were split last season because of Markus Wheaton lining up on the opposite side. Double Wheaton? Cooks will burn you. Double Cooks? It's Wheaton for miles.
That's not going to be the case in 2013. Behind Cooks is talent, but also inexperience.
Obum Gwacham
(two catches, 12 yards, one touchdown) and
Richard Mullaney
(13-156-1) missed the spring with injuries, and
Malik Gilmore
(RS) and
Kevin Cummings
(18-208-1) round out the top of the corps behind Cooks. Each has their own talents -- Gwacham is a big target. Mullaney catches everything and is a move-the-chains kind of receiver. Cummings is a veteran and a good slot receiver, but only has four starts in his career. Gilmore is also a big target, but inexperienced.
Worth noting too that the Beavers will probably lean more on tight end
Connor Hamlett
(32, 403-3), who had a nice breakout year last season.
It's possible the Beavers might look at some freshmen coming in to immediately contribute. So while Cooks is one of the top receivers in the league, those behind him are mostly untested. Meaning Cooks is going to have to be better than he was last season and show that he can be a true No. 1 receiver.
I have little doubt he can. He's blazes and has Velcro fingers. Plus, if the offensive line is improved as advertised, that will also mean the quarterback-to-be will have more time to allow deeper routes to Cooks to develop.
Naturally, the outcome of the quarterback competition is of great interest. Cooks had success with both
Sean Mannion
and
Cody Vaz
. With Mannion, he caught 40 balls for 716 yards and four touchdowns. With Vaz, 27 balls for 435 yards and one touchdown. He had four 100-yard receiving games in 2012 -- two from Mannion and two from Vaz. So it bodes well that he can be productive with either guy throwing him the ball.
Coach Mike Riley has also stressed the greater need for balance. The running game showed solid progress in 2012, and with the improved line play and the continued maturation of Woods -- that should take some of the pressure off the receivers and allow the Beavers to get bang for their buck when they go down field. It will allow Cooks to show he's capable of being a bona fide No. 1.
February, 13, 2012
2/13/12
1:00
PM ET
Oregon State head coach Mike Riley has a lot on his mind these days. He has a new recruiting class with one of the top offensive linemen in the country -- which is good for him, since a large part of his O-line is still rehabbing from last season. There's talk of his seat being toasty next year, and what's the next step for his young quarterback and standout defensive lineman?
Here's part one of a Q&A with the OSU head coach.
[+] Enlarge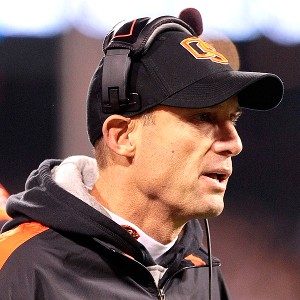 Kelley L. Cox/US PresswireThe pressure is on Mike Riley to avoid a repeat of last year's 3-9 season.
This past year, 10 true freshman and 23 first-time starters played. Once the injuries started to pile on, was the thought just to get these guys as much playing time as possible and hope it pays off in the future?
Mike Riley
: When you're right in it, the immediate thought is we have to get the best players into the game because I've always had the philosophy that the best way to do well in the future is to take care of the present. We didn't just shove freshmen into prominent roles. There was either an injury or they earned the opportunity. It was the nature of our team last year. We had obviously lost some good players, like [Jacquizz) Rodgers, so it was open competition.
Malcolm Agnew
originally won it and then he had a significant hamstring and missed four or five games. We played them because we thought they were the best players and gave us the best opportunity to win. Even though we had a bad record, I liked the team. I think with that youth, they kept their spirits up and kept working hard and hopefully now it does pay off for the future.
You have 17 starters coming back and 58 players who saw time last season. What sort of dividends will that pay in the next few years?
MR
: If we and the players use it correctly, it should pay great dividends. There is nothing like experience, especially if you can combine it with talent and in the offseason you can enhance your talent with good, hard physical work. When you come into spring practice, you should carry much more knowledge and much more physical preparation into the next year. That's very encouraging to me. I think we have a hard-working team. I think guys will take advantage both of their work and of their experience.
Speaking of spring ball, give us some rehab updates. Are you expecting most everyone to be ready for spring?
MR
: I think we'll be very limited with a couple of guys that played a lot in the offensive line.
Colin Kelly
had surgery on his ankle and he won't be ready for spring.
Grant Enger
had surgery on his shoulder and I don't think he's going to be ready for spring. Malcolm Agnew continues to go through a specific rehab program for his hamstring. I think he will be practicing and hopefully full speed in the spring time. I think the offensive line -- we won't be deep in spring ball and that's the reason we signed seven guys in this class. I think we'll have to do a lot of individual development because I don't know what it will look like as a group in total. One good thing is
Michael Philipp
, who was injured and redshirted because of his injury after he started for two years, he'll be back in spring. I'm very excited about that and getting him going and hopefully he'll be a stronger, better player when we get to spring ball. We're looking at developing some new faces on the line while we wait for that class to come in.
What are your first impressions of your recruiting class?
MR
: The realistic look at it is that I think it was an outstanding class in almost all ways. The disappointing factor -- we had four corners committed going into the last week. We got one of them. I'm very excited about
Tyler Hasty
from Bellevue, Wash. We're probably going to play
Zach Robinson
out of Tahlequah Ok., we're probably going to try him at corner first. He's a long body that can run. Was a real good receiver and defensive back. He might be that big corner we're looking for. But the rest of the class, I think we hit all the marks. Offensive line was a priority in recruiting and we got seven kids I'm really excited about then. Then, defensively, we needed more defensive backs in general and we signed three safeties. Nice-sized kids, good athletes. Two of them in particular played major roles as receivers. They are all around football players. Linebackers, we got two junior college linebackers which should help us right away and then we signed a couple of underclassmen that I think will be real good players down the road,
Caleb Saulo
and
Joel Skotte
. Then on offense, we just needed kind of one of each. We ended up with two tight ends I'm really excited about.
Caleb Smith
is a well-known prospect from the state of Washington and
Dustin Stanton
is not well-known, but he has tremendous potential. Big, 6-6 kid that runs well. Real good basketball player and a really good athlete for his size. We were really after one wide receiver. At the end, I thought we were going to get two. But we got
Malik Gilmore
and he was our first pick from the beginning. I'm really excited about Malik. Then I think we got an outstanding running back and quarterback. Kind of the bonus at the very end was we ended up signing the kicker from Arroyo Grande. Really good athlete, was a wide receiver.
I think we saw in the conference that you need kickers?
MR
: Oh my gosh, no kidding. I have a great special teams coach in Bruce Read, been with me for many years here at Oregon State and then with the Chargers. He stayed in the NFL for a while and we got him back. He's a great evaluator and a great coach. We've always had some really good specialists here.
It's usually tough for offensive linemen to come in right away and play. Do you see Isaac Seumalo and or/ Garrett Weinreich being able to make an immediate impact?
MR
: We're going to let them go in there and play. We know Isaac so well and he's a real talented kid. Who knows exactly where he'll go with it. But we're anticipating great things from him. As we place our group, we'll be very careful as to where we put him. He can play every position on the line. He could play center, guard or tackle. As we place our players we have to be very aware about him and everyone else. We're really excited about
Stan Hasiak
. He has experience starting in the conference. Coming out of high school we thought he was a really good player so we're expecting his competition right away. I also really like the talent and the tenacity of
Grant Bays
from Oceanside, Calif. I think physically and mentally he could fit in right away too. It's a good group.