February, 6, 2012
2/06/12
2:30
PM ET
I'm pretty sure there's a lot more to life than being really, really, ridiculously good looking. And I plan on finding out what that is.
November, 3, 2011
11/03/11
12:00
PM ET
We've got bad news. College football rivalries aren't
really
about the emotional roller coaster, the good guys versus bad guys of a Hollywood movie. Their fundamental essence is far more akin to those self-help books you see stacked high on the deeply discounted table at your corner bookstore.
While Oregon and Washington fans have spent a lot of time this week painting each other as inferior, uglier, stupider and enemies of all that is right and good, the Huskies' and Ducks' locker rooms have been talking about focusing on "things they can control" and about the "importance of preparation" and about "winning the day."
[+] Enlarge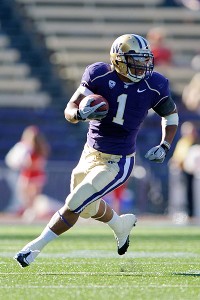 Steven Bisig/US PresswireWashington's Chris Polk remains friends with Oregon's LaMichael James despite the teams' rivalry.
Rivalry talk? It's for fans, not players.
"That stuff is so cool when you are on the outside," Washington coach Steve Sarkisian said. "That's why I love this sport. But from the inside, the rivalry is not going to make us play better. It's our preparation."
On Monday, some Oregon fans probably will make up stories about being spit on in Husky Stadium, just like some Huskies fans probably made up stories about being spit on at Autzen Stadium in the past, as if spitting on people is more accepted as proper behavior in Seattle/Portland than in Portland/Seattle.
And Huskies running back
Chris Polk
will still be from California and Ducks running back
LaMichael James
will still be from Texas and they will continue to like each other, because the different colors of their jerseys don't hide the fact they have a lot in common.
"He's a real cool person," Polk said. "It just so happens that he's a Duck and I'm a Husky. I consider him a friend. I respect him as a player and a person."
Further, the bitter hate of this rivalry among fans apparently can be weened out of a young man if he should ever become a player in the game, either via coaching hypnosis, a magic ray beam set up in the locker room, or an untruth serum provided by a sports information department deeply paranoid about players saying anything inflammatory about the rivalry.
For example, Oregon defensive tackle Taylor Hart, a graduate of Tualatin (Ore.) High School, has this in
his official bio
: "Notable: Father is a UO graduate. Attended first Oregon game (against USC) when he was eight years old."
When asked about this, Hart acts as if he has little memory of it, other than admitting that, yes, he did root for Oregon growing up.
Asked if this game is special for him, he said: "We've been going into every game as the Ducks Super Bowl and that's worked for us. I feel like that's how we're going into this game."
Asked how his father, Doug, might feel about this game, Hart said: "I don't know how he feels."
Hmm.
This, of course, can be attributed to Ducks coach Chip Kelly's well-known mind-control techniques. While Kelly admits that he frequently hears from Ducks fans about their dislike of the Huskies -- "They bring it up. It's relevant to them," he said -- he also coaches by the mantra of playing a "nameless, faceless opponent" each week, and that each game is the equivalent of a "Super Bowl."
If you wish to mock this approach, please note that Kelly is 29-5 as the Ducks' head coach and is 22-1 in conference play.
"We don't get caught up in the 1923 game," Kelly said. "Or what happened in the '89 game or the '96 game. None of us were here. The only thing we can worry about is what we have an effect on. What we have an effect on is the game we're playing on Saturday."
By the way, the Huskies won 26-7 in 1923, 20-14 in 1989 and 33-14 in 1996. They, however, have lost seven in a row in the rivalry, each defeat by at least 20 points.
This "just another game" talk might feel like raining on a parade, but at least Ducks and Huskies are pretty good at handling rain.
Further, when taken as an observable social trend, this represents an interesting shift in thinking. Recall that some coaches celebrate rivalries and talk specifically about how rivalry games are more important than others. Jim Tressel was immediately embraced by Ohio State fans when he
started trash talking Michigan before he'd even coached in the game
.
And it wasn't too long ago that then-Huskies coach Rick Neuheisel and then-Ducks coach Mike Bellotti were
trading barbs in the newspapers
, players were
openly taunting each other
and Oregon players were wearing T-shirts that said, er, "Huck the Fuskies."
Now, instead, it's fairly clear that Sarkisian and Kelly like each other, at least as well as coaches in the same conference can.
"I think the world of Chip," Sarkisian said. "We've got a very good relationship. I probably communicate with Chip as much as any other coach in our conference in season or out of season."
Finally, the "nameless, faceless opponent" mantra makes sense. Shouldn't a team try to practice and play at its highest level every week? The whole "110 percent" cliche is mathematically impossible, after all, but giving just, say, 80 percent in practice and competition is something any coach or athlete would condemn. And the emotions of "We really hate these guys" can only last a few plays before the football part of football becomes most important: blocking, tackling, executing.
"I don't think you have the time or the energy to get up for one game more than another," Sarkisian said. "The preparation process is really more about us than about Oregon, and our ability to go out and play the best brand of football that we can."
Still, there is
something
there. Just as Kelly and Sarkisian admit that boosters frequently bring up the rivalry, Polk said he hears about Oregon "just about every day." Being that this is the last game in Husky Stadium before a massive renovation begins, and that former Huskies coach Don James and the 1991 national championship team will be on hand, there's an unmistakable gravitas to the approach of Saturday night.
Oh, and there's that whole Pac-12 North and Rose Bowl thing, too. Both teams have designs on those, the Ducks for a third consecutive time, the Huskies as a sign of program recovery from an extended downturn.
So the cumulative effect will be a game atmosphere that should feel more intense than, say, if either team were squaring off with Missouri State or Eastern Washington.
"There's definitely a sense of urgency," Polk said. "Win or lose, the most important thing is respect. Being that we've not really played our best game the last few times we've played them, and they kind of got in to us, we don't feel like they really respect us. They whole thing this weekend is to go out there and earn respect."
And the notion of earning respect works both as a self-help truism and as an us-vs-them cinematic plot point.
August, 18, 2011
8/18/11
9:00
AM ET
Third in a series looking at potential dream and nightmare scenarios for all Pac-12 teams.
Understand: These are not predictions. They are extreme scenarios and pieces of fiction. You can read
last year's versions here
.
We're going in reverse order of my
post-spring power rankings
(which might not be identical to my preseason power rankings).

Up next
: California
Best case
California fans were giddy well before
Zach Maynard
completed his 24th consecutive pass against Fresno State in Candlestick Park, but just about everyone wearing blue knew whose revered name had just been knocked from atop the school record book during a 38-17 victory.
"That's true," said Cal coach Jeff Tedford. "But Maynard runs a lot better than Aaron Rodgers did, so I don't want to compare them."
Colorado was eager to take vengeance for an embarrassing 52-7 loss in Berkeley the year before, but it couldn't stop Maynard and his half-brother
Keenan Allen
, who caught 11 passes for 131 yards and two touchdowns in a 27-19 victory in Boulder.
After beating the Fighting Blue Hose of Presbyterian 103-4 -- third string centers with bad shotgun snaps! -- the Bears head to Seattle to take on Washington, which has won two consecutive games in the series, the first an embarrassing blowout, the second on a last-second TD that handed Cal a losing record for the first time in nine years under Tedford.
Maynard throws three TD passes,
Isi Sofele
and
Covaughn DeBoskie-Johnson
both eclipse 100 yards rushing and the Bears defense sacks Huskies QB
Keith Price
four times in a 31-13 drubbing.
"I am struggling with this," types GooooooooooBEARS -- a longtime anti-Tedford gadfly -- in the comments section of the Pac-12 Blog. "For so long, I have been hating on Tedford. But... well. I just need to be alone for a little bit to get back in touch with myself."
A 15,000-word essay appears on the
California Golden Blogs
-- complete with 15 different charts and graphs -- that claims to mathematically prove that Maynard is the reincarnation of Samuel Adrian "Slingin' Sammy" Baugh.
"It actually pencils out nicely," says Tsit-Yuen Lam, Berkeley Mathematics Professor of the Graduate School Emeritus. "I still think Tedford should go for it on fourth down more often, but that's a topic for another day."
The Bears go nose-to-nose with No. 1 Oregon before falling 24-20, becoming the first team to hold the Ducks below 50 points.
A 55-yard field goal with four seconds left from Giorgia Tavecchio bests USC, 27-24. After a 30-20 win over Utah, the 6-1 Bears move up to 10th in both major polls.
The Old Blues starting thinking Rose Bowl. But those dreams get torn apart during a mistake-laden upset loss at UCLA. Fans consider a bandwagon jump.
"Hey, gang, I recommend keeping a level head," types GooooooooooBEARS. "We love our team. We love our coach. We must have faith and support them. Unite, Blues! We've only begun to fight!"
The Bears pound Washington State and Oregon State, which sets up the Biggest of Big Games against No. 1 Stanford, which is fresh off a victory over previously-No. 1 Oregon.
Tedford walks into a team meeting on Monday. He wordless flips on cut-ups of the 2010 Big Game, which featured Cal picking a pre-game fight then showing no fight while the Cardinal bludgeoned the Bears 48-14, Stanford's most lopsided win in the rivalry in 80 years. He shows QB
Andrew Luck
running over safety Sean Cattouse. He shows a post-game interview of then-Stanford coach Jim Harbaugh: "Our guys really kept their cool and I think that was a big difference today. They kept their poise. I don't like that kind of football where you try and talk and intimidate. ... Just play football. Shut up and play football."
Tedford then turns to his team: "Shut up and play football."
Cal upsets the Cardinal 35-27, with Cattouse sealing the deal with an 87-yard interception return of a Luck pass.
The Bears nip Arizona State to finish the regular season 10-2. They then whip Texas 45-3 in the Alamo Bowl. Cal fans spend most of the game, which was decided by halftime, serenading Longhorns coach Mack Brown, who in 2004 talked his team into the Rose Bowl over a more deserving Cal squad.
Cal earns a final No. 9 ranking.
Wisconsin blows out Stanford in the Rose Bowl, and immediately thereafter offensive linemen Jonathan Martin and David DeCastro as well as linebackers Shayne Skov and Chase Thomas opt to join Luck in the NFL draft a year early. Coach David Shaw steps down to pursue a career on Wall Street, and athletic director Bob Bowlsby brings back Walt Harris, "to take care of unfinished business."
Worst case
Zach Maynard was brilliant for three quarters. Then, early in the fourth against Fresno State, he falls awkwardly out of bounds.
Cal wins 28-20, but Maynard suffers what is notoriously called a "high ankle sprain."
Brock Mansion
gets the start at Colorado, and the Buffaloes get their revenge for their 2010 beatdown in Berkeley, beating the Bears 24-21.
After pounding Presbyterian, Cal falls 28-20 at Washington.
"I think we'll get Zach back after the bye week at Oregon," says a hopeful Jeff Tedford.
Maynard does return at Autzen Stadium, but he's sacked six times and is noticeably limping in the fourth quarter. He also throws two interceptions.
With Mansion back under center for Cal, USC rolls over the Bears inside half-empty AT&T Park. At 2-4, things start to get tense in Berkeley.
"Is it just me, or are things tense in Berkeley?" a one sentence post on the California Golden Blogs queries.
Tedford opts to start
Allan Bridgford
against Utah, and Bridgford is solid in a 28-24 victory. He then leads the Bears to a win at UCLA, which evens their record at 4-4, but he gets hurt in the second quarter against Washington State. Maynard comes off the bench but isn't sharp. The Cougars prevail on a late
Jeff Tuel
TD pass.
The first "Cal needs to fire Tedford" column appears in the San Jose Mercury News. The column says, "Tedford led the Bears back from oblivion, but then he hit a plateau. Instead of rising above that plateau, the program has redirected to another unhappy valley. Credit Tedford for what he accomplished but he must be held accountable for what he hasn't. Not only has he failed to maintain a winning program, he now has led it back to losing."
Tedford refuses to engage the topic, but his players rally around him and beat Oregon State 20-17, kicker Giorgio Tavecchio giving Tedford the game ball after he kicked a late winning field goal.
But that rally doesn't last through the Big Game. David Shaw, coach of unbeaten, top-ranked Stanford, perhaps showing a bit more mercy than his predecessor, yanks his starters early in the fourth quarter of a 38-10 victory.
The Bears, with Maynard at quarterback and still needing just one win to earn bowl eligibility, play with surprising verve at Arizona State. But they fall 24-20
"It's not Coach Tedford's fault," receiver Keenan Allen says after a second-consecutive 5-7 finish. "Players win or lose games. And if we'd had Zach healthy the entire season, we'd have won a lot more games and we wouldn't be having this conversation."
But too many Cal fans have turned against Tedford. Athletic director Sandy Barbour announces that "with great regret" she is terminating him.
Tedford sits out a year before being hired by the Oakland Raiders, whom he leads to a victory in Super Bowl XLVIII.
Stanford wins the national championship, whipping Alabama 41-10.
"What the heck -- I'm coming back!" announces quarterback Andrew Luck, which inspires every Cardinal to do the same and not leave early for the NFL draft.
Barbour hires Eugene F. Teevens III -- most know him as "Buddy" -- to replace Tedford. "I thought he was so close to doing some good things at Stanford," Barbour explains.
June, 7, 2011
6/07/11
5:10
PM ET
UCLA legend James Washington, one of the greatest safeties in Bruins history and a two-time Super Bowl champion, has returned to the athletic department as the director of scholarship development, where he will focus on raising funds for athletic scholarships.

Washington, who has been UCLA's assistant director of alumni giving since April of 2010, also serves as an analyst during UCLA football games for Fox Sports Prime Ticket and is the host for the Rick Neuheisel UCLA Football Weekly show.

A four-year starter (1984-87), Washington played in four bowl victories for the Bruins. He still ranks third in UCLA history with 15 career interceptions and sixth with 347 tackles.

Upon graduating from UCLA, Washington was selected by the Los Angeles Rams in the 1988 NFL draft. He later signed with the Dallas Cowboys and led the team in interceptions his four years as a starter. He called the defensive signals for Dallas when it had the league's top-ranked defense (1992 and 1994) and was a standout on the 1993 and 1994 Super Bowl Championship teams.
June, 1, 2011
6/01/11
1:43
PM ET
Oregon State has hired a
new head athletic trainer for football
, Ariko (uh-Ree-ko) Iso (eye-so), whose previous position was assistant athletic trainer for the Pittsburgh Steelers.
Iso, an Oregon State graduate, was the only female athletic trainer in the NFL and worked in three Super Bowls for the team.
Before Pittsburgh, Iso spent five years as the associate athletic trainer for Portland State University, where she served as the head football trainer. Her collegiate career includes serving as the assistant athletic trainer at Foothill College in California for nearly three years.
Iso was also the head trainer at the 2006 World 21 and Under Track Championships, the 2001 World Cross Country Championships, the 1998 Yokohama International Ekiden and the 1996 East-West Shrine Football Game. Additionally, she has worked at the Nike World Master Games, U.S. Mobil Outdoor Track and Field Championships, and at the 1994 World Cup Soccer tournament.
"I have been around only a few folks that have the same work ethic as Ariko, but what sets her apart is that her efforts are always made with a positive attitude," Steelers head athletic trainer John Norwig said in a statement. "Ariko has always been the consummate professional. She loves her job."
Said former Steelers coach Bill Cowher: "Without a doubt Ariko will be a great asset to Oregon State. She has a great personality, and is very professional and knowledgeable. I have tremendous respect for her."
Iso graduated from Oregon State with a bachelor's of science degree in health and human performance in 1993 and earned a master's of art in physical education from San Jose State University in 1995. She is a member of the National Athletic Trainers Association and the Professional Football Athletic Trainers Society. The Tokyo native is certified by the National Athletic Trainers Association.
April, 18, 2011
4/18/11
1:26
PM ET
Longtime NFL executive Jim Steeg has been hired by the Pac-10 "as a consultant to help plan and execute the inaugural Pac-12 Football Championship game," the conference announced today.
The news release says Steeg "built the Super Bowl into the world's premier sporting event and managed all special events for the NFL, including championship games, the Pro Bowl and the Draft."
So it would seem commissioner Larry Scott continues to
aggressively court top talent
-- and
make major changes
-- as the conference moves into a new era.
The Pac-10, which officially becomes the Pac-12 on July 1, will host its first-ever football championship game at the home stadium of the team with the best overall conference record. The game is tentatively scheduled for Dec. 3, 2011 at 3:30 p.m. ET. Steeg will serve as the Director of the Pac-12 Football Championship Game.
Steeg spent 35 years with the NFL, including 26 in charge of special events, where he grew the Super Bowl from a championship football game to a week-long extravaganza featuring signature events, including The NFL Experience. Steeg served as COO of the San Diego Chargers from 2004-2010. He left the Chargers in
March of 2010
.
You can read the rest of the
news release here
.
April, 11, 2011
4/11/11
12:25
PM ET
STANFORD, Calif. -- The media often falls for polite and polished and humble. It doesn't require a gaggle of publicists to know that a superstar athlete doing polite, polished and humble charms reporters and therefore the public. And, of course, it's often a con, or a least a public persona that doesn't match the reality of said superstar athlete.
[+] Enlarge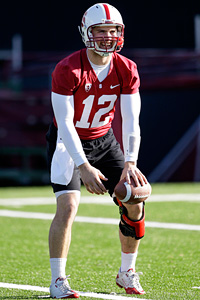 AP Photo/Paul SakumaStanford's Andrew Luck is a front-runner to win the Heisman Trophy next season.
Stanford quarterback
Andrew Luck
is a superstar athlete, even if trying to get him to engage the topic is like playing dodgeball with
Plastic Man
. He was the Heisman Trophy runner-up last season and he almost certainly would have been the No. 1 overall pick in the NFL draft on April 28 had he not opted to return for his redshirt junior season, in large part, he said, because he wanted to finish up his degree in architectural design.
This story, however, must now pause because Luck has walked away from an interview to help a woman open a door to the Stanford athletic building. She needs to use the restroom, and it doesn't require Woodward & Bernstein to ascertain that this might be a pressing need. Luck points her in the right direction but warns her that they might be cleaning up inside.
Where were we? Yes, moments before becoming a hero to a woman who had perhaps imbibed too much afternoon coffee, Luck walked past a ballroom dancing class and, making small talk, noted, "I don't think I'm coordinated enough for ballroom dancing."
Luck is a buffed-up, 6-foot-4, 235 pounds and, besides ranking third in the nation in passing efficiency in 2010, he rushed for 453 yards. But ballroom dancing students, now those folks are athletes.
Actual exchange once the interview starts again:
Hyperventilating reporter [Me]: "Now, everybody in the country knows who you are."
Luck: "I don't think everybody knows."
Said former Stanford coach Jim Harbaugh, now with the San Francisco 49ers, last fall: "He's almost embarrassed if somebody compliments him or wants to talk about him. He's very quick to deflect it to his teammates. He's someone people want to follow, want to emulate. It's a unique quality to be the sort of anti-celebrity quarterback, the anti-big-man on campus."
More than a few folks were stunned Luck opted to return, no matter how much he enjoyed college or wasn't burdened by financial need -- his father, Oliver, is a former NFL quarterback and presently the athletic director at West Virginia.
Said Stanford linebacker Shayne Skov, "Anybody's logic would have been to leave. We were all stunned."
There is a potential red flag here, though, on the football side of things. Some might observe that NFL coaches prefer the singular focus of the football obsessed over a Renaissance man who enjoys college. Further, the best quarterbacks are often swashbuckling sorts -- Tom Brady, Brett Favre (without the text messages), Joe Namath and Kenny "The Snake" Stabler -- so if Luck seems too much the Boy Scout, might that make it difficult for him to lead a locker room that includes an array of edgier personalities?
Ah, but not unlike Peyton Manning, Luck doesn't do Ned Flanders on the football field. Just ask former USC cornerback Shareece Wright and California safety Sean Cattouse, who both ended up on the losing end of a Luck hit when they stood between the quarterback and something he wanted during a game.
"My dad calls it 'crossing the white line,'" said new Stanford head coach David Shaw, whose father, Willie Shaw, was a longtime college and NFL coach.
"You can be the greatest human being on the planet, but once you cross that white line, it's whatever it takes to win football games. Andrew has started to remind me of another guy who was like that: [former Cardinal and nine-time Pro Bowl safety] John Lynch. John Lynch was an all-time human being -- a phenomenal person. One of those guys you say you want your daughter to grow up and marry. That's the way Andrew is. But once he crosses that white line, he's such a competitor. He doesn't care who you are, he's going to try to knock you out. Andrew flips that same switch."
While Stanford practices are closed, the scuttlebutt is that Luck has been masterful this spring. Quipped offensive coordinator Pep Hamilton with a straight face, "He was able to complete 70 percent [71 percent actually] of his passes last year. Our goal is for him to complete 100 percent of his passes."
When asked about this, Shaw pointed out that Luck, indeed, missed a throw -- a 6-yard out -- at practice the previous day.
"You'd have thought it was the Super Bowl," Shaw said. "With a guy like this, you shoot for the moon. You see how far you can push him. And Andrew loves it. He wants to be pushed every day. He wants to be coached, he wants to be coached hard and he wants to be coached specifically. He doesn't know what his ceiling is. So let's not set it."
The high ceiling for Luck is a big reason the national perception is there's a high ceiling for Stanford. The Cardinal will be ranked in the preseason top 10, and Oregon's visit on Nov. 12 is likely the Pac-12 North game of the year, one that might have national championship implications. And if the Cardinal again surges a year after turning in its best season of the modern era, it's almost certain that Luck will be a Heisman Trophy front-runner.
That means even more celebrity for Luck. While Stanford's pristine campus and academically elite student body present a less football-obsessed environment that allows him some privacy, Luck's future is under the klieg lights. It's unavoidable and it will test him.
Luck is told a story about an early Ben Affleck interview with Jay Leno when Affleck tells of pulling out the "I'm Ben Affleck" for the first time to get a restaurant reservation. Luck's asked if he's had a similar moment when waiting for a table.
At first, he seems to be honestly baffled by the inquiry, then replies: "There are enough good restaurants in Palo Alto. We could leave. No, I haven't tried to do that. I don't think it's worth it."
January, 24, 2011
1/24/11
5:08
PM ET
The Super Bowl is set for Feb. 6 -- or as college football fans will remember it, "the Sunday after national signing day" -- and the
Pittsburgh Steelers
and
Green Bay Packers
both feature a number of former Pac-12 players.
Here's the list (some are injured or inactive).
Pittsburgh

Dennis Dixon
, QB, Oregon
Chris Kemoeatu
, OG, Utah
Stevenson Sylvester
, LB, Utah
Keenan Lewis
, CB, Oregon State
Troy Polamalu
, S, USC
Green Bay

Aaron Rodgers
, QB, California
Dimitri Nance
, RB, Arizona State
Spencer Havner
, LB, UCLA
Nick Barnett
, LB, Oregon State
Brandon Chillar
, LB, UCLA
Brad Jones
, LB, Colorado
Clay Matthews
, LB, USC
Mason Crosby
, K, Colorado
Desmond Bishop
, LB, California
December, 4, 2010
12/04/10
1:56
PM ET
CORVALLIS, Ore. -- Oregon coach Chip Kelly has said -- over and over and over this season -- that every game is a "Super Bowl" for the Ducks. Well, with the Civil War, he's got a point.
[+] Enlarge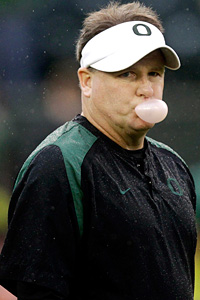 AP Photo/Rick BowmerCoach Chip Kelly and Oregon can reach the BCS National Championship Game by beating rival Oregon State.
Perhaps the battle with rival Oregon State is closer to the NFC championship. If the Ducks win, they advance to college football's Super Bowl: The BCS National Championship Game in Glendale on Jan. 10.
The Ducks have never finished a season unbeaten in the modern era, nor has the program won a national title. This, therefore, is uncharted territory. But for the laser-focused Kelly and his Ducks, it's just the next game. At least, that's the official word.
"Nothing has changed," Kelly said. "We feel we've got a formula that works for this group. It's worked 11 times and hopefully it will work a 12th."
The stakes are also clear for Oregon State. If it wins, it not only delivers an axe wound to its rival's season, it also reaches 6-6 on the year, which means bowl eligibility. The Beavers this week leaned on that as a primary motivation, not crushing the Ducks dreams (though the consolation prize for Oregon is the Rose Bowl, which typically ain't too shabby).
"There's no hatred," Beavers running back
Jacquizz Rodgers
said when asked if he were jealous of the Ducks' success. "When you win games, you get that attention."
So, for a third consecutive year, the Civil War is a high-stakes affair. The previous two seasons, it had major Rose Bowl implications. In 2008, the Ducks blew out the Beavers in Reser Stadium, which knocked Oregon State out of the Rose Bowl. Last year, the stakes were the Rose Bowl, and the Ducks won again in Eugene.
The Beavers, however, have won five of the past six in Corvallis, so home field has mattered of late in a series where the teams have split their past 12 meetings, though the Ducks actually have a better all-time winning percentage in Corvallis (.573) than in Eugene (.519).
Most prognosticators believe Oregon should roll. Even if Oregon State keeps things close, it's hard to believe a team that lost to UCLA and Washington State can keep up with the point-a-minute Ducks.
The Beavers will need to play a near-perfect game and hope that the Ducks are out of sorts. Perhaps the largeness of the moment finally gets to Oregon?
And you know what they say: You throw out the records in rivalry games.
April, 20, 2010
4/20/10
7:30
PM ET
Damon Huard wants your money, Washington fans.
The former Huskies and NFL quarterback has been hired as a "major gifts officer" for his former school's booster club, the "Tyee Club."
A 1995 UW graduate, Huard was a three-year starter for the Huskies. He amassed 5,692 passing yards, a mark that ranks third on the program's all-time list. He retired last year after a 13-year run in the NFL, most notably with the Kansas City Chiefs and New England Patriots, where he earned a pair of Super Bowl rings.
Prior to his professional career taking off in the NFL in 1997, the Puyallup, Wash., native worked for Vulcan Inc. -- billionaire Paul Allen's company -- for nine months. He helped raise awareness for the Seattle Seahawks' new stadium initiative. Now he'll continue in a similar line of work, assisting the development team's external relations within the Puget Sound community. According to assistant athletic director Jennifer Cohen, this will provide the department with a stronger presence in the region.
"He gives our efforts a lot of credibility," Cohen said in a statement. "People know him. They believe in him. They relate to him. They understand that he's one of them. He's a very respected person."
The program's biggest fundraising need: Raising money for a major renovation of dilapidated Husky Stadium.
For more information,
click here
.