December, 22, 2014
Dec 22
8:38
AM ET
This year, super coach Stefan Edberg helped set a course that enabled his protégé
Roger Federer
to reclaim the world No. 2 ranking. But Federer failed in his primary annual mission to win at least one Grand Slam event.
Boris Becker, Edberg's career rival at Wimbledon, joined Novak Djokovic's entourage this year as resident guru, charged with helping Djokovic recapture his mojo after a succession of Grand Slam failures. Becker guided Djokovic through a year in which he reclaimed the top ranking from
Rafael Nadal
, but the German icon was unable to help Djokovic realize his main ambition for 2014, which was to complete a career Grand Slam with a win at the French Open.
[+] Enlarge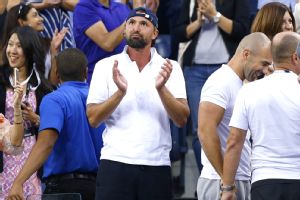 Rex Features/AP ImagesGoran Ivanisevic wasn't the most stable player on tour, but he's found a way to settle down Marin Cilic.
Michael Chang, who bagged just one Grand Slam title as a player -- and that one at age 17, in Paris -- was one of the most consistent top-10 players of his time. This year, some of his doggedness rubbed off on his protégé
Kei Nishikori
, who improved his career high year-end ranking of No. 17 in 2013 to No. 5. At Flushing Meadows in September, Nishikori also became the first Asian man to play a Grand Slam final.
Goran Ivanisevic also won only one Grand Slam title, at Wimbledon in 2001. At the time, the Croatian was 29 and down on his luck -- as well as his health. He went out with a bang, the only wild card (awarded on the strength of his three runner-up finishes as a younger man) ever to win the men's singles title at Wimbledon. This year, he made a spectacular return to the game as a coach, helping countryman
Marin Cilic
vault into the top 10 -- and win the US Open singles title.
Before 2014, Cilic had been written off by many pundits as a legitimate Grand Slam contender. He started the year ranked No. 37, and he was coming off a suspension for a doping violation. If anything, his career seemed to be heading south. Cilic was such a massive reclamation project that Ivanisevic is my choice as the super coach of the year.
Goran? Who woulda thunk it?
In 16 years as a pro, Ivanisevic was known just as much for his flaky nature as that wicked, left-handed serve -- the delivery that propelled him into four Wimbledon finals. Despite that illustrious grass-court record, Ivanisevic was in many ways the anti-Chang. He was the kind of player who drove his fans to distraction, the chief refrain emanating from his camp followers at innumerable tournaments was, "How could Goran lose to that guy?"
Ivanisevic also was a huge personality who had no filter when it came to expressing his feelings or opinions. He was perfectly happy to turn a news conference into a one-man group therapy session. The best example is his ruminations in 2001 on the "two Gorans," in which he freely described the inner tension between the "good Goran" who wanted to toe the line and win major titles, and the racket-smashing, umpire-bashing "bad Goran," who was churlish, self-defeating and "very negative."
Ivanisevic, ever volatile, moody and unpredictable -- was not his Wimbledon triumph entirely unexpected? -- just was not the kind of guy who immediately popped to mind when you went hunting in the rankings for coaching fodder. Level-headed Stefan Edberg? Sure. Diligent Michael Chang? Of course. Inspirational Boris Becker? You bet.
But Goran Ivanisevic?
When Ivanisevic was a player, you could never count on him to keep six consecutive shots inside the lines, no matter who the opponent. He had the rotten luck to meet Wimbledon icon Pete Sampras in the late stages of Wimbledon on three occasions, including two finals (the other champ who beat him in a final was Andre Agassi). But Ivanisevic also lost in London to mere mortals, including Jason Stoltenberg and British wild card Nick Brown (ATP No. 591).
Ivanisevic won 22 titles, one major and just two Masters 1000 titles in his career. Yet there he was, in Cilic's guest box in Flushing Meadows on a cool September afternoon, watching his protégé earn his first major title at the expense of stable and unimpeachable Chang's own understudy, Nishikori. You have to wonder, was it a fluke?
The answer to that tends to transcend the X's and O's that comprise the nuts and bolts of coaching. As Cilic remarked after winning the US Open, "The most important thing [Ivanisevic] was bringing to me was joy -- having fun in my tennis."
It turns out that what Cilic most needed was a mandate to lighten up and to have faith in his own game. As he said of his past, after he overwhelmed Nishikori, "I was dealing too much with the tactics against players and not focusing on my game. It wasn't easy to change my perspective and to change completely my mindset."
Ivanisevic changed Cilic's outlook when the two men began to work together near the end of 2013. He convinced the cerebral, introspective Cilic to simplify and enjoy. He got him to turn 180 degrees in his view of the game and how he ought to approach it. Ivanisevic made Cilic move the dial that always pointed at "them" (his opponents) to "me."
If that all sounds a little too touchy-feely, look also at the damage Cilic did with his serve at the US Open and the way he delivered it -- with preparation and a quick action that is so much like the serve of Ivanisevic that Cilic could be accused of copyright infringement.
No super coach had as dramatic and tangible an impact on his protégé in 2014 as Ivanisevic. He turned a baffling example of unrealized talent into a Grand Slam champion. As it turns out, there are more than just those two Gorans of yore. There's a third one: Goran the teacher. Goran the super coach.