January, 23, 2015
Jan 23
1:10
PM ET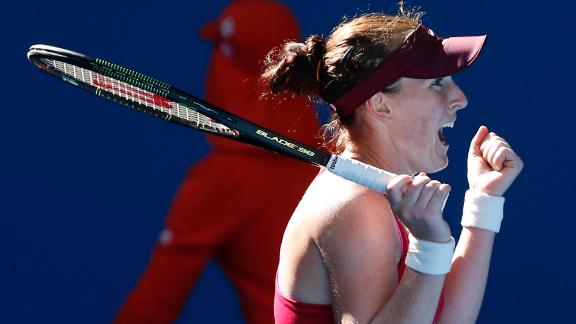 When it comes to generating news events and stories, Grand Slam tennis has all sports beat to the point of overkill. We already know that every major is really two tournaments: the first week (generally, the first three rounds), and the second week that features the clash of the titans.
By midway through the second week, the events of the first week are as distant a memory as Rod Laver's topspin backhand. So let's pause to single out the most surprising developments of that most chaotic period of a Grand Slam event, the first two rounds.
High seeds fall:
The first round was a bloodbath for WTA seeds. Eleven of them, including No. 5 Ana Ivanovic, were knocked out. This was the most at the Australian Open since Grand Slams expanded the seedings to 32 at Wimbledon in 2001. It's only happened twice before in the 32-seed era: at the 2002 French Open tournament and Wimbledon in 2004.
Nadal catches break:
When it comes to bragging rights for toughest draw on Day 1, No. 3 Rafael Nadal could make almost as good a case as top-seeded Serena Williams. Nadal potentially was looking at, in order, Mikhail Youzhny, Tim Smyczek, Lukas Rosol (who famously blasted Nadal off Wimbledon's Centre Court in 2012), mercurial Richard Gasquet or acemaker Kevin Anderson, Tomas Berdych, Roger Federer, Grigor Dimitrov or Andy Murray, and -- finally! -- Novak Djokovic. The wheels started to fall off his argument when diminutive Dudi Sela upset hard-charging Rosol in the second round, and things would soon look even more promising for Nadal.
Venus bouncing back:
What a revelation Venus Williams has been this year, up to and including the first two rounds in Melbourne. She's 7-0 on the year going into the third round, and she's back up to No. 18 at age 34.
Del Potro's injury:
Granted, Juan Martin del Potro softened the blow somewhat when he pulled out of Brisbane a few weeks ago due to lingering pain in his surgically repaired left wrist. But many pundits assumed it was a precautionary move taken to improve his chances at the Australian Open. They were wrong. He scratched from the first major of the year, as well -- as nasty a surprise for fans as his ongoing wrist issues must be for him.
[+] Enlarge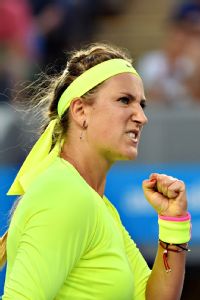 Paul Crock/AFP/Getty ImagesVictoria Azarenka got off to an unexpectedly fast start Down Under.
Azarenka opens strong:
Sure, Victoria Azarenka is a two-time Australian Open champ, a former WTA No. 1 player and a generally tough cookie. But did anyone really think she would spank Sloane Stephens and No. 8 seed Caroline Wozniacki in back-to-back straight sets wins? She crushed Stephens three and two, and gave former No. 1 Wozniacki just one game more than she allowed Stephens.
Serve-and-volley working:
It was surprising enough to see Sam Groth, that mad bombardier, survive two rounds in his native tournament. It was even more shocking to read the stats relevant to Groth's antediluvian serve-and-volley style. These numbers were provided by the tournament website's official analyst Craig O'Shannessy:
In two rounds, Groth rushed the net behind his serve 77 times (more than any other player by far), or on 36 percent of his serve points. He won 66 percent of those forays (51-of-77). Of course, many unique factors, including Groth's monster serv, helped shape -- and qualify -- that impressive stat.
Now here's the kicker: Serve-and-volley tennis for all men at the Australian Open in the same four-day time period produced a 65.1 percent (325-of-499) winning percentage. And that's slightly higher than the 64.9 percent conversion rate generated by approach-and-volley tennis. Hold on to your seat, though. It was also loads better than the success rate for baseline play, which lagged far, far behind at a 47.1 percent (6,775 of 14,373) success rate.
Maybe Jack Kramer and all that "percentage tennis" stuff is still relevant.
Colorful new stadium:
When I first saw an aerial shot of the Melbourne Park grounds and that new, copper-colored roof of Margaret Court Arena, I thought someone had dropped a Target department store right smack in the middle of the grounds. Then, up to speed, I wondered if the Aussies had gone with that design in order to tempt Duracell, maker of the "coppertop" batteries, to purchase naming rights. Wrong again. The reviews for the new stadium are uniformly raves, so far be it from me to nitpick the color of the roof. But it sure was surprising.
Aussie, American renaissance:
One of the more surprising outcomes after the completion of the first round was the rise of the have-nots that were once the greatest haves in the game: the U.S. and Australia. Eleven Aussies made the second round. The same number of American women advanced, along with four men led by No. 19 seed John Isner. Unfortunately, by the time Australia's Sam Stosur was poised to play her second-round singles match, all her Australian female compatriots were wiped out.
Johnson surprises:
Steve Johnson made a modest breakthrough at the U.S. Open in 2012, where he won three rounds (they were his first main-draw Grand Slam victories). Since then, though, he locked down just one win in 10 tries at majors. So it was surprising to see him post back-to-back straight-set wins in Melbourne, the second over No. 30 seed Santiago Giraldo.
Raonic raises eyebrows:
Was anyone not surprised by hair-obsessive Milos Raonic's latest do, perhaps best described as a "Leave it to Beaver" mohawk?
Surprising exits:
Who would have guessed that two of the brightest young prospects in the WTA, No. 32 seed Belinda Bencic and Ana Konjuh, would be gone in the first round?
Culbis goes down:
Nick Kyrgios' win over Federico Delbonis was one thing. But did anyone foresee that the other young Australian hope, 18-year-old wild card Thanasi Kokkinakis, would knock off No. 11 seed Ernests Gulbis in the first round?
Radwanska rebounding:
Given the apparent decline in No. 6 seed Agnieszka Radwanska's game over the course of 2014, did anyone really believe she would get through two rounds having lost just four games? I don't know what new supercoach Martina Navratilova has done for Radwanska's game thus far, but she's certainly been a tonic for her spirits.
And did anyone really think Andreas Seppi ... Oh, nevermind, that was the third round.