Peter Bodo:

Agnieszka Radwanska
December, 11, 2014
12/11/14
6:58
PM ET
So you rose from No. 11 in the world in January to No. 3 in the WTA rankings by the end of the year, and along the way, you made a Grand Slam final in Paris. What do you do?
If you're
Simona Halep
, you fire your coach.
So you made the semifinals (at least) of three Grand Slam events and rocket from No. 32 to No. 7. Incidentally, you also break out as a star and marketing sensation. What do you do?
[+] Enlarge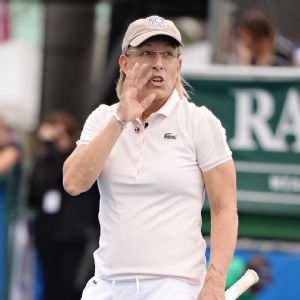 Larry Marano/Getty ImagesCan Martina Navratilova help catapult Agnieszka Radwanska to her first Grand Slam title?
If you're
Eugenie Bouchard
, you fire your coach. Although in her case, the official statement said that she and Nick Saviano agreed to part by mutual agreement. Translation: They fired each other.
So you've been ranked as high as No. 2 and made it to the Wimbledon final, thanks to your exceptional defense, wily tactics and remarkably deft "feel" and hands. What do you do?
If you're
Agnieszka Radwanska
, you hire a woman known for her exceptional offense, straight-ahead serve-and-volley game, and all court aggression in Hall of Famer Martina Navratilova.
So you won the junior Wimbledon singles title at 15 and, according to some in-the-trenches coaches, you were the best prospect in Australia in the past two decades. You quit the game, abruptly and with no plans to return, at age 18. What do you do?
If you're
Ashleigh Barty
, you become a tennis coach, hoping to find or help the next … Ashleigh Barty.
The proverbial "coaching carousel" has been spinning wildly these past few weeks. In fact, it's spinning so quickly that anyone who hops aboard for a ride is likely to get flung off, or end up staggering away when the brief ride is over to go and hurl in the hedges. It's fair to ask, "What on earth is going on here?"
The activity in the annual late-year coaching bazaar has been brisk as well as bizarre. What had once been a relatively straightforward and often long-lasting relationship between famous (or even not so famous) player and his coach (think Pete Sampras and Paul Annacone or even the more recently,
Victoria Azarenka
and Sam Sumyk) seems to have become a partnership built upon -- and often swiftly ruined by -- mystifying and insufficiently clear factors and conflicts.
For more and more players, having just one coach is as insufficient as having just one car in the family. Furthermore, the once comprehensive role that defined the coach has been shattered into splinters. There are coaches who wouldn't touch a player's forehand grip or ball toss if you paid him -- that's because they're more psychologist than tutor. Others have a purpose that could not be any narrower. World No. 1
Novak Djokovic
hired Boris Becker last year because he thought the German icon might help him win the most critical of points in the biggest of matches.
At least one coach claims he was fired partly because he just isn't a life-of-the-party kind of guy. Wim Fissette, recently let go by Halep, explained: "She is a girl who needs a lot of variation. That's why, for example, every tournament there were some family members to 'entertain' her."
Fissette also said that Halep simply feels more comfortable with Romanians on her team, which might explain why she'll now work with Victor Ionita, who is a fellow countryman but not why she's also hired Thomas Hogstedt, who is not. Incidentally, there's a new niche in the coaching trade, and Hogstedt, who has coached
Maria Sharapova
and
Caroline Wozniacki
, defines it when he defers and describes himself as a mere "consultant" to Halep.
You can put
James Blake
in the "consultant" category as well. He'll be working with America's brightest prospect, 22-year-old and ATP No. 42
Jack Sock
. Blake, who doesn't want to travel, will mostly mentor Sock. "I'm definitely not in the role of being the day-to-day coach. That's Troy Hahn. He's worked with him closely. I help with some of the big-picture type things, keep the mindset the right way, make sure he gives his opponents enough respect. I think that's something a lot of younger players overlook. Keep his mind in the right place."
[+] Enlarge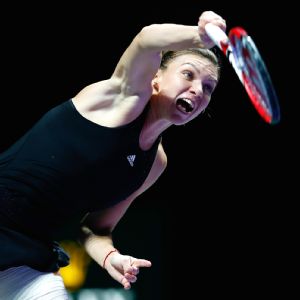 Julian Finney/Getty ImagesSimona Halep changed her coaching direction following a career year.
In other words, Blake is the coach who will try to peel Sock's eyeballs off his Twitter feed and make sure Sock knows the price he'll pay for a late night out. It's a far cry from ordering him to do 50 sit-ups or to serve out a shopping basket full of balls.
The motivation behind the Radwanska-Navratilova partnership is similar to the force that drove Djokovic to find Becker. Only Djokovic was a Grand Slam champ in a Grand Slam finals slump, while Radwanska still hasn't punched through. The conspicuous difference in the styles of the two women raises some interesting questions: Will Navratilova advise Radwanska to chip and charge behind her service return if she gets to critical break point against a Sharapova or Williams in a French Open or Wimbledon semifinal?
The job definition for "coach" has become so pliant that even television commentators have jumped into the fray, as evidenced by the fact that Tennis Channel's Justin Gimelstob will replace Mike Sell as coach of the highest-ranking American, No. 19
John Isner
. Navratilova is also a TC commentator. As is Lindsay Davenport, who will be coaching promising youngster
Madison Keys
in 2015.
Perhaps "coaching" is too strong a word to use in some of these cases. Davenport is locked into her commentary work for the upcoming year, and she's also the mother of four. So she says she'll just talk with Keys when she can, presumably with a phone in one hand and her 11-month-old in the other, bouncing on her hip.
Although the general U.S. economy may still be a bit sluggish, coaching certainly has become a booming and baffling business. My advice to any coach who has got a solid top 20-type player looking to improve: Don't let her or him get anywhere near the top five or you might find yourself out of a job.
April, 11, 2014
4/11/14
1:42
PM ET
The clay-court swing is officially underway, the first blow struck by
Andrea Petkovic
of Germany, who won on the green clay of Charleston last Sunday.
There are WTA events underway this week in Katowice, Poland, and Bogota, Colombia, where top seeds
Agnieszka Radwanska
and
Jelena Jankovic
(respectively) are rolling along.
On the ATP side, the clay season is off to a bizarre start.
The top seeds in the two ATP 250 events now underway (Casablanca, Morocco and Houston, Texas) didn't get a win between them: ATP No. 9
John Isner
was dusted in Houston in the second round (he had a first-round bye) by
Dustin Brown
. Ditto for No. 19
Kevin Anderson
, who was busted in Morocco by 32-year-old No. 89 player
Victor Hanescu
. He's exactly the kind of clay-bred warrior who presents often unsolvable problems for players such as Isner and Anderson, whose power isn't complemented by the kind of patience -- or consistency -- that wins matches on clay.
[+] Enlarge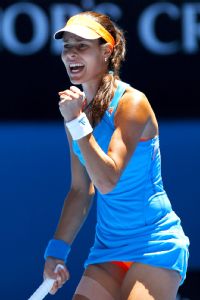 Ella Ling/BPI/Icon SMIDoes early 2014 success have Ana Ivanovic primed for wins on clay?
The results thus far seem emblematic of what lies in store on both tours in the coming weeks. The women are loaded with players who enjoy the clay and know how to play it, like the those mentioned above.
And let's not forget that the winner in Monterey, Calif., (a last lingering hard-court event) last week was former French Open champ
Ana Ivanovic
. The women's tour is chockablock with contenders on clay. Jankovic has been No. 1 in the world and, like current No. 3 Radwanska, she's been a Grand Slam finalist.
Should
Serena Williams
surrender the stranglehold she has on the WTA tour in the coming weeks, it's really impossible to say who, if anyone, might take her place. No. 2
Li Na
has been more consistent than ever in recent months, but she's wandered off-script before.
Victoria Azarenka
has been out with a foot injury, and she's not due back until Madrid in early May; who knows how long it will be until she's match tough again?
Maria Sharapova
, down to No. 8, hasn't made a final this year.
The ATP side of the game offers a clearer picture.
Rafael Nadal
has shown no signs of being anything less than the ruthless, implacable, inexorable punisher of the Euroclay segment. Over the last nine years, he's won Monte Carlo (the first of the red clay Masters 1000 events) eight times, and the Madrid and Rome Masters titles a combined nine times. He's feasted on red clay, and he's coming back for more like he always does.
Nadal, current ATP No. 1, lost exactly one match during the two-month clay-court season last year, and that was to
Novak Djokovic
in the Monte Carlo final. It strains credulity to envision Nadal losing more often this year, unless Djokovic can hit the level he found when he hammered Nadal in the recent Miami Masters final. That match reminded pundits of 2011, when Djokovic won six straight against Nadal (two of those wins in the two major Euroclay Masters, Madrid and Rome).
Djokovic has to prove that he can resurrect -- and sustain -- that level on clay. Nadal is 13-3 against Djokovic on the surface, and while many of those wins were early in the rivalry (Djokovic is 3-4 in their last seven meetings on dirt), clay remains the surface on which Nadal is most effective against his nemesis.
Roger Federer
, back up to No. 4, was feeling so exuberant after clinching the Davis Cup quarterfinal tie against Kazakhstan that he took a wild card into Monte Carlo. It was a bold and confident move, but let's remember that Nadal is even more dominant over Federer on clay than he is over Djokovic. Nadal is 13-2 against the all-time Grand Slam singles champ. He hasn't lost to Federer on clay since May 2009.
As for the rest of the ATP cast, Australian Open champion Stan Wawrinka has slowed down in recent weeks, faltering in the fourth round at Indian Wells and Miami. Top 10 staples such as
Tomas Berdych
,
David Ferrer
,
Jo-Wilfried Tsonga
(now down to No. 12) and
Richard Gasquet
have failed to deliver when it most counts.
Andy Murray
, No. 8 and the defending Wimbledon champ, always seems to struggle on clay.
If we're going to witness a shake-up in the pecking order, it's more likely to occur on the women's side. Nadal is a Superman on red clay; only Djokovic has the kryptonite, and Nadal is usually immune even to that.