December, 6, 2013
12/06/13
1:42
PM ET
The reports that top-ranked
Rafael Nadal
made some $10 million for a comfortable week of exhibition work in South America recently makes you wonder how much the Spaniard with the most wins on the tour in 2013 might have pulled down for the same amount of work.
And I'm not talking about
David Ferrer
, who won 60 matches this year, well short of Nadal's 75.
The Spanish player with the most wins this year was
Pablo Carreno Busta
, who brought new meaning to the world "journeyman" this year as he bounced around and fought his heart out in a whopping 110 matches.
Nadal and world No. 2
Novak Djokovic
each played in 20 tournaments in 2013 (Djokovic's tally includes four three-day Davis Cup ties, and in one of them he didn't even play both his singles matches). In the top 10, only No. 8
Stanislas Wawrinka
and No. 9
Richard Gasquet
played more than 24 events.
[+] Enlarge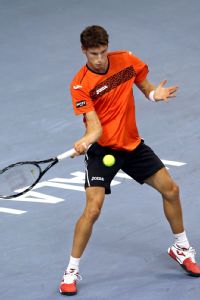 How Foo Yeen/Getty ImagesPablo Carreno Busta shot up the rankings in 2013, and 2014 is setting up nicely for him.
Busta, meanwhile, logged a whopping 29 and accumulated a record of 92-18.
Busta won those ATP sanctioned matches on the Futures, Challenger and main tours. That's about 50 percent more wins than Ferrer accumulated (and they call him "the Little Beast" due to his consistency, stamina, and determination). All that work netted Busta a nice honor and a trophy he'll be able to show off to his grandchildren. He was named the ATP's "Jugador de Mayor Progreso," or Most Improved Player, for 2013.
It may seem that, based on his degree of participation, Busta basically got paid for showing up. But that's not true. In fact, a bunch of guys actually played more events, led among top-50 players by No. 47
Lukas Rosol
, who entered 33. But none sustained the quality Busta was able to muster, week in and week out.
His payoff was an amazing 651-place leap in the rankings, from No. 715 to No. 64. At one point, Busta won 39 consecutive matches in the span of a mere 77 days.
Grinding out those wins enabled him to pull down $174,538, which is only about $35,000 more than Ferrer collected when he failed to win even one match for less than a week's work at the World Tour Finals. And it's actually a few grand less than what Nadal carried off when he failed to win Shanghai and had to settle for a semifinal payout of $180,075.
And they say there's a war going on between Wall Street and Main Street?
The cutoff for breaking even after expenses as a pro these days is at around the No. 150 ranking mark; fall below that and it's deficit spending. You may end up having to call up No. 21
Jerzy Janowicz
to ask if he'll sell that car he used to sleep in as he traveled from tournament to tournament (until he hit it big at the Paris Masters a little over a year ago).
Jerzy probably would give you a good deal on it, and rest assured it's got plenty of room to stretch out (Janowicz is 6-foot-8).
The encouraging thing for Busta, who's still just 22 years old, is that Janowicz never did look back once he crashed the top-100 party. Jerzy didn't have a great year in 2013, but still made it to No. 21 and he earned over a million dollars in prize money.
Assured of direct entry into almost all tournaments (and certainly all Grand Slams) as the year begins in January, Busta is entitled to feel like a made man. He can afford to cut back a little on his schedule, and thereby avoid landing on the list of people hoping to find a right-arm donor.
October, 11, 2013
10/11/13
10:57
AM ET
Just months ago, we were reveling in how well the aging champions of the ATP were playing at the high level in which the under-30 players still performed.
Tommy Robredo
was nothing less than inspirational at the French Open,
Roger Federer
was still the defending champion at Wimbledon and
Tommy Haas
was rocketing up through the rankings again at age 34. And they weren't the only 30-somethings still counting coup.
[+] Enlarge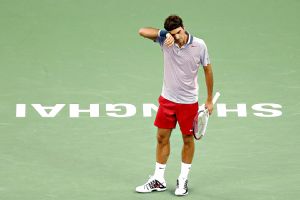 Matthew Stockman/Getty ImagesThirty-two-year-old Roger Federer has been in a free fall since the French Open.
Although it's impossible to pin this down too accurately, the high point for this theme may have been hit a week ago in Beijing, when 32-year-old
Lleyton Hewitt
met 35-year-old Tommy Haas in a first-round match, awakening a rivalry that lay dormant for an incredible nine years. Alas, it was not just a sort of high-water mark; it may be remembered as the moment the ageless warriors jumped the shark. Things haven't been so great for the over-30 set since then.
Let's start with the two Tommies, Haas and Robredo. Robredo, 31, retired with a wrist injury during his second-round match in Beijing against
Fabio Fognini
, and Haas' back was so sore this week that just Thursday he gave
Juan Martin del Potro
a walkover in the third round. Neither Robredo nor Haas has won a match since the US Open.
The fate of the two Tommies, both of whom were susceptible to injuries long before they entered their third decades, underscores how the combination of history and age makes it impossible to take anything for granted.
David Ferrer's case is a little more interesting. The diminutive Spaniard is 31, and his age has been easily overlooked because he's been such an able, consistent competitor. He's been in the top six since the middle of 2011, and as high as No. 3 this year. But Ferrer has been taking some strange and unexpected losses, culminating with his failure Thursday in Shanghai against
Florian Mayer
.
Although he was a French Open finalist, Ferrer won just one match in the two big hard-court Masters 1000 events before the US Open. He hasn't been beyond the quarterfinals since, and he's defending 1000 champion points at the Paris Indoors.
Most fans and pundits love the "Little Beast," but he's always made his way mainly with his remarkable work ethic. And I'm not talking about the hours he puts in on the practice court, although they're no less impressive. Ferrer's success was built upon superhuman concentration and consistency, day-in and day-out. But those faculties are among the first to go with age. Older players are almost always capable of playing their best tennis, sometimes even for a few matches. But as Ferrer is learning, older players just can't grind like they once did, and he's got little to fall back on if you take that away.
Jurgen Melzer
is 32, and the former No. 8 was on the verge of falling out of the Top 50 earlier this year. He had a heroic -- and utterly unexpected -- win in Winston-Salem in mid-August, but since then he's won just four matches going into Shanghai, and he's struggling to hold onto his No. 25 ranking.
Then there's the big kahuna of the over-30 set, Roger Federer. He's 32 now, and the illusion that he can parachute into a few tournaments a year and bag a major and a couple of Masters a year has been shattered for good. Federer has been in crisis since Wimbledon, and is still living off the ranking points he earned last year. He lost to
Gael Monfils
on Thursday in Shanghai (goodbye, semifinal points), so he's won but one match since he was bounced from the US Open in the fourth round by fellow senior citizen Robredo. Federer has a boatload of points to defend through the rest of the year.
And then there's Hewitt, who was awarded a wild card into Shanghai and then lost his opening match to
Andreas Seppi
. All in all, it's been a grim period for these admirable veterans since the US Open, with a particularly bad few days. It appears that we've been living in a wonderful false paradise for a good part of this year, but there really is no beating Father Time, is there?