February, 25, 2015
Feb 25
2:37
PM ET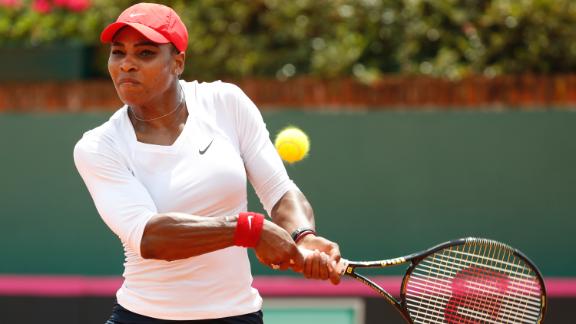 The old adage warning us that while the cat's away the mice will play is never more relevant in pro tennis than in February. Most of the top players have fallen silent after dominating the headlines at the Australian Open, but tournaments are still there to be won, and there's money to be made, plus rankings points to collect.
If Grand Slam tennis is a lavish feast, the events in February and early March constitute a tapas bar. There's all kinds of interesting stuff to digest, some of it relevant to the big combined events to come along shortly, some of it not. February is, contrary to the common perception, a colorful month. It's a little wacky, but awfully satisfying if you can appreciate the talents of, say, Daniela Hantuchova (she won at Pattaya) or Ivo Karlovic (the king of Delray) or even Kim Clijsters.
Say what?
Yes, "Aussie Kim" was with us once again, albeit as a last-minute substitute at Antwerp, where Carla Suarez Navarro was unable to play the final a few weeks ago because of a neck injury.
[+] Enlarge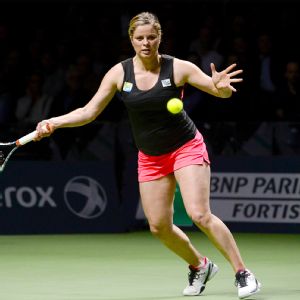 Dirk Waem/AFP/Getty ImagesKim Clijsters might be retired, but she proved she still has plenty of game.
Clijsters, a much-loved former No. 1, laced them up once again to play an exhibition against the healthy finalist, Andrea Petkovic. It was not a difficult decision: Clijsters is the tournament director of Antwerp, and her first reaction to the news that Suarez Navarro was unable to play was a panic attack. "Before I knew it, I was playing," she told reporters later.
Clijsters, now 31, won the showcase 5-3. Making light of the result, Petkovic quipped during the trophy presentation ceremony, "I hope you don't take any offense, Kim, but I'm glad you are done playing on tour."
For the local Clijsters crowd, it went over big, but you have to wonder if a fan who paid full freight for the finals ticket felt satisfied.
That was perhaps the most unusual February moment, but some others also tested our credulity -- chief among them Rafael Nadal's loss to Fabio Fognini. It was Nadal's first loss in a clay-court semifinal in 53 matches spanning 12 years, although David Ferrer, Nicolas Almagro and Novak Djokovic might not be all that impressed. All of them have logged clay-court wins over Nadal in the past year. They just didn't accomplish it in the semis.
Poor Rafa might have known better than to test the waters in February, for the month really does belong to the have-nots -- or have-somes. Ferrer may be the ultimate "have-some," and true to form, he popped up to end any designs Fognini had on the Rio title after his rousing upset of Nadal. At roughly the same time, west of Rio, 29-year-old Pablo Cuevas of Uruguay was in the process of winning just the third title of his career, at Sao Paolo.
And how about Gilles Simon? The speedy, 30-year-old Frenchman tripped up No. 4 Andy Murray at Rotterdam and followed up his semifinal appearance there with a win over Gael Monfils in Marseilles. That one was a corker, decided in a third-set tiebreaker. February might not be a month that evokes reflections on bitter rivalries, or even intense and desperate set-tos. Yet the French players have remarkable enthusiasm for the indoor events played on home soil in either February or the fall.
Richard Gasquet won his second title at Montpellier this February. Simon has won four of his 12 career titles at Marseilles (two) and another French town, Metz (two). Monfils has two titles at Montpellier and one at Metz.
What happens to these fellas when the French Open comes around is a subject best left for another occasion.
Two Grand Slam contenders did impose a modicum of order on the ATP events. In the most significant February ATP event (until this week in Dubai), ATP No. 7 Stan Wawrinka frustrated No. 8 Tomas Berdych in the Rotterdam final. And Kei Nishikori did a fine job upholding his top seeding in Memphis. All three of these men are legitimate Grand Slam contenders who, unlike the Federers and Djokovics of this world, can't afford the luxury of taking off the month of February. All of them did due diligence in the past few weeks.
On the WTA side of the fence at Rio, Sara Errani also justified her top seeding. Simona Halep, who's grown proficient at cleaning up at smaller events, bagged the most prestigious title on offer with a succession of quality wins in Dubai over Ekaterina Makarova, Caroline Wozniacki and, in the final, Karolina Pliskova.
Perhaps fittingly, three of the winners so far in February also won titles a year ago at this time: Halep, Ferrer and Nishikori. Halep is No. 3 in the WTA world rankings, Nishikori is No. 5, and Ferrer is hanging in at No. 9 -- but he's a Grand Slam finalist who has been ranked as high as No. 3.
Even among mice, quality will tell.
January, 12, 2015
Jan 12
7:58
AM ET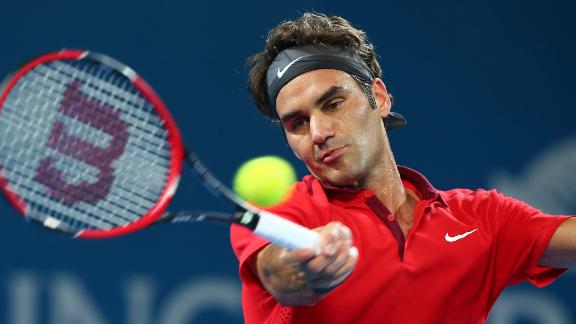 Judging from the first week of play in the new year, 2015 is less likely to be a year of sweeping change than one of business as usual. Sure, top-ranked and top-seeded Novak Djokovic was upset at Qatar. But isn't that what Ivo Karlovic does for a living -- record the occasional resounding win, mostly at lower-tier events?
The reality is that Roger Federer winning his 1,000th match (the Brisbane final) was a more fitting comment on the state of the game. So let's take a look at the evidence:
Juan Martin del Potro pulled out of Brisbane to kick off the new year, still experiencing pain in his left wrist despite having had surgery on the joint nine months ago. It just goes from bad to worse for the poor guy. The 2009 US Open champ, Delpo is a right-hander (but he uses his left on that two-handed backhand). He missed almost all of 2010 with a bad right wrist, and pulled the plug on 2014 in February of last year (this time because of his left wrist). Now the he's down to No. 137.
[+] Enlarge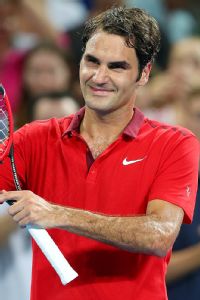 Chris Hyde/Getty ImagesRoger Federer started 2015 in a very familiar fashion -- with a championship trophy.
The bulletin-board quote lives on in tennis. Borna Coric, a gifted 18-year-old eager beaver who has yet to win his 10th ATP main tour match, said something he may have trouble backing up. "I think my game is quite similar to Djokovic's," the Croatian said at the Chennai tournament. "I move well, I don't miss many balls; I'm a fighter and my backhand is my best shot. Currently, I'm the best of my generation." I'm not sure how he defines a generation, but I like his enthusiasm.
Once again Rafael Nadal declared that he's on a mission to recapture his best form -- a refrain oft repeated in the past few injury-marred years. After he was upset in Qatar by No. 127 Michael Berrer, Nadal tried to reassure his fans and the media, saying "I am sure I'm gonna come back to my best." Let's hope he's right. It's easy to forget that a healthy Nadal is still the most electrifying player in the game.
Grigor Dimitrov, the player long touted as the game's next big star (complete with that "Baby Federer" nickname), survived two match points in his opener in Brisbane and made it all the way to the semis, where he lost to Roger "Grown Up" Federer. The important thing, though, is that the 23-year-old Bulgarian has picked up where he left off following a very consistent 2014.
Denis Kudla and Irina Falconi landed the Australian Open wild cards reserved for U.S. players. You have to hand it to these two American pluggers -- they keep plugging away despite all the obstacles and frustrations. Each of them was the top performer in a designated suite of tournaments in the U.S.
Simona Halep continues to consolidate her position as a strong No. 3 despite having failed thus far to win a major. She handled the pressure of a No. 1 seeding well in Shenzhen, where she clobbered Timea Bacsinszky in the final.
Once again, Maria Sharapova fought her way through some ragged play to win a tournament (Brisbane). If you thought her slump to No. 9 last year was a harbinger, forget about it. Alert for Serena fans: Sharapova has crept to within 681 points of Williams.
Stan Wawrinka was 15-4 in Chennai, with two previous wins. He won the title again, this time over qualifier Aljaz Bedene.
David Ferrer won at Qatar, so anyone who feared that the Spanish dynamo, who's 32 years old and down to No. 10, is going to go away can relax -- for now.
Williams won again. OK, so it wasn't Serena but Venus who ran the table at Auckland (WTA), culminating with a hard-fought win over top-seeded Caroline Wozniacki. During that same time, Serena was in the process of losing two out of three singles matches at the Hopman Cup mixed exhibition. I'm not reading too much into that, having been burned enough times in the past to know better than to underestimate Serena.
Hats off to Roger Federer for his great accomplishment in Brisbane; he now trails only Jimmy Connors and Ivan Lendl in career wins. That's great news for Federer and friends, not so great news for those clamoring to see a changing of the guard.
David Ferrer, John Isner and Gael Monfils all withdrew from Auckland (this week). Ferrer, who won at Qatar, cited a bad back. Isner said he was tired after the Hopman Cup. Monfils pulled out for "personal reasons." The taboo against skipping tournament commitments for all but the most grave of reasons continues to break down. Prize money on the ATP Tour may be taking a big jump, but promoters are more at risk than ever before.
Meet the new boss. Same as the old boss.
November, 13, 2014
11/13/14
6:09
PM ET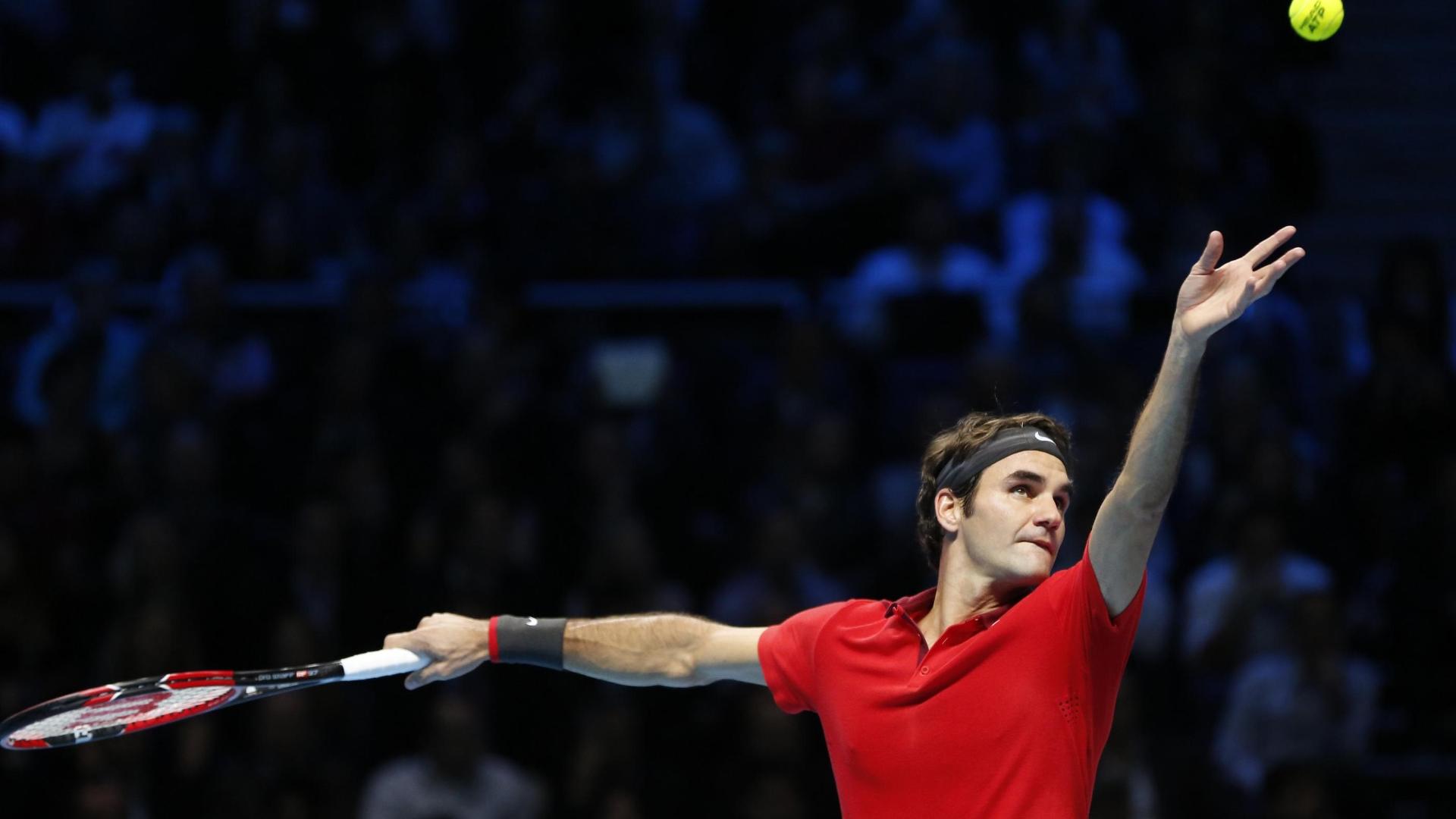 The gap between the sublime and the ridiculous is usually enormous, but
Roger Federer
leaped across it Thursday with ease at the ATP World Tour Finals in London. He destroyed resurgent
Andy Murray
's hopes of capping his recent revival with a win in the year-end championship -- while keeping alive his own improbable dream of finishing 2014 as the oldest player ever to earn the prestigious year-end No. 1 ranking.
Making a mockery of his age as well as the vaunted defense and coy game of his opponent, No. 2 seed Federer advanced to the semifinal stage of the year-enders with an astonishing performance, bamboozling Murray in barely 56 minutes 6-0, 6-1. It wasn't as close as the score indicates, and when it was over Federer met Murray at the net, gently patted the Scot's damp chest, and offered some inaudible words of consolation.
Murray's reply, however, was stoic and easily heard: "Don't worry about it."
Even the most partisan of Federer fans could not have claimed to see this coming. For one thing, Federer had been assured of qualifying before the match began; he had no particular reason to destroy Murray. For another, Murray was a desperate man who could still make the semifinals -- should he upset Federer in two sets. As well, Murray has been on a tear this fall, playing six weeks running to pick up enough points to qualify for the elite eight who comprise the singles field. The only top player who enjoyed anything like comparable success -- and also played a robust schedule -- was Federer himself.
As if all that wasn't enough, this tournament had been a carnival of blowouts thus far -- the only three-set match took place earlier Thursday, and it didn't even feature one of the top eight qualifiers. Alternate
David Ferrer
was called upon to step in for
Milos Raonic
, who had withdrawn with a muscle tear. Ferrer promptly went where none of the elite had gone this week, forcing
Kei Nishikori
to three sets. (Nishikori thus joined Federer as a Group B qualifier for the semis.)
Surely, Federer and Murray -- tied in their career rivalry with 11 wins apiece -- would deliver a match worthy of the fifth most prestigious event in men's tennis?
Early in the match, it appeared that salvation might be at hand. Federer served the first game, and opened the ball with a wild volley error. Murray won the next point, as well. But at 15-30, Murray missed a makeable down-the-line backhand pass. Federer managed the hold and then converted his second break point to bolt to a 2-love lead. The slaughter commenced thereafter, and just 19 minutes into the match, Federer had a 5-love lead.
It was clear by then that Murray was off his game and Federer was in the zone, but that doesn't mean there aren't lessons to be taken from Murray's nightmare. For one thing, Federer demonstrated that with sufficient aggression Murray's familiar "gotcha" style, rooted in his curious habit of hanging back and waiting for the game to come to him, can be exploited.
Murray is at his best when his temptation to react (rather than take charge) is at ebb, and that wasn't the case Thursday evening. He allowed his opponent to bring the game to him, and the pace, power and accuracy with which Federer delivered stunned Murray.
Granted, Murray had an all-around miserable day. His second serve was ineffective, his forehand was atrocious and his storied defense was broken down time and again. But that only shed a harsh, clear light on the degree to which an all-court aggressive game can still bear fruit in this age of defensive, baseline play. Federer was so light on his feet that he appeared to be skating, rather than running, and he attacked freely and frequently. A less aggressive player might have given Murray a little more breathing room to rally his game and find some sort of rhythm.
Federer accomplished all that despite logging a lower first-serve conversion rate lower than Murray's (38 percent to 45 percent). When Federer did put his first serve into play, he was perfect: 14-for-14.
Murray had never absorbed a love-and-love beating in his 631 previous pro matches. The closest anyone came to laying that much wood on him was
Novak Djokovic
, who beat him in the Miami Masters of 2007, love and one. As this beating went on, straining credulity game after game, the big question was whether Federer would go for the 6-0, 6-0 score line.
In the sixth game of the second set, with Murray down 5-0, Federer jumped out front with a pretty drop-shot winner. Murray then hit a double fault. Suddenly, almost imperceptibly, Federer took his foot off the gas. He missed a forehand volley. Murray hit an ace. Federer donated a backhand error and then swatted at yet another second serve as if the ball were merely a pesky fly. Murray, having won the face-saving game, was appreciative enough to give Federer little trouble in the final game, which Federer closed out when Murray made a backhand rally error.
"I think I just picked apart his game," the winner said, speaking as if this were not a demolition but a delicate, surgical procedure. In truth, it was a little bit of both, as is so often the case with the improbable Mr. Federer.
Asked afterward if he had thrown Murray a bone in that sixth game, Federer said he tried to win it, but added, "I was actually happy it didn't happen."
On a day when the sublime morphed into the ridiculous, it seemed a fitting confession.
June, 20, 2014
6/20/14
2:38
PM ET
We live in an age of speed reading, speed dialing and even speed dating. So why not speed draw analysis as well?
Let's not waste any more time before looking at the 2014 Wimbledon draw.
Men's singles
Top quarter: The Djokovic section
Promoted to the top spot thanks to Wimbledon's seeding formula (despite ranking behind world No. 1
Rafael Nadal
),
Novak Djokovic
might end up saying "Thanks for nothing."
His quarter is loaded with tricky players (
Radek Stepanek
,
Gilles Simon
, even lost boy
Bernard Tomic
) as well as power hitters (No. 26 seed
Marin Cilic
, No. 12
Ernests Gulbis
, No. 14
Jo-Wilfried Tsonga
, No. 18
Fernando Verdasco
). Djokovic will be lucky to make it through to the quarters, where he might have to lock horns with yet another bombardier, No. 6
Tomas Berdych
.
[+] Enlarge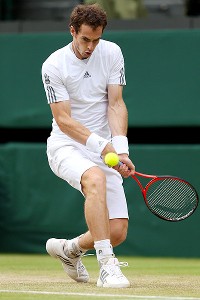 Clive Brunskill/Getty ImagesAndy Murray's title defense at Wimbledon could run into a roadblock in the form of David Ferrer.
Second quarter: The Murray section
You could just as well call this the mercurial section because it contains a dazzling array of shot makers including No. 16 seed
Fabio Fognini
, No. 21
Alexandr Dolgopolov
,
Dominic Thiem
, No. 27
Roberto Bautista Agut
and flavor-of-the-month in the ATP, No. 11
Grigor Dimitrov
.
Andy Murray
's versatility will come in handy. Unlike Djokovic, his promotion to the No. 3 seed despite a world ranking of no. 5 was still a net plus, even though nobody could possibly look forward to a quarterfinal date with No. 7 seed
David Ferrer
.
Third quarter: The Federer section
What is this, the anniversary reunion for some tennis academy? The "old guys" in this section include No. 4
Roger Federer
, No. 23
Tommy Robredo
, No. 19
Feliciano Lopez
,
Julien Benneteau
, hoary old
Lleyton Hewitt
and even never-say-die
Michael Russell
.
Young ace-makers
John Isner
(No. 9 seed) and No. 15
Jerzy Janowicz
inhabit this quarter as well. But the biggest threat to Federer's hopes of making the semis is his countryman and No. 5 seed
Stan Wawrinka
.
Fourth quarter: The Nadal section
This one is real mixed bag, with mercurial players such as No. 13
Richard Gasquet
and No. 25
Gael Monfils
mixed freely with volatile elements such as No. 29
Ivo Karlovic
,
Benoit Paire
, and (if all goes according to plan) Nadal's quarterfinal opponent, No. 8
Milos Raonic
.
The semis: Djokovic-Ferrer, Wawrinka-Nadal
Women's singles
Top quarter: The Serena section
This is a highly navigable section for top-seeded
Serena Williams
with one potential roadblock: No. 13
Eugenie Bouchard
.
Other dangerous players include resurgent No. 20 seed
Andrea Petkovic
and perhaps No. 9 (but slumping)
Angelique Kerber
. There are some dangerous floaters here, too, including
Camila Giorgi
,
Daniela Hantuchova
and
Christina McHale
.
Second quarter: The Halep section
This seems a soft section, which will be great news for last year's finalist, No. 19 seed
Sabine Lisicki
, as well as No. 3 seed
Simona Halep
. No. 7
Jelena Jankovic
, No. 11
Ana Ivanovic
and No. 21
Roberta Vinci
all are vulnerable.
There are three additional players of interest in this section: former world No. 2
Vera Zvonareva
, a wild card, and a pair of American 18-year-olds in wild card
Taylor Townsend
and qualifier
Victoria Duval
.
Third quarter: The Radwanska section
Victoria Azarenka
, returning from a long injury layoff and seeded No. 8, has to be happy with this draw. She has a history of just hammering No. 3 seed
Agnieszka Radwanska
, which means there might be a clear passage to the semis.
The biggest obstacle could be No. 10
Dominika Cibulkova
, who has upped her game significantly this year. Sure, No. 27
Garbine Muguruza
is an up-and-coming talent and the section also has No. 14
Sara Errani
, but both are better on clay than grass.
Fourth quarter: The Li section
Petra Kvitova
, the 2011 champion, is a wildly unpredictable player who has struggled with illness and injury. She is seeded No. 6, and if she finds her game and gets hold of her emotions she could win the whole thing again. That's an unlikely development, though, which means No. 2 seed
Li Na
is looking pretty good.
Li's biggest enemy is herself, however, and she has lost to that rival many times, so who knows?
The semis: Bouchard-Halep, Azarenka-Li
May, 23, 2014
5/23/14
11:33
AM ET
Grand Slam events never go as expected; we all know that. Your odds of predicting all the brackets might be slightly better than those you faced filling in your NCAA basketball tournament bracket with a trembling hand (it was visions of Warren Buffett's billion bucks dancing in your brain). But they still ain't good, pal. Those of you who are already whining about the tough draw doled out to your favorite -- or about the free ticket to the final issued to said favorite's bitter rival -- need to keep just two words in mind:
Virginie Razzano
.
Every draw is great -- or horrible -- until it isn't. That's the reality.
Remember how
Serena Williams
' projected stroll to the French Open title in 2012 started -- and ended -- with the daughter of a French magician, No. 111-ranked wild card Virginie Razzano?
Well, guess what? They could, but probably won't, meet again this year -- this time in the quarterfinals. But note that, once again, Williams is paired with a French wild card in her first match. This time, it's 23-year-old
Alize Lim
. I doubt her father also is a magician, which is just one of the reasons I'm not going out on a Lim to predict the upset.
In fact, let me tell you some of the other things that just aren't going to happen at Roland Garros, according to what I see in my crystal ball.
• No. 17 seed
Tommy Robredo
will not equal the feat he turned last year, when he won three consecutive matches from two sets to love down. The last time that happened was 1927; the next it happens will be the year 3000.
• We will not see another Serena vs.
Venus Williams
Grand Slam final. We won't even see them clash in the third round, as the draw suggests. Venus, who will be 34 just days after the end of the tournament, has a potentially tough second round against China's
Jie Zheng
.
• Former US Open champ
Samantha Stosur
, seeded No. 19, will not allow No. 17
Roberta Vinci
to get away with "softest seed" honors. Stosur will be upset in the first round by Puerto Rico's
Monica Puig
.
• Lenny and Myla Rose Federer will not be upset by Leo and Charlene Federer in the 4-and-under invitational mixed doubles. Mirka will sit in the guest box of Lenny and Myla, Roger will be in the one assigned to Leo and Charlene. Tony Godsick will dash madly between the two, and the winners' trophy will be presented by twins
Bob
and
Mike
Bryan.
• No. 10 seed
John Isner
and
Nicolas Mahut
will meet in the third round. But they will not establish a new record by playing a 71-69 in-the-fifth set.
•
Maria Sharapova
, the No. 7 seed, will not beat Serena Williams in the quarterfinals, but she will launch a new line of candy to commemorate their non-rivalry, Bitterpova.
•
Andy Murray
, seeded No. 7, will not win Roland Garros.
Ernests Gulbis
, who knows?
Tomas Berdych
, could happen!
Teymuraz Gabashvili
? You never, ever write anyone off. Except, in this case, poor Andy, who hasn't won three consecutive matches since Miami.
•
Ana Ivanovic
, seeded No. 11, will not make it past French youngster
Caroline Garcia
, but Ivanovic will get the opportunity to clench and pump her fist enough times to establish a new personal record.
•
Rafael Nadal
will not have to play all three men who beat him on clay this year, as the draw suggests (
Nicolas Almagro
, fourth round;
David Ferrer
, semis;
Novak Djokovic
, final). Well, the joke's on them. Nadal will be upset in the second round by hard-charging Austrian youngster
Dominic Thiem
.
•
Luksika Kumkhum
of Thailand will not get far enough into the tournament to have WTA officials scrambling to double-check their spelling of her name.
• Ferrer, seeded No. 5, will not win the French Open this year, even though the top four men, Nadal, No. 2 seed Djokovic,
Stan Wawrinka
and
Roger Federer
will all be upset victims. When 32-year-old Ferrer walks out on the Chatrier court and sees that the only thing standing between him and that long-sought Grand Slam singles title is Germany's
Tobias Kamke
, his head will explode.
April, 11, 2014
4/11/14
1:42
PM ET
The clay-court swing is officially underway, the first blow struck by
Andrea Petkovic
of Germany, who won on the green clay of Charleston last Sunday.
There are WTA events underway this week in Katowice, Poland, and Bogota, Colombia, where top seeds
Agnieszka Radwanska
and
Jelena Jankovic
(respectively) are rolling along.
On the ATP side, the clay season is off to a bizarre start.
The top seeds in the two ATP 250 events now underway (Casablanca, Morocco and Houston, Texas) didn't get a win between them: ATP No. 9
John Isner
was dusted in Houston in the second round (he had a first-round bye) by
Dustin Brown
. Ditto for No. 19
Kevin Anderson
, who was busted in Morocco by 32-year-old No. 89 player
Victor Hanescu
. He's exactly the kind of clay-bred warrior who presents often unsolvable problems for players such as Isner and Anderson, whose power isn't complemented by the kind of patience -- or consistency -- that wins matches on clay.
[+] Enlarge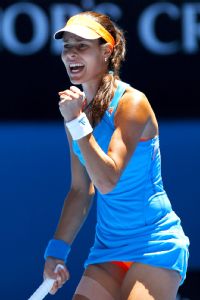 Ella Ling/BPI/Icon SMIDoes early 2014 success have Ana Ivanovic primed for wins on clay?
The results thus far seem emblematic of what lies in store on both tours in the coming weeks. The women are loaded with players who enjoy the clay and know how to play it, like the those mentioned above.
And let's not forget that the winner in Monterey, Calif., (a last lingering hard-court event) last week was former French Open champ
Ana Ivanovic
. The women's tour is chockablock with contenders on clay. Jankovic has been No. 1 in the world and, like current No. 3 Radwanska, she's been a Grand Slam finalist.
Should
Serena Williams
surrender the stranglehold she has on the WTA tour in the coming weeks, it's really impossible to say who, if anyone, might take her place. No. 2
Li Na
has been more consistent than ever in recent months, but she's wandered off-script before.
Victoria Azarenka
has been out with a foot injury, and she's not due back until Madrid in early May; who knows how long it will be until she's match tough again?
Maria Sharapova
, down to No. 8, hasn't made a final this year.
The ATP side of the game offers a clearer picture.
Rafael Nadal
has shown no signs of being anything less than the ruthless, implacable, inexorable punisher of the Euroclay segment. Over the last nine years, he's won Monte Carlo (the first of the red clay Masters 1000 events) eight times, and the Madrid and Rome Masters titles a combined nine times. He's feasted on red clay, and he's coming back for more like he always does.
Nadal, current ATP No. 1, lost exactly one match during the two-month clay-court season last year, and that was to
Novak Djokovic
in the Monte Carlo final. It strains credulity to envision Nadal losing more often this year, unless Djokovic can hit the level he found when he hammered Nadal in the recent Miami Masters final. That match reminded pundits of 2011, when Djokovic won six straight against Nadal (two of those wins in the two major Euroclay Masters, Madrid and Rome).
Djokovic has to prove that he can resurrect -- and sustain -- that level on clay. Nadal is 13-3 against Djokovic on the surface, and while many of those wins were early in the rivalry (Djokovic is 3-4 in their last seven meetings on dirt), clay remains the surface on which Nadal is most effective against his nemesis.
Roger Federer
, back up to No. 4, was feeling so exuberant after clinching the Davis Cup quarterfinal tie against Kazakhstan that he took a wild card into Monte Carlo. It was a bold and confident move, but let's remember that Nadal is even more dominant over Federer on clay than he is over Djokovic. Nadal is 13-2 against the all-time Grand Slam singles champ. He hasn't lost to Federer on clay since May 2009.
As for the rest of the ATP cast, Australian Open champion Stan Wawrinka has slowed down in recent weeks, faltering in the fourth round at Indian Wells and Miami. Top 10 staples such as
Tomas Berdych
,
David Ferrer
,
Jo-Wilfried Tsonga
(now down to No. 12) and
Richard Gasquet
have failed to deliver when it most counts.
Andy Murray
, No. 8 and the defending Wimbledon champ, always seems to struggle on clay.
If we're going to witness a shake-up in the pecking order, it's more likely to occur on the women's side. Nadal is a Superman on red clay; only Djokovic has the kryptonite, and Nadal is usually immune even to that.
December, 6, 2013
12/06/13
1:42
PM ET
The reports that top-ranked
Rafael Nadal
made some $10 million for a comfortable week of exhibition work in South America recently makes you wonder how much the Spaniard with the most wins on the tour in 2013 might have pulled down for the same amount of work.
And I'm not talking about
David Ferrer
, who won 60 matches this year, well short of Nadal's 75.
The Spanish player with the most wins this year was
Pablo Carreno Busta
, who brought new meaning to the world "journeyman" this year as he bounced around and fought his heart out in a whopping 110 matches.
Nadal and world No. 2
Novak Djokovic
each played in 20 tournaments in 2013 (Djokovic's tally includes four three-day Davis Cup ties, and in one of them he didn't even play both his singles matches). In the top 10, only No. 8
Stanislas Wawrinka
and No. 9
Richard Gasquet
played more than 24 events.
[+] Enlarge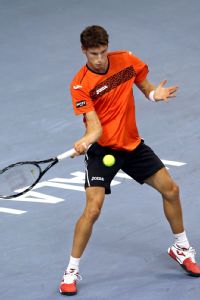 How Foo Yeen/Getty ImagesPablo Carreno Busta shot up the rankings in 2013, and 2014 is setting up nicely for him.
Busta, meanwhile, logged a whopping 29 and accumulated a record of 92-18.
Busta won those ATP sanctioned matches on the Futures, Challenger and main tours. That's about 50 percent more wins than Ferrer accumulated (and they call him "the Little Beast" due to his consistency, stamina, and determination). All that work netted Busta a nice honor and a trophy he'll be able to show off to his grandchildren. He was named the ATP's "Jugador de Mayor Progreso," or Most Improved Player, for 2013.
It may seem that, based on his degree of participation, Busta basically got paid for showing up. But that's not true. In fact, a bunch of guys actually played more events, led among top-50 players by No. 47
Lukas Rosol
, who entered 33. But none sustained the quality Busta was able to muster, week in and week out.
His payoff was an amazing 651-place leap in the rankings, from No. 715 to No. 64. At one point, Busta won 39 consecutive matches in the span of a mere 77 days.
Grinding out those wins enabled him to pull down $174,538, which is only about $35,000 more than Ferrer collected when he failed to win even one match for less than a week's work at the World Tour Finals. And it's actually a few grand less than what Nadal carried off when he failed to win Shanghai and had to settle for a semifinal payout of $180,075.
And they say there's a war going on between Wall Street and Main Street?
The cutoff for breaking even after expenses as a pro these days is at around the No. 150 ranking mark; fall below that and it's deficit spending. You may end up having to call up No. 21
Jerzy Janowicz
to ask if he'll sell that car he used to sleep in as he traveled from tournament to tournament (until he hit it big at the Paris Masters a little over a year ago).
Jerzy probably would give you a good deal on it, and rest assured it's got plenty of room to stretch out (Janowicz is 6-foot-8).
The encouraging thing for Busta, who's still just 22 years old, is that Janowicz never did look back once he crashed the top-100 party. Jerzy didn't have a great year in 2013, but still made it to No. 21 and he earned over a million dollars in prize money.
Assured of direct entry into almost all tournaments (and certainly all Grand Slams) as the year begins in January, Busta is entitled to feel like a made man. He can afford to cut back a little on his schedule, and thereby avoid landing on the list of people hoping to find a right-arm donor.
October, 11, 2013
10/11/13
10:57
AM ET
Just months ago, we were reveling in how well the aging champions of the ATP were playing at the high level in which the under-30 players still performed.
Tommy Robredo
was nothing less than inspirational at the French Open,
Roger Federer
was still the defending champion at Wimbledon and
Tommy Haas
was rocketing up through the rankings again at age 34. And they weren't the only 30-somethings still counting coup.
[+] Enlarge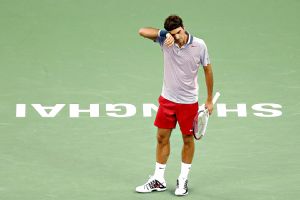 Matthew Stockman/Getty ImagesThirty-two-year-old Roger Federer has been in a free fall since the French Open.
Although it's impossible to pin this down too accurately, the high point for this theme may have been hit a week ago in Beijing, when 32-year-old
Lleyton Hewitt
met 35-year-old Tommy Haas in a first-round match, awakening a rivalry that lay dormant for an incredible nine years. Alas, it was not just a sort of high-water mark; it may be remembered as the moment the ageless warriors jumped the shark. Things haven't been so great for the over-30 set since then.
Let's start with the two Tommies, Haas and Robredo. Robredo, 31, retired with a wrist injury during his second-round match in Beijing against
Fabio Fognini
, and Haas' back was so sore this week that just Thursday he gave
Juan Martin del Potro
a walkover in the third round. Neither Robredo nor Haas has won a match since the US Open.
The fate of the two Tommies, both of whom were susceptible to injuries long before they entered their third decades, underscores how the combination of history and age makes it impossible to take anything for granted.
David Ferrer's case is a little more interesting. The diminutive Spaniard is 31, and his age has been easily overlooked because he's been such an able, consistent competitor. He's been in the top six since the middle of 2011, and as high as No. 3 this year. But Ferrer has been taking some strange and unexpected losses, culminating with his failure Thursday in Shanghai against
Florian Mayer
.
Although he was a French Open finalist, Ferrer won just one match in the two big hard-court Masters 1000 events before the US Open. He hasn't been beyond the quarterfinals since, and he's defending 1000 champion points at the Paris Indoors.
Most fans and pundits love the "Little Beast," but he's always made his way mainly with his remarkable work ethic. And I'm not talking about the hours he puts in on the practice court, although they're no less impressive. Ferrer's success was built upon superhuman concentration and consistency, day-in and day-out. But those faculties are among the first to go with age. Older players are almost always capable of playing their best tennis, sometimes even for a few matches. But as Ferrer is learning, older players just can't grind like they once did, and he's got little to fall back on if you take that away.
Jurgen Melzer
is 32, and the former No. 8 was on the verge of falling out of the Top 50 earlier this year. He had a heroic -- and utterly unexpected -- win in Winston-Salem in mid-August, but since then he's won just four matches going into Shanghai, and he's struggling to hold onto his No. 25 ranking.
Then there's the big kahuna of the over-30 set, Roger Federer. He's 32 now, and the illusion that he can parachute into a few tournaments a year and bag a major and a couple of Masters a year has been shattered for good. Federer has been in crisis since Wimbledon, and is still living off the ranking points he earned last year. He lost to
Gael Monfils
on Thursday in Shanghai (goodbye, semifinal points), so he's won but one match since he was bounced from the US Open in the fourth round by fellow senior citizen Robredo. Federer has a boatload of points to defend through the rest of the year.
And then there's Hewitt, who was awarded a wild card into Shanghai and then lost his opening match to
Andreas Seppi
. All in all, it's been a grim period for these admirable veterans since the US Open, with a particularly bad few days. It appears that we've been living in a wonderful false paradise for a good part of this year, but there really is no beating Father Time, is there?