April, 4, 2014
Apr 4
11:45
AM ET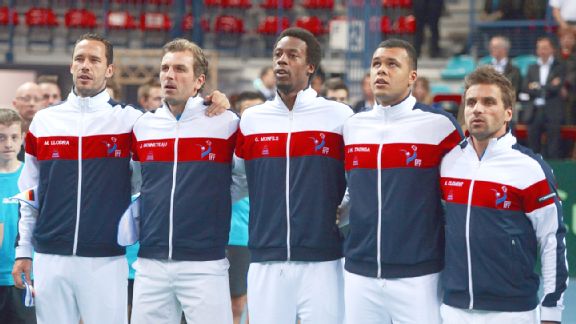 Dennis Grombkowski/Getty ImagesDon't tell the French team that Davis Cup tennis has lost its relevance.
The Davis Cup World Group quarterfinals will take place this weekend, with the U.S. already out of the competition thanks to that shocking first-round loss to Great Britain back February.
Of course, that won't stop American fans from spending the weekend floating their cockamaimie plans for altering Davis Cup -- for making it more "relevant," for making it more "promotable," for making it what it hasn't really been in the U.S. since the dawn of Open tennis: a premium event attracting the interest of the general sporting public and media.
But while so many fans in the U.S. are criticizing the Davis Cup for being the vestige of a bygone era and small beer compared to the Grand Slams, the rest of the world is thinking, "Who cares what the Americans think? They stink at tennis anyway."
It's astonishing that American tennis has come to this juncture. Remember how much stock Arthur Ashe and Stan Smith put in Davis Cup? Remember how John McEnroe always made room for Davis Cup on his schedule? Remember how often Andre Agassi and Andy Roddick answered the Davis Cup call?
I'm not saying the American men's game wouldn't be in its present state of decay if Davis Cup were more highly valued. What I am saying, though, is that anti-Davis Cup sentiments are a pretty good indicator of just how out of touch so many Americans are with the global tennis community.
Guess what? Most of the world loves Davis Cup, and takes particular pleasure in watching players from what once were "have-not" countries compete for glory in the most legitimate -- and storied -- annual international team competition in sports. Much of the world also enjoys watching some upstart nation take the once-mighty USA down a peg or two, although the pegs are admittedly running out. How much worse can we get?
Granted, not all of the top international stars play Davis Cup all the time - the four-week commitment required of a squad that has a realistic shot at winning (see: "S" for Switzerland this year) is significant. It's also true that because the event is owned and staged by the International Tennis Federation and its member nations/federations, Davis Cup suffers from a fair amount of fuddy-duddyism.
The federations are run by well-meaning amateurs whose demands on the players are more onerous than those of the typical tournament promoter, who's just happy the players showed up to vie for and carry off the prize money. Davis Cup ties aren't big money-makers. The players generally compete out of a desire to represent their respective nations, and to give a little back.
We also know the problems associated with the long interval between Davis Cup weeks, as well as how the unique rules governing where any tie is played (the teams take turns hosting) makes long-range planning and promotion difficult.
Yes, in many ways Davis Cup is a drag for the players. Yet the competition flourishes almost everywhere else in the world because players still are willing to make sacrifices in order to represent their country -- to play for the glory of the nation, rather than self.
Back in the day, it seemed that the baffling indifference of the U.S. audience to Davis Cup held back the competition. That indifference no longer matters. The world has passed us by.
While we sit here talking about playing Davis Cup every two years, or eliminating the things that make Davis Cup great (like the alternating host rule) and settling the whole thing in some giant two-week festival at a single site, the rest of the world is wrapping its arms around Davis Cup just the way it is.
On the whole, our national attitude toward Davis Cup is not a symptom not of the Davis Cup's irrelevance, but ours.
February, 10, 2014
Feb 10
1:55
PM ET
The Davis Cup and Fed Cup were played on back-to-back weekends, and once again the results -- and reviews -- for the most credible and storied of annual international team sports competitions were mixed.
There was some controversy as well, coming out of the Davis Cup World Group play. Team Germany, after having swept Spain in Frankfurt, declared that since the tie was decided, the meaningless match (or "dead rubber" in Davis Cup patois) between Germany's No. 1
Philipp Kohlschreiber
and Nadal-less Spain's top player,
Feliciano Lopez
, would not take place.
Thus, the only match that the faithful in Frankfurt were offered on that Sunday that began with Germany already having won 3-0 was the fifth match, another meaningless "dead rubber" in which Germany's
Daniel Brands
salted away Spain's
Roberto Bautista Agut
in two desultory sets.
The sweep is always a problem in Davis Cup, because it renders the third day of the tie is meaningless. That's a tough pill to swallow for some potential or actual ticket-buyers, but judging from the reaction in Germany it's not as tough as being told that no matter how happy you are to see your boys sweep, you're not going to see what you paid to see.
That didn't sit well with the German fans. They booed and protested the announcement that the fourth rubber was canceled, and a terrific moment for the German team was ruined by the ugly mood that descended on the venue in what ought to have been a moment of shared pride and joy.
This is a persistent problem in Davis Cup, because the sweep isn't uncommon. Three of the eight ties in the first-round of World Group play ended in sweeps. This challenge is particularly acute because of a different, otherwise terrific Davis Cup rule that mandates that the No. 1 players meet in the fourth rubber, which is the first match on Sunday. It's generally the most anticipated match of any tie, and canceling it entirely just puts salt on the wound.
The ITF ought to come up with a way to keep ticket-buying fans entertained and happy in the event of a sweep. It can demand that the Davis Cup nations make provisions for giving the fans some kind of legitimate show instead of telling them to just go home on the final day of play. Perhaps No. 1 singles players ought to be obliged to play a doubles match of some kind. The options are numerous. The important thing is that some fans travel from afar to make a three-day weekend out of Davis Cup, so why force them to endure a preventable "rainout" on Sundays?
The Fed Cup doesn't have that problem, and in some ways its format is more suitable for this era. Fed Cup is played over the weekend with two singles matches on Saturday and three matches on Sunday, culminating with the doubles. Thus, the tie is "live" both days, even when it's destined to be a sweep.
I don't think Davis Cup needs to adopt that two-day format; the middle "doubles" Saturday is a great Davis Cup tradition for good reason -- it enhances the strategic maneuverings of the captains. And given that the men play best-of-five sets, a three-match day would be too much like a death march for all concerned.
The three-day Davis Cup format is brilliant, showcasing doubles and encouraging strategy without overinflating its importance. The competition doesn't need changing, it just needs a better insurance policy against meaningless Sundays.
January, 30, 2014
Jan 30
4:19
PM ET
Until Wednesday, the first round of Davis Cup World Group play shaped up as a low-key spectacle.
Andy Murray
, the most junior member of tennis' suddenly beleaguered Big Four, was the only member of the quartet who volunteered to do national service.
All that changed in the blink of an eye when
Roger Federer
, the most prolific of all Grand Slam champions, threw his hat into the ring. He announced that he will be joining newly crowned Australian Open champion
Stanislas Wawrinka
(now No. 3 in the world rankings) on Team Switzerland.
Who knew that the smooth, diplomatic, straight-arrow Federer had such a wicked sense of humor?
Switzerland is visiting Serbia, the 2010 champion and last year's runner-up to the Czech Republic, on an indoor hard court in Monica Seles' home town of Novi Sad. Does anyone else get the feeling that, somewhere, smoke is pouring from the ears of
Novak Djokovic
?
You could hardly blame Djokovic, whose allegiance to Davis Cup thus far in his career has been unimpeachable. He decided to take a break this year, partly because the Serbs couldn't muster an adequate supporting cast.
Viktor Troicki
, who was ranked inside the top 40 at the start of the year, is sitting out a suspension for violating the anti-doping regimen.
Janko Tipsarevic
, who was No. 10 as late as May of last year, has been plagued by injuries and mired in a rankings free-fall. Given that
Marco Chiudinelli
, the likely Swiss No. 2, is ranked No. 180, the Serbs were in with a fighting chance even in the event that Wawrinka wins both his singles rubbers.
Now it just looks like the Serbs are in for humiliation. What's worse for Djokovic is that losing teams this weekend will be obliged to play -- and win -- later in the year in the Playoff Round to remain in the elite World Group for 2015. So though Federer and Wawrinka might be hogging the limelight in the September semifinals, Djokovic may find himself pressed into service in some far-flung outpost of the game just to keep Serbia up in the big league.
Thanks, Roger.
Federer's decision to play automatically overshadowed the commitment made to this round by Murray. While No. 1
Rafael Nadal
and No. 2 Djokovic are cooling their heels, Murray is leading an overmatched British team against the U.S. in a tie at Petco Park in San Diego.
It's a sign of changing times that the U.S.-Great Britain tie will be played on outdoor red clay, a surface on which No. 13
John Isner
has had terrific Davis Cup results in the past. However, Isner pulled out of the competition Thursday with an injury. He will be replaced by Donald Young, who had a bit of an auspicious run in Australia. Although both Young and No. 49
Sam Querrey
, now the United States' No. 1 singles player, could easily lose to Murray, the No. 2 singles for the Brits probably will be an overmatched No. 175, Jamie Ward. It's times like these that make U.S. captains like Jim Courier and his predecessor, Patrick McEnroe, fall to their knees and thank the heavens for the doubles team of Bob and
Mike Bryan
.
This year's first round has some intriguing matchups:
Milos Raonic
and
Vasek Pospisil
of Canada challenging the Japanese team led (at home) by
Kei Nishikori
and a crafty Italian team featuring
Fabio Fognini
and
Andreas Seppi
ought to give host Argentina all it can handle. There probably will be some tense moments and intense competition this weekend in many nations, if not Serbia.
November, 18, 2013
11/18/13
11:22
AM ET
The Czech Republic's
Radek Stepanek
made history in the Davis Cup final Sunday, becoming the first player to win consecutive live fifth-set rubbers in Davis Cup finals. The question many people will be debating over the coming days is, "Should Serbia's
Novak Djokovic
get an assist for his part in enabling the 34-year-old's moment of glory?
Djokovic, who easily defeated Stepanek in the first of the five rubbers, did not play in the critical "swing match," the Saturday doubles. The Czechs won the match against the overmatched Serbs, who put forth outstanding doubles specialist
Nenad Zimonjic
, who was paired with
Ilija Bozoljac
, a 28-year-old journeyman with a losing record (2-3) in Davis Cup. They were crushed by Stepanek and the Czech Republic's top player, ATP No. 7
Tomas Berdych
.
As a result, the Czechs led going into the final day by 2-1. Djokovic then came up big against Berdych in the fourth rubber, the battle of the respective No. 1s. But Serbia's fate in the decisive fifth rubber then lay in the hands of 23-year-old
Dusan Lajovic
, who has a world ranking of No. 117. And he didn't stand a chance against wily 34-year-old Stepanek, who is ranked 44th but has been as high as No. 8, brings his A-game for Davis Cup and always has been a very tough out. You wanted to avert your eyes as soon as this one was underway. Lajovic won just five games in the three sets.
The big question that lingers is: Should Djokovic have played doubles? True, he has played a boatload of matches in recent weeks, and, less than a week ago, he won the ATP World Tour Finals. And his participation in doubles by no means ensured a win in that match, either. Berdych and Stepanek would be one of the elite ATP doubles teams -- if they wanted to devote the energy to it.
Besides, Djokovic is no doubles specialist. He's just 1-2 in Davis Cup doubles, and one of those losses was to this same Czech team -- while he was partnered with the same quality doubles specialist, Zimonjic. On the other hand, great players such as Djokovic are capable of doing great things -- especially when they take a turn at doubles.
According to news reports, Serbian captain Bogdan Obradovic said he made the final decision to keep Djokovic out of the doubles. "After discussing all of the options and listening to Novak of course -- because he's the one telling me is he ready -- and does he have enough energy to play the three days, I made the decision to play Ilija together with Nenad." Later, he reiterated that he takes responsibility as "the decision-maker."
Fair enough. But it's hard to imagine that a force as powerful as Djokovic could have been passed over had he really wanted to play. To put it bluntly, the guy
is
Serbian tennis. But the narrative doesn't suggest that Djokovic was copping out -- far from it. He appears to have been guilty of nothing more than knowing his place as a team member. Instead of bucking the authority of the captain, he accepted it. That's admirable, even if it cost Serbia its second Davis Cup title.
Even the Czechs had braced to see Djokovic in the doubles, and Stepanek later compared the decision to relegate Djokovic to the bench to "keeping the Ferrari in the garage." Of course, you generally can leave it to this guy to rub salt in the wound. But no matter. Stepanek has joined icons Fred Perry and Henri Cochet as one of the three players who've won two decisive fifth singles rubbers.
Stepanek didn't forget the team aspect of Davis Cup in the wake of his clutch win, either. As he said, "I was under the biggest pressure that can be. We are one of only five teams that have defended the cup."
The Czechs have now won the cup three times (in 1980, as Czechoslovakia, as well as the past two years), and added to their well-earned reputation as perhaps the greatest tennis power (per capita) on earth.
It's nice to have a Ferrari in the garage, and nobody will ever know whether it might have beaten the Honda that won this race.