June, 13, 2014
Jun 13
12:08
PM ET
Rafael Nadal
, who won the French Open for an unprecedented ninth time last Sunday, has now produced a far better trivia question for tennis fans of the future.
Nadal was the victim of, conceivably, the least surprising upset in tennis history Thursday in Halle, falling 6-4, 6-1 to German wild card
Dustin Brown
in under an hour.
Upon winning, Brown fell to his knees and kissed the turf (it's easier on the lips than red clay). If I had to draw a thought bubble over his head, it would say: "Thank God I got him this year, not in 2015."
The reason? If Nadal plays at Halle again next year, it won't be four days after he won at Roland Garros. Should he add that 10th French Open title (you have a better pick?), he will have at least a week-and-a-half to rest and prepare for Halle.
Next year, Wimbledon is moving back a week on the calendar, and the ATP is juggling events as well as adding a new one and re-jiggering an existing one to create a longer grass-court segment.
So next year, the 's-Hertogenbosch ATP 250 will move up a week (to the week after the French Open), along with the new Stuttgart 250. They'll be followed by the two premier grass events, Halle and Queens. They're both 250s now, but will become 500s. The 250 tournament now in Eastbourne (next week) will move to Nottingham and conclude the day before Wimbledon begins.
You have to wonder, could a shift of one week on the calendar give you more bang for the buck than this one?
A look at the draws at Halle and Queens will tell you all you may need to know about the present situation. Nadal is out,
Novak Djokovic
(Nadal's victim in the French Open final) wasn't ever in, and even with a solid 10-day head start on the grass season the inestimable
Roger Federer
found himself on unsure footing in Halle, a tournament he's won six times.
Federer lost a first-set tiebreaker then had to claw his way through a 6-4 set before he finally eliminated Portugal's
Joao Sousa
, who hasn't even be able to qualify for the main draw at Wimbledon in three tries.
Andy Murray
had even more incentive to do well at Queens than his rivals. He's the defending champ at Wimbledon, and he's playing on grass under the watchful eye of his new coach
Amelie Mauresmo
for the first time this week. He needs work on the grass but all he got was one win before he was ambushed yesterday by grandfatherly
Radek Stepanek
. Could it be partly due to the fact that Murray had his best French Open (losing in the semifinals to Nadal) in years?
All of these ifs, ands or buts will be mitigated, if not entirely eliminated, next year. Players who go deep at the French Open will have the luxury of resting for a week after that tournament before the important Halle and Queens 500s begin.
Should an elite player want to get the extra work, or need to rebound from an early loss at the French Open, he can play the grass events in Stuttgart or 's-Hertogenbosch as well as the two 500s.
"I lost today because my rival was playing better than me," Nadal said after losing to Brown. "And at the same time, as I said yesterday, the transition from clay to grass is difficult, especially when you arrive a little bit tired and not at 100 percent. But I tried my best."
If you remember, Nadal pulled out of Halle last year after he won the French Open, under doctor's orders to rest his knees. This year, he made a noble effort to honor his committment, and he made Dustin Brown's day.
April, 11, 2014
Apr 11
1:42
PM ET
The clay-court swing is officially underway, the first blow struck by
Andrea Petkovic
of Germany, who won on the green clay of Charleston last Sunday.
There are WTA events underway this week in Katowice, Poland, and Bogota, Colombia, where top seeds
Agnieszka Radwanska
and
Jelena Jankovic
(respectively) are rolling along.
On the ATP side, the clay season is off to a bizarre start.
The top seeds in the two ATP 250 events now underway (Casablanca, Morocco and Houston, Texas) didn't get a win between them: ATP No. 9
John Isner
was dusted in Houston in the second round (he had a first-round bye) by
Dustin Brown
. Ditto for No. 19
Kevin Anderson
, who was busted in Morocco by 32-year-old No. 89 player
Victor Hanescu
. He's exactly the kind of clay-bred warrior who presents often unsolvable problems for players such as Isner and Anderson, whose power isn't complemented by the kind of patience -- or consistency -- that wins matches on clay.
[+] Enlarge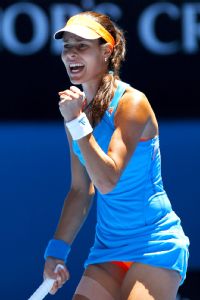 Ella Ling/BPI/Icon SMIDoes early 2014 success have Ana Ivanovic primed for wins on clay?
The results thus far seem emblematic of what lies in store on both tours in the coming weeks. The women are loaded with players who enjoy the clay and know how to play it, like the those mentioned above.
And let's not forget that the winner in Monterey, Calif., (a last lingering hard-court event) last week was former French Open champ
Ana Ivanovic
. The women's tour is chockablock with contenders on clay. Jankovic has been No. 1 in the world and, like current No. 3 Radwanska, she's been a Grand Slam finalist.
Should
Serena Williams
surrender the stranglehold she has on the WTA tour in the coming weeks, it's really impossible to say who, if anyone, might take her place. No. 2
Li Na
has been more consistent than ever in recent months, but she's wandered off-script before.
Victoria Azarenka
has been out with a foot injury, and she's not due back until Madrid in early May; who knows how long it will be until she's match tough again?
Maria Sharapova
, down to No. 8, hasn't made a final this year.
The ATP side of the game offers a clearer picture.
Rafael Nadal
has shown no signs of being anything less than the ruthless, implacable, inexorable punisher of the Euroclay segment. Over the last nine years, he's won Monte Carlo (the first of the red clay Masters 1000 events) eight times, and the Madrid and Rome Masters titles a combined nine times. He's feasted on red clay, and he's coming back for more like he always does.
Nadal, current ATP No. 1, lost exactly one match during the two-month clay-court season last year, and that was to
Novak Djokovic
in the Monte Carlo final. It strains credulity to envision Nadal losing more often this year, unless Djokovic can hit the level he found when he hammered Nadal in the recent Miami Masters final. That match reminded pundits of 2011, when Djokovic won six straight against Nadal (two of those wins in the two major Euroclay Masters, Madrid and Rome).
Djokovic has to prove that he can resurrect -- and sustain -- that level on clay. Nadal is 13-3 against Djokovic on the surface, and while many of those wins were early in the rivalry (Djokovic is 3-4 in their last seven meetings on dirt), clay remains the surface on which Nadal is most effective against his nemesis.
Roger Federer
, back up to No. 4, was feeling so exuberant after clinching the Davis Cup quarterfinal tie against Kazakhstan that he took a wild card into Monte Carlo. It was a bold and confident move, but let's remember that Nadal is even more dominant over Federer on clay than he is over Djokovic. Nadal is 13-2 against the all-time Grand Slam singles champ. He hasn't lost to Federer on clay since May 2009.
As for the rest of the ATP cast, Australian Open champion Stan Wawrinka has slowed down in recent weeks, faltering in the fourth round at Indian Wells and Miami. Top 10 staples such as
Tomas Berdych
,
David Ferrer
,
Jo-Wilfried Tsonga
(now down to No. 12) and
Richard Gasquet
have failed to deliver when it most counts.
Andy Murray
, No. 8 and the defending Wimbledon champ, always seems to struggle on clay.
If we're going to witness a shake-up in the pecking order, it's more likely to occur on the women's side. Nadal is a Superman on red clay; only Djokovic has the kryptonite, and Nadal is usually immune even to that.