Peter Bodo:

Ernests Gulbis
March, 4, 2015
Mar 4
8:39
AM ET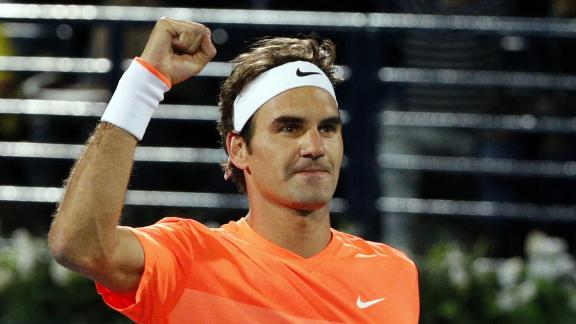 Understanding the meaning of tennis statistics isn't an undertaking that merits comparison with rocket science. Nevertheless, racket science has its own challenges, rewards and revelations. So let's delve right into some of the more striking numbers generated by the sport last week and see where our speculations take us.
In hot pursuit of Ivo Karlovic:
Two men hurtled toward the 9,000-ace mark during the first few weeks of the new year, Ivo Karlovic and Roger Federer. Karlovic, the 36-year-old Croatian ace-maker, got there first; at Doha, he passed Andy Roddick for No. 2 on the all-time list. But Federer was not far behind. He got to 9,000 last week in Dubai. It seems the desert is conducive to blasting aces.
[+] Enlarge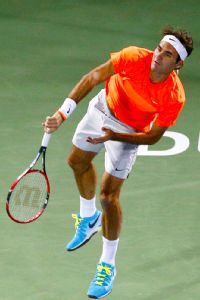 Karim Sahib/Getty ImagesYou don't think of Roger Federer as an all-time great ace machine, but the stats say otherwise.
The top four as of Monday are Goran Ivanisevic (10,183 aces), Karlovic (9,375), Roddick (9,074) and Federer (9,007). The top three ace-makers accounted for a total of two Grand Slam titles (Ivanisevic and Roddick each won one major). The fourth man on the totem pole has a mere 17. It's ironic, but can anyone think of three players less like Federer than his peers in the top four? What's he doing in this group anyway?
Federer undeniably has an excellent, versatile serve. But his ace count is more of a tribute to his consistency and longevity than his power.
Federer hit his 9,007 aces in 1,189 matches, an average of 7.57 aces per match. No. 3 Roddick hit his aces in 780 matches, for an average of 11.63. Karlovic accumulated his aces in just 499 matches -- an average of 18.78 per match. Ivanisevic, the all-time volume champ, broke the 10K mark after 895 matches for an average of 11.3.
Thus, if Karlovic had been good enough to play (which really means
win
) as many matches as Federer, he would now have 22,329 aces -- almost twice the number drilled by ace king Ivanisevic.
(Bad) Luck of the Irish:
When James McGee scored a prized wild card for Dubai, he became just the third Irish player to take part in an ATP main tour event since 1990. Can you name the other two?
Louk Sorensen made his ATP debut at Chennai in 2010, while Conor Niland first played Houston in 2010.
McGee is currently the highest-ranking Irishman at No. 211, but the 27-year-old Dubliner lost to Joao Sousa in the first round of Dubai. He's probably hearing footsteps. Sorensen is No. 226.
Sorensen's father, Sean, made the main draw at Wimbledon in 1977 and lost in the first round to Rod Laver. When Louk qualified for the Australian Open in his best year, 2010, he became the first man from Ireland to play in the main draw of a Grand Slam event since his father in 1980. Louk, now 30, hit his career-high ranking of 175 in 2014. He's 5-6 in main tour matches for his career and still plugging away.
Niland, now 33 and no longer playing, won nine of 24 ATP matches in his career. He reached a career-high ranking of 129 -- the highest attained by an Irishman since Matt Doyle hit No. 65 in 1982.
The Irish had a national tennis career moment in 2011, when both Niland and Sorensen qualified for the U.S. Open -- with Niland drawing Novak Djokovic as his first-round opponent. The bum luck of the Irish was further exacerbated when Niland had to quit the match on Arthur Ashe Stadium down 6-0, 5-1 because of a bad case of food poisoning.
[+] Enlarge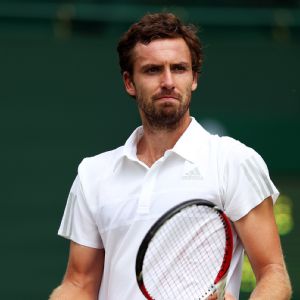 Steve Bardens/Getty ImagesErnests Gulbis is winless on the season, but he isn't worried -- far from it.
The semi-importance of being Ernests:
In a line destined to go down in tennis lore and legend, ATP No. 15 Ernests Gulbis said of his 0-5 start this year: "It's the calm before the storm." Droll guy, that Ernests. Who said today's top tennis players have all the personality of an IRS tax auditor?
If history is any indication, Gulbis can continue to enjoy the calm that has descended on his game. Vince Spadea lost 21 consecutive main tour matches (the ATP record), the final 17 of them in 2000, before "the storm."
Spadea, now 40, was once ranked as high as No. 18. (Gulbis hit No. 10 in June of last year.) Gulbis has six titles to his credit, while Spadea won just one, at Scottsdale (he defeated Nicolas Kiefer). But Spadea, whose pro career spanned 17 years, had wins over Federer (that one included a bagel set), Rafael Nadal, Pete Sampras and Andre Agassi -- pretty much everyone who was anyone.
When the storm broke after those 21 losses, it was in spectacular fashion. Spadea outlasted British hope and former US Open finalist Greg Rusedski at Wimbledon in 2010. Spadea won the first-round battle 9-7 in the fifth.
You have a long way to go, Ernests.
June, 20, 2014
6/20/14
2:38
PM ET
We live in an age of speed reading, speed dialing and even speed dating. So why not speed draw analysis as well?
Let's not waste any more time before looking at the 2014 Wimbledon draw.
Men's singles
Top quarter: The Djokovic section
Promoted to the top spot thanks to Wimbledon's seeding formula (despite ranking behind world No. 1
Rafael Nadal
),
Novak Djokovic
might end up saying "Thanks for nothing."
His quarter is loaded with tricky players (
Radek Stepanek
,
Gilles Simon
, even lost boy
Bernard Tomic
) as well as power hitters (No. 26 seed
Marin Cilic
, No. 12
Ernests Gulbis
, No. 14
Jo-Wilfried Tsonga
, No. 18
Fernando Verdasco
). Djokovic will be lucky to make it through to the quarters, where he might have to lock horns with yet another bombardier, No. 6
Tomas Berdych
.
[+] Enlarge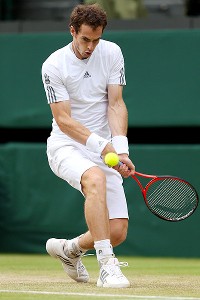 Clive Brunskill/Getty ImagesAndy Murray's title defense at Wimbledon could run into a roadblock in the form of David Ferrer.
Second quarter: The Murray section
You could just as well call this the mercurial section because it contains a dazzling array of shot makers including No. 16 seed
Fabio Fognini
, No. 21
Alexandr Dolgopolov
,
Dominic Thiem
, No. 27
Roberto Bautista Agut
and flavor-of-the-month in the ATP, No. 11
Grigor Dimitrov
.
Andy Murray
's versatility will come in handy. Unlike Djokovic, his promotion to the No. 3 seed despite a world ranking of no. 5 was still a net plus, even though nobody could possibly look forward to a quarterfinal date with No. 7 seed
David Ferrer
.
Third quarter: The Federer section
What is this, the anniversary reunion for some tennis academy? The "old guys" in this section include No. 4
Roger Federer
, No. 23
Tommy Robredo
, No. 19
Feliciano Lopez
,
Julien Benneteau
, hoary old
Lleyton Hewitt
and even never-say-die
Michael Russell
.
Young ace-makers
John Isner
(No. 9 seed) and No. 15
Jerzy Janowicz
inhabit this quarter as well. But the biggest threat to Federer's hopes of making the semis is his countryman and No. 5 seed
Stan Wawrinka
.
Fourth quarter: The Nadal section
This one is real mixed bag, with mercurial players such as No. 13
Richard Gasquet
and No. 25
Gael Monfils
mixed freely with volatile elements such as No. 29
Ivo Karlovic
,
Benoit Paire
, and (if all goes according to plan) Nadal's quarterfinal opponent, No. 8
Milos Raonic
.
The semis: Djokovic-Ferrer, Wawrinka-Nadal
Women's singles
Top quarter: The Serena section
This is a highly navigable section for top-seeded
Serena Williams
with one potential roadblock: No. 13
Eugenie Bouchard
.
Other dangerous players include resurgent No. 20 seed
Andrea Petkovic
and perhaps No. 9 (but slumping)
Angelique Kerber
. There are some dangerous floaters here, too, including
Camila Giorgi
,
Daniela Hantuchova
and
Christina McHale
.
Second quarter: The Halep section
This seems a soft section, which will be great news for last year's finalist, No. 19 seed
Sabine Lisicki
, as well as No. 3 seed
Simona Halep
. No. 7
Jelena Jankovic
, No. 11
Ana Ivanovic
and No. 21
Roberta Vinci
all are vulnerable.
There are three additional players of interest in this section: former world No. 2
Vera Zvonareva
, a wild card, and a pair of American 18-year-olds in wild card
Taylor Townsend
and qualifier
Victoria Duval
.
Third quarter: The Radwanska section
Victoria Azarenka
, returning from a long injury layoff and seeded No. 8, has to be happy with this draw. She has a history of just hammering No. 3 seed
Agnieszka Radwanska
, which means there might be a clear passage to the semis.
The biggest obstacle could be No. 10
Dominika Cibulkova
, who has upped her game significantly this year. Sure, No. 27
Garbine Muguruza
is an up-and-coming talent and the section also has No. 14
Sara Errani
, but both are better on clay than grass.
Fourth quarter: The Li section
Petra Kvitova
, the 2011 champion, is a wildly unpredictable player who has struggled with illness and injury. She is seeded No. 6, and if she finds her game and gets hold of her emotions she could win the whole thing again. That's an unlikely development, though, which means No. 2 seed
Li Na
is looking pretty good.
Li's biggest enemy is herself, however, and she has lost to that rival many times, so who knows?
The semis: Bouchard-Halep, Azarenka-Li
September, 23, 2013
9/23/13
11:36
AM ET
Finally,
Ernests Gulbis
has made news for something other than shooting off his big mouth. The talented, mercurial and actually quite likeable Latvian was last in the headlines when he declared that success has gone to
Novak Djokovic
's head -- that the top-ranked player has become just another phony celebrity.
On Sunday, though, he finally won a tournament again (St. Petersburg, Russia), at which time he went all Gulbis on us, declaring: "I've been very consistent, especially in finals. I've never lost in a final. I'm proud of that record." Be warned, though: This isn't quite like Rafael Nadal's 8-0 record in French Open finals.
Wait, wasn't Nadal the guy whose win over Gulbis back at Indian Wells so mystified the loser that he felt obliged to announce: "I thought I was the better player in the match"?
Let the record show that Gulbis is, indeed, undefeated in finals. He's played four of them since he turned pro in 2004, all in the lowest, 250-grade ATP events. He earned two of those titles at the ATP 250 in Delray Beach. Fla., so it's possible that Ernie won last week because he thought he was playing in St. Pete,
Florida
. The other title Gulbis won, he collected at Los Angeles, a tourney that has since gone belly up because of a lack of interest. That's four career titles, six fewer than Nadal has won -- this year. And two of those were Grand Slam tournaments.
But let's give Gulbis his due. The 6-foot-3, No. 36-ranked 25-year-old is outspoken, frank and fun-loving. In other words, he's what pundits and insiders would describe as a "head case." The ATP Tour these days is loaded with guys who carry their racket bags as if they were stuffed leather briefcases, and they're as colorful as that image suggests. Not Ernie. No sooner did he finish posing with the St. Petersburg trophy than he began assessing his place in the game and making bold predictions. "Everybody knows I can play well for a tournament or a match and then I go downhill. I just need to bring this consistency to bigger tournaments, especially Grand Slams. Then I believe I am a top-20 player for sure, and not so far from top 10."
There's just no quit in this guy, at least not when it comes to self-regard. But there's no doubt that he has the talent to back up his imaginings, even if the same could be said for, oh, a few dozen other ranked players. And though most find him nothing less than insufferable, others among us accept his wild claims as part and parcel of head-case syndrome. And you have to hand it to Ernie, it looks like he may end up the last head case standing when the year comes to a close.
Think back to this spring, and the hubbub created by those three other ultra-talented head cases,
Grigor Dimitrov
(Bulgaria),
Benoit Paire
(France) and the oldest member of this anti-big four,
Fabio Fognini
(Italy). All three of them signaled that they might (finally) be ready to do some major damage from the mid-point of the season onward, but they've gone quietly back into netherworld.
Fognini won exactly two matches since his hot run on clay this summer. That's one fewer than Paire notched up over the same span. Dimitrov lost in the first round of the US Open and hasn't been heard from since. You could say that by head-case standards, Gulbis is a model of consistency. Since Wimbledon, he's had wins over
Andy Murray
,
Feliciano Lopez
and … Fognini.
So let's enjoy Gulbis while we've got him, for if he judges himself accurately and then does what he must do to remedy his situation, the next thing you know some head case is going to say he's changed -- that he's become just another phony like that Djokovic guy.