Peter Bodo:

Jo-Wilifred Tsonga
June, 20, 2014
Jun 20
2:38
PM ET
We live in an age of speed reading, speed dialing and even speed dating. So why not speed draw analysis as well?
Let's not waste any more time before looking at the 2014 Wimbledon draw.
Men's singles
Top quarter: The Djokovic section
Promoted to the top spot thanks to Wimbledon's seeding formula (despite ranking behind world No. 1
Rafael Nadal
),
Novak Djokovic
might end up saying "Thanks for nothing."
His quarter is loaded with tricky players (
Radek Stepanek
,
Gilles Simon
, even lost boy
Bernard Tomic
) as well as power hitters (No. 26 seed
Marin Cilic
, No. 12
Ernests Gulbis
, No. 14
Jo-Wilfried Tsonga
, No. 18
Fernando Verdasco
). Djokovic will be lucky to make it through to the quarters, where he might have to lock horns with yet another bombardier, No. 6
Tomas Berdych
.
[+] Enlarge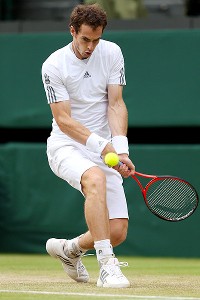 Clive Brunskill/Getty ImagesAndy Murray's title defense at Wimbledon could run into a roadblock in the form of David Ferrer.
Second quarter: The Murray section
You could just as well call this the mercurial section because it contains a dazzling array of shot makers including No. 16 seed
Fabio Fognini
, No. 21
Alexandr Dolgopolov
,
Dominic Thiem
, No. 27
Roberto Bautista Agut
and flavor-of-the-month in the ATP, No. 11
Grigor Dimitrov
.
Andy Murray
's versatility will come in handy. Unlike Djokovic, his promotion to the No. 3 seed despite a world ranking of no. 5 was still a net plus, even though nobody could possibly look forward to a quarterfinal date with No. 7 seed
David Ferrer
.
Third quarter: The Federer section
What is this, the anniversary reunion for some tennis academy? The "old guys" in this section include No. 4
Roger Federer
, No. 23
Tommy Robredo
, No. 19
Feliciano Lopez
,
Julien Benneteau
, hoary old
Lleyton Hewitt
and even never-say-die
Michael Russell
.
Young ace-makers
John Isner
(No. 9 seed) and No. 15
Jerzy Janowicz
inhabit this quarter as well. But the biggest threat to Federer's hopes of making the semis is his countryman and No. 5 seed
Stan Wawrinka
.
Fourth quarter: The Nadal section
This one is real mixed bag, with mercurial players such as No. 13
Richard Gasquet
and No. 25
Gael Monfils
mixed freely with volatile elements such as No. 29
Ivo Karlovic
,
Benoit Paire
, and (if all goes according to plan) Nadal's quarterfinal opponent, No. 8
Milos Raonic
.
The semis: Djokovic-Ferrer, Wawrinka-Nadal
Women's singles
Top quarter: The Serena section
This is a highly navigable section for top-seeded
Serena Williams
with one potential roadblock: No. 13
Eugenie Bouchard
.
Other dangerous players include resurgent No. 20 seed
Andrea Petkovic
and perhaps No. 9 (but slumping)
Angelique Kerber
. There are some dangerous floaters here, too, including
Camila Giorgi
,
Daniela Hantuchova
and
Christina McHale
.
Second quarter: The Halep section
This seems a soft section, which will be great news for last year's finalist, No. 19 seed
Sabine Lisicki
, as well as No. 3 seed
Simona Halep
. No. 7
Jelena Jankovic
, No. 11
Ana Ivanovic
and No. 21
Roberta Vinci
all are vulnerable.
There are three additional players of interest in this section: former world No. 2
Vera Zvonareva
, a wild card, and a pair of American 18-year-olds in wild card
Taylor Townsend
and qualifier
Victoria Duval
.
Third quarter: The Radwanska section
Victoria Azarenka
, returning from a long injury layoff and seeded No. 8, has to be happy with this draw. She has a history of just hammering No. 3 seed
Agnieszka Radwanska
, which means there might be a clear passage to the semis.
The biggest obstacle could be No. 10
Dominika Cibulkova
, who has upped her game significantly this year. Sure, No. 27
Garbine Muguruza
is an up-and-coming talent and the section also has No. 14
Sara Errani
, but both are better on clay than grass.
Fourth quarter: The Li section
Petra Kvitova
, the 2011 champion, is a wildly unpredictable player who has struggled with illness and injury. She is seeded No. 6, and if she finds her game and gets hold of her emotions she could win the whole thing again. That's an unlikely development, though, which means No. 2 seed
Li Na
is looking pretty good.
Li's biggest enemy is herself, however, and she has lost to that rival many times, so who knows?
The semis: Bouchard-Halep, Azarenka-Li
April, 11, 2014
Apr 11
1:42
PM ET
The clay-court swing is officially underway, the first blow struck by
Andrea Petkovic
of Germany, who won on the green clay of Charleston last Sunday.
There are WTA events underway this week in Katowice, Poland, and Bogota, Colombia, where top seeds
Agnieszka Radwanska
and
Jelena Jankovic
(respectively) are rolling along.
On the ATP side, the clay season is off to a bizarre start.
The top seeds in the two ATP 250 events now underway (Casablanca, Morocco and Houston, Texas) didn't get a win between them: ATP No. 9
John Isner
was dusted in Houston in the second round (he had a first-round bye) by
Dustin Brown
. Ditto for No. 19
Kevin Anderson
, who was busted in Morocco by 32-year-old No. 89 player
Victor Hanescu
. He's exactly the kind of clay-bred warrior who presents often unsolvable problems for players such as Isner and Anderson, whose power isn't complemented by the kind of patience -- or consistency -- that wins matches on clay.
[+] Enlarge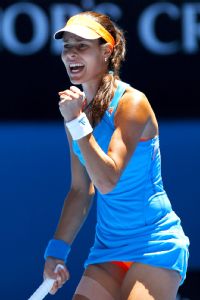 Ella Ling/BPI/Icon SMIDoes early 2014 success have Ana Ivanovic primed for wins on clay?
The results thus far seem emblematic of what lies in store on both tours in the coming weeks. The women are loaded with players who enjoy the clay and know how to play it, like the those mentioned above.
And let's not forget that the winner in Monterey, Calif., (a last lingering hard-court event) last week was former French Open champ
Ana Ivanovic
. The women's tour is chockablock with contenders on clay. Jankovic has been No. 1 in the world and, like current No. 3 Radwanska, she's been a Grand Slam finalist.
Should
Serena Williams
surrender the stranglehold she has on the WTA tour in the coming weeks, it's really impossible to say who, if anyone, might take her place. No. 2
Li Na
has been more consistent than ever in recent months, but she's wandered off-script before.
Victoria Azarenka
has been out with a foot injury, and she's not due back until Madrid in early May; who knows how long it will be until she's match tough again?
Maria Sharapova
, down to No. 8, hasn't made a final this year.
The ATP side of the game offers a clearer picture.
Rafael Nadal
has shown no signs of being anything less than the ruthless, implacable, inexorable punisher of the Euroclay segment. Over the last nine years, he's won Monte Carlo (the first of the red clay Masters 1000 events) eight times, and the Madrid and Rome Masters titles a combined nine times. He's feasted on red clay, and he's coming back for more like he always does.
Nadal, current ATP No. 1, lost exactly one match during the two-month clay-court season last year, and that was to
Novak Djokovic
in the Monte Carlo final. It strains credulity to envision Nadal losing more often this year, unless Djokovic can hit the level he found when he hammered Nadal in the recent Miami Masters final. That match reminded pundits of 2011, when Djokovic won six straight against Nadal (two of those wins in the two major Euroclay Masters, Madrid and Rome).
Djokovic has to prove that he can resurrect -- and sustain -- that level on clay. Nadal is 13-3 against Djokovic on the surface, and while many of those wins were early in the rivalry (Djokovic is 3-4 in their last seven meetings on dirt), clay remains the surface on which Nadal is most effective against his nemesis.
Roger Federer
, back up to No. 4, was feeling so exuberant after clinching the Davis Cup quarterfinal tie against Kazakhstan that he took a wild card into Monte Carlo. It was a bold and confident move, but let's remember that Nadal is even more dominant over Federer on clay than he is over Djokovic. Nadal is 13-2 against the all-time Grand Slam singles champ. He hasn't lost to Federer on clay since May 2009.
As for the rest of the ATP cast, Australian Open champion Stan Wawrinka has slowed down in recent weeks, faltering in the fourth round at Indian Wells and Miami. Top 10 staples such as
Tomas Berdych
,
David Ferrer
,
Jo-Wilfried Tsonga
(now down to No. 12) and
Richard Gasquet
have failed to deliver when it most counts.
Andy Murray
, No. 8 and the defending Wimbledon champ, always seems to struggle on clay.
If we're going to witness a shake-up in the pecking order, it's more likely to occur on the women's side. Nadal is a Superman on red clay; only Djokovic has the kryptonite, and Nadal is usually immune even to that.
April, 7, 2014
Apr 7
12:13
PM ET
Let's assume you're new to tennis and have heard mostly negative things about the Davis Cup.
You've been told that nobody cares, that the top players don't feel passionate about it, that the best-of-five-sets format (with no tiebreaker in the fifth set) is outdated, and that tennis isn't a team sport, so trying to make it one makes no sense.
Have I covered most of the bases?
Well, if you then watched Davis Cup this past weekend, here are the surprising things you might have learned on what has been one of the finest exhibitions of Davis Cup tennis over a full weekend in a long time:
Passion overflows
[+] Enlarge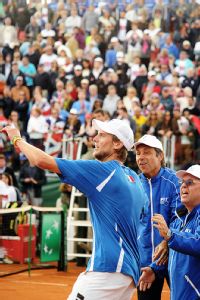 AP Photo/Salvatore LaportaDavis Cup fans were firmly behind Andreas Seppi and the Italians -- and everyone else -- over the weekend.
"Nobody cares" should read "nobody cares more than Davis Cup fans," as demonstrated by the crowds that filled the venues where the four World Group quarterfinals were played.
You know how conservative and boring those Swiss are, right? Well, if you tuned in to the Kazakhstan at Switzerland match at any point in the weekend you saw how the Swiss fans, so many of them decked out in bullfighter red and white, shook the rafters with their stamping, hooting and hollering.
In Italy,
Andy Murray
actually petitioned chair umpire Pascal Maria for help during his match with his No. 1 counterpart,
Fabio Fognini
. The Italian fans were shouting and screaming at Murray even as he tossed the ball to hit a second serve. It might have been ugly, but it wasn't like nobody cared.
Big effort from big names
Although the demands of Davis Cup lead most top players to pick and choose the years and/or ties in which they play, almost all of them hold the competition in high regard, and once they sign up, they're all-in.
The major heroes of the weekend for the winning teams were big names. World No. 3
Stanislas Wawrinka
overcame a bad case of nerves in the critical, fourth-match battle of each country's top players to stave off elimination for the heavily favored Swiss.
World No. 12
Jo-Wilfried Tsonga
did the same for the French after they fell into a 2-0 hole against Germany, and No. 25
Gael Monfils
ultimately clinched it. Also, No. 4
Roger Federer
clinched for the Swiss in the fifth and final match of that tie.
Murray of Great Britain, now No. 8 in the world but the defending Wimbledon champ, almost had a heroic moment of his own before running out of gas on Sunday after having to play most of two matches on clay on Saturday in Naples.
The format works
The format of the Davis Cup certainly is not television-friendly. That's one of the reasons broadcasters have shied away from it. A five-set Davis Cup match can go on for five or six hours, wreaking havoc with programmers. But so what? Sometimes you can't have your cake and eat it, too.
I'm in favor of fifth-set tiebreakers. But those epic overtime matches (like German Davis Cup rookie Peter Gojowczyk's 8-6 fifth-set win over Tsonga on the first day) become part of the lore and legend of the game, especially when they feature underdog heroes like Gojo.
And the fact that the two singles players each play two matches (barring a second-match substitution) means redemption is a frequent Davis Cup theme. Just ask Wawrinka or Julien Benneteau. The latter was a surprise selection to play No. 2 singles for France over No. 25 Monfils despite being ranked No. 50 overall and just ninth on the French depth chart.
Benneteau was crushed by Germany's Tobias Kamke (No. 96) on the first day but then partnered with Michael Llodra on "double Saturday" to stave off a humiliating German sweep with an excellent win over
Andre Begemann
and Kamke.
There's a lot more strategy in Davis Cup than you might think, given the four-man teams and five-match format. Had the French lost the doubles, captain
Arnaud Clement
would have been the goat of the tie for promoting Benneteau ahead of Monfils. Davis Cup may not be chess, but it isn't checkers, either.
Team angle brings intrigue
As for the team aspect of the competition, most players will tell you that being on a team and playing for your nation puts you under loads of pressure. That helps account the frequency of Davis Cup Cinderella stories and improbable upsets, like the four that occurred over the weekend.
But the agony of defeat and thrill of victory are unparalleled in the sport.
I don't know about you, but for me, any event in which the likes of Federer and Wawrinka (themselves an Olympic gold-medal doubles team) end up with their backs to the wall and fighting for their lives is a very good thing.