Peter Bodo:

Novak Djokovic
December, 9, 2013
Dec 9
8:36
AM ET
It's the awards season in tennis, and there isn't a more coveted title than Player of the Year. It's an individual sport's answer to the Most Valuable Player award in team sports but, regrettably, it's rarely the horse race that it sometimes is in those league-based team sports. That's because of the importance of the Grand Slam events, and the extent to which they determine the Player of the Year.
In any year when one player wins more majors than his or her rivals, he (or she) is almost a lock for Player of the Year. That shuts down the debate pretty effectively. And it's too bad, because many great, sustained performances go unremarked because of our addiction to the majors. It's fun to contemplate just who might be a worthy choice for PoY if you eliminate from consideration the obvious choice. Call it the Player of the Year runner-up derby. Let's take a shot at it:
ATP:
Rafael Nadal
is the uncontested Player of the Year choice, but whom would you choose if you exempted him from consideration? I find it hard to bestow the honor on
Novak Djokovic
, although he clearly had the second-best year. Great as he is, Djokovic lost to Nadal on too many big occasions (Roland Garros semis, US Open final) to feel he made huge strides this year.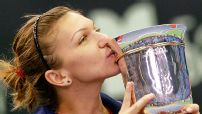 Kirill Kudryavtsev/Getty ImagesIt may have gone somewhat unnoticed, but Simona Halep won six titles this season.
From the time Nadal returned in early February, world No. 1 Djokovic's mission was clear: Stop Nadal in his tracks. This Djokovic failed to accomplish, and in a very striking way. In fact, the way Djokovic snapped to life in the fall season, after Nadal had finally run him down and stripped away his No. 1 ranking, attests to how ineffectively he initially met the challenge of Nadal's return.
Was it hubris? Nerves? Lack of determination? Who knows? The bottom line is that as good a year as Djokovic had, he failed in job No. 1, which was to stop Nadal.
In light of that, there's really no candidate more worthy for ATP PoY runner-up honors than
Andy Murray
. Sure, Djokovic tagged him in the Australian Open final. It kept Murray suppressed, with just one Grand Slam title to his name despite his status as one of the Big Four ATP men. Murray was unable to compete in the French Open because of his back problems, but his subsequent win over Djokovic at Wimbledon was historic -- enough so to mitigate Murray's loss to Stanislas Wawrinka in the quarterfinals of the US Open.
Murray was unable to build on his success of the summer on the fall hard-court circuit because he pulled the plug on his season in order to have back surgery. We should all be as good as Murray was in 2013 with a back so compromised that it required surgery.
The resonance of Murray's win at Wimbledon was indisputable, but he also benefited from the fact that nobody, but nobody, stepped up in a big way to make a case as a player of the year (not the difference with my WTA choice, below). That includes most of the men in the top 10, who were almost uniformly disappointing.
ATP No. 7 Wawrinka had a career year, but he won only one title -- that of the ATP 250 in Oeiras.
Richard Gasquet
, who hit No. 9, won three titles -- but they too were lowly 250s. The fact remains that getting the job done on the big stage of Masters or even ATP 500 events remains the towering mission for Gasquet as well as Wawrinka.
As for their fellow travelers in the top 10?
David Ferrer
,
Juan Martin del Potro
,
Tomas Berdych
et al remained excellent players in search of a career-validating win. So though Murray gets the nod for PoY runner-up, it seems almost as though it's by default.
WTA:
It's a little easier to come up with a Player of the Year if you take
Serena Williams
out of consideration.
Jelena Jankovic
made a great comeback, all the way to No. 8 (after starting the year at No. 22). But then, she has been the year-end No. 1 (2008), so it isn't as if she's breaking new ground. We have to look elsewhere, but not that far.
Simona Halep
set forth in 2013 with a ranking of No. 47 and finished the year at No. 11. Moreover, the 22-year-old Romanian won six titles this year -- the first six of her career. While short (at 5-foot-6), she's powerful and fearless.
Halep's greatest shortcoming this year was her inability to improve substantially on a career-long flaw -- failure in Grand Slam events. Through Wimbledon of this year, Halep had been as far as the third round at a major only once -- and that was way back in January 2011.
Perhaps it was an omen that Halep made the fourth round of the last US Open, thanks to a good win over No. 14 seed
Maria Kirilenko
. Whatever the case, to break a career of famine with a six-title feast is more than enough to make Halep the shadow Player of the Year in the WTA.
November, 18, 2013
Nov 18
11:22
AM ET
The Czech Republic's
Radek Stepanek
made history in the Davis Cup final Sunday, becoming the first player to win consecutive live fifth-set rubbers in Davis Cup finals. The question many people will be debating over the coming days is, "Should Serbia's
Novak Djokovic
get an assist for his part in enabling the 34-year-old's moment of glory?
Djokovic, who easily defeated Stepanek in the first of the five rubbers, did not play in the critical "swing match," the Saturday doubles. The Czechs won the match against the overmatched Serbs, who put forth outstanding doubles specialist
Nenad Zimonjic
, who was paired with
Ilija Bozoljac
, a 28-year-old journeyman with a losing record (2-3) in Davis Cup. They were crushed by Stepanek and the Czech Republic's top player, ATP No. 7
Tomas Berdych
.
As a result, the Czechs led going into the final day by 2-1. Djokovic then came up big against Berdych in the fourth rubber, the battle of the respective No. 1s. But Serbia's fate in the decisive fifth rubber then lay in the hands of 23-year-old
Dusan Lajovic
, who has a world ranking of No. 117. And he didn't stand a chance against wily 34-year-old Stepanek, who is ranked 44th but has been as high as No. 8, brings his A-game for Davis Cup and always has been a very tough out. You wanted to avert your eyes as soon as this one was underway. Lajovic won just five games in the three sets.
The big question that lingers is: Should Djokovic have played doubles? True, he has played a boatload of matches in recent weeks, and, less than a week ago, he won the ATP World Tour Finals. And his participation in doubles by no means ensured a win in that match, either. Berdych and Stepanek would be one of the elite ATP doubles teams -- if they wanted to devote the energy to it.
Besides, Djokovic is no doubles specialist. He's just 1-2 in Davis Cup doubles, and one of those losses was to this same Czech team -- while he was partnered with the same quality doubles specialist, Zimonjic. On the other hand, great players such as Djokovic are capable of doing great things -- especially when they take a turn at doubles.
According to news reports, Serbian captain Bogdan Obradovic said he made the final decision to keep Djokovic out of the doubles. "After discussing all of the options and listening to Novak of course -- because he's the one telling me is he ready -- and does he have enough energy to play the three days, I made the decision to play Ilija together with Nenad." Later, he reiterated that he takes responsibility as "the decision-maker."
Fair enough. But it's hard to imagine that a force as powerful as Djokovic could have been passed over had he really wanted to play. To put it bluntly, the guy
is
Serbian tennis. But the narrative doesn't suggest that Djokovic was copping out -- far from it. He appears to have been guilty of nothing more than knowing his place as a team member. Instead of bucking the authority of the captain, he accepted it. That's admirable, even if it cost Serbia its second Davis Cup title.
Even the Czechs had braced to see Djokovic in the doubles, and Stepanek later compared the decision to relegate Djokovic to the bench to "keeping the Ferrari in the garage." Of course, you generally can leave it to this guy to rub salt in the wound. But no matter. Stepanek has joined icons Fred Perry and Henri Cochet as one of the three players who've won two decisive fifth singles rubbers.
Stepanek didn't forget the team aspect of Davis Cup in the wake of his clutch win, either. As he said, "I was under the biggest pressure that can be. We are one of only five teams that have defended the cup."
The Czechs have now won the cup three times (in 1980, as Czechoslovakia, as well as the past two years), and added to their well-earned reputation as perhaps the greatest tennis power (per capita) on earth.
It's nice to have a Ferrari in the garage, and nobody will ever know whether it might have beaten the Honda that won this race.
November, 12, 2013
Nov 12
10:50
AM ET
It isn't supposed to end this way. The World Tour Finals was conceived to finish things, settle arguments and determine a crystal-clear pecking order dictated by a big computer humming away in some climate-controlled basement. It's designed to produce finality. The WTF should, at least in theory, untie loose ends.
The only loose ends tied up last week in London were the stray hairs perpetually escaping the headband of
David Ferrer
, who never made it out of the round-robin stage.
Instead of "game over" for another year, the resonant message in
Novak Djokovic
's 6-3, 6-4 triumph over
Rafael Nadal
on Monday was "Game on!" As many answers as the match posed about 2013, it planted that many questions for 2014. It's as if the spell that some evil sorceress (perhaps named Xisca?) had cast over Djokovic shortly after his success in 2011 was suddenly broken in early September, after Nadal hammered his Serbian rival into submission on the hard court at the US Open.
Suddenly, Djokovic's eyelids flew open, he sat bolt upright and, as he ran out the door and down the street pulling on his shorts, he shouted, "Holy cow, that guy just took off with my ranking!" The improbable thing is that Djokovic actually caught up with the thief on the last day of the tennis year, albeit too late to get back what had been taken from him.
[+] Enlarge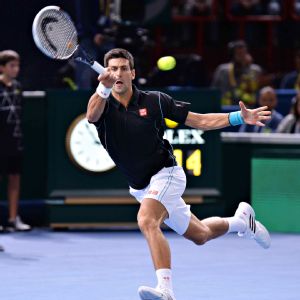 Mustafa Yalcin/Getty ImagesNovak Djokovic played like someone out for revenge against Rafael Nadal.
The whole situation is kind of funny, or it is if you're not so gaga for either or both of these guys that you've lost your sense of humor. When Djokovic dominated in 2011, there was much weeping and gnashing of teeth in the Nadal camp; it remained that way right through the early part of 2012. Then the skies cleared for Nadal during his beloved clay-court season, and he counted coup on Djokovic in the French Open final.
However, tragedy struck at Wimbledon. While closing quickly on his top-ranked rival Djokovic, Nadal was blasted off the court in the second round by a Czech journeyman ranked 100th. Nadal promptly disappeared to tend to his aching knees and didn't return until early this year -- February, to be exact.
Nadal immediately began to roll up the wins upon his return -- all the while reiterating fears that he might never play at a decent level again. Perhaps Djokovic took it all in and told himself there was no way a guy who had missed seven months and the first major of the year could win 10 tournaments, including Grand Slams, and finish No. 1.
Whatever the case or reason, a cavalier quality crept into Djokovic's game. As sins of the top players go, that's a rare but deadly one.
It's been clear throughout the rise of Djokovic that he's well-suited for the role of tennis icon. Somehow, he seemed to grow at the same rate as his reputation. He matured into the role, accepting the pressures and responsibilities of a No. 1 player with grace and dignity. He took it lightly -- perhaps too lightly -- from about the time he mastered Nadal again in that epic Australian Open final of 2012.
If there's such a thing as loving life a little too much, Djokovic probably was guilty. At times through portions of 2012 (when
Roger Federer
was in resurgence and Andy Murray's star was climbing), then during first three-quarters of this year, Djokovic seemed to take losses a bit too philosophically. He was unperturbed, especially while Nadal gradually and inexorably closed the gap.
All that seemed to change with Nadal's win over Djokovic in the final of the US Open just two months ago. It was a stinging rebuke of Djokovic's modus operandi, and it finally did what no mangled smash from right on top of the net or lackluster service return on break point could -- it seemed to alert Djokovic to the degree of danger he faced. With that US Open title, Nadal came within striking distance of Djokovic's top ranking. And it turned out to be too late for Djokovic to do much about it. How does a guy who's No. 1 at the conclusion of the US Open win 22 matches in a row -- and still fall to No. 2, the way Djokovic did this autumn?
I'm sure that at some point in the celebration of his win over Nadal on Monday the smile on Djokovic's face contained a trace of irony, if not exactly bitterness.
A lot will be said about Nadal's shortcomings on indoor hard courts, and there certainly are concrete game- and surface-based reasons to explain why this spectacularly great player has never won the year-end championship. But let's not get lost in the weeds of analysis here; great players have ways of figuring things out. They always have and always will. To my mind, the result Monday was heavily influenced by the amount of skin each man had in the game.
Given what Nadal went through during the second half of 2012, his year was successful to a degree that nobody would have dared predict. When he won the French Open for the 45th time in a row back in June, Nadal declared that the victory had made his year -- come what may. What came was even greater success, as Nadal compiled a 75-7 record for the year (with two Grand Slams and 10 total titles). That compares pretty well with Djokovic's "dream year" of 2011, when he went 70-6.
To top off his comeback, Nadal clinched the year-end No. 1 ranking just two matches into this World Tour Finals. Could you have dreamed up a better way to make this final with Djokovic seem more exhibition than Armageddon?
"Futile" probably isn't the right word to use when it comes to characterizing Djokovic's manic, wonderful drive to fight Nadal to the bitter end this year. He played throughout the autumn like a man with a point to make, and the string of W's that streamed from his racket (two of them over Nadal) made it eloquently. It continued right up until the moment Djokovic ran out of year.
Going into the final, Djokovic knew that Nadal's motivation could not have been at its highest level once he clinched the year-end top ranking. But then, his own degree of interest had just as much, if not more, reason to wane once the rankings issue was decided. What Djokovic showed Monday night in London was not just a lethal, overwhelming game but a deadly, awe-inspiring pride.
Djokovic was playing to defend his title, and it's a significant one that ranks right behind the Grand Slam events. Almost as important, even if he didn't look at it this way, he stopped Nadal's drive to join that club of WTF champions and continued to water the seed of doubt planted in Nadal's mind about indoor tennis and, in particular, this tournament.
Djokovic also wrote a coda that won't spoil the satisfaction Nadal takes out of this spectacularly successful comeback year, but it will certainly provide the introduction to 2014. The WTF this year wasn't about resolution or finality, it was about pride and a rivalry that might just now be entering its greatest phase.
November, 11, 2013
Nov 11
10:34
AM ET
The ATP World Tour Finals won't boast a "dream final" this year (that is, a winner-take-all battle for the year-end No. 1 ranking), but it has what might be the next best thing: A spectacular grudge match between two men whose rivalry already has historic proportions and implications.
Not too bad, is it?
Novak Djokovic
, the defending champion at the ATP World Tour Finals, takes on
Rafael Nadal
, the man who stripped him of the No. 1 ranking just weeks ago. Nadal then left Djokovic in the rearview mirror when he clinched the prestigious No. 1 ranking for the year just four days ago.
But somebody forgot to tell Djokovic the race is over.
"[Nadal] finishes No. 1 in the world, deservedly," Djokovic said after his routine win over
Stanislas Wawrinka
in the semifinals Sunday. He added, "Of course, whenever we play each other, it's a huge challenge and we both want to win. This is the probably the most competitive tournament that we have after [the] Grand Slams in our sport, and we both want to crown this season in the best possible way and end it with a title."
It doesn't take a mind reader to suss out that nothing would be sweeter for Djokovic than to end his year with a successful defense of his World Tour Finals title. It would represent payback of sorts, as well as victory for the year in the rubber match of their hard-court rivalry. The men are 2-2, and each has a hard-court major: Djokovic won at the Australian Open and Nadal at the US Open.
And there's one other significant detail in this matchup: Nadal has never won the year-end championships, and that constitutes the only hole in his resume. And it's a pretty big gap, considering the extent to which the best players have traditionally fared well in the hybrid round-robin/single-elimination tournament featuring the eight best players in the world.
Nadal has his work cut out. True, he leads the ATP in hard-court performance with four titles and a 36-3 record. Djokovic has five titles and is 50-5, so he's right behind Nadal in winning percentage on hard courts. But that parity is not matched when it comes to indoor tournaments, of which this is one.
Djokovic is 10-1 on indoor hard courts this year (that includes Davis Cup) with one title, the Paris Masters. Nadal is 3-1 (but he did win an event on indoor clay). If Djokovic were to plan an ambush of Nadal, he couldn't have come up with a better set of conditions. That's because his more aggressive instincts give him an edge on indoor hard courts.
Perhaps the main reason Nadal has more trouble on indoor than al fresco hard courts is because the ball invariably stays lower on the bounce in indoor arenas, no matter what the so-called "court speed" is. Thus, the more aggressive risk-takers of the tour reap greater rewards. The ideal conditions (no sun or wind) also make life easier for the shot-makers and other players with an opportunistic streak. Proof in the pudding:
Roger Federer
has won the World Tour Finals a record six times.
Against Djokovic, Nadal will have to take more chances than he usually does, all other things being equal. At this tournament, he has played well but at times he has seemed too content to work from a defensive posture. He won't beat Djokovic that way; he'll need to take chances, and he'll really benefit if he can follow up aggressive probings with nice work at the net. He'll also need to serve well in order to keep Djokovic from setting the tone of the rallies with that exceptional service return.
Motivation-wise, this match is a tough ask for Nadal. Djokovic knows exactly how much ground -- and respect -- he can regain with a win over a guy who can be driven by only one real ambition -- to finally win a year-end title. I'm not sure that's enough incentive this time around when it comes to meeting a guy whom Nadal mastered numerous times this year when a lot more was still on the line.
One thing about a Djokovic win, though: It would certainly provide a compelling story line for the start of 2014.
October, 14, 2013
Oct 14
10:10
AM ET
Although some tennis fans might like to hunt down
Juan Martin del Potro
and fling him off a bridge for getting in the way of yet another clash between ATP No. 1
Rafael Nadal
and No. 2
Novak Djokovic
, it would be a mistake to write off the hulking, shy, reticent 6-foot-6 Argentine as just a high-level spoiler.
Delpo's mastery of Nadal in the Shanghai semifinals, followed by an extremely close loss (7-6 in the third set) to Djokovic in the final Sunday, was anything but a timely trip into a zone -- The Zone -- that del Potro isn't destined to inhabit for any significant length of time. Rather, it's becoming the kind of thing he does for a living, and who knows, one day soon he might again beat two icons back-to-back on one of the game's great stages -- as he did when he shocked Nadal and then stunned
Roger Federer
to win the 2009 US Open.
Nadal generated headlines the other day after the loss to del Potro in Shanghai and took some flak for revealing to the press that in that 2009 US Open semifinal with Delpo, he was suffering from a terribly painful 26-millimeter (1.02 inches) tear in his abdominal wall. Ironically, Nadal was trying to explain why he considered the 6-2, 6-4 win by Delpo in Shanghai even more persuasive that the 6-2, 6-2, 6-2 rout in New York because this time Nadal was healthy.
That's kind of how it is for del Potro. Even a guy like Nadal feels obliged to grab you by the lapels, shake and declare, "No, this guy isn't just good, like
Tomas Berdych
or
Jo-Wilfried Tsonga
is good. He's
really
good."
Del Potro's record bears it out. He is back up to a solid No. 5 world ranking. At 25, he's no kid anymore, that's true. He needs to fish or cut bait. But remember that Delpo lost an entire year to surgery rehab just months after he won his first and, thus far, only major. And let's face it: Delpo isn't a mercurial guy who's likely to rebuild his confidence in a few weeks or months. He's diligent and methodical almost to the point of being plodding, but what he builds is on a very, very solid foundation. His game shows that; it's the equivalent of a mission-style table made of solid oak.
That game has carried Delpo to strange and wild places, like that five-set semifinal loss to Djokovic this year at Wimbledon and the excruciating loss to Nadal in the finals of Indian Wells. It seems that every time you turn around, del Potro is coming off some epic, intense performance against one icon or another. And coming up just short less often than it may seem.
Isn't this the guy who denied Federer the title on his home court in Basel, Switzerland, just last year? The one who had three straight wins over Nadal in that enchanted 2009? The game-puncher who lost 19-17 in the third set in the semis of the 2012 Olympic Games to the selfsame Federer, only to bounce back to snatch the bronze from the hands of Djokovic?
You bet. And what you have to ask yourself is: How much longer can the fates conspire to keep del Potro from winning another major? The answer may be, not very long.
After the Shanghai final, Delpo confessed: "I think I'm playing even better than 2009, or 2008, or last year. … I still have the same goal, which is [to] get closer to the top guys. If I still work like this, I hope I can be there one day."
He's clearly humble, and he's obviously grounded. He knows just how close he is to the summit of tennis. Heck, he's virtually a No. 3 already since current No. 4
David Ferrer
is fading fast at 31 and No. 3
Andy Murray
is out until the beginning of next year.
Delpo lost a three-setter to Djokovic last year in the ATP World Tour finals. In 2009, he made the final but was upset by
Nikolay Davydenko
. Last week, he qualified for the elite eight again, and that means he'll have at least one more chance this year to close a deal he's been working on patiently and doggedly for nearly three years now.
October, 7, 2013
Oct 7
10:16
AM ET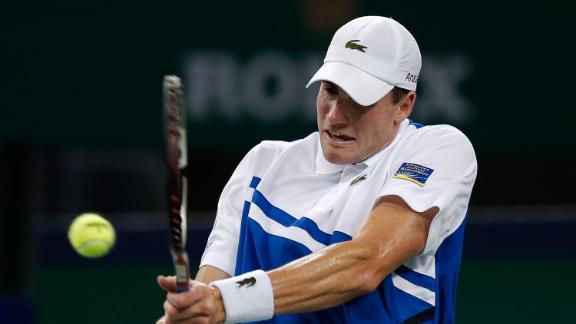 Novak Djokovic
's 6-3, 6-4 win over
Rafael Nadal
in the Beijing final did absolutely nothing to diminish the notion that this week was all about Nadal. Specifically, it was about the 27-year-old conquering injury and self-doubt to recapture the world No. 1 ranking he lost to Djokovic on the Fourth of July in 2011.
The match also did little to dampen the feeling in some quarters that Nadal has re-asserted himself in this rivalry. Conventional wisdom suggests this was a week Djokovic just as soon would like to forget. But was it?
Start with this: Nadal's great accomplishment this week was created independent of Djokovic; the new No. 1 didn't have to wrench the ranking out of the hands of his rival as much as out-statistic him. Sure, Nadal proved himself a few times over in recent matches with Djokovic -- three times, if you want to be precise (the semifinals of Roland Garros and the Montreal Masters 1000, and the final of the US Open).
But in some ways, the exchange of ranking places (Djokovic is now No. 2) is less about their rivalry than about each man's relative consistency against all comers. And that has nothing to do with their head-to-head rivalry, as all of those clay-court matches between Nadal and
Roger Federer
also demonstrated in years past.
There's no question that Nadal is the man of the hour in the ATP, and playing the best tennis -- by far -- of anyone this year. It's also a reality that Nadal was in a strange mental place Sunday, having to play his most dangerous rival. But only one thing really counts when it comes to their rivalry: Djokovic blasted Nadal off the court in Beijing.
One day, we may look back on this result as a critical one in what is already a rivalry for the ages. No two male titans have clashed as often as Nadal and Djokovic, and while they aren't exactly in Chrissie-Martina territory just yet (the women faced each other 80 times), the 38 matches they have played (Nadal leads 22-16) are the most by any two men in the Open era.
It's almost painful to think how Djokovic would have felt had he left Beijing a loser to Nadal. Djokovic was the three-time defending champion, and he rode an 18-match winning streak into the final. A loss to Nadal possibly would have cast the entire week's events in a very different light. As Djokovic himself admitted after the final: "I needed this win today ... It's very important mentally and emotionally."
Translation: Djokovic will not be kept awake at night now, wondering how he let it all slip away. He may be powerless to change the past, but he was able to avenge himself against Nadal in the only way that matters -- on the court. And we know how it is with these two: The smallest shift in attitude, confidence, strategy or execution either way can reverse whichever way the tide is running.
Djokovic is likely to look at this win over Nadal as a brisk tap on the reset button. He will probably regret some of the self-injurious decisions and lost opportunities that allowed Nadal to hornswoggle him this year (their three matches extended over 12 sets, one fewer than the maximum possible). But Djokovic is entitled to feel he has something to build on starting today, and not just because the final demonstrated how critical it is for even a great returner and defender to serve with maximum efficiency. The inevitable changing of the guard has occurred, but Djokovic also has reversed his three-match skid against Nadal.
Starting right now, Djokovic also will find himself back in the role of the hunter rather than the hunted, and that's a far more familiar role for him. Perhaps it will inspire or loosen him. And though the timing of this return to No. 1 in the waning weeks of the schedule seems propitious for Nadal (he's pretty much a lock to finish the year at No. 1), in the next few weeks, Nadal be playing on Djokovic's terms and turf. They could meet three, four more times.
Nadal's future may not be quite as bright as his partisans hope, and Djokovic's not nearly as bleak as it may seem. The coda written by Djokovic in his farewell to Beijing is "to be continued … "
October, 4, 2013
Oct 4
10:30
AM ET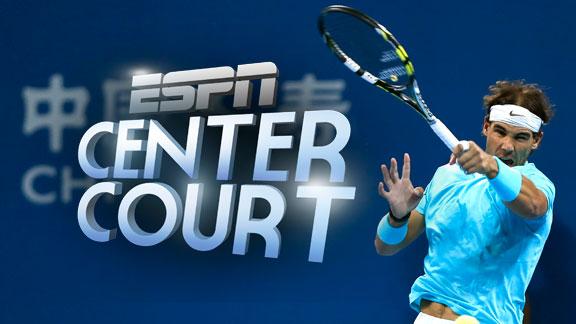 Novak Djokovic
is no longer the only thing standing in the way of
Rafael Nadal
reclaiming the No. 1 ranking. As of Friday, that honor goes to the No. 5,
Tomas Berdych
. Given the blood, sweat and tears that Nadal has expended to get back to this point in his career, you almost want to take the racket away from Berdych and hand him a blindfold and a cigarette.
Nadal leads the non-rivarly 15-3. Of greater concern to Berdych and his crew: Nadal has a 14-match win streak against the tall, powerful star from the Czech Republic. What could possibly go wrong for Nadal?
Well, let's start with this: Berdych's three lone consecutive wins were all on hard courts. Granted, they also were way back in 2005 and 2006, but the prodigy Nadal had already been crowned a Grand Slam champion, so he wasn't at his first county fair.
Plus, the two have met in the post-US Open period only once, with Nadal triumphant in a straight-sets blowout at the ATP World Tour Finals in London (on indoor hard). Nadal has traditionally struggled (in relative terms) during the fall, and at one time sounded off freely and often about having to play so deep into the calendar year.
Then there's this: Over these next few weeks, Berdych is defending a semifinal (Shanghai Masters), a win (Stockholm) and two quarterfinals (Tokyo and the Paris Masters). Those are superb hard court credentials that attest to how dangerous Berdych is on a fast court, with that atomic serve and precise, relatively flat, stinging groundstrokes. He needs to defend those points to maintain his lofty ranking.
The factor that's a little harder to quantify is the pressure Nadal is apt to feel, knowing that the great prize of No. 1 is at arm's length -- but also that it's almost inevitable that he will replace Djokovic in the proverbial tomorrow if not today. In a way, that's almost more challenging than Nadal finding himself in a make-it or break-it situation. There's no need for him to feel desperate and heroic, but wasting the opportunity isn't an appealing option, either. In short, his situation is tricky.
This is all pretty obvious in the way Nadal spoke out of both sides of his mouth in the span of just two sentences Friday after he roared back to produce a three-set win over the Italian talent,
Fabio Fognini
.
Of his next match Nadal said: "I am going to have a very tough opponent in front of me. In the end, it's another match. True, it's a little bit more special for the circumstances, but nothing else."
"But nothing else?"
What does this guy think? He ought to be playing for the No. 1 ranking as well as the lives of his family and closest friends?
Well, we've seen what Nadal has done on hard courts this year. He's become a demon, a doomsday-stroking machine who hasn't lost since he was upset in the first round at Wimbledon by
Steve Darcis
. This brings a whole new meaning to the phrase, "Let sleeping dogs lie." Nadal is still punishing his rivals for that dispiriting experience, and there's no sign that he's about to stop.
Nadal will feel some pressure Saturday, but in a larger sense, he's entirely pressure free. He's got no points to defend, having missed the entire second half of 2012 and the start of this year. When he won his French Open, he said that no matter what happened during the rest of the year, he would consider 2013 a great success. He felt he had accomplished his main goal and fulfilled his deepest wishes before we were halfway through June.
As Nadal's game continued to improve (despite that glitch at Wimbledon), he became more devastating than ever before on outdoor hard courts and his spirits soared. By the time he won the US Open, he was almost giddy with joy and disbelief -- yet still free to play with reckless abandon and a light spirit thanks partly to the fact that everything that came his way would be gravy. He owed nothin' to nobody.
Berdych is the kind of character who's almost perfectly designed to be a spoiler, but it's hard to imagine him playing the role this time.
September, 27, 2013
Sep 27
10:32
AM ET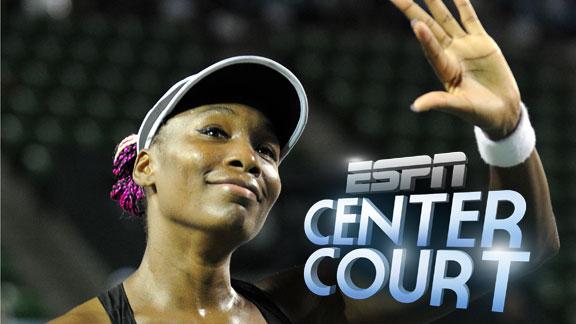 Don't look now, but the big four whom everyone has been jabbering about for a couple of years now has suddenly shrunk to a big two, which is rivalry as it was meant to be in the gospel according to Pete and Andre or Chris and Martina.
Just a few months ago, as current ATP world No. 3
Andy Murray
won Wimbledon to make history, claim his second major title and add credence to the idea of a big four, we were talking about this new golden age of tennis. Now, we're wringing our hands in the wake of Roger Federer's disastrous attempt to salvage his summer (and subsequent plummet to No. 5) and out of fear that Murray's theoretically minor back surgery might prove less "minor" than anyone thought.
And that leaves us with just two men standing, top-ranked
Novak Djokovic
and No. 2
Rafael Nadal
. And one of them (can you guess which one?) looks very unsteady on his feet.
How did this happen so quickly?
Well, age seems to have caught up with the 32-year-old Federer faster than anyone expected. It wasn't so much that the defending champ was upset in the second round at Wimbledon by
Sergiy Stakhovsky
. It was what came afterward: Federer's truly bad losses in European post-Wimbledon clay-court tournaments while he floundered with a new, larger-headed racket and then an ugly, mortifying loss to another over-30 player (
Tommy Robredo
) in the fourth round at the US Open. Whoever thought the name "Federer" and "ugly" could wind up in the same sentence?
But Pete Sampras and others can tell you that aging in tennis is never a pretty thing. The only way to get out with your reputation fully intact is to quit while you're on top, and that's neither easy (who knows when you're truly done?) nor fair to yourself. As Billie Jean King has said, you owe it to yourself as a human being to experience the truths and lessons that come with decline. It seems that Federer is living out that process now.
Murray's situation is a little more complicated and perhaps more interesting. He was accorded big-four status mainly on the strength of his record in Masters events (nine titles) and the encouragement he received from his big-four peers as he struggled to win that first major final -- a feat he accomplished in his fifth try, at the US Open in 2012.
The reality is that Murray, while he's been ranked as high as No. 2, has always been the laggard in the big four. That doesn't mean he's some sort of fake; he's clearly a better, more able competitor than, say,
Tomas Berdych
or
Jo-Wilfried Tsonga
. But he's never really been able to establish parity with those other three guys who have taken turns beating up on each other.
The proof is in pudding of the rankings. Murray trails No. 2 Nadal by nearly 4,000 ranking points. That's four Masters 1000 titles or two Grand Slam titles worth of points. That wouldn't be so bad if there weren't a couple of players bearing down hard on Murrray. ATP No. 4
David Ferrer
trails Murray by just 400 points, and Berdych and
Juan Martin del Potro
, a former U.S. Open champ, are not far behind.
Ferrer is sure to surpass Murray within weeks because Murray is out for the Asian circuit, perhaps the entire year. He's losing over 1,200 ranking points if he pulls the plug on the entire year, meaning that Federer, Berdych and del Potro will have a good chance to pass him in the rankings while he recuperates.
Murray traditionally plays well in Australia, the most likely site of his return. (He's a three-time runner-up at the Australian Open, the first major of the year.) But it's still hard to dodge the feeling that at the start of 2014, there will be no trivalry, nor a quadvalry. It looks like Nadal and Djokovic will turn a four-man photo op into a two-man race.
September, 16, 2013
Sep 16
11:12
AM ET
Now that three of tennis' big four have taken their bows and added to their resumes during the third (and best) Davis Cup week (you get the semifinals and the critical World Group Playoffs), it's time to look ahead to the final segment of the season -- the two big Masters 1000 events (Shanghai and the Paris Indoors), plus the year-end championships.
The main thing to watch will be the chase for the year-end No. 1 ranking, which can be summed up easily. Top-ranked
Novak Djokovic
remains in the lead, but No. 2
Rafael Nadal
has been closing on him like a cheetah running down a fatigued antelope. Right now, Nadal trails Djokovic by a mere 260 ranking points (11,120 to 10,860). That's fewer points than a player earns for making a Masters1000 semifinal (360 points).
And believe it or not, that's the least of Djokovic's problems.
The fact is, Djokovic is holding a mortgage on more than 2,000 points (2,110 to be exact) that he earned last year with big wins in the ATP World Tour Finals, the Shanghai Masters and the Beijing 500 event. Djokovic will be unable to add to his points total at any of those events; he can only replace those points with the same amount or lose ranking points by failing to duplicate those outstanding results. It's how the ranking system works. Each week the points earned from the previous year drop off the computer while the points earned that week are added.
The only tournament where Djokovic can actually post a net gain in points would be the Paris Indoors (that is, unless he adds 500 or 250 tournaments to his schedule). He was a second-round loser last year and picked up all of 10 ATP ranking points.
Now look at Nadal's situation: He has absolutely no ranking points to defend until well after the Australian Open because he missed the entire year after Wimbledon in 2012. If Rafa really wanted to torture Nole, he could take a late wild card into the Kuala Lumpur 250 event next week, win the thing (the top seed is likely to be
David Ferrer
; enough said) and close to within 10 points while Djokovic sits in that magic egg thing, nibbles on a gluten-free soy muffin and wonders, "What the heck do I do now?"
In fact, Djokovic could conceivably thrash Nadal in the two remaining Masters events
and
the year-end championships and he'll still lose that precious year-end No. 1 ranking to Rafa, simply because it's all profit for Nadal now and all operating expenses for Djokovic. It points both to the great strength and the great weakness of the ranking system.
If you're a Djokovic fan, you can always look on the bright side: Losing the top ranking will be painful for him, but he looks like a man in need of a wake-up call after a wonderful-but-bittersweet year. He made three Grand Slam finals and one semi, and while his year was made in advance when he won the Australian Open, those losses at the other three majors had real sting.
Let's take a quick look at the other, trailing two members of the elite ATP quartet. No. 3
Andy Murray
has 7,705 points, so he's in a really distant third. He can pick up some ground, as he was a third-round loser in Paris and a semifinal failure at the World Tour Finals, but he's also defending a final in Shanghai. If he had a great fall, though, he could actually press Djokovic at No. 2 (because of all the points the latter is defending) if not Nadal, who seems the pre-destined No. 1.
As for
Roger Federer
, he will be fighting for his top-10 life this fall. He's No. 5 presently, with 4,515 points. He had an outstanding fall last year, a run that may end up looking something like a last hurrah unless he pulls himself out of his current tailspin. He's defending nearly 1,500 points this fall, which includes a WTF final and a Shanghai semi. Unless he experiences a magical resurgence, he'll have to watch, horrified, as those points melt away. You know what you get for making the quarters at a Masters 1000? One-hundred and eighty points.
Federer has his work cut out if he hopes to hang in there in the critical (for seeding purposes) top eight. Meanwhile, the cheetah is running free and wild.
August, 5, 2013
Aug 5
10:36
AM ET
Right about now, the typical ATP journeyman is taking a deep breath and trying to swallow as he contemplates the fact that the party is over. After a month during which the ATP presented 10 tournaments without anyone mentioning
Novak Djokovic
,
Rafael Nadal
,
Andy Murray
or
Roger Federer
in anything like an ominous tone, the sixth Masters 1000 event of the year is upon us.
And that quartet has salted away the title at 50 of the past 59 Masters events.
Fabio Fognini
, it's time to cowboy up.
Compare the consistency of the top players in big events with that of their less gifted brethren -- even at those times, such as the past month, when the main antagonists have called a truce and retired their tents to rest and plot. The ATP has held 10 events since the end of Wimbledon and the results can only be called kaleidoscopic. The top seed won at those events a grand total of twice (
John Isner
in Atlanta and
Juan Martin del Potro
in Washington, D.C.).
Two winners this month weren't even seeded, and one of them was a wild card, to boot. Unseeded
Carlos Berlocq
kicked off the ATP's Wheel of Fortune month with a win in Bastad, Sweden, while charity case
Nicolas Mahut
won at Newport -- and celebrated by bagging the doubles title as well (with Edouard Roger-Vasselin).
Things will be a little different this week, even if beleaguered Federer is taking a pass on Montreal, presumably to hunt down and strangle whoever suggested he change to a racket with a larger head than the frame with which he won all 17 of his Grand Slam titles. It tells you something when Fognini, handsome devil though he may be, has a better month than the all-time Grand Slam champion.
But the big story to my mind in Montreal is Rafael Nadal. He has called a moratorium on discussing his aching knees, but that doesn't mean we can't keep droning on and on about it. It may seem surprising to some, but right now Nadal still leads the field in the race for the year-end No. 1 ranking. That's mainly because he's so utterly dominant on European clay.
And though Djokovic and Murray have laid claim to the hard-court kingdom in recent years, Nadal is no slouch on the surface. He has won two Grand Slams on outdoor hard (the Australian and U.S. Open) and six hard-court Masters titles, including four in North America and two in Canada. Montreal could be a telling indicator for the US Open, which begins less than a month from now.
Nadal's camp has insisted that nothing is wrong with his knees. (He took a seven-month break beginning in July last year in order to rest and rehab his tendinitis-plagued knees without undergoing surgery.) But excellent sources told me that his personal physician forbade him to play in the weeks between his triumph at Roland Garros and Wimbledon, and we saw how that worked out.
Nadal was upset in the first round by Belgian journeyman
Steve Darcis
, and reporters by the dozen were treated for eye strain after they spent all that time peering at Nadal, searching for a grimace here, a wince or hobbled step there.
The additional, precious two weeks of rest and treatment following Nadal's early exit at Wimbledon should help improve his disposition, and Nadal also has the incentive to improve upon that laughable No. 4 ranking. (He is one tick behind
David Ferrer
, who has won just four times in two dozen meetings with Nadal.)
But in order to win Montreal, Nadal would (likely) have to topple top-ranked and top-seeded Novak Djokovic in a semifinal, and No. 2 seed Andy Murray in the final. And Djokovic, whose mastery of Nadal on hard courts is well established (he has won four straight meetings with Nadal on the surface going back to 2011), is bidding to become the first man since Ivan lendl to win the Canadian Open three times running.
It could be worse for Nadal. He could be in the shoes of his old pal Federer, holding a racket with a 98-square-inch head but scratching his own noggin while he pores over the user's manual.
May, 25, 2013
May 25
6:00
AM ET
Rafael Nadal's proficiency on clay has been so persuasive, so overwhelming, so inarguable, that asking if he has a shot at winning a mind-boggling eighth French Open (in nine attempts) can hardly be called a storyline heading into the tournament. So let's take a different tack that covers the same ground and then look at four other narrative threads that will run through the upcoming Grand Slam event:
Can Novak Djokovic beat Nadal in Paris?
No. 1-ranked and top-seeded Djokovic has, by far, the most notable degree of success against Rafa on red clay. Nadal has a slim lead in their rivalry (19-15) but an enormous bulge on red clay (11-3). At Roland Garros, they ended up on the same side of the draw, negating any chance of another suspenseful final. They are 3-3 in their past six meetings on dirt. Djokovic was the first player to effectively play the role of hunter to Nadal's hunted, reversing a cozy situation in which Nadal was the stalker and
Roger Federer
the prey. This messed up Rafa's mind, and I'm not sure he's recovered yet.
Djokovic has been up and down since winning the first Grand Slam of the year in Australia. He came off the clay-court road to Roland Garros with just one title in three tries, and that was at the weak sister Monte Carlo tournament. But the fact that he took that title from Nadal tells you something. Is Djokovic having trouble or keeping his powder dry for the main event? I'm not sure anyone can give a definite answer to that, but the thing I feel pretty sure about is that Djokovic isn't at all intimidated by Nadal.
Can Serena Williams overcome her hard luck history at Roland Garros?
Serena Williams has 15 Grand Slam titles to her credit and more prize money than any woman in the history of the game, and she recently established a new record as the oldest woman to earn the No. 1 ranking. (She was already 31 when she reclaimed the top spot earlier this year.) Why should she get obsessive about winning another French Open title?
I can think of two good answers: pride, because she was beaten in the first round at a major for the first time in her career in Paris last year, and closure, because winning a second French Open more than a decade after she won her only title in Paris would cap off her remarkable comeback saga. Given that she's 33-1 on clay since the start of 2012, it's absurd to question whether Williams can win. The only real question is whether she can withstand the pressure she's guaranteed to feel at a tournament that has been problematic for her.
Can a Frenchman win for the first time since Yannick Noah took the title in 1983?
It's amazing how poorly the French play in their home event, on the surface they cut their teeth on. The French have sent a fleet of gifted, interesting players onto the tour in the wake of Noah, but only one (Henri LeConte) has even made a final in Paris.
It doesn't bode well for the French this year either. No. 8
Jo-Wilfried Tsonga
and No. 9
Richard Gasquet
got off to a good start this year, but both have cooled off in recent weeks. Instead, ultratalented, unpredictable hothead
Benoit Paire
made the semis of a Masters 1000 event for the first time in his life last week in Rome. And
Gael Monfils
, out of the top 100 because of injury, has looked pretty good in Nice. Either of those two could surprise and do well.
How will No. 4 Andy Murray's decision to withdraw from the tournament affect the event?
This is really interesting, given how
Rafael Nadal
displaced
David Ferrer
at No. 4 just a week ago. But now Ferrer will be one of the top four seeds, which opens a real window for him to win his first major, at age 31, after a long career spent in top-five territory. Let's not get ahead of ourselves, though. Ferrer hasn't made a major final in more than a dozen years as a pro; getting that far would be good enough.
Will this tournament give Maria Sharapova her best shot at beating Serena Williams for the first time in 14 matches, dating to 2004?
The short answer is "no." The long answer is "no." You saw what happened in the Rome final. Serena again humiliated Maria. You could see in that match that Serena loves to beat on Sharapova. And as much as Sharapova benefits from the slow clay -- giving her more time, as she's not the greatest mover -- it helps Williams even more. She can just tee off on that Sharapova serve, which is shaky at the best of times.
The big thing, though, is that the last place you want to meet No. 1 Serena is in a final. Once she gets that far, she's pretty much unstoppable. In that sense, Sharapova pays a heavy price for her general excellence against everyone else on the tour.