Peter Bodo:

Petra Kvitova
January, 7, 2015
Jan 7
8:42
AM ET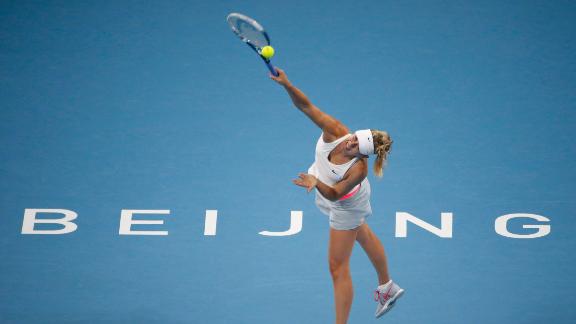 On Monday, we evaluated some of the top ATP stars in terms of what -- if anything -- they had at stake going into the new year. Now we'll look at the women in the same three categories.
The Champions
No. 1 Serena Williams ended the frustrating Grand Slam season of 2014 with a flourish -- a win at her native US Open. With 18 major singles titles to her name, it's hard to say anything at all is riding on 2015 for La Serena. She's 33 years old now, and her most reasonable goal is breaking a three-way tie in the major title count with Chris Evert and Martina Navratilova.
No. 2 Maria Sharapova is in a somewhat unusual situation. At 27, she has a career Grand Slam. That puts her in the history books, even though she's won just five Grand Slam titles (most recently at the French Open) -- not nearly good enough to put her on the short list of great champions. What she can do, however, is add at least a win or two over Serena to her dismal 2-16 head-to-head record. Don't ever forget that people always forget: Should Sharapova beat Williams on a big stage, it will do wonders overnight for her status.
[+] Enlarge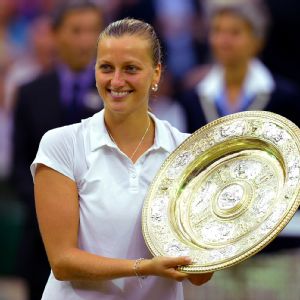 CARL COURT/AFP/Getty ImagesThe question is: Can Petra Kvitova build off her Wimbledon title from last season?
No. 4 Petra Kvitova of the Czech Republic played a dream final to win the second Wimbledon title of her career in 2014 and played with consistency not seen since 2011. Did she hit a career reset button in 2014 -- that's the big question hovering over the tall and rangy left-hander.
No. 7 Ana Ivanovic hasn't won a Grand Slam title since the one she bagged at the French Open in 2008. She's had few resurgences since then. Give the diligent Serb credit for persistence and fidelity. It's imperative for her to avoid backsliding once again. Her critical assignment: Find a way to win a big match or two at the most crucial of times.
No. 42 Victoria Azarenka of Belarus, a former No. 1 and two-time Australian Open champ, is hoping to recapture her form after an injury-plagued (knee and foot) 2014 that caused her ranking to plummet because of inactivity. To put it bluntly, her career is at stake given her history of frailty. If she can play pain-free, the rest will take care of itself.
The Contenders
No. 3 Simona Halep played an outstanding French Open final (losing to Sharapova) in 2014 and backed up the enormous strides she took in 2013. She's nimble, swift and an excellent counter-puncher, but she let a few opportunities slip away after that performance at Roland Garros. The Romanian homebody also changed coaches despite her success last year. The question surrounding her now is: Can she close the deal and win a big one?
No. 5 Agnieszka Radwanska, a Wimbledon finalist in 2012, has been compared with a magician owing to her creative shot selection and general feel for the ball. But a number of players have figured out how she gets that rabbit out of the hat. With new coach Martina Navratilova at her side, Radwanska will try to add a little more aggression to her game. The best female player ever produced by Poland, Radwanska's main job this year is to find more offense -- or perhaps accept that she doesn't have enough ooomph to win a major.
No. 6 Eugenie Bouchard made the semifinals or better at three Grand Slam events in 2014, yet she's won only one title in her entire career (Nurnberg). The 20-year-old Montreal native was the "it" girl in tennis in 2014. She's so media-friendly and marketable that she's already created a backlash, which also suggests that what Bouchard most needs to do this year is back up those results. No player will have as much pressure on her shoulders.
No. 8 Caroline Wozniacki's A-game went AWOL during her relationship with Irish golfer Rory McIlroy, but it returned with a fury after their breakup in May 2014. Now the only woman ever to hold the year-end No. 1 ranking for two consecutive years without having won a single Grand Slam event has worked herself back into position to pick up where she left off. She's older and wiser but needs to show she can be better as well.
Players of Interest
No. 13 Andrea Petkovic of Germany is not merely a fun-loving and charming personality (who can forget the "Petko dance"?) -- she's an excellent athlete whose progress was derailed by injuries. (She clawed her way back from No. 149 to 39 in 2013.) She's strong and blessed with a good competitive temperament; it's time she laid all her cards on the table.
[+] Enlarge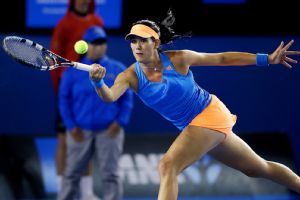 AP Photo/Aaron FavilaGarbine Muguruza showed some serious chops last season and is primed to be one of the game's top stars.
No. 20 Garbine Muguruza of Venezuela was outside the top 50 at the start of 2014, then she made headlines with a stunning second-round upset of French Open top seed Serena Williams. She's just 21, so time is on her side; she can afford to slip up and make mistakes. But if she wants to establish herself a leader among the wave of young players, she needs to build on her present position and make a run at the top 10.
No. 30 Madison Keys spent the better part of 2014 becoming accustomed to her status as a top-30 player after a breakout 2013.The 5-foot-10 native of Rock Island, Illinois, has a potent serve and heavy forehand. She's just 19, but that's not too early to display the consistency of a contender at big tournaments.
No. 31 Belinda Bencic of Switzerland has people thinking that the nation isn't too small to produce a female star to rival Roger Federer. At 17, she could still be competing in the juniors. Instead, this poised, clever youngster who started last year ranked No. 212 seems ready to contend for major titles thanks to a silken game and a cool Chris Evert-esque temperament. She's one of those players who focuses on the fact that she has everything to gain rather than on the reality that she's just a kid and has nothing to lose.
No. 35 Sloane Stephens, once the great American female hope, had a terrible year that started with her loss of status as a woman designed to shine on the biggest stages and ended with a nagging wrist injury and an uncertain coaching situation. Early this year, she hired Nick Saviano, who developed and brought Bouchard into the first-class car. Stephens needs to win -- it's a simple as that.
July, 7, 2014
7/07/14
12:37
PM ET
Novak Djokovic
is a great tennis champion, but merely the latest in a long line of people to learn the hard way that it's always darkest before dawn.
There Djokovic was, midway through the fifth set in the Wimbledon final, swinging the stringed stick while trying his best to suppress what creeping doubts, anger and disappointment nibbled away at his heart and will.
It was all caused by the fact that Djokovic had let
Roger Federer
-- the great Roger Federer, the seven-time Wimbledon champ -- off the hook late in the fourth set, when Djokovic failed to convert a match point with Federer serving for his life at 4-5 and Djokovic up two sets to one.
Up in the player box, the fleshy face of Djokovic's co-coach Boris Becker was turning lobster red (Boris don't need no stinkin' SPF 40!). Across the net, Federer was cracking aces like a regular Lazarus.
Rafael Nadal
probably was bobbing around in his yacht somewhere in the Mediterranean, watching on his cellphone and chortling. Would this be the day when Nadal's nemesis, gifted as he is, would earn the humiliating moniker Novak Chokevic?
[+] Enlarge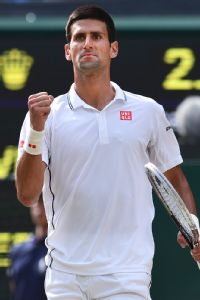 Carl Court/AFP/Getty ImagesPreviously unseen fortitude and determination helped lift Novak Djokovic past Roger Federer.
Going into Wimbledon, Djokovic had a 6-7 career record in Grand Slam finals. Early in the year, he had failed to defend his Australian Open title (he didn't even make the final, for the first time in four years). In Paris, his main goal for the year of completing a career Grand Slam with a French Open victory was blown to smithereens thanks to another beating administered by Nadal, the King of Clay.
Now here was Djokovic, on the verge of becoming the guy who held the gate open as Federer marched through to become the first man in 66 years to win a Wimbledon final after being down match point -- just another line item to add to Federer's phone-book-sized list of accomplishment at a huge cost to Djokovic's legacy.
However, if all of this put a certain amount of strain on Djokovic, he didn't show it as the fifth set came to a climax. Ultimately, his composure and refusal to lose faith won him the Wimbledon title (with a little help from his service return, if you want to get all technical about it). It was the previous lack of those very intangibles that led Becker, one of the most courageous if not the most successful of champions, to his seat in the player's box on a sunny, hot day in London.
It was easy to forget the women's final in the wake of the spectacular show put on by Djokovic and Federer, yet in some ways the wins by Djokovic and the Czech Republic's
Petra Kvitova
-- just a lowly No. 6 seed -- had some commonality.
Djokovic had accomplished far more than Kvitova leading up to this tournament (although at a comparable age, Djokovic was also struggling), and his star power exceeds Kvitova by a few orders of magnitude. But anyone who took account of the power and precision Kvitova showed when she won the Wimbledon title in 2011 surely had to be baffled by how infrequently she's been able to summon that game on the big stages in recent years.
Painfully shy (something Djokovic has never been accused of) and forced by her nerves to wage a constant battle against anxiety, Kvitova hadn't even been to the semifinals of a major since the spring of 2012. Granted, she was barely 21 when she first won Wimbledon. But just how much time does a player need to adjust to the rarefied atmosphere at the top?
The reality is that people were acknowledging Kvitova as a contender only when goaded into it. She just found too many ways to lose, too often. Until last weekend.
Kvitova put on a display of aggressive tennis as formidable as anything we've seen pouring off the racket of
Serena Williams
. Kvitova took
Eugenie Bouchard
, a genius at competing and a young lady destined for greatness, and simply demolished her. Now, Kvitova is back in the conversation that begins with the question "What happens when Serena and Venus retire?"
For Djokovic and Kvitova, the theme of this Wimbledon was vindication. Each of them achieved it, albeit in vastly different ways.