Peter Bodo:

Richard Gasquet
November, 23, 2014
11/23/14
12:36
PM ET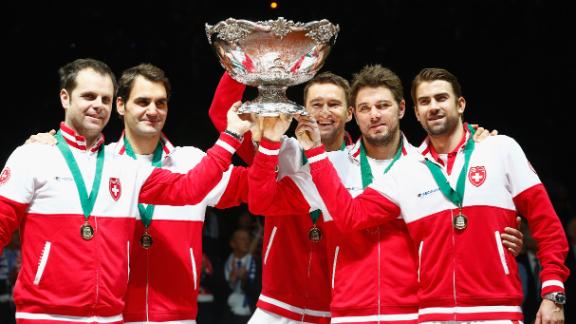 As they like to say, there is no "I" in the word "team." But there is one in "Davis Cup team," and that factor -- the artful combination of individual performance and team destiny -- is but one of the things that makes this such a great event.
That premise was amply demonstrated again Sunday, as
Roger Federer
led Switzerland to its first Davis Cup championship with a brilliant 6-4, 6-2, 6-2 win over
Richard Gasquet
in the fourth rubber, clinching the championship for the Swiss 3-1. (The fifth rubber wasn't played.)
Occasionally, a Davis Cup tie is just as much about the "I" as the "we," and just as much about one man's legacy as it is about a nation's record. That was the case in December 1995, when Pete Sampras played the best clay-court tennis of his life and won all three points (two singles and the doubles, in yoke with Todd Martin) on agonizingly slow indoor red clay in Moscow. It was also the case in Lille, France, on Sunday, as Federer finally added a Davis Cup championship to a résumé that is already as thick as the telephone directory in his hometown of Basel, Switzerland.
With Switzerland holding a 2-1 lead going in, Gasquet -- he of the windmill-grade backswings -- was France's last hope. Gasquet, ranked No. 26, was called upon over
Julien Benneteau
to play in place of France No. 1 Jo-Wilfried Tsonga. The French team announced that an elbow injury left Tsonga unavailable.
Poor Gasquet. Federer pounded him mercilessly in a one-sided drubbing that took all of an hour, 52 minutes. Gasquet is known for his backhand, which he hits with a great flourish. A backstroke would have served him better while he was drowning in an outpouring of Federer forehands, as he hit 29 winners off that side alone.
Federer put 72 percent of his first serves into play and won 84 percent of those points. He penetrated Gasquet's serve early and often. If you insist in finding some fault in Federer's stats, blame him for converting just five of 16 break points -- a nice problem to have, in light of the fact that Federer allowed Gasquet no break points at all.
The Swiss were able to wrap up this championship with relative ease despite facing routine and unique hurdles. They surmounted those obstacles because they didn't allow personal conflicts (the tiff the previous week between Federer and
Stan Wawrinka
), unexpected challenges (Federer's back injury) or hubris to taint their effort.
There's also this: Those "boring" and "conservative" Swiss who had to buy their way into the event simply shamed the host nation's fans with their unbridled, voluble enthusiasm. The French managed to set an attendance record for a sanctioned tennis event (over 27,000 fans, most of them French, packed the Stade Pierre Mauroy each day), but that mob set no new mark in the support department. Could it be that the team, which hasn't won the Cup since 2001 despite the dazzling array of talent at its beck and call, has lost the French fans?
It's a shame that, rightfully or not, an individual story (Federer's) will dominate most narratives of this final. For this was a Davis Cup rich in storylines and brimming with the elements that make the competition so intriguing. This was the tie in which Wawrinka really stepped up and out from Federer's shadow. He played a terrific match against Tsonga to launch the final and played so well in the doubles that the Swiss were able to accomplish a mission almost as important as the principal one of winning that rubber: getting off the court as quickly as possible to spare stress on Federer's tender back.
On a related front, Swiss captain Severin Luthi's decision to bring in U.S. doubles coach David Macpherson (his protégés:
Bob
and
Mike Bryan
) to help the Swiss maximize their chances in the critical "swing match" doubles was a stroke of both selflessness and brilliance.
As for the decision by French captain Arnaud Clement to throw Gasquet, the lamb, in with Federer, the lion, in this critical match, well …
Sure, the French options were limited. But Gasquet was woeful in singles all fall. He was relentlessly picked on and mentally ruined in the doubles, and he can't return serve unless it comes with a prepaid return label. Benneteau had done a good job nursing Gasquet through the doubles and might have been the better choice.
The only bright spot for the French was
Gael Monfils
. The beating he inflicted on Federer on Friday now looks like it had a lot less to do with Federer's back than with his gag reflex -- not to mention Monfils' skill and mental strength.
Now that Federer has won a Davis Cup championship, his critics have one less arrow in their quivers. Immediately after the match, Federer oddly -- and perhaps a teensy-weensy bit disingenuously -- downplayed the amount of personal satisfaction he derived from the win. He insisted that the win was not for his legacy. It was "one for the boys."
That was an unconvincing claim but the only unforced error he committed on the day Switzerland -- and Federer -- finally broke the Davis Cup hex.
April, 11, 2014
4/11/14
1:42
PM ET
The clay-court swing is officially underway, the first blow struck by
Andrea Petkovic
of Germany, who won on the green clay of Charleston last Sunday.
There are WTA events underway this week in Katowice, Poland, and Bogota, Colombia, where top seeds
Agnieszka Radwanska
and
Jelena Jankovic
(respectively) are rolling along.
On the ATP side, the clay season is off to a bizarre start.
The top seeds in the two ATP 250 events now underway (Casablanca, Morocco and Houston, Texas) didn't get a win between them: ATP No. 9
John Isner
was dusted in Houston in the second round (he had a first-round bye) by
Dustin Brown
. Ditto for No. 19
Kevin Anderson
, who was busted in Morocco by 32-year-old No. 89 player
Victor Hanescu
. He's exactly the kind of clay-bred warrior who presents often unsolvable problems for players such as Isner and Anderson, whose power isn't complemented by the kind of patience -- or consistency -- that wins matches on clay.
[+] Enlarge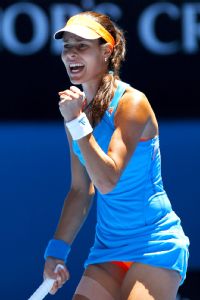 Ella Ling/BPI/Icon SMIDoes early 2014 success have Ana Ivanovic primed for wins on clay?
The results thus far seem emblematic of what lies in store on both tours in the coming weeks. The women are loaded with players who enjoy the clay and know how to play it, like the those mentioned above.
And let's not forget that the winner in Monterey, Calif., (a last lingering hard-court event) last week was former French Open champ
Ana Ivanovic
. The women's tour is chockablock with contenders on clay. Jankovic has been No. 1 in the world and, like current No. 3 Radwanska, she's been a Grand Slam finalist.
Should
Serena Williams
surrender the stranglehold she has on the WTA tour in the coming weeks, it's really impossible to say who, if anyone, might take her place. No. 2
Li Na
has been more consistent than ever in recent months, but she's wandered off-script before.
Victoria Azarenka
has been out with a foot injury, and she's not due back until Madrid in early May; who knows how long it will be until she's match tough again?
Maria Sharapova
, down to No. 8, hasn't made a final this year.
The ATP side of the game offers a clearer picture.
Rafael Nadal
has shown no signs of being anything less than the ruthless, implacable, inexorable punisher of the Euroclay segment. Over the last nine years, he's won Monte Carlo (the first of the red clay Masters 1000 events) eight times, and the Madrid and Rome Masters titles a combined nine times. He's feasted on red clay, and he's coming back for more like he always does.
Nadal, current ATP No. 1, lost exactly one match during the two-month clay-court season last year, and that was to
Novak Djokovic
in the Monte Carlo final. It strains credulity to envision Nadal losing more often this year, unless Djokovic can hit the level he found when he hammered Nadal in the recent Miami Masters final. That match reminded pundits of 2011, when Djokovic won six straight against Nadal (two of those wins in the two major Euroclay Masters, Madrid and Rome).
Djokovic has to prove that he can resurrect -- and sustain -- that level on clay. Nadal is 13-3 against Djokovic on the surface, and while many of those wins were early in the rivalry (Djokovic is 3-4 in their last seven meetings on dirt), clay remains the surface on which Nadal is most effective against his nemesis.
Roger Federer
, back up to No. 4, was feeling so exuberant after clinching the Davis Cup quarterfinal tie against Kazakhstan that he took a wild card into Monte Carlo. It was a bold and confident move, but let's remember that Nadal is even more dominant over Federer on clay than he is over Djokovic. Nadal is 13-2 against the all-time Grand Slam singles champ. He hasn't lost to Federer on clay since May 2009.
As for the rest of the ATP cast, Australian Open champion Stan Wawrinka has slowed down in recent weeks, faltering in the fourth round at Indian Wells and Miami. Top 10 staples such as
Tomas Berdych
,
David Ferrer
,
Jo-Wilfried Tsonga
(now down to No. 12) and
Richard Gasquet
have failed to deliver when it most counts.
Andy Murray
, No. 8 and the defending Wimbledon champ, always seems to struggle on clay.
If we're going to witness a shake-up in the pecking order, it's more likely to occur on the women's side. Nadal is a Superman on red clay; only Djokovic has the kryptonite, and Nadal is usually immune even to that.
December, 6, 2013
12/06/13
1:42
PM ET
The reports that top-ranked
Rafael Nadal
made some $10 million for a comfortable week of exhibition work in South America recently makes you wonder how much the Spaniard with the most wins on the tour in 2013 might have pulled down for the same amount of work.
And I'm not talking about
David Ferrer
, who won 60 matches this year, well short of Nadal's 75.
The Spanish player with the most wins this year was
Pablo Carreno Busta
, who brought new meaning to the world "journeyman" this year as he bounced around and fought his heart out in a whopping 110 matches.
Nadal and world No. 2
Novak Djokovic
each played in 20 tournaments in 2013 (Djokovic's tally includes four three-day Davis Cup ties, and in one of them he didn't even play both his singles matches). In the top 10, only No. 8
Stanislas Wawrinka
and No. 9
Richard Gasquet
played more than 24 events.
[+] Enlarge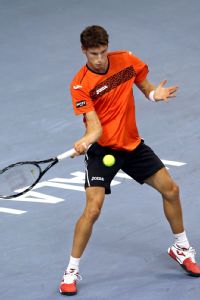 How Foo Yeen/Getty ImagesPablo Carreno Busta shot up the rankings in 2013, and 2014 is setting up nicely for him.
Busta, meanwhile, logged a whopping 29 and accumulated a record of 92-18.
Busta won those ATP sanctioned matches on the Futures, Challenger and main tours. That's about 50 percent more wins than Ferrer accumulated (and they call him "the Little Beast" due to his consistency, stamina, and determination). All that work netted Busta a nice honor and a trophy he'll be able to show off to his grandchildren. He was named the ATP's "Jugador de Mayor Progreso," or Most Improved Player, for 2013.
It may seem that, based on his degree of participation, Busta basically got paid for showing up. But that's not true. In fact, a bunch of guys actually played more events, led among top-50 players by No. 47
Lukas Rosol
, who entered 33. But none sustained the quality Busta was able to muster, week in and week out.
His payoff was an amazing 651-place leap in the rankings, from No. 715 to No. 64. At one point, Busta won 39 consecutive matches in the span of a mere 77 days.
Grinding out those wins enabled him to pull down $174,538, which is only about $35,000 more than Ferrer collected when he failed to win even one match for less than a week's work at the World Tour Finals. And it's actually a few grand less than what Nadal carried off when he failed to win Shanghai and had to settle for a semifinal payout of $180,075.
And they say there's a war going on between Wall Street and Main Street?
The cutoff for breaking even after expenses as a pro these days is at around the No. 150 ranking mark; fall below that and it's deficit spending. You may end up having to call up No. 21
Jerzy Janowicz
to ask if he'll sell that car he used to sleep in as he traveled from tournament to tournament (until he hit it big at the Paris Masters a little over a year ago).
Jerzy probably would give you a good deal on it, and rest assured it's got plenty of room to stretch out (Janowicz is 6-foot-8).
The encouraging thing for Busta, who's still just 22 years old, is that Janowicz never did look back once he crashed the top-100 party. Jerzy didn't have a great year in 2013, but still made it to No. 21 and he earned over a million dollars in prize money.
Assured of direct entry into almost all tournaments (and certainly all Grand Slams) as the year begins in January, Busta is entitled to feel like a made man. He can afford to cut back a little on his schedule, and thereby avoid landing on the list of people hoping to find a right-arm donor.