Peter Bodo:

Venus Williams
August, 1, 2014
Aug 1
7:51
AM ET
Is it too early for fans of the Williams sisters to begin obsessing over a quarterfinal clash at Stanford between
Venus
and her baby sister,
Serena
? They're one match removed from rekindling one of the weirdest, most frustrating, least loved (by them) and yet most historic rivalries in tennis.
The sisters have met only once since they clashed in the WTA tour championships back in 2009, and that was over a year ago at the modest green-clay tournament in Charleston. But each of the women faces a significant stumbling block before they would have to play a match neither of them has enjoyed despite having had two dozen opportunities to make their peace with it. Serena currently leads the sororal rivalry 14-10.
But for the sisters to meet, Serena will have to eliminate
Ana Ivanovic
, and Venus will need to get by resurgent German
Andrea Petkovic
. As recently as a year ago, you could reasonably expect Serena to overpower that former No. 1 Ivanovic, whose game lacks the heft of Serena's.
But surprise, surprise -- Serena has had a tough year so far, particularly in Grand Slam events. And it was Ivanovic who launched the trend, taking top-seeded Serena down in the fourth round of the Australian Open. Both women have been ranked No. 1, and both are Grand Slam champs. (OK, Serena has 16 more than Ana, but never mind.) And Ivanovic will have even greater motivation because, with
Li Na
pulling the plug through at least the US Open, Ivanovic has a great shot at getting back into the top 10 for the first time since May 2009.
Venus's obstacle is no Grand Slam champ. The closest Petkovic has come to a Grand Slam singles trophy was walking past the guy polishing it up in Paris a few months ago. But the injury-prone, free-spirited German has rocketed back up to No. 18, and besides making the semifinals of the French Open (losing to
Simona Halep
), she was a recent winner at Bad Gastein. Raw-boned, naturally strong and fit, Petkovic is blessed with a big personality as well as good intentions. Petkovic won't be intimidated by the Williams aura, either, so expect Venus to have her hands full.
Going on the evidence Thursday night, it doesn't appear that Serena would be a lock to win against her big sister, who in years past had been suspected of rolling over for her younger sibling. True, Venus is 34 years old now (roughly 2 years older than Serena), but she appears to have wrestled down whatever doubts, inhibitions or ailments had been cramping her style. Venus is having an excellent year. She won in Dubai, and at her beloved Wimbledon, Venus took eventual champ
Petra Kvitova
the full three-set distance in one of the best matches of the entire tournament.
Venus is not just playing well; she appears to be wholly committed to the effort. She's ripping serves, running like a gazelle and blasting forehands with the kind of authority and consistency we haven't witnessed in a long time. The remote stare and that curious state suggesting supreme disinterest that we sometimes saw in recent years isn't evident now.
In her win over
Victoria Azarenka
on Thursday night, Venus did something that for her has been truly unusual in the recent past: She stepped up her game a notch late in the struggle, when it was vital for her to do so. Instead of watching her run out of energy, as we had time and again in the past, we saw her come on strong and yank the match out of Azarenka's hands.
Serena has had a rough and, in some ways, strange year. The last thing she needs at this point, as she tries to rally for her last shot at a Grand Slam this year, is the complication of another match with Venus. But it may be just what she gets. And that should be enough to make you stay tuned.
July, 7, 2014
Jul 7
12:37
PM ET
Novak Djokovic
is a great tennis champion, but merely the latest in a long line of people to learn the hard way that it's always darkest before dawn.
There Djokovic was, midway through the fifth set in the Wimbledon final, swinging the stringed stick while trying his best to suppress what creeping doubts, anger and disappointment nibbled away at his heart and will.
It was all caused by the fact that Djokovic had let
Roger Federer
-- the great Roger Federer, the seven-time Wimbledon champ -- off the hook late in the fourth set, when Djokovic failed to convert a match point with Federer serving for his life at 4-5 and Djokovic up two sets to one.
Up in the player box, the fleshy face of Djokovic's co-coach Boris Becker was turning lobster red (Boris don't need no stinkin' SPF 40!). Across the net, Federer was cracking aces like a regular Lazarus.
Rafael Nadal
probably was bobbing around in his yacht somewhere in the Mediterranean, watching on his cellphone and chortling. Would this be the day when Nadal's nemesis, gifted as he is, would earn the humiliating moniker Novak Chokevic?
[+] Enlarge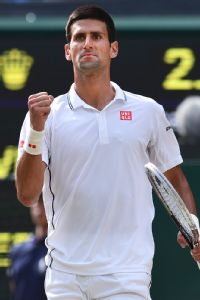 Carl Court/AFP/Getty ImagesPreviously unseen fortitude and determination helped lift Novak Djokovic past Roger Federer.
Going into Wimbledon, Djokovic had a 6-7 career record in Grand Slam finals. Early in the year, he had failed to defend his Australian Open title (he didn't even make the final, for the first time in four years). In Paris, his main goal for the year of completing a career Grand Slam with a French Open victory was blown to smithereens thanks to another beating administered by Nadal, the King of Clay.
Now here was Djokovic, on the verge of becoming the guy who held the gate open as Federer marched through to become the first man in 66 years to win a Wimbledon final after being down match point -- just another line item to add to Federer's phone-book-sized list of accomplishment at a huge cost to Djokovic's legacy.
However, if all of this put a certain amount of strain on Djokovic, he didn't show it as the fifth set came to a climax. Ultimately, his composure and refusal to lose faith won him the Wimbledon title (with a little help from his service return, if you want to get all technical about it). It was the previous lack of those very intangibles that led Becker, one of the most courageous if not the most successful of champions, to his seat in the player's box on a sunny, hot day in London.
It was easy to forget the women's final in the wake of the spectacular show put on by Djokovic and Federer, yet in some ways the wins by Djokovic and the Czech Republic's
Petra Kvitova
-- just a lowly No. 6 seed -- had some commonality.
Djokovic had accomplished far more than Kvitova leading up to this tournament (although at a comparable age, Djokovic was also struggling), and his star power exceeds Kvitova by a few orders of magnitude. But anyone who took account of the power and precision Kvitova showed when she won the Wimbledon title in 2011 surely had to be baffled by how infrequently she's been able to summon that game on the big stages in recent years.
Painfully shy (something Djokovic has never been accused of) and forced by her nerves to wage a constant battle against anxiety, Kvitova hadn't even been to the semifinals of a major since the spring of 2012. Granted, she was barely 21 when she first won Wimbledon. But just how much time does a player need to adjust to the rarefied atmosphere at the top?
The reality is that people were acknowledging Kvitova as a contender only when goaded into it. She just found too many ways to lose, too often. Until last weekend.
Kvitova put on a display of aggressive tennis as formidable as anything we've seen pouring off the racket of
Serena Williams
. Kvitova took
Eugenie Bouchard
, a genius at competing and a young lady destined for greatness, and simply demolished her. Now, Kvitova is back in the conversation that begins with the question "What happens when Serena and Venus retire?"
For Djokovic and Kvitova, the theme of this Wimbledon was vindication. Each of them achieved it, albeit in vastly different ways.
March, 18, 2014
Mar 18
6:00
AM ET
Novak Djokovic
and
Roger Federer
finally restored order to men's tennis after a wild 10-day shootout in the California desert, while the women left Indian Wells in a more chaotic state than when they arrived. But there will be a new sheriff in town in Miami come Wednesday:
Serena Williams
.
Meet the new boss. Same as the old boss. Or are we making the familiar mistake of confusing the Williams sisters again?
Take a closer look at the season standings.
Venus
is 1-1 in finals this year (winning in Dubai) and 9-3 overall. Serena, who's 9-2, has made just one final in 2014, bagging the title in Brisbane in the first week of main WTA tour play.
Serena has been flying well under the tennis radar in recent weeks, trading air kisses at fab Oscars parties in Hollywood rather than swapping forehands with the likes
Maria Sharapova
or
Victoria Azarenka
. When last seen by us, she was stewing in Dubai on the eve of what might have become another in that dwindling series of Williams family crises.
Another sister-on-sister clash seemed inevitable as the Dubai tournament wound down, and both women reached the semifinals. At least this time they were on opposite sides of the draw. But then Serena lost her semi to
Alize Cornet
, thereby holding the door open for Venus to win for the first time since she triumphed in a tiny event in the tiny country of Luxembourg in October 2012.
In Miami, which has always been a home game for the sisters, Serena is the top seed and Venus sneaked in just under the wire at No. 29. The good news for the Williams clan is that once again the sisters are on opposite sides of the draw. They haven't met in a tournament final since Serena beat Venus at Wimbledon and then the WTA Tour Championships in 2009.
In case you're wondering, Serena leads the head-to-head 14-10, but the fine print reminds us that Serena hasn't lost to Venus since Dubai of 2009, when Venus eked out third-set tiebreaker. Of course, that was before either of them turned 30, but these two have aged extremely well.
Venus can, and has been, written off by many -- but for so long that the pundits increasingly sound as if they're crying wolf. Sure she's 33 (a year older than Serena) and forced to manage her case of Sjogren's syndrome, a condition that leaves its victims susceptible to, among other things, fatigue. But as an athlete, she's in the same league with Martina Navratilova and Steffi Graf, and when it comes to age in women's tennis, 30 appears the be the new 20.
Venus showed us just how explosive and dominating she can still be with that run in Dubai. The lowest-ranked player she faced was her first-round opponent, No. 33
Elena Vesnina
. After that, she knocked off, in succession, some worthy names: former No. 1 and Grand Slam champ
Ana Ivanovic
;
Flavia Pennetta
, who was Saturday's winner over top-seeded
Li Na
and Sunday's winner at Indian Wells; and two-time year-end No. 1
Caroline Wozniacki
.
Venus didn't lose a set in the tournament, and she obliterated Cornet in the final, three-and-love. Some would say Venus earned that smooth ride, given that she might easily have won every match she's lost this year. Two of those three defeats were 6-4 in the third; the other was a third-set tiebreaker loss to No. 6
Petra Kvitova
.
Granted, the heat and humidity in Miami could present a problem for Venus, especially if she becomes embroiled in a few tough back-to-back matches. And her draw doesn't look very kind. She starts with Cornet (again), but she might then have to face No. 6
Simona Halep
followed by a confident lady who would have no compunctions about trying to run Venus into the ground, No. 10 seed and recent Australian Open finalist
Dominika Cibulkova
.
So yes, Venus has her work cut out. But I wouldn't pin that tin star on Serena's chest just yet.