Philadelphia Eagles:

2013 Week 13 ARI at PHI
December, 1, 2013
12/01/13
7:45
PM ET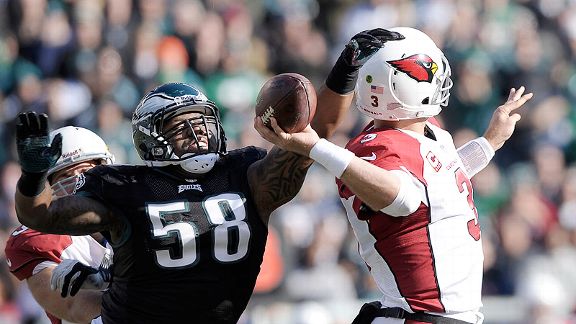 AP Photo/Michael PerezTrent Cole accounted for two of the Eagles five sacks on Cardinals quarterback Carson Palmer.
PHILADELPHIA -- It is all about offense in the NFL, right up until the moment your defense is on the field trying to protect a fourth-quarter lead.
Offense drives fantasy leagues. Offense benefits from virtually every change in the league's rules. Offense gets head coaches like Chip Kelly their jobs.
In the Eagles' past two games, Kelly's potent offense put 24 points on the scoreboard to build big leads. And then, when the game was on the line in the fourth quarter, Kelly's offense stood helpless on the sideline and hoped the defense would save the day.
"We'll take it," outside linebacker
Trent Cole
said. "We'll take it all day. It doesn't matter what the situation is. If it's on us, we're going to go out there and do what we have to do. It doesn't matter if they back us up on the 5-yard line. We have to go out there and stop them."
The Eagles stopped
Carson Palmer
and the
Arizona Cardinals
one last time Sunday to preserve a
24-21 victory
. It was the second home win in a row for Philadelphia and the second in which a big second-half lead was in peril in the final minutes.
"I thought the defense literally won the game today," wide receiver
Jason Avant
said. "To stop a team that was that hot, that had scored a couple touchdowns back to back and to hold them -- what was that a three-and-out? A four-and-out? That's a great job."
It was a great job that left the Eagles at 7-5, tied with Dallas for first place in the NFC East and solidly in the wild-card race. It also establishes the Eagles as one of the more complete teams in the NFC. They may not belong with elite teams such as Seattle and New Orleans, but they have rallied from a 3-5 midseason record with a big-play offense, solid special teams and an increasingly effective defense.
That plays very well in Philadelphia, where fans appreciate a well-executed touchdown throw, but where defense really gets the adrenalin flowing. As bad as the previous two years were here, the worst of it was watching soft, passionless defense by men wearing the uniform of Reggie White, Brian Dawkins and Bill Bergey.
"This is Eagles football," Cole said after getting to Palmer for two of the Eagles' five sacks. "This is the Eagles football that I know. Being here for nine years, this is how we always did it. And we always won in the Linc. We protected our house."
After losing 10 consecutive games in Lincoln Financial Field, the Eagles now have a two-game winning streak here (and four games overall). After getting crushed 52-20 in Denver on Sept. 29, they haven't allowed more than 21 points in their past eight games.
"The guys scrapped and fought and got turnovers and pressured the quarterback," defensive coordinator Bill Davis said. "Our defensive line stepped up and got all kinds of pressure on the quarterback. Our coverage was tight. At the end of the day, we had three more points than they did."
They had 17 more points in the third quarter. Two weeks ago, against Washington, the Eagles had a 24-0 lead in the fourth quarter. Both times, the offense ground to a halt. Kelly's play calling grew conservative and the opposing defense responded by playing with more intensity.
The NFL is all about offense, so there's only so long a defense can hold an opponent in check. Washington scored two touchdowns on fluky plays, made two-point conversions and closed to within 24-16 before
Brandon Boykin
's interception ended the potential game-tying drive.
After turning the ball over and making other costly mistakes early, Arizona got its offense going for two touchdown drives to make it 24-21 with 4:45 left in the fourth quarter.
Two Arizona defensive penalties gave the Eagles a first down -- and negated what would have been a game-turning interception by
Patrick Peterson
-- but the offense couldn't run the clock to the two-minute warning. Arizona took over at its own 10 with 2:03 left and two timeouts.
"Against that stout defensive line, it's tough to line up and run the football on them," Kelly said. "It's a good group over there. So again, it's something we need to continue to work on and we've got to get better at."
Until then, it comes down to the defense. For the second game in a row, the defense held. This time, cornerback
Bradley Fletcher
broke up a fourth-down pass intended for
Michael Floyd
. There was contact, but Fletcher escaped without drawing a flag.
"It's a timing deal," Fletcher said, "and I was able to do that. We had a blitz on and I was holding my inside leverage and my ground. There was some contact at the break point, and I went and made a play."
It may not be the easiest way to win, but enduring these situations can make the Eagles defense only stronger as the playoff race tightens.
"I like those moments," cornerback
Cary Williams
said. "It's kind of a bittersweet situation. You never want to be put in those situations, but if you are, you want to play to the best of your ability. It was a great opportunity for us to go out there. We handled our business. We continue to get better in those scenarios. I think the sky's the limit for the defense."
And that defense makes the Eagles a legitimate contender, even in a league that is all about the offense.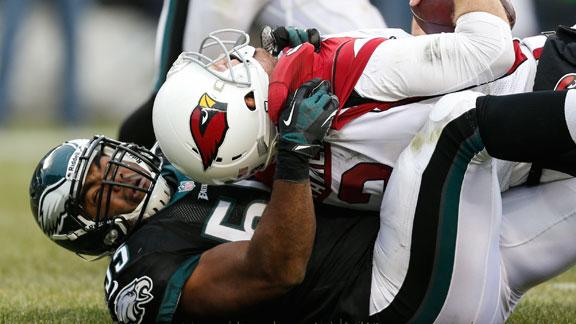 December, 1, 2013
12/01/13
7:45
PM ET
PHILADELPHIA – The big matchups were obvious: NFL leading rusher
LeSean McCoy
against the Arizona run defense, big-play receiver
DeSean Jackson
vs. shutdown cornerback
Patrick Peterson
.
Ultimately, though, it was the
Philadelphia Eagles
' tight ends who made the difference in their
24-21 victory
over the Cardinals Sunday.
Celek
Ertz
"We thought they have some really good corners, starting with Peterson," Eagles coach Chip Kelly said. "So trying to get matched up on some safeties and some linebackers … just thought we had some plays in there to the tight ends."
It started right away. The Eagles got the ball on the Arizona 25-yard line after
Trent Cole
stripped
Carson Palmer
.
Nick Foles
threw four passes, all to tight ends. The fourth was a 6-yard touchdown to rookie tight end
Zach Ertz
, who beat rookie safety
Tyrann Mathieu
to the corner of the end zone.
"Those guys run about three or four plays in one play and you just have to keep to your assignment and don't let the play fakes and motions confuse you," Mathieu said.
Ertz and
Brent Celek
were targeted 12 times, or more than one-third of Foles' 34 attempts. Ertz caught five balls for 68 yards and two touchdowns. Celek caught four for 29 yards and a touchdown.
In the previous 11 games, the two tight ends combined for 40 catches and four touchdowns.
"We knew it was our opportunity to make plays," Celek said. "We had to take advantage of it. We knew coming into the game that we had to play well."
Peterson and the rest of the Arizona secondary held Jackson to three catches for 36 yards. McCoy fared a bit better, rushing for 79 yards on 19 carries, but he was never really the difference-maker in this one. Celek and Ertz were.
"I just felt like we had good matchups with our tight ends against their linebackers," Foles said. "Their linebackers are very talented, but they're bigger guys. They are very good at stopping the run. I liked our matchups with our tight ends and I thought they did a great job today."
Foles has great chemistry with wide receiver
Riley Cooper
, who caught three passes for 48 yards and drew a pass-interference call in the end zone. If he can build that kind of rapport with Celek, Ertz and
James Casey
, it would make the Eagles' offense that much more versatile and dangerous.
"Any time we are running routes or doing anything, we have to be a viable option for him," Celek said. "We are an integral part of this offense, too."
"Riley and DeSean have been huge playmakers all year," Ertz said. "We had to have a big day today to take the pressure off other teams' game-planning against them."
December, 1, 2013
12/01/13
4:11
PM ET
PHILADELPHIA – Quick thoughts on the
Philadelphia Eagles
'
24-21 victory
over the
Arizona Cardinals
on Sunday.

What it means:
The Eagles (7-5) have evolved into one of the most complete teams in the NFC, and they are in the thick of the playoff race.
Nick Foles
threw three touchdown passes to lead the offense, while the defense sacked
Carson Palmer
five times and held an eighth consecutive opponent to 21 points or less. After enduring a 10-game home losing streak, the Eagles have a two-game home winning streak and have won four in a row overall. They are tied with the Cowboys for first place in the NFC East and are in the mix in the wild-card race.
White knuckle syndrome:
As big a win as it was for the Eagles, it did raise some concerns. For the second game in a row, they scored 24 points and went into an offensive lull that allowed the opponent to get back in the game. Against Washington two weeks ago, their 24-0 fourth-quarter lead was whittled to 24-16;
Robert Griffin III
threw a game-ending interception in the red zone, allowing the Eagles to hold on. This time, a 24-7 third-quarter lead shrunk to 24-21 when Palmer threw a 3-yard touchdown pass to
Jim Dray
. Whether it's play calling or execution, the offense has to put an end to this dangerous trend.
Tight ends turned loose:
After getting the ball for the first time on the Arizona 25-yard line thanks to a Palmer fumble, Foles' first four throws were to tight ends. The fourth was a 6-yard touchdown to rookie
Zach Ertz
. Foles hit veteran
Brent Celek
for a 1-yard score in the second quarter and came back to Ertz for a 24-yard touchdown in the third. Ertz and Celek had caught a combined four touchdown passes through the first 11 games. But with the Cardinals' defense focused on stopping
LeSean McCoy
and
DeSean Jackson
, coach Chip Kelly countered by utilizing his tight ends.
Stock watch:
Rising: Foles. The second-year quarterback was the NFC offensive player of the month after posting a 152.8 passer rating for November, the best rating for a single month in NFL history. Foles began December in fine fashion, completing 21 of 34 passes for 237 yards and three touchdowns. He answered a couple of more questions, too, by playing well against a superior defense and by winning a game against a team with a winning record. Foles took some sacks and missed some throws in the second half as the Arizona defense tried desperately to get back in the game, but he continued to protect the ball and (except for an interception negated by penalty in the fourth quarter) make good decisions.
What's next:
Foles can tie or break
Peyton Manning
's record of 20 touchdown passes to begin a season without throwing a single interception. (Foles' 24-yard touchdown to Ertz was his 19th of the season.) He will get a chance next Sunday, when the Eagles host the
Detroit Lions
, another NFC contender.