Philadelphia Eagles:

Alex Smith
January, 23, 2014
Jan 23
11:00
AM ET
PHILADELPHIA -- The
Philadelphia Eagles
involved in Wednesday's first (and unfortunate) Pro Bowl draft provided good examples of why the novelty act should also be the last (unfortunate) Pro Bowl draft.
It might be OK to turn an invitation to the league's all-star game into an insult for the sake of good television. But there was nothing fun or entertaining about every player after the first 15 minutes stalking out of the holding area and complaining about not being chosen sooner.
McCoy
By the time Eagles wide receiver
DeSean Jackson
was taken by Deion Sanders' team in the 39th round, the whole exercise was excruciating. Quarterback
Nick Foles
, who also went to
Team Sanders
, avoided being the final player taken by one slot. That distinction went to Kansas City quarterback
Alex Smith
.
If the last player taken in the real draft is Mr. Irrelevant, does that make Smith Mr. Relevant for being the last guy taken in a farcical draft?
To dismiss the dismal message sent to Jackson and Foles means there was nothing positive about running back
LeSean McCoy
being taken so high. McCoy, the NFL's leading rusher in 2013, was the fourth overall player taken. He was also one of Team Rice's five "untradeable" players, whatever that means.
The most fortunate Eagle of all was left guard
Evan Mathis
. He was selected Tuesday, the day before the NFL Network broadcast of the main draft. That put him among the interior linemen and punters -- positions deemed unworthy of the TV portion -- but that proved to be a blessing in disguise. Mathis, who joins McCoy on
Team Rice
, walked out at the beginning of the broadcast and was off the hook for the rest of the show.
Well, maybe the real winner was left tackle
Jason Peters
, who was voted in as a starter but withdrew. He skipped the whole thing.
The Pro Bowl has always been a tough sell. It's what football looks like when the No. 1 concern is not getting hurt. But the draft concept isn't going to help, at least not without major improvement.
January, 13, 2014
Jan 13
5:00
PM ET
PHILADELPHIA -- The
Michael Vick
situation provides a conundrum for the
Philadelphia Eagles
, bringing a couple of coach Chip Kelly's priorities into conflict.
All season, Kelly talked about the importance of having two quarterbacks capable of winning NFL games on the roster. The Eagles were living proof of the value of having Vick and
Nick Foles
. The
Green Bay Packers
, meanwhile, were an object lesson in what happens when your depth chart drops from
Aaron Rodgers
to
Seneca Wallace
.
Vick
"I think you can never have enough quarterbacks," Kelly said. "I've said that no matter where I was. In this league, we were fortunate that we had two this year, and that was a huge benefit to us that we had two, and we'll continue to always look at quarterbacks, and I think anybody that's any good in this league always does that."
Vick will be a free agent on March 11 and says he wants to go somewhere he can be a starter. And while he has said he would be willing to return to the Eagles as a backup "if all else fails," there is a very real possibility the Eagles won't be interested.
That's because, for all the praise Kelly heaped on Vick for handling his in-season demotion, the coach also had good things to say about rookie
Matt Barkley
.
"Matt was awesome," Kelly said. "I'm excited to get a full offseason with Matt in here to really get a chance to work with him, because I think he's got a skill set that's exciting when you see him, how the ball comes out of his hands, the decisions that he makes, and that's part of this whole deal."
Barkley
Kelly wanted Barkley enough for the Eagles to trade up a couple spots in the fourth round of the 2013 draft. Quarterbacks coach Bill Lazor spent hours of extra time working with Barkley. He saw action in three games, but was thrown into some pretty unfortunate situations.
The guess here is that Barkley is tagged to be the No. 2 quarterback behind Foles. His style is closer to Foles' than Vick's is, which theoretically makes for a smoother transition if he has to play. It also wouldn't shock me if the Eagles draft a quarterback again this year, maybe even higher than they took Barkley.
As for Vick, he is probably the best of a mediocre batch of free-agent quarterbacks this year. He will be 34, but still has a couple years left in him.
Some possible fits:
• Oakland, where coach Dennis Allen is going to be feeling some heat. Vick could be a good option to
Terrelle Pryor
as the younger quarterback gets up to speed.
• The
New York Jets
, where there will be intense pressure on head coach Rex Ryan in 2014, and where the offensive coordinator is former Eagles assistant Marty Mornhinweg. If the Jets stick with the combination of
Geno Smith
and
Mark Sanchez
for another year, chances are they'll be looking for a new head coach in 2015.
• Jacksonville, where the Jaguars slid from the No. 1 overall pick to No. 3 by winning a few late-season games. If they aren't in love with the quarterbacks available, or if they need a veteran to serve as a bridge to the rookie, Vick could be a fit.
• Cleveland is interesting. It's hard to say whether the presence of former Eagles president Joe Banner would be good or bad for Vick in Cleveland.
• Tampa Bay, which has a lot to like in
Mike Glennon
. But new coach Lovie Smith may want real competition for the starting job in training camp, and Vick just proved himself a solid locker room citizen through one of those.
• Buffalo is similar to Tampa Bay.
E.J. Manuel
is going to get every chance to be the quarterback, but coach Doug Marrone may want a veteran to compete, and Kevin Kolb's status may force the Bills to bring someone in.
• Kansas City. OK, OK, Andy Reid just had a very good year with
Alex Smith
. But Reid has fallen hard for Vick and scuttled his quarterback plans before. A long shot, yes, but there's a sliver of a chance.
November, 11, 2013
11/11/13
4:35
PM ET
PHILADELPHIA -- Chip Kelly made a wisecrack about it, but the Philadelphia Eagles' home losing streak is no longer a laughing matter – not with a division title at stake.
It was one thing when Andy Reid's 4-12 Eagles team lost its last six home games of 2012. And it was not that big a deal when Reid's still-undefeated
Kansas City Chiefs
came to Lincoln Financial Field and beat Kelly in his second home game.
But the streak has hit 10 games now. Kelly is 0-4 at the Linc. Somehow, though, the Eagles are 5-1 on the road and tied with the
Dallas Cowboys
atop the NFC East. If they are going to have a chance to win an unlikely division title in Kelly's first season, the Eagles are going to have to snap that streak.
[+] Enlarge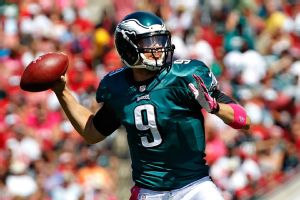 Kim Klement/USA TODAY SportsCan a suddenly sizzling Nick Foles help the Eagles snap a franchise record 10-game home losing skid this Sunday?
Their next chance is Sunday against Washington.
"What's the answer for us not winning at home and being 5-1 on the road? I don't know," Kelly said. "If we knew it, we'd replicate it. Do we have to take the buses and drive around for a half hour before we go to the stadium? I don't know. If that was the answer, we would do it."
It's a funny idea, but it probably won't fix anything. The real issue is who the Eagles have played and when.
They got
Robert Griffin
III in his first tentative game back from his knee injury on opening night at Washington. They've also won road games against Tampa Bay with
Mike Glennon
at quarterback, Oakland with
Terrelle Pryor
and Green Bay with
Scott Tolzien
replacing
Seneca Wallace
.
They split road games against the Manning brothers. Peyton took them apart in Denver and they beat Eli and the Giants the next week.
At home, they faced the Chargers'
Philip Rivers
and the Chiefs'
Alex Smith
in a span of five days when the Eagles' defense was still figuring out where to line up.
Their other two home losses were back-to-back division games against Dallas and the Giants. Both games were finished by rookie quarterback
Matt Barkley
.
Nick Foles
played his worst game against Dallas and left with a concussion.
Michael Vick
started against the Giants and reinjured his hamstring nine plays in. The Eagles didn't score an offensive touchdown in either game.
That's no way to win, at home or on the road.
Since then, Foles has thrown for 10 touchdowns in two weeks, so the offense is operating at a high level. And the defense hasn't allowed more than 21 points in the six games since the Denver debacle. That's how the Eagles got into the NFC race again.
Now they just have to take care of this franchise-record home losing streak. Kelly said he doesn't believe it has gotten into the players' heads.
"No, I don't think that's our mindset," Kelly said. "Our mindset is to win every single game we play. I watch these guys on a weekly basis prepare. And I don't think they say, 'Hey, we're away, let's do this. We're home, let's do this.' They're not like this. It's a consistent group in their approach. But I do think we have an advantage. We love playing at home. Our fans are outstanding. They deserve it. That's what our goal is right now."
Gentlemen, start your buses.
October, 9, 2013
10/09/13
5:10
PM ET
PHILADELPHIA -- Eagles rookie safety
Earl Wolff
made his first two NFL starts against a couple of quarterbacks he grew up watching on TV -- brothers Peyton and
Eli Manning
.
Glennon
Wolff
On Sunday, Wolff will experience the other extreme. He's known Tampa Bay quarterback
Mike Glennon
since their senior year of high school.
"I met him during a camp at N.C. State," Wolff said. "So I've known him for a little while now. When he got the starting quarterback job in Tampa Bay, I called him to congratulate him."
The two were teammates at North Carolina State for four years. Wolff practiced against Glennon all week and watched him play on Saturdays. Glennon was drafted in the third round of the 2013 draft. Wolff was picked in the fifth round.
Now they'll get to line up across from each other.
"I think it's an advantage for me," Wolff said. "I know what kind of quarterback he is. He's tall. Strong arm. He's not very mobile. He's not too athletic, but he has good footwork in the pocket.
"He doesn't like to make mistakes. He throws a lot of slants, a lot of out routes. He'll throw deep when he has the chance to, but he has to see something. Eli took 11 [deep] shots on us. He's not going to take 11 shots."
After going against some of the most experienced quarterbacks in the league -- San Diego's
Philip Rivers
and Kansas City's
Alex Smith
, as well as the Mannings -- Wolff and the Eagles defense are due for a little bit of a break. Young quarterbacks make mistakes, and the Eagles will be looking to force Glennon into a few.
"I hope I catch a pick on him," Wolff said, laughing. "
David Amerson
, [another N.C. State product] who plays cornerback for the Redskins, got an interception off him in the preseason. He told me, 'I went up to Mike, man, he was so mad at me.' ... I think it's real difficult to be a rookie quarterback. I think it's probably the hardest rookie position to play."
Wolff started the last two games in place of the injured
Patrick Chung
. Chung practiced Wednesday and could be ready to return Sunday. It isn't clear whether Chung would return to the starting lineup immediately. Either way, Wolff will continue to see playing time.
"I don't know what the plan will be," Wolff said. "I can't control that. All I can do is keep working hard and getting better."
October, 4, 2013
10/04/13
7:00
AM ET
PHILADELPHIA -- First, imagine Eagles defensive coordinator Bill Davis as a guy hired to repair a badly leaking roof. Now imagine that, as he's hammering nails into shingles, Hurricane Peyton sweeps through and blows the whole roof away.
Standing in the wreckage of a 52-20 loss, it's hard to remember just how the job was coming along before the storm hit.
[+] Enlarge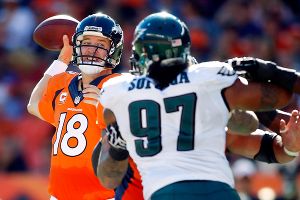 Chris Humphreys/USA TODAY SportsPhiladelphia's attempt at stopping the incomparable Peyton Manning isn't a fair gauge of the Eagles' defense.
For answers, and for a shred of hope for the 2013 Eagles defense, let's go back to the previous game against the
Kansas City Chiefs
. That night, there were real signs of progress for Davis' defense. Indeed, it was the Eagles offense that bears more of the responsibility for that 26-16 loss.
The offense gave up an interception return for a touchdown, turned the ball over four other times, gave the Chiefs great field position and scored only 16 points.
The defense held the Chiefs to one touchdown and four field goals despite the short field, sacked
Alex Smith
five times and generally played pretty well.
You might argue the Chiefs could have added points if they hadn't become more interested in holding on to the ball and running down the clock. The counterargument is they were able to do that largely because the Eagles offense didn't score enough to put pressure on the Chiefs.
The one glaring defensive issue was exploited by Smith's short passes to
Donnie Avery
. The Eagles' inability to cover or tackle Avery allowed him to turn dinks and dunks into gains of 51 (on third-and-5), 26 (on third-and-19), 23 (on second-and-14), 15 (on third-and-15) and 15 (on third-and-10).
"We gave up those third-and-15's and we missed tackles on that," linebacker
Mychal Kendricks
said. "Taking away those big third-down plays, that would just be clutch for us."
That is unacceptable, obviously. But if you freeze-frame the defense right there, you have a picture of a unit that made huge strides in four days after the 33-30 loss to San Diego. There was work to be done, but much was accomplished.
Then came
Peyton Manning
.
"We threw the best plan that we believed would throw them off and slow them down," Davis said. "And it didn't."
So here's the thing: If you accept that Manning is simply playing some of the greatest football in history right now (hint: he is), then the Chiefs game provides the more accurate gauge of the Eagles defense. It has been badly beaten by Manning and
Philip Rivers
, who are among the top three in the NFL in getting rid of the ball quickly.
The Eagles were competitive against mere mortal quarterbacks Smith and
Robert Griffin
III. Where
Eli Manning
fits on that continuum is a debate for another time, but he has been very beatable this year -- due in large part to a poor offensive line and slapdash running game.
"He is not doing what his brother is doing," Eagles linebacker
Connor Barwin
said. "I can tell you that much."
There is the risk that Denver exposed every flaw in the Eagles' personnel and scheme for the rest of the NFL to study. But that risk is offset by the fact that few teams have the talent to do what Denver is doing.
"It's a copycat league," safety
Earl Wolff
said, "so Eli might try doing the same thing. He's a great quarterback, capable of making big plays."
Nevertheless, the Eagles defense has a real chance this week to resume the progress it made against Kansas City. A chance. That's more than the Eagles had in Denver.
September, 19, 2013
9/19/13
12:00
PM ET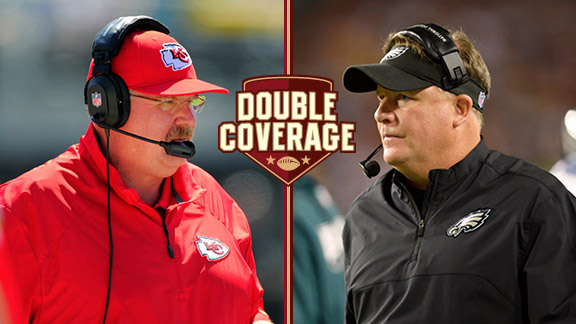 AP Photo Can Andy Reid slow Chip Kelly's up-tempo offense and nab a win in his much-anticipated return to Philadelphia?
You may have heard about a certain head coach returning to the city where he spent 14 seasons, revived a franchise, helped build a stadium and went to a Super Bowl.
Yes, Chiefs coach Andy Reid would love to beat his former team Thursday night at Lincoln Financial Field. And yes, Eagles coach Chip Kelly would like to make a statement by defeating his predecessor using the offensive stars Reid assembled in the first place.
Ultimately, though, the coaches will be sidebars on the sidelines once the ball is in the air. The players will determine whether the
Kansas City Chiefs
get off to a 3-0 start or the
Philadelphia Eagles
can get back into the plus column at 2-1.
Chiefs reporter Adam Teicher and Eagles reporter Phil Sheridan discuss this week's matchup:
Adam Teicher:
Once
Michael Vick
either passes the ball or hands it off, is there anybody for the Chiefs to fear besides
DeSean Jackson
and
LeSean McCoy
?
Phil Sheridan:
Those are clearly the most dangerous men on the Eagles offense, and among the most dangerous in the NFL. Washington played a lot of nickel coverage in Week 1, and McCoy went for 184 rushing yards. San Diego stacked the box and Jackson caught nine balls for 193 yards. But Kelly has some other options: rookie tight end
Zach Ertz
, as well as veteran
Brent Celek
, could be the next to break out with a big game. Meanwhile, when McCoy is winded, backup
Bryce Brown
is a very real threat to break a big play.
He may not open up about it until afterward, but how emotional do you think Reid is about coming back to Philadelphia -- especially with a chance to go 3-0?
Teicher:
You're right in that he didn't open up even the smallest of cracks about this publicly, but absolutely this is a big deal for him. He can't be human and not feel something after 14 seasons in Philadelphia. The other part is that with the Chiefs at 2-0, he's going back if not yet as a conquering hero than as much of a success as someone can be at this point of the season. He's good at compartmentalizing things. The death of his son last year is evidence of that. So I'd be surprised if this issue interrupted his preparation for the game Thursday night. I'll bet it hits him after the game and hits him with a ton of force. In that case, it's probably good the Chiefs don't play again after the Philadelphia game for almost a week and a half. But it is amazing how he can talk about the Eagles this week like how he talked about the Cowboys last week or the Jaguars the week before that. It's just as though they're another team.
Chiefs tackle
Eric Fisher
, the first overall pick in this year's draft, is off to a rough start. How is
Lane Johnson
, the tackle picked three spots behind him, doing for Philadelphia?
Sheridan:
The highs have been pretty high, the lows fairly low. Johnson had a tough time with
Dwight Freeney
on Sunday, which doesn't make him unique. And he was called for two illegal formation penalties -- he was off the line too far because he was concerned about Freeney -- and one of them negated a touchdown. But everything is relative. The Eagles have had plenty of first-round offensive linemen, from
Danny Watkins
back to Antone Davis, who have been disasters from day one. The Eagles liked Fisher a lot, but they are happy with Johnson's upside. He adjusts well, he's still adding strength and the coaches think he could eventually play left tackle, too.
Reid was infamous in Philadelphia for underutilizing his running backs (at least in the running game). How is he using
Jamaal Charles
this year?
Teicher:
Charles has touched the ball a total of 43 times this season (32 carries, 11 receptions) and on average that's probably close to what he can handle on a weekly basis. He's only about 200 pounds, so the Chiefs have to be careful about his workload. He also has had some injury problems this summer (foot, quad), though he looks fine physically. The problem is that the Chiefs don't appear comfortable with either of their backup running backs in all situations.
Cyrus Gray
comes in on a lot of passing downs. He's a better pass-blocker and the equal to Charles as a pass-receiver, but he's certainly not as good as a runner or as much of a big-play threat. Charles might have been given the ball more than he was last week against the Cowboys but he had only 8 yards on his first eight carries and Reid at that point decided to try to move the ball a different way.
The Eagles' defense is rated 30th overall and 31st against the pass. Is this a true measure of where Philadelphia is defensively or more a function of the fast-paced games the Eagles have played?
Sheridan:
Oh, it's a true measure. The Eagles were brutally bad last year against the pass (33 TDs allowed, just five interceptions). They made huge changes in their secondary, but are also switching from a 4-3 to a 3-4 base. The combination of new scheme, new players and suspect talent would create problems anywhere. Throw in Kelly's fast-paced offense and you get enough extra exposure to strain the defense even more. If you watch even the highlights from Sunday's 33-30 loss, you can see
Philip Rivers
had wide-open receivers on nearly every play. I'm surprised
Alex Smith
didn't fly to Philadelphia first thing Monday.
The Chiefs seemed to shut down the Cowboys offense. How are they equipped to handle Kelly's pace and unusual approach?
Teicher:
The Chiefs did a nice job against the Cowboys, with the exception of
Dez Bryant
. They were dominant the week before, albeit against the anemic Jaguars. Overall, they are third in the league in total defense and second against the run, so they look like they're for real. They have a lot of guys playing extremely well on defense. But the Eagles present a different kind of challenge, one that is compounded by having a short practice week. When the Eagles are in their hurry-up mode, the Chiefs may have to go to some default defenses based on personnel and formation. New defensive coordinator Bob Sutton has done a nice job of playing to the strengths of his players, so it will be interesting to see what he has cooked up for Philadelphia.
September, 19, 2013
9/19/13
10:20
AM ET
The road to the
Philadelphia Eagles
' future under Chip Kelly detours through the franchise's past Thursday night. Here are a few thoughts provoked by Andy Reid and Donovan McNabb being together at Lincoln Financial Field for the 77th time (including preseason, playoffs and games in which McNabb was present but didn't play because of injury).
Reid

There was a time Reid's Eagles teams were exceptionally successful on the road. His explanation was always the same: Good teams win wherever they happen to be.The reverse is true. Bad teams lose wherever they play. Reid and Chip Kelly now have more than an office in the NovaCare Complex in common. They have coached a total of seven consecutive losses at the Linc. Reid's 2012 team lost its last six games there. Kelly lost his debut there Sunday.

It is the longest current home losing streak in the NFL, and the Eagles' longest such streak since they lost seven in a row at Veterans Stadium in 1983. Overall, the Eagles are 9-13 at the Linc and 14-8 on the road since the end of the 2009 season.

If Kelly is going to restore the team to the levels Reid reached in the early- to mid-2000s, restoring home-field advantage would be a great place to start. But then, as we've learned, really good teams have the advantage wherever they happen to play.
For years, Reid's Eagles teams had a tougher time against odd-man defensive fronts than traditional 4-3 defenses. So it became one of those annual offseason questions for the coach: Why not switch the Eagles to a 3-4? In the years when coordinator Jim Johnson's 4-3 defenses were functioning at a high level, it was just a talking point. After Johnson died in 2009, Reid could have gone in any direction with his defense. He certainly went outside the box when he replaced Sean McDermott as coordinator with Juan Castillo, his longtime offensive line coach. But the Eagles always stuck with a 4-3, eventually implementing a disastrous wide-9 version in 2011.

Now that he's in Kansas City? Reid's defense is a 3-4.

"I thought change would be good," Reid said. "You go back and you evaluate everything and you look at things, where the game is today and where it's going. There are certain things you hold strong to and there are other things that you go with that might be a little bit better, that you learn from."
There will be an unusual alignment of quarterbacks with unique ties to Reid at the stadium. There is McNabb, the man he took with his very first draft pick in 1999, coached for 11 years and went to a Super Bowl with. There is Michael Vick, the man he welcomed back into the NFL after a federal prison sentence and whom he restored to prominence. And there is Alex Smith, the guy he acquired in a trade and re-designed his offense around in Kansas City.His future with Smith is bright, at least based on two wins in two weeks. But it is only fair to note, on the night McNabb's No .5 is retired by the Eagles, that Reid hasn't won a playoff game since trading McNabb to Washington after the 2009 season. The Eagles won 11 games in 2009 with McNabb as their starter. They won 10 in 2010 with Vick taking the No. 1 job from Kevin Kolb. They won eight in 2011 and just four in 2012.
September, 17, 2013
9/17/13
5:40
PM ET
PHILADELPHIA -- There are good ideas and bad ideas, and then there are ideas that are a little of both.
In my previous gig, I wrote a column after coach Chip Kelly's hiring suggesting the
Philadelphia Eagles
pursue
San Francisco 49ers
quarterback
Alex Smith
and part ways with
Michael Vick
.
Vick
The Smith thing was a pretty good idea, and it had a background story. When Smith was playing at Utah, he led his team to a victory over Oregon. Ducks head coach Mike Bellotti was inspired to implement some of this spread offense with option elements, so he hired a new offensive coordinator
You may have heard of him: Chip Kelly.
So Smith was successful in the offense Kelly brought to Oregon before Kelly brought it to Oregon. Surely he could help adapt Kelly's scheme to the NFL.
Well, it was Andy Reid who traded for Smith. Lo and behold, as my colleague Adam Teicher in Kansas City
just wrote
, Smith is running some option elements. He was the Chiefs' leading rusher in their victory over Dallas Sunday. He might have been very good under Kelly.
"He's a heck of a quarterback," Eagles safety
Nate Allen
said. "He's an athlete. A lot of people don't give him enough credit. He can get out of the pocket well. He's making good decisions and he's moving the ball for them."
So: good idea. Except it was attached to a bad idea: cutting ties with Vick.
It is early, but Vick seems like a perfect fit for Kelly's offense. His mobility was always going to be an asset, but he's also making quick decisions, accurate throws and avoiding turnovers.
"I think Mike's done a really nice job," Kelly said. "He's protected the football for us, gotten the ball out on time. He's done a really good job of distributing the ball. I think we're at a pretty high completion percentage right now. I'm sure he'd want a couple throws back. There were a few times we could have been more accurate. But I think overall in two games, I'm happy where Mike is."
Vick has a passer rating of 119.0, third best in the NFL behind
Peyton Manning
and
Aaron Rodgers
. He has completed 62.3 percent of his passes. He has thrown four touchdowns. Maybe the most significant of his numbers is zero: Zero interceptions. After throwing 24 picks in his previous 23 games, that's vital to Vick's success.
We have seen Vick put together a couple of great games and then start firing the ball to the wrong team. We've seen him get hurt. It's an encouraging start, but it's just that -- a start.
Still, at the moment, Vick is probably a better idea for the Eagles than Smith.
September, 3, 2013
9/03/13
12:52
PM ET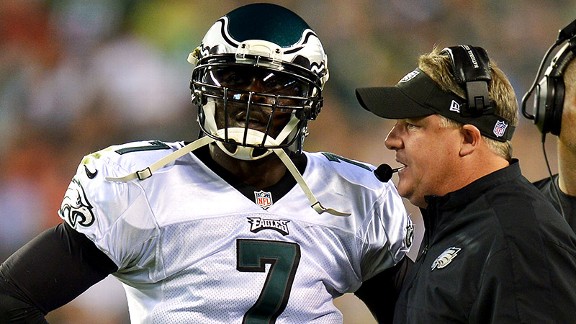 Drew Hallowell/Philadelphia Eagles/Getty ImagesComing up with a game plan to stop Chip Kelly's Michael Vick-led offense won't be easy.
It is the NFL coaches' day to plan. They are preparing for their season opener, of course, but Chip Kelly and his brethren have had months to contemplate how to attack their first opponent -- and vice versa.
There are some unique aspects about the way the Eagles will prepare for Washington. It is Kelly's first real NFL game after a preseason spent deciding exactly what he did and didn't want to reveal about his offense. It is the first real outing for Bill Davis' revamped defense. And although Washington is an all-too-familiar NFC East rival, there is some mystery about the health and effectiveness of quarterback
Robert Griffin III
in his return from ACL surgery.
Let's start with the matchup that makes this game worthy of the season's first Monday night slot: Kelly's offense against coordinator Jim Haslett's defense.
How will Haslett prepare for an offense he hasn't seen? Can he even trust what he has seen, or has Kelly thrown some red herrings in the red zone? Haslett will no doubt study what Gus Bradley's Jacksonville defense did early in that preseason game to confound the Eagles' offensive linemen. When told that Haslett has said he studied Oregon's offense for clues, Kelly saw the logic in that.
"We are different," Kelly said, "but I would do the same thing. It's either watch Oregon tape or watch nothing. It's going to be a combination of [Oregon tape and] our preseason games. It's no different than when we have to prepare for the Chargers. You have to kind of look at what the history is. … That's commonplace, I think."
My guess: With less certainty about scheme, Haslett will focus on what he does know best -- the players. If blitzing
Michael Vick
has worked in the past, then you blitz Vick until the Eagles show they can stop it. If being physical at the line with
DeSean Jackson
has taken him out of games, that's what you do.
There can be a kind of self-fulfilling element to that. By attacking the areas he knows, Haslett could disrupt Kelly's scheme enough to derail it for the night. It will be up to Kelly to anticipate Haslett's approach and counter it.
The other side of the ball is nearly as perplexing. Unlike former coach Andy Reid, who hired defensive coordinator Jim Johnson because of the trouble Johnson gave Green Bay's coaches, Kelly doesn't run a common NFL offense. He never coached against Davis or any other coordinator on this level.
"I don't really look at it that way because I think what we do offensively is a little bit more unique," Kelly said. "I think we want a defense that gives the majority of the teams we play problems, you know what I mean, so it's more of that aspect."
As it turns out, practicing against Kelly's offense all summer won't be a total waste in Davis' first game as Eagles coordinator. Griffin won't be running the same system, of course, but there are at least some familiar elements.
The Eagles' defense is very much a work in progress, with Davis trying to figure out just how to deploy the players he has available. This defense isn't ready yet to impose its will on another team. With three games in 11 days -- along with
Philip Rivers
,
Alex Smith
and
Peyton Manning
in the first month -- Davis will have to customize his schemes for each opponent.
Just as Haslett will attack Vick's known vulnerabilities, Davis surely will try to get Griffin on the move to test his quickness and willingness to be physical in his first live action since the knee surgery.
The true personality of this Eagles defense will have to emerge during the course of the season. There is no better foundation than early success.