Philadelphia Eagles:

alfred morris
November, 17, 2013
11/17/13
4:23
PM ET
PHILADELPHIA -- A few thoughts on the
Philadelphia Eagles
'
24-16 victory
over the
Washington Redskins
:

What it means:
The Eagles are in first place in the NFC East and, at 6-5, above .500 for the first time since Week 1. They also put a merciful end to their franchise-record 10-game losing streak at home. The game also represented the third strong performance in a row for
Nick Foles
, making it very unlikely coach Chip Kelly will go back to
Michael Vick
when Vick fully recovers from his hamstring injury. The Eagles swept Washington, taking big leads in both games and then white-knuckling at the end.
Brandon Boykin
's end zone interception preserved the victory for the Eagles.
McCoy, for real:
The Eagles got a scare late in the first half when running back
LeSean McCoy
clutched his right hamstring after a run. McCoy went to the locker room for the last few minutes of the second quarter. He returned after halftime, however, and surpassed the 1,000-yard rushing mark for the season. McCoy finished with 77 yards on 20 carries. He had two 1-yard rushing touchdowns.
Stock watch:
Rising: Bill Davis. The Eagles' defensive coordinator had an excellent scheme and called a great game against
Robert Griffin III
and
Alfred Morris
. Since that terrible 52-20 loss in Denver, the Eagles haven't allowed an opponent to score more than 21 points. If the offense had been effective in two home losses against the Cowboys and Giants, the Eagles could easily be at 8-3 with a seven-game winning streak. Davis has the players buying into, and really starting to thrive in, his 3-4 defense. Griffin made things interesting at the end, but Davis' defense ultimately held.
What's next:
The Eagles go into their bye week with a three-game winning streak. When they come back, they have back-to-back home games against Arizona (Dec. 1) and Detroit (Dec. 8). The late bye should help a handful of players with nagging injuries to heal, including left tackle
Jason Peters
, cornerback
Bradley Fletcher
and linebacker
Mychal Kendricks
.
November, 15, 2013
11/15/13
8:00
AM ET
PHILADELPHIA -- In the movie version, there would be a big dramatic scene, with Bill Davis or one of his Eagles' defensive players making the kind of cinematic speech that winds up being played on the big screens in arenas and stadiums.
That would be more exciting than the truth of the matter. In the days after they were embarrassed 52-20 in Denver, the
Philadelphia Eagles
defense didn't have an emotional meeting. There was no fire from Davis or head coach Chip Kelly, no brimstone from
DeMeco Ryans
or
Trent Cole
. There was just a process, and a commitment to it.
[+] Enlarge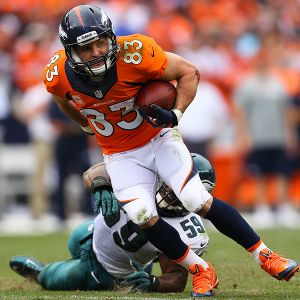 Justin Edmonds/Getty ImagesDeMeco Ryans and the Eagles defense have not allowed a team to score more than 21 points in six game since the loss to Denver.
"Everybody bought into the system early," Ryans said. "It was just a matter of continuing to do the same things and get better at what we were doing. It was new to all of us, so all of us were trying to kind of find our way. Now I feel like everyone is comfortable with what we're doing, everybody knows their role and guys are able to play fast."
A team can go either way after a game like that, especially when many of the players had been through the miseries of a 4-12 season. This Eagles team, especially its defense, figured out a way to dig in and get better.
Ryans touched on one of the key reasons. Davis brought a new system, radically different from the 4-3 scheme the Eagles had run forever, and different even from the 3-4 style Ryans and
Connor Barwin
had played in Houston. The players were smart enough to know it wasn't going to be an instant success.
"I knew it was going to take time," Barwin said. "I knew Billy's background and I respected him and what he's done. But I knew it was going to take time just because you had six new starters. You had four or five coaches who had never worked together on the defensive side of the ball. So if you were paying attention, you knew it would take time for this to jell all together."
Watching the Denver game, it seemed that jelling might take a century or two. But the Eagles have played six games since then. They have not allowed more than 21 points in any of them. They have created 12 turnovers after getting a total of five in the first four games. The young defensive line is evolving into a force, and Ryans is playing better than an Eagles linebacker has in a long time.
These aren't the scary Eagles of the Reggie White era, or the Ravens or Steelers defenses that carried teams to championships. Not yet. But at least you can see how they might get there. After two years of slapstick defense, these Eagles tackle soundly, tighten up in the red zone and are starting to make some big hits and big plays.
"It's been kind of our theme to get better every week," Barwin said. "If we can keep that theme going, the results are going to show up."
Washington presents an interesting challenge. With
Robert Griffin
III playing more like he did as a breathtaking rookie, and with
Alfred Morris
chasing
LeSean McCoy
among the NFL rushing leaders, the Eagles' commitment to stopping the run and forcing teams to be one-dimensional will be tested.
The Eagles figure to be without linebacker
Mychal Kendricks
, the likeliest player to be assigned to mirror Griffin. That will make Davis' job a bit tougher, but at least he has reason to believe the players can carry out his schemes now.
"The more familiarity our coaches have with our players, our players have with our coaches, they keep going on a weekly basis, and we have improved," Kelly said. "And that's what we stressed since Day 1 here. And I know we can get better. I think they know they can get better."
It might make for a boring movie, but the Eagles' steady process is creating some exciting defensive football.
November, 14, 2013
11/14/13
12:00
PM ET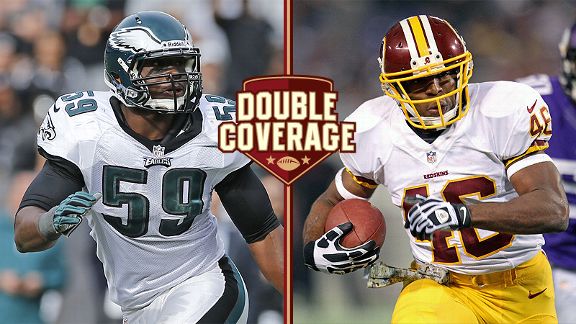 AP Photo, USA Today Sports ImagesExpect a closer game this time around between DeMeco Ryans' Eagles and Alfred Morris' Redskins.
Remember the Chip Kelly revolution? It was televised, on "Monday Night Football" no less, back in September. The first half of Kelly's first game as an NFL head coach looked more like the running of the bulls, and FedEx Field was Pamplona.
Things settled down considerably after that. As Washington comes to Lincoln Financial Field for the rematch, both teams look different at quarterback.
Robert Griffin
III was tentative that night in his first game back after knee surgery.
Nick Foles
was on the sideline as
Michael Vick
ran Kelly's uptempo offense.
The teams meet again with much on the line. The Eagles are 5-5 and, with the 5-5
Dallas Cowboys
on their bye, can slide into first place in the NFC East with a win. Washington is 3-6 and can get within one game of the division leaders. ESPN.com Eagles reporter Phil Sheridan and his D.C. counterpart, John Keim, dig a little deeper.
Phil Sheridan:
The Eagles haven't seen RG III & Co. since the season opener. They were able to do a good job of disrupting the rusty Griffin and bottling up
Alfred Morris
. How far have those two and the rest of the offense come since? Is RG III all the way back?
John Keim:
The offense has come a long way because Griffin's legs are once again a part of the equation. Without his legs he's an ordinary player and it's an ordinary offense. But with the threat of his legs and with Alfred Morris' running ability, the Redskins can use play action. When the Redskins can use play action their offense can be dynamic and explosive. When they can't? It's what you saw in the opener. Morris has had a terrific season and the only thing holding him back is more opportunities. I think Robert is back to being able to make plays and hurt teams in the pass game, except during times when you know they must throw the ball. Griffin isn't quite as explosive, but unlike in the opener he's now willing to run at any point and keep the ball on the zone read. He still has to develop as a passer, something that was true last season as well. He needs a full offseason.
The Eagles surprised the Redskins in that first game a little bit. How has the Eagles' offense changed or progressed since that game? And how much of that is because of the changes at quarterback?
Sheridan:
The Eagles' offense has had major growing pains. That first half at Washington got everyone excited about how Chip Kelly could revolutionize the NFL. And it has been more evolution than revolution since. With Nick Foles at quarterback, obviously there is less threat of the quarterback running 40 yards as there was when Michael Vick was in there. At the same time, Foles seems to keep the tempo up where Chip Kelly wants it, makes quick, smart decisions and generally runs the offense as it is designed. Vick is great or terrible. With the still mysterious exception of the Dallas game, Foles is reliably good and, at times, better than that. He doesn't fire the imagination the way RG III does, but he's a smart quarterback.
This offense had the huge advantage of sucker punching Washington in the opener. No film, no tendencies. Now that defensive coordinator Jim Haslett has had weeks of film to analyze, how do you think he'll approach the Eagles this time?
Keim:
I think the plan will be to stop running back
LeSean McCoy
and they felt good about how they played him in the second half of the opener, mainly by how they aligned their defensive linemen. They focused hard on stopping
Adrian Peterson
last week, but in doing so got hurt badly by play action, which the Eagles do well. I think more than anything the players will be less surprised by what they see. Those packaged plays destroyed the Redskins in the first half; you can talk all you want about keeping your eyes on your keys, but when you get in the game it's tough. They won't yet share their game plan with me (I hate that!). They went a lot off Oregon tape in the first game and a little off the preseason; now they have their own game against them and nine others. The problem they'll still encounter is trying to handle all those weapons.
So much talk about the offense, but how has the Eagles' defense progressed? Where have they struggled? What have they done well?
Sheridan:
Progress is exactly the right word, John. The Eagles got humiliated in Denver by that
Peyton Manning
guy. The final score was 52-20, but Manning could have scored another 20 if he'd been inclined and remained in the game. Since then, no team has scored more than 21 points against the Eagles. They've gotten some breaks. No
Aaron Rodgers
or even
Seneca Wallace
for most of Sunday's win in Green Bay.
Mike Glennon
and
Terrelle Pryor
aren't striking fear into defenses, either. But they also acquitted themselves well against
Eli Manning
and
Tony Romo
. Mostly, they have focused on fundamentals and the run game, with solid success. They did well against Morris in the opener and feel like they can force Griffin to beat them. I guess the difference is that this time, he can.
Bigger picture this time: Is there still a sense Washington is on the rise under Mike Shanahan or has this season lit a fire under his chair? Put another way: Does Washington still feel like it's in the division race in the wretched NFC East and is that a firewall for the head coach?
Keim:
I think they still feel they have a shot, which is probably different than saying they're in the race. To be in a race you have to win a couple of games and I think they understand that. Last year's streak is fresh on their minds, too, so they know it can be done. I think this season has to call into question more about Shanahan and the direction of the franchise. I think the offense is on the rise because they have excellent young talent. Some will point to the salary cap penalty and Griffin's injury to explain all their ills. Those do explain some problems and prevented them from addressing certain areas. (I think some people forget that free agency does not solve everything and never has in Washington.) But they clearly don't explain all of the issues. I also know in the summer the head coach was rather excited about what this team could do, knowing both the cap and Griffin's injury situation. Shanahan has one year remaining on his contract, so these next seven games could determine his future . I don't think he'll get fired, but will he be given an extra year? If they go, say, 5-11 can you give an extension? What helps Shanahan is that he has changed the culture at Redskins Park and I have a hard time seeing his players quitting on him. It gives them a chance to finish better than they started.
Because the NFC East is down and the Eagles are 5-5 they have to be viewed as contenders. But do you think they're a good team on the rise or do they have a ways to go?
Sheridan:
Maybe a little bit of both. Some of the offensive numbers are ridiculously good. We take 450-yard games for granted with Kelly's offense. Foles has thrown 16 touchdowns and zero interceptions. McCoy leads the NFL in rushing. The defense is solid, which is more than half the league can say. And yet the Eagles haven't won a home game, went two weeks in a row without an offensive touchdown and have gotten wins against pretty suspect quarterbacks. So a good team? Probably close. On the rise? That's where it all gets interesting. They are young on defense but getting a little older on the offensive line. The offensive stars aren't that old -- McCoy is 25,
DeSean Jackson
26 -- but they have wear on their treads. So much depends on Foles, I guess. If he's the real deal, then this team should continue to improve. If Kelly still feels he needs to find The Quarterback, then this season will feel more like a one-off than a stepping stone.
November, 13, 2013
11/13/13
3:00
PM ET
PHILADELPHIA -- Eagles running back
LeSean McCoy
lets his offensive linemen keep track of the NFL rushing leaders.
"If they're on TV, I'll watch them," McCoy said, "instead of going on ESPN.com and looking up the stats."
McCoy
If he did, McCoy might notice
Dan Graziano's MVP Watch
, in which a familiar face peers back at him from beside the No. 6. With the Eagles' record back to .500, McCoy meets Graziano's criteria for the weekly list.
(Before you ask, Graziano didn't consider quarterback
Nick Foles
because he has started only four of the Eagles' 10 games.)
The NFL's rushing leader, McCoy is ranked behind three quarterbacks --
Peyton Manning
,
Drew Brees
and
Russell Wilson
are 1-2-3 on the list -- Detroit wide receiver
Calvin Johnson
and Kansas City running back
Jamaal Charles
. McCoy is ahead of quarterbacks
Cam Newton
and
Andrew Luck
.
"If he keeps playing like he is, [MVP] is an honor he definitely can shoot for," Eagles guard
Evan Mathis
said.
Mathis is one of those linemen who keep an eye on McCoy's place among the leaders. He said he looked up on the big screen at Lambeau Field Sunday and saw the leaders posted. There was McCoy, at No. 1 with 932 rushing yards. He is 61 yards ahead of Seattle's
Marshawn Lynch
and 107 ahead of Washington's
Alfred Morris
. Morris has already had his bye week, so has played one less game.
"As long as we're winning," McCoy said. "Any back can tell you, it's cool to win the rushing title. To do it losing-wise, it's not the same. If you're winning, it's a way bigger deal. But it definitely matters, though."
Spoken like a true MVP. Or one of the top 10 candidates, anyway.
September, 10, 2013
9/10/13
1:35
AM ET
LANDOVER, Md. – Bill Davis made a remarkable admission last week, as he prepared the
Philadelphia Eagles
defense for
Robert Griffin III
and
Alfred Morris
.
"I don't know what's coming," Davis said.
He meant that he couldn't really gauge the state of his squad until he saw it against a real NFL offense with a real game plan.
"

It's a good starting point for us. They executed the plan. I won't say it was a surprise, but it was nice to see that against a great offensive team.

"

-- Bill Davis, Eagles defensive coordinator
After one quarter, in which the Eagles created two turnovers and a safety, Davis might have thought he had the 2000
Baltimore Ravens
on his hands. After a full game, a
33-27 victory
at Washington, he knows there is work to be done, but he can still feel encouraged.
"It's a good starting point for us," Davis said. "They executed the plan. I won't say it was a surprise, but it was nice to see that against a great offensive team. It was a fun night and the guys did a great job."
Trent Cole
, the veteran defensive end transitioning to outside linebacker, forced a Morris fumble on Washington's second play from scrimmage. Cole lined up with his hand on the ground at times, as an OLB at other, but had consistent pressure on Griffin.
Cary Williams
, the ornery cornerback known more for scuffling in practice, made a great diving interception. He sacked Griffin on a blitz from the slot. And, in maybe the biggest play of all, he broke up a fourth-quarter, fourth-down pass that temporarily derailed Washington's comeback.
Second-year linebacker
Mychal Kendricks
, who recovered Morris' fumble, had a team-high 10 tackles. He and
DeMeco Ryans
handled the middle as Morris was held to just 45 rushing yards on 12 carries.
Those were the positive highlights. In the second half, Griffin led his team to 20 unanswered points. Williams was sidelined with cramps for part of that, allowing Griffin to pick on rookie cornerback
Jordan Poyer
for one touchdown.
"The game changed," Davis said. "I probably pressured a little bit more than I should have. The second-to-last score was on a couple of multiple pressures back-to-back. I wanted to let them know that we aren't going to sit back and play prevent, and I got burned on it. Sometimes that happens. They made some plays and we played a little softer."
That was another encouraging sign: Davis was as willing to explain what went wrong as what went right.
September, 9, 2013
9/09/13
10:37
PM ET
LANDOVER, Md. – Here's what comes to mind after recovering from whiplash during the
Philadelphia Eagles
' 33-27
victory
at the
Washington Redskins
on Monday night.

What it means for Philadelphia:
Chip Kelly's Eagles are going to be entertaining, at the very least. Kelly's offense turned FedEx Field into the Autobahn in the first half: 26 points, 53 plays, 322 yards. The Eagles' pace slowed in the second half, either because they took their foot off the gas or simply ran out of gas. Washington scored 20 unanswered points to tamp down the Chipmania. The rewards and the risks of Kelly's go-go offense were all on display in this game.
Stock Watch:
Rising (but not sliding) --
Michael Vick
showed how dangerous he can be in Kelly's offense, to defenses as well as to himself. Vick ran the uptempo, read-option system masterfully in the first half. He broke a 36-yard run to help slow Washington's momentum in the fourth quarter. But he absorbed too many hits, including on that run, and was limping around by game's end. He can't stay upright all season playing that way.
Starry, starry night:
It is considered a good offensive performance when you have a running back and a wide receiver each hit 100 yards. The Eagles had that by halftime.
LeSean McCoy
had 115 yards on the ground by intermission, then ran 34 yards for a touchdown on the first series of the second half.
DeSean Jackson
had 7 catches for 104 yards and a touchdown before intermission. They are poised for incredible seasons.
Those other guys:
With so much focus on Kelly and his novel offense, the Eagles defense came into the game as something of an afterthought. After three Washington possessions, the Eagles had two takeaways and a safety. They pressured
Robert Griffin
III and contained
Alfred Morris
. In the second half, turnovers and stalled offensive drives put more pressure on the defense. It held up, but just barely. Still, there was a lot to build on here.
What's next:
Kelly won't have the element of surprise on his side after his much ballyhooed "Monday Night Football" debut. Defensive coordinators around the NFL, unlike Washington's Jim Haslett, will have some actual Eagles game tape to dig into. First up is San Diego's John Pagano. One suspects, though, that Kelly has a lot more where this came from. In a deeply-flawed NFC East, anything now seems possible.
September, 6, 2013
9/06/13
12:00
PM ET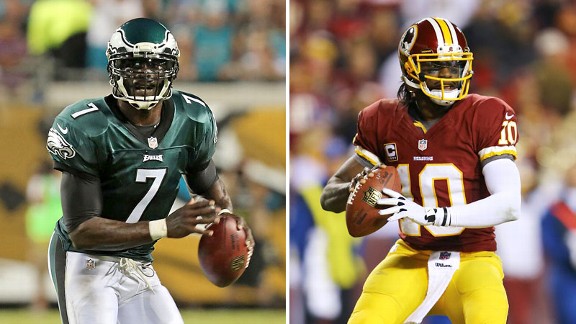 Getty ImagesThe Eagles' Michael Vick and Washington's Robert Griffin III meet in an important early showdown.
A matchup between the
Washington Redskins
and
Philadelphia Eagles
doesn't always need extra sizzle. It's not the main rivalry for either team, at least in the eyes of the fans, but it is one that has been entertaining and memorable over the years.
This game will be different. This time, it's the NFL debut for Eagles coach Chip Kelly. Not that anyone in Washington is paying close attention to Kelly. They're too distracted by the fact that quarterback
Robert Griffin III
will be playing in the opener exactly eight months after surgery on his right knee. ESPN.com's Redskins reporter John Keim and Eagles reporter Phil Sheridan provide their Double Coverage preview.
Sheridan:
How will Griffin's lack of live action since his knee surgery affect the Shanahans' approach on offense?
Keim:
I don't think it will have a major impact. Last year Griffin's first game back after his initial injury was against the Eagles. The Redskins did not use the zone-read option all that much and Griffin ran only one time in that game. They admitted that Griffin's knee situation affected what they called. But Griffin is healthy now, so I don't think they'll limit what he can do at all. If they don't run a lot of the zone-read, or if Griffin doesn't take off, I think it will have more to do with what the Eagles are trying to do defensively (or in what they're unable to stop: the run) than anything. They didn't use the zone-read a lot last season against the Eagles (
Alfred Morris
ran it from this look four times combined in their two meetings; Griffin threw five passes from the zone-read fake in those two games -- all in the second meeting when he was still hurt).
Keim:
How much of what we saw Chip Kelly run at Oregon will be used in Philly?
Sheridan:
My guess, and there can be nothing but guesswork at this point, is quite a bit. Kelly ran the ball a lot more at Oregon than is widely understood, and he has very good backs in
LeSean McCoy
,
Bryce Brown
and
Chris Polk
. There will be package plays and some read-option and some gimmicky stuff as well. I get the feeling Kelly sees this season as a kind of test kitchen to see what works and what doesn't in the NFL. So I think he'll run much of his Oregon offense and adjust as he goes.
Sheridan:
Will the Eagles see the Robert Griffin III who dominated them so thoroughly last season?
Keim:
A tough one off the bat, only because we really haven't seen him in live action since the Seattle game. When we saw him in 11-on-11 this summer, it was against the scout team. Last summer we had a strong idea of what he could do (and what they would run in the regular season). But the key for Griffin is that he's not limited in any way, and when we would see him run in practice, he clearly still has his speed. In some ways they'll see an improved version of the player they saw last season, thanks to an offseason devoted to film study. So I think they'll see someone even more committed to throwing the ball; last season at this time he was more apt to take off running even in practice. I didn't see him do that; again, it was against the scout team but even in 7-on-7 last season he would sometimes run. This year he'd find his checkdown. And the last reason he'll be helped: The Redskins have a healthy offense, something they never fully had in 2012. Receiver
Pierre Garcon
, tight end
Fred Davis
and third-down back
Roy Helu
are all healthy and key parts of the passing game.
Keim:
What do you think will pose the biggest problem for defenses?
Sheridan:
The Eagles' speed, and I'm not really talking about the no-huddle, go-go tempo here. That will be part of it, for sure. The Eagles will push the pace and try to wear defenders down, no doubt about that. But from
Michael Vick
to
DeSean Jackson
to McCoy, this is a fast team. Kelly's scheme is built on creating mismatches and turning that speed loose in space. If he's able to do that, then the Eagles will be able to score a lot of points.
Sheridan:
How much better will the Washington defense be with a healthy
Brian Orakpo
?
Keim:
The hope for the Redskins is that it's a lot better. I think that's a legitimate hope, because of the trickle-down effect. Orakpo is not
DeMarcus Ware
, and his career-best sack total is 11 (as a rookie). But Orakpo is good at setting up others, and he allows the Redskins to use more four-man rushes than they did a year ago in trying to generate pressure without him. They won't always get to the passer doing this, but it will provide needed help for the coverage and a secondary that struggled in 2012. In the rush, Orakpo's impact will be big on end
Stephen Bowen
. They work well on stunts, and with the line paying extra attention to Orakpo more often than not, it should allow Bowen to face more one-on-one blocking than he did last season. That allows him to collapse the pocket. On the other side,
Ryan Kerrigan
will be helped for two reasons: One, he's not the focal point of most blocking schemes now; two, he's excellent at getting to the quarterback after others have collapsed the pocket. But the defense will also be helped by Kerrigan's increased versatility -- he and Orakpo will line up in a variety of spots to rush. And by nose tackle
Barry Cofield
's continued improved play. Those factors, plus Orakpo's return, should elevate the defense from the back end of the pack to the middle.
Keim:
Vick says he feels rejuvenated -- is he playing that way, and does he look good in this offense?
Sheridan:
It must be remembered that Vick says he feels rejuvenated or reborn or rededicated every summer. Kelly rekindled Vick's love for football just as Andy Reid rekindled it several years running. The proof will be in the pudding, as they say. Vick's stellar performance in the first two preseason games was reminiscent of his breakout in 2010 -- Washington fans might remember that especially well. It's hard not to believe a similar decline -- injuries, turnovers, erratic play -- will follow. That is his challenge, to prove that this time he really has gotten a handle on how to prepare and perform like a consistent NFL quarterback.
Sheridan:
NFL defensive coaches must be champing at the bit to take on Kelly (and his reputation). How will Jim Haslett handle being first up?
Keim:
It's a tough task, and one the Redskins put New Orleans in a year ago. You wrote about this in a column the other day, and I think it's probably accurate: You focus on how you've dealt with certain players, like a Vick, in the past. Blitzing him has worked in the past; if they do that now, I'd guess they would try more overloads just to keep six or seven in coverage. I also think you have to show them different looks, get Vick to pause because his first read isn't there. Then I think Haslett will have to rely on preparation. When Kelly goes up-tempo, the players can't hesitate when lining up or in playing. He's fortunate to have a player such as linebacker
London Fletcher
inside. Few in the NFL are more prepared than Fletcher.
Keim:
The Eagles struggled to stop the run this summer, and had moderate success in this area last season. How will they approach defending Morris?
Sheridan:
Moderate success? You kill with kindness, my friend. The Eagles were 23d in the league in terms of rushing yards allowed. That doesn't mean they were stopping the run, though, as much as it meant they were ridiculously easy to throw the ball against. They gave up 33 passing touchdowns (against just eight interceptions) and a passer rating of 99.6. Teams threw early, got the lead and then ran just to kill time. The buzz phrase this season is "gang tackling" -- Kelly and new defensive coordinator Bill Davis have been preaching it all summer. Get to the ball carrier in waves. That has to be their approach with Morris. In the preseason, the Eagles gave up long runs way too often for anyone to feel too confident about them.
Sheridan:
What impact will the presence or absence or limited availability of
Brandon Meriweather
have on Washington's ability to counter the Eagles' speed at the skill positions?
Keim:
He played part of one game last season, the first meeting against the Eagles. In that game the Redskins blitzed the cornerback from the numbers, a spot they had not previously done (always had been from the slot). This left DeSean Jackson free for a moment. But the Redskins had done so because of Meriweather's speed and ability to rotate over quicker than their other strong safeties. The blitz worked. They ran this blitz a couple times in ensuing games, but not against a speed guy like Jackson. Even if he plays, I don't know if Meriweather will be 100 percent. He hasn't been since early in camp last summer. But he adds speed in the secondary, and when facing a team that makes you defend sideline to sideline that's a necessary element.
Keim:
Is this a better team? If so, in what ways other than a fast-paced offense?
Sheridan:
It probably will be a better team, if only because the snowball-rolling-downhill aspect stopped with the change at head coach. There is a palpable change in the atmosphere around the Eagles, and that should translate into a better product on the field. How much better? Probably not dramatically better in the win column, not in the first season. The defense still lacks proven playmakers, and the shift from a 4-3 to a 3-4 is bound to result in some growing pains. On offense, the expectation is that Kelly is innovative and novel enough to make an immediate impact. The return to health of the offensive line will help enormously there. But it is the same quarterback, with the same history of injuries and turnovers, behind center. All in all, this year is a stepping-stone. To what? Well, we should know better after Monday night.
Bonus stat of the week:
-15. That's the drop in rushing touchdowns for McCoy from 2011 (Eagles' record 17) to 2012 (2). Third biggest year-to-year decline in NFL history.
September, 6, 2013
9/06/13
7:00
AM ET
PHILADELPHIA – The mystery of Chip Kelly's offense -- what it will look like and how he will adapt it for the NFL -- is the dominant storyline for the
Philadelphia Eagles
.
There is an equally mysterious aspect of the Eagles' makeover. So mysterious, in fact, that even the man behind the curtain has no idea what it will look like.
If the world is wondering how Kelly's offense will look when the Eagles debut at Washington on Monday night, Bill Davis is wondering how his own defense will look.
"Yeah, I'm very anxious for the Redskins to show us who we are and where we are," Philadelphia's defensive coordinator said. "I don't know what's coming. The truth will be, at the end of that game, we will know defensively how far along we are. … No matter what I wish for or what I want -- doesn't matter. The game will show us who we are."
At some level, Davis is probably trying to keep the expectations of a very demanding fan base low. But there is some real candor there, too. The Eagles' defense was terrible last season. Davis was Kelly's choice to rebuild it. He is moving from a 4-3, "wide-9" base defense to a 3-4 hybrid with personnel who don't fit well in either scheme.
[+] Enlarge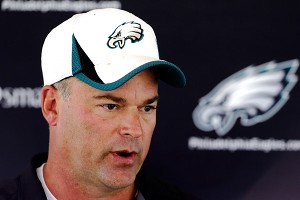 AP Photo/Matt RourkeBill Davis, in charge of making over the Eagles' defense, remains uncertain where that process stands.
So what do those mischief-makers at the league office give him?
Robert Griffin III
, arguably the most dynamic young quarterback in the game, and the league's No. 1 rushing offense from last season, led by
Alfred Morris
. All on "Monday Night Football," with the whole world watching.
So yes, Davis will get a merciless assessment of his squad's progress.
"They are very talented across the board," Davis said of Washington's offense. "They played all 16 games together last year -- which is a huge advantage, to play in a system -- and we have to face that, and we have got to face it using an overhauled defense with new techniques that we have taught."
Davis can take some consolation in the fact that there is nowhere for this defense to go but up. Griffin and Morris destroyed the Eagles last season, sweeping the season series and helping grease the skids for Andy Reid's exit.
Connor Barwin
was with the
Houston Texans
when Wade Phillips was brought in as defensive coordinator and installed a 3-4 scheme. Barwin, an outside linebacker who signed with the Eagles as a free agent, said it took until about Week 6 for the defense to run smoothly.
"It's not unsettling at all," Barwin said. "This is just the position we're in. At one point, the Patriots were in this position. At one point, the Bengals, the Niners, the Texans were all in this position. You have to go through it to get where you want to be."
Barwin said it was reasonable to believe the Eagles could be a "top-10 defense" this season. That might be a little ambitious, but there's no harm in aiming high.
For Davis, the man charged with building this thing, it's all about the process. And the first real game is a major stepping-stone.
"Wherever we start against Washington, good or bad or somewhere in the middle, it has to continue to get better by the 16th game," Davis said. "This season has got to be about this defense getting to where everybody wants it to be. The Washington game is our starting point. I don't know where along the scale we are, but wherever that is, that's the ground level, and we have got to take it a lot higher than it is."