Philadelphia Eagles:

Alshon Jeffery
February, 7, 2014
Feb 7
4:40
PM ET
PHILADELPHIA -- Those looking for a clue on the Philadelphia Eagles' plans for
Jeremy Maclin
and
Riley Cooper
can probably disregard Friday's transaction.
The Eagles signed wide receiver
Joe Anderson
, who finished the season on injured reserve for the
Chicago Bears
. The 6-foot-1, 196-pound Anderson has played in nine NFL games without catching a pass.
So Anderson was added for his special teams experience first, and his potential to develop into a wide receiver option second. His signing probably will have more impact on
Brad Smith
and
Jeff Maehl
than on free agents-to-be Maclin and Cooper.
Anderson, who was undrafted out of Texas Southern in 2012, spent most of that season on the practice squad. He made the Bears' roster in 2013, but was unable to supplant
Earl Bennett
as Chicago's No. 3 receiver. With
Brandon Marshall
and
Alshon Jeffery
having monster seasons, there wasn't much room for Anderson to make progress in Chicago.
Anderson played in six games in 2013. He was placed on injured reserve with an abdominal/groin injury.
December, 24, 2013
12/24/13
8:00
AM ET
PHILADELPHIA --
Cary Williams
realized he had a problem when he began to hear the same thing from the most important people in his life.
The Eagles cornerback heard from his brother and his best friend. His longtime pastor expressed his concern. And finally, when his wife Amanda confronted him about the issue, Williams knew it was time to face the truth.
He was being too darn nice.
"When my wife said it, it really kind of sunk in," Williams said. "I had to listen. She's been following for a long time and watching when I played. She said I just didn't have the same aggressiveness I used to."
[+] Enlarge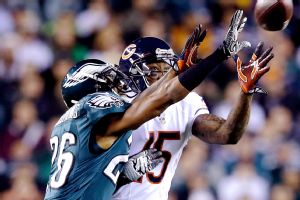 AP Photo/Michael PerezCary Williams and the Eagles won the NFC East in 2013 despite allowing the most passing yards per game in the NFL.
The Williams they knew had a mean streak -- on the football field, that is. Williams is a doting husband and father off the field. On it, he has an edge. Or at least he did when he was playing with the
Baltimore Ravens
. Since signing with the Eagles as a free agent this year, Williams' inner circle noticed a change in his on-field demeanor.
"I gave a bunch of excuses why," Williams said. "When I looked in the mirror, it is what it is. I am what I put out on the field. I just wanted to come out and play with aggressiveness and a passion for the game. You have to have that type of nastiness to you, to a degree."
If the words of his wife and family and friends didn't do it, then the Eagles' 48-30 loss in Minnesota would have. The secondary, including Williams, was beaten up and down the field by Vikings receiver
Greg Jennings
and his cohorts.
With
Brandon Marshall
and
Alshon Jeffery
of the
Chicago Bears
coming to town, Williams knew it was time.
"I had to get back in character," he said.
And he did. The whole secondary played with an aggressiveness and physicality that was missing from the Minnesota game. Williams broke up two passes intended for Marshall. The second was an especially physical play that had Marshall looking at Williams like he'd gone crazy.
"Our corners challenged them," defensive coordinator Bill Davis said. "Our corners stepped up on their own and handled them. I had a lot of things in the plan, but as I watched it unfold and saw how the corners were holding up -- and they really were holding up well -- I left them out there on their own. They did a great job."
Williams and
Bradley Fletcher
seem better against bigger, more physical receivers. That's not a bad thing with
Dez Bryant
of the
Dallas Cowboys
coming up this Sunday. Bryant is a favorite target of
Tony Romo
, but with Romo reportedly sidelined, he may be even more of a security blanket for backup quarterback
Kyle Orton
. He's the kind of receiver who can catch balls thrown near him, even if he's covered.
That will require Williams to stay in character.
"People were telling me I'm not the same guy I was in Baltimore, with the ferociousness," Williams said. "When they said that, I had to change the perception. Hopefully, I did."
He did it by being the nasty, aggressive Williams -- the one his wife and pastor want him to be.
December, 23, 2013
12/23/13
2:00
AM ET
PHILADELPHIA -- Chip Kelly became the Eagles' head coach in January. He might have become Philadelphia's head coach Sunday night.
At about 4 p.m. ET, the
Dallas Cowboys
beat Washington with a late comeback, robbing the Eagles of a chance to clinch the division against the
Chicago Bears
. By about 9 p.m., the Eagles had a 21-0 lead on their way to a dominating
54-11 victory
over a team that had its own division title on the line.
All that speculation about resting starters for the must-win game in Dallas next Sunday? Forget about it.
"Very simply, we're from Philadelphia and we fight," Kelly said. "If there's a game on, we're playing. End of story. And all this stuff about backing in, not worrying, all these other things, I have no idea.
"So many scenarios. What if there's a tie when we go play Dallas next week and we gave a game away last week? If we're going to line up and kick off, tell us what time to show up and we'll be there."
If there aren't "We're from Philadelphia and we fight" T-shirts rolling off a silk-screen machine somewhere, someone is missing a golden opportunity.
Kelly's demeanor might have been different if one of his key players had been injured. But that didn't happen. Even better, the players who might have been candidates for the injury-avoidance program were the ones who delivered the biggest momentum-building performances of the game.
LeSean McCoy
ran for 133 yards and two touchdowns to retain his place atop the NFL rushing leaders list and position himself to break Wilbert Montgomery's franchise record for yards in a season next week. McCoy needs just 37 yards to break the mark of 1,512 yards.
Quarterback
Nick Foles
was nearly perfect, completing 21 of 25 passes (84 percent) for 230 yards and two touchdowns. Coming off an inconsistent performance against the Vikings, Foles now goes to Dallas with a hot hand.
"I'm just excited to play another game," Foles said. "I know what's on the line. Everybody knows what's on the line. I'm excited for the opportunity."
Trent Cole
, the oldest player on the Eagles' defense, sacked
Jay Cutler
on the Bears' third play from scrimmage, setting a tone and forcing the Bears to punt. Cole had three sacks, his most in a game in three years.
"I was very excited for this game," Cole said. "This is just the start. Coming off a loss like that, it's good for confidence in the team. This does build momentum for us going into Dallas. That's the start of our playoffs right there."
Kelly convinced his team to treat this as a big game. The way his players responded has to be considered a good sign as they prepare for the franchise's biggest game since a playoff loss to Green Bay here after the 2011 season.
"It's going to be the biggest show on earth," Cole said. "It's going to be a circus down there, like always."
"This is what we want," said linebacker
Mychal Kendricks
, who sacked Cutler twice and forced a fumble. "We're on the biggest stage. We're in Dallas' stadium, which is a great place to play. We're excited."
Not only did the Eagles not want to sit this one out, veterans were volunteering for hazardous duty. With key special teamers
Kurt Coleman
and
Colt Anderson
sidelined by injuries, starting cornerbacks
Cary Williams
and
Bradley Fletcher
were covering kickoffs -- as if holding receivers
Brandon Marshall
and
Alshon Jeffery
in check wasn't enough to worry about.
"Whatever it takes, man," Williams said. "No 'I' in 'team.' Coach needed me to do that, then dang it, I'm going to do it. It didn't matter. It was a great game plan we had in place. There were a lot of DBs out there. It didn't bother us, because the game was so significant. We wanted to get back to winning ways."
Fletcher forced Bears kickoff returner
Devin Hester
to fumble in the first quarter. Williams recovered, giving the Eagles the ball at the Chicago 39.
"That's what we do," nickel corner and special-teams regular
Brandon Boykin
said. "That's our personality. The starters on kickoffs, that's the want-to, that's the attitude of our team. Get the job done no matter who's out there."
The Eagles scored on McCoy's 1-yard run five plays later, their second touchdown in 2 minutes, 10 seconds. It was 14-0, and the Eagles were on their way.
It was hard to believe they were the same players who got crushed by the Vikings the week before.
"Redeeming ourselves," Boykin said. "That was huge, man. It was a great team win. Knowing where we are, knowing our possibilities, we wanted to come out and get our momentum rolling again. Especially at home, Sunday night football. There's nothing better."
It's also hard to believe this is the same Eagles offense that failed to score a touchdown against the Cowboys here in the teams' first meeting this season. That was Oct. 20. The Eagles lost the next week to the Giants, falling to 3-5 at the midway point of the season.
They are 6-1 since then, with the only loss that mystifying game in Minnesota.
"We stumbled when we were in Minnesota," Kelly said. "Minnesota beat us and played better than us that day. But we weren't going to let Minnesota beat us twice."
Now the task is not letting Dallas beat them twice. Win next week, and they earn the No. 3 seed in the NFC. For Kelly, it also would mean eliminating the rival Cowboys. There's no better way to win over Eagles fans.
"One down, one to go," Kelly said.
December, 22, 2013
12/22/13
11:26
PM ET
PHILADELPHIA -- Thoughts on the
Philadelphia Eagles
'
54-11 victory
against the
Chicago Bears
Sunday night.
What it means:
The Eagles will play the
Dallas Cowboys
for the NFC East title next Sunday night in Arlington, Texas. Coach Chip Kelly motivated his team to play perhaps its best all-around game despite an oddly deflating turn of events. When
Dallas rallied
to beat the
Washington Redskins
earlier in the day, the Eagles lost the ability to clinch the division. Considering their awful performance against the
Minnesota Vikings
last week, they very well could have come out flat again. Instead, they jumped all over the Bears, smothering a high-powered offense and striking quickly for a 21-0 first-quarter lead.
Stock watch:
Rising: Chip Kelly. The NFL rookie will have a winning record and, with one more victory, a postseason appearance in what was expected to be a rebuilding year. Kelly said right away he would treat this game the same regardless of its impact on the NFC East race. And he did. Every coach talks about focusing only on each week's game, but the Eagles turned that cliché into a belief system this season. Less obvious, but equally worth noting, was the way the Eagles continued to play well in the second half. They had let big leads get whittled down by Washington and Arizona in recent wins. This time, they piled 30 second-half points onto the 24 they scored in the first half.
Defensive rebound:
The Eagles' defense got humiliated -- there's no other word for it -- in Minnesota last week. Giving up 48 points to a Vikings team without
Adrian Peterson
made you question just how much progress the defense really had made. It also made you wonder how much worse it would be with
Jay Cutler
throwing to
Brandon Marshall
,
Alshon Jeffery
and the rest of the Bears. But the Eagles' defense was outstanding from the beginning, allowing a season-low 11 points. The Eagles scored nine points with a safety and a late pick-six by
Brandon Boykin
. Their defense sacked Cutler five times and held
Matt Forte
in check. The performance allows the Eagles to go into Dallas with a huge shot of confidence.
What's next:
A virtual playoff game in Dallas next Sunday night. With a victory, the Eagles would be the third seed in the NFC, hosting the second wild-card team in a first-round game. The Eagles lost to Dallas at home 17-3 on Oct. 20. That was Nick Foles' worst game of the season, the first of two consecutive home losses in which the Eagles failed to score an offensive touchdown.
December, 20, 2013
12/20/13
4:00
PM ET
PHILADELPHIA -- The
Philadelphia Eagles
' injury report contained mixed news for Sunday night's game against the
Chicago Bears
.
Safeties
Kurt Coleman
(hamstring) and
Colt Anderson
(knee) are out. That has more impact on the Eagles' special teams than their defense. Both players are key members of the kicking and return teams.
Wolff
The defense will be helped by the likely return of safety
Earl Wolff
, who is listed as probable after missing five games with a knee injury. Nickel cornerback
Brandon Boykin
, who was knocked out of last week's game with a concussion, was also listed as probable.
That gives defensive coordinator Bill Davis close to a full complement of defensive backs as he tries to cope with the Bears' array of receiving options. Chicago likes to use wide receiver
Brandon Marshall
in the slot a fair percentage of the time.
Boykin
"They look for him," Boykin said. "I plan on being matched up with him quite a bit."
Although the Eagles have faced Denver's group,
Dez Bryant
,
Larry Fitzgerald
and
Calvin Johnson
, Boykin said he thought the Bears' Marshall and
Alshon Jeffery
presented the biggest overall challenge to the secondary.
"You're talking about guys that are 6-3, 6-4 and they're both playing at a very, very high level," Boykin said. "Normally, you might have two big guys, but one of them is better than the other. I don't think that's the case. They can throw to either one of them."
"Whenever the quarterback throws the ball in the air," Wolff said, "they go and get it. Those are the big plays we're going to have to stop. I feel like we're up for the challenge."
Wolff may be eased back into action after missing so much time.
Patrick Chung
could start and play a fair amount.
"I feel like I came in this week in a groove more than I was last week," Wolff said. "Last week, I was still kind of trying to get back into it. Now I feel like I'm pretty much back to where I was before."
As for special teams, the Eagles are likely to have linebacker
Najee Goode
back from his hamstring injury. He was also listed as questionable.
Keelan Johnson
, a safety signed off the practice squad earlier in the week, could also be active and help fill in for Coleman and Anderson.
Linebacker
Mychal Kendricks
(knee) and wide receiver/special teamer
Brad Smith
(hamstring) were also listed as questionable.
December, 19, 2013
12/19/13
1:45
PM ET
PHILADELPHIA -- The
Philadelphia Eagles
' blurry secondary picture is beginning to come into focus.
Nickel cornerback
Brandon Boykin
cleared the NFL's concussion protocol and was back at practice Thursday afternoon. Boykin was injured while returning a kickoff Sunday in Minnesota.
Rookie safety
Earl Wolff
said Wednesday his right knee feels the best it has felt since he injured it in Green Bay on Nov. 10. Wolff is almost certain to play, but likely to rotate with veteran
Patrick Chung
until he's reacclimated.
Safeties
Kurt Coleman
(hamstring) and
Colt Anderson
(knee) did not practice. There's a good chance
Keelan Johnson
, who was signed off the practice squad Tuesday, will be active for Sunday night's game against the
Chicago Bears
.
The 5-foot-11, 212-pound Johnson could serve as a backup to Wolff, Chung and
Nate Allen
. But his main contribution is likely to be on special teams, where Coleman and Anderson are key players.
"I'm actually on a couple of special teams," Johnson said. "I think that's where I'm likely to start out at during this game on Sunday and then work my way into the safety rotation. I just have to keep showing coach [Bill] Davis and my position coach I'm on top of the calls, I'm on top of my checks, things like that."
Johnson was undrafted despite a solid senior season at Arizona State. He signed with the
Miami Dolphins
and was released at the end of training camp. He has been on the Eagles' practice squad all season.
"I always felt like I was good enough to play," Johnson said. "I feel like I could have been a drafted player. I feel like I had a good season and all that stuff. It was just frustrating sitting on the sideline, watching these guys playing the sport I love, and I'm not out there with them."
Johnson might be forced into action if injuries strike as they did last week. But the return of Boykin and Wolff will help restore some normalcy to a secondary that was badly burned by the Vikings. That is a major development for a team preparing for a Bears offense that features
Brandon Marshall
and
Alshon Jeffery
.
"Don't sleep on
Earl Bennett
, either," Chung said. "He's really good, too."
Boykin has done an excellent job playing in the slot, leading the Eagles with four interceptions. Without him, Chung or
Roc Carmichael
would have to play the slot, which would lead to a domino effect. If Chung were to play the slot, that's one less safety available to Davis.
December, 19, 2013
12/19/13
10:00
AM ET
The
Philadelphia Eagles
have found themselves in the middle of the NFC North race as much as the NFC East race over the past month. Sunday night's game against the
Chicago Bears
is their third game in a row against an opponent from the North.
Two weeks ago, the Eagles and Bears helped each other out. Chicago defeated the
Dallas Cowboys
, pushing the Eagles into first place in the East. The Eagles beat the
Detroit Lions
, opening the door for the Bears in the North.
They won't be helping each other this week. ESPN.com Bears reporter Michael C. Wright and Eagles reporter Phil Sheridan discuss some of the issues facing both teams.
Sheridan:
Like the Eagles, the Bears survived this season when a backup quarterback took over and played unexpectedly well. Unlike the Eagles, who stayed with
Nick Foles
, Chicago went back to
Jay Cutler
and sent
Josh McCown
to the sideline. So, Michael, how is that scenario playing out in the locker room, on the field and among the fans?
Wright:
The reaction is quite a bit different between the fans and the players, obviously. In the immediate aftermath of Cutler's ankle injury on Nov. 10 against Detroit, Bears coach Marc Trestman told the team and the media that Cutler would be the starter again as soon as he was medically cleared to play. The coach never wavered on that declaration, and that was apparent even among the players during McCown's incredible four-game run. In answering questions about McCown during that stretch, Trestman and the players seemed to temper the compliments regarding the backup, making it a point to state that Cutler was still the starter once he would be able to return to action. So within the locker room, the message was always that Cutler would return, but among the fan base, as McCown flourished, the call to make him the permanent starter grew louder regardless of what Trestman and the players said on the record. Cutler certainly helped himself by bouncing back from a bad start at Cleveland to throw for three touchdowns in a win, but there's certainly a segment of the Chicago fan base still calling for McCown to be the man under center.
Phil, Chicago's defense simply can't stop the run, so
LeSean McCoy
is poised to have a pretty big game if the Eagles decide to feature him. What was the deal with McCoy running the ball just eight times against the
Vikings
?
Sheridan:
That was one of the head-scratching strategies Chip Kelly deployed Sunday. It was like stepping into a time machine and watching an Andy Reid-coached game. Kelly's explanation was simple enough: The Vikings were missing four cornerbacks and the Eagles thought they could exploit the inexperienced backups. Then, he said, the Eagles fell behind and had to throw, but McCoy had run for 217 yards the week before, mostly in the second half as the Eagles staged a comeback win. Ultimately, there is no explanation or excuse for eliminating a weapon as dangerous as McCoy from your offense. That's supposed to be the defense's job.
The Eagles did a better job against
Larry Fitzgerald
and
Calvin Johnson
in recent weeks than against the Vikings' deeper, less star-studded receiving corps. How much more dangerous are the Bears now that
Alshon Jeffery
has emerged alongside
Brandon Marshall
? Is Jeffery even better at this point?
Wright:
In the past, teams focused most of their game plan on shutting down Marshall. That involved double-teams and shading coverage over to his side. Teams are now finding they can't do that anymore because if you double Marshall, you put Jeffery in one-on-one matchups that he's going to win the majority of the time. The Bears say teams are now starting to mix it up against those receivers, which makes it important for Cutler to be able to quickly recognize the coverage and distribute the ball accordingly. I wouldn't say Jeffery is the better receiver overall at this point, but I will say that he tracks the ball in the air better than anybody else on Chicago's roster, which has allowed him to make some unbelievable grabs in contested situations. I'd say one player to watch is No. 3 receiver
Earl Bennett
. With all the focus on Marshall and Jeffery, the Bears have made it a point in recent weeks to involve Bennett more in the offense. Remember, Bennett played college football with Cutler at Vanderbilt, so there's chemistry. Bennett has hauled in a touchdown in each of the past two games.
How will Philadelphia's secondary look on Sunday? I know the Eagles are banged up, causing something of a musical-chairs effect in the secondary. At this point, do you know which guys the Eagles will have available to face Marshall, Jeffery and tight end
Martellus Bennett
?
Sheridan:
We don't know yet, Michael. The larger problem is that, even when everyone is healthy, the Eagles' secondary isn't equipped to handle a receiving corps as deep and talented as the Bears' is. The Eagles have the 31st-ranked pass defense for a reason. During their five-game winning streak, they were able to give yards but minimize points allowed by forcing turnovers and playing well in the red zone. That formula fell apart in Minnesota. As for the injuries, the biggest loss would be nickel corner
Brandon Boykin
, who leads the team in interceptions and is a very good cover guy. It looks like rookie safety
Earl Wolff
will be back after missing four games with a knee injury, but it remains to be seen how effective he'll be after missing that much time. If the Bears go three or four wide, the Eagles will be hard-pressed to match up with all those weapons. Their best hope would be to pressure Cutler, but they have struggled against guys who get the ball out as quickly as he does.
There's a chance linebacker
Lance Briggs
returns Sunday night. What impact would that have on Chicago's defense? Can the Bears clamp down on the Eagles or is this thing destined to be a shootout like their win over Dallas two weeks back?
Wright:
I see this one being a shootout. I think Briggs will have an impact on the defense in terms of making sure the calls get in quickly and the defense is lined up correctly. Briggs should also be an upgrade over rookie
Khaseem Greene
, who has filled in on the weak side over the past seven games. But Briggs has been on the shelf for a month and a half, and there's no way he's in football shape yet. So you have to wonder how much he will actually be able to contribute from a physical standpoint. If Briggs plays like the Briggs we all know, then Chicago will have a much better shot at controlling Philadelphia's rushing attack, but I'm not sure he'll return as that guy. So let's count on a shootout. The team with the defense that gets that one or two key stops down the stretch will be the team that comes out on top.
Early in the season, Philadelphia's frenetic pace seemed to be the next new thing, the revolution. Now that the Eagles have basically an entire season under their belts, how have teams adjusted to their pace on offense? Is it still as big an advantage as it seemed to be early in the season?
Sheridan:
It has been an effective tactic at times. The up-tempo approach is one of the reasons Foles replaced
Michael Vick
as the No. 1 quarterback. Vick is obviously a bigger threat in the read-option, but Foles is more comfortable with the pace Kelly likes. Hard to blame Vick, who had a career's worth of offensive football to unlearn. But the pace can hurt the Eagles, too. When they have a couple of three-and-outs in a row, as they did against the Vikings, their defense is back on the field way too quickly. And when a team moves the ball as well as the Vikings did, the defense wears down. It was useless by the fourth quarter. The Eagles defense has been on the field for more plays than any team in the NFL. That is partly a side effect of Kelly's up-tempo offense.
December, 17, 2013
12/17/13
3:15
PM ET
PHILADELPHIA -- Eagles cornerback
Cary Williams
was too upset to talk to reporters after Sunday's 48-30 loss in Minnesota. On Tuesday, Williams was still frustrated by the team's performance.
"It definitely knocked us off our high horse," Williams said. "We thought we were going to be able to just go into Minnesota and win, those guys were going to lay down. It's something that was bittersweet. It was sad that we lost, the bitter part, but it was sweet that we lost at the end of the day because it helped humble us.
"We didn't want to go into this week thinking that we were invincible. It's great that they were able to knock us off. We learned from the experience. We're going to get better."
Williams was benched by defensive coordinator Bill Davis after he was called for an unsportsmanlike conduct penalty in the fourth quarter. The Eagles lost their composure as well as the game.
"Multiple people lost their composure," Davis said. "I wasn't the most composed up in the box, either. It was starting to unravel. All of us had a lesson to learn there. Adversity hits, you've got to be able to overcome adversity and handle it. I think we all learned we have to do better. We gave up 21 points in the fourth quarter and we shouldn't have."
Williams said he had a "productive meeting with Davis and that's all I'm going to say. I made my mistakes and it is what it is. I'm a man who can admit I made a mistake and move on. It's part of the game. It's life, you've got to deal with it."
Emotion is a big part of Williams' game, sometimes to his detriment. He has a history of losing his temper in games, including an episode in the Super Bowl last year where he pushed an official.
But that emotional approach also helped shape this Eagles defense as it evolved from a 52-20 blowout loss in Denver on Sept. 29 to a streak in which it didn't allow more than 21 points for nine consecutive games.
That's what made Sunday's collapse so frustrating, for Williams and others. The Eagles were facing a 3-9-1 Minnesota team without
Adrian Peterson
.
"We won five games in a row," Williams said. "There's a chance we were feeling good about ourselves, feeling positive about ourselves. They knocked us off, that's just how we feel. It was good that they knocked us off. We don't feel overconfident. We can't feel overconfident in these situations. I'm glad we lost. We needed to get knocked off so we can re-evaluate what we've got going on here."
There isn't much time to recover. The Eagles' banged-up secondary will have to deal with a very talented Chicago offense, then finish the season with a must-win game in Dallas.
"Those guys are bigger, those guys are stronger than most," Williams said of Chicago receivers
Brandon Marshall
and
Alshon Jeffery
. "They bring a different element to the game."
December, 17, 2013
12/17/13
1:30
PM ET
PHILADELPHIA -- Coming off a game in which his defense gave up 48 points and lost three more defensive backs to injuries, Eagles defensive coordinator Bill Davis called Sunday's visit from the
Chicago Bears
"our biggest challenge of the season."
That's quite a distinction, considering the Eagles have faced
Peyton Manning
(allowing 52 points),
Philip Rivers
(33 points),
Jamaal Charles
(26 points),
Larry Fitzgerald
(21 points) and
Calvin Johnson
(20 snow-covered points).
But Davis was taking in all the factors: A game with enormous playoff implications for the Bears and possibly the Eagles; quarterback
Jay Cutler
and his array of weapons, including
Brandon Marshall
,
Alshon Jeffery
,
Martellus Bennett
and
Matt Forte
, and a secondary thrown into disarray by injuries and poor performance.
"Chicago might be one of the most talented offenses we face," Davis said. "They're obviously in the top five in scoring. They've got the big, physical Pro Bowl receivers – two of them. They've got a tight end who's a big, athletic pass receiving tight end. The running back is as rounded as any running back we've faced."
That would sound daunting coming off the nine consecutive games in which the Eagles' defense held the opposing team to 21 points or fewer. Coming off Sunday's debacle in Minnesota, and dealing with the smoking ruins of his secondary, you can see why Davis is concerned.
Nickel cornerback
Brandon Boykin
, who leads the team with four interceptions, has a concussion. His availability will be determined by the NFL concussion protocol. He would be replaced by safety
Patrick Chung
or cornerback
Roc Carmichael
, or a combination of both.
Davis may get rookie safety
Earl Wolff
back after a five-week absence due a knee injury. But Davis said Wolff will have to "crawl" back into the lineup before he's completely back to where he was in early November.
Wolff's replacement, the veteran Chung, was benched in favor of
Kurt Coleman
. Davis revealed Tuesday that decision was made before the game.
"Pat and Kurt knew we were rotating every two series," Davis said. "Now we were rotating because Patrick is in a little bit of a slump. We were prepared in practice, we were 50/50 with the reps. That wasn't something that was a knee-jerk reaction."
Coleman injured his hamstring and spent the second half in the locker room getting treatment.
Colt Anderson
, who plays mostly special teams, injured his knee while pressed into service on defense.
Davis said Wolff and Coleman are "day to day," while Anderson is "more week to week."
And those are just the injured players. Davis also has to regroup with starting cornerbacks,
Cary Williams
and
Bradley Fletcher
, who are coming off their worst performance since the Denver game. Safety
Nate Allen
earned the distinction of being the least-bad defensive back of the day for the Eagles.
"It is a well-rounded offense that's coming at us," Davis said. "We had a bad day in Minnesota. They're in the right mindset. Nobody's pouting about last week. We accepted it, we owned up to it, we talked about the mistakes. Now we're going forward and we're going to attack Chicago with everything we have."
December, 16, 2013
12/16/13
3:00
PM ET
PHILADELPHIA -- Eagles coach Chip Kelly said he will not rest any starters if Sunday night's game against the
Chicago Bears
becomes meaningless. Here's a look at that issue and a few other highlights from Kelly's Monday presser.
No rest.
If the
Dallas Cowboys
beat Washington Sunday afternoon, the Bears-Eagles game will have no impact on the NFC East race. Regardless of the outcome, the Eagles will win the division if they beat Dallas the next week.
"We'll know the score," Kelly said. "People have phones and TVs."
But he said he would not alter his approach no matter what happens.
"We've got to play," Kelly said. "We're not in a situation where we're going to rest anybody. We've got to play. We've got to get back on a winning track. We've got to be ready to play winning football. Our philosophy has always been, it's on the line every single time you play. It's not what goes on outside. We need to get better as a football team. Everybody needs to play."
The game will have an impact on the NFC North race, so there is an element of competitive integrity as well. And an extra win could boost the Eagles from the No. 4 seed to the No. 3 seed if they win the division.
But Kelly said his only concern was sending a consistent message to his team.
"I don't think we're going to have a victory party and say, 'Oh, heck, we've got to get over to the stadium to play,'" Kelly said.
Out of whack.
Kelly defended the play calling that saw
LeSean McCoy
get only eight carries in Sunday's 48-30 loss to the Vikings.
"They were definitely playing single-high safety and always had an extra guy down in there," Kelly said. "There was always going to be an unblocked guy within 2 or 3 yards of the line of scrimmage. That was a little bit different kind of approach. But if you're going to do that, you have to play man coverage behind it."
Kelly said that allowed him to get McCoy the ball in the passing game.
"We went for it on fourth-and-a-half-yard and we did not get it," Kelly said. "I was kicking myself in the tail. We should have thrown a pass in that situation."
But there were series in which Kelly called all pass plays and the Eagles went three-and-out. A week after McCoy ran for 217 yards, it seemed as if the offense was terribly out of balance.
"It's hard when you're not successful," Kelly said. "If you're not moving the football, then it's hard. I would argue the Vikings were very successful in how they threw the ball against us. Didn't run the ball all that often. But they threw the heck out of it."
Actually, the Vikings ran the ball 35 times. They stuck with
Matt Asiata
running the ball some 30 times even though he was averaging just 1.7 yards per carry. McCoy averaged 4.8 yards on his eight carries.
Secondary concerns.
The Eagles' secondary was torched for 382 yards, two touchdowns and a bunch of big plays. With
Jay Cutler
,
Brandon Marshall
and
Alshon Jeffery
coming to town, that has to be addressed.
But first, the coaches have to know who will be available.
"Trying to find out what our health is is an important thing," Kelly said.
Rookie safety
Earl Wolff
could be ready to return from his knee injury. But
Brandon Boykin
(possible concussion),
Kurt Coleman
(hamstring) and
Colt Anderson
(knee) were injured during the game.
Safety
Patrick Chung
is healthy, but he was benched for performance reasons in favor of Coleman. Chung returned when Coleman went down. Cornerbacks
Cary Williams
and
Bradley Fletcher
played their worst game of the season.
"That's a big concern for us," Kelly said of the injury issue.
December, 15, 2013
12/15/13
10:00
PM ET
MINNEAPOLIS -- The demolition in Denver made sense.
Peyton Manning
at the top of his game shredded a still-learning Eagles defense in a 52-20 Broncos rout.
But the meltdown in Minneapolis? Against a Vikings team with a journeyman quarterback and without
Adrian Peterson
? Nobody saw that coming, and when the 48-30 beating was over, nobody seemed able to explain how a defense that held nine consecutive opponents to 21 or fewer points got dismantled so thoroughly.
"I wish I had better answers for you," defensive coordinator Bill Davis said.
[+] Enlarge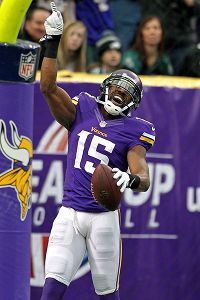 Brace Hemmelgarn/USA TODAY SportsGreg Jennings said he's confident that Norv Turner's scheme will help make the Vikings' offense more potent than in recent seasons.
"They just made more plays than we did," Eagles safety
Nate Allen
said.
Matt Cassel
completed his first eight passes, finishing 26-of-35 for 382 yards and two touchdowns.
Greg Jennings
caught 11 of those passes for 163 yards, including a 57-yard touchdown.
Matt Asiata
, who hadn't touched the ball in a game all season, ran for three touchdowns.
It added up to the most points surrendered by an Eagles defense since Oct. 30, 2005, when the Broncos scored 49 points. Denver scored two special-teams touchdowns in their 52-20 win in September.
"I do not know if we were overlooking them or did not take it seriously," Eagles linebacker
Connor Barwin
said. "I don't know what happened, but whatever we did was not good enough going into this game."
The Eagles have made it a priority to avoid giving up big plays. Cassel found Jennings streaking behind Allen and
Patrick Chung
in the first quarter for that 57-yard score. The Eagles gave up four passes of 20 yards or more, the most they allowed since a game against Carolina last year, according to ESPN Stats & Information.
Chung, who lost his starting job to rookie
Earl Wolff
earlier in the season, was benched in favor of
Kurt Coleman
.
"Kurt has done a good job in practice," coach Chip Kelly said. "Just trying to find out where we are since Earl has been down (with a knee injury). I think Kurt deserves some time and we're just trying to figure out who can play."
No one on the defense made much of a case for themselves in this game.
"We just weren't playing tight enough coverage," Davis said. "That's attached to the rush, too. It's all attached together. It's not just the coverage giving up plays, it's the rush that has to get there. Collectively, as a defense, we came up really short today."
The Eagles had gotten some breaks this season. They faced Green Bay in its first game without
Aaron Rodgers
. That snowstorm last week helped neutralize Detroit's
Calvin Johnson
. Facing a Vikings team without the injured Peterson and backup
Toby Gerhart
seemed like good fortune smiling on the Eagles again.
But without Peterson to lean on, Cassel was free to throw to Jennings,
Jarius Wright
,
Cordarrelle Patterson
,
Jerome Simpson
and
Chase Ford
. It begged the question of how Chicago, with
Brandon Marshall
and
Alshon Jeffery
, will attack this defense.
"I don't see it as a blueprint," linebacker
DeMeco Ryans
said. "It was mainly us. We are going to have to go back and watch the film to see what we can correct."
They should see plenty.