Philadelphia Eagles:

Antrel Rolle
October, 29, 2013
10/29/13
9:00
AM ET
PHILADELPHIA -- Chances are that
Michael Vick
will see the field again in an Eagles uniform. That's just how Chip Kelly's first season as head coach has unfolded, as a game of musical chairs in the quarterback meeting room.
Chances are also very good that Sunday's 15-7 loss to the
New York Giants
marked Vick's final chance to convince Kelly and general manager Howie Roseman that he can be the quarterback here beyond 2013. It was a fitting valedictory performance, encapsulating all the risks that come with Vick's unquestioned gifts.
After mostly avoiding the turnover plague that defined his previous two seasons, Vick threw a terrible interception on the third play against the Giants. Bad decision, bad throw, bad way to set the tone. He walked off the field shaking his head.
[+] Enlarge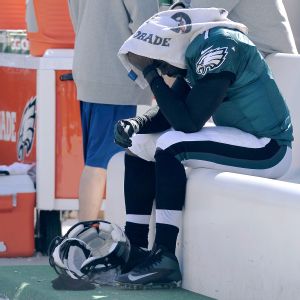 AP Photo/Michael PerezMichael Vick reinjured his hamstring in Sunday's loss to the New York Giants.
On his very next play, Vick turned right into an approaching defender. He kept backpedaling, losing more yardage with each step, then fumbled. The ball was actually under Giants safety
Antrel Rolle
's shoulder -- if he'd realized what it was, the Giants would have had the ball at the Eagles' 9-yard line.
Vick reinjured his left hamstring on a play strikingly similar to the one on which he injured it in the first place. That happened back on Oct. 6 against the Giants at MetLife Stadium.
Once again, Vick took the snap. Once again, he had time but couldn't get comfortable in the pocket. Once again, he started running to his left. Once again, he crossed the sideline by the Giants' bench and felt his hamstring pop.
This time, Vick trotted back to the middle of the field as if nothing was wrong. He clearly didn't want to let on -- to the Giants defense, to his teammates, to Kelly -- what had just happened.
That's Vick. His toughness is as unquestioned as his talent. He probably shouldn't have played at all Sunday, but he did. He probably shouldn't have stayed in the game after feeling his hamstring pop, but he did.
On the very next play, Giants defensive tackle
Linval Joseph
bulldozed Eagles guard
Todd Herremans
, pushing him straight back more than 5 yards and into Vick. As the quarterback tried to extricate himself,
Justin Tuck
materialized. Tuck crushed Vick as he threw the ball away, drawing an intentional grounding penalty.
An interception. A sack. A fumble. A grounding call. All in the first quarter. Vick reappeared for a series in the second quarter, but you could tell the play calling was dictated by the quarterback's condition. Kelly called for a couple of quick outs and a handful of runs -- nothing that called for Vick to stand in the pocket for long or to move.
And that was it. Vick retreated to the bench and put a towel over his head. The TV cameras caught him looking stricken or being consoled by teammates as
Matt Barkley
operated the offense.
Vick understands the situation. After this miscalculation and reinjury, he will likely take longer to rehab the hamstring this time. Factor in the Eagles' bye week and it could be over a month before Vick is able to play. By then, with perhaps four games left, what would be the point of going back to the 33-year-old with the expiring contract?
If the Eagles are out of the playoff hunt, which seems likely, there would be none. And if the Eagles are in the playoff hunt, that would mean
Nick Foles
or Barkley is playing well enough to get them there. Either way, the season becomes about the future, and Vick is not the future.
Chances are, injuries or other issues will force Vick back onto the field before the season ends. But the Vick era in Philadelphia, such as it was, likely ended Sunday with his hamstring throbbing, a towel over his head, and his team enduring yet another loss.
October, 27, 2013
10/27/13
6:50
PM ET
PHILADELPHIA -- Eagles coach Chip Kelly didn't hesitate to identify the reason his team has scored a total of 10 points in two home losses to NFC East rivals.
"Right now," Kelly said, "we're unstable at the quarterback spot and we are not playing well at the quarterback spot, and we lost our last two games because of it."
Kelly set himself up for his current woes by bringing
Michael Vick
back and naming him the No. 1 quarterback. Vick is 33 years ago. He had missed nine of 32 possible starts over the previous two seasons. It is not surprising that he pulled a hamstring three weeks ago, and it should not be surprising that it took longer than expected to heal.
"When it was originally diagnosed, it was supposed to be 10 to 14 days," Kelly said. "It was actually 21 days until [Vick] played."
[+] Enlarge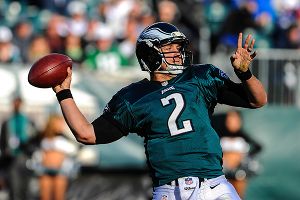 John Geliebter/USA TODAY SportsWith Michael Vick sidelined again, rookie Matt Barkley stepped in for the Eagles, completing 17 of 26 passes for 158 yards.
Vick lasted nine plays before feeling the hamstring pop again. He will undergo another MRI on Monday. It seems very unlikely he will be ready to play in Oakland next week or, for that matter, in Green Bay the week after that.
Nick Foles
, meanwhile, is in the NFL concussion protocol. His availability will be determined by doctors. All we know at the moment is that he hasn't yet been cleared to practice.
Matt Barkley
, a rookie forced to play in relief of Foles last week and Vick this week, would be the starter by default if Foles isn't cleared.
So yes, there is officially instability at the quarterback position -- a not-unexpected outcome when you choose the most unstable possible option as your starter. That is an issue that time should resolve.
The poor play, which predates the injuries, is an entirely different matter. Foles was terrible against the Cowboys for three quarters last week before the concussion ended his day. And Vick was even worse against the Giants than he was three weeks ago before the initial hamstring injury.
The Giants surprised the Eagles by playing zone coverage more than they did in the first meeting. That can happen. But it shouldn't cause a 12-year veteran quarterback to lose his composure. There was Vick, though, throwing a ball behind tight end
Brent Celek
and right to Giants safety
Antrel Rolle
.
"I don't know what happened," Celek said.
Nobody seemed to know what happened on the next possession, either. Kelly said he had no designed runs planned for the hobbled Vick, but he opened that drive with a naked bootleg. Vick ran right into Rolle, who sacked him and knocked the ball out of his hands. Vick recovered -- arguably his best play of the afternoon.
Barkley wound up playing two-and-a-half quarters. His most significant preparation time was the quarter he played the week before. Because Vick was rusty after having missed two games, Kelly felt he needed the vast majority of practice reps.
Considering the situation, Barkley didn't play poorly. He completed 17 of 26 passes for 158 yards. He took three sacks and threw an interception on a desperation deep ball in the fourth quarter.
"I played all right," Barkley said. "I thought I made some good throws. I made some poor decisions."
The worst of those was holding the ball too long on a first-and-goal play at the 2-yard line. Barkley was supposed to look for
DeSean Jackson
first, then for Celek. If neither was open, he should throw the ball away out of the end zone. Instead, he held it long enough for Giants cornerback
Terrell Thomas
to knock it out of his hands.
"I was about to throw it away," Barkley said. "He just got there a second too early."
It was a rookie mistake -- a rookie coach's mistake. Kelly should understand that Barkley has little feel for the speed of the NFL game, especially in the red zone. Even if he didn't have
LeSean McCoy
carry it from the 2, there were plenty of plays with quick throws he could have called.
It seemed likely long before the season began that because of injuries or poor performances, Kelly would see Vick, Foles and eventually Barkley over the course of this first season. It turns out that Kelly has gotten both -- injuries and poor performances -- at the same time.
October, 27, 2013
10/27/13
3:58
PM ET
PHILADELPHIA -- Quick thoughts on the
Philadelphia Eagles
'
15-7 loss
to the
New York Giants
on Sunday.

What it means:
The Eagles reached the midway point of their schedule with a mess at quarterback, a now-epic home losing streak and some legitimate doubts about coach Chip Kelly's offense.
Michael Vick
was hobbled and ineffective after missing two games with a hamstring injury. He left in the second quarter. Rookie
Matt Barkley
replaced him and fumbled the ball away on his first possession. Going back to last week's three-interception outing against Dallas, that made four consecutive drives with turnovers to begin Barkley's NFL career. The Eagles are 3-5. They are 0-4 at home, extending their franchise-record losing streak at the Linc to 10 games.
Stock Watch:
Falling -- Chip Kelly. Last week, ESPN Stats & Information dug deep to find out the last time a Kelly-coached team failed to score in the first half. There wasn't any digging needed this week. The Eagles were scoreless through three quarters against the
Dallas Cowboys
, and touchdown-less throughout. They were scoreless through three quarters against the Giants. Soon, it's going to take research to figure out the last time a Kelly team scored a first-half touchdown. The Eagles' only score came on special teams, when
Najee Goode
recovered a ball snapped over the head of Giants punter
Steve Weatherford
. It seems like a long time since the Eagles' flashy debut at Washington.
Strange decisions:
Kelly made a couple of doozies. After replacing Vick, Barkley ran a smooth two-minute drive down to the Giants' 2-yard line. With the NFL's leading rusher on the field, Kelly called a play that required his right-handed rookie quarterback to roll out to his left. Giants cornerback
Terrell Thomas
ran Barkley down from behind and tomahawked the ball.
Jacquian Williams
recovered for the Giants. On the first possession of the second half, the Eagles faced fourth-and-10 at the New York 32. Instead of trying a 49- or 50-yard field goal to cut the score to 12-3, Kelly went for it. Barkley fumbled the shotgun snap, then overthrew
Jason Avant
to give the Giants the ball. Last week, Kelly went for a 60-yard field goal on fourth-and-inches late in the first half.
What's next:
Brett Favre
's phone could ring again. OK, probably not, but much depends on how quickly
Nick Foles
is cleared to play according to the NFL's concussion protocol. After trying to play on his sore hamstring this week, it seems unlikely Vick will be back in the mix this week. If neither can go, Barkley would at least have the benefit of preparing with the first team all week. Either G.J. Kinne would have to be brought on to the active roster, or the Eagles will need to find another veteran backup on the street. I wonder how
Donovan McNabb
is feeling.