Philadelphia Eagles:

Arrelious Benn
June, 3, 2014
Jun 3
2:00
PM ET
PHILADELPHIA --
Jeremy Maclin
got up. The moment of hushed concern passed, and everything shifted back to normal in the
Philadelphia Eagles
' world. The wide receiver walked off the field as practice ended, reporting his knee was fine.
In that moment, though, much was revealed about the state of this team as it begins Chip Kelly's second season as head coach.
[+] Enlarge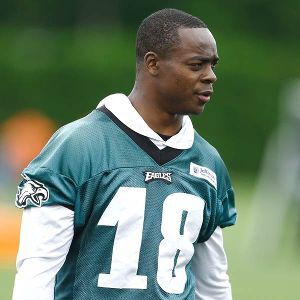 Matt Rourke/AP PhotoThe Eagles' offense will depend on more players than just wide receiver Jeremy Maclin in 2014.
The immediate reaction: that another injury to Maclin could be devastating because of his perceived status as the replacement for
DeSean Jackson
in Kelly's scheme. But in reality, that is not the case and it never was. The Eagles will try to replace Jackson's production with
Darren Sproles
, with draft picks
Jordan Matthews
and
Josh Huff
, with second-year tight end
Zach Ertz
, with
Arrelious Benn
and, yes, with Maclin.
The Eagles won 10 games and the NFC East title last year without Maclin, who tore an ACL during training camp last summer. The former first-round pick has been a solid starter during his tenure here, but he has not had the kind of impact Jackson had. That's why, when the Eagles released Jackson in March, it was fair to worry that they were expecting too much from Maclin. Not only has he not been the big-play guy Jackson was, but Maclin would now be playing on two surgically reconstructed knees.
But here's the other twist. Any attempt to project Maclin's production based on his performance under Andy Reid is a waste of time. Kelly's scheme turned
Riley Cooper
, a former fifth-round pick, into a valuable asset and favorite target of quarterback
Nick Foles
. It will be fascinating to see what Kelly can do with Maclin.
"I was really excited about how he would fit into what we do because of what he can do," Kelly said of Maclin. "And then to lose him that early in camp was disappointing. You got a taste of him. But having him out there full speed, running out there right now, he's doing a really good job."
Maclin has good speed, but not Jackson's speed. So one issue is whether Maclin or someone else can provide enough of a deep threat to create space for
LeSean McCoy
to run the ball and for the other receivers to work underneath the coverage. The addition of Sproles by trade and of Matthews and Huff in the draft should help there.
But even McCoy wonders. He led the NFL in rushing last season. But McCoy said this week that he would have to see how the offense functions now before he could assess the impact of Jackson's departure.
The suspicion is that Kelly has all of this worked out in his busy mind. It is clear the coach made the decision to release Jackson. He wouldn't have done so without a sound plan for his offense to remain effective. And that is the objective. It isn't about replacing exactly what Jackson did, it's about building a balanced, varied attack with the players who are here.
All of those players stopped suddenly when Maclin went down at the end of Monday's practice. But that's because they were concerned for a teammate who is coming off a serious knee injury. They were not concerned about the fate of their offense. That is in too many hands this season.
May, 19, 2014
May 19
2:00
PM ET
By
Andy Jasner
| ESPN.com
PHILADELPHIA -- The
Philadelphia Eagles
released wide receiver
Arrelious Benn
on Friday afternoon.
They just re-signed Benn on Monday.
CSNPhilly.com's Reuben Frank reported
that the Eagles had Benn take a slight pay cut from the $1 million base salary he was due under his previous contract.
After tearing his ACL in training camp before last season, Benn sat out the entire 2013 season. He was acquired by the Eagles last March in a deal with the
Tampa Bay Buccaneers
.
In three seasons with Tampa Bay, Benn compiled 59 receptions for 862 yards and five touchdowns.
Benn will likely be competing with
Jeremy Maclin
,
Riley Cooper
,
Jeff Maehl
,
Damaris Johnson
and
Brad Smith
for the last wide receiver spot or two. The Eagles also selected wide receivers
Jordan Matthews
(Vanderbilt) in the second round and
Josh Huff
(Oregon) in the third round of the draft earlier this month.
May, 16, 2014
May 16
9:16
PM ET
By
Andy Jasner
| ESPN.com
PHILADELPHIA -- The
Philadelphia Eagles
released wide receiver
Arrelious Benn
on Friday afternoon.
After tearing his ACL in training camp, Benn sat out the entire 2013 season. He was acquired by the Eagles last March in a deal with the
Tampa Bay Buccaneers
.
In three seasons with Tampa Bay, Benn compiled 59 receptions for 862 yards and five touchdowns.
Benn would likely have been competing with
Jeremy Maclin
,
Riley Cooper
,
Jeff Maehl
, Demaris Johnson and
Brad Smith
for the last wide receiver spot or two. The Eagles also selected wide receivers
Jordan Matthews
(Vanderbilt) in the second round and
Josh Huff
(Oregon) in the third of the NFL draft.
Benn never played in an Eagles uniform.
March, 30, 2014
Mar 30
10:00
AM ET
When the
Philadelphia Eagles
signed
Riley Cooper
to a long-term deal and brought back
Jeremy Maclin
on a one-year deal earlier this offseason, some took it as one of many signs they were thinking about moving on from
DeSean Jackson
. They were, and I'd argue that the
Darren Sproles
trade should have been seen as evidence of same.
[+] Enlarge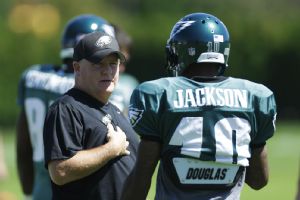 AP Photo/Matt RourkeWithout DeSean Jackson to stretch the field, Eagles coach Chip Kelly has to find other options and strategies at wide receiver.
On the face of it, the release of Jackson leaves the Eagles precariously thin at wide receiver. Maclin is recovering from a torn ACL that cost him the entire 2013 season, so it's hard to know for sure that he can be counted on. And I don't think it's insulting Cooper to suggest that he benefited from having Jackson on the field with him last year. The 2013 Eagles used Jackson in motion all over the formation, often as bait to force the defense into showing where the coverage was going. And Jackson's rare speed has always led defenses to commit at least some double coverage to him.
That said, Chip Kelly surely has a plan, or more likely many plans, for how to make up for the on-field loss of Jackson. It's easy to imagine Sproles being a part of it. He's not a wide receiver, but he's a running back the Saints used almost exclusively on passing downs and can play some of the roles Jackson played last year when he lined up in the backfield. Sproles can also be split out wide or used in the slot. He does not have Jackson's speed, because no one does, and he's not a candidate to stretch the field deep or draw double coverage. But when the Eagles run those package plays where they force the defense to commit coverage one way before
Nick Foles
throws the ball, Sproles can be a helpful piece close to the line of scrimmage and can make things happen when he catches the ball in space.
Maclin is a question mark. If healthy, he likely replaces Jackson to the extent that Jackson was used last year on the outside. Maclin used to have elite speed, so we'll see the extent to which the effects of the ACL surgery have changed that. But Kelly surely had specific plans for Maclin last year before Maclin got hurt, so there are elements to the offense involving him that we probably haven't even seen yet.
If Maclin isn't healthy, the Eagles have a major issue. They like
Arrelious Benn
, whom they acquired last offseason in a trade with Tampa Bay, but he himself is coming off ACL surgery.
Damaris Johnson
is seen as a potential playmaker in space, but we haven't seen it translate on the field very much yet. And it's worth noting that this year's draft is considered to be an excellent draft for the wide receiver position. The Eagles could find a receiver in the early rounds to add to their stable, and if that guy were to develop quickly, he could be a potential solution as well.
One thing of which I'm sure is that Kelly didn't release Jackson without first considering, in painstaking detail, myriad ways of attempting to replace his production on the field. Kelly does nothing without a plan and extensive preparation. He has created for himself a puzzle that will be more difficult to solve without Jackson than last year's was with him. But he does still have a decent number of good-looking tools at his disposal to help him solve it.
February, 21, 2014
Feb 21
8:00
AM ET
PHILADELPHIA -- In his combine press briefing Thursday, Eagles general manager Howie Roseman sounded very much like a man willing to shuffle the team's deck at wide receiver.
Of course, that's exactly how you would want to sound if you were a GM with two receivers about to test the free-agent market.
Cooper
Maclin
"We're trying to figure out the whole dynamics of it," Roseman said Thursday. "You can only put a limited amount of resources at a particular position before it starts taking out from other places. And then you've got to factor in the quality and the depth in the draft. ... We set prices for guys and try to stick to those and have walkaways numbers. The market is going to determine a lot of those things. It's hard to figure out the market until you're in it."
Because it's the most interesting situation for the Eagles this offseason, we saved our look at the wide receiver situation for last.
Jeremy Maclin
, a former first-round draft pick who missed 2013 with a torn ACL, and
Riley Cooper
, who started all season in Maclin's place, are about to become unrestricted free agents.
This isn't like the safety situation, where the Eagles simply need to upgrade from the guys who are about to become free agents. Maclin was a good player who hadn't gotten close to his ceiling before the injury. Cooper was a spare part who became a favorite target of
Nick Foles
, catching 47 passes for 835 yards and eight touchdowns.
It really seems as simple as this: If the market provides Maclin and Cooper opportunities that pay more than the Eagles think they are worth, they will be gone. If they like what the Eagles offer, in money and familiarity and the chance to win, either or both could be back.
And then there's the X factor that will help determine what Roseman called the "walkaway number" for each player. Does Kelly believe his offense would work as well or better with other wide receivers? He spoke highly of Cooper, both as a blocker and a pass-catcher. But if Kelly thinks a faster or more athletic receiver would put up even better numbers, Roseman will negotiate accordingly.
The only certainty at the position is that
DeSean Jackson
will be back. He is still a game-breaking deep threat who dictates the way defenses approach the Eagles offense. Jackson caught 82 passes for 1,332 yards and nine touchdowns.
Jason Avant
, the eight-year veteran who won Kelly over with his unselfish attitude, could be a victim of his $2 million salary. Avant was a starter who saw his playing time decrease as the season went on.
The rest of the wide receiver corps was unremarkable.
Damaris Johnson
vanished when he failed to spark the return game.
Brad Smith
took over kickoff returns and was the focus of some of Kelly's more unfortunate trickery.
Jeff Maehl
played special teams and saw scant playing time on offense.
Arrelious Benn
, who also missed the season with a torn ACL, has another year on his contract.
Compared to the imposing collections of receivers the Eagles defense faced almost weekly, this was not exactly a fearsome group. And yet the Eagles receivers were good enough for Foles to have a breakout season.
Did that say more about Cooper and Jackson and Avant or about Kelly's imaginative offense? How the Eagles answer that question internally will go a long way toward determining their strategy.
There are some free agents who could add different dimensions to the passing game --
Eric Decker
of Denver,
Emmanuel Sanders
of Pittsburgh,
Golden Tate
of Seattle -- but mostly there is the draft. We'll be taking a look at some of the wide receivers available in a post later.
February, 17, 2014
Feb 17
4:00
PM ET
PHILADELPHIA -- The folks over at Pro Football Focus
took a swing
Friday at one of the more intriguing offseason issues facing the Eagles:
Riley Cooper
or
Jeremy Maclin
?
The PFF format features two writers debating which of two free agents a team should keep. It doesn't address the possibility that both could be retained, a possibility that Eagles general manager Howie Roseman has endorsed publicly a number of times.
Maclin
Cooper
The two wide receivers' situations are intertwined. Maclin, a first-round pick in 2009 and four-year starter, tore his ACL during training camp last summer. That opened up a starting job for Cooper, a fifth-round pick in 2010. Both players are scheduled to become unrestricted free agents in March.
PFF writer Gordon McGuinness made the case for Maclin over Cooper. Acknowledging that Maclin has never had a 1,000-yard season or reached his full potential, McGuiness noted the Eagles used three wide receivers on 70.5 percent of offensive plays in 2013.
"That highlights the importance of wide receivers," McGuinness wrote. "[Maclin] has the physical attributes to break out under Chip Kelly. He has shown the ability to beat defenses in a variety of ways and impressed as a deep threat in 2010."
In making the case for Cooper, Pete Damilatis said the "potential well" had run dry for Maclin after four good, not great healthy seasons. As for Cooper, Damilatis wrote that he excelled in the deep passing game, which was a key part of the Eagles' offense.
"His 17.8 yards per reception was the eighth-highest rate among receivers with 20 targets, and surpassed even (DeSean) Jackson's average," Damilitis wrote.
Damilatis also pointed out Cooper's relative affordability, especially if another team decides to splurge based on Maclin's perceived potential. But another report,
this one from Pro Football Talk
, suggested the market for Cooper may be stronger than expected.
Roseman is in an interesting spot. Maclin has said he would like to stay in Philadelphia, but it is expected to take a market offer to keep him. If someone else is willing to offer more long-term security, the Eagles could be forced to make a tough call. And while Cooper emerged as a favorite target for
Nick Foles
, it is doubtful Roseman will overpay for a guy who likely benefited greatly from the system he was in.
With a strong crop of wide receivers in the 2014 draft, Roseman could opt to go young. Draft a couple of wide receivers, keep
Arrelious Benn
in the mix and build a new group of receivers.
The Eagles could sign Maclin, Cooper, both or neither. With free agency three weeks away, it's impossible to rule out any possibility.
February, 15, 2014
Feb 15
10:00
AM ET
For our first Twitter-based mailbag, the questions centered on the
Philadelphia Eagles
' wide receiver situation.
That's only a little surprising. The Eagles clearly need help at a couple of defensive positions, especially safety and outside linebacker. But the wide receiver picture is cloudy -- "complicated," as GM Howie Roseman described it.
Riley Cooper
is scheduled to be a free agent. So is
Jeremy Maclin
, who missed the 2013 season with a torn ACL. There is a chance veteran
Jason Avant
could be victim of a $2 million 2014 salary.
That leaves
DeSean Jackson
and some question marks. And so, on to the questions:
January, 8, 2014
Jan 8
8:00
AM ET
PHILADELPHIA -- There is roster change every year for NFL teams. The
Philadelphia Eagles
find themselves in pretty good shape going into the 2014 offseason. They have control over most of their roster and can, for the most part, make only the changes they want.
Here's how the roster shapes up:

Unrestricted free agents:
Wide receivers
Riley Cooper
and
Jeremy Maclin
; safeties
Nate Allen
,
Kurt Coleman
and
Colt Anderson
; quarterback
Michael Vick
; defensive end
Clifton Geathers
, punter
Donnie Jones
.
The Eagles could lose all of those players without taking a major hit. That doesn't mean those players aren't valuable, merely that they're not irreplaceable. It's not as if
LeSean McCoy
or
Mychal Kendricks
or
Jason Kelce
were free to leave.
My guess is general manager Howie Roseman will make solid market offers to Cooper, Maclin, Allen, Geathers and Jones. He will not overpay for any of them. If some other team does, the Eagles will move on without the player in question.
Players due for contract extensions:
Defensive end
Cedric Thornton
(exclusive rights free agent) and center Jason Kelce.
Let's project to the year 2022. The 35-year-old Kelce announces he is playing his final season after 13 years with the Eagles. That's how things should go with this guy. He's smart, physical, athletic and exactly the kind of player teams should commit to. So yes, extend Kelce.
Thornton was one of the delightful surprises of 2013. An undrafted rookie from Southern Arkansas, he hung around for a couple years without anyone paying much mind. But he's living proof of Chip Kelly's no-expectations approach. Kelly judges based on what a player does, and Thornton was very good this year.
Players who could be gone:
Vick, Anderson, Coleman, wide receiver
Damaris Johnson
, kicker
Alex Henery
, linebacker
Brandon Graham
, safety
Patrick Chung
, linebacker
Phillip Hunt
(restricted free agent on IR), wide receiver
Arrelious Benn
, offensive lineman
Dennis Kelly
.
Mostly self-explanatory. Vick wants to find a place where he can start. Even if he doesn't, the Eagles really like
Matt Barkley
and may well prefer a younger (read: cheaper) No. 2 behind
Nick Foles
.
Henery will have competition for the kicking job next summer. Not sure he'll answer that bell. Graham belongs at end in a 4-3 defense and may get a chance to return to one. The Eagles tried to replace Chung over and over but injuries kept him in the lineup.
Johnson lost his return job and never played on offense. Anderson has been a solid special teams guy, but Kelly likes versatility and may prefer a replacement who can fill in on defense, too.
Veterans on the salary-cap bubble:
Tight end
Brent Celek
, linebacker
Trent Cole
, guard
Todd Herremans
, wide receiver
Jason Avant
. They are all good enough players to stay. That, not their cap numbers, should be the deciding factor.
Youth movement:
The Eagles signed their practice squad and one other player to futures contracts. They are linebackers
Emmanuel Acho
,
Josh Kaddu
and
Travis Long
; offensive tackle
Michael Bamiro
; defensive end Brandon Bair; wide receivers
Will Murphy
,
B.J. Cunningham
and
Ifeanyi Momah
, and tight end
Emil Igwenagu
.
The takeaway here: The Eagles staff spent a lot of time coaching these guys and one or three of them just might become contributors.
January, 6, 2014
Jan 6
3:10
PM ET
PHILADELPHIA -- Eagles wide receiver
DeSean Jackson
may have picked
a bad time to make a public request for a new contract
.
Jackson has three years left on his current deal, but that's not the only reason his timing might be bad. Eagles general manager Howie Roseman and coach Chip Kelly already have a complicated roster puzzle at the wide receiver position.
Jeremy Maclin
, who missed the entire season after tearing his ACL in training camp, will be an unrestricted free agent. Do the Eagles offer him a long-term deal before seeing if he's able to regain his prior form? Will another team take a shot on the former first-round pick?
Riley Cooper
, who started all 16 games in place of Maclin, is also an unrestricted free agent. Do the Eagles pay him like a No. 2 receiver behind Jackson? Will someone else jump in and offer him more money? How will the offseason incident in which he was caught on video using a racial slur affect Cooper's market value?
Arrelious Benn
, who also tore an ACL, has one more year left on his contract. Does he fit into the Eagles' plans at all?
Veteran
Jason Avant
will be 31 this year. He has one more year left on his deal. If the Eagles bring back Cooper and Maclin, is there room for Avant at $3.25 million, including a $1 million roster bonus?
Even before Jackson raised his hand, there were plenty of issues for Kelly and Roseman to address.
Maclin said he is running and expects to be available for spring activities, wherever he is employed.
"I'm just going to take it as it comes," Maclin said. "I know a lot things are going to happen here in the next couple months for myself, for this organization. I'm pretty sure everything's going to work itself out."
Maclin said he and the Eagles had "some discussions earlier on" about his future. The injury could force him to accept a one-year deal to prove he is fully recovered.
"I'm a realist, so I understand that's a possibility," Maclin said. "Me and my agent, we'll get together and discuss what's best for me and then go from there."
Cooper said he had no idea what to expect from his first brush with free agency.
"I want to be back," Cooper said. "I'm hoping the Eagles come into play and I'm here. It's a first for me. I don't know what it's like. I know I'm not on a team. I want to be here. It's such a great group of guys."
Avant completed his eighth season, which makes him one of the longest-tenured Eagles.
"This is a business as well," Avant said. "There are contract issues. There are so many moving parts. You want everyone to come back, but it's just not the truth. That's just the National Football League. To Eagles fans: I've had a ball here, no matter what the outcome is."