Philadelphia Eagles:

Bill Davis
January, 1, 2014
Jan 1
3:30
PM ET
PHILADELPHIA – They are their fathers' sons.
Buddy Ryan begat twins Rex, the colorful head coach of the
New York Jets
, and Rob, the long-haired firebrand who runs the
New Orleans Saints
' defense.
Bill Davis Sr. begat Bill Jr., the polite, plainspoken defensive coordinator of the
Philadelphia Eagles
.
About all Davis and the Ryan brothers have in common is that they went into the family business. About all their fathers have in common is that their NFL career paths intersected in Philadelphia. Intersected? Make that collided.
[+] Enlarge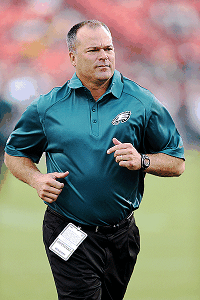 AP Photo/Paul SpinelliBill Davis has helped make the Eagles' defense formidable by going with a 3-4 look.
Buddy Ryan was the head coach of the Eagles. He was hired after leading the Chicago Bears' legendary defense all the way to a dominating Super Bowl victory over the
New England Patriots
. Ryan clashed with his boss, Mike Ditka, in Chicago and he clashed with his bosses in Philadelphia as well.
Owner Norman Braman was "the guy in France." Team president Harry Gamble, as decent a guy as ever who worked in the league, was often forced to react to Ryan's outlandish comments and actions – such as presenting personnel men with oversized "scab rings" for assembling a particularly incompetent group of replacement players during the 1987 strike.
A year later, Gamble hired Bill Davis to run the personnel department. Ryan and his friend Joe Woolley had been making draft-day decisions, and Ryan wasn't thrilled by the move. He once snarled, ""Bill Davis has got a job and he's got a title, but that's about it."
Davis, who had been on Dick Vermeil's coaching staff in the 1970s, resigned in 1989. Ryan was fired a year later.
A quarter century later, Rob Ryan and Bill Davis Jr. will coach against each other in a first-round playoff game. Ryan will stalk the sidelines, trying to rally his guys to slow down Chip Kelly's go-go offense. Davis will sit up in the coaches' box, trying to find answers for
Drew Brees
,
Jimmy Graham
and the rest of Sean Payton's weapons.
"I don't really know him that well," Davis said of his adversary. "I know the Ryan brothers to say hello to, but I really don't have a big history with either one."
That's remarkable when you consider Davis was a ballboy for those '70s Eagles teams. The Ryan brothers were too young to coach with their father in Philadelphia, but Buddy hired them when he made a brief stop in Arizona as head coach of the Cardinals.
Rex Ryan made three stops at the collegiate level before returning to the NFL for good in 1999. Rob Ryan has been in the league since 2000. Davis has worked continuously in the NFL since 1992.
That's a lot of scouting combines and Senior Bowls for three second-generation NFL coaches not to get past "hello."
But then, they are their fathers' sons.
On Saturday, the cameras will follow Rob Ryan up and down the sideline. He is every bit the character his father and brother are – loud, funny, irreverent. He's also a really good defensive coach, as evidenced by the Saints' vast improvement over last year.
Davis has quietly done a very good job with the Eagles, too. He was not an enormously popular hire. Kelly spent weeks interviewing potential defensive coordinators before settling on Davis. He had been the linebackers coach with the
Cleveland Browns
(Rob Ryan was the Browns' coordinator for two years before Davis got there; it's a small league). Davis had been a coordinator twice before, with little to distinguish him.
He has led the Eagles in the transition from a 4-3 base defense to a 3-4. His unit has gotten better every week, with the exception of one poor showing in Minnesota. Davis' Eagles play smart football, tackle much better than they did the past two years and have started creating turnovers at key moments.
Davis himself is as adept at explaining the game and his strategies to fans as he is at teaching the players. He never ducks responsibility when things go bad – he did a postgame news conference by cellphone after the 52-20 loss in Denver – and spreads credit when things go well.
"I think the biggest thing that's happened in this defense is the chemistry and the type of men that they are made of and how much they are really playing for each other," Davis said this week. "I've been on a lot of different teams and been through a lot of seasons and this one is unique in that the guys are truly unselfish and they are truly playing for the success of their teammates."
To paraphrase his father's nemesis, Bill Davis has a job and a division title, and that's pretty good.
October, 17, 2013
10/17/13
12:00
PM ET
There was a time when the
Philadelphia Eagles
and
Dallas Cowboys
both had a good chance of being undefeated going into an October showdown. That time may be long gone, but this meeting between a pair of 3-3 teams still has a lot of cachet.
The winner will have sole possession of first place in the NFC East. With Washington (1-4) and the
New York Giants
(0-6) already wrecked on the side of the road, this game will establish pole position for the race ahead.
Todd Archer, who covers the Cowboys for ESPN.com's NFL Nation, and Philadelphia counterpart Phil Sheridan discussed some of the big questions going into the game.
Sheridan:
DeMarcus Ware
and
DeMarco Murray
-- whether they're out or just limited by injury -- which can the Cowboys least afford to lose and why?
Archer:
To me, the easy answer is Ware because they really don't have much of a pass rush without him. The Cowboys can get by without Murray because of
Tony Romo
and the passing game. Ware has several little injuries this year with a stinger, a back strain, dehydration, getting poked in the eye and now this quad strain. He says he is a fast healer, but I don't think he'll heal fast enough for this week and the Cowboys will have to get by with what Jerry Jones called the "no-names," like
George Selvie
,
Kyle Wilber
and
Caesar Rayford
.
I'll go with the either/or as well:
Michael Vick
or
Nick Foles
? If both are healthy, whom does Chip Kelly eventually roll with?
Sheridan:
I wish I knew what Chipper is really thinking. Ultimately, I think he has to get an extended look at Foles this season. Vick's injury opened the door, and Foles certainly took a confident stride through it Sunday, earning NFC Offensive Player of the Week honors in Tampa. But part of being a successful NFL quarterback is coming back, week after week, through nagging injuries and fatigue. Kelly has to know whether Foles can do that before this season is over. Combine that with the fact that Foles may actually run the offense more effectively and I think it may be a while before we see Vick again.
Foles had a good day in Tampa. Now he faces the godfather of the Tampa 2. How is Monte Kiffin's defense coming together after six games?
Archer:
To be kind, not well. The Cowboys have allowed three 400-yard passers this season. They allowed 216 rushing yards last week against Washington. They likely won't have Ware, so that will hinder the pass rush. The Cowboys aren't really the true Tampa 2 scheme that Kiffin ran so well in Tampa. First off, he doesn't have
Warren Sapp
,
Derrick Brooks
or
John Lynch
, but the Cowboys are mixing their coverages a lot more because of their cornerbacks. They paid a lot of money for
Brandon Carr
,
Morris Claiborne
and
Orlando Scandrick
and have tried to play more man-to-man lately. They were fairly effective against the Redskins, and that helped the pass rush. They'll have to be that effective this week too.
I mentioned the 216 rushing yards, and
LeSean McCoy
is on the docket for the Dallas D. He's off to a great start and seems to be a perfect fit in this offense. True?
Sheridan:
One hundred percent true, although McCoy might be a pretty good fit in any offense that involves a football. Some of the Broncos, who don't see him often, were comparing him to
Barry Sanders
, and it's not as big a reach as you might think at first. He's quick, he's strong, he changes direction almost magically, and his instincts are remarkable. For a few weeks, the Eagles were piling up rushing yards without getting enough points. Against Tampa Bay, McCoy went for 116 yards and there was a 31 on the scoreboard. That's where the Eagles need to be.
Let's turn to the Dallas offense. Eagles defensive coordinator Bill Davis said this week what a lot of people think, that Romo is capable of making a big play or a big mistake at any time. How is the franchise quarterback's confidence this year?
Archer:
I wonder if Davis has seen Romo play much this year. Maybe he just saw the end of the Broncos game when he had the interception, but Romo has only three picks on the year. One was a busted route by a rookie receiver, and another was a tipped ball. I think his involvement in the game plan really has Romo tuned into the opposing defenses and what they're trying to do. He is not forcing throws (no, I'm not forgetting the late Broncos interception), and he is being more patient than ever. This is his offense in a lot of ways, and he doesn't want to screw it up. That being said, the offense has not performed well in its first two road games, scoring 16 and 14 points against Kansas City and San Diego. In the last two games, the Cowboys have spread it out more, and without Murray this week, I think you'll see more spread looks Sunday.
For so long we've been used to seeing a Jim Johnson-type defense in Philly, but Davis has a different style. What has or hasn't happened so far in the Eagles' move to the 3-4?
Sheridan:
It is a process, as Davis and Kelly constantly remind us. It's a tough transition when you have players better suited to a 4-3. It's even tougher with players who aren't suited to any defensive scheme at all. The Eagles seemed to have a few of those while giving up 33 passing touchdowns last year. They made a lot of changes in the secondary, but it has still been vulnerable -- especially on third down. The defense seemed to make progress against the Giants and Bucs, but those are two winless teams. It will be a big deal if the Eagles can continue to make progress against a quarterback like Romo.
How good is
Dez Bryant
right now, and how much more potent can this offense be if and when
Miles Austin
gets it going?
Archer:
Bryant has carried over his success from the second half of last season to this season, at least in terms of touchdowns. He is a nightmare for cornerbacks in the red zone. He's just too big and physical down there for them to handle. He's almost too physical and might get a pass interference penalty one of these days. But Romo is so confident in him down tight that he'll just throw it up knowing Bryant will get it or nobody else will. What's strange, however, is that Bryant has had three games in which he has averaged less than 10 yards per catch. If teams want to take him out with help, they can. And that's where Austin comes in. He's just not healthy yet but was off to a good start before injuring his hamstring. Rookie
Terrance Williams
has really caught on lately and helped make up for Austin's absence/lack of production. When he's right, Austin is dangerous in the slot and outside and is a tough matchup.
Let's stick with the receivers. Is
DeSean Jackson
, well, DeSean Jackson again?
Sheridan:
DeSean Jackson is DeSean Jackson, only better. He seems to have matured almost overnight. He says he worked out and added a little muscle mass during the offseason. Not sure whether it's that or Foles or Kelly's offensive approach, but Jackson is suddenly a factor in the red zone. He was always a deep threat but disappeared inside the 20. He has red zone scores in each of the last two games. He'll never be the kind of receiver you described Bryant as being, but he's added a better understanding of the game to his gift of speed.
Both teams are 3-3. It's not exactly the 1990s, when they might both be undefeated when they met in October, but this will still decide who is in first place in the NFC East. Do you think the Cowboys have what it takes to knuckle down and win the division in a decidedly down year?
Archer:
I think they do, but if there's one thing I've figured out in covering this team, it is to never come to expect anything. They are just too up and down. There's no doubt the NFC East is down, but the prevailing wisdom is that the Cowboys are infinitely more talented than every other team in the division, so they should run away with it. I don't know about that. They're good at the top but not so much in the middle and bottom. They have a ton of questions on defense. They can't afford injuries. They might have the best chance to win the NFC East, but it's not a lock. This game, to me, is huge. If they can get to 3-0 in the division, it gets a little easier. If they lose, they're riding that 8-8 bus again.
Is Kelly in this for the long haul?
Sheridan:
Here's another case where I wish I knew what was going on inside Kelly's head. He's good at talking about football, what he's trying to do and why. He doesn't entertain any questions that appear to be probing into his personal life or his feelings about anything. I think he's learned the NFL is difficult in different ways from the college game. Whether he enjoys being out of his comfort zone and sees it as a challenge to excel at this level or whether he can't wait to get back to a college gig, I have no idea. He just doesn't share that kind of thing. I can say that neither extreme would surprise me. More to the point, I think he can be a very good NFL coach. His offense certainly works in the league.
September, 10, 2013
9/10/13
1:35
AM ET
LANDOVER, Md. – Bill Davis made a remarkable admission last week, as he prepared the
Philadelphia Eagles
defense for
Robert Griffin III
and
Alfred Morris
.
"I don't know what's coming," Davis said.
He meant that he couldn't really gauge the state of his squad until he saw it against a real NFL offense with a real game plan.
"

It's a good starting point for us. They executed the plan. I won't say it was a surprise, but it was nice to see that against a great offensive team.

"

-- Bill Davis, Eagles defensive coordinator
After one quarter, in which the Eagles created two turnovers and a safety, Davis might have thought he had the 2000
Baltimore Ravens
on his hands. After a full game, a
33-27 victory
at Washington, he knows there is work to be done, but he can still feel encouraged.
"It's a good starting point for us," Davis said. "They executed the plan. I won't say it was a surprise, but it was nice to see that against a great offensive team. It was a fun night and the guys did a great job."
Trent Cole
, the veteran defensive end transitioning to outside linebacker, forced a Morris fumble on Washington's second play from scrimmage. Cole lined up with his hand on the ground at times, as an OLB at other, but had consistent pressure on Griffin.
Cary Williams
, the ornery cornerback known more for scuffling in practice, made a great diving interception. He sacked Griffin on a blitz from the slot. And, in maybe the biggest play of all, he broke up a fourth-quarter, fourth-down pass that temporarily derailed Washington's comeback.
Second-year linebacker
Mychal Kendricks
, who recovered Morris' fumble, had a team-high 10 tackles. He and
DeMeco Ryans
handled the middle as Morris was held to just 45 rushing yards on 12 carries.
Those were the positive highlights. In the second half, Griffin led his team to 20 unanswered points. Williams was sidelined with cramps for part of that, allowing Griffin to pick on rookie cornerback
Jordan Poyer
for one touchdown.
"The game changed," Davis said. "I probably pressured a little bit more than I should have. The second-to-last score was on a couple of multiple pressures back-to-back. I wanted to let them know that we aren't going to sit back and play prevent, and I got burned on it. Sometimes that happens. They made some plays and we played a little softer."
That was another encouraging sign: Davis was as willing to explain what went wrong as what went right.
September, 6, 2013
9/06/13
7:00
AM ET
PHILADELPHIA – The mystery of Chip Kelly's offense -- what it will look like and how he will adapt it for the NFL -- is the dominant storyline for the
Philadelphia Eagles
.
There is an equally mysterious aspect of the Eagles' makeover. So mysterious, in fact, that even the man behind the curtain has no idea what it will look like.
If the world is wondering how Kelly's offense will look when the Eagles debut at Washington on Monday night, Bill Davis is wondering how his own defense will look.
"Yeah, I'm very anxious for the Redskins to show us who we are and where we are," Philadelphia's defensive coordinator said. "I don't know what's coming. The truth will be, at the end of that game, we will know defensively how far along we are. … No matter what I wish for or what I want -- doesn't matter. The game will show us who we are."
At some level, Davis is probably trying to keep the expectations of a very demanding fan base low. But there is some real candor there, too. The Eagles' defense was terrible last season. Davis was Kelly's choice to rebuild it. He is moving from a 4-3, "wide-9" base defense to a 3-4 hybrid with personnel who don't fit well in either scheme.
[+] Enlarge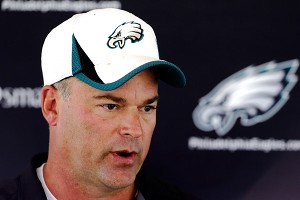 AP Photo/Matt RourkeBill Davis, in charge of making over the Eagles' defense, remains uncertain where that process stands.
So what do those mischief-makers at the league office give him?
Robert Griffin III
, arguably the most dynamic young quarterback in the game, and the league's No. 1 rushing offense from last season, led by
Alfred Morris
. All on "Monday Night Football," with the whole world watching.
So yes, Davis will get a merciless assessment of his squad's progress.
"They are very talented across the board," Davis said of Washington's offense. "They played all 16 games together last year -- which is a huge advantage, to play in a system -- and we have to face that, and we have got to face it using an overhauled defense with new techniques that we have taught."
Davis can take some consolation in the fact that there is nowhere for this defense to go but up. Griffin and Morris destroyed the Eagles last season, sweeping the season series and helping grease the skids for Andy Reid's exit.
Connor Barwin
was with the
Houston Texans
when Wade Phillips was brought in as defensive coordinator and installed a 3-4 scheme. Barwin, an outside linebacker who signed with the Eagles as a free agent, said it took until about Week 6 for the defense to run smoothly.
"It's not unsettling at all," Barwin said. "This is just the position we're in. At one point, the Patriots were in this position. At one point, the Bengals, the Niners, the Texans were all in this position. You have to go through it to get where you want to be."
Barwin said it was reasonable to believe the Eagles could be a "top-10 defense" this season. That might be a little ambitious, but there's no harm in aiming high.
For Davis, the man charged with building this thing, it's all about the process. And the first real game is a major stepping-stone.
"Wherever we start against Washington, good or bad or somewhere in the middle, it has to continue to get better by the 16th game," Davis said. "This season has got to be about this defense getting to where everybody wants it to be. The Washington game is our starting point. I don't know where along the scale we are, but wherever that is, that's the ground level, and we have got to take it a lot higher than it is."
September, 3, 2013
9/03/13
12:52
PM ET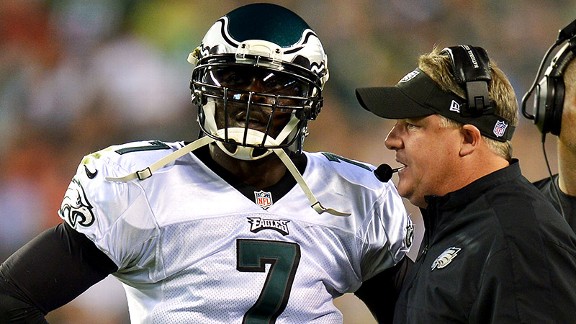 Drew Hallowell/Philadelphia Eagles/Getty ImagesComing up with a game plan to stop Chip Kelly's Michael Vick-led offense won't be easy.
It is the NFL coaches' day to plan. They are preparing for their season opener, of course, but Chip Kelly and his brethren have had months to contemplate how to attack their first opponent -- and vice versa.
There are some unique aspects about the way the Eagles will prepare for Washington. It is Kelly's first real NFL game after a preseason spent deciding exactly what he did and didn't want to reveal about his offense. It is the first real outing for Bill Davis' revamped defense. And although Washington is an all-too-familiar NFC East rival, there is some mystery about the health and effectiveness of quarterback
Robert Griffin III
in his return from ACL surgery.
Let's start with the matchup that makes this game worthy of the season's first Monday night slot: Kelly's offense against coordinator Jim Haslett's defense.
How will Haslett prepare for an offense he hasn't seen? Can he even trust what he has seen, or has Kelly thrown some red herrings in the red zone? Haslett will no doubt study what Gus Bradley's Jacksonville defense did early in that preseason game to confound the Eagles' offensive linemen. When told that Haslett has said he studied Oregon's offense for clues, Kelly saw the logic in that.
"We are different," Kelly said, "but I would do the same thing. It's either watch Oregon tape or watch nothing. It's going to be a combination of [Oregon tape and] our preseason games. It's no different than when we have to prepare for the Chargers. You have to kind of look at what the history is. … That's commonplace, I think."
My guess: With less certainty about scheme, Haslett will focus on what he does know best -- the players. If blitzing
Michael Vick
has worked in the past, then you blitz Vick until the Eagles show they can stop it. If being physical at the line with
DeSean Jackson
has taken him out of games, that's what you do.
There can be a kind of self-fulfilling element to that. By attacking the areas he knows, Haslett could disrupt Kelly's scheme enough to derail it for the night. It will be up to Kelly to anticipate Haslett's approach and counter it.
The other side of the ball is nearly as perplexing. Unlike former coach Andy Reid, who hired defensive coordinator Jim Johnson because of the trouble Johnson gave Green Bay's coaches, Kelly doesn't run a common NFL offense. He never coached against Davis or any other coordinator on this level.
"I don't really look at it that way because I think what we do offensively is a little bit more unique," Kelly said. "I think we want a defense that gives the majority of the teams we play problems, you know what I mean, so it's more of that aspect."
As it turns out, practicing against Kelly's offense all summer won't be a total waste in Davis' first game as Eagles coordinator. Griffin won't be running the same system, of course, but there are at least some familiar elements.
The Eagles' defense is very much a work in progress, with Davis trying to figure out just how to deploy the players he has available. This defense isn't ready yet to impose its will on another team. With three games in 11 days -- along with
Philip Rivers
,
Alex Smith
and
Peyton Manning
in the first month -- Davis will have to customize his schemes for each opponent.
Just as Haslett will attack Vick's known vulnerabilities, Davis surely will try to get Griffin on the move to test his quickness and willingness to be physical in his first live action since the knee surgery.
The true personality of this Eagles defense will have to emerge during the course of the season. There is no better foundation than early success.