Philadelphia Eagles:

Brandon Meriweather
January, 9, 2014
1/09/14
8:00
AM ET
PHILADELPHIA -- The good news for
Philadelphia Eagles
coach Chip Kelly is he doesn't have to spend the next couple months traveling to high school kids' homes and recruiting them.
The bad news?
"It's a different league," Kelly said. "This isn't recruiting where you can go out and offer and try to get them to come. There's a selection in the draft process and we're not going to pick until the 22nd [spot in the first round]. There's 21 other guys that we may covet, but we don't have an opportunity to get them."
If a team drafted 22d every year and did well, it could be awfully good. Based on the last 10 years, drafting only players taken between No. 22 and No. 32 (the end of the first round), a team could have
Aaron Rodgers
at quarterback, wide receivers
Dez Bryant
and
Santonio Holmes
, running backs
Steven Jackson
and
Chris Johnson
, linebackers
Clay Matthews
and
Nick Perry
, safety
Brandon Meriweather
and defensive linemen
Cameron Jordan
and
Sharrif Floyd
.
You could do worse. Plenty of teams did do worse. Cleveland took two quarterbacks,
Brady Quinn
and
Brandon Weeden
, at No. 22.
Later we'll look at some possible players the Eagles could consider at No. 22 in this year's draft. For now, here's a quick look at the 22nd pick in each of the past 10 NFL drafts, along with a few players that were on the board at the time (I didn't go beyond the end of the first round out of fairness; just looking at first-round graded players):
2013: Cornerback
Desmond Trufant
from Washington, selected by Atlanta.
On the board: Defensive tackle Sharrif Floyd, WR/Returner
Cordarrelle Patterson
, defensive end
Datone Jones
.
2012: Quarterback Brandon Weeden from Oklahoma State, selected by Cleveland.
On the board: Linebackers
Dont'a Hightower
and Nick Perry, running back
Doug Martin
.
2011: Offensive tackle
Anthony Castonzo
from Boston College, selected by Indianapolis.
On the board: Offensive lineman
Danny Watkins
, defensive end Cameron Jordan, running back
Mark Ingram
.
2010: Wide receiver
Demaryius Thomas
from Georgia Tech, selected by Denver.
On the board: Wide receiver Dez Bryant, quarterback
Tim Tebow
, cornerback
Devin McCourty
.
2009: Wide receiver
Percy Harvin
from Florida, selected by Minnesota.
On the board: Offensive tackle
Michael Oher
, cornerback
Vontae Davis
, linebacker Clay Matthews.
2008: RB
Felix Jones
from Arkansas, selected by Dallas.
On the board: Running backs
Rashard Mendenhall
and Chris Johnson, cornerback
Mike Jenkins
.
2007: Quarterback Brady Quinn from Notre Dame, selected by Cleveland.
On the board: Wide receiver
Dwayne Bowe
, safety Brandon Meriweather, linebackers
Jon Beason
and
Anthony Spencer
, offensive tackle
Joe Staley
.
2006: Linebacker
Manny Lawson
from N.C. State, selected by San Francisco.
On the board: Offensive lineman
Davin Joseph
, wide receiver Santonio Holmes, running back
DeAngelo Williams
, defensive end
Mathias Kiwanuka
.
2005: Wide receiver
Mark Clayton
from Oklahoma, selected by Baltimore.
On the board: Cornerback
Fabian Washington
, quarterback Aaron Rodgers, wide receiver
Roddy White
.
2004: Quarterback
J.P. Losman
from Tulane, selected by Buffalo.
On the board: Defensive tackle
Marcus Tubbs
, running back Steven Jackson, defensive end
Jason Babin
.
November, 17, 2013
11/17/13
8:25
PM ET
PHILADELPHIA –
Philadelphia Eagles
quarterback
Nick Foles
didn't throw seven touchdown passes against the
Washington Redskins
Sunday. He didn't throw any touchdown passes.
Foles played a different kind of good game to lead the Eagles to a 24-16 victory over Washington. He completed 17 of 26 passes for 298 yards. His passer rating was 104.3, very good but not in the 150 range as it was the previous two weeks. Foles ran the ball nine times for 47 yards and a touchdown, which includes a 1-yard loss on the final kneel-down.
"I think the big thing this offseason that I really wanted to work on was decision making and being smart with the football," Foles said. "You watch a lot of the guys who are the top guys in the league -- Peyton (Manning), Drew (Brees), Aaron (Rodgers), Tom (Brady) -- that are really good at decision-making."
Foles still hasn't thrown an interception in 162 attempts. He distributed the ball to seven different receivers Sunday. Although he didn't complete any deep passes, Foles got the ball to
LeSean McCoy
,
DeSean Jackson
and
Brent Celek
so they could pile up yards after the catch.
"They played us off a little bit," coach Chip Kelly said. "They were letting us throw the ball underneath. If they're going to do that, we need to convert in those situations. I thought that was a big part of what we were doing in the first half."
Foles was the one making those correct reads and throws. Truth be told, he probably should have two or three touchdown passes. His pass to McCoy went for 49 yards before safety
Brandon Meriweather
ran McCoy down at the Washington 4. Foles ran it in from there.
In the second quarter, Celek took a screen 41 yards. The officials ruled it a touchdown, but replay review showed Celek's knee was down at the 1-yard line. McCoy ran it in on the next play.
McCoy's second 1-yard touchdown run, in the third quarter, also came after a Foles near-touchdown pass. Foles threw to
Riley Cooper
at the goal line. He might even have been in the end zone, but the on-field officials ruled him down at the 1. Kelly didn't challenge, opting instead to run a quick play before the Washington defense could adjust personnel.
In the second quarter, Foles took a hit and got up slowly. For the rest of the quarter, he was shrugging his right shoulder and shaking his arm out.
"I just got it banged up," Foles said. "I was trying to keep it warm because I really didn't know what was going on. I had a shoulder injury in high school and I knew the key when you get it banged up is to keep it warm. It feels great."
However they scored, the Eagles won their third consecutive game with Foles at quarterback. They are in first place in the NFC East.
"Nick is doing a great job," Jackson said. "He's come a long way. He is hot right now. We're on a roll and we just have to keep it going and finish the season strong."
September, 6, 2013
9/06/13
12:00
PM ET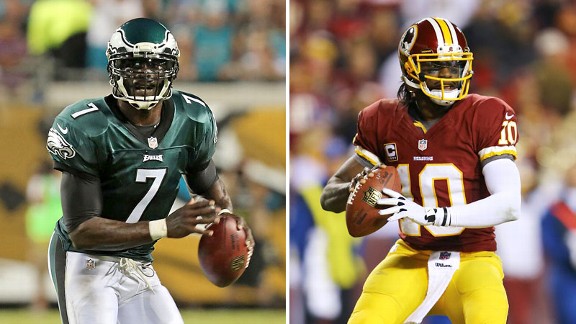 Getty ImagesThe Eagles' Michael Vick and Washington's Robert Griffin III meet in an important early showdown.
A matchup between the
Washington Redskins
and
Philadelphia Eagles
doesn't always need extra sizzle. It's not the main rivalry for either team, at least in the eyes of the fans, but it is one that has been entertaining and memorable over the years.
This game will be different. This time, it's the NFL debut for Eagles coach Chip Kelly. Not that anyone in Washington is paying close attention to Kelly. They're too distracted by the fact that quarterback
Robert Griffin III
will be playing in the opener exactly eight months after surgery on his right knee. ESPN.com's Redskins reporter John Keim and Eagles reporter Phil Sheridan provide their Double Coverage preview.
Sheridan:
How will Griffin's lack of live action since his knee surgery affect the Shanahans' approach on offense?
Keim:
I don't think it will have a major impact. Last year Griffin's first game back after his initial injury was against the Eagles. The Redskins did not use the zone-read option all that much and Griffin ran only one time in that game. They admitted that Griffin's knee situation affected what they called. But Griffin is healthy now, so I don't think they'll limit what he can do at all. If they don't run a lot of the zone-read, or if Griffin doesn't take off, I think it will have more to do with what the Eagles are trying to do defensively (or in what they're unable to stop: the run) than anything. They didn't use the zone-read a lot last season against the Eagles (
Alfred Morris
ran it from this look four times combined in their two meetings; Griffin threw five passes from the zone-read fake in those two games -- all in the second meeting when he was still hurt).
Keim:
How much of what we saw Chip Kelly run at Oregon will be used in Philly?
Sheridan:
My guess, and there can be nothing but guesswork at this point, is quite a bit. Kelly ran the ball a lot more at Oregon than is widely understood, and he has very good backs in
LeSean McCoy
,
Bryce Brown
and
Chris Polk
. There will be package plays and some read-option and some gimmicky stuff as well. I get the feeling Kelly sees this season as a kind of test kitchen to see what works and what doesn't in the NFL. So I think he'll run much of his Oregon offense and adjust as he goes.
Sheridan:
Will the Eagles see the Robert Griffin III who dominated them so thoroughly last season?
Keim:
A tough one off the bat, only because we really haven't seen him in live action since the Seattle game. When we saw him in 11-on-11 this summer, it was against the scout team. Last summer we had a strong idea of what he could do (and what they would run in the regular season). But the key for Griffin is that he's not limited in any way, and when we would see him run in practice, he clearly still has his speed. In some ways they'll see an improved version of the player they saw last season, thanks to an offseason devoted to film study. So I think they'll see someone even more committed to throwing the ball; last season at this time he was more apt to take off running even in practice. I didn't see him do that; again, it was against the scout team but even in 7-on-7 last season he would sometimes run. This year he'd find his checkdown. And the last reason he'll be helped: The Redskins have a healthy offense, something they never fully had in 2012. Receiver
Pierre Garcon
, tight end
Fred Davis
and third-down back
Roy Helu
are all healthy and key parts of the passing game.
Keim:
What do you think will pose the biggest problem for defenses?
Sheridan:
The Eagles' speed, and I'm not really talking about the no-huddle, go-go tempo here. That will be part of it, for sure. The Eagles will push the pace and try to wear defenders down, no doubt about that. But from
Michael Vick
to
DeSean Jackson
to McCoy, this is a fast team. Kelly's scheme is built on creating mismatches and turning that speed loose in space. If he's able to do that, then the Eagles will be able to score a lot of points.
Sheridan:
How much better will the Washington defense be with a healthy
Brian Orakpo
?
Keim:
The hope for the Redskins is that it's a lot better. I think that's a legitimate hope, because of the trickle-down effect. Orakpo is not
DeMarcus Ware
, and his career-best sack total is 11 (as a rookie). But Orakpo is good at setting up others, and he allows the Redskins to use more four-man rushes than they did a year ago in trying to generate pressure without him. They won't always get to the passer doing this, but it will provide needed help for the coverage and a secondary that struggled in 2012. In the rush, Orakpo's impact will be big on end
Stephen Bowen
. They work well on stunts, and with the line paying extra attention to Orakpo more often than not, it should allow Bowen to face more one-on-one blocking than he did last season. That allows him to collapse the pocket. On the other side,
Ryan Kerrigan
will be helped for two reasons: One, he's not the focal point of most blocking schemes now; two, he's excellent at getting to the quarterback after others have collapsed the pocket. But the defense will also be helped by Kerrigan's increased versatility -- he and Orakpo will line up in a variety of spots to rush. And by nose tackle
Barry Cofield
's continued improved play. Those factors, plus Orakpo's return, should elevate the defense from the back end of the pack to the middle.
Keim:
Vick says he feels rejuvenated -- is he playing that way, and does he look good in this offense?
Sheridan:
It must be remembered that Vick says he feels rejuvenated or reborn or rededicated every summer. Kelly rekindled Vick's love for football just as Andy Reid rekindled it several years running. The proof will be in the pudding, as they say. Vick's stellar performance in the first two preseason games was reminiscent of his breakout in 2010 -- Washington fans might remember that especially well. It's hard not to believe a similar decline -- injuries, turnovers, erratic play -- will follow. That is his challenge, to prove that this time he really has gotten a handle on how to prepare and perform like a consistent NFL quarterback.
Sheridan:
NFL defensive coaches must be champing at the bit to take on Kelly (and his reputation). How will Jim Haslett handle being first up?
Keim:
It's a tough task, and one the Redskins put New Orleans in a year ago. You wrote about this in a column the other day, and I think it's probably accurate: You focus on how you've dealt with certain players, like a Vick, in the past. Blitzing him has worked in the past; if they do that now, I'd guess they would try more overloads just to keep six or seven in coverage. I also think you have to show them different looks, get Vick to pause because his first read isn't there. Then I think Haslett will have to rely on preparation. When Kelly goes up-tempo, the players can't hesitate when lining up or in playing. He's fortunate to have a player such as linebacker
London Fletcher
inside. Few in the NFL are more prepared than Fletcher.
Keim:
The Eagles struggled to stop the run this summer, and had moderate success in this area last season. How will they approach defending Morris?
Sheridan:
Moderate success? You kill with kindness, my friend. The Eagles were 23d in the league in terms of rushing yards allowed. That doesn't mean they were stopping the run, though, as much as it meant they were ridiculously easy to throw the ball against. They gave up 33 passing touchdowns (against just eight interceptions) and a passer rating of 99.6. Teams threw early, got the lead and then ran just to kill time. The buzz phrase this season is "gang tackling" -- Kelly and new defensive coordinator Bill Davis have been preaching it all summer. Get to the ball carrier in waves. That has to be their approach with Morris. In the preseason, the Eagles gave up long runs way too often for anyone to feel too confident about them.
Sheridan:
What impact will the presence or absence or limited availability of
Brandon Meriweather
have on Washington's ability to counter the Eagles' speed at the skill positions?
Keim:
He played part of one game last season, the first meeting against the Eagles. In that game the Redskins blitzed the cornerback from the numbers, a spot they had not previously done (always had been from the slot). This left DeSean Jackson free for a moment. But the Redskins had done so because of Meriweather's speed and ability to rotate over quicker than their other strong safeties. The blitz worked. They ran this blitz a couple times in ensuing games, but not against a speed guy like Jackson. Even if he plays, I don't know if Meriweather will be 100 percent. He hasn't been since early in camp last summer. But he adds speed in the secondary, and when facing a team that makes you defend sideline to sideline that's a necessary element.
Keim:
Is this a better team? If so, in what ways other than a fast-paced offense?
Sheridan:
It probably will be a better team, if only because the snowball-rolling-downhill aspect stopped with the change at head coach. There is a palpable change in the atmosphere around the Eagles, and that should translate into a better product on the field. How much better? Probably not dramatically better in the win column, not in the first season. The defense still lacks proven playmakers, and the shift from a 4-3 to a 3-4 is bound to result in some growing pains. On offense, the expectation is that Kelly is innovative and novel enough to make an immediate impact. The return to health of the offensive line will help enormously there. But it is the same quarterback, with the same history of injuries and turnovers, behind center. All in all, this year is a stepping-stone. To what? Well, we should know better after Monday night.
Bonus stat of the week:
-15. That's the drop in rushing touchdowns for McCoy from 2011 (Eagles' record 17) to 2012 (2). Third biggest year-to-year decline in NFL history.