Philadelphia Eagles:

Brian Orakpo
March, 10, 2014
3/10/14
10:00
AM ET
Here are the top 15 free agents, followed by their rankings, entering Tuesday's signing period as compiled by NFC East reporters Dan Graziano, Todd Archer, Phil Sheridan and John Keim. There are some strong options at the top, but there is not a lot of depth in the NFC East when it comes to free agency. And if Dallas'
DeMarcus Ware
gets released, he vaults to a top spot on this list. As always, ESPN's free-agent tracker will keep you updated during this period.
1. LB Brian Orakpo, 8.5:
The Redskins used the franchise tag on him, so barring a surprise, he'll be back. It's a controversial move among fans, but the Redskins need his pass rush and promise to unleash him more often. His career best for a single season is 11 sacks.
2. DT Linval Joseph, 8:
A very big, strong and young (25) interior run-stuffer who has also shown the ability to create pressure from the interior, Joseph could be available because of the Giants' depth at defensive tackle and their many needs.
3. DT Jason Hatcher, 8:
He is coming off an 11-sack season, but he turns 32 in July and Dallas doesn't have much cap space.
4. LB Jon Beason, 7:
The Giants are working hard to sign him before free agency opens, as his leadership and high-energy play at middle linebacker helped transform their defense during the 2013 season.

Nicks
5. WR Hakeem Nicks, 7:
This grade is based on talent and past accomplishments, and a feeling that he was being overly careful in 2013 in order to hit free agency healthy. Lacks his early career speed, but knows how to play the position as well as anyone.
6. WR Jason Avant, 7:
For a team in need of a third-down possession guy, the sure-handed Avant will be a great value.
7. P Donnie Jones, 7:
The Eagles are expected to re-sign Jones, who was an underrated contributor to their NFC East title team.
8. DE Anthony Spencer, 6:
He is coming back from microfracture surgery, so the cost won't be high.
9. LB Perry Riley, 6:
The Redskins need to re-sign him because they already have a hole at inside linebacker after
London Fletcher
retired. But they won't break the bank for Riley, who needs to improve in coverage.
10. DE Justin Tuck, 6:
Coming off an 11-sack season that came out of nowhere after two down years, Tuck turns 31 later this month but is a locker-room leader and a 4-3 defensive end who can set the edge against the run.
Vick
11. QB Michael Vick, 6:
With
Nick Foles
' ascension, Vick is looking for a chance to start elsewhere.
12. RB Andre Brown, 5:
He played very well in his first few games back off a broken leg, but faded down the stretch and fumbled too much in the final few games. He is likely not a guy who can be relied on as a starter, but potentially a valuable piece.
13. TE Brandon Myers, 5:
A huge disappointment in New York after catching 79 passes as a Raider in 2012, Myers also contributed little as a blocker. The Giants are likely to let him go. He could fit better with a different system.
14. CB Terrell Thomas, 5:
He played all 16 games after missing the previous two seasons because of ACL tears in the same knee. Thomas believes he can hold up as a starter off a real offseason, and would like to cash in.
15. S Danny McCray, 5:
He is a core special teamer only, so the Cowboys could find value here.
March, 3, 2014
3/03/14
7:15
PM ET
The Eagles haven't exactly advertised their free-agency plans, which is understandable. Now that the deadline for franchise and transition tags has passed, all we can say is that their plans likely haven't changed much.
Washington linebacker
Brian Orakpo
had the franchise tag placed on him. That takes him off the list of possible targets for the Eagles, but the odds were against them making a play for Orakpo. He is exactly the kind of free agent -- a guy who could command more money than his production warrants -- that general manager Howie Roseman has said the team is not interested in.
(That said, he's also exactly the kind of player that fans and media like to speculate about. Orakpo would be a perfect edge pass rusher in the Eagles 3-4 defense and signing him would mean not facing him twice a year.)
Worilds
Another player that has been discussed as a possibility for the Eagles is Pittsburgh linebacker
Jason Worilds
. The Steelers placed the transition tag on Worilds, which means only that they would have the right to match any offer he receives.
If the Eagles were planning to take a shot at Worilds, that shouldn't slow them down. The Steelers do not have the cap space to match a carefully designed offer sheet. Indeed, to keep Worilds, Pittsburgh may have to release other players to create cap space. If
LaMarr Woodley
is a casualty, he could be a nice consolation prize. Bottom line: There just aren't that many pass rushers worth pursuing in free agency.
Eagles defensive coordinator Bill Davis has often cited the Steelers' Dick LeBeau-coached defense as his model. It stands to reason Davis could use a big-time player who is already schooled in that style of play.
Neither of the top safeties were tagged, which makes for an intriguing scenario when free agency opens. Buffalo's
Jairus Byrd
and Cleveland
T.J. Ward
will be on the market. Both are 27. Both have been to the Pro Bowl. Either would be the Eagles' best safety since
Brian Dawkins
.
Is Roseman willing to make Byrd the highest paid safety in the NFL? That's what it will take? Would he make a run at Ward, who knows Davis from his stint in Cleveland?
Even if Ward and Byrd are not on Roseman's list, their presence in the market has a ripple effect. They will attract immediate attention from teams desperate for safety help. That will leave the next tier -- safeties like Miami's
Chris Clemons
and Carolina's
Mike Mitchell
-- for the Eagles to approach if that's the way they choose to go.
March, 3, 2014
3/03/14
10:50
AM ET
PHILADELPHIA -- Late Friday afternoon, after completing a flurry of four contract negotiations with Eagles players, general manager Howie Roseman did a conference call with reporters.
Coming off the scouting combine and the deals for
Jason Peters
,
Jason Kelce
,
Riley Cooper
and
Jeremy Maclin
, Roseman was planning on a quiet weekend. The first part of the Eagles' offseason plan was complete.
[+] Enlarge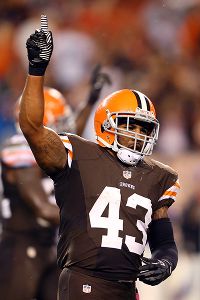 Ron Schwane/USA TODAY SportsIf T.J. Ward doesn't get the franchise tag from the Browns, the Eagles might be interested.
"We're going to take a deep breath," Roseman said. "We'll catch up on Monday. We'll take stock of where we are and where we're hopeful to be."
The Eagles certainly have ideas about what comes next. They can begin talking to free agents on Friday, and can actually sign players beginning March 11. But they can't be entirely sure what the market will look like until some decisions are made in other NFL cities.
The deadline for applying franchise and transition tags, which passes Monday at 4 p.m., will add some clarity. There are reports that the
Buffalo Bills
are unlikely to tag safety
Jairus Byrd
, one of the elite players at the Eagles' most glaring position of need. Cleveland safety
T.J. Ward
has also avoided a tag up until now.
Byrd and Ward both played at Oregon, so Chip Kelly has some insight into them as players and as people. That helps the Eagles avoid the pitfalls of a "forced marriage" -- Roseman's term to describe bad free-agency fits such as
Nnamdi Asomugha
-- with either player.
Roseman is also reluctant to pay good players like great players, another common result of free agency. Byrd has reportedly turned down a deal that would make him one of the five highest-paid safeties in the NFL. That, combined with the fact he held out of training camp last year because he was unhappy with the franchise tag, suggests Byrd may be pricier than the Eagles want to go.
Ward's situation is different. With all the apparent disorder in Cleveland, he may be even more motivated to leave. The Browns surprisingly released his teammate, veteran linebacker and leader
D'Qwell Jackson
, last week. With Kelly, former Browns head coach Pat Shurmur and defensive assistant Bill Davis, the Eagles can offer Ward familiarity as well as a lucrative deal.
Another tag situation is in Washington, where outside linebacker
Brian Orakpo
is waiting to find out his status. Orakpo has been linked to the Eagles only in media speculation, but there is logic in it. Orakpo is exactly the kind of versatile outside linebacker the Eagles need, and signing him would have the added appeal of weakening a division rival.
The Eagles have a working game plan for the offseason, but it has some either/or elements in it. This week, they'll get answers to those questions and can prepare accordingly for the start of free agency.
March, 1, 2014
3/01/14
8:00
AM ET
PHILADELPHIA -- Welcome to March. Within a couple weeks, we should start to have real answers to many of our questions about what the
Philadelphia Eagles
might do in free agency.
Until then, we get to speculate and discuss. Let's get right to some questions delivered in our Twitter mailbag (hashtag 'em #espneagles so I can find them). Thanks to everyone who participated. Some good stuff to tackle:
.
February, 7, 2014
2/07/14
8:00
AM ET
PHILADELPHIA -- In assessing the Eagles' biggest areas of need, the outside linebacker position is especially tricky.
It is obvious the Eagles need to generate more pressure on quarterbacks from their edge rushers. In their two biggest games of the season -- the NFC East clinching win in Dallas and the playoff loss to New Orleans -- the Eagles did not put nearly enough pressure on
Kyle Orton
and
Drew Brees
.
And since that's our final impression of the team, it resonates. But when you look at the individual players involved, things begin to get murkier.
Trent Cole
was rightly praised for making the difficult transition from defensive end, where he was a Pro Bowl-level player for his entire previous career, to outside linebacker. Cole had zero sacks in the Eagles' first eight games, then had eight in the second half of the season.
Does that mean he grew more comfortable in his new role? Partly. But it also appears that defensive coordinator Bill Davis simply used Cole more often in familiar situations. He did drop into coverage at times, and Cole was always an eager and aggressive run defender, but Cole rushed the passer much more than his counterpart on the outside,
Connor Barwin
.
As the season progressed and Davis came to understand his players better, he used Barwin to do the less glamorous tasks. He rushed the passer less and dropped into coverage more. Barwin even lined up at cornerback against big receivers like
Larry Fitzgerald
, jamming them at the line and then sliding into shallow zone coverage.
In a perfect world, Davis would surely like a group of versatile linebackers equally capable of covering backs and tight ends or rushing the quarterback. That would give him more options when devising alignments and calling plays. As it is, he is camouflaging one player's limitations by limiting another player.
There's nothing unusual about that, especially when a team is caught in a transition such as the 2013 Eagles were. Cole and
Brandon Graham
, two 4-3 defensive ends, tried to adjust their games (and their bodies) to fit as 3-4 outside linebackers. They did better than expected, but they remained most effective within their comfort zone – rushing the passer.
The Eagles can hold on to Cole and Graham throughout free agency and the draft, then make decisions on them depending on what happens.
It's hard to imagine the Eagles throwing big money at Washington's
Brian Orakpo
, arguably the best outside linebacker on the market. But if Pittsburgh doesn't commit to
Jason Worilds
, who started ahead of first-round pick
Jarvis Jones
in 2013, he could be an interesting name to watch. After all, Davis made it clear that his model is the Steelers 3-4 defense. Worilds is already ahead of the learning curve.
The draft could provide help, as well. Stanford's Trent Murphy and Ohio State's Ryan Shazier could be around when the Eagles are on the board with the 22nd pick of the first round.
It isn't a bad spot to be in. If Graham and, especially, Cole are back next season, the Eagles can still pick up where they left off in the second half of 2013. If they can get younger and more versatile at the outside linebacker position, Barwin will be freed up to have even more of an impact. That would make the long-term prognosis for this defense even brighter.
January, 31, 2014
1/31/14
1:00
PM ET
PHILADELPHIA -- It is a word the Eagles hated using for years and it's a word that doesn't really apply to the franchise now, just one year into Chip Kelly's tenure.
Rebuilding.
In evaluating the decline of the team in Andy Reid's final years, Eagles owner Jeff Lurie and general manager Howie Roseman have said the big mistake was thinking the team was always one move away from a championship. In trying to make that one decisive win-now move, the Eagles instead made mistakes that weakened their infrastructure.
[+] Enlarge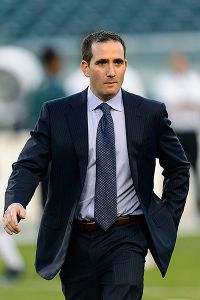 Howard Smith/USA TODAY SportsGM Howie Roseman has said the Eagles will avoid lavish free-agent deals.
But it would also be a mistake to go too far the other way. The Eagles are not a rebuilding team right now. They were 10-6 and are defending NFC East champions. They have an offensive team with key skill players in the prime of their careers:
LeSean McCoy
,
DeSean Jackson
and
Brent Celek
. The offensive line, which is vital to the team's success, has three starters over the age of 30.
The goal should be simple: Keep adding talent around those core players until the Eagles are at the elite level of the teams that will play in the Super Bowl Sunday. That means using every tool available, including spending money on free agents when it is warranted.
The
Denver Broncos
weren't exactly thinking about a five-year plan when they signed
Peyton Manning
two years ago. The
Seattle Seahawks
splurged on a quarterback in free agency that same offseason. They signed Green Bay's
Matt Flynn
to a three-year, $26 million contract.
Manning had one of the great seasons ever and will start for the Broncos Sunday. Flynn is back in Green Bay as a backup.
Russell Wilson
became Seattle's starter and quickly emerged as one of the top young quarterbacks in the NFL.
If the Broncos had ruled out high-priced, quick-fix free agents, the Patriots would be in the Super Bowl. If the Seahawks had avoided drafting a quarterback that high after signing Flynn, San Francisco or New Orleans would be preparing for
Tom Brady
.
This isn't to say the Eagles should go crazy and throw big money at every flavor-of-the-month free agent on the market. But they also shouldn't rule out the occasional bold move. Yes, they were burned by
Nnamdi Asomugha
a few years back, but Reid's era of success was made possible partly by acquisitions like
Hugh Douglas
(in a trade, with a new contract included),
Jon Runyan
and, well, let's just admit it,
Terrell Owens
.
Roseman has said repeatedly that the Eagles will avoid huge free-agent deals. That would seem to rule out difference-making players like Washington linebacker
Brian Orakpo
and safeties
Jairus Byrd
of Buffalo and
T.J. Ward
of Cleveland.
And that's fine, provided the Eagles are able to obtain high-quality players in other ways. Seattle got 16-1/2 sacks in the 2013 season from free-agent pickups
Cliff Avril
(two years, $13 million) and
Michael Bennett
(one year, $5 million). Smart shopping is the key, whatever the price tag.
The key point is that the Eagles didn't make a mistake by signing marquee free agents. They made mistakes in player evaluation in both free agency and the draft. You don't stop drafting because you selected
Danny Watkins
and
Jaiquawn Jarrett
, so you shouldn't rule out free agency because you signed Asomugha and
Vince Young
.
The Eagles made huge strides in one year because Kelly made excellent use of the considerable offensive talent he inherited, and because his overall approach in all phases reinvigorated a stale franchise. To make those next steps toward a championship-caliber team will require better players in a few key spots.
If Byrd, Orakpo or some other elite player can further that process, the Eagles shouldn't hesitate to go after him. There is no rebuilding, only building, and that process should be constant. The well-run organizations of the last decade understand that. The Eagles should know -- a few missteps aside, they're one of them.