Philadelphia Eagles:

Chris Clemons
March, 8, 2014
Mar 8
8:00
AM ET
We'll finally start to get some action and answers in free agency. Teams can begin contacting agents Saturday afternoon and completing deals on Tuesday.
Until then, let's find out what's on fans' minds. Thanks to everyone for their comments and questions. We got enough to break this up into two posts, so if your tweet isn't here, look for it later Saturday afternoon.
Without further ado:
March, 7, 2014
Mar 7
11:00
AM ET
»
AFC Free-Agency Primer
:
East
|
West
|
North
|
South
»
NFC
:
East
|
West
|
North
|
South
Key free agents:
QB
Michael Vick
, WR
Jason Avant
, S
Nate Allen
, P
Donnie Jones
, S
Kurt Coleman
.

Where they stand:
By keeping wide receivers
Riley Cooper
and
Jeremy Maclin
off the market, the Eagles assured their starting offense would look very much as it did in 2013. There are no obvious positions of need on that side of the ball that would likely be addressed in free agency. The defensive side is another matter. That unit made fine progress in its first year with coordinator Bill Davis' 3-4 scheme, but the Eagles need playmakers there, especially in the secondary. Having $20-25 million in salary-cap space gives them the flexibility to do whatever they choose.
What to expect:
GM Howie Roseman has repeatedly said he does not want to overpay in free agency, but the Eagles might have to go that route with a safety like
Jairus Byrd
,
T.J. Ward
or
Chris Clemons
. Going for bargains at that position just has not worked, and Roseman has acknowledged he doesn't want to get to the draft in dire need of a safety. There isn't a lot of depth at outside linebacker -- teams do their best to hold on to effective pass-rushers -- but Roseman could look for a second-tier guy there. It would not be surprising if the Eagles re-signed Jones and added a kicker in free agency to compete with, or flat-out replace,
Alex Henery
. Keep an eye on a return man, perhaps
Devin Hester
or
Dexter McCluster
.
March, 6, 2014
Mar 6
11:00
AM ET
The only player evaluations that matter, as far as the Eagles are concerned, are the ones done by general manager Howie Roseman and his staff.
The media-produced rankings of potential NFL free agents may not tell us much about what the Eagles are thinking. But the wide range of evaluations can provide insight into how wildly divergent different teams' opinions can be.
Let's take a look at the safety position, which figures to be an area the Eagles try to address. Buffalo's
Jairus Byrd
is generally considered the best safety available, but there are dissenting opinions.
Over at
NFL.com
, Byrd is listed as the No. 1 free agent available regardless of position. He is the only player tagged as a "difference-maker." On
ESPN Insider
, former NFL executive Bill Polian and his team have Byrd as the fourth-ranked safety.
Antoine Bethea
of the Colts, the only safety with an A grade, is rated the best safety on the market.
Polian has Miami's
Chris Clemons
as his second-ranked safety, with Cleveland's
T.J. Ward
third. NFL.com calls Clemons "a league-average starter," which would still make him an upgrade for the Eagles.
Over at
Pro Football Focus
, Byrd is rated the top safety and No. 2 free agent overall, behind only Seattle defensive end
Michael Bennett
. PFF rates Ward as the second best safety (No. 8 overall), while Clemons is No. 30 overall. Bethea, the top safety and a Grade-A player for Polian, is No. 61 overall on PFF's list and No. 51 on the NFL.com list.
PFF places Byrd in the same category as Seattle safety
Earl Thomas
. Considering the Seahawks just won the Super Bowl with Thomas as a key defensive player, it is likely many teams will make a run at Byrd in hopes of recreating that success.
Ultimately, Roseman and his personnel staff have graded players based on their game tape and how they project players in the Eagles' scheme. Cleveland's Ward is considered a better run defender, more of a strong safety type. Byrd is better at playing deep and at coverage, which was a huge problem area for the Eagles. Their pass defense was dead last in the NFL.
Malcolm Jenkins
of the Saints, a converted cornerback, might be a better fit than Ward, from the Eagles' perspective. And that's the bottom line here: The Eagles' perspective is the only one that will matter to them, and they haven't published their opinions on the Internet.
March, 3, 2014
Mar 3
7:15
PM ET
The Eagles haven't exactly advertised their free-agency plans, which is understandable. Now that the deadline for franchise and transition tags has passed, all we can say is that their plans likely haven't changed much.
Washington linebacker
Brian Orakpo
had the franchise tag placed on him. That takes him off the list of possible targets for the Eagles, but the odds were against them making a play for Orakpo. He is exactly the kind of free agent -- a guy who could command more money than his production warrants -- that general manager Howie Roseman has said the team is not interested in.
(That said, he's also exactly the kind of player that fans and media like to speculate about. Orakpo would be a perfect edge pass rusher in the Eagles 3-4 defense and signing him would mean not facing him twice a year.)
Worilds
Another player that has been discussed as a possibility for the Eagles is Pittsburgh linebacker
Jason Worilds
. The Steelers placed the transition tag on Worilds, which means only that they would have the right to match any offer he receives.
If the Eagles were planning to take a shot at Worilds, that shouldn't slow them down. The Steelers do not have the cap space to match a carefully designed offer sheet. Indeed, to keep Worilds, Pittsburgh may have to release other players to create cap space. If
LaMarr Woodley
is a casualty, he could be a nice consolation prize. Bottom line: There just aren't that many pass rushers worth pursuing in free agency.
Eagles defensive coordinator Bill Davis has often cited the Steelers' Dick LeBeau-coached defense as his model. It stands to reason Davis could use a big-time player who is already schooled in that style of play.
Neither of the top safeties were tagged, which makes for an intriguing scenario when free agency opens. Buffalo's
Jairus Byrd
and Cleveland
T.J. Ward
will be on the market. Both are 27. Both have been to the Pro Bowl. Either would be the Eagles' best safety since
Brian Dawkins
.
Is Roseman willing to make Byrd the highest paid safety in the NFL? That's what it will take? Would he make a run at Ward, who knows Davis from his stint in Cleveland?
Even if Ward and Byrd are not on Roseman's list, their presence in the market has a ripple effect. They will attract immediate attention from teams desperate for safety help. That will leave the next tier -- safeties like Miami's
Chris Clemons
and Carolina's
Mike Mitchell
-- for the Eagles to approach if that's the way they choose to go.
March, 1, 2014
Mar 1
8:00
AM ET
PHILADELPHIA -- Welcome to March. Within a couple weeks, we should start to have real answers to many of our questions about what the
Philadelphia Eagles
might do in free agency.
Until then, we get to speculate and discuss. Let's get right to some questions delivered in our Twitter mailbag (hashtag 'em #espneagles so I can find them). Thanks to everyone who participated. Some good stuff to tackle:
.
February, 21, 2014
Feb 21
4:30
PM ET
PHILADELPHIA -- The Eagles could wind up settling for a "stopgap" at safety in free agency, general manager Howie Roseman told reporters at the combine in Indianapolis.

Well, that would keep their streak alive. Roseman signed veterans
Patrick Chung
and
Kenny Phillips
last offseason. They followed in the soft footsteps of
Jarrad Page
,
Marlin Jackson
,
Sean Jones
and all the other stopgap safeties that have passed through Philadelphia in recent years.
It would seem like a good time to try the other way, especially with some very good safeties scheduled to hit free agency. Pro Football Focus published
its top-10 free agent safeties
Friday. It must be noted that
Nate Allen
, who started every game for the Eagles in 2013, is not on it at all.
PFF rates Buffalo's
Jairus Byrd
ahead of Cleveland's
T.J. Ward
. Frankly, I'd lean toward Ward if both players actually get to the market. He seems like the perfect blend of intimidating run stopper and solid pass defender. Byrd has a rep as more of a big play guy, but Ward would immediately be the best Eagles safety since
Brian Dawkins
left.
Chip Kelly happens to know both Byrd and Ward personally, since they played at Oregon when he was there.
Donte Whitner
is third on the PFF list, but it is considered very unlikely Whitner will leave San Francisco. If he hits the market, he would likely be looking for the kind of bank-busting contract the Eagles are reluctant to hand out.
PFF's No. 4-ranked safety, Miami's
Chris Clemons
, personifies the risk/reward of settling for bargain-priced stopgaps. Clemons was available last year. He signed a one-year deal with the Dolphins when no market developed for his services. It is safe to say he would have been a better signing than Chung, who lost his starting job early in the season, or Phillips, who was released during training camp.
If the Eagles do go with the stopgap type, veterans
Bernard Pollard
and
Antoine Bethea
could be options. They're the types who could help develop a rookie taken in the draft -- unfortunately, the Eagles won't know until May whether such a rookie exists.
Of course, if they're looking for a stopgap, there's always Allen.
February, 17, 2014
Feb 17
2:30
PM ET
PHILADELPHIA -- Since Eagles general manager Howie Roseman said the team would like to address the safety position before the draft -- in other words, during free agency -- he couldn't be certain what the market would look like.
He still can't. But as other teams clear roster spots (and cap space) and with the window open for using franchise and transition tags now open, there is more clarity every day.
Two of the elite safeties due for free agency, Cleveland's
T.J. Ward
and Buffalo's
Jairus Byrd
, could be tagged. That would not only take them off the market, it would have a domino effect on the players who do hit free agency. A guy like Miami's
Chris Clemons
might command more money than he would if Ward and Byrd were in the market.
And then there's San Francisco's
Donte Whitner
. The 49ers want him back, but it might be tougher to negotiate a new deal without using a tag on him if he is by far the best safety available.
Judging by Roseman's comments, he isn't likely to get in a mad bidding war for the hot commodity. The Eagles' recent approach has been to look for value among players in the second tier, after the market settles a little bit.
In that sense, the picture has improved for the Eagles in recent days. New Orleans released
Roman Harper
and Detroit parted ways with
Louis Delmas
late last week. Whether they are good fits in Philadelphia or not, they add to the pool of available talent and create more options.
Delmas is an interesting possibility. He is only 27, same as Ward and Byrd. He is a relatively physical player who has had some knee trouble. That could actually help keep his asking price down, which might make him that much more appealing to the Eagles.
Delmas was taken one pick ahead of
Patrick Chung
in the 2009 draft. But then, the Eagles took
Nate Allen
one pick ahead of Ward in the 2010 draft.
Allen and Chung finished the season as the Eagles' starting safeties. Rookie
Earl Wolff
had taken Chung's starting job before injuring his knee in Green Bay in October.
Allen will be an unrestricted free agent, as will safeties/special-teamers
Kurt Coleman
and
Colt Anderson
. With the Eagles lukewarm on Chung, there could be as many as four roster spots open for safeties.
Roseman said recently that he doesn't want to go into the draft with a gaping hole on his roster. That, he said, leads to mistakes as teams reach for a position of need. So it is likely the Eagles will look to add safeties in free agency. The market is shaping up.
February, 5, 2014
Feb 5
8:00
AM ET
PHILADELPHIA -- The secondary was already the
Philadelphia Eagles
' most obvious need area. After watching the NFL postseason, especially the Super Bowl, that need looked even more glaring.
Put another way: The Eagles got by with their secondary in 2013. Elite defenses do better than get by. Their safeties and cornerbacks are impact players.
Let's look at the more dire safety situation first. We'll address the cornerback position in a separate post.
Good safeties have been as elusive as unicorns for the Eagles since Brian Dawkins' unfortunate departure five years ago. (Say that out loud: Dawk's been gone for five years.) They have tried nearly everything to fill that void: second-round draft picks, second-day draft picks, midlevel free agents.
[+] Enlarge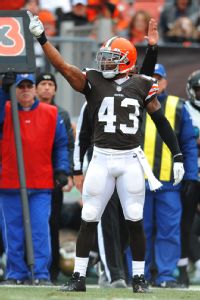 David Dermer/Diamond Images/Getty ImagesIt might be time for the Eagles to pursue a starting safety in free agency, like Cleveland's T.J. Ward.
As it happens, three of the safeties on the Eagles' roster are to become unrestricted free agents next month: starter
Nate Allen
, former starter
Kurt Coleman
, and special-teamer
Colt Anderson
.
That should be viewed as an opportunity more than a problem. By doing nothing, the Eagles can start the process of turning over this part of their roster. They can really turn the page if they release
Patrick Chung
, who lost his starting job twice during the season.
That would leave
Earl Wolff
, last year's fifth-round draft pick and the guy who took Chung's job before getting hurt, and
Keelan Johnson
as the only two safeties on the roster.
When we said the Eagles have tried nearly everything, it's because the one thing they haven't done is sign a top-level free agent. For years, the Eagles rated the safety position fairly low on their list of priorities. Dawkins was a homegrown superstar who transcended the position, but their emphasis was always on edge pass-rushers and cornerbacks.
General manager Howie Roseman has said the team will avoid splurging on big-ticket signings, and that is a reasonable position. But one reason the team has struggled to resolve the safety problem is its insistence on mediocre, small-ticket free agents. Chung and
Kenny Phillips
were last year's additions to a list that includes Sean Jones, Jarrad Page, Marlin Jackson and O.J. Atogwe.
Maybe Buffalo's
Jairus Byrd
or Cleveland's
T.J. Ward
will demand too much money to be options, but this might be the year the Eagles have to pay full-market price at this most challenging of positions. Miami's
Chris Clemons
might be a better value signing.
You could make a case for retaining Allen, who had his best season. Maybe spending more time in Bill Davis' defense will help Allen continue to grow. But the feeling here is that Allen personifies the concept of just getting by at the safety spot. The Eagles are not going to be a tough, hard-hitting, intimidating defense like Seattle or San Francisco by just getting by.
Sign one starter (Ward, preferably) and at least one veteran who can compete for playing time. Hope Wolff can lock down one starting position with a full offseason and some experience under his belt. Give Johnson a chance to earn a roster spot with special-teams play.
The timing is treacherous. If the Eagles allow Allen, Coleman and Anderson to walk, they will have to move quickly in free agency to fill at least a couple of those spots. They can hang on to Chung as security until they do. But the worst-case scenario is going into the draft in May with a desperate need for safety help.
The Eagles have done that before, and it has not ended well. But then, nothing they've done at safety has gone much better.
January, 17, 2014
Jan 17
6:00
PM ET
PHILADELPHIA – It makes for interesting discussion -- Manning vs. Brady, Kaepernick vs. Wilson -- but if you really want to know who will win Sunday's championship games, count the former Eagles.
Baseball has that thing about ex-Cubs never winning the World Series. The NFL playoffs, at least this offseason, have the Eagles jinx.
[+] Enlarge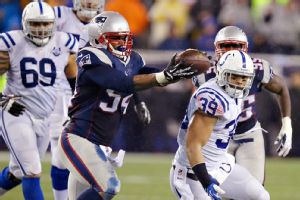 AP Photo/Stephan SavoiaWhat's a sure way to predict who won't advance in the playoffs? Just count the number of former Eagles -- such as the Colts' Stanley Havili (39) -- on the rosters.
It's simple enough. Whichever team has the most significant connection to the Eagles will lose. The formula has worked for six of the seven postseason games for which it was applicable.
Start with the first round. The Eagles obviously have the most significant Eagles connection of all. They lost to the Saints. Kansas City, coached by former Eagles head coach Andy Reid, lost to Indianapolis.
San Franscisco/Green Bay really is a push. Neither team has an ex-Eagle on its roster. But each has the brother of a current Eagle: San Francisco's
Garrett Celek
and Green Bay's
Clay Matthews
. The ex-Eagles jinx did not apply here.
The exception was San Diego's victory over Cincinnati. The Chargers have a handful of ex-Eagles, including tackle
King Dunlap
and running back
Ronnie Brown
. Apparently, the ex-Eagles jinx isn't as powerful as the
Andy Dalton
jinx.
In the second round, the jinx was a perfect four-for-four. Carolina, with ex-Eagles assistants Ron Rivera and
Sean McDermott
coaching a defense with
Quintin Mikell
at safety, lost at home to the Eagles-free 49ers. The Chargers' ex-Eagles caught up to them in a loss to Denver (
Dominique Rodgers-Cromartie
notwithstanding).
The Saints/Seahawks game was another close one. The Saints have
Brodrick Bunkley
, the Seahawks have
Chris Clemons
. Bunkley was a first-round pick and spent more time in Philadelphia. The Saints lost.
It was ex-Eagle
Stanley Havili
who bobbled a pass into the arms of a defender in the Colts' loss to New England. As if he needed to prove his genius one more time, Patriots coach Bill Belichick kept his only former Eagle,
Isaac Sopoaga
, on the inactive list.
If Belichick does the same Sunday, the Patriots will have the edge over the Rodgers-Cromartie laden Broncos.
In the NFC, the 49ers remain Eagles-free. Clemons, who spent two seasons in Philadelphia, puts the jinx squarely on the Seahawks.
If form holds, then, the 49ers will face the Patriots in the Super Bowl, and the outcome may depend on whether Sopoaga plays.
Preposterous, you say? About as preposterous as a franchise failing to win a single Super Bowl in the 48-year history of the game.