Philadelphia Eagles:

Christian Ponder
January, 27, 2014
Jan 27
3:45
PM ET
PHILADELPHIA – The Eagles officially announced the hiring of Bill Musgrave as their new quarterbacks coach Monday, a day after his primary pupil was named offensive MVP of the Pro Bowl.
Musgrave, 46, will be Nick Foles' third position coach in less than two calendar years in the NFL. Doug Pederson, the longtime NFL backup quarterback who worked with Foles in his rookie season, went with Andy Reid to Kansas City. Pederson is Reid's offensive coordinator.
Bill Lazor, who was hired from the University of Virginia last winter by Chip Kelly, moved on to become offensive coordinator of the
Miami Dolphins
. Lazor was the hands-on coach who worked directly with Foles through his breakout 2013 season.
Musgrave, who was offensive coordinator of the
Minnesota Vikings
for the past three years, takes on the task of keeping Foles' progression on track. It's a tricky assignment. Foles is unlikely to do much better than his 27-touchdown, two-interception season -- no one else ever has -- so Musgrave can't earn credit for molding the 25-year-old quarterback. If Foles falls too far back to earth, though, Musgrave could get undue blame for it.
That said, the Eagles situation must be preferable to what Musgrave faced in Minnesota, where
Christian Ponder
,
Matt Cassel
and
Josh Freeman
all started games in 2013.
Musgrave worked for the Eagles once before. He was hired by Ray Rhodes as a consultant in 1998, then installed as unofficial offensive coordinator during a disastrous 3-13 season. Since then, Musgrave has earned his stripes by working for Carolina, Jacksonville, Washington and Atlanta, where he coached both
Michael Vick
and
Matt Ryan
.
Like Lazor and offensive coordinator Pat Shurmur, Musgrave's roots are in the West Coast offense.
The Eagles also promoted Mike Dawson from defensive quality control coach to assistant defensive line coach. Dawson replaces Eric Chinander, who returned to Oregon after one season with the Eagles.
Michael Clay, a linebacker who played for Kelly at Oregon, joined the staff as a defensive quality control coach. Clay signed with the Dolphins last year as a rookie free agent but didn't make the team.
December, 12, 2013
12/12/13
3:00
PM ET
PHILADELPHIA – Every offense presents challenges for the opposing defensive coordinator. Ultimately, it is tougher to stop
Adrian Peterson
than to cope with playing the
Minnesota Vikings
without him.
Peterson
"We prepare like everybody is healthy," Eagles defensive coordinator Bill Davis said. "We prepare that all people that are in question, if we don't know if they are healthy, we're going to get their best, all of them are up, and we're going to prepare that way. And then we'll adjust as the week goes on and we get more information, just like we would during a game."
Last week, the Eagles prepared to face the
Detroit Lions
with
Reggie Bush
,
Calvin Johnson
and
Matthew Stafford
in what was forecast as a "wintry mix" of rain and snow flurries. Instead, the field was buried in snow and Bush was a late scratch due to his calf injury.
"If something happens to one of those guys during a game, we would adjust accordingly, like we did in this game where all of a sudden at the last minute Reggie Bush wasn't up," Davis said. "You just kind of prepare for all of them and then adjust as you go."
The Vikings present more variables than most. Peterson injured his foot last week. Backup
Toby Gerhart
has a hamstring injury and could be out or limited. The Vikings will start
Matt Cassel
at quarterback for the second week in a row.
Christian Ponder
started the six games before that, and
Josh Freeman
remains in the mix.
"When you watch Minnesota, their gameplan doesn't change if Adrian doesn't play and Toby goes in," Eagles head coach Chip Kelly said. "Toby's a similar type back. We're preparing as if he's going to play."
There is a bigger adjustment to the quarterback, Kelly said.
""I don't know if [the offense] changes much," he said. "I just think they both have a little bit different skill set in terms of what they do. The gist of what Coach [Bill] Musgrave is doing there offensively doesn't change."
It will have to change at least a little if Peterson and Gerhart are out or hampered by injuries. They are the only two running backs who have carried the ball for the Vikings all season.
With the running game in doubt, Musgrave will have to try to get the ball to wideouts
Cordarrelle Patterson
and
Greg Jennings
. They represent challenges, too, but nothing like a healthy Adrian Peterson.
November, 21, 2013
11/21/13
8:00
AM ET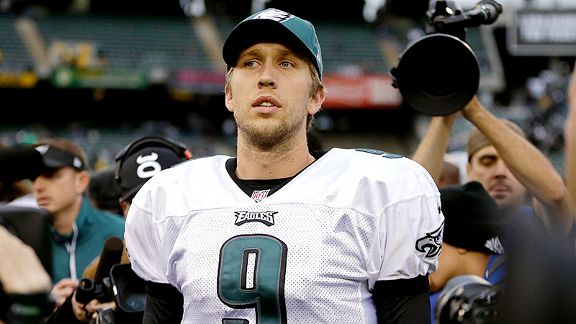 AP Photo/Ben MargotThe Eagles didn't pick him as one and don't pay him like one, but Nick Foles is playing like an elite QB.
PHILADELPHIA – Try this exercise. Imagine the
Philadelphia Eagles
took quarterback
Nick Foles
near the top of the 2013 NFL draft. Imagine he came to town with the expectation that he would be an elite franchise quarterback.
Now look at what Foles has accomplished this season. He has started five games. He has won four. He threw seven touchdown passes in a game, tying the NFL record. Overall, he has thrown 16 touchdowns and zero interceptions. His passer rating is 128.0, best in the NFL.
If he were
Andrew Luck
or
Robert Griffin III
, his team's fans would be over the moon with that kind of production. If he were
Sam Bradford
or
Brandon Weeden
or
Ryan Tannehill
, there would be full-fledged cults devoted to him.
In Philadelphia? There is a fascinating wait-and-see reaction to Foles' phenomenal 2013 season. Hours of talk radio are filled with discussion about whether Foles can be the Eagles' quarterback – for the season, for 2014, for the long haul.
There are good reasons for this, starting with the way coach Chip Kelly has handled the Eagles' quarterback situation. Veteran
Michael Vick
was Kelly's chosen quarterback after a training-camp competition. Since Vick was injured, even as Foles has put up the crazy numbers outlined above, Kelly has simply declined to say who his No. 1 quarterback is.
"I honestly really haven't thought about it," Foles said. "I don't know. Whatever he decides, wherever he goes, I'm in it 100 percent. I'll support whatever Chip says. I don't know how the talk will go or when it will be, but I'm all in for this team. Whatever's best for this team will always be the most important thing to me."
But it goes beyond Kelly's management of a tricky situation with the veteran Vick. Eagles fans have been down this road before:
Ty Detmer
,
Bobby Hoying
,
A.J. Feeley
and
Kevin Kolb
have raised hopes, only to disappoint and frustrate.
Kolb is the freshest wound. A second-round pick, Kolb started two games in place of the injured
Donovan McNabb
in 2009. He completed 55 of 85 passes for 718 yards and four touchdowns, with three interceptions. Kolb was the first quarterback in the history of the league to throw for more than 300 yards in each of his first two career starts.
Kolb did not become the Eagles' franchise quarterback. Neither did Feeley or Hoying or Detmer. Eagles fans are naturally skeptical of flash-in-the-pan quarterbacks. And when Foles delivered a truly terrible performance against Dallas in his second start of the season, that skepticism flared up.
Foles has played brilliantly since then, but he hasn't quite erased the memory of his Dallas dud. But there is one more compelling reason fans here haven't fully jumped on the Foles bandwagon. And it comes back to Kelly.
When Eagles owner Jeff Lurie and general manager Howie Roseman landed the Wizard of Oregon, the excitement was palpable. Kelly was going to bring his futuristic offense to Philadelphia. Surely there would be a dynamic quarterback sprinting all over the field and firing passes from the rocket launcher on his shoulder.
[+] Enlarge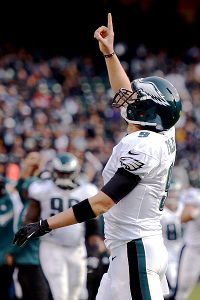 Kirby Lee/USA TODAY SportsDespite Nick Foles' great play, Eagles fans are at best cautious. They've been here before.
Foles was an afterthought. It isn't easy going from afterthought to hero. But the truth is, Kelly has said from the start that he could run his offense with Foles as his quarterback.
"It's always about the individual, so it doesn't matter what plays are called or what scheme is run," Kelly said. "They still have to be executed. I think he is executing them and all the credit goes to him. He spends a lot of time. He works extremely hard at it. He's got a really good grasp on what we're doing, extremely accurate in his throws. I think he's a really good decision-maker. It's exciting to see him grow here."
Kelly has praised Foles but, with Vick to consider, he hasn't really embraced him. Teammates who respect Vick as one of the great athletes ever to play the game are beginning to talk about Foles as a guy who just wins. Fans who keep waiting for the next Dallas dud are cautiously beginning to believe Foles just might be the guy.
For now, if not forever.
All of this puts the Eagles in a pretty good position. They didn't have to commit to Foles the way other franchises had to commit to Bradford or Tannehill or
Christian Ponder
or
EJ Manuel
. They wouldn't trade their situation with Foles for San Diego's with
Philip Rivers
, Dallas' with
Tony Romo
or Chicago's with
Jay Cutler
.
If Foles continues to play at an elite level, the Eagles will have filled the most important position in the game without taking a big risk. And if he goes the way of Kolb and Hoying and the rest, they won't be hamstrung by a huge contract and a wasted first-round pick.
Meanwhile, they have a quarterback who has gotten them into the playoff picture, earned a display in Canton for his seven-touchdown game and has no sense of entitlement.
"I never think that way," Foles said. "When you start thinking that way, you start getting complacent. Just because you do a lot of great things the week before doesn't mean you're going to go out there and do it again."
That's what the great ones do. Foles may not become one of them, but he at least has the chance.