Philadelphia Eagles:

Clifton Geathers
March, 6, 2014
Mar 6
8:00
AM ET
It is probably inevitable, as the
Philadelphia Eagles
rebound from the disappointing end of the Andy Reid era. The players who won't be around when Chip Kelly's program peaks aren't going to be highly coveted elsewhere in the league.
That is the impression you get when looking through
Bill Polian's Free Agent Tracker

on ESPN Insider. The longtime NFL executive, along with NFL Insider analysts Gary Horton, Matt Williamson and Field Yates, graded the players headed for the open market. The soon-to-be former Eagles didn't exactly make the dean's list.
Quarterback
Michael Vick
rates only a C-plus and this comment: "The offseason market for Vick will require a perfect system fit. He brings with him age and injury concerns, but if you're a team like Jacksonville or a team with a rookie QB coming out of the 2014 draft, he's a free agent who could buy time as a starter. He could also be a fit as a backup for a team like San Francisco or Seattle, where he could replicate some of the athletic traits possessed by
Colin Kaepernick
and
Russell Wilson
."
Funny to see Vick described as someone who can "replicate" the athleticism and mobility that he helped pioneer in the league. The lackluster evaluation makes you wonder if Vick will get that starting opportunity he covets.
Safety
Nate Allen
received a grade of C: "Allen is a free safety who is best suited for the box. He shows good instincts and awareness, and he is tough against the run and in underneath coverage. He lacks range over the top, however."
Allen is rated as "neutral" for all four categories rated -- speed, production, injury and character.
Defensive end
Clifton Geathers
was rated as "neutral" for all four as well. Geathers also got a C from Polian: "Geathers possesses a long body and good first-step quickness. His length allows him to be a good pass-rusher, but he doesn't have the explosive quickness of the top pass-rushers, nor the explosive run leverage of a power player. He's kind of a tweener but can be a good, solid backup."
Sounds right, and it wouldn't surprise me if the Eagles bring Geathers back once the market settles a bit.
Polian slapped D grades on safeties
Colt Anderson
and
Kurt Coleman
, as well as punter
Donnie Jones
. The grade on Jones is understandable if it is based on his entire career. Jones punted very well for the Eagles last year and could be signed to a new contract as soon as the new league year starts on Monday.
The highest-graded Eagles? Wide receivers
Riley Cooper
(B) and
Jeremy Maclin
(B-minus), who signed new contracts with the team last week. Maclin's grade was clearly lower because he's coming off a serious knee injury.
March, 3, 2014
Mar 3
12:45
PM ET
The Eagles' 2011 draft has long been filed under "D" for Disaster – ever since owner Jeffrey Lurie specifically absolved general manager Howie Roseman of blame for the picks made while then-coach Andy Reid had final say on personnel decisions.
Thornton
It is the top of the draft – first-round pick
Danny Watkins
and second-rounder
Jaiquawn Jarrett
– that rightfully draws the criticism. But the Eagles found the anchor for their offensive line, center
Jason Kelce
, in the sixth round of that draft. Kelce signed a seven-year contract last week that will keep him with the Eagles through 2020.
On Monday, the team signed defensive end
Cedric Thornton
to a one-year deal. Thornton was in that 2011 class, too. He wasn't even drafted, signing with the Eagles as a rookie free agent. Over the course of several defensive coordinators and a major scheme change, the 6-foot-4, 309-pound Thornton emerged as a reliable starter at defensive end.
Thornton was an exclusive rights player (the term "free agent" really doesn't fit), so it was all but a foregone conclusion that he would re-up with the Eagles.
The youth and flexibility along the defensive line give the Eagles plenty of options. They have Thornton, 25; nose tackle
Bennie Logan
, 24; and end
Fletcher Cox
, 23, at the top of the depth chart. Cox, their 2012 first-round pick, is the only one making a premium salary.
Clifton Geathers
,
Damion Square
and
Vinny Curry
rotated in and played situationally.
Thornton drew praise all season from coach Chip Kelly and defensive coordinator Bill Davis. He was ahead of the curve in converting from the 4-3 scheme to the 3-4 that Davis brought in. Pro Football Focus ranked Thornton third in the NFL among 3-4 defense ends as a run-stopper. Only Houston's
J.J. Watt
and the Jets'
Sheldon Richardson
graded higher.
Thornton's emergence gives the Eagles the luxury of addressing other areas as needed. But his relative affordability doesn't prohibit them from upgrading at the position if their draft board dictates they should take a defensive end.
The 2011 draft didn't go well for the Eagles, but that class provided them good players on both lines.
February, 28, 2014
Feb 28
11:15
AM ET
PHILADELPHIA -- When fans look at the
Philadelphia Eagles
' relatively short list of players due to become unrestricted free agents, names like
Michael Vick
and
Jeremy Maclin
jump out more than
Clifton Geathers
.
Geathers
That is understandable. The 6-foot-8, 340-pound defensive lineman played only 21 percent of the Eagles' defensive plays in 2013. He didn't register any sacks and was credited with four quarterback hurries.
But Geathers was typically used on running downs, and was part of a close-knit group of young defensive linemen who grew together under the tutelage of assistant coach Jerry Azzinaro. Is Geathers a must-sign, high-priority guy for GM Howie Roseman? Probably not.
But can he be a solid, depth guy who already knows the system? Geathers isn't likely to break the bank, and could very well be back with the Eagles in 2014.
On a line with a relatively light nose tackle -- 310-pound
Bennie Logan
-- Geathers can be an effective space-eater as a 3-4 end. In that sense, his 26 tackles don't necessarily reflect his performance. The system calls for the linemen to stand their ground and tie up blockers while the linebackers are freed up to make more tackles.
Geathers, 26, bounced around to six teams before the
Indianapolis Colts
traded him to the Eagles last year. He got the most playing time of his career and maybe found himself a home.
February, 11, 2014
Feb 11
8:00
AM ET
PHILADELPHIA -- If the question was whether or not Jerry Azzinaro's approach would work with NFL players, the answer wasn't quite what you might expect.
Sure, Azzinaro had the Eagles defensive linemen he coached hitting the blocking sled every day, working on fundamentals and reinforcing techniques. But if you were looking for veteran NFL linemen to resist, you were looking in the wrong place.
Defensive ends
Fletcher Cox
(23),
Cedric Thornton
(25) and nose tackle
Bennie Logan
(24) aren't much older than the players Azzinarro was coaching at Oregon before Chip Kelly brought him to Philadelphia. Cox, Thornton and
Clifton Geathers
each had one year of NFL experience. Logan and
Damion Square
had none.
[+] Enlarge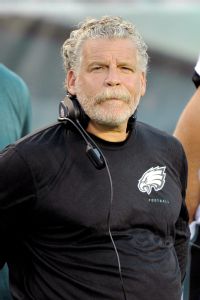 Drew Hallowell/Getty ImagesEagles defensive line coach Jerry Azzinaro had a young group to work with in 2013.
The only veteran, free-agent signing
Isaac Sopoaga
, was traded away in midseason to make room in the starting lineup for Logan.
Point is, the Eagles have a very young group of defensive linemen who quickly became an asset in their first season in Bill Davis' system. If the truism that players make their biggest improvement between Year 1 and Year 2 holds true, this group should be a real strength in 2014.
Cox, a first-round pick in 2012, took a little time to adjust to the two-gap system Davis and Azzinaro preferred. Simply put, he had to become responsibility for both sides of the offensive lineman in front of him instead of attacking one side or the other. It is a less intuitive way to play, but Cox steadily improved.
Those techniques allowed Thornton, an undrafted free agent, to establish himself as an impact player. Kelly and Davis routinely singled Thornton out as the Eagles' most productive and consistent defensive lineman.
Logan, a third-round pick last year, made Sopoaga expendable and started the rest of the year. Logan doesn't have the massive size associated with the nose tackle -- he goes about 310 pounds -- but is expected to add some bulk in the offseason.
Square, Geathers and
Vinny Curry
provided depth and played well in various situations.
The youth and potential along the defensive line put the Eagles in an enviable position as they continue to build their defense. If they find a bigger, more physical nose tackle in free agency or the draft, they can move Logan to end or rotate him in on passing downs. They don't have a pressing need for an end, but their rotation system means they can always use more depth and different types of linemen.
Davis sometimes uses a 4-3 look, allowing outside linebackers
Trent Cole
and
Brandon Graham
to rush from the more familiar three-point stance. As the Eagles defense evolves, with players selected to fit the system, Davis can be more creative and maximize the potential of his front seven.
Azzinaro is the guy in charge of getting that potential from the linemen. He couldn't have done much better in his first season.
January, 8, 2014
Jan 8
8:00
AM ET
PHILADELPHIA -- There is roster change every year for NFL teams. The
Philadelphia Eagles
find themselves in pretty good shape going into the 2014 offseason. They have control over most of their roster and can, for the most part, make only the changes they want.
Here's how the roster shapes up:

Unrestricted free agents:
Wide receivers
Riley Cooper
and
Jeremy Maclin
; safeties
Nate Allen
,
Kurt Coleman
and
Colt Anderson
; quarterback
Michael Vick
; defensive end
Clifton Geathers
, punter
Donnie Jones
.
The Eagles could lose all of those players without taking a major hit. That doesn't mean those players aren't valuable, merely that they're not irreplaceable. It's not as if
LeSean McCoy
or
Mychal Kendricks
or
Jason Kelce
were free to leave.
My guess is general manager Howie Roseman will make solid market offers to Cooper, Maclin, Allen, Geathers and Jones. He will not overpay for any of them. If some other team does, the Eagles will move on without the player in question.
Players due for contract extensions:
Defensive end
Cedric Thornton
(exclusive rights free agent) and center Jason Kelce.
Let's project to the year 2022. The 35-year-old Kelce announces he is playing his final season after 13 years with the Eagles. That's how things should go with this guy. He's smart, physical, athletic and exactly the kind of player teams should commit to. So yes, extend Kelce.
Thornton was one of the delightful surprises of 2013. An undrafted rookie from Southern Arkansas, he hung around for a couple years without anyone paying much mind. But he's living proof of Chip Kelly's no-expectations approach. Kelly judges based on what a player does, and Thornton was very good this year.
Players who could be gone:
Vick, Anderson, Coleman, wide receiver
Damaris Johnson
, kicker
Alex Henery
, linebacker
Brandon Graham
, safety
Patrick Chung
, linebacker
Phillip Hunt
(restricted free agent on IR), wide receiver
Arrelious Benn
, offensive lineman
Dennis Kelly
.
Mostly self-explanatory. Vick wants to find a place where he can start. Even if he doesn't, the Eagles really like
Matt Barkley
and may well prefer a younger (read: cheaper) No. 2 behind
Nick Foles
.
Henery will have competition for the kicking job next summer. Not sure he'll answer that bell. Graham belongs at end in a 4-3 defense and may get a chance to return to one. The Eagles tried to replace Chung over and over but injuries kept him in the lineup.
Johnson lost his return job and never played on offense. Anderson has been a solid special teams guy, but Kelly likes versatility and may prefer a replacement who can fill in on defense, too.
Veterans on the salary-cap bubble:
Tight end
Brent Celek
, linebacker
Trent Cole
, guard
Todd Herremans
, wide receiver
Jason Avant
. They are all good enough players to stay. That, not their cap numbers, should be the deciding factor.
Youth movement:
The Eagles signed their practice squad and one other player to futures contracts. They are linebackers
Emmanuel Acho
,
Josh Kaddu
and
Travis Long
; offensive tackle
Michael Bamiro
; defensive end Brandon Bair; wide receivers
Will Murphy
,
B.J. Cunningham
and
Ifeanyi Momah
, and tight end
Emil Igwenagu
.
The takeaway here: The Eagles staff spent a lot of time coaching these guys and one or three of them just might become contributors.
January, 3, 2014
Jan 3
3:00
PM ET
PHILADELPHIA -- It doesn't sound like much of a compliment, considering
Drew Brees
is one of the truly elite quarterbacks in the NFL.
"He kind of reminds me of
Kyle Orton
, but he's a little shorter," Eagles outside linebacker
Trent Cole
said.
For context, it must be remembered that Cole and the Eagles had played against Orton and the
Dallas Cowboys
just a few days earlier. They couldn't sack him because of his quick release. Orton threw for 358 yards and two touchdowns on 30-for-46 passing.
[+] Enlarge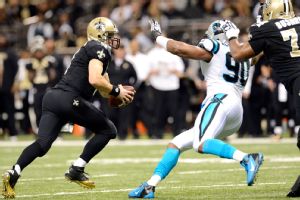 John David Mercer/USA TODAY SportsDisrupting Drew Brees' timing and preventing him from establishing a rhythm will be a key for the Eagles' defense.
So Cole wasn't slighting Brees in any way, simply talking about the challenge of getting to a quick-throwing quarterback.
"He's a rhythm quarterback and he gets the ball out," Cole said. "The scouting report says they've taken more sacks than usual this year. It's more us going out there and executing and being mistake-free. I think we can win this game."
The scouting report is correct. Brees was sacked 37 times during the 2013 season, 11 more sacks than he took in any other season with the Saints. Brees was sacked 21 times in eight road games and 16 times at home.
That said, the pass rush can be effective even if it doesn't result in sacks.
"You would love to get the sack," linebacker
Connor Barwin
said. "But you don't know how the game is going to go. We need to get pressure on him, that's for sure. We can't let him sit back there and play 7-on-7, because that's what he wants to do."
Defensive coordinator Bill Davis said that, despite the lack of sacks in Dallas, he thought the "pass rush has been pretty solid and I think it's a product of some of these turnovers that we're getting. It's not always sacks. I think we have our share of them and we are getting there. Looking at the tape from the other night, the ball coming out that quick, they say, 'Boy, the pass rush just wasn't on.' It's a different time set. It's a different time frame. It's much harder to get to those guys that the ball is out right away.
"And sometimes, if he had held on one more count, we would have had him, and that's why they get rid of it so quick."
The other half of the equation is coverage. The Saints will have five players running routes much of the time. Brees is terrific at quickly going through his series of options and making a quick decision. That makes disrupting timing and knocking receivers off their routes even more important than simply running with them in coverage. If that first and second read are not precisely where they should be, even Brees has to wait an extra second or two for someone to get open.
"We talked about it as a line," defensive end
Fletcher Cox
said. "Keep pressure in his face and try to make him scramble out of the pocket."
It might also be a good idea to keep their arms up. Cox, Barwin and
Cedric Thornton
are 6-foot-4. Defensive end Clifton Geathers is 6-8. Brees is generously listed at 6-foot -- which is to say, shorter than Kyle Orton.
December, 6, 2013
12/06/13
3:00
PM ET
PHILADELPHIA -- The
Philadelphia Eagles
will be without safety
Earl Wolff
again for Sunday's game against the
Detroit Lions
. Wolff (knee) and linebacker/special-teamer
Najee Goode
(hamstring) were both officially listed as out on the team's Friday injury report.
Defensive end
Clifton Geathers
' status is unknown. Geathers missed the past three days' worth of practices for unspecified personal reasons. The 6-foot-8, 340-pound Geathers has been on the field for 21 percent of the team's defensive plays this season.
Wolff will miss his third game after injuring his right knee in Green Bay last month. Veteran
Patrick Chung
, who has made as much impact crashing into teammates as opponents, will start in Wolff's place.
With Goode out, linebacker
Emmanuel Acho
has a chance to be active.
Wide receiver
Jeff Maehl
cleared the concussion protocol and was listed as probable. Tight end
Zach Ertz
(shoulder), defensive tackle
Bennie Logan
(neck) and defensive end
Damion Square
(back) were also listed as probable.
The Eagles have enjoyed good health all season. Coach Chip Kelly said the other day that it might be attributable to a combination of luck and the team's devotion to sports science.
"You break a bone, you break a bone," Kelly said. "I don't know if there is a science behind breaking a bone. There are certain injuries that it doesn't matter how fit you are, how trained you are, that if that happens, that happens. But I also think there are some little things we do on a weekly basis here from a training standpoint that I think has benefited us. So we'll continue. But it's not something that we can say if all of a sudden two or three guys get hurt next week you're like, 'You guys are wrong.' It's not. I think we're doing the right thing."
October, 30, 2013
10/30/13
3:00
PM ET
PHILADELPHIA -- Eagles coach Chip Kelly offered a bit more insight than usual into how he prepares his quarterbacks during the week.
That became an issue Sunday, when rookie quarterback
Matt Barkley
was forced into action for the second week in a row. Even though starter
Michael Vick
was nursing a cranky hamstring that had kept him sidelined for two weeks, Barkley got only the usual limited practice time with the first team.
Kelly's practices are closed to the media, so there is some uncertainty about how he conducts them.
"When you go into a game, your backup quarterback doesn't get a lot of snaps on a daily basis," Kelly said. "Today we have 60 snaps for our offense. Our starting quarterback will get 48 of them and our backup quarterback will get 12 of them."
Kelly received some criticism for calling a naked bootleg for Barkley on first-and-goal from the 2-yard line. Barkley revealed Tuesday that it was a play he'd never run in practice.
"He may not have run that play," Kelly said, "but it's a naked play. The route combination doesn't matter. We're always just trying to dress it up and do it in different ways. Has he run 'naked' since he's been here? Yes, he's run 'naked' since he's been here. There's a guy in the flat and a guy on the drag. Was it specifically that call? He may not have run that rep in practice."
Kelly said the offense runs four "low red zone" snaps in practice and the starter gets all four of them.
Ultimately, Kelly called a play that asked more than his rookie quarterback was capable of handling, and a turnover resulted.
Serving youth:
The trade of
Isaac Sopoaga
Tuesday was more about the young players behind the veteran nose tackle, Kelly said.
"We felt like we had a couple of younger guys that we had to continue to get in there," Kelly said. "
Clifton Geathers
is a great example. He played 13 snaps on Sunday against the Giants and he had three contacts with the ball. He's a guy that just keeps getting better.
Bennie Logan
is a guy we need to see more of.
Damion Square
is a guy who was up for the first two games -- when you watch practice, Square, Logan and Geathers need more reps."
Sopoaga was credited with 18 tackles, one for a loss, and three quarterback hurries in eight games. The 32-year-old was dealt to New England before the trade deadline, along with a sixth-round draft pick, in exchange for a fifth-round pick.
No tear for Vick:
Kelly said the MRI of Vick's left hamstring showed no new injury or more severe tear.
"It's hurt in the same spot," Kelly said. "We'll monitor it and see how he goes. I don't anticipate Mike being able to play this week. The one thing I know about Mike is he's unbelievable when it comes to rehab and listening to [the medical staff]. There's nothing new from what happened last time."
October, 29, 2013
10/29/13
4:35
PM ET
PHILADELPHIA – When Eagles head coach Chip Kelly was asked to name some defensive players who excelled in Sunday's loss to Dallas, he volunteered three defensive linemen:
Fletcher Cox
, who is 22;
Cedric Thornton
, 25, and
Clifton Geathers
, 25.
Considering the Eagles play a 3-4 defense, that was probably a hint that 32-year-old nose tackle
Isaac Sopoaga
had become expendable. The Eagles proved that Tuesday,
trading Sopoaga and a sixth-round pick
in the 2014 to New England for a fifth-round pick.
The compensation – basically a late pick for another late pick -- tells the story. The Eagles effectively dumped Sopoaga, the former San Francisco 49er who signed a three-year contract with a $2.75 million bonus and $1 million salary for 2013. The Patriots will owe Sopoaga $529,000 (nine weeks' worth) in salary for this year.
Sopoaga was credited with a total of 18 tackles in eight games with the Eagles.
After signing Sopoaga, the Eagles drafted defensive tackle
Bennie Logan
in the third round of the 2013 draft. Sopoaga played 49 snaps against the Giants Sunday, Logan just 11. Clearly, the Eagles feel Logan and
Damion Square
, who has been inactive, can give them at least the same production as Sopoaga.
The Eagles have a similar redundancy at tight end. They signed free agent
James Casey
to a three-year, $12-million deal, which included $3.3 million up front. Then they drafted
Zach Ertz
in the second round, making Casey an expensive special teams player. Ertz played 27 offensive snaps against the Giants, Casey just seven.