Philadelphia Eagles:

Cordarelle Patterson
February, 12, 2014
2/12/14
8:00
AM ET
PHILADELPHIA -- We've looked at the Eagles defense position-by-position, with a special focus on areas of offseason need. Before we get to the offense, it's worth discussing any underrated area that could use some upgrading in free agency and the draft.
Special teams -- in this case, the return game.

The Eagles ranked 26th in the NFL with an average kickoff return of 21.4 yards and 27th with an average punt return of just 6.6 yards. That's just not good enough. With such an emphasis placed on field position, in fact, it's almost embarrassing.
Damaris Johnson
is not the sole reason, although his late-season disappearance suggests that head coach Chip Kelly and special teams coach Dave Fipp were not satisfied with his work. Johnson was the primary return man in the first half of the season and was barely used in the second half.
Brandon Boykin
and
Brad Smith
took over the kickoff return duties. Neither did appreciably better than Johnson, who averaged 25.9 yards per return.
DeSean Jackson
was the other punt returner. He averaged 5.1 yards per return, more than 3 yards less than Johnson's 8.3 yard average.
Conclusion: Boykin led the team in interceptions as the nickel cornerback. Jackson was the team's leading wide receiver. Players who are that involved in the offense and defense just aren't as committed in the return game. As for Smith, he was a midseason pickup who never really showed much.
So the Eagles could very much use a fast, dynamic return specialist. It might not be as glaring a need as safety, for example, but it's up there pretty high.
Chicago's
Devin Hester
is scheduled to be an unrestricted free agent. Hester is still a scary returner who handles punts and kickoffs. He's also 31 and not much of a factor as a wide receiver.
Ideally, the Eagles would be able to draft a player like
Cordarrelle Patterson
, the rookie wide receiver who burst into the league as an impact return man for Minnesota. Patterson was the guy who prompted the Eagles to kick short to disastrous effect in their game against the Vikings.
Guys like Patterson aren't easy to find, but the Eagles could well find themselves drafting a wide receiver in the first or second round. LSU wide receiver
Odell Beckham Jr.
averaged 26.4 yards per kickoff return and 8.4 yards per punt return. ESPN expert Mel Kiper Jr. had the Eagles taking Beckham in the first round in his recent mock draft.
Returners aren't solo artists. It takes sound blocking schemes and good coaching for a return game to be consistently dangerous. But a home-run hitter in the lead role is a good place to start.
There are three levels of special teams -- the kind that break down and cost your team games, the kind that are competent enough to go mostly unnoticed and the kind that make big plays and steal you a win or two.
The Eagles are in that middle area. They clearly want to get to the third level, and a game-breaking return man would be a huge step in that direction.
January, 9, 2014
1/09/14
8:00
AM ET
PHILADELPHIA -- The good news for
Philadelphia Eagles
coach Chip Kelly is he doesn't have to spend the next couple months traveling to high school kids' homes and recruiting them.
The bad news?
"It's a different league," Kelly said. "This isn't recruiting where you can go out and offer and try to get them to come. There's a selection in the draft process and we're not going to pick until the 22nd [spot in the first round]. There's 21 other guys that we may covet, but we don't have an opportunity to get them."
If a team drafted 22d every year and did well, it could be awfully good. Based on the last 10 years, drafting only players taken between No. 22 and No. 32 (the end of the first round), a team could have
Aaron Rodgers
at quarterback, wide receivers
Dez Bryant
and
Santonio Holmes
, running backs
Steven Jackson
and
Chris Johnson
, linebackers
Clay Matthews
and
Nick Perry
, safety
Brandon Meriweather
and defensive linemen
Cameron Jordan
and
Sharrif Floyd
.
You could do worse. Plenty of teams did do worse. Cleveland took two quarterbacks,
Brady Quinn
and
Brandon Weeden
, at No. 22.
Later we'll look at some possible players the Eagles could consider at No. 22 in this year's draft. For now, here's a quick look at the 22nd pick in each of the past 10 NFL drafts, along with a few players that were on the board at the time (I didn't go beyond the end of the first round out of fairness; just looking at first-round graded players):
2013: Cornerback
Desmond Trufant
from Washington, selected by Atlanta.
On the board: Defensive tackle Sharrif Floyd, WR/Returner
Cordarrelle Patterson
, defensive end
Datone Jones
.
2012: Quarterback Brandon Weeden from Oklahoma State, selected by Cleveland.
On the board: Linebackers
Dont'a Hightower
and Nick Perry, running back
Doug Martin
.
2011: Offensive tackle
Anthony Castonzo
from Boston College, selected by Indianapolis.
On the board: Offensive lineman
Danny Watkins
, defensive end Cameron Jordan, running back
Mark Ingram
.
2010: Wide receiver
Demaryius Thomas
from Georgia Tech, selected by Denver.
On the board: Wide receiver Dez Bryant, quarterback
Tim Tebow
, cornerback
Devin McCourty
.
2009: Wide receiver
Percy Harvin
from Florida, selected by Minnesota.
On the board: Offensive tackle
Michael Oher
, cornerback
Vontae Davis
, linebacker Clay Matthews.
2008: RB
Felix Jones
from Arkansas, selected by Dallas.
On the board: Running backs
Rashard Mendenhall
and Chris Johnson, cornerback
Mike Jenkins
.
2007: Quarterback Brady Quinn from Notre Dame, selected by Cleveland.
On the board: Wide receiver
Dwayne Bowe
, safety Brandon Meriweather, linebackers
Jon Beason
and
Anthony Spencer
, offensive tackle
Joe Staley
.
2006: Linebacker
Manny Lawson
from N.C. State, selected by San Francisco.
On the board: Offensive lineman
Davin Joseph
, wide receiver Santonio Holmes, running back
DeAngelo Williams
, defensive end
Mathias Kiwanuka
.
2005: Wide receiver
Mark Clayton
from Oklahoma, selected by Baltimore.
On the board: Cornerback
Fabian Washington
, quarterback Aaron Rodgers, wide receiver
Roddy White
.
2004: Quarterback
J.P. Losman
from Tulane, selected by Buffalo.
On the board: Defensive tackle
Marcus Tubbs
, running back Steven Jackson, defensive end
Jason Babin
.
December, 16, 2013
12/16/13
6:00
PM ET
PHILADELPHIA -- Eagles coach Chip Kelly has a pretty consistent view of strategies and play calls. If it works, it's smart. If it fails, it was stupid.
By that measure, Sunday's plan to kick off to the middle of the field to take
Minnesota Vikings
return man
Cordarrelle Patterson
out of the game wasn't exactly ingenius. For the previous 13 games, the Eagles' opponents started their possessions on the 24-yard line after kickoffs.
The Vikings' average start was their own 34. In essence, the Eagles' plan gave Minnesota a free first down's worth of extra yardage to begin every season.
But Kelly looked at it differently. The Vikings' average start with Patterson returning the ball is their own 29. Viewed that way, the Eagles sacrificed just four yards per possession in order to eliminate the possibility of Patterson breaking a long return.
"When you play the Vikings, you have to kick the ball out of the end zone," Kelly said. "Because Patterson's going to return it. He's got a 109-yard kickoff return to his credit this year. He's the most dynamic returner in the National Football League statistically. So that is the type of guy he is. You have to get the ball out of the end zone if he's not going to return it."
In pregame warmups, Kelly said, kicker
Alex Henery
was not able to get it through the end zone consistently.
"He's five or six yards deep in the end zone, so those are coming out just based upon that," Kelly said.
The issue is relevant because Chicago's
Devin Hester
is a very dangerous return man, too. And Henery won't be kicking in a climate-controlled, wind-free dome on Sunday night. He'll be kicking in Lincoln Financial Field.
Kelly said the Eagles hadn't decided on their approach to Hester yet.
"It's more than just a returner," Kelly said. "How do they block it? What are the other 10 guys doing? There is more involved than who the guy is."
Kelly can add one more question: Did the strategy work in Minnesota? If he answers yes, then it makes sense to repeat it. The guess here is that the answer will be no. Kelly knows the difference between smart and stupid.
December, 16, 2013
12/16/13
8:00
AM ET
MINNEAPOLIS -- A review of four issues raised by the
Philadelphia Eagles
' 48-30 loss to the
Minnesota Vikings
on Sunday.
It seemed like a good idea at the time:
Minnesota kick returner
Cordarrelle Patterson
is dangerous, so the Eagles decided to use short kickoffs that would be fielded by other members of the Vikings' return team.
"It was a game plan, just like an offensive or defensive game plan," cornerback and special teamer
Roc Carmichael
said. "We worked on it all week. We wanted to keep the ball out of (Patterson's) hands. He's a dynamic guy. We felt we could do better kicking it to the tight ends or fullbacks or those up guys."
The strategy gave the Vikings consistently good field position. After kickoffs, they started drives at their 25, 38, 25, 34 and 46, respectively. If
Alex Henery
had simply kicked the ball out of the end zone, as Minnesota's
Blair Walsh
did seven times, the Vikings would have started on their 20 each time.
"Even if you do kick it deep," Eagles coach Chip Kelly said, "he takes it out. He's got a 109-yard kickoff return. We knew how dangerous he was, and we were just trying to keep the ball away from him."
[+] Enlarge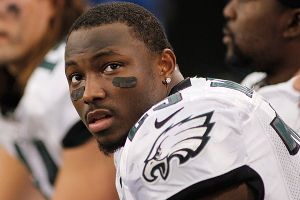 AP Photo/Andy KingIt was a long day in Minnesota on Sunday for running back LeSean McCoy and the Eagles.
Fourth-and-a-half-yard:
Kelly made one good point about his decision to go for it on fourth down at his own 24-yard line in the third quarter.
"You have to think on fourth-and-a-half-a-yard, we can get a half a yard," Kelly said.
But
LeSean McCoy
's dive over left guard fell short. Kelly challenged the spot -- in for a penny, in for a pound -- and wound up losing a timeout.
"It started as a combination block with me and Evan (Mathis)," center
Jason Kelce
said. "The 'backers are flowing hard to their gaps, so you can't stay on the double-team that long. When he left, I started pushing my guy to the left. Shady tried to hit that hole. It looked like he just dove forward. I'm not sure why we didn't get it."
It was McCoy's second try to pick up that single yard. On third-and-1, he was stopped on a run around right end.
"We shouldn't have been in that situation," Kelce said, "if we did a better job on third down. We had a good play called, I thought. I was pulling. I got picked by one of the blocks inside. That made LeSean bounce it outside."
Trying too hard:
Eagles quarterback
Nick Foles
prides himself on being a team-first guy. So when he had to block a linebacker on a reverse, he didn't settle for the usual quarterback patty-cake block. He dove in an attempt to take the player out.
"In the heat of battle, I made a mistake," Foles said. "I made a block that I thought would help the team. You cannot turn back on someone and do that. I am at fault and the referee made the correct call."
The penalty for an illegal peel-back block negated
DeSean Jackson
's touchdown. The Eagles instead kicked a field goal. The irony is that the pattycake block -- just getting in front of the defender -- would have been effective in springing Jackson.
"He has to seal that guy," Kelly said. "I don't think he had to cut him."
Unraveling:
Things got messy for the Eagles toward the end of the game.
Jackson made a great run after a short pass from Foles, making five defenders miss for a 51-yard gain to the Minnesota 4-yard line. The normally up-tempo Eagles couldn't get a play off before the clock ran down and were flagged for delay of game.
After Foles' 16-yard touchdown pass to
Jason Avant
made it 41-28, the kicking team started on the field. Kelly had to waste a timeout to set up for the two-point conversion.
"It was just a miscommunication upstairs," Kelly said. "We should have gone for two, and that's on me."
Then there was the wave of penalties: Carmichael for taunting,
Patrick Chung
and
Cary Williams
for unnecessary roughness, Carmichael for 30 yards for pass interference.
Carmichael said he and Vikings wide receiver
Rodney Smith
had been going back and forth all game on special teams.
"I told him it was going to be a long day," Carmichael said. "I turned around and there was a flag. It's part of the game."
Williams didn't talk to reporters after the game.
December, 15, 2013
12/15/13
10:00
PM ET
MINNEAPOLIS -- The demolition in Denver made sense.
Peyton Manning
at the top of his game shredded a still-learning Eagles defense in a 52-20 Broncos rout.
But the meltdown in Minneapolis? Against a Vikings team with a journeyman quarterback and without
Adrian Peterson
? Nobody saw that coming, and when the 48-30 beating was over, nobody seemed able to explain how a defense that held nine consecutive opponents to 21 or fewer points got dismantled so thoroughly.
"I wish I had better answers for you," defensive coordinator Bill Davis said.
[+] Enlarge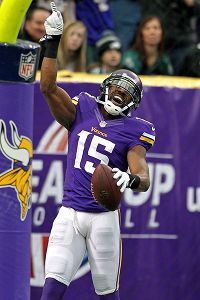 Brace Hemmelgarn/USA TODAY SportsGreg Jennings said he's confident that Norv Turner's scheme will help make the Vikings' offense more potent than in recent seasons.
"They just made more plays than we did," Eagles safety
Nate Allen
said.
Matt Cassel
completed his first eight passes, finishing 26-of-35 for 382 yards and two touchdowns.
Greg Jennings
caught 11 of those passes for 163 yards, including a 57-yard touchdown.
Matt Asiata
, who hadn't touched the ball in a game all season, ran for three touchdowns.
It added up to the most points surrendered by an Eagles defense since Oct. 30, 2005, when the Broncos scored 49 points. Denver scored two special-teams touchdowns in their 52-20 win in September.
"I do not know if we were overlooking them or did not take it seriously," Eagles linebacker
Connor Barwin
said. "I don't know what happened, but whatever we did was not good enough going into this game."
The Eagles have made it a priority to avoid giving up big plays. Cassel found Jennings streaking behind Allen and
Patrick Chung
in the first quarter for that 57-yard score. The Eagles gave up four passes of 20 yards or more, the most they allowed since a game against Carolina last year, according to ESPN Stats & Information.
Chung, who lost his starting job to rookie
Earl Wolff
earlier in the season, was benched in favor of
Kurt Coleman
.
"Kurt has done a good job in practice," coach Chip Kelly said. "Just trying to find out where we are since Earl has been down (with a knee injury). I think Kurt deserves some time and we're just trying to figure out who can play."
No one on the defense made much of a case for themselves in this game.
"We just weren't playing tight enough coverage," Davis said. "That's attached to the rush, too. It's all attached together. It's not just the coverage giving up plays, it's the rush that has to get there. Collectively, as a defense, we came up really short today."
The Eagles had gotten some breaks this season. They faced Green Bay in its first game without
Aaron Rodgers
. That snowstorm last week helped neutralize Detroit's
Calvin Johnson
. Facing a Vikings team without the injured Peterson and backup
Toby Gerhart
seemed like good fortune smiling on the Eagles again.
But without Peterson to lean on, Cassel was free to throw to Jennings,
Jarius Wright
,
Cordarrelle Patterson
,
Jerome Simpson
and
Chase Ford
. It begged the question of how Chicago, with
Brandon Marshall
and
Alshon Jeffery
, will attack this defense.
"I don't see it as a blueprint," linebacker
DeMeco Ryans
said. "It was mainly us. We are going to have to go back and watch the film to see what we can correct."
They should see plenty.