Philadelphia Eagles:

Curtis Marsh
July, 1, 2014
7/01/14
3:30
PM ET
PHILADELPHIA -- With training camp looming on the horizon, let's continue our weeklong look at the players with the most to prove, and the most to lose, this summer.
When the
Philadelphia Eagles
signed cornerback
Nolan Carroll
in free agency, it didn't exactly move the needle calibrated to
Darrelle Revis
. Carroll was the
Miami Dolphins
' gunner on kick coverage, and the signing seemed like more of a special teams move than an upgrade to the defense.
Carroll
But the Eagles were last in the NFL in passing yards allowed so no one in their secondary can be considered a lock to be back in the starting lineup. That includes starting corners
Cary Williams
and
Bradley Fletcher
, both of whom seemed like solid players most of the time. But the number 32 -- where they ranked in passing defense -- hangs over all of them.
So, yes, Carroll is competing with Williams and Fletcher for a starting job.
"It's wide open," Carroll said at the end of June practices.
"Nolan can definitely challenge to start here," defensive backs coach John Lovett said last month. "He had a tremendous OTA. He's another guy we were thrilled to death about getting. He's explosive, he's physical, he's got a good head on his shoulders. He understands coverage concepts. He's really had a great preseason."
Carroll is 6-foot-1, 205 pounds, so he's about the same size as Williams (6-1, 190) and Fletcher (6-0, 200). He has a couple of inches on
Brandon Boykin
, whom the Eagles prefer to keep in the slot.
So which of last year's starters is more vulnerable to a challenge from Carroll? Pro Football Focus lists both Williams and Fletcher as "average" starters. Williams was inconsistent, according to PFF, turning in performances good and not so good, while Fletcher was steadier.
Of course, PFF also rates Carroll "below average" as a starter based on his play in Miami.
The Eagles like Carroll because he's a physical corner who is good at press coverage. He was getting yelled at by coaches in June practices for showing a little of his prowess, violating the rules governing offseason workouts.
The truth is, the Eagles had a pretty bare cupboard when it came to cornerbacks last offseason. Their 2012 starters,
Nnamdi Asomugha
and
Dominique Rodgers-Cromartie
, had terrible seasons and were dispatched quickly. Eagles general manager Howie Roseman signed Williams, who was coming off a Super Bowl title with the Ravens, and Fletcher, who played for the Rams, to give his new coaching staff some reliable pros to work with.
They were just that, occasionally a bit more and at times a bit less. But they were also playing at the back end of a defense converting from a 4-3 to a 3-4. They should be markedly better after playing together for a full season.
But the Eagles went out and signed Carroll for a reason, and playing gunner on special teams was only part of it.
Roc Carmichael
,
Curtis Marsh
and fourth-round pick
Jaylen Watkins
are also in the mix at corner, but it looks like a three-man competition for the two starting spots.
February, 6, 2014
2/06/14
8:00
AM ET
PHILADELPHIA -- The Eagles were much better off at cornerback than at safety last year, and a million times better there than they were for the
Nnamdi Asomugha
/
Dominique Rodgers-Cromartie
jogathon of 2012.
[+] Enlarge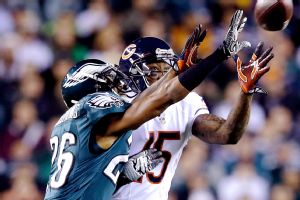 AP Photo/Michael PerezCary Williams' presence among the Eagles' cornerbacks can't be understated.
Still, cornerback is such a premium position, you can expect general manager Howie Roseman to look to upgrade there if he can. It is not an A-1 priority, not compared to safety, but it should always be a priority.
In many ways, Chip Kelly inherited an Eagles team much like the one Andy Reid did 14 years earlier, only in reverse. The 1998 Eagles were 3-13 but had the defensive personnel in place for a quick turnaround:
Brian Dawkins
,
Troy Vincent
,
Hugh Douglas
,
Jeremiah Trotter
and others.
The offense was another matter, especially at wide receiver. Saying the "cupboard was bare," Reid quickly added solid veterans
Charles Johnson
and
Torrance Small
just to get some inventory at the position.
For Kelly, it was the offense that was stocked and the defense that required the most attention. Roseman signed cornerbacks
Cary Williams
and
Bradley Fletcher
, along with safeties
Patrick Chung
and
Kenny Phillips
, just to stock that mostly empty cupboard.
Williams and Fletcher turned out to be better performers at cornerback than Johnson and Small were at wide receiver. They also have a better chance to stick around while their side of the ball develops. Their presence gives Roseman a little breathing room. If he can upgrade the position, he should. But he can address more pressing needs, especially safety, because Williams, Fletcher and
Brandon Boykin
represent a solid group of corners.
Aside: These corners would be that much more effective with an improved pass rush. So that becomes an even higher priority.
As the oldest of the three, Williams would appear most vulnerable to being replaced. But his value to the chemistry and personality of the Eagles defense in 2013 cannot be overstated. The Eagles were soft with DRC and Asomugha at the corners. Williams wasn't having any of that.
Fletcher was the polar opposite, personality-wise. He's as soft-spoken as Williams is outspoken. But he played a solid, reliable cornerback pretty much all season. Fletcher is 27 and another year removed from the ACL tear that cost him most of the 2011 season and made him expendable to the
St. Louis Rams
after the 2012 season.
Williams is 6-foot-1, Fletcher 6-0. They give the Eagles decent size and tackling ability (and willingness to tackle, which is not the same thing) on the outside. Each was also able to remain on one side, regardless of which receivers were matched up there. That allowed Davis the freedom to draw up schemes without having to move one shutdown corner around to compensate for a less competent player.
As for Boykin, he simply had a terrific season as the Eagles' nickel cornerback. Maybe too terrific, since he gave Davis a good reason to leave him where he excels rather than allow him to play outside. It's a win-win situation for the Eagles, though. If Boykin does develop into an outside corner, that gives them depth and flexibility. If he stays put, they have a nickel corner who was tied for second in the NFL with six interceptions despite limited playing time.
With so much work going into gradually improving the defense, there wasn't time to bring along young cornerback
Roc Carmichael
. He played almost exclusively when Fletcher or Williams was out because of injury or, in one case, Williams' temper tantrum in Minnesota. When Carmichael was in, he was targeted. He should benefit from a full offseason and training camp with Davis.
Curtis Marsh
, a 2011 draft pick who spent part of the season with Cincinnati, was active for only one game after being resigned by the Eagles in early November. It's hard to see a role for Marsh in 2014.
December, 29, 2013
12/29/13
7:45
PM ET
ARLINGTON, Texas -- Eagles safety
Earl Wolff
is inactive for Sunday night's showdown against the
Dallas Cowboys
.
Wolff missed four games after injuring his right knee in Green Bay Nov. 10. He returned for last week's game against Chicago but left after playing one series. Veteran
Patrick Chung
will start at safety in place of the rookie.
Backup safety
Colt Anderson
(hamstring) and backup center
Julian Vandervelde
, who were listed as out, were both inactive. Otherwise, it was the usual group: quarterback
Matt Barkley
, running back
Matthew Tucker
, offensive lineman
Dennis Kelly
and cornerback
Curtis Marsh
.
Offensive lineman
Matt Tobin
is active for the second time this season. He takes Vandervelde's spot on the 46-man roster, but would not play center if anything happened to starter
Jason Kelce
. That role would likely fall to left guard
Evan Mathis
.
As expected, Cowboys quarterback
Tony Romo
and inside linebacker
Sean Lee
are inactive. So is former Eagle
Ernie Sims
, which leaves Dallas even thinner at linebacker.
November, 10, 2013
11/10/13
12:05
PM ET
GREEN BAY, Wis. --
Philadelphia Eagles
cornerback
Bradley Fletcher
is inactive for Sunday's game against the Packers at Lambeau Field.
Fletcher
Fletcher injured a pectoral muscle last week in Oakland. He practiced all week and was listed as questionable. Fletcher indicated he expected to play.
With Fletcher out, the Eagles could go several ways.
Brandon Boykin
, the nickel cornerback, could move outside in the base defense.
Roc Carmichael
, who was on the field for 20 defensive plays last week, could also play outside with Boykin sliding into the slot in the nickel package. Curtis Marsh, who was re-signed last week, is also available. Safety
Patrick Chung
, who is active, can also play slot corner.
With
Aaron Rodgers
out and
Seneca Wallace
at quarterback, the Packers may play more two-back sets. That would keep the Eagles from playing as much nickel.
Michael Vick
, still nursing that hamstring injury, was also listed as inactive. So was linebacker
Jake Knott
, who pulled a hamstring two weeks ago.
November, 8, 2013
11/08/13
2:00
PM ET
PHILADELPHIA -- Eagles cornerback
Bradley Fletcher
was listed as questionable for Sunday's game in Green Bay due to a pectoral injury he sustained in Oakland.
Fletcher
Quarterback
Michael Vick
was listed as doubtful due to his hamstring strain. That would have been the headline in the past, but Vick's condition has become almost an afterthought five weeks after the original injury. Linebacker and special-teamer
Jake Knott
is also doubtful with a hamstring injury.
Fletcher's status would be a bigger issue if the Eagles were facing Packers quarterback
Aaron Rodgers
. But even with
Seneca Wallace
replacing the injured Rodgers, there are repercussions if Fletcher can't go or is limited.
With Fletcher on the defensive left and
Cary Williams
on the right, the Eagles don't move their corners around, or have one of them follow the other team's top receiver.
"As of right now," Williams said, "we're preparing like Bradley's going to play. Hopefully he does. If he doesn't, we'll probably keep to the same formula."
That could mean slot corner
Brandon Boykin
moving out to take Williams' side. Or
Roc Carmichael
, who was on the field for 20 defensive snaps in Oakland, could play outside with Boykin remaining in the slot.
"Roc's been impressive," defensive coordinator Bill Davis said. "Roc came out and competed well and made a couple of plays for us. And I've got all the confidence in the world in Roc, and him out at corner. He's a competitor, he's a bright young man that's picked up the defense well for not being here through the offseason. We're excited about Roc and feel very comfortable with him out there."
Safety
Patrick Chung
, who is listed as probable with a shoulder injury, can also play the slot corner spot. And the Eagles signed cornerback
Curtis Marsh
early in the week, giving them an extra option.
It's also possible that the Packers will use more two-back formations with Wallace at quarterback in order to focus on the running game.
And, of course, it's also possible that Fletcher will play and get through the entire game.
The other players listed as probable were Carmichael (groin), wide receiver
Damaris Johnson
(ankle), left tackle
Jason Peters
(pectoral, shoulder), running back
Chris Polk
(shoulder, knee), defensive end
Cedric Thornton
(knee) and offensive lineman
Julian Vandervelde
(knee).
September, 1, 2013
9/01/13
3:30
PM ET
The Philadelphia Eagles' waiver-wire spree didn't really materialize Sunday. The team was awarded just one player, former
Cincinnati Bengals
cornerback
Shaun Prater
.

One possible reason for the relatively light activity: The
Jacksonville Jaguars
, who are two spots higher than the Eagles on waiver claims, were awarded a stunning seven players. That included two players, DE/LB Chris McCoy and TE
Clay Harbor
, who were released by the Eagles.
Prater is 5-foot-10, 190 pounds. A fifth-round pick out of Iowa last year, Prater spent his rookie season on injured reserve with patellar tendinitis. He is not expected to be a factor right away. The Eagles will roll with
Cary Williams
and
Bradley Fletcher
(who played with Prater at Iowa) outside and
Brandon Boykin
in the slot.
But at least Prater can practice and play. To make room for him, the Eagles released
Curtis Marsh
, another member of their disastrous 2011 draft class. Marsh had surgery on his broken hand last month and was not available for the last two preseason games.
A couple of other roster-related notes:
The Eagles signed four players to their practice squad, all of whom were released over the weekend: OT Michael Bamiro, RB Matthew Tucker, WR Greg Salas and LB Travis Long. They have four more spots to fill.
Didn't do too poorly on my projected 53-man roster, which was posted Friday morning. I had 48 players right. And where I was incorrect, I might have been right in a couple of spots where the Eagles turn out to be wrong.I had McCoy staying and Casey Matthews going. We'll see how that one turns out.

I had Salas and Russell Shepard among six wide receivers. The Eagles kept five, including Jeff Maehl. That's two Oregon guys who made the team that I didn't expect.

I thought they'd keep 10 offensive linemen, including Matt Tennant. They went light there, cutting Tennant, and kept one more tight end than I expected: Emil Igwenagu.

Finally, they kept two more DBs than I expected. One was Colt Anderson, who will play only on special teams. The other was Marsh, who was released today. So maybe I had 4.5 players wrong.
Roseman made two trades involving a running back for a linebacker. He got Emmanuel Acho, who made the team, for Dion Lewis, who is on IR in Cleveland. And he got Adrian Robinson, who was cut Friday, for Felix Jones, who made the Steelers roster.
The Eagles were off today and have some conditioning work scheduled for Monday. They'll be off again Tuesday. The practice week for Monday night's game at Washington begins in earnest on Wednesday.