Philadelphia Eagles:

damaris johnson
February, 21, 2014
Feb 21
8:00
AM ET
PHILADELPHIA -- In his combine press briefing Thursday, Eagles general manager Howie Roseman sounded very much like a man willing to shuffle the team's deck at wide receiver.
Of course, that's exactly how you would want to sound if you were a GM with two receivers about to test the free-agent market.
Cooper
Maclin
"We're trying to figure out the whole dynamics of it," Roseman said Thursday. "You can only put a limited amount of resources at a particular position before it starts taking out from other places. And then you've got to factor in the quality and the depth in the draft. ... We set prices for guys and try to stick to those and have walkaways numbers. The market is going to determine a lot of those things. It's hard to figure out the market until you're in it."
Because it's the most interesting situation for the Eagles this offseason, we saved our look at the wide receiver situation for last.
Jeremy Maclin
, a former first-round draft pick who missed 2013 with a torn ACL, and
Riley Cooper
, who started all season in Maclin's place, are about to become unrestricted free agents.
This isn't like the safety situation, where the Eagles simply need to upgrade from the guys who are about to become free agents. Maclin was a good player who hadn't gotten close to his ceiling before the injury. Cooper was a spare part who became a favorite target of
Nick Foles
, catching 47 passes for 835 yards and eight touchdowns.
It really seems as simple as this: If the market provides Maclin and Cooper opportunities that pay more than the Eagles think they are worth, they will be gone. If they like what the Eagles offer, in money and familiarity and the chance to win, either or both could be back.
And then there's the X factor that will help determine what Roseman called the "walkaway number" for each player. Does Kelly believe his offense would work as well or better with other wide receivers? He spoke highly of Cooper, both as a blocker and a pass-catcher. But if Kelly thinks a faster or more athletic receiver would put up even better numbers, Roseman will negotiate accordingly.
The only certainty at the position is that
DeSean Jackson
will be back. He is still a game-breaking deep threat who dictates the way defenses approach the Eagles offense. Jackson caught 82 passes for 1,332 yards and nine touchdowns.
Jason Avant
, the eight-year veteran who won Kelly over with his unselfish attitude, could be a victim of his $2 million salary. Avant was a starter who saw his playing time decrease as the season went on.
The rest of the wide receiver corps was unremarkable.
Damaris Johnson
vanished when he failed to spark the return game.
Brad Smith
took over kickoff returns and was the focus of some of Kelly's more unfortunate trickery.
Jeff Maehl
played special teams and saw scant playing time on offense.
Arrelious Benn
, who also missed the season with a torn ACL, has another year on his contract.
Compared to the imposing collections of receivers the Eagles defense faced almost weekly, this was not exactly a fearsome group. And yet the Eagles receivers were good enough for Foles to have a breakout season.
Did that say more about Cooper and Jackson and Avant or about Kelly's imaginative offense? How the Eagles answer that question internally will go a long way toward determining their strategy.
There are some free agents who could add different dimensions to the passing game --
Eric Decker
of Denver,
Emmanuel Sanders
of Pittsburgh,
Golden Tate
of Seattle -- but mostly there is the draft. We'll be taking a look at some of the wide receivers available in a post later.
February, 15, 2014
Feb 15
10:00
AM ET
For our first Twitter-based mailbag, the questions centered on the
Philadelphia Eagles
' wide receiver situation.
That's only a little surprising. The Eagles clearly need help at a couple of defensive positions, especially safety and outside linebacker. But the wide receiver picture is cloudy -- "complicated," as GM Howie Roseman described it.
Riley Cooper
is scheduled to be a free agent. So is
Jeremy Maclin
, who missed the 2013 season with a torn ACL. There is a chance veteran
Jason Avant
could be victim of a $2 million 2014 salary.
That leaves
DeSean Jackson
and some question marks. And so, on to the questions:
February, 12, 2014
Feb 12
8:00
AM ET
PHILADELPHIA -- We've looked at the Eagles defense position-by-position, with a special focus on areas of offseason need. Before we get to the offense, it's worth discussing any underrated area that could use some upgrading in free agency and the draft.
Special teams -- in this case, the return game.

The Eagles ranked 26th in the NFL with an average kickoff return of 21.4 yards and 27th with an average punt return of just 6.6 yards. That's just not good enough. With such an emphasis placed on field position, in fact, it's almost embarrassing.
Damaris Johnson
is not the sole reason, although his late-season disappearance suggests that head coach Chip Kelly and special teams coach Dave Fipp were not satisfied with his work. Johnson was the primary return man in the first half of the season and was barely used in the second half.
Brandon Boykin
and
Brad Smith
took over the kickoff return duties. Neither did appreciably better than Johnson, who averaged 25.9 yards per return.
DeSean Jackson
was the other punt returner. He averaged 5.1 yards per return, more than 3 yards less than Johnson's 8.3 yard average.
Conclusion: Boykin led the team in interceptions as the nickel cornerback. Jackson was the team's leading wide receiver. Players who are that involved in the offense and defense just aren't as committed in the return game. As for Smith, he was a midseason pickup who never really showed much.
So the Eagles could very much use a fast, dynamic return specialist. It might not be as glaring a need as safety, for example, but it's up there pretty high.
Chicago's
Devin Hester
is scheduled to be an unrestricted free agent. Hester is still a scary returner who handles punts and kickoffs. He's also 31 and not much of a factor as a wide receiver.
Ideally, the Eagles would be able to draft a player like
Cordarrelle Patterson
, the rookie wide receiver who burst into the league as an impact return man for Minnesota. Patterson was the guy who prompted the Eagles to kick short to disastrous effect in their game against the Vikings.
Guys like Patterson aren't easy to find, but the Eagles could well find themselves drafting a wide receiver in the first or second round. LSU wide receiver
Odell Beckham Jr.
averaged 26.4 yards per kickoff return and 8.4 yards per punt return. ESPN expert Mel Kiper Jr. had the Eagles taking Beckham in the first round in his recent mock draft.
Returners aren't solo artists. It takes sound blocking schemes and good coaching for a return game to be consistently dangerous. But a home-run hitter in the lead role is a good place to start.
There are three levels of special teams -- the kind that break down and cost your team games, the kind that are competent enough to go mostly unnoticed and the kind that make big plays and steal you a win or two.
The Eagles are in that middle area. They clearly want to get to the third level, and a game-breaking return man would be a huge step in that direction.
January, 8, 2014
Jan 8
8:00
AM ET
PHILADELPHIA -- There is roster change every year for NFL teams. The
Philadelphia Eagles
find themselves in pretty good shape going into the 2014 offseason. They have control over most of their roster and can, for the most part, make only the changes they want.
Here's how the roster shapes up:

Unrestricted free agents:
Wide receivers
Riley Cooper
and
Jeremy Maclin
; safeties
Nate Allen
,
Kurt Coleman
and
Colt Anderson
; quarterback
Michael Vick
; defensive end
Clifton Geathers
, punter
Donnie Jones
.
The Eagles could lose all of those players without taking a major hit. That doesn't mean those players aren't valuable, merely that they're not irreplaceable. It's not as if
LeSean McCoy
or
Mychal Kendricks
or
Jason Kelce
were free to leave.
My guess is general manager Howie Roseman will make solid market offers to Cooper, Maclin, Allen, Geathers and Jones. He will not overpay for any of them. If some other team does, the Eagles will move on without the player in question.
Players due for contract extensions:
Defensive end
Cedric Thornton
(exclusive rights free agent) and center Jason Kelce.
Let's project to the year 2022. The 35-year-old Kelce announces he is playing his final season after 13 years with the Eagles. That's how things should go with this guy. He's smart, physical, athletic and exactly the kind of player teams should commit to. So yes, extend Kelce.
Thornton was one of the delightful surprises of 2013. An undrafted rookie from Southern Arkansas, he hung around for a couple years without anyone paying much mind. But he's living proof of Chip Kelly's no-expectations approach. Kelly judges based on what a player does, and Thornton was very good this year.
Players who could be gone:
Vick, Anderson, Coleman, wide receiver
Damaris Johnson
, kicker
Alex Henery
, linebacker
Brandon Graham
, safety
Patrick Chung
, linebacker
Phillip Hunt
(restricted free agent on IR), wide receiver
Arrelious Benn
, offensive lineman
Dennis Kelly
.
Mostly self-explanatory. Vick wants to find a place where he can start. Even if he doesn't, the Eagles really like
Matt Barkley
and may well prefer a younger (read: cheaper) No. 2 behind
Nick Foles
.
Henery will have competition for the kicking job next summer. Not sure he'll answer that bell. Graham belongs at end in a 4-3 defense and may get a chance to return to one. The Eagles tried to replace Chung over and over but injuries kept him in the lineup.
Johnson lost his return job and never played on offense. Anderson has been a solid special teams guy, but Kelly likes versatility and may prefer a replacement who can fill in on defense, too.
Veterans on the salary-cap bubble:
Tight end
Brent Celek
, linebacker
Trent Cole
, guard
Todd Herremans
, wide receiver
Jason Avant
. They are all good enough players to stay. That, not their cap numbers, should be the deciding factor.
Youth movement:
The Eagles signed their practice squad and one other player to futures contracts. They are linebackers
Emmanuel Acho
,
Josh Kaddu
and
Travis Long
; offensive tackle
Michael Bamiro
; defensive end Brandon Bair; wide receivers
Will Murphy
,
B.J. Cunningham
and
Ifeanyi Momah
, and tight end
Emil Igwenagu
.
The takeaway here: The Eagles staff spent a lot of time coaching these guys and one or three of them just might become contributors.
January, 4, 2014
Jan 4
7:35
PM ET
PHILADELPHIA -- The
Philadelphia Eagles
may lack quality at the safety position, so they're giving quantity a shot against the
New Orleans Saints
.
Wolff
Rookie safety
Earl Wolff
, listed as questionable with a knee injury, is active for Saturday night's playoff game. Wolff has played only a single defensive series since injuring the knee Nov. 10 in Green Bay.
Veterans
Patrick Chung
and
Kurt Coleman
took first-team practice reps this week. So defensive coordinator Bill Davis is likely to use a rotation opposite safety
Nate Allen
in an attempt to find a solid combination.
Colt Anderson
, who is coming back from a knee injury, is also active.
The Eagles have five safeties active for this first-round playoff game. Davis only has to find two who can execute his defensive game plan.
Wide receiver/punt returner
Damaris Johnson
is inactive. That means
DeSean Jackson
will handle punt returns. It also means the Eagles will be without a speedy backup if Jackson is injured. Johnson has been active the last five games.
Backup center
Julian Vandervelde
is out because of a back injury. Left guard
Evan Mathis
, who was named to the AP All-Pro team this week, has practiced with the second team at center. He would fill in should starting center
Jason Kelce
be injured.
December, 17, 2013
12/17/13
8:00
AM ET
PHILADELPHIA –
Nick Foles
has been so much better than anyone had reason to expect, it seems harsh to point out when the
Philadelphia Eagles
quarterback isn't very good.
Foles
Two weeks ago, when everyone was screaming that Chip Kelly ran the ball too much with a lead over the
Arizona Cardinals
, the truth was that Foles' second-half performance was the problem. A combination of bad throws and bad decisions short-circuited the Eagles offense, and Kelly resorted to running the ball just to kill clock.
This week, Kelly is rightly being criticized for not running the ball enough. Any time
LeSean McCoy
has only eight carries, the coach didn't call a very good game. But the reason Kelly's strategy of exploiting the
Detroit Lions
' injury-depleted secondary failed was that, once again, Foles couldn't find his rhythm for too long.
"I think Nick was inconsistent compared to where he had been in the last five games," Kelly said Monday. "That's something that we've got to get in the film room with him and see what he is seeing. We've got to get a chance to see him. There was a thought process where we had guys open, but weren't 100-percent accurate with the ball."
The Eagles' first possession started on their own 45 after the
Minnesota Vikings
missed a long field goal. It was a three-and-out, with Foles badly overthrowing tight end
Zach Ertz
on third-and-10. On their second drive, Foles took a sack in the red zone on third-and-4 and the Eagles kicked a field goal.
On a third-and-1, Foles scrambled but was stopped short of the first down. That was the play before
DeSean Jackson
's double-reverse touchdown run was nullified by Foles' illegal block penalty.
To start the second half, Foles took a bad sack on second down, then overthrew
Jason Avant
on third down.
"If we can just throw it away ... and not take a sack, then we're in third-and-four and we're in a workable third-down situation," Kelly said.
The Eagles' next possession ended in Foles' only interception of the game. The one after that ended with the fourth-and-1 play deep in Eagles territory. Foles badly overthrew
Damaris Johnson
on first down to help create that fourth-and-1 situation.
Foles' final numbers looked good: 30-for-48 for 428 yards and three touchdowns. But as Pro Football Focus pointed out, Foles' yardage was inflated by 233 yards after the catch: Jackson took a short crossing route 51 yards,
Brent Celek
went 25 yards with a screen, while McCoy took a screen 24 yards.
More importantly, Foles' late-game surge was not nearly enough to undo the poor play that helped spot the Vikings a 27-9 lead.
Yes, Kelly could have helped his quarterback and eased the Vikings' pass rush by utilizing McCoy more. But it's equally true Foles could have helped his coach by exploiting the Vikings' secondary the way
Matt Cassel
dissected the Eagles'.
"You can't have a play back and a do-over," Foles said after the game. "I don't even go there. I am not going to let this game defeat me. I am going to make this game make me better. I am going to learn from it."
November, 8, 2013
11/08/13
2:00
PM ET
PHILADELPHIA -- Eagles cornerback
Bradley Fletcher
was listed as questionable for Sunday's game in Green Bay due to a pectoral injury he sustained in Oakland.
Fletcher
Quarterback
Michael Vick
was listed as doubtful due to his hamstring strain. That would have been the headline in the past, but Vick's condition has become almost an afterthought five weeks after the original injury. Linebacker and special-teamer
Jake Knott
is also doubtful with a hamstring injury.
Fletcher's status would be a bigger issue if the Eagles were facing Packers quarterback
Aaron Rodgers
. But even with
Seneca Wallace
replacing the injured Rodgers, there are repercussions if Fletcher can't go or is limited.
With Fletcher on the defensive left and
Cary Williams
on the right, the Eagles don't move their corners around, or have one of them follow the other team's top receiver.
"As of right now," Williams said, "we're preparing like Bradley's going to play. Hopefully he does. If he doesn't, we'll probably keep to the same formula."
That could mean slot corner
Brandon Boykin
moving out to take Williams' side. Or
Roc Carmichael
, who was on the field for 20 defensive snaps in Oakland, could play outside with Boykin remaining in the slot.
"Roc's been impressive," defensive coordinator Bill Davis said. "Roc came out and competed well and made a couple of plays for us. And I've got all the confidence in the world in Roc, and him out at corner. He's a competitor, he's a bright young man that's picked up the defense well for not being here through the offseason. We're excited about Roc and feel very comfortable with him out there."
Safety
Patrick Chung
, who is listed as probable with a shoulder injury, can also play the slot corner spot. And the Eagles signed cornerback
Curtis Marsh
early in the week, giving them an extra option.
It's also possible that the Packers will use more two-back formations with Wallace at quarterback in order to focus on the running game.
And, of course, it's also possible that Fletcher will play and get through the entire game.
The other players listed as probable were Carmichael (groin), wide receiver
Damaris Johnson
(ankle), left tackle
Jason Peters
(pectoral, shoulder), running back
Chris Polk
(shoulder, knee), defensive end
Cedric Thornton
(knee) and offensive lineman
Julian Vandervelde
(knee).
October, 31, 2013
10/31/13
5:30
PM ET
PHILADELPHIA –
Philadelphia Eagles
wide receiver
DeSean Jackson
was limited for a second day of practice after injuring his ankle during Wednesday's session.

Jackson
Coach Chip Kelly downplayed the severity of the injury before Thursday's practice.
"He's going to come out and practice today," Kelly said. "Yeah, he hurt his ankle. He should be full [participation]. We'll see what he can do and what the effects are, but he just rolled it or tweaked it or whatever, but he's going today."
Jackson, whose left ankle appeared heavily taped, was listed as a limited participant on the post-practice report. The Eagles will be on the practice field Friday and Saturday, but those are considerably lighter sessions. It will be interesting to see how the Eagles list Jackson's availability for Sunday's game in Oakland on the official Friday report.
They can ill afford to lose the speedy Jackson, who is their only serious deep threat. The Eagles have struggled badly enough on offense as it is, failing to score a touchdown in either of their last two games. Eliminating the long-ball threat posed by Jackson will make it that much easier for the Raiders to clamp down on
LeSean McCoy
and the run game.
Damaris Johnson
, who backs Jackson up, was a full participant Thursday after not practicing Tuesday or Wednesday.
"Today is a big day to kind of see where he is and what he can do and can't do," Kelly said.
September, 30, 2013
9/30/13
6:45
PM ET
PHILADELPHIA --
DeSean Jackson
had a frustrating day in Denver, from the pass that soared over his head on the Eagles' first drive to the moment he blew off reporters in the postgame locker room.
Frustrate Jackson and you frustrate the Eagles' entire passing game. That has quickly become the formula for stopping Chip Kelly's offense.
With former teammate
Dominique Rodgers-Cromartie
running with him stride for stride, Jackson was targeted six times by quarterback
Michael Vick
. Jackson caught just two passes for 34 yards.
"I think we have seen just a little bit more man [coverage]," Kelly said Monday, "and I think that's overall with everybody. But I also think we've been productive moving the football. I still think we're stopping ourselves. We are not getting stopped by a scheme and we are not getting stopped by a look."
[+] Enlarge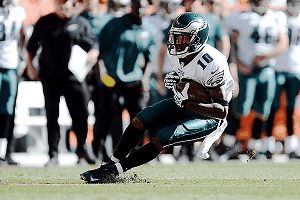 Ron Chenoy/USA TODAY SportsEagles star receiver DeSean Jackson has been stymied during the past two weeks.
When Jackson isn't open, Vick has trouble getting the ball to his other wideouts. Either
Riley Cooper
(two catches, 25 yards) and
Jason Avant
(one catch, seven yards) aren't getting open, or Vick just doesn't trust them with tight throws.
"It depends on what play," Kelly said. "There's maybe one play where, yeah, he should have let it rip, but there's other plays where we have to do a better job of getting open and other plays where we have to do a better job of protecting him. It's a combination of the whole thing."
Early in the game, Kelly had rookie tight end
Zach Ertz
lined up in the slot with
Brent Celek
also on the field. That was a rare look at the kind of inventive use of the tight ends Kelly teased fans with in the preseason. Kelly liked the matchups created when the Eagles ran against opponents' nickel schemes, and he also seemed to get seduced by Jackson's quick-strike potential.
As a result, free-agent pickup
James Casey
has just one catch in four games. The screen game disappeared almost entirely until Vick found
Bryce Brown
and
LeSean McCoy
for a couple of big plays Sunday.
On Monday, Kelly talked about getting running back
Chris Polk
some more playing time. He continued to defend the play of Cooper, who is valued more for his blocking ability than his receiving at this point. And he shed some light on Ertz's development.
"We've seen more and more from him on a weekly basis here as he starts to continue to grasp what we are doing here," Kelly said. "I expect him to grow. He's four games into his professional football career. So to see him run around and line up all over the place like
Jimmy Graham
from the
New Orleans Saints
, I don't think anybody envisioned that as we put together an offense and start to figure out what he's good at, what he's not good at.
"There's a lot of details in doing it. It's not as easy as saying, 'Hey, we drafted this guy and he has got the ability.' Yeah, he does. But I also think we have to get him settled. It's not going to come with all of a sudden tomorrow we are going to come up with 17 different ways where we can deploy Zach and put him in different situations because it's not fair to him."
Kelly had great success getting the ball to Jackson in the Eagles' first two games. He caught 16 passes for 297 yards and two touchdowns, and the Eagles scored a total of 63 points. The past two weeks, Jackson has five catches for 96 yards, and the Eagles scored a total of 33 points.
Defenses adjusted. Now Kelly has to find a way to counter. He isn't getting
Jeremy Maclin
back this season, so he has to find production from Ertz, Celek and Casey at tight end, from the running backs and from the wideouts, including the underutilized
Damaris Johnson
.
If he does, who knows? Maybe defenses will have to back off and Jackson can break loose again.
August, 24, 2013
8/24/13
10:59
PM ET
The
Philadelphia Eagles
returned to the site of their Super Bowl XXXIX loss for a preseason game against the
Jacksonville Jaguars
. It was the ghosts of 2012, not 2004, that haunted their starters in a come-from-behind
31-24 win
. Some thoughts:
" The third preseason game had some of the flavor of a regular-season game. The Eagles had better hope that flavor was pure vanilla.

It would take some of the sting out of the Eagles' ragged offensive play if coach Chip Kelly was holding back most of the good stuff in his playbook. If not, there was some real reason for concern here.
For starters,
Michael Vick
looked very much like the guy who held the Eagles' starting-quarterback job the last two years rather than the guy who was competing for it in the first two preseason games. Vick threw two terrible passes off his back foot (well, he was almost on his back the second time) while under pressure. One was intercepted, the other was ruled a sack. That sack came late in the first half when the Eagles needed to take advantage of a long return by
Damaris Johnson
.
Vick completed 13 of 15 passes for 199 yards while competing with
Nick Foles
in the first two preseason games. After being named the starter, he completed 15 of 23 for 184 yards, one TD and one INT.
" There was little evidence of the go-go pace that Kelly demands from his offense. The Eagles did not huddle, but there were long delays as plays were signaled in and the players sorted themselves out into the proper alignments. Vick has not really executed that fastbreak offense in this preseason. On the play before that late first-half sack, the ball was snapped with one second left on the play clock. Vick ran around, couldn't find a receiver and threw the ball away.
" Last year, running back
Bryce Brown
showed amazing quickness to the corner but came down with a bad case of the fumbles. In the third quarter, Brown sped around the right corner, then fumbled the ball through the end zone for a turnover. The fumble killed an opportunity for the Eagles to answer the Jaguars' long, second half-opening TD drive. Brown ran four yards for a touchdown in the fourth quarter.
" That late TD came at the end of the Eagles' best sustained drive of the game to that point. Foles was at quarterback for that one. Foles also managed the uptempo, go-ahead scoring drive that began on the Eagles 1 and ended with a
Chris Polk
TD run.
Foles completed 10 of 11 passes for 112 yards. To be fair, the Jaguars backups were playing defense on both of those drives.
" For the first time, the offensive line was complete. Left tackle
Jason Peters
took the field for the first time since the end of the 2011 season. For the first time, however, the line looked confused and unable to figure out its assignments. Early on, especially, Vick seldom had a clean pocket and resorted to running for his life. That has been a bad combination over the past few years, with Vick turning the ball over or getting hurt with great frequency.
" The Eagles defense had some great moments.
Connor Barwin
batted a pass in the air and caught it as he landed on his back. That gave the offense great field position, which Vick took advantage of for the first team's only touchdown. Barwin,
Trent Cole
,
Cedric Thornton
,
Vinny Curry
and
Mychal Kendricks
all disrupted the Jaguars offense at different times.
" The Eagles defense had some very 2012 moments.
Chad Henne
carved the Birds up on Jacksonville's first possession. It ended with a blown coverage: Henne found
Justin Blackmon
all alone between safety
Patrick Chung
and cornerback
Bradley Fletcher
. It looked like many of the league-high 33 passing TDs allowed by the Eagles last season.
"
Jordan Todman
's 63-yard touchdown run was another bad flashback to 2012. Todman ran off left tackle, then cut to his right. Both Eagles safeties,
Patrick Chung
and rookie
Earl Wolff
, took terrible angles and were unable to slow him down, let alone hit him. Todman got outside to the right and was gone.
Wolff replaced the mediocre
Nate Allen
in the first half but did little to stand out in a positive way.
Kenny Phillips
, the free agent brought in to challenge Allen for the starting job, said he expected to play after dealing with a sore quadriceps. Phillips did not play. Considering Chung's performance on the Blackmon and Todman TDs, there is real concern about both safety spots.
" Return man Damaris Johnson had an eventful night. He fumbled the ball away on a punt return, then got stopped inside his own 10 on a kickoff return. Later, he broke two long returns, 61 yards on a kickoff and 37 on a punt. The Eagles would love the undersized wideout to provide big-play potential on returns so they can avoid putting
DeSean Jackson
at risk.