Philadelphia Eagles:

Damion Square
March, 3, 2014
3/03/14
12:45
PM ET
The Eagles' 2011 draft has long been filed under "D" for Disaster – ever since owner Jeffrey Lurie specifically absolved general manager Howie Roseman of blame for the picks made while then-coach Andy Reid had final say on personnel decisions.
Thornton
It is the top of the draft – first-round pick
Danny Watkins
and second-rounder
Jaiquawn Jarrett
– that rightfully draws the criticism. But the Eagles found the anchor for their offensive line, center
Jason Kelce
, in the sixth round of that draft. Kelce signed a seven-year contract last week that will keep him with the Eagles through 2020.
On Monday, the team signed defensive end
Cedric Thornton
to a one-year deal. Thornton was in that 2011 class, too. He wasn't even drafted, signing with the Eagles as a rookie free agent. Over the course of several defensive coordinators and a major scheme change, the 6-foot-4, 309-pound Thornton emerged as a reliable starter at defensive end.
Thornton was an exclusive rights player (the term "free agent" really doesn't fit), so it was all but a foregone conclusion that he would re-up with the Eagles.
The youth and flexibility along the defensive line give the Eagles plenty of options. They have Thornton, 25; nose tackle
Bennie Logan
, 24; and end
Fletcher Cox
, 23, at the top of the depth chart. Cox, their 2012 first-round pick, is the only one making a premium salary.
Clifton Geathers
,
Damion Square
and
Vinny Curry
rotated in and played situationally.
Thornton drew praise all season from coach Chip Kelly and defensive coordinator Bill Davis. He was ahead of the curve in converting from the 4-3 scheme to the 3-4 that Davis brought in. Pro Football Focus ranked Thornton third in the NFL among 3-4 defense ends as a run-stopper. Only Houston's
J.J. Watt
and the Jets'
Sheldon Richardson
graded higher.
Thornton's emergence gives the Eagles the luxury of addressing other areas as needed. But his relative affordability doesn't prohibit them from upgrading at the position if their draft board dictates they should take a defensive end.
The 2011 draft didn't go well for the Eagles, but that class provided them good players on both lines.
February, 11, 2014
2/11/14
8:00
AM ET
PHILADELPHIA -- If the question was whether or not Jerry Azzinaro's approach would work with NFL players, the answer wasn't quite what you might expect.
Sure, Azzinaro had the Eagles defensive linemen he coached hitting the blocking sled every day, working on fundamentals and reinforcing techniques. But if you were looking for veteran NFL linemen to resist, you were looking in the wrong place.
Defensive ends
Fletcher Cox
(23),
Cedric Thornton
(25) and nose tackle
Bennie Logan
(24) aren't much older than the players Azzinarro was coaching at Oregon before Chip Kelly brought him to Philadelphia. Cox, Thornton and
Clifton Geathers
each had one year of NFL experience. Logan and
Damion Square
had none.
[+] Enlarge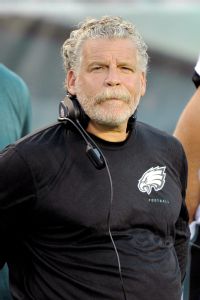 Drew Hallowell/Getty ImagesEagles defensive line coach Jerry Azzinaro had a young group to work with in 2013.
The only veteran, free-agent signing
Isaac Sopoaga
, was traded away in midseason to make room in the starting lineup for Logan.
Point is, the Eagles have a very young group of defensive linemen who quickly became an asset in their first season in Bill Davis' system. If the truism that players make their biggest improvement between Year 1 and Year 2 holds true, this group should be a real strength in 2014.
Cox, a first-round pick in 2012, took a little time to adjust to the two-gap system Davis and Azzinaro preferred. Simply put, he had to become responsibility for both sides of the offensive lineman in front of him instead of attacking one side or the other. It is a less intuitive way to play, but Cox steadily improved.
Those techniques allowed Thornton, an undrafted free agent, to establish himself as an impact player. Kelly and Davis routinely singled Thornton out as the Eagles' most productive and consistent defensive lineman.
Logan, a third-round pick last year, made Sopoaga expendable and started the rest of the year. Logan doesn't have the massive size associated with the nose tackle -- he goes about 310 pounds -- but is expected to add some bulk in the offseason.
Square, Geathers and
Vinny Curry
provided depth and played well in various situations.
The youth and potential along the defensive line put the Eagles in an enviable position as they continue to build their defense. If they find a bigger, more physical nose tackle in free agency or the draft, they can move Logan to end or rotate him in on passing downs. They don't have a pressing need for an end, but their rotation system means they can always use more depth and different types of linemen.
Davis sometimes uses a 4-3 look, allowing outside linebackers
Trent Cole
and
Brandon Graham
to rush from the more familiar three-point stance. As the Eagles defense evolves, with players selected to fit the system, Davis can be more creative and maximize the potential of his front seven.
Azzinaro is the guy in charge of getting that potential from the linemen. He couldn't have done much better in his first season.
December, 6, 2013
12/06/13
3:00
PM ET
PHILADELPHIA -- The
Philadelphia Eagles
will be without safety
Earl Wolff
again for Sunday's game against the
Detroit Lions
. Wolff (knee) and linebacker/special-teamer
Najee Goode
(hamstring) were both officially listed as out on the team's Friday injury report.
Defensive end
Clifton Geathers
' status is unknown. Geathers missed the past three days' worth of practices for unspecified personal reasons. The 6-foot-8, 340-pound Geathers has been on the field for 21 percent of the team's defensive plays this season.
Wolff will miss his third game after injuring his right knee in Green Bay last month. Veteran
Patrick Chung
, who has made as much impact crashing into teammates as opponents, will start in Wolff's place.
With Goode out, linebacker
Emmanuel Acho
has a chance to be active.
Wide receiver
Jeff Maehl
cleared the concussion protocol and was listed as probable. Tight end
Zach Ertz
(shoulder), defensive tackle
Bennie Logan
(neck) and defensive end
Damion Square
(back) were also listed as probable.
The Eagles have enjoyed good health all season. Coach Chip Kelly said the other day that it might be attributable to a combination of luck and the team's devotion to sports science.
"You break a bone, you break a bone," Kelly said. "I don't know if there is a science behind breaking a bone. There are certain injuries that it doesn't matter how fit you are, how trained you are, that if that happens, that happens. But I also think there are some little things we do on a weekly basis here from a training standpoint that I think has benefited us. So we'll continue. But it's not something that we can say if all of a sudden two or three guys get hurt next week you're like, 'You guys are wrong.' It's not. I think we're doing the right thing."
November, 1, 2013
11/01/13
3:00
PM ET
PHILADELPHIA -- We looked at the
Philadelphia Eagles
' 2013
free-agent signings Thursday
. Today we turn to the draft class, with the upfront acknowledgement that you can't truly evaluate players in their first year.
It's a little different with the veterans, since they're meant to be plug-and-play pieces. So we're not here to make conclusions about the draft picks, merely to assess how they're coming along and whether we have any better idea if the selections made sense.
• First-round pick
Lane Johnson
(fourth overall) has played every single offensive snap, mostly at right tackle. He is the beneficiary and victim of the NFL trend toward throwing high draft picks at every position into the fire immediately. There's hardly any such thing as easing first-round picks into the lineup.
With that in mind, Johnson has been just fine. When he makes a big mistake, it had big consequences. Plays, and teammates, get blown up. Pro Football Focus has him on the hook for seven sacks, five quarterback hits and 30 hurries. He is much stronger in the run game, which typically comes first for offensive linemen. With his size, athleticism and demeanor, you get the feeling Johnson will be a solid player for years here, and that's ultimately what a first-round pick should be.
Good pick, bad pick:
Good pick. Maybe one of the defensive linemen that went in the first half of the round would have been a good call, too, but locking down a tackle spot is vital to building any team.
• Second-round pick
Zach Ertz
(35 overall) may turn out to be a great player -- there's no knock on the kid's size, skill set or football savvy -- but he is arguably the most questionable pick the Eagles made in the 2013 draft. GM Howie Roseman's declared approach, choosing the best player regardless of position, explains the decision to choose a tight end after the team had invested $12 million in free agent
James Casey
.
But was it a wise use of the third pick of the round? Chip Kelly just hasn't used his tight ends the way we expected when the Eagles loaded up at the position. Ertz has 14 catches for 201 yards. By comparison, Washington's third-round tight end,
Jordan Reed
, has 34 catches for 388 yards and two touchdowns. Is Reed a better player or is he just being utilized more often? Point is, if you're not going to utilize the tight end, it makes sense to use such a high pick to address one of the many other needs a 4-12 team has.
Good pick, bad pick:
Mystifying pick. This is a case where a guy could be a good player, but not a good pick.
• Third-round pick
Bennie Logan
(67 overall), a defensive tackle from LSU, hasn't really distinguished himself yet -- although he does have two sacks. That's OK, because the Eagles signed veteran
Isaac Sopoaga
to man the nose tackle position as they switched to a 3-4 scheme. With Sopoaga traded away, Logan should get more playing time and a chance to make more of an impact.
Good pick, bad pick:
Good because it was the first pick dedicated to a defense in dire need of talent. Of course, if the Eagles had used that second rounder on defensive tackle
Kawann Short
(Carolina) or linebacker
Kiko Alonso
(Buffalo), they would have been free to scoop up one of the third-round wide receivers (
Terrance Williams
,
Keenan Allen
) or even defensive back
Tyrann Mathieu
.
• Fourth-round pick
Matt Barkley
(98 overall) was another curious choice. The Eagles traded up in the round to take the quarterback from USC. That wouldn't seem out of place except that Barkley seems like an odd fit in Kelly's offense. The explanation at the time was that Kelly didn't need a mobile quarterback, but the coach's subsequent choice of
Michael Vick
doesn't really support that.
Barkley has been forced to play the past two weeks because of injuries. It has been eventful, to say the least. He turned the ball over on his first four possessions, an unprecedented feat, but had stretches where he got the ball out quickly and accurately. He may be able to play in this league, but he'd be much better off in a different system.
Good pick, bad pick:
Again, strange pick. Nothing wrong with adding young quarterbacks at this point in the draft, but the Eagles had plenty of other holes to fill.
• Fifth-round pick
Earl Wolff
(136 overall) personifies the development of the Eagles' defense. He was initially meant to play occasionally as he learned, but was forced to start when veteran safety
Patrick Chung
injured his shoulder. Wolff still makes mistakes, but he has come a long way and continues the Eagles' tradition of pretty solid fifth-round picks --
Trent Cole
and
Brent Celek
come to mind.
Good pick, bad pick:
Good pick. If he recedes into a backup/special teams role, Wolff already has given the Eagles more than many fifth-round picks give their teams.
• Seventh-round picks
Joe Kruger
(212),
Jordan Poyer
(218) and David King (239) are non-factors this year. Kruger, who was seen as a developmental guy, is on injured reserve. Poyer was released to create a roster spot for running back
Matthew Tucker
, then claimed off waivers by Cleveland. King was released at the end of training camp and is on Cincinnati's practice squad.
Good picks, bad picks:
Seventh-round picks. They are what they are.
• Undrafted rookies:
Jake Knott
, a linebacker, had been a regular on special teams until injuring his hamstring two weeks ago. His absence led to the signing of
Emmanuel Acho
, so it will be worth watching whether Knott gets his job back when he's healthy. Tucker was on the practice squad until injuries required his elevation to the 53-man roster. He hasn't been a factor. Defensive lineman
Damion Square
, inactive the past six weeks, is one of the players who could get more playing time in the wake of the Sopoaga trade. Offensive lineman
Matt Tobin
is a project who has been inactive all eight games.
October, 30, 2013
10/30/13
3:00
PM ET
PHILADELPHIA -- Eagles coach Chip Kelly offered a bit more insight than usual into how he prepares his quarterbacks during the week.
That became an issue Sunday, when rookie quarterback
Matt Barkley
was forced into action for the second week in a row. Even though starter
Michael Vick
was nursing a cranky hamstring that had kept him sidelined for two weeks, Barkley got only the usual limited practice time with the first team.
Kelly's practices are closed to the media, so there is some uncertainty about how he conducts them.
"When you go into a game, your backup quarterback doesn't get a lot of snaps on a daily basis," Kelly said. "Today we have 60 snaps for our offense. Our starting quarterback will get 48 of them and our backup quarterback will get 12 of them."
Kelly received some criticism for calling a naked bootleg for Barkley on first-and-goal from the 2-yard line. Barkley revealed Tuesday that it was a play he'd never run in practice.
"He may not have run that play," Kelly said, "but it's a naked play. The route combination doesn't matter. We're always just trying to dress it up and do it in different ways. Has he run 'naked' since he's been here? Yes, he's run 'naked' since he's been here. There's a guy in the flat and a guy on the drag. Was it specifically that call? He may not have run that rep in practice."
Kelly said the offense runs four "low red zone" snaps in practice and the starter gets all four of them.
Ultimately, Kelly called a play that asked more than his rookie quarterback was capable of handling, and a turnover resulted.
Serving youth:
The trade of
Isaac Sopoaga
Tuesday was more about the young players behind the veteran nose tackle, Kelly said.
"We felt like we had a couple of younger guys that we had to continue to get in there," Kelly said. "
Clifton Geathers
is a great example. He played 13 snaps on Sunday against the Giants and he had three contacts with the ball. He's a guy that just keeps getting better.
Bennie Logan
is a guy we need to see more of.
Damion Square
is a guy who was up for the first two games -- when you watch practice, Square, Logan and Geathers need more reps."
Sopoaga was credited with 18 tackles, one for a loss, and three quarterback hurries in eight games. The 32-year-old was dealt to New England before the trade deadline, along with a sixth-round draft pick, in exchange for a fifth-round pick.
No tear for Vick:
Kelly said the MRI of Vick's left hamstring showed no new injury or more severe tear.
"It's hurt in the same spot," Kelly said. "We'll monitor it and see how he goes. I don't anticipate Mike being able to play this week. The one thing I know about Mike is he's unbelievable when it comes to rehab and listening to [the medical staff]. There's nothing new from what happened last time."
October, 29, 2013
10/29/13
4:35
PM ET
PHILADELPHIA – When Eagles head coach Chip Kelly was asked to name some defensive players who excelled in Sunday's loss to Dallas, he volunteered three defensive linemen:
Fletcher Cox
, who is 22;
Cedric Thornton
, 25, and
Clifton Geathers
, 25.
Considering the Eagles play a 3-4 defense, that was probably a hint that 32-year-old nose tackle
Isaac Sopoaga
had become expendable. The Eagles proved that Tuesday,
trading Sopoaga and a sixth-round pick
in the 2014 to New England for a fifth-round pick.
The compensation – basically a late pick for another late pick -- tells the story. The Eagles effectively dumped Sopoaga, the former San Francisco 49er who signed a three-year contract with a $2.75 million bonus and $1 million salary for 2013. The Patriots will owe Sopoaga $529,000 (nine weeks' worth) in salary for this year.
Sopoaga was credited with a total of 18 tackles in eight games with the Eagles.
After signing Sopoaga, the Eagles drafted defensive tackle
Bennie Logan
in the third round of the 2013 draft. Sopoaga played 49 snaps against the Giants Sunday, Logan just 11. Clearly, the Eagles feel Logan and
Damion Square
, who has been inactive, can give them at least the same production as Sopoaga.
The Eagles have a similar redundancy at tight end. They signed free agent
James Casey
to a three-year, $12-million deal, which included $3.3 million up front. Then they drafted
Zach Ertz
in the second round, making Casey an expensive special teams player. Ertz played 27 offensive snaps against the Giants, Casey just seven.