Philadelphia Eagles:

DeMarco Murray
December, 31, 2013
12/31/13
5:30
PM ET
PHILADELPHIA -- If you're looking for signs the Eagles can handle
New Orleans Saints
tight end
Jimmy Graham
, you won't find much comfort in Sunday night's game against the
Dallas Cowboys
.
Tight end
Jason Witten
caught 12 passes for 135 yards in a game the Eagles hung on to win, 24-22.
Graham is bigger (6-foot-7), faster and just plain better than Witten at this point in his career. But Witten is probably not the best precedent for gauging the Eagles' ability to cover Graham. Wide receivers like
Brandon Marshall
,
Larry Fitzgerald
and
Calvin Johnson
are.
"I think Witten had a great game the other night on us, but he's a great player," Eagles defensive coordinator Bill Davis said. "He's a Pro Bowl player and he's going to make those plays. The first game, he didn't have so much but we kind of shifted where we were helping different places, put a little more help on Dez (Bryant). You move it around and great players play great, especially this time of the year when it's playoff football."
In other words, Davis focused on defending Bryant and running back
DeMarco Murray
. That left Witten more space to operate. The Saints present a number of challenges, but Graham is a lot closer to the top of the list of priorities.
"He's the No. 1 target they have and he's been their most consistent target," Davis said. "He's a big, athletic tight end, catches everything thrown near him. They move him all over the place so it's tough to practice and get a bead on how to help guys on him."
Against those big wide receivers, the Eagles were far from perfect, but they did limit the damage. And that will likely be their approach with Graham. It wouldn't be surprising if Davis used linebacker
Connor Barwin
as he did against Fitzgerald and other big wideouts. Barwin would line up at cornerback and jam the receiver, trying to throw him off his route and disrupt his timing. Usually, a defensive back would then pick the receiver up.
Considering how quickly quarterback
Drew Brees
makes his first read and gets the ball out, that could be enough to get him looking away from Graham at least some of the time.
"It's a big thing, messing up that timing between he and his receivers," linebacker
Mychal Kendricks
said. "With that quick release that he has, it's going to be huge."
New England used cornerback
Aqib Talib
to follow Graham all over the field. Davis has not used his corners that way all season.
Cary Williams
is on the right side and
Bradley Fletcher
is on the left. It seems unlikely Davis would ask them to change up at this late date.
But it wouldn't be shocking if Barwin, Kendricks and
Trent Cole
played Graham physically at the line and then a safety or nickel cornerback
Brandon Boykin
took over. Boykin can run with anyone, but he gives up nine inches to Graham. That requires a different solution.
"Jump," Kendricks said. "You're playing ball, man. You've just got to go for it. That factor's not going to change. You've got to study him and his routes and attack his hands."
December, 30, 2013
12/30/13
2:25
AM ET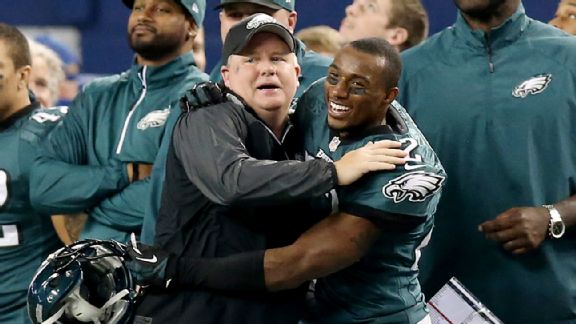 Matthew Emmons/USA TODAY SportsBrandon Boykin's interception sealed a playoff berth for Chip Kelly and the Eagles.
ARLINGTON, Texas -- Whatever Chip Kelly and
Nick Foles
accomplish together as coach and quarterback of the Eagles, in these playoffs and beyond, they will look back on Sunday night's
24-22 win
over the
Dallas Cowboys
as their first big game together.
And they will know, deep in their hearts, that those unheralded guys on the Philadelphia defense saved their postseason lives.
With a combination of smarts, sports science and magic, Kelly turned the 4-12 Eagles team he inherited into a 10-6 division title winner. Foles, who took over at quarterback in October, went 8-2 as a starter and finished the season as the NFL's highest rated passer.
The Eagles came to Foles' native Texas for a virtual playoff game against the Cowboys. Win and the Eagles would be NFC East champions. They would host the
New Orleans Saints
in a first-round playoff game Saturday night. They would have a puncher's chance to be that hot team that burns its way to the Super Bowl seemingly every year.
For a half, they had things in hand. Foles threw two touchdown passes, giving him 27 for the season against just two interceptions. His passer rating was 155.5. The Eagles had a 17-10 lead and possession of the ball to start the third quarter.
And then it started unraveling. The offense was brutal in the third quarter. Foles looked overwhelmed, completing 3 of 8 passes for 41 yards and fumbling the ball away at his own 20. It was so bad, Kelly had Foles throw exactly two passes in the entire fourth quarter.
"We made it a game," Eagles left tackle
Jason Peters
said. "Not scoring, stalling out a couple times on offense. We let them back in the game."
The defense took the game back.
After Foles' fumble, Dallas ran three plays for a total of 2 yards. Linebackers
Mychal Kendricks
,
DeMeco Ryans
and
Connor Barwin
made one-on-one tackles to stop
Jason Witten
once and
DeMarco Murray
twice. The Cowboys kicked a field goal and the Eagles clung to their slim, 17-16 lead.
After another three-and-out by Foles and the offense, the Eagles' defense allowed 1 yard on the Cowboys' next possession. That forced a punt that
DeSean Jackson
, who was held to three catches, returned 23 yards to the Philadelphia 48-yard line.
That was the spark the Eagles needed. They were at midfield instead of their own 20.
LeSean McCoy
ran three times for 24 yards. Foles completed a short pass that
Brent Celek
took 22 yards down to the 6-yard line.
That's when Kelly almost outsmarted himself. He couldn't resist bringing
Brad Smith
in for another of those gimmick plays that look so clever on the dry-erase board. The halfback option pass went incomplete.
"Trying to score," Kelly said. "We thought we would be in man coverage down there. We had a throw back to the quarterback [called]."
Foles threw incomplete on second down. On third down, Jackson caught a ball at the 1-yard line and was held out of the end zone by
Orlando Scandrick
and
Brandon Carr
.
Fourth-and-less-than-a-yard, late in the third quarter.
The book says kick the field goal. Kelly decided to go for it.
"We felt like with the ball on the half-yard line, we've got to be able to punch it in," Kelly said.
They couldn't. Foles was stuffed on the quarterback keeper.
If the Cowboys had seized the momentum there and won, Kelly would have had a very tough time living down the gadget play, the failed fourth down and the non-use of McCoy. That didn't happen, because the Eagles' defense wouldn't let it happen.
"That was an interesting fourth quarter," Kelly said. "Those guys didn't flinch."
The Cowboys drove 59 yards to a fourth-and-1 of their own at the Philadelphia 40-yard line. Jason Garrett decided to go for it. He had a good play call. The Eagles expected a run, so Murray slipped into the flat for a flare pass from
Kyle Orton
.
Barwin thought it was a run, saw that Orton still had the ball and closed in on him. Orton tried to get it over the 6-foot-4 linebacker's head. He couldn't. Barwin swatted it away. Eagles ball.
"I thought I could catch it," Barwin said. "I knew we were off the field. But I knew there was still some game left to play. I knew it was a big play in the game, but I knew we would be back out there on defense."
It was the first of several signature plays the defense made to save this game for the Eagles. The next was cornerback
Cary Williams
, breaking up a 2-point conversion pass for
Dez Bryant
that would have tied the game at 24.
Foles and the offense got the ball back with a chance to run down the clock. Instead, it was another three-and-out, another punt, another save required by the defense.
As it turns out, the Eagles' defense had been through this drill a few times this season. Those home wins against Washington and Arizona came down to late defensive stops.
On first down, needing maybe 30 yards to get within field goal range, Orton threw a pass intended for
Miles Austin
. It was a little behind him. It wasn't behind
Brandon Boykin
.
The nickel corner caught it and the Eagles were NFC East champions, Kelly had a division title in his first season and Foles won the first elimination game of his career.
"There's going to be adversity in games," Foles said. "We overcame it today as a team and it was an exciting game to win. I had a blast out there. Our defense was coming up big, special teams played really good ball, and our offense was able to put some points on the board. In those times of adversity, the game's not over. There's still time on the clock. That's how I've always looked at it -- I'm going to play until that clock says zero."
Earlier this season, Eagles owner Jeff Lurie said he wouldn't judge Kelly strictly on wins and losses. That was before Lurie knew there would be 10 wins and a home playoff game.
But his larger point still holds true. Lurie hired Kelly because he believed the unorthodox college coach with the cocky grin could build a winning program. His Eagles, on offense and defense and special teams, made a pretty good case this year that Lurie was correct.
"This team has character," Peters said.
That seems clear. And it's just as clear the coach is a character.
"He's a little different than what most coaches are," said Williams, who won a Super Bowl with John Harbaugh in Baltimore last year. "He goes against the grain. It's great."
December, 29, 2013
12/29/13
11:25
PM ET
ARLINGTON, Texas -- Quick thoughts on the
Philadelphia Eagles
'
24-22 victory
against the
Dallas Cowboys
Sunday night.

What it means:
Chip Kelly won the NFC East title in his first season as a head coach in the NFL despite a rough night on the sideline. The Eagles' defense bailed Kelly and his offense out, holding the Cowboys to one touchdown and three field goals. Linebacker
Connor Barwin
batted down a
Kyle Orton
pass on a crucial fourth-and-1 play in the fourth quarter to prevent Dallas from taking a late lead.
Brandon Boykin
intercepted a pass to seal the Eagles' win with 1:43 left. The victory gives the Eagles a 10-6 record -- six more wins than last year -- and a date next Saturday night with the
New Orleans Saints
in the first round of the playoffs.
Kendricks shows up:
Second-year linebacker
Mychal Kendricks
has shown flashes of excellence all season, often negated by some lapses. He was the Eagles' best defender all night. Kendricks forced a
DeMarco Murray
fumble after the Cowboys drove to the Philadelphia 25 on their first possession. He intercepted a pass to set up an Eagles touchdown just before halftime. Kendricks also made some big tackles to hold Murray and
Jason Witten
to little or no gain in key situations.
Head scratching:
Kelly couldn't resist trying another gimmick play with
Brad Smith
in the red zone. This time, on first-and-goal at the 6, Smith lined up wide left. He took a handoff from
Nick Foles
and rolled out to his right. He threw an incomplete pass to
Zach Ertz
in the end zone. Foles had to throw the ball away on second down, and hit
DeSean Jackson
for five yards on third. That set up the fourth-and-goal play. Kelly decided to go for it instead of kicking a field goal. Foles was stuffed on the keeper and Dallas had a huge shot of momentum.
Stock watch:
Falling: Nick Foles. It didn't tank completely, but Foles' stock fell within the game. In the first half, he was terrific, completing 12 of 16 passes for 197 yards and two touchdowns -- a passer rating of 155.5. In the second half, Dallas started getting pressure as Foles struggled to get rid of the ball. Foles was 3-of-8 for 41 yards and a passer rating of 54.7 in the third quarter. He was sacked twice in the quarter, fumbling the ball away on his own 20-yard line. It's the kind of mistake Foles had avoided all season. The defense held the Cowboys to a field goal to minimize the damage.
What's next:
The Eagles host the Saints (11-5) Saturday night at Lincoln Financial Field. The Saints are 3-5 on the road this season. The Eagles have won their past four home games after enduring a 10-game home losing streak. It will be Kelly's first NFL playoff game, although he does have plenty of experience coaching on Saturdays.
December, 29, 2013
12/29/13
10:05
PM ET
ARLINGTON, Texas – The
Philadelphia Eagles
lead the
Dallas Cowboys
17-10 at halftime
in their game to determine who wins the NFC East and hosts the
New Orleans Saints
in a playoff game next weekend.
Some quick thoughts:
Nick Foles
told the truth. That first Dallas game was not stuck in his craw. Foles was accurate, authoritative and not afraid to take some risks. He threaded two defenders for a 16-yard throw to
Riley Cooper
in the first quarter. His jump balls to
Jason Avant
and
Brent Celek
set up the Eagles' second-quarter touchdowns.
LeSean McCoy
set the Eagles' franchise record for rushing yards in a season on a 16-yard run in the second quarter. Wilbert Montgomery's 1979 record of 1,512 yards lasted 34 years. McCoy had 51 rushing yards in the first half for a season total of 1,527.
Mychal Kendricks
was the Eagles' defensive MVP. He ended the Cowboys' first drive deep in Eagles territory by knocking the ball out of
DeMarco Murray
's hands. (Cornerback
Bradley Fletcher
recovered.) In the second quarter, Kendricks caught a ball that tight end
Jason Witten
dropped. The Eagles scored 10 of their 17 points off the two turnovers.
December, 27, 2013
12/27/13
11:30
AM ET
PHILADELPHIA – The quarterbacks are driving the pregame narrative, but come Sunday night, everyone could be talking about the Eagles and Cowboys running backs.
Nick Foles
has had to answer one million questions about what happened to him when the Eagles lost 17-3 to Dallas in October. And that's because Foles played his worst game that day and left with a concussion. But the Cowboys also shut down
LeSean McCoy
, the NFL's leading rusher.
[+] Enlarge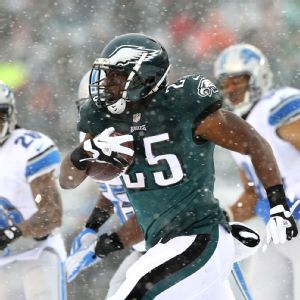 Elsa/Getty ImagesNot be overlooked, the performance of Eagles running back LeSean McCoy will be crucial in Sunday's contest versus the Cowboys.
And while the airwaves crackle with
Tony Romo
updates, DeMarco Murray's availability for this game could have an enormous impact. Romo played in that October game. Murray did not, and the Cowboys had just 74 rushing yards.
"They're not going to change their offense if it has to be
Kyle Orton
," Eagles linebacker
Connor Barwin
said. "They are who they've shown to be on tape. They'll have their running back back, so I'm sure they'll try to run the ball more."
Last week's game against the
Chicago Bears
illustrates how the Eagles defensive approach can be most effective. The Eagles held running back
Matt Forte
to 29 yards. They stuffed the run early and, after their offense built a 21-0 lead, were able to focus on pressuring the quarterback.
Whether it's Orton or a physically limited Romo, the pass rushers won't have to be concerned with the quarterback running the ball.
The Eagles' running game is a more complicated issue. It went awry for three of four games in October. The Giants and Cowboys did some things along the defensive front to disrupt the Eagles' blocking scheme. But McCoy was also making decisions that took him away from open space and into crowds.
"It was both, for sure," center
Jason Kelce
said. "But I think that (the disconnect between McCoy and the line) was a huge part of it. Shady sees things the way we're seeing things. We've just gotten better and better the more reps we've taken."
The Eagles' scheme is based on getting a blocker on each member of the defensive front and then let McCoy handle a single defender one-on-one. Against Dallas that day, the single defender was often linebacker
Sean Lee
, and Lee won those one-on-one matchups. He tackled McCoy five times, once for a loss. Lee had 11 tackles overall -- no other Cowboy had more than five -- plus an interception.
Lee is injured and unlikely to play Sunday. It would be overstating things to suggest that's a bigger loss than Romo, but not by much. Not in this game.
"He's one of the best 'backers in the league," Kelce said. "He makes a difference."
"It's a big loss," Barwin said. "That's a big challenge for them. If we lost DeMeco (Ryans), that would be a huge challenge for us. Hopefully that doesn't happen. But he's respected around this league as a hell of a player."
"He's obviously one of the top linebackers in the game," Eagles coach Chip Kelly said. "Nine games, he's got 99 tackles and four interceptions, and seeing him up close and personal when we played them in October, he was all over the field."
The Cowboys defense is vulnerable against the pass, to say the least. McCoy won't be required to carry the offense. But keeping the offense in balance will help take pressure off Foles and, if the Eagles are able to get the lead, run down the clock on the Cowboys' playoff hopes.
December, 27, 2013
12/27/13
11:00
AM ET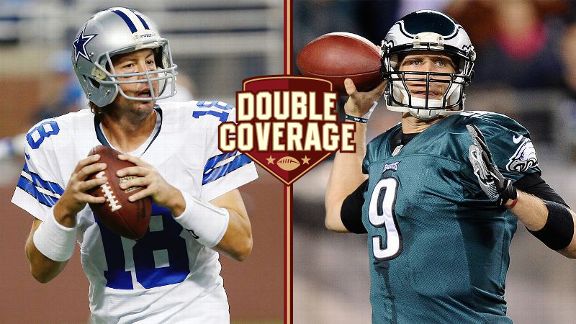 AP Photo, Getty ImagesDallas QB Kyle Orton, left, and the Eagles' Nick Foles didn't open the season as starters, but are expected to be leading their teams Sunday night with the NFC East title and a playoff berth at stake.
IRVING, Texas -- The NFC East title is at stake Sunday at AT&T Stadium when the
Dallas Cowboys
play the
Philadelphia Eagles
.
The Cowboys have been in this spot for the past three seasons, but for the first time the are likely to be without quarterback
Tony Romo
, who sources tell ESPN's Adam Schefter and Chris Mortensen is not expected to play. The Eagles were not expected to be in this situation in Chip Kelly's first season.
ESPN.com NFL reporters Todd Archer and Phil Sheridan dissect the matchup in this week's Double Coverage.
Archer:
Nick Foles
was awful when these teams met earlier in the season. Where has that guy gone?
Phil Sheridan:
This is the great mystery of the Eagles' season. Theories abound. Foles had been on the Eagles' injury report the week before that with a groin injury. Was it the groin? He left the game with a concussion. Had he suffered it earlier and been affected by that? He didn't play well in a bowl game at Arizona. Did he shrivel up in big games? Did Jerry Jones have his family tied up in a dungeon?
It was just such an outlier of a performance from anything else he's done this season, it seemed like there had to be some explanation. Best guess: He had a bad day. A really bad day. And he moved on from it and hasn't let it happen again. In his next game, he threw seven touchdown passes in Oakland. He's been outstanding since.
We've heard a lot about how involved Romo has been in running the offense. How much would that change with
Kyle Orton
in there? And is there any way he's ready to play at all?
Archer:
Honestly, I don't believe it changes all that much. The scheme will be the same. What they will miss is Romo's ability to make things up as things break down. That is not Orton's game. The offensive line has played much better down the stretch, especially running the ball. The pass protection has been good enough, but needs to be better because Orton simply doesn't move like Romo. But Orton has the arm strength to push the ball down the field, and his receivers like him even if they have not had much work with him. I'll go back to 2010 when the Cowboys lost Romo to a collarbone injury and
Jon Kitna
took over. In the six games Kitna started and finished with Garrett as interim head coach, the Cowboys averaged more than 30 points a game. They need to have Orton trust the system the way Kitna trusted the system.
How much credit does Chip Kelly deserve for getting the Eagles to this point? Certainly things didn't look stable when the Cowboys visited in October.
Sheridan:
Kelly deserves tons of credit. The Eagles were a smoking husk by the end of the Andy Reid era, as evidenced by their 4-12 record last season. Change was necessary, and Kelly is about as big a change as you can get. The players bought into it immediately, and they really seem to enjoy playing for him. He got a great effort from them Sunday night against the Bears, just hours after the Cowboys won and the Eagles knew they couldn't clinch the division.
I think two things happened to account for the rough patch the Eagles hit in October. The Giants had found some ways to disrupt the Eagles' run-blocking scheme, and the Cowboys deployed a similar approach. Also, the quarterbacks were both terrible and injured, in that order, in back-to-back losses to the Cowboys and Giants. Kelly adjusted the run blocking, Foles came back, and the Eagles are 6-1 since.
Let me ask the flip side of the Foles question: The Cowboys didn't have
DeMarcus Ware
in that first game. They dominated Foles and held
LeSean McCoy
to 55 rushing yards. What happened to those guys?
Archer:
Injuries have happened. The Cowboys have lost
Sean Lee
to hamstring and neck injuries, and he's not likely to play Sunday because of the neck.
Morris Claiborne
has missed six of the past seven games with a hamstring injury. He might play Sunday, but he's not been effective when he has played. Ware has not been anywhere close to form because of a variety of injuries and just poor play.
Jason Hatcher
has slumped after a solid start.
Brandon Carr
has slumped, too.
Bruce Carter
has not played well. Are you sensing a trend? To me there is a huge crisis of confidence with this defense from a player and coach standpoint. I don't know if the players trust the coaches, and I don't know if the coaches can dial up changes to stop anybody. But they can hang their hat on that first game as they enter this one, so we won't have to bring up Kelly's collegiate success vs. Monte Kiffin as much.
LeSean McCoy for MVP? It sure seems like he's perfect for what Kelly wants to do.
Sheridan:
Bears coach Marc Trestman nailed it after McCoy went for 133 rushing yards Sunday night: "I don't think it would matter what offensive system he plays in. Chip has done a tremendous job putting his offense in, no doubt about it, but he is just a great back."
One of the perennial gripes about Andy Reid was that he called running plays about as often as he turned down a second helping. That was true when he had
Duce Staley
,
Brian Westbrook
and McCoy. But McCoy was effective in Reid's offense. It's just that Kelly loves to run the ball, and his play designs reliably get McCoy into the secondary with one man to beat. And McCoy can beat almost anybody one-on-one.
MVP? Guessing the Sportsman of the Year
Peyton Manning
already has his name engraved on the trophy, but McCoy certainly belongs in the conversation.
What is the sense you get of the Cowboys' mindset? Do they see the blowout in Chicago, the collapse against Green Bay and the struggle at Washington as three bad games in a row? Or does pulling out the win Sunday give them a feeling they're back on the right track? And are they right?
Archer:
If you asked me this after the Redskins game, I would say they are riding high. It was the kind of win that can carry a team emotionally. But with the Romo news, I think that deflates them some. This team has shown a resiliency. They bounced back after tough losses to Denver, Detroit and Green Bay. I'll give Garrett credit for that. He has a mentally tough team. He just doesn't have a terribly talented team. Romo creates so much for this offense that they will need others to raise their games. It's possible. They still have
Dez Bryant
,
DeMarco Murray
,
Jason Witten
and
Miles Austin
on offense. That's not a shabby group by any stretch. And Orton is smart enough to know what he isn't. I think with the Romo news coming early in the week, it will allow them to prepare knowing he probably can't play.
.
December, 26, 2013
12/26/13
2:00
PM ET
PHILADELPHIA – Eagles head coach Chip Kelly talked about the Dallas Cowboys' quarterback situation, his own brief injury report, and the ol' banana-in-the-tailpipe trick. A few highlights from Kelly's Thursday press availability:
Kelly

Whether Tony Romo or Kyle Orton starts at quarterback, Kelly said, his team's preparations won't change."I don't think it changes their offense much just because of who the backup is," Kelly said. "I think they're going to stick with what they do. They obviously have playmakers in Dez Bryant and [Jason] Witten. They're going to run the ball with DeMarco Murray, who didn't play against us in the first game."On Monday, Kelly praised Romo's performance in bringing Dallas back for a fourth-quarter comeback win at Washington the day before. With reports that Romo has a serious back injury, Kelly was even more impressed."If he can't go, the first thing that came across my head will be that that performance against the Redskins was pretty special," Kelly said. "He did what he did, with the ability to bring them back and win that football game. The one thing you know about him is he's an unbelievable competitor."
Backup center Julian Vandervelde "tweaked" his back, Kelly said. Vandervelde did not practice Tuesday or Wednesday. He has been active for all 15 games because he's starter Jason Kelce's understudy. "We'll see how he is," Kelly said.Kelly said left guard Evan Mathis has played some center, but it was right guard Todd Herremans running with the second team during the open portion of practice.
This week's random non-football reference came courtesy of the Man in the Yellow Hat. Kelly was asked if he was curious about how his team will respond in a big-game situation in Dallas Sunday night."I don't think curious is the word, I think excited is the word," Kelly said. "I think we're all excited about going down there and what's at stake and what we can do. I'm not Curious George wondering whether we're going to show up or if we're going to show up. We're excited about playing a really good team that beat us the last time we played them. Obviously, there's a lot at stake."Curious George. Winston Churchill. Kent Tekulve. You never know with Kelly.

Maybe he had the "curious little monkey" on his mind a few minutes later. Asked if he was worried that the Eagles would let down based on the reports about Romo's injury, Kelly scoffed at the idea.

"I know this team's not going to fall for the banana-in-the-tailpipe trick," Kelly said.
December, 23, 2013
12/23/13
6:40
PM ET
PHILADELPHIA -- If it's better to be lucky than good, the 2013
Philadelphia Eagles
could win the NFC East title by being a little of both.
They opened the season against Washington, with
Robert Griffin III
looking very much like a young quarterback who hadn't taken a preseason snap.
They played Tampa Bay in
Mike Glennon
's second career start, while the Buccaneers were dealing with fallout from the
Josh Freeman
mess and a MRSA outbreak.
[+] Enlarge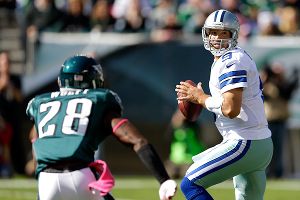 AP Photo/Matt RourkeTony Romo passed for 317 yards in Dallas' 17-3 win against Philadelphia on Oct. 20.
Green Bay's
Aaron Rodgers
broke his collarbone six days before the Eagles played the Packers, and his backup,
Seneca Wallace
, left with an injury in the first quarter.
When the Eagles were worried about how to cover
Calvin Johnson
, eight inches of snow covered the Detroit receiver for them.
Minnesota's
Adrian Peterson
injured his foot the week before the Eagles played the Vikings. His backup,
Toby Gerhart
, also missed that game.
And now
Tony Romo
will be out for the biggest game of the season, the virtual playoff game between the Eagles and Dallas, according to ESPN reports.
It's enough to make you wonder if Chip Kelly's super-secret sports science program includes hexes and voodoo dolls.
While there will be plenty of jokes about the Cowboys being better off without Romo and his 1-6 record in win-or-go-home games, his absence clearly takes some of the luster off of this much anticipated battle for the NFC East title.
Kelly, speaking before the news broke, had little regard for those criticisms of Romo. He cited the game-winning touchdown Romo threw Sunday to beat Washington and force the showdown with the Eagles.
"Fourth [down], game on the line, scrambles, keeps the ball alive, hits the mark to [DeMarco] Murray and they win the game," Kelly said. "I'm always on what you did last, and what he did last was pretty special -- the way he avoided the rush, kept drives alive, and I think he's as talented a quarterback as there is in this league.
"Any time with that position, sometimes I think you get probably too much credit and too much blame. But he's one of the really, really, really good quarterbacks we've seen, and I said that the first time we played him. If you're a fan of just quarterback play, he's pretty special."
As the Eagles learned the hard way, a little luck is no guarantee. They went to Minnesota two Sundays ago knowing that Peterson and Gerhart were unlikely to play. And they still were stomped 48-30 by
Matt Cassel
and the Vikings. A virtually unknown running back named
Matt Asiata
ran for three touchdowns in that game.
Cowboys backup quarterback
Kyle Orton
has more of a pedigree than Asiata or -- sticking with his position -- Glennon, Wallace or
Scott Tolzien
, who played most of the Packers game. Orton has faced the Eagles twice. He beat them in 2008 while with the Bears, and lost to them the following year as a Bronco.
Though the Eagles have had their share of luck this season, they aren't going to feel too sorry for the Cowboys. Remember,
Michael Vick
was their starting quarterback when the season began. After he was hurt,
Nick Foles
took over and played too well to be sent back down the depth chart.
Throughout that process, Kelly repeatedly said that you had to have two good quarterbacks in the NFL. The Packers found out what happens when you don't. If Orton isn't able to compete, that's on the Cowboys for not having another quarterback in development.
The year Orton and the Bears beat them, the Eagles went to the NFC Championship Game against Arizona. If Orton can beat them this time, they're going home.
October, 17, 2013
10/17/13
12:00
PM ET
There was a time when the
Philadelphia Eagles
and
Dallas Cowboys
both had a good chance of being undefeated going into an October showdown. That time may be long gone, but this meeting between a pair of 3-3 teams still has a lot of cachet.
The winner will have sole possession of first place in the NFC East. With Washington (1-4) and the
New York Giants
(0-6) already wrecked on the side of the road, this game will establish pole position for the race ahead.
Todd Archer, who covers the Cowboys for ESPN.com's NFL Nation, and Philadelphia counterpart Phil Sheridan discussed some of the big questions going into the game.
Sheridan:
DeMarcus Ware
and
DeMarco Murray
-- whether they're out or just limited by injury -- which can the Cowboys least afford to lose and why?
Archer:
To me, the easy answer is Ware because they really don't have much of a pass rush without him. The Cowboys can get by without Murray because of
Tony Romo
and the passing game. Ware has several little injuries this year with a stinger, a back strain, dehydration, getting poked in the eye and now this quad strain. He says he is a fast healer, but I don't think he'll heal fast enough for this week and the Cowboys will have to get by with what Jerry Jones called the "no-names," like
George Selvie
,
Kyle Wilber
and
Caesar Rayford
.
I'll go with the either/or as well:
Michael Vick
or
Nick Foles
? If both are healthy, whom does Chip Kelly eventually roll with?
Sheridan:
I wish I knew what Chipper is really thinking. Ultimately, I think he has to get an extended look at Foles this season. Vick's injury opened the door, and Foles certainly took a confident stride through it Sunday, earning NFC Offensive Player of the Week honors in Tampa. But part of being a successful NFL quarterback is coming back, week after week, through nagging injuries and fatigue. Kelly has to know whether Foles can do that before this season is over. Combine that with the fact that Foles may actually run the offense more effectively and I think it may be a while before we see Vick again.
Foles had a good day in Tampa. Now he faces the godfather of the Tampa 2. How is Monte Kiffin's defense coming together after six games?
Archer:
To be kind, not well. The Cowboys have allowed three 400-yard passers this season. They allowed 216 rushing yards last week against Washington. They likely won't have Ware, so that will hinder the pass rush. The Cowboys aren't really the true Tampa 2 scheme that Kiffin ran so well in Tampa. First off, he doesn't have
Warren Sapp
,
Derrick Brooks
or
John Lynch
, but the Cowboys are mixing their coverages a lot more because of their cornerbacks. They paid a lot of money for
Brandon Carr
,
Morris Claiborne
and
Orlando Scandrick
and have tried to play more man-to-man lately. They were fairly effective against the Redskins, and that helped the pass rush. They'll have to be that effective this week too.
I mentioned the 216 rushing yards, and
LeSean McCoy
is on the docket for the Dallas D. He's off to a great start and seems to be a perfect fit in this offense. True?
Sheridan:
One hundred percent true, although McCoy might be a pretty good fit in any offense that involves a football. Some of the Broncos, who don't see him often, were comparing him to
Barry Sanders
, and it's not as big a reach as you might think at first. He's quick, he's strong, he changes direction almost magically, and his instincts are remarkable. For a few weeks, the Eagles were piling up rushing yards without getting enough points. Against Tampa Bay, McCoy went for 116 yards and there was a 31 on the scoreboard. That's where the Eagles need to be.
Let's turn to the Dallas offense. Eagles defensive coordinator Bill Davis said this week what a lot of people think, that Romo is capable of making a big play or a big mistake at any time. How is the franchise quarterback's confidence this year?
Archer:
I wonder if Davis has seen Romo play much this year. Maybe he just saw the end of the Broncos game when he had the interception, but Romo has only three picks on the year. One was a busted route by a rookie receiver, and another was a tipped ball. I think his involvement in the game plan really has Romo tuned into the opposing defenses and what they're trying to do. He is not forcing throws (no, I'm not forgetting the late Broncos interception), and he is being more patient than ever. This is his offense in a lot of ways, and he doesn't want to screw it up. That being said, the offense has not performed well in its first two road games, scoring 16 and 14 points against Kansas City and San Diego. In the last two games, the Cowboys have spread it out more, and without Murray this week, I think you'll see more spread looks Sunday.
For so long we've been used to seeing a Jim Johnson-type defense in Philly, but Davis has a different style. What has or hasn't happened so far in the Eagles' move to the 3-4?
Sheridan:
It is a process, as Davis and Kelly constantly remind us. It's a tough transition when you have players better suited to a 4-3. It's even tougher with players who aren't suited to any defensive scheme at all. The Eagles seemed to have a few of those while giving up 33 passing touchdowns last year. They made a lot of changes in the secondary, but it has still been vulnerable -- especially on third down. The defense seemed to make progress against the Giants and Bucs, but those are two winless teams. It will be a big deal if the Eagles can continue to make progress against a quarterback like Romo.
How good is
Dez Bryant
right now, and how much more potent can this offense be if and when
Miles Austin
gets it going?
Archer:
Bryant has carried over his success from the second half of last season to this season, at least in terms of touchdowns. He is a nightmare for cornerbacks in the red zone. He's just too big and physical down there for them to handle. He's almost too physical and might get a pass interference penalty one of these days. But Romo is so confident in him down tight that he'll just throw it up knowing Bryant will get it or nobody else will. What's strange, however, is that Bryant has had three games in which he has averaged less than 10 yards per catch. If teams want to take him out with help, they can. And that's where Austin comes in. He's just not healthy yet but was off to a good start before injuring his hamstring. Rookie
Terrance Williams
has really caught on lately and helped make up for Austin's absence/lack of production. When he's right, Austin is dangerous in the slot and outside and is a tough matchup.
Let's stick with the receivers. Is
DeSean Jackson
, well, DeSean Jackson again?
Sheridan:
DeSean Jackson is DeSean Jackson, only better. He seems to have matured almost overnight. He says he worked out and added a little muscle mass during the offseason. Not sure whether it's that or Foles or Kelly's offensive approach, but Jackson is suddenly a factor in the red zone. He was always a deep threat but disappeared inside the 20. He has red zone scores in each of the last two games. He'll never be the kind of receiver you described Bryant as being, but he's added a better understanding of the game to his gift of speed.
Both teams are 3-3. It's not exactly the 1990s, when they might both be undefeated when they met in October, but this will still decide who is in first place in the NFC East. Do you think the Cowboys have what it takes to knuckle down and win the division in a decidedly down year?
Archer:
I think they do, but if there's one thing I've figured out in covering this team, it is to never come to expect anything. They are just too up and down. There's no doubt the NFC East is down, but the prevailing wisdom is that the Cowboys are infinitely more talented than every other team in the division, so they should run away with it. I don't know about that. They're good at the top but not so much in the middle and bottom. They have a ton of questions on defense. They can't afford injuries. They might have the best chance to win the NFC East, but it's not a lock. This game, to me, is huge. If they can get to 3-0 in the division, it gets a little easier. If they lose, they're riding that 8-8 bus again.
Is Kelly in this for the long haul?
Sheridan:
Here's another case where I wish I knew what was going on inside Kelly's head. He's good at talking about football, what he's trying to do and why. He doesn't entertain any questions that appear to be probing into his personal life or his feelings about anything. I think he's learned the NFL is difficult in different ways from the college game. Whether he enjoys being out of his comfort zone and sees it as a challenge to excel at this level or whether he can't wait to get back to a college gig, I have no idea. He just doesn't share that kind of thing. I can say that neither extreme would surprise me. More to the point, I think he can be a very good NFL coach. His offense certainly works in the league.
October, 16, 2013
10/16/13
8:00
AM ET
PHILADELPHIA – After solid performances against the slumping
Eli Manning
and rookie
Mike Glennon
, the
Philadelphia Eagles
' defense must see if it can hold its own against
Tony Romo
on Sunday.
He has his flaws, but Romo is playing at a very high level this season.
"When you study him over time, he's either really hot or really off, and sometimes it's through the course of one single game," Eagles defensive coordinator Bill Davis said Tuesday. "He may be first-half hot, second-half cold, and vice versa. You have to play him all the way through four quarters. I think you've got to challenge the receivers and challenge him to find the opening and keep moving it on him. I think he'll make some plays and I think he'll make some mistakes."
Romo has been making a lot more plays than mistakes this season. He is completing 70.2 percent of his passes, has a rating of 108.6 and has thrown 14 touchdowns against just three interceptions. Of course, he threw one pick in the clutch against Denver a couple weeks ago, and that drew more attention than all the touchdowns combined.
But the
Dallas Cowboys
have involved Romo in designing the game plan this season, and he has evolved into a better, smarter quarterback. With running back
DeMarco Murray
likely out Sunday, Romo will be relied on to throw the ball even more.
"They have got some great weapons and a quarterback that knows how to distribute them, and that's really what you come against," Davis said. "The big passing offenses, quarterback that can get the ball to playmakers, and the other part of that is having the playmakers and Dallas is loaded with playmakers."
Quarterbacks such as
Peyton Manning
and
Philip Rivers
had huge games against this developing Eagles defense. This game will be a test of whether Davis' guys have gotten that much better, or whether Glennon's ability to convert third downs and exploit mistakes will be magnified against Romo.
Veteran safety
Patrick Chung
, who has a nerve issue in his right shoulder, is likely to be out. That means rookie
Earl Wolff
, who has two starts on his resume, would line up with
Nate Allen
.
Notes:
Left tackle
Jason Peters
(shoulder) and running back
Chris Polk
did not take part in Tuesday's practice. Tight end
James Casey
, who missed the Tampa Bay game with a groin issue, did practice.
With Casey likely back this week, the Eagles waived reserve tight end
Emil Igwenagu
, who had not been active in the first six games. They signed wide receiver
B.J. Cunningham
, who impressed Kelly in training camp before getting hurt.
Greg Salas
, who also had a strong camp, was signed off the Eagles practice squad by the
New York Jets
.