Philadelphia Eagles:

Dez Bryant
January, 30, 2014
Jan 30
8:00
AM ET
PHILADELPHIA -- It was always coming down to the season finale in Dallas. No matter what the Eagles or Cowboys did over the last two months, they were always on a collision course that would decide the NFC East title in Week 17.
And yes, it was more than a little anticlimactic when Dallas quarterback
Tony Romo
's back injury knocked him out of the game.
The Eagles still had to win, though. And they did, in a game that featured a number of unforgettable and season-defining plays. Choosing just one was the hardest part of doing this entire season. But here we go:
Dec. 29 at Dallas: Cornerback Cary Williams breaks up a two-point conversion pass intended for Dez Bryant.
The Eagles defense made a couple of other big plays.
Connor Barwin
batting away a pass on fourth down was a huge moment. And of course
Brandon Boykin
made an interception that ended the Cowboys' last chance to drive for the game-winning score. It doesn't get much bigger than that.
But the momentum belonged to the Cowboys when, on a fourth-and-9 play,
Kyle Orton
found Bryant for a 32-yard touchdown right through the heart of the Eagles' secondary. That made the score 24-22 with only 2 minutes, 19 seconds left in the fourth quarter. The Cowboys lined up for the two-point conversion and a chance to tie the game.
Maybe the Eagles would have driven to a game-winning field goal or touchdown if the Cowboys had tied the game there. Maybe they would have won in overtime. But maybe not. For certain, that two-point lead put all the pressure on the Cowboys in those final minutes.
A week earlier, the Eagles had beaten the
Chicago Bears
, 54-11. The Bears scored just one touchdown in that game. It was a 6-yard throw from
Jay Cutler
to
Brandon Marshall
. Williams was the cornerback beaten on the play.
As he lined up across from Bryant, Williams thought of that play. He knew the Cowboys coaches had studied that game tape. He said he expected Dallas to try to get the ball to Bryant the same way Chicago had gotten it to Marshall. He guessed right, diving to slap the ball away and preserve the lead.
The Cowboys got another chance, but Boykin ended that with his interception. The Eagles celebrated the NFC East title on the Cowboys' home field. It was the highlight of an exciting first season under coach Chip Kelly. And the defining play was Williams' desperate swat at a pass that would have tied the game.
On Friday, we'll take a look at the last of the 10 plays that defined the Eagles' 2013 season.
January, 9, 2014
Jan 9
8:00
AM ET
PHILADELPHIA -- The good news for
Philadelphia Eagles
coach Chip Kelly is he doesn't have to spend the next couple months traveling to high school kids' homes and recruiting them.
The bad news?
"It's a different league," Kelly said. "This isn't recruiting where you can go out and offer and try to get them to come. There's a selection in the draft process and we're not going to pick until the 22nd [spot in the first round]. There's 21 other guys that we may covet, but we don't have an opportunity to get them."
If a team drafted 22d every year and did well, it could be awfully good. Based on the last 10 years, drafting only players taken between No. 22 and No. 32 (the end of the first round), a team could have
Aaron Rodgers
at quarterback, wide receivers
Dez Bryant
and
Santonio Holmes
, running backs
Steven Jackson
and
Chris Johnson
, linebackers
Clay Matthews
and
Nick Perry
, safety
Brandon Meriweather
and defensive linemen
Cameron Jordan
and
Sharrif Floyd
.
You could do worse. Plenty of teams did do worse. Cleveland took two quarterbacks,
Brady Quinn
and
Brandon Weeden
, at No. 22.
Later we'll look at some possible players the Eagles could consider at No. 22 in this year's draft. For now, here's a quick look at the 22nd pick in each of the past 10 NFL drafts, along with a few players that were on the board at the time (I didn't go beyond the end of the first round out of fairness; just looking at first-round graded players):
2013: Cornerback
Desmond Trufant
from Washington, selected by Atlanta.
On the board: Defensive tackle Sharrif Floyd, WR/Returner
Cordarrelle Patterson
, defensive end
Datone Jones
.
2012: Quarterback Brandon Weeden from Oklahoma State, selected by Cleveland.
On the board: Linebackers
Dont'a Hightower
and Nick Perry, running back
Doug Martin
.
2011: Offensive tackle
Anthony Castonzo
from Boston College, selected by Indianapolis.
On the board: Offensive lineman
Danny Watkins
, defensive end Cameron Jordan, running back
Mark Ingram
.
2010: Wide receiver
Demaryius Thomas
from Georgia Tech, selected by Denver.
On the board: Wide receiver Dez Bryant, quarterback
Tim Tebow
, cornerback
Devin McCourty
.
2009: Wide receiver
Percy Harvin
from Florida, selected by Minnesota.
On the board: Offensive tackle
Michael Oher
, cornerback
Vontae Davis
, linebacker Clay Matthews.
2008: RB
Felix Jones
from Arkansas, selected by Dallas.
On the board: Running backs
Rashard Mendenhall
and Chris Johnson, cornerback
Mike Jenkins
.
2007: Quarterback Brady Quinn from Notre Dame, selected by Cleveland.
On the board: Wide receiver
Dwayne Bowe
, safety Brandon Meriweather, linebackers
Jon Beason
and
Anthony Spencer
, offensive tackle
Joe Staley
.
2006: Linebacker
Manny Lawson
from N.C. State, selected by San Francisco.
On the board: Offensive lineman
Davin Joseph
, wide receiver Santonio Holmes, running back
DeAngelo Williams
, defensive end
Mathias Kiwanuka
.
2005: Wide receiver
Mark Clayton
from Oklahoma, selected by Baltimore.
On the board: Cornerback
Fabian Washington
, quarterback Aaron Rodgers, wide receiver
Roddy White
.
2004: Quarterback
J.P. Losman
from Tulane, selected by Buffalo.
On the board: Defensive tackle
Marcus Tubbs
, running back Steven Jackson, defensive end
Jason Babin
.
December, 31, 2013
12/31/13
5:30
PM ET
PHILADELPHIA -- If you're looking for signs the Eagles can handle
New Orleans Saints
tight end
Jimmy Graham
, you won't find much comfort in Sunday night's game against the
Dallas Cowboys
.
Tight end
Jason Witten
caught 12 passes for 135 yards in a game the Eagles hung on to win, 24-22.
Graham is bigger (6-foot-7), faster and just plain better than Witten at this point in his career. But Witten is probably not the best precedent for gauging the Eagles' ability to cover Graham. Wide receivers like
Brandon Marshall
,
Larry Fitzgerald
and
Calvin Johnson
are.
"I think Witten had a great game the other night on us, but he's a great player," Eagles defensive coordinator Bill Davis said. "He's a Pro Bowl player and he's going to make those plays. The first game, he didn't have so much but we kind of shifted where we were helping different places, put a little more help on Dez (Bryant). You move it around and great players play great, especially this time of the year when it's playoff football."
In other words, Davis focused on defending Bryant and running back
DeMarco Murray
. That left Witten more space to operate. The Saints present a number of challenges, but Graham is a lot closer to the top of the list of priorities.
"He's the No. 1 target they have and he's been their most consistent target," Davis said. "He's a big, athletic tight end, catches everything thrown near him. They move him all over the place so it's tough to practice and get a bead on how to help guys on him."
Against those big wide receivers, the Eagles were far from perfect, but they did limit the damage. And that will likely be their approach with Graham. It wouldn't be surprising if Davis used linebacker
Connor Barwin
as he did against Fitzgerald and other big wideouts. Barwin would line up at cornerback and jam the receiver, trying to throw him off his route and disrupt his timing. Usually, a defensive back would then pick the receiver up.
Considering how quickly quarterback
Drew Brees
makes his first read and gets the ball out, that could be enough to get him looking away from Graham at least some of the time.
"It's a big thing, messing up that timing between he and his receivers," linebacker
Mychal Kendricks
said. "With that quick release that he has, it's going to be huge."
New England used cornerback
Aqib Talib
to follow Graham all over the field. Davis has not used his corners that way all season.
Cary Williams
is on the right side and
Bradley Fletcher
is on the left. It seems unlikely Davis would ask them to change up at this late date.
But it wouldn't be shocking if Barwin, Kendricks and
Trent Cole
played Graham physically at the line and then a safety or nickel cornerback
Brandon Boykin
took over. Boykin can run with anyone, but he gives up nine inches to Graham. That requires a different solution.
"Jump," Kendricks said. "You're playing ball, man. You've just got to go for it. That factor's not going to change. You've got to study him and his routes and attack his hands."
December, 30, 2013
12/30/13
2:25
AM ET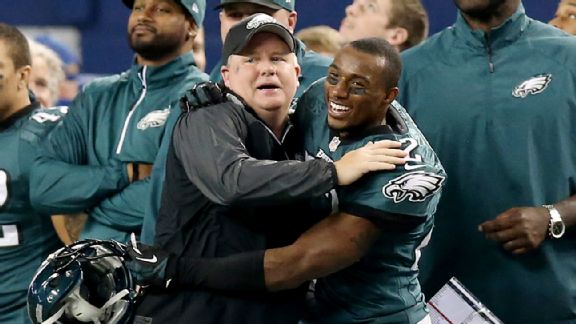 Matthew Emmons/USA TODAY SportsBrandon Boykin's interception sealed a playoff berth for Chip Kelly and the Eagles.
ARLINGTON, Texas -- Whatever Chip Kelly and
Nick Foles
accomplish together as coach and quarterback of the Eagles, in these playoffs and beyond, they will look back on Sunday night's
24-22 win
over the
Dallas Cowboys
as their first big game together.
And they will know, deep in their hearts, that those unheralded guys on the Philadelphia defense saved their postseason lives.
With a combination of smarts, sports science and magic, Kelly turned the 4-12 Eagles team he inherited into a 10-6 division title winner. Foles, who took over at quarterback in October, went 8-2 as a starter and finished the season as the NFL's highest rated passer.
The Eagles came to Foles' native Texas for a virtual playoff game against the Cowboys. Win and the Eagles would be NFC East champions. They would host the
New Orleans Saints
in a first-round playoff game Saturday night. They would have a puncher's chance to be that hot team that burns its way to the Super Bowl seemingly every year.
For a half, they had things in hand. Foles threw two touchdown passes, giving him 27 for the season against just two interceptions. His passer rating was 155.5. The Eagles had a 17-10 lead and possession of the ball to start the third quarter.
And then it started unraveling. The offense was brutal in the third quarter. Foles looked overwhelmed, completing 3 of 8 passes for 41 yards and fumbling the ball away at his own 20. It was so bad, Kelly had Foles throw exactly two passes in the entire fourth quarter.
"We made it a game," Eagles left tackle
Jason Peters
said. "Not scoring, stalling out a couple times on offense. We let them back in the game."
The defense took the game back.
After Foles' fumble, Dallas ran three plays for a total of 2 yards. Linebackers
Mychal Kendricks
,
DeMeco Ryans
and
Connor Barwin
made one-on-one tackles to stop
Jason Witten
once and
DeMarco Murray
twice. The Cowboys kicked a field goal and the Eagles clung to their slim, 17-16 lead.
After another three-and-out by Foles and the offense, the Eagles' defense allowed 1 yard on the Cowboys' next possession. That forced a punt that
DeSean Jackson
, who was held to three catches, returned 23 yards to the Philadelphia 48-yard line.
That was the spark the Eagles needed. They were at midfield instead of their own 20.
LeSean McCoy
ran three times for 24 yards. Foles completed a short pass that
Brent Celek
took 22 yards down to the 6-yard line.
That's when Kelly almost outsmarted himself. He couldn't resist bringing
Brad Smith
in for another of those gimmick plays that look so clever on the dry-erase board. The halfback option pass went incomplete.
"Trying to score," Kelly said. "We thought we would be in man coverage down there. We had a throw back to the quarterback [called]."
Foles threw incomplete on second down. On third down, Jackson caught a ball at the 1-yard line and was held out of the end zone by
Orlando Scandrick
and
Brandon Carr
.
Fourth-and-less-than-a-yard, late in the third quarter.
The book says kick the field goal. Kelly decided to go for it.
"We felt like with the ball on the half-yard line, we've got to be able to punch it in," Kelly said.
They couldn't. Foles was stuffed on the quarterback keeper.
If the Cowboys had seized the momentum there and won, Kelly would have had a very tough time living down the gadget play, the failed fourth down and the non-use of McCoy. That didn't happen, because the Eagles' defense wouldn't let it happen.
"That was an interesting fourth quarter," Kelly said. "Those guys didn't flinch."
The Cowboys drove 59 yards to a fourth-and-1 of their own at the Philadelphia 40-yard line. Jason Garrett decided to go for it. He had a good play call. The Eagles expected a run, so Murray slipped into the flat for a flare pass from
Kyle Orton
.
Barwin thought it was a run, saw that Orton still had the ball and closed in on him. Orton tried to get it over the 6-foot-4 linebacker's head. He couldn't. Barwin swatted it away. Eagles ball.
"I thought I could catch it," Barwin said. "I knew we were off the field. But I knew there was still some game left to play. I knew it was a big play in the game, but I knew we would be back out there on defense."
It was the first of several signature plays the defense made to save this game for the Eagles. The next was cornerback
Cary Williams
, breaking up a 2-point conversion pass for
Dez Bryant
that would have tied the game at 24.
Foles and the offense got the ball back with a chance to run down the clock. Instead, it was another three-and-out, another punt, another save required by the defense.
As it turns out, the Eagles' defense had been through this drill a few times this season. Those home wins against Washington and Arizona came down to late defensive stops.
On first down, needing maybe 30 yards to get within field goal range, Orton threw a pass intended for
Miles Austin
. It was a little behind him. It wasn't behind
Brandon Boykin
.
The nickel corner caught it and the Eagles were NFC East champions, Kelly had a division title in his first season and Foles won the first elimination game of his career.
"There's going to be adversity in games," Foles said. "We overcame it today as a team and it was an exciting game to win. I had a blast out there. Our defense was coming up big, special teams played really good ball, and our offense was able to put some points on the board. In those times of adversity, the game's not over. There's still time on the clock. That's how I've always looked at it -- I'm going to play until that clock says zero."
Earlier this season, Eagles owner Jeff Lurie said he wouldn't judge Kelly strictly on wins and losses. That was before Lurie knew there would be 10 wins and a home playoff game.
But his larger point still holds true. Lurie hired Kelly because he believed the unorthodox college coach with the cocky grin could build a winning program. His Eagles, on offense and defense and special teams, made a pretty good case this year that Lurie was correct.
"This team has character," Peters said.
That seems clear. And it's just as clear the coach is a character.
"He's a little different than what most coaches are," said Williams, who won a Super Bowl with John Harbaugh in Baltimore last year. "He goes against the grain. It's great."
December, 27, 2013
12/27/13
11:00
AM ET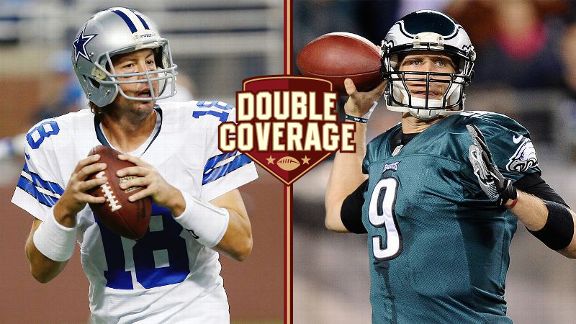 AP Photo, Getty ImagesDallas QB Kyle Orton, left, and the Eagles' Nick Foles didn't open the season as starters, but are expected to be leading their teams Sunday night with the NFC East title and a playoff berth at stake.
IRVING, Texas -- The NFC East title is at stake Sunday at AT&T Stadium when the
Dallas Cowboys
play the
Philadelphia Eagles
.
The Cowboys have been in this spot for the past three seasons, but for the first time the are likely to be without quarterback
Tony Romo
, who sources tell ESPN's Adam Schefter and Chris Mortensen is not expected to play. The Eagles were not expected to be in this situation in Chip Kelly's first season.
ESPN.com NFL reporters Todd Archer and Phil Sheridan dissect the matchup in this week's Double Coverage.
Archer:
Nick Foles
was awful when these teams met earlier in the season. Where has that guy gone?
Phil Sheridan:
This is the great mystery of the Eagles' season. Theories abound. Foles had been on the Eagles' injury report the week before that with a groin injury. Was it the groin? He left the game with a concussion. Had he suffered it earlier and been affected by that? He didn't play well in a bowl game at Arizona. Did he shrivel up in big games? Did Jerry Jones have his family tied up in a dungeon?
It was just such an outlier of a performance from anything else he's done this season, it seemed like there had to be some explanation. Best guess: He had a bad day. A really bad day. And he moved on from it and hasn't let it happen again. In his next game, he threw seven touchdown passes in Oakland. He's been outstanding since.
We've heard a lot about how involved Romo has been in running the offense. How much would that change with
Kyle Orton
in there? And is there any way he's ready to play at all?
Archer:
Honestly, I don't believe it changes all that much. The scheme will be the same. What they will miss is Romo's ability to make things up as things break down. That is not Orton's game. The offensive line has played much better down the stretch, especially running the ball. The pass protection has been good enough, but needs to be better because Orton simply doesn't move like Romo. But Orton has the arm strength to push the ball down the field, and his receivers like him even if they have not had much work with him. I'll go back to 2010 when the Cowboys lost Romo to a collarbone injury and
Jon Kitna
took over. In the six games Kitna started and finished with Garrett as interim head coach, the Cowboys averaged more than 30 points a game. They need to have Orton trust the system the way Kitna trusted the system.
How much credit does Chip Kelly deserve for getting the Eagles to this point? Certainly things didn't look stable when the Cowboys visited in October.
Sheridan:
Kelly deserves tons of credit. The Eagles were a smoking husk by the end of the Andy Reid era, as evidenced by their 4-12 record last season. Change was necessary, and Kelly is about as big a change as you can get. The players bought into it immediately, and they really seem to enjoy playing for him. He got a great effort from them Sunday night against the Bears, just hours after the Cowboys won and the Eagles knew they couldn't clinch the division.
I think two things happened to account for the rough patch the Eagles hit in October. The Giants had found some ways to disrupt the Eagles' run-blocking scheme, and the Cowboys deployed a similar approach. Also, the quarterbacks were both terrible and injured, in that order, in back-to-back losses to the Cowboys and Giants. Kelly adjusted the run blocking, Foles came back, and the Eagles are 6-1 since.
Let me ask the flip side of the Foles question: The Cowboys didn't have
DeMarcus Ware
in that first game. They dominated Foles and held
LeSean McCoy
to 55 rushing yards. What happened to those guys?
Archer:
Injuries have happened. The Cowboys have lost
Sean Lee
to hamstring and neck injuries, and he's not likely to play Sunday because of the neck.
Morris Claiborne
has missed six of the past seven games with a hamstring injury. He might play Sunday, but he's not been effective when he has played. Ware has not been anywhere close to form because of a variety of injuries and just poor play.
Jason Hatcher
has slumped after a solid start.
Brandon Carr
has slumped, too.
Bruce Carter
has not played well. Are you sensing a trend? To me there is a huge crisis of confidence with this defense from a player and coach standpoint. I don't know if the players trust the coaches, and I don't know if the coaches can dial up changes to stop anybody. But they can hang their hat on that first game as they enter this one, so we won't have to bring up Kelly's collegiate success vs. Monte Kiffin as much.
LeSean McCoy for MVP? It sure seems like he's perfect for what Kelly wants to do.
Sheridan:
Bears coach Marc Trestman nailed it after McCoy went for 133 rushing yards Sunday night: "I don't think it would matter what offensive system he plays in. Chip has done a tremendous job putting his offense in, no doubt about it, but he is just a great back."
One of the perennial gripes about Andy Reid was that he called running plays about as often as he turned down a second helping. That was true when he had
Duce Staley
,
Brian Westbrook
and McCoy. But McCoy was effective in Reid's offense. It's just that Kelly loves to run the ball, and his play designs reliably get McCoy into the secondary with one man to beat. And McCoy can beat almost anybody one-on-one.
MVP? Guessing the Sportsman of the Year
Peyton Manning
already has his name engraved on the trophy, but McCoy certainly belongs in the conversation.
What is the sense you get of the Cowboys' mindset? Do they see the blowout in Chicago, the collapse against Green Bay and the struggle at Washington as three bad games in a row? Or does pulling out the win Sunday give them a feeling they're back on the right track? And are they right?
Archer:
If you asked me this after the Redskins game, I would say they are riding high. It was the kind of win that can carry a team emotionally. But with the Romo news, I think that deflates them some. This team has shown a resiliency. They bounced back after tough losses to Denver, Detroit and Green Bay. I'll give Garrett credit for that. He has a mentally tough team. He just doesn't have a terribly talented team. Romo creates so much for this offense that they will need others to raise their games. It's possible. They still have
Dez Bryant
,
DeMarco Murray
,
Jason Witten
and
Miles Austin
on offense. That's not a shabby group by any stretch. And Orton is smart enough to know what he isn't. I think with the Romo news coming early in the week, it will allow them to prepare knowing he probably can't play.
.
December, 26, 2013
12/26/13
2:00
PM ET
PHILADELPHIA – Eagles head coach Chip Kelly talked about the Dallas Cowboys' quarterback situation, his own brief injury report, and the ol' banana-in-the-tailpipe trick. A few highlights from Kelly's Thursday press availability:
Kelly

Whether Tony Romo or Kyle Orton starts at quarterback, Kelly said, his team's preparations won't change."I don't think it changes their offense much just because of who the backup is," Kelly said. "I think they're going to stick with what they do. They obviously have playmakers in Dez Bryant and [Jason] Witten. They're going to run the ball with DeMarco Murray, who didn't play against us in the first game."On Monday, Kelly praised Romo's performance in bringing Dallas back for a fourth-quarter comeback win at Washington the day before. With reports that Romo has a serious back injury, Kelly was even more impressed."If he can't go, the first thing that came across my head will be that that performance against the Redskins was pretty special," Kelly said. "He did what he did, with the ability to bring them back and win that football game. The one thing you know about him is he's an unbelievable competitor."
Backup center Julian Vandervelde "tweaked" his back, Kelly said. Vandervelde did not practice Tuesday or Wednesday. He has been active for all 15 games because he's starter Jason Kelce's understudy. "We'll see how he is," Kelly said.Kelly said left guard Evan Mathis has played some center, but it was right guard Todd Herremans running with the second team during the open portion of practice.
This week's random non-football reference came courtesy of the Man in the Yellow Hat. Kelly was asked if he was curious about how his team will respond in a big-game situation in Dallas Sunday night."I don't think curious is the word, I think excited is the word," Kelly said. "I think we're all excited about going down there and what's at stake and what we can do. I'm not Curious George wondering whether we're going to show up or if we're going to show up. We're excited about playing a really good team that beat us the last time we played them. Obviously, there's a lot at stake."Curious George. Winston Churchill. Kent Tekulve. You never know with Kelly.

Maybe he had the "curious little monkey" on his mind a few minutes later. Asked if he was worried that the Eagles would let down based on the reports about Romo's injury, Kelly scoffed at the idea.

"I know this team's not going to fall for the banana-in-the-tailpipe trick," Kelly said.
December, 24, 2013
12/24/13
8:00
AM ET
PHILADELPHIA --
Cary Williams
realized he had a problem when he began to hear the same thing from the most important people in his life.
The Eagles cornerback heard from his brother and his best friend. His longtime pastor expressed his concern. And finally, when his wife Amanda confronted him about the issue, Williams knew it was time to face the truth.
He was being too darn nice.
"When my wife said it, it really kind of sunk in," Williams said. "I had to listen. She's been following for a long time and watching when I played. She said I just didn't have the same aggressiveness I used to."
[+] Enlarge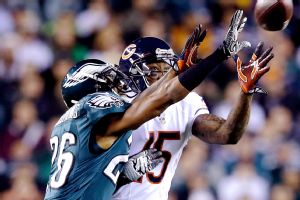 AP Photo/Michael PerezCary Williams and the Eagles won the NFC East in 2013 despite allowing the most passing yards per game in the NFL.
The Williams they knew had a mean streak -- on the football field, that is. Williams is a doting husband and father off the field. On it, he has an edge. Or at least he did when he was playing with the
Baltimore Ravens
. Since signing with the Eagles as a free agent this year, Williams' inner circle noticed a change in his on-field demeanor.
"I gave a bunch of excuses why," Williams said. "When I looked in the mirror, it is what it is. I am what I put out on the field. I just wanted to come out and play with aggressiveness and a passion for the game. You have to have that type of nastiness to you, to a degree."
If the words of his wife and family and friends didn't do it, then the Eagles' 48-30 loss in Minnesota would have. The secondary, including Williams, was beaten up and down the field by Vikings receiver
Greg Jennings
and his cohorts.
With
Brandon Marshall
and
Alshon Jeffery
of the
Chicago Bears
coming to town, Williams knew it was time.
"I had to get back in character," he said.
And he did. The whole secondary played with an aggressiveness and physicality that was missing from the Minnesota game. Williams broke up two passes intended for Marshall. The second was an especially physical play that had Marshall looking at Williams like he'd gone crazy.
"Our corners challenged them," defensive coordinator Bill Davis said. "Our corners stepped up on their own and handled them. I had a lot of things in the plan, but as I watched it unfold and saw how the corners were holding up -- and they really were holding up well -- I left them out there on their own. They did a great job."
Williams and
Bradley Fletcher
seem better against bigger, more physical receivers. That's not a bad thing with
Dez Bryant
of the
Dallas Cowboys
coming up this Sunday. Bryant is a favorite target of
Tony Romo
, but with Romo reportedly sidelined, he may be even more of a security blanket for backup quarterback
Kyle Orton
. He's the kind of receiver who can catch balls thrown near him, even if he's covered.
That will require Williams to stay in character.
"People were telling me I'm not the same guy I was in Baltimore, with the ferociousness," Williams said. "When they said that, I had to change the perception. Hopefully, I did."
He did it by being the nasty, aggressive Williams -- the one his wife and pastor want him to be.
October, 27, 2013
10/27/13
7:55
PM ET
PHILADELPHIA -- When he was developing his freewheeling, risk-taking reputation as a head coach at Oregon, Chip Kelly was used to having the best team on the field every Saturday. That tends to help make your decisions turn out the way you planned.
With the
Philadelphia Eagles
, Kelly's decisions have been run through the shredder of his players' limitations. Sunday's 15-7 loss to the
New York Giants
was a feast for second-guessers (and even first-guessers).
• We'll go light on the play call on first-and-goal at the 2-yard line late in the first half. Play calls are usually all about execution. If
Matt Barkley
ran the play exactly as designed, the Eagles may well have scored a touchdown on that possession.
[+] Enlarge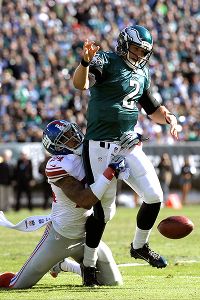 AP Photo/Michael PerezTerrell Thomas forced a Matt Barkley fumble on first-and-goal from the 2, squashing an Eagles scoring opportunity.
"It's a play we've run," Kelly said. "We talked about it. If we don't have [an open receiver], let's throw it away and we'll go next time."
There was no next time because Barkley held the ball long enough for Giants cornerback
Terrell Thomas
to run him down and knock it out of his hands. The turnover ruined the Eagles' best chance at an offensive score.
Kelly's explanation makes sense. He should have a better feel for a rookie quarterback in that situation. Barkley isn't used to the speed of the NFL game in new situations, and that was a new situation.
• On fourth-and-10 in the third quarter, ball at the New York 32, Kelly went for a first down.
Last week, he went for a 60-yard field goal late in the first half against Dallas. That baffling decision gave the Cowboys a chance to take a deep shot at the end zone.
Tony Romo
's pass went through
Dez Bryant
's hands and was intercepted by
Earl Wolff
.
This time, it would have been a 49-yard attempt for
Alex Henery
, or a chance for
Donnie Jones
to pin the Giants deep with a punt.
"There was wind," Kelly said. "That was a tough wind. That's why we went for it on fourth down there. [Special-teams coach Dave Fipp] said we need to get a little bit closer in that situation."
Barkley fumbled the snap, picked up the ball and fired it over the head of
Jason Avant
, turning the ball over on downs.
• On fourth-and-4 at midfield in the fourth quarter, down 15-0, Kelly punted.
"It was a two-score game," Kelly said. "So I knew we were going to stop them. I have great confidence in our defense. I wish they stopped them on the first third down. We felt like we were going to get the ball back with time to score and get an onside kick."
The Giants held the ball for 3 minutes, 16 seconds before punting it back. The Eagles got the ball again and found themselves in a fourth-and-20 situation at the Giants' 46. This time, Kelly went for it and Barkley completed a 5-yard pass.
• After
Najee Goode
recovered an errant snap for the Eagles' only score of the game, making it 15-7 with 4:11 left, Kelly opted for an onside kick. This doesn't quite line up with the previous reasoning about having faith in his defense.
"I only had one timeout," Kelly said, "so it didn't matter if we kicked it deep. It was still the same amount of time on the clock. We felt like if we could get it at that point in time, that was my decision. In terms of time off the clock is going to be the same exact thing."
But field position would not be the same. Giving the Giants the ball at their own 20 with a timeout and the two-minute warning to stop the clock gives you a shot at decent field position with a defensive stop. Giving the Giants the ball at midfield means game over.
And that, of course, is exactly what happened.
October, 25, 2013
10/25/13
8:00
AM ET
PHILADELPHIA – The moment got lost, mostly because the
Philadelphia Eagles
lost the game and another starting quarterback Sunday.
It is a moment worth revisiting, though, because it could represent a step toward something the Eagles have lacked for half a decade – a safety whose whereabouts are keenly noted by opposing receivers.
Third quarter, Dallas had the ball at midfield.
Tony Romo
stepped back and spotted
Dez Bryant
running a slant from the left side. Romo threw a little high, Bryant reached up, caught the ball and turned upfield to—
[+] Enlarge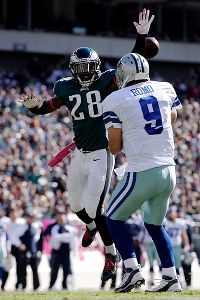 AP Photo/Michael PerezAgainst Dallas last weekend, Earl Wolff made his presence felt with a big hit and some savvy blitzing.
Earl Wolff
caught Bryant with a hit that drew a loud "Ooooohhhh" from the crowd at Lincoln Financial Field. Bryant held onto the ball, but he and Wolff collapsed into separate heaps. Both walked off the field and were attended to by medical staff.
Fortunately, both players returned. But Wolff, a rookie from North Carolina State, had delivered the biggest hit of his young career.
"Wolff is a hitter," cornerback
Cary Williams
said. "He's a guy that doesn't shy away from contact. He'll go right in and stick his nose in there with the best of them. That's what you want at safety, a guy that's fearless, that's relentless, and a guy that will play four quarters. That's all I need out there."
Williams knows a little bit about safeties, having spent three-plus seasons in Baltimore with a guy named
Ed Reed
. It would be unfair to compare Wolff to Reed or to
Brian Dawkins
, the Eagles' last impact player at his position, for a couple of reasons. He is a fifth-round pick with seven games' experience, and the NFL has legislated truly reckless play out of the game.
Wolff led with his shoulder when he hit Bryant, but his helmet made contact with the receiver's. The play could just as easily have drawn a penalty flag. But the point was that Wolff sacrificed himself, made a big hit and was in the right position to do it.
Earlier, Wolff blitzed Romo from the quarterback's left. He jumped as Romo threw the ball and forced an incompletion.
"Once you get more comfortable with the scheme," Wolff said, "you're able to relax. You're not thinking out there about what you have to do. The game of football is about reacting and making plays."
Wolff was being eased into the lineup as he came to understand the defense and what offenses were trying to do. But when veteran
Patrick Chung
injured his shoulder, Wolff had to start before he was fully prepared. His first start was in Denver, against
Peyton Manning
.
He, along with the rest of the defense, has improved dramatically since then.
"Earl's getting better and better as we go," defensive coordinator Bill Davis said. "He made some plays, like always. I think Earl is one of those guys that individually is working hard at keeping his errors down and his play is rising as a result."
"Coming from college to here, you haven't had a break at all," William said. "I think he's doing a great job, just loving the game and embracing his role as a starter right now. He's flying around and having fun and getting after people."
October, 24, 2013
10/24/13
12:00
PM ET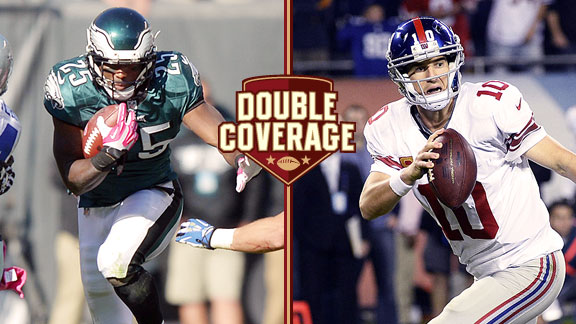 USA TODAY SportsA steady diet of LeSean McCoy will help keep Eli Manning and the New York offense on the sideline.
Just three weeks after the
Philadelphia Eagles
beat the
New York Giants
36-21 at MetLife Stadium, the NFC East rivals meet again Sunday. This time, the scene is Lincoln Financial Field, where the Eagles have lost a franchise-record nine consecutive games.
As he did last time,
Michael Vick
is expected to start at quarterback for the Eagles. Vick was injured before halftime of that game and hasn't played since. In his absence,
Nick Foles
led the Eagles to a decisive win in Tampa and an equally decisive loss to Dallas. Foles left that game with a concussion.
As he did last time,
Eli Manning
will start for the Giants. The Eagles intercepted Manning three times in the fourth quarter. Against the Vikings Monday night, Manning had his first game of the season without an interception, after throwing 15 in the Giants' first six games. All six were losses, which is probably not a coincidence.
Dan Graziano, who covers the Giants for ESPN.com, chatted with Eagles reporter Phil Sheridan about Sunday's game.
Phil Sheridan:
Now that the Giants have that elusive first win, is there a sense the season is salvageable?
Dan Graziano:
Phil, I really think the Giants have excelled at one thing this year, and that is keeping their focus on the week at hand and pushing the ugly, big picture out of their minds. They know they're in a huge hole at 1-6. If they stopped to think about it, they'd probably realize their chances of making it a season are impossibly low. But they're not stopping to think about it. They are enjoying the fact that they won a game for the first time since Week 17 of last year, and then they're locked in on trying to beat the Eagles and get another one. This is where Tom Coughlin's leadership shows, I think -- in the Super Bowl runs but also in a tough time like this, when it really is all about playing for pride, but over the years we've seen a lot of teams unable to do that when a season slips away. The Giants are unlikely to quit on their season, no matter how bad it gets, and that week-to-week focus is critical to that.
How about the Eagles? Ol' Mike Vick couldn't finish the game three weeks ago and hasn't played since, but it sounds like he's starting Sunday, right? Will he be at full strength and able to rip off those long runs that caused the Giants so much trouble the first time?
Sheridan:
I doubt Vick himself will know the answer to that one until he tries it, Dan. That's the thing about an injury like a hamstring or other pull. You can't be sure it's 100 percent until you do something that would make it pop again without popping it. Vick has been avoiding that while the injury heals. That question leads to the next point, which is that Vick running was about the only thing working for the Eagles in that game against the Giants. He couldn't get the passing game going and the Giants drew up the blueprint Dallas just copied to contain
LeSean McCoy
. So this shapes up as a tough test for Vick and the rest of the offense.
Speaking of that Giants' defense, it looked as if
Jason Pierre-Paul
had a little more bounce Monday night. How much better and healthier is that defense than it was even three weeks ago?
Graziano:
Pierre-Paul did look better in the first half, I thought. I thought the same thing in the first Eagles game. But we haven't seen him maintain it throughout a game yet, and regardless of how he looked Monday, he's still a player who has one sack in his past 14 games. The Giants need him to be great, and he hasn't been. They believe there's a week coming when he'll terrorize people again. They wish they knew which it was. The biggest difference, though, to me on the Giants' defense is new middle linebacker
Jon Beason
, who has really taken over as a leader and a playmaker the last two games since coming over in that trade from Carolina. Beason is getting the defense fired up before the game and lined up during it, and his performance so far really points to how glaring their need was for anything at all at linebacker. The whole defense is more energized and organized now, and they are doing a good job limiting opposing running backs, especially between the tackles. Vick and McCoy are going to have to find room outside if they're to pile up yardage.
How's that Eagles defense shaping up these days? I know they were happy when Eli Manning started throwing them the ball a couple of weeks ago in the fourth quarter, but they weren't much for stopping a weak Giants offense in the first three quarters. Are they improving on defense in Chip Kelly's first year?
Sheridan:
They were darn near respectable against the Cowboys Sunday. It's important to remember that the Eagles played the Broncos right before the first game against the Giants. Peyton Manning put up 52 on them. It was an Arena League game. The Eagles desperately needed to show some improvement. When Eli Manning hit on a couple of deep throws, it looked like another debacle in the making. That fourth quarter, and those three picks, helped a lot. The Eagles were fine against Tampa Bay, but that was against a rookie quarterback making his second start. So playing well against
Tony Romo
and
Dez Bryant
was a big step. They aren't going to scare anyone, but they can get some pressure on the quarterback, play the run reasonably well and are improving in the secondary. It remains a work in progress, but you can actually see the progress, which helps.
Seems like the Giants went ahead and grafted an entirely new running attack onto their offense since the last go-round. How effective have
Brandon Jacobs
and
Peyton Hillis
been? And has that helped Eli get the passing game going a little bit more effectively?
Graziano:
Well, Jacobs rushed for 106 on 22 carries in the loss to the Bears, but he and
Da'Rel Scott
hurt their hamstrings in that game, so they ended up signing Hillis last week and running him and rookie
Michael Cox
out there for their first carries of the season Monday. Figure
David Wilson
and
Andre Brown
were supposed to be the "co-starters" preseason, and they're down to their No. 5 and 6 running backs. I think the Jacobs game was a fluke against a bad Bears defense that has nothing on the defensive line right now, and while Hillis got some love Monday, they averaged only 2.0 yards per carry against the Vikings. The one thing that I think has come out of the past two games in terms of running backs is that Hillis looked like a good checkdown option for Manning catching passes out of the backfield. So many of Manning's issues this year come down, I think, to his insufficient comfort level in the pocket due to protection issues. Having a checkdown pass-catcher whom he trusts would be a helpful thing in terms of limiting turnovers.
And Manning cutting out the turnovers sure would put the Giants' fans in a better mood going forward. Speaking of which, what's the mood like around the Eagles in Philadelphia these days? The fans high on Chip Kelly? Skeptical? And ultimately, do you think they break their home losing streak against the last team they beat down there?
Sheridan:
I would say there is a fair amount of skepticism about Chipper right now. Not being Andy Reid only goes so far (especially when Big Red is Bigger, Redder and 7-0). Reasonable fans (there are a surprisingly large number of those here) expected it to take a little time to implement Kelly's plan. I think whatever doubts have crept in are due to Kelly himself: a silly two-point conversion try against San Diego, admitting he didn't know an injury/timeout rule, a truly dreadful offensive showing against the Cowboys, and so on. We just haven't been dazzled by the promised bells and whistles on offense. Still, there is a lot of curiosity about where this is going and what Kelly will do next. As for predictions, well ...
.
October, 20, 2013
10/20/13
8:05
PM ET
PHILADELPHIA -- Here it was, the moment the
Philadelphia Eagles
could turn it all around – the game, the season, that embarrassing home losing streak. And fittingly, in a city that celebrates it, that moment was provided by the defense.
Vinny Curry
and
Trent Cole
collapsed the pocket.
Tony Romo
didn't get his feet set. The
Dallas Cowboys
quarterback saw running back
Phillip Tanner
over the middle. He didn't see Eagles inside linebacker
DeMeco Ryans
.
"I just looked up and saw the ball," Ryans said. "So I made a play on it."
Ryans returned his interception to the Dallas 30-yard line. The Eagles were only down 10-0 thanks to a defense that held Dallas to three points in the first half and had allowed just one touchdown. Despite almost three quarters of offensive futility and frustration, a touchdown there would have turned the game around.
"We were talking about getting some momentum and a turnover," Ryans said. "I was fortunate enough to come down with it. I was looking forward to it giving us some momentum and flipping it to our side."
Instead, the Eagles fizzled in the red zone. Quarterback
Nick Foles
was knocked out of the game on the final play of the third quarter. The field goal kicked to open the fourth quarter represented the Eagles' only points of the game.
"If our defense only allows 17 points," center
Jason Kelce
said, "we have to win the game."
For the day, it was frustrating. The Eagles held Romo to 28-of-47 passing for 317 yards. They sacked him twice and intercepted him twice, leaving him with a mediocre 69.2 passer rating. The 17 points were the Cowboys' lowest total since a 17-16 loss to Kansas City in Week 2.
For the bigger picture, though, the performance was encouraging. This is a loaded offensive team, even without running back
DeMarco Murray
. The Cowboys represented the most significant test since the Eagles were punked by Denver, 52-20, three weeks earlier.
"It was probably the best defensive outing we have had all season," Ryans said. "I am just disappointed we didn't hold them out of the end zone the couple of times they got in there today. From where we started out, we have gotten a lot better."
Ryans had a sack and the pick. Curry had the other sack. Rookie safety
Earl Wolff
got his first career interception on Romo's desperation heave into the end zone at the end of the first half. Wolff, Ryans and
Nate Allen
were disruptive in the blitz game. Cornerbacks
Cary Williams
and
Bradley Fletcher
held their own against
Dez Bryant
and the other receivers, for the most part.
"We were able to get some pressure and get [Romo] out of rhythm," linebacker
Connor Barwin
said. "That's what we want to do every week against the opposing quarterback."
"There are a lot of positives," defensive coordinator Bill Davis said. "But at the end of the day, there is going to be a winner and a loser and we lost. That is not good enough. You always have to outplay the opponent's defense and today we didn't."
October, 17, 2013
10/17/13
12:00
PM ET
There was a time when the
Philadelphia Eagles
and
Dallas Cowboys
both had a good chance of being undefeated going into an October showdown. That time may be long gone, but this meeting between a pair of 3-3 teams still has a lot of cachet.
The winner will have sole possession of first place in the NFC East. With Washington (1-4) and the
New York Giants
(0-6) already wrecked on the side of the road, this game will establish pole position for the race ahead.
Todd Archer, who covers the Cowboys for ESPN.com's NFL Nation, and Philadelphia counterpart Phil Sheridan discussed some of the big questions going into the game.
Sheridan:
DeMarcus Ware
and
DeMarco Murray
-- whether they're out or just limited by injury -- which can the Cowboys least afford to lose and why?
Archer:
To me, the easy answer is Ware because they really don't have much of a pass rush without him. The Cowboys can get by without Murray because of
Tony Romo
and the passing game. Ware has several little injuries this year with a stinger, a back strain, dehydration, getting poked in the eye and now this quad strain. He says he is a fast healer, but I don't think he'll heal fast enough for this week and the Cowboys will have to get by with what Jerry Jones called the "no-names," like
George Selvie
,
Kyle Wilber
and
Caesar Rayford
.
I'll go with the either/or as well:
Michael Vick
or
Nick Foles
? If both are healthy, whom does Chip Kelly eventually roll with?
Sheridan:
I wish I knew what Chipper is really thinking. Ultimately, I think he has to get an extended look at Foles this season. Vick's injury opened the door, and Foles certainly took a confident stride through it Sunday, earning NFC Offensive Player of the Week honors in Tampa. But part of being a successful NFL quarterback is coming back, week after week, through nagging injuries and fatigue. Kelly has to know whether Foles can do that before this season is over. Combine that with the fact that Foles may actually run the offense more effectively and I think it may be a while before we see Vick again.
Foles had a good day in Tampa. Now he faces the godfather of the Tampa 2. How is Monte Kiffin's defense coming together after six games?
Archer:
To be kind, not well. The Cowboys have allowed three 400-yard passers this season. They allowed 216 rushing yards last week against Washington. They likely won't have Ware, so that will hinder the pass rush. The Cowboys aren't really the true Tampa 2 scheme that Kiffin ran so well in Tampa. First off, he doesn't have
Warren Sapp
,
Derrick Brooks
or
John Lynch
, but the Cowboys are mixing their coverages a lot more because of their cornerbacks. They paid a lot of money for
Brandon Carr
,
Morris Claiborne
and
Orlando Scandrick
and have tried to play more man-to-man lately. They were fairly effective against the Redskins, and that helped the pass rush. They'll have to be that effective this week too.
I mentioned the 216 rushing yards, and
LeSean McCoy
is on the docket for the Dallas D. He's off to a great start and seems to be a perfect fit in this offense. True?
Sheridan:
One hundred percent true, although McCoy might be a pretty good fit in any offense that involves a football. Some of the Broncos, who don't see him often, were comparing him to
Barry Sanders
, and it's not as big a reach as you might think at first. He's quick, he's strong, he changes direction almost magically, and his instincts are remarkable. For a few weeks, the Eagles were piling up rushing yards without getting enough points. Against Tampa Bay, McCoy went for 116 yards and there was a 31 on the scoreboard. That's where the Eagles need to be.
Let's turn to the Dallas offense. Eagles defensive coordinator Bill Davis said this week what a lot of people think, that Romo is capable of making a big play or a big mistake at any time. How is the franchise quarterback's confidence this year?
Archer:
I wonder if Davis has seen Romo play much this year. Maybe he just saw the end of the Broncos game when he had the interception, but Romo has only three picks on the year. One was a busted route by a rookie receiver, and another was a tipped ball. I think his involvement in the game plan really has Romo tuned into the opposing defenses and what they're trying to do. He is not forcing throws (no, I'm not forgetting the late Broncos interception), and he is being more patient than ever. This is his offense in a lot of ways, and he doesn't want to screw it up. That being said, the offense has not performed well in its first two road games, scoring 16 and 14 points against Kansas City and San Diego. In the last two games, the Cowboys have spread it out more, and without Murray this week, I think you'll see more spread looks Sunday.
For so long we've been used to seeing a Jim Johnson-type defense in Philly, but Davis has a different style. What has or hasn't happened so far in the Eagles' move to the 3-4?
Sheridan:
It is a process, as Davis and Kelly constantly remind us. It's a tough transition when you have players better suited to a 4-3. It's even tougher with players who aren't suited to any defensive scheme at all. The Eagles seemed to have a few of those while giving up 33 passing touchdowns last year. They made a lot of changes in the secondary, but it has still been vulnerable -- especially on third down. The defense seemed to make progress against the Giants and Bucs, but those are two winless teams. It will be a big deal if the Eagles can continue to make progress against a quarterback like Romo.
How good is
Dez Bryant
right now, and how much more potent can this offense be if and when
Miles Austin
gets it going?
Archer:
Bryant has carried over his success from the second half of last season to this season, at least in terms of touchdowns. He is a nightmare for cornerbacks in the red zone. He's just too big and physical down there for them to handle. He's almost too physical and might get a pass interference penalty one of these days. But Romo is so confident in him down tight that he'll just throw it up knowing Bryant will get it or nobody else will. What's strange, however, is that Bryant has had three games in which he has averaged less than 10 yards per catch. If teams want to take him out with help, they can. And that's where Austin comes in. He's just not healthy yet but was off to a good start before injuring his hamstring. Rookie
Terrance Williams
has really caught on lately and helped make up for Austin's absence/lack of production. When he's right, Austin is dangerous in the slot and outside and is a tough matchup.
Let's stick with the receivers. Is
DeSean Jackson
, well, DeSean Jackson again?
Sheridan:
DeSean Jackson is DeSean Jackson, only better. He seems to have matured almost overnight. He says he worked out and added a little muscle mass during the offseason. Not sure whether it's that or Foles or Kelly's offensive approach, but Jackson is suddenly a factor in the red zone. He was always a deep threat but disappeared inside the 20. He has red zone scores in each of the last two games. He'll never be the kind of receiver you described Bryant as being, but he's added a better understanding of the game to his gift of speed.
Both teams are 3-3. It's not exactly the 1990s, when they might both be undefeated when they met in October, but this will still decide who is in first place in the NFC East. Do you think the Cowboys have what it takes to knuckle down and win the division in a decidedly down year?
Archer:
I think they do, but if there's one thing I've figured out in covering this team, it is to never come to expect anything. They are just too up and down. There's no doubt the NFC East is down, but the prevailing wisdom is that the Cowboys are infinitely more talented than every other team in the division, so they should run away with it. I don't know about that. They're good at the top but not so much in the middle and bottom. They have a ton of questions on defense. They can't afford injuries. They might have the best chance to win the NFC East, but it's not a lock. This game, to me, is huge. If they can get to 3-0 in the division, it gets a little easier. If they lose, they're riding that 8-8 bus again.
Is Kelly in this for the long haul?
Sheridan:
Here's another case where I wish I knew what was going on inside Kelly's head. He's good at talking about football, what he's trying to do and why. He doesn't entertain any questions that appear to be probing into his personal life or his feelings about anything. I think he's learned the NFL is difficult in different ways from the college game. Whether he enjoys being out of his comfort zone and sees it as a challenge to excel at this level or whether he can't wait to get back to a college gig, I have no idea. He just doesn't share that kind of thing. I can say that neither extreme would surprise me. More to the point, I think he can be a very good NFL coach. His offense certainly works in the league.
October, 17, 2013
10/17/13
8:00
AM ET
PHILADELPHIA -- After getting decent grades on a couple of tests, the
Philadelphia Eagles
defense faces another major pass/fail exam Sunday.
The
Dallas Cowboys
have the kind of high-powered passing offense that incinerated the Eagles in games against Denver and San Diego. After getting some turnovers against the Giants'
Eli Manning
and playing solidly against Buccaneers rookie
Mike Glennon
, the Eagles will find out just how much progress they've made against
Tony Romo
.
[+] Enlarge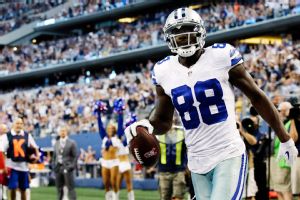 AP Photo/Tony GutierrezThe Eagles' secondary will have its hands full with red zone threat Dez Bryant, who has six receiving touchdowns.
The focus will be on cornerbacks
Cary Williams
and
Bradley Fletcher
, who will be matched up with
Dez Bryant
,
Terrance Williams
,
Miles Austin
and the rest of Romo's weapons.
"It's a unique challenge for me this week, to go up against the NFC's best," Williams said. "I take that role very seriously."
So far, Williams has played on the right side of the Eagles' defense, Fletcher on the left.
Brandon Boykin
has played mostly in the slot. Some teams would match their best corner on Bryant wherever he lines up.
"In practice, they switch right and left," defensive coordinator Bill Davis said of his corners. "We always have the ability to follow somebody if we want to, but right now Fletch and Cary are so similar in their builds and their styles -- if I felt there was an advantage, I would do it."
That's fine with Williams and Fletcher.
"My experience has always been on the right side," Williams said. "Not that I can't play the left side, by any means. It's what the defensive coordinator wants to do. I just think Coach thinks I play well on the right side, and that's great."
So neither corner knows which receiver he'll be facing on a given play. Against this offense, they will both have to be physical with Bryant at the line of scrimmage, trying to disrupt Romo's timing, and then stay with the big receiver.
"He's a heck of a challenge," Davis said. "He's got the size, speed, athleticism. We face a couple of them but we've got to be great with our one-on-one matchup of both corners. Fletch and Cary have to be great in their individual coverage on them. You can't double a guy every play. So they will have plenty of times where they've got to just handle that and we will get help to them and zone over the top of them and use all of the different tools to help when you stop a star receiver."
Williams and Fletcher may have similar builds and skill sets, but they couldn't be more different as people. Williams is volatile and demonstrative on the field and unafraid to speak his mind off it. Fletcher is softspoken off the field and more likely to sneak up and bat a ball away than try to take out the receiver.
"You don't want [Bryant] to get too settled out there," Williams said. "You don't want him to run free and make his moves. As far as I'm concerned, I'm going to get up in his face."
"He's a big receiver," Williams said. "You have to play the ball however it comes, if it's a longer ball, short ball, slants, anything. We're going to have to get up and press, slow down the timing."
The entire defense will be tested, of course. The pass rush has to make Romo uncomfortable. The linebackers and safeties have to cover the likes of tight end
Jason Witten
and handle whatever is left of the Cowboys' running game.
But there won't be many opponents that test the cornerbacks as unforgivingly as the Cowboys will.
"I think both our corners have been really good," linebacker
Connor Barwin
said. "They've emerged as playmakers."
Against the Giants and Bucs, they passed. They can't afford to fail this week.