Philadelphia Eagles:

Dominique Rodgers-Cromartie
March, 13, 2014
Mar 13
4:00
PM ET
The
Denver Broncos
have won the offseason title and free agency is not even four days old.
John Elway signed safety
T.J. Ward
to a four-year, $23 million deal that guarantees him $14 million. He stole cornerback
Aqib Talib
away from the
New England Patriots
with a six-year, $57 million deal that guarantees him $26 million. Then he thanked the
Dallas Cowboys
for their cap woes and unwillingness to pay
DeMarcus Ware
and signed Ware to a three-year, $30 million deal that includes $20 million guaranteed.
Ware will make $250,000 more with the Broncos this year than he would have with the Cowboys.
Add those three to an offense that will still put up points even if
Eric Decker
leaves and Denver should be viewed as the favorites in the AFC.
In fact, they might look like a "Dream …" Sorry. Got something stuck in my throat. "A Dream …" Man, there it goes again.
One more time: A dream team.
Could the 2011
Philadelphia Eagles
serve as a reminder that a "dream team" doesn't mean a Super Bowl team?
To refresh: The Eagles loaded up with
Jason Babin
(five years, $28 million),
Cullen Jenkins
(five years, $25 million) and
Nnamdi Asomugha
(five years, $60 million). They traded
Kevin Kolb
and got
Dominique Rodgers-Cromartie
in return. They added serviceable pieces in
Ronnie Brown
and
Evan Mathis
turned out to be a steal.
Then they signed
Vince Young
, who came up with the dream-team tag.
And Philadelphia finished 8-8.
The Broncos have
Peyton Manning
, so it's hard to see an 8-8 season. But what happens if Manning gets hurt?
February, 26, 2014
Feb 26
8:00
AM ET
PHILADELPHIA -- Taken individually, each of safety
Nate Allen
's four seasons with the
Philadelphia Eagles
gets an asterisk.
In 2010, the second-round pick was a rookie on a team that still had championship aspirations (or delusions, depending on your perspective). Allen tore the patellar tendon in his right knee late in the season.
Allen
That injury provided an asterisk for 2011, as did the disastrous promotion of offensive line coach Juan Castillo to defensive coordinator. Allen was part of a mismatched secondary that included marquee acquisitions
Nnamdi Asomugha
and
Dominique Rodgers-Cromartie
.
As for 2012, that was a lost season for the entire franchise, and Allen was hardly the biggest problem. In 2013, Allen spent his first season in the system of new defensive coordinator Bill Davis. He also had arguably his best all-around season, as far as that goes.
Taken all together, though, Allen's tenure with the Eagles amounts to very little -- he has as many career interceptions (six) as
Brandon Boykin
had in 2013. Maybe the odds were against him to some degree, but there is no escaping the sense that a better, more aggressive safety would have left more of a mark than Allen did.
It is not out of the question that he will be back. The defense as a whole improved over the course of Davis' first season. While general manager Howie Roseman has acknowledged the need to improve the back end of the defense, there is a chance he won't be able to acquire a significantly better safety during free agency. If it comes down to Allen or
Patrick Chung
, the Eagles might be better off with the 6-1, 210-pound Allen. He is, after all, only 26.
But then there is the flip side. Allen said immediately after the season that he would like to return to the Eagles. But it might be that he finds a change of scenery appealing once he hits the market. If several of the top safeties --
Jairus Byrd
,
Donte Whitner
,
T.J. Ward
-- never reach free agency, Allen could be attractive to a team looking for a reasonably priced alternative.
Some teams, especially those that liked Allen coming out of South Florida in 2010, might see the asterisks more clearly than the Eagles do.
February, 6, 2014
Feb 6
8:00
AM ET
PHILADELPHIA -- The Eagles were much better off at cornerback than at safety last year, and a million times better there than they were for the
Nnamdi Asomugha
/
Dominique Rodgers-Cromartie
jogathon of 2012.
[+] Enlarge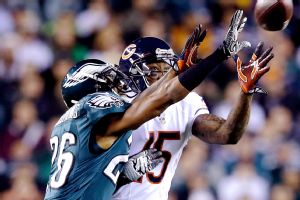 AP Photo/Michael PerezCary Williams' presence among the Eagles' cornerbacks can't be understated.
Still, cornerback is such a premium position, you can expect general manager Howie Roseman to look to upgrade there if he can. It is not an A-1 priority, not compared to safety, but it should always be a priority.
In many ways, Chip Kelly inherited an Eagles team much like the one Andy Reid did 14 years earlier, only in reverse. The 1998 Eagles were 3-13 but had the defensive personnel in place for a quick turnaround:
Brian Dawkins
,
Troy Vincent
,
Hugh Douglas
,
Jeremiah Trotter
and others.
The offense was another matter, especially at wide receiver. Saying the "cupboard was bare," Reid quickly added solid veterans
Charles Johnson
and
Torrance Small
just to get some inventory at the position.
For Kelly, it was the offense that was stocked and the defense that required the most attention. Roseman signed cornerbacks
Cary Williams
and
Bradley Fletcher
, along with safeties
Patrick Chung
and
Kenny Phillips
, just to stock that mostly empty cupboard.
Williams and Fletcher turned out to be better performers at cornerback than Johnson and Small were at wide receiver. They also have a better chance to stick around while their side of the ball develops. Their presence gives Roseman a little breathing room. If he can upgrade the position, he should. But he can address more pressing needs, especially safety, because Williams, Fletcher and
Brandon Boykin
represent a solid group of corners.
Aside: These corners would be that much more effective with an improved pass rush. So that becomes an even higher priority.
As the oldest of the three, Williams would appear most vulnerable to being replaced. But his value to the chemistry and personality of the Eagles defense in 2013 cannot be overstated. The Eagles were soft with DRC and Asomugha at the corners. Williams wasn't having any of that.
Fletcher was the polar opposite, personality-wise. He's as soft-spoken as Williams is outspoken. But he played a solid, reliable cornerback pretty much all season. Fletcher is 27 and another year removed from the ACL tear that cost him most of the 2011 season and made him expendable to the
St. Louis Rams
after the 2012 season.
Williams is 6-foot-1, Fletcher 6-0. They give the Eagles decent size and tackling ability (and willingness to tackle, which is not the same thing) on the outside. Each was also able to remain on one side, regardless of which receivers were matched up there. That allowed Davis the freedom to draw up schemes without having to move one shutdown corner around to compensate for a less competent player.
As for Boykin, he simply had a terrific season as the Eagles' nickel cornerback. Maybe too terrific, since he gave Davis a good reason to leave him where he excels rather than allow him to play outside. It's a win-win situation for the Eagles, though. If Boykin does develop into an outside corner, that gives them depth and flexibility. If he stays put, they have a nickel corner who was tied for second in the NFL with six interceptions despite limited playing time.
With so much work going into gradually improving the defense, there wasn't time to bring along young cornerback
Roc Carmichael
. He played almost exclusively when Fletcher or Williams was out because of injury or, in one case, Williams' temper tantrum in Minnesota. When Carmichael was in, he was targeted. He should benefit from a full offseason and training camp with Davis.
Curtis Marsh
, a 2011 draft pick who spent part of the season with Cincinnati, was active for only one game after being resigned by the Eagles in early November. It's hard to see a role for Marsh in 2014.
January, 17, 2014
Jan 17
6:00
PM ET
PHILADELPHIA – It makes for interesting discussion -- Manning vs. Brady, Kaepernick vs. Wilson -- but if you really want to know who will win Sunday's championship games, count the former Eagles.
Baseball has that thing about ex-Cubs never winning the World Series. The NFL playoffs, at least this offseason, have the Eagles jinx.
[+] Enlarge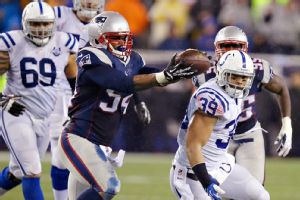 AP Photo/Stephan SavoiaWhat's a sure way to predict who won't advance in the playoffs? Just count the number of former Eagles -- such as the Colts' Stanley Havili (39) -- on the rosters.
It's simple enough. Whichever team has the most significant connection to the Eagles will lose. The formula has worked for six of the seven postseason games for which it was applicable.
Start with the first round. The Eagles obviously have the most significant Eagles connection of all. They lost to the Saints. Kansas City, coached by former Eagles head coach Andy Reid, lost to Indianapolis.
San Franscisco/Green Bay really is a push. Neither team has an ex-Eagle on its roster. But each has the brother of a current Eagle: San Francisco's
Garrett Celek
and Green Bay's
Clay Matthews
. The ex-Eagles jinx did not apply here.
The exception was San Diego's victory over Cincinnati. The Chargers have a handful of ex-Eagles, including tackle
King Dunlap
and running back
Ronnie Brown
. Apparently, the ex-Eagles jinx isn't as powerful as the
Andy Dalton
jinx.
In the second round, the jinx was a perfect four-for-four. Carolina, with ex-Eagles assistants Ron Rivera and
Sean McDermott
coaching a defense with
Quintin Mikell
at safety, lost at home to the Eagles-free 49ers. The Chargers' ex-Eagles caught up to them in a loss to Denver (
Dominique Rodgers-Cromartie
notwithstanding).
The Saints/Seahawks game was another close one. The Saints have
Brodrick Bunkley
, the Seahawks have
Chris Clemons
. Bunkley was a first-round pick and spent more time in Philadelphia. The Saints lost.
It was ex-Eagle
Stanley Havili
who bobbled a pass into the arms of a defender in the Colts' loss to New England. As if he needed to prove his genius one more time, Patriots coach Bill Belichick kept his only former Eagle,
Isaac Sopoaga
, on the inactive list.
If Belichick does the same Sunday, the Patriots will have the edge over the Rodgers-Cromartie laden Broncos.
In the NFC, the 49ers remain Eagles-free. Clemons, who spent two seasons in Philadelphia, puts the jinx squarely on the Seahawks.
If form holds, then, the 49ers will face the Patriots in the Super Bowl, and the outcome may depend on whether Sopoaga plays.
Preposterous, you say? About as preposterous as a franchise failing to win a single Super Bowl in the 48-year history of the game.
October, 31, 2013
10/31/13
2:00
PM ET
PHILADELPHIA -- The
Philadelphia Eagles
signed a handful of free agents last offseason. The departure of one of them, nose tackle
Isaac Sopoaga
, combined with the midway point of the season makes this a good time to see how general manager Howie Roseman fared.
"I think everything is an inexact science," coach Chip Kelly said. "Sometimes you miss on a draft pick. It's just what's available, what have you got to do, you've got to get your roster together. You always analyze at the end of the year. If this guy isn't exactly what we thought he was, why is that, and evaluate the whole process."
For perspective's sake, remember that the Eagles felt burned by free agency after the horrendous "Dream Team" crop -- led by
Nnamdi Asomugha
-- contributed to a 12-20 record in Andy Reid's final two seasons. And remember that Roseman was trying to stock a fairly empty cupboard on the defensive side of the ball without overpaying a la Asomugha and without a real feel for what coordinator Bill Davis was looking for.
• Safety
Kenny Phillips
was released in training camp after nagging injuries kept him from staking a claim to a roster spot. It speaks volumes that the former New York Giants' first-round pick, who was coming back from microfracture surgery, hasn't hooked on anywhere else.
Good deal, bad deal:
Neither really. Phillips was a low-risk gamble that didn't work out. This one move was not an issue. The issue is the Eagles' inability to find good safeties over the previous four years.
• Sopoaga made a few million dollars because the Eagles had no one who could play the nose as they made the switch to a 3-4 defense. He was a solid veteran presence who, by all accounts, helped coach up the younger linemen on the team. Those linemen made him expendable, and the Eagles traded Sopoaga to New England this week for virtually nothing.
Good deal, bad deal:
Bad deal, made worse when the Eagles drafted
Bennie Logan
in the third round out of LSU. If you're going young, go young. If they needed a vet, they could have hung on to
Cullen Jenkins
, who signed and is playing well with the Giants.
• Safety
Patrick Chung
has been a mixed bag. The former Patriots defensive back earned a starting job (against a relatively weak field, to be sure) but injured his shoulder in the third game of the season. Chung tried to come back too soon and has missed a total of four games. Meanwhile, rookie
Earl Wolff
has given the coaches a reason to believe he's the eventual starter.
Good deal, bad deal:
For $3 million? Bad deal. There's no way to anticipate injuries, of course, but Chung hasn't given the Eagles much they couldn't have gotten from
Kurt Coleman
while Wolff was learning on the job.
• Tight end
James Casey
was the only significant free agent pickup on the offensive side of the ball. His three-year, $12-million deal made sense when it appeared Roseman was stockpiling versatile weapons for Kelly's offense. After eight games, in which Casey caught 2 passes for 23 yards, and was on the field for just 5 percent of offensive plays, the deal makes much less sense.
Good deal, bad deal:
Bad deal, as much for Casey as anyone. You could also say that drafting tight end
Zach Ertz
in the second round was a mistake after spending so much on Casey. Either way, Roseman expended more capital than was wise on a position Kelly hasn't really utilized.
• Cornerbacks
Bradley Fletcher
and
Cary Williams
feel like a single entry. After parting ways with Asomugha and
Dominique Rodgers-Cromartie
(the right move, regardless of DRC's play in Denver), Roseman needed somebody who could line up across from opposing wide receivers. He got the fire-and-ice duo of Williams, a mercurial ex-Raven, and Fletcher, a softspoken former Ram. Grading on a curve because of the overall inconsistency of a defense in transition, they have been better than expected. Or maybe competent play at the position just looks so good after two years with those other guys.
Good deals, bad deals:
Good deals. Roseman paid more for Williams, who was coming off a Super Bowl title with the Ravens, but got a terrific bargain with Fletcher.
• Outside linebacker
Connor Barwin
was an intriguing signing. He had a huge 2011 season, with 11.5 sacks for the
Houston Texans
. He had only three in 2012, though, purportedly because he was used differently by coordinator Wade Phillips. As with Sopoaga, the Eagles really needed someone with the demonstrated ability to play OLB in the 3-4, and Roseman got Barwin for six years, $36 million. Unlike Sopoaga, they are getting production as well as a bell-cow for younger players to follow.
Good deal, bad deal:
Good deal. The money sounds like a lot, but the majority of it ($23 million) comes after the third season and is not guaranteed. Barwin is earning his money.
September, 30, 2013
9/30/13
6:45
PM ET
PHILADELPHIA --
DeSean Jackson
had a frustrating day in Denver, from the pass that soared over his head on the Eagles' first drive to the moment he blew off reporters in the postgame locker room.
Frustrate Jackson and you frustrate the Eagles' entire passing game. That has quickly become the formula for stopping Chip Kelly's offense.
With former teammate
Dominique Rodgers-Cromartie
running with him stride for stride, Jackson was targeted six times by quarterback
Michael Vick
. Jackson caught just two passes for 34 yards.
"I think we have seen just a little bit more man [coverage]," Kelly said Monday, "and I think that's overall with everybody. But I also think we've been productive moving the football. I still think we're stopping ourselves. We are not getting stopped by a scheme and we are not getting stopped by a look."
[+] Enlarge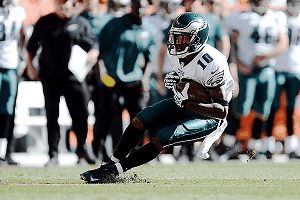 Ron Chenoy/USA TODAY SportsEagles star receiver DeSean Jackson has been stymied during the past two weeks.
When Jackson isn't open, Vick has trouble getting the ball to his other wideouts. Either
Riley Cooper
(two catches, 25 yards) and
Jason Avant
(one catch, seven yards) aren't getting open, or Vick just doesn't trust them with tight throws.
"It depends on what play," Kelly said. "There's maybe one play where, yeah, he should have let it rip, but there's other plays where we have to do a better job of getting open and other plays where we have to do a better job of protecting him. It's a combination of the whole thing."
Early in the game, Kelly had rookie tight end
Zach Ertz
lined up in the slot with
Brent Celek
also on the field. That was a rare look at the kind of inventive use of the tight ends Kelly teased fans with in the preseason. Kelly liked the matchups created when the Eagles ran against opponents' nickel schemes, and he also seemed to get seduced by Jackson's quick-strike potential.
As a result, free-agent pickup
James Casey
has just one catch in four games. The screen game disappeared almost entirely until Vick found
Bryce Brown
and
LeSean McCoy
for a couple of big plays Sunday.
On Monday, Kelly talked about getting running back
Chris Polk
some more playing time. He continued to defend the play of Cooper, who is valued more for his blocking ability than his receiving at this point. And he shed some light on Ertz's development.
"We've seen more and more from him on a weekly basis here as he starts to continue to grasp what we are doing here," Kelly said. "I expect him to grow. He's four games into his professional football career. So to see him run around and line up all over the place like
Jimmy Graham
from the
New Orleans Saints
, I don't think anybody envisioned that as we put together an offense and start to figure out what he's good at, what he's not good at.
"There's a lot of details in doing it. It's not as easy as saying, 'Hey, we drafted this guy and he has got the ability.' Yeah, he does. But I also think we have to get him settled. It's not going to come with all of a sudden tomorrow we are going to come up with 17 different ways where we can deploy Zach and put him in different situations because it's not fair to him."
Kelly had great success getting the ball to Jackson in the Eagles' first two games. He caught 16 passes for 297 yards and two touchdowns, and the Eagles scored a total of 63 points. The past two weeks, Jackson has five catches for 96 yards, and the Eagles scored a total of 33 points.
Defenses adjusted. Now Kelly has to find a way to counter. He isn't getting
Jeremy Maclin
back this season, so he has to find production from Ertz, Celek and Casey at tight end, from the running backs and from the wideouts, including the underutilized
Damaris Johnson
.
If he does, who knows? Maybe defenses will have to back off and Jackson can break loose again.
September, 27, 2013
9/27/13
2:00
PM ET
PHILADELPHIA -- The numbers seem to contradict each other when it comes to figuring out how effective Chip Kelly's up-tempo offense has been so far.
When it comes to running plays quickly, the
Philadelphia Eagles
are second only to Buffalo. They have run a play every 22.2 seconds they have possessed the ball, which suggests Kelly is getting what he wants.
However, the Eagles are tied for 15th in the league in total number of offensive plays run. After that eye-popping 53-play first half at Washington, the Eagles have run 146 plays from scrimmage. Their opponents have run 205 plays since halftime in Washington.

Kelly
"They're running a lot more plays and we're not running enough plays," Kelly said. "That's what I mean. That's the whole argument that I've always had with the time of possession, because a team can hold it for 40 minutes, if they run the same amount of plays, that's a different deal. Right now, we're not running enough plays on offense. We're turning the ball over too much offensively, we're not executing the way we're supposed to execute, and that's what we have to do to be able to keep our defense off the field."
New England is tops after three games with 225 offensive plays.
Kelly dismisses time of possession as meaningless, but there is an obvious correlation between possession and the number of plays possible. The Eagles are dead last in the NFL in possession time at 24 minutes, 25 seconds per game.
Interestingly, the Bills, the only team running plays faster, are next worst in time of possession.
As pointed out by my colleague Jeff Legwold, who covers the
Denver Broncos
for ESPN.com, the Eagles have had only one three-and-out possession that ended with a punt. The drives that are too short and add stress to the defense have been marred by penalties and turnovers.
In terms of sheer numbers, the Broncos' secondary doesn't look very good. Denver has given up 327 passing yards per game, four more yards than the Eagles.

But the Broncos have broken up or intercepted 20 passes in the three games. That's tied for best in the NFL, according to ESPN Stats & Information. The yardage is a natural consequence of teams trying to play catchup with the Peyton Manning-led offense, but there are playmakers in the Denver secondary.

One of them, irony of ironies, is cornerback Dominique Rodgers-Cromartie, who drifted aimlessly through two seasons with the Eagles before signing with the Broncos. Rodgers-Cromartie has one interception and has made nine tackles. He is likely to spend much of his Sunday afternoon covering DeSean Jackson.

"I anticipate they'll play against each other at least a portion of the game," Eagles offensive coordinator Pat Shurmur said. "He's one of the outstanding talents in this league. He runs extremely well. He can get in your hip and run with you. He's got outstanding ball skills. All the same things that he had before he went to Denver, you can still see on tape."
The Eagles officially listed safety Patrick Chung as Doubtful after he failed to practice again Friday. Chung injured a shoulder in the game against Kansas City last week. Kelly and defensive coordinator Bill Davis seemed to expect him to be able to practice by week's end, but it didn't happen.

That means rookie Earl Wolff will likely get his first career start alongside Nate Allen at safety.

"I look forward to it," Wolff said of the challenge of facing Manning. "I'll be competing on every play. If we do our assignment and our technique, I feel like we'll be OK."
September, 26, 2013
9/26/13
12:00
PM ET
The
Denver Broncos
and
Philadelphia Eagles
will collide in high-speed fashion Sunday at Sports Authority Field at Mile High in a 4:25 p.m. ET kickoff.
The 3-0 Broncos feature the league's highest-scoring offense -- their 127 points are 31 more than any other team this season after three weeks -- and quarterback
Peyton Manning
has thrown for more touchdowns (12) than 29 teams have scored overall.
The Eagles, at 1-2, lead the league in rushing and yards per play (7.0), so this one could have the look of a drag race, think Mile-High Nationals, a summer staple for race fans on the Front Range.
Eagles team reporter Phil Sheridan and Broncos team reporter Jeff Legwold break down this game.
Legwold:
Phil, you have been around the Eagles for a long time and have seen the organization go through many changes. Coach Chip Kelly's offense was certainly the talk of the offseason around the league, as most teams discussed wanting to join the fun, to go faster, to get more snaps, to stress defenses with speed. But given what the Broncos have done on offense this season, how fast does Kelly really want to go in Denver? Is there a risk of exposing his defense if he gives the Broncos too many possessions?
Sheridan:
There is enormous risk, Jeff, but my sense of Kelly is that he'll want the pedal to the metal anyway. He's trying to build a culture, with an aggressive approach to every aspect of the sport. I don't see him easing up for one game, no matter the specific challenges. Besides, I think the Eagles' only chance is to try to match the Broncos score for score and take their chances with a close, high-scoring game. As the Eagles learned the hard way the past two weeks, their defense is not good enough to shut down an opponent at crunch time.
That leads me to this question: Doesn't Denver's up-tempo offense put stress on the Broncos defense? Oakland seemed to move the ball as the game wore on. Doesn't that suggest the Broncos will be vulnerable to
Michael Vick
,
LeSean McCoy
and the rest of the Eagles offense?
Legwold:
I think that is the risk overall with the move toward up-tempo offenses around the league. It's all well and good to be fast on offense, snapping the ball at light speed, but those 45-second possessions that end in a three-and-out are just about the worst thing for any defense that just got to the sideline. That's one of the most interesting items about the Eagles so far: They have had just one three-and-out that ended in a punt in 38 possessions.
The Broncos were aggressive against the Raiders defensively last week, and linebackers
Wesley Woodyard
and
Danny Trevathan
did a quality job keeping
Terrelle Pryor
hemmed in. The Broncos are a speed defense overall, up and down the depth chart, so the teams that try to run out of open formations, like the three wide, tend not to do as consistently well as the teams that keep them in the base defense and pound away a bit. But McCoy and Vick will easily be their toughest challenge in the run game of the young season. In terms of defense, how would you expect the Eagles to approach the Broncos -- come after Manning a bit or drop into coverage and hope they can fill the gaps?
Sheridan:
The Eagles' best bet might be to close their eyes and just pray Manning fumbles the snap. Don't think that's in the game plan, though. Seriously, they know their only hope is to generate some pressure from unexpected sources, be incredibly disciplined in their gap and coverage assignments and be exponentially better at tackling than they have been. They're not going to outsmart Manning, but if they can make him a little uncomfortable and get a break or two -- a fumble, a tipped pass that gets picked off -- they can keep the Broncos from running away with the game. Denver thrives on yards after the catch, which is what killed the Eagles in their two losses.
I was interested in your comments about getting the Broncos into their base defense, because the Eagles have used a lot of three wide receiver sets to get defenses into nickel personnel. So much depends on the corners, so let me ask A) if
Champ Bailey
is playing, and B) why
Dominique Rodgers-Cromartie
is so much better than he was in Philadelphia for two lost seasons?
Legwold:
Bailey has not played since injuring his left foot in a preseason loss to the Seahawks in mid-August. He certainly wants to play, keeps saying he's "close" and even upped to it "very close" last week. The Broncos would like him out there, especially in this one, but he's going to have to move around better than he did a couple of hours before kickoff Monday night when it was pretty clear he was going to miss his third consecutive game. But if he shows a little better movement this week, especially Thursday and Friday, I think he'll be in uniform.
On DRC, the Broncos gambled a bit on tough love. They essentially, and Rodgers-Cromartie has said this as well, told him what was wrong with him on his visit. They told him why he wasn't playing as well as he should and that they could fix it if he was willing to be coached hard. He said he was and has been. A gifted athlete, Rodgers-Cromartie has been the saving grace with Bailey's injury and has played like a No. 1 guy. I won't be surprised if the Broncos try to work out a little longer deal at some point in the coming months.
I know we've spent plenty of time on offense, but I am wondering if Kelly sees Vick as the long-term future at quarterback -- or as long term as a 33-year-old can be -- or does Kelly have bigger plans at the position?
Sheridan:
I would love to know the answer to that one too. The Vick situation is fascinating. If he has a great year and somehow gets the Eagles into the playoffs (not as far-fetched as it sounds in an NFC East where half the teams are 0-3), it would be awfully hard to let him walk. But can you re-sign a guy at his age, with his injury history, and expect him to be the guy when you're really ready to contend in one or two or three years? My hunch is that Kelly would love to get one of the quarterbacks in next year's draft, that this year is about getting as much of the rest of the program in place as possible. But that would make much more sense if he had gone with
Nick Foles
or even rookie
Matt Barkley
than with Vick, who is just good enough to keep you from drafting high enough for a franchise quarterback.
Since it's a subject of discussion, let me ask you about the altitude. Do the Broncos believe it gives them a physical advantage, or do they see it more as a psychological thing? Is their home-field advantage about thin air or having good teams with loud, passionate fans rocking the stadium?
Legwold:
The Broncos believe it gives both a physical and mental advantage. Objectively, for an elite athlete to work for three or so hours in Denver likely has minimal impact on performance. But who's to say even a sliver of impact isn't enough to tip the scales at times. The Broncos' record at home over the decades is well over .600 since 1960, and in September games, they are over a .700 winning percentage at home. The Olympic Training Center is in Colorado and many of the world-class cyclists on the planet train in the area, so it means there's some athletic benefit for the Broncos to work in the altitude. The Broncos particularly feel it's an advantage when they go fast on offense. Watch the Ravens defense in the second half of the opener and it was pretty clear that group didn't enjoy Manning at 5,280 feet.
Phil, great stuff and that should cover it. It could be a long night for both defenses with these two high-powered offenses going at it.
September, 25, 2013
9/25/13
9:00
AM ET
A weekly analysis of the Eagles' quarterback play.
Vick
Rewind
: Thursday's performance by
Michael Vick
really was like a rewind -- all the way back to 2012. After two nearly mistake-free games under Chip Kelly, Vick turned the ball over three times, including a pick-six and a late fumble that ended any hope for an Eagles comeback against the
Kansas City Chiefs
. Vick also took six sacks.
Fast-forward
: The
Denver Broncos
have some of the same elements that created problems for Vick in the Chiefs game. If
Champ Bailey
returns, he and
Dominique Rodgers-Cromartie
would give Denver two corners capable of duplicating the Chiefs' man-to-man coverage. That forced Vick to hold the ball too long, neutralized
DeSean Jackson
and eliminated the screen game from Chip Kelly's offense. Denver's front seven may not be as dominating as K.C.'s, but it is still pretty imposing. And Broncos defensive coordinator Jack Del Rio was handed some interesting insight by the Chiefs' game plan.
Sacked
: Kelly has often said that all sacks are ultimately the quarterback's responsibility. He has veered from that as he protects his current quarterback. "It depends on which [sack] you're talking about," Kelly said Tuesday. "There could have been a sack where Mike held the ball too long. There could also be a sack on seven-man protection, and he thinks he is picked up and he gets hit at the top of his drop."
Prediction
: This game figures to be a shootout, and Vick is going to have to rise to the challenge of competing against
Peyton Manning
. Just a hunch, but expect him to have a bounce-back game. It may not be enough to outscore the Broncos' offense, but Vick tends to respond when there's pride on the line.
September, 4, 2013
9/04/13
4:50
PM ET
PHILADELPHIA –
Nate Allen
will start at strong safety for the
Philadelphia Eagles
against Washington Monday night.
That's about all that we know for sure. Rookie
Earl Wolff
, who couldn't quite beat out Allen for the starting job this summer, is also going to play. He may play as much as, or even more than, Allen.
"I'll probably play a lot every quarter," Wolff said. "They just want to see what I can do. The coaches still want to see how I can come in and adjust to a real game."
[+] Enlarge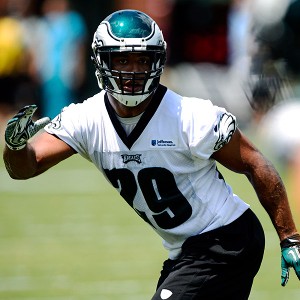 Howard Smith/USA TODAY SportNate Allen, the last man standing from the Eagles' porous secondary last season, will start at strong safety on Monday night.
Coach Chip Kelly said that Allen is "a little bit ahead of" Wolff.
"Earl's pushing him," Kelly said. "He'll play at safety, too. We've just got to get him in the game."
Purging the 2012 secondary was clearly an offseason priority for Eagles GM Howie Roseman. He let big-money, low-production cornerbacks
Nnamdi Asomugha
and
Dominique Rodgers-Cromartie
go. He signed free agents at all four positions.
Three of those free agents – corners
Bradley Fletcher
and
Cary Williams
and free safety
Patrick Chung
– won starting jobs. The fourth,
Kenny Phillips
, was released after injuries kept him from competing with Allen.
That leaves Allen as the last man standing from the group that gave up 33 touchdown passes and had just eight interceptions in 2012. Kelly and defensive coordinator Bill Davis gave Wolff every chance to take the job. Neither safety really made a strong case, and the tie, evidently, went to the more experienced player.
That's not unusual. The Eagles have eased rookie safeties into their starting jobs in the past. Tim Hauck held the job until Damon Moore was ready in 1999 and 2000. Blaine Bishop played until Michael Lewis was up to speed in 2002.
Allen is only 25, two years older than Wolff. He can still hold off the rookie with a strong performance.
"I just go out there and do my job," Allen said.
Washington provides an interesting first test. In two meetings against the Eagles last season,
Robert Griffin III
completed 30 of 39 passes and threw for six touchdowns. Obviously, that leaves a lot of room for improvement.
Can the Eagles get it with Allen? Or do they need Wolff to develop into a starter quickly? The competition has continued past the end of training camp and into the regular season.
"I feel like me and Nate, we're going to get an equal opportunity as far as Monday night," Wolff said. "Honestly, when I first came here, I wasn't as comfortable as I am now. The preseason helped a lot. I watch a lot of film. I go out at practice and I recognize formations and I recognize routes. I'm getting more and more comfortable every day."