Philadelphia Eagles:

Doug Martin
January, 9, 2014
Jan 9
8:00
AM ET
PHILADELPHIA -- The good news for
Philadelphia Eagles
coach Chip Kelly is he doesn't have to spend the next couple months traveling to high school kids' homes and recruiting them.
The bad news?
"It's a different league," Kelly said. "This isn't recruiting where you can go out and offer and try to get them to come. There's a selection in the draft process and we're not going to pick until the 22nd [spot in the first round]. There's 21 other guys that we may covet, but we don't have an opportunity to get them."
If a team drafted 22d every year and did well, it could be awfully good. Based on the last 10 years, drafting only players taken between No. 22 and No. 32 (the end of the first round), a team could have
Aaron Rodgers
at quarterback, wide receivers
Dez Bryant
and
Santonio Holmes
, running backs
Steven Jackson
and
Chris Johnson
, linebackers
Clay Matthews
and
Nick Perry
, safety
Brandon Meriweather
and defensive linemen
Cameron Jordan
and
Sharrif Floyd
.
You could do worse. Plenty of teams did do worse. Cleveland took two quarterbacks,
Brady Quinn
and
Brandon Weeden
, at No. 22.
Later we'll look at some possible players the Eagles could consider at No. 22 in this year's draft. For now, here's a quick look at the 22nd pick in each of the past 10 NFL drafts, along with a few players that were on the board at the time (I didn't go beyond the end of the first round out of fairness; just looking at first-round graded players):
2013: Cornerback
Desmond Trufant
from Washington, selected by Atlanta.
On the board: Defensive tackle Sharrif Floyd, WR/Returner
Cordarrelle Patterson
, defensive end
Datone Jones
.
2012: Quarterback Brandon Weeden from Oklahoma State, selected by Cleveland.
On the board: Linebackers
Dont'a Hightower
and Nick Perry, running back
Doug Martin
.
2011: Offensive tackle
Anthony Castonzo
from Boston College, selected by Indianapolis.
On the board: Offensive lineman
Danny Watkins
, defensive end Cameron Jordan, running back
Mark Ingram
.
2010: Wide receiver
Demaryius Thomas
from Georgia Tech, selected by Denver.
On the board: Wide receiver Dez Bryant, quarterback
Tim Tebow
, cornerback
Devin McCourty
.
2009: Wide receiver
Percy Harvin
from Florida, selected by Minnesota.
On the board: Offensive tackle
Michael Oher
, cornerback
Vontae Davis
, linebacker Clay Matthews.
2008: RB
Felix Jones
from Arkansas, selected by Dallas.
On the board: Running backs
Rashard Mendenhall
and Chris Johnson, cornerback
Mike Jenkins
.
2007: Quarterback Brady Quinn from Notre Dame, selected by Cleveland.
On the board: Wide receiver
Dwayne Bowe
, safety Brandon Meriweather, linebackers
Jon Beason
and
Anthony Spencer
, offensive tackle
Joe Staley
.
2006: Linebacker
Manny Lawson
from N.C. State, selected by San Francisco.
On the board: Offensive lineman
Davin Joseph
, wide receiver Santonio Holmes, running back
DeAngelo Williams
, defensive end
Mathias Kiwanuka
.
2005: Wide receiver
Mark Clayton
from Oklahoma, selected by Baltimore.
On the board: Cornerback
Fabian Washington
, quarterback Aaron Rodgers, wide receiver
Roddy White
.
2004: Quarterback
J.P. Losman
from Tulane, selected by Buffalo.
On the board: Defensive tackle
Marcus Tubbs
, running back Steven Jackson, defensive end
Jason Babin
.
November, 7, 2013
11/07/13
12:00
PM ET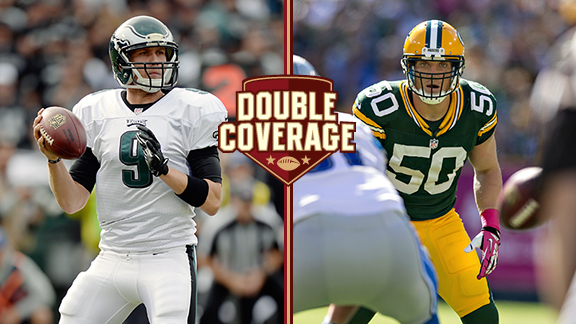 Getty ImagesNick Foles and A.J. Hawk meet Sunday in Green Bay in a game that's turned in the Eagles' favor.
If you expected the
Philadelphia Eagles
to have the edge at quarterback for their Week 10 meeting against the
Green Bay Packers
at Lambeau Field, go to the head of the class.
The teams play Sunday, a week after their quarterbacks made headline news. The Pack's
Aaron Rodgers
broke his collarbone in Monday night's loss to the
Chicago Bears
, a day after the Eagles'
Nick Foles
tied the NFL record with seven touchdown passes against the
Oakland Raiders
.
A game that looked to be safely in the Packers' column is suddenly wide open. NFC North aficionado and all-around NFL expert Kevin Seifert breaks down the game with ESPN.com Eagles reporter Phil Sheridan.
Phil Sheridan:
I'll start with the obvious one: Can the Packers win without Rodgers? Did they take his durability for granted in not having a better backup in place?
Kevin Seifert:
On a local level, the backup quarterback has been an annual source of controversy for the Packers throughout Rodgers' career as a starter. Nationally, most people didn't find out about it until Monday night.
Seneca Wallace
is the backup only because he was available when they realized none of the players they took to training camp was up to the job. He is 6-15 in his career as a starter, and his career seemed over in August 2012 when the
Cleveland Browns
released him.
The Packers' entire scheme is built around Rodgers doing things that only Rodgers can do. Think of what happened when the
Indianapolis Colts
played without
Peyton Manning
in 2011. The Packers will need to make fundamental changes to their offense -- and expect substantial elevation in other areas of their team -- to make it through this wilderness.
I have to imagine the Eagles can't believe their luck to be facing Wallace instead of Rodgers, huh?
Sheridan:
They are saying all the right things about wanting to face the best and never wanting to see anyone get hurt, but they aren't oblivious. This game looked like a double-digit loss the day the schedule came out, and it still looked like an easy Packers home win until Rodgers' collarbone broke Monday night. So it not only becomes a winnable game for the Eagles, it comes when a win, combined with a Dallas loss (the Boys are in New Orleans), would move them even with the Cowboys at 5-5.
And it's not like the Eagles owe anybody an apology when it comes to luck. They haven't had a quarterback start and finish two games in a row since September, and they've been down to
Matt Barkley
twice.
They may not have a starter as good as Rodgers, but their backup isn't half bad. Foles threw for seven touchdowns Sunday against an Oakland defense that didn't blitz or, at times, even cover receivers. Given Dom Capers' background, how would you expect him to respond to a challenge like this?
Seifert:
Capers is known for major scheme changes from week to week, depending on matchups. But as usual, the Packers are dealing with injuries that will limit his options. They are down four linebackers at the moment, although the Packers are hopeful that
Clay Matthews
can return soon -- if not Sunday -- and play with a club to protect his broken thumb.
In short, I'm not sure how many options Capers will have. He does have a group of talented cornerbacks --
Tramon Williams
,
Sam Shields
,
Casey Hayward
and
Davon House
. Capers will have to hope that they can stick with the Eagles' group of perennial All-Pros and future Hall of Famers better than the Raiders did.
Are the Eagles' receivers really that good?
Sheridan:
If they are, they have managed to keep that greatness a secret until Sunday in Oakland.
DeSean Jackson
is a dynamic player, no question about that, but he has been taken out of games in the past when cornerbacks get physical with him. The Raiders did not, and Jackson went off.
As for
Riley Cooper
and
Jason Avant
, they have not made up for the loss of
Jeremy Maclin
to a torn ACL during training camp. Cooper had great numbers Sunday -- five catches, three touchdowns, 139 yards -- but he has been neutralized more often than not during the season.
Tight ends
Brent Celek
and
Zach Ertz
had big numbers at Oakland too. So either the Eagles offense really turned a corner or the Raiders just didn't have anyone playing corner. Maybe a bit of both.
The Packers have added a more robust running game to their offense this season. Now that Rodgers is hurt, can
Eddie Lacy
& Co. carry the team until the quarterback is back? Is that even possible in this pass-happy league?
Seifert:
I tend to doubt it. Up until Monday night's game against the Bears, much of the Packers' success in the run game came against light boxes (six men or fewer) designed to focus first on the pass, according to the charting we get from ESPN Stats & Information. The Bears brought a safety into the box Monday night and the Packers still rushed for 199 yards, but we should note that the Bears have the NFL's fourth-worst rush defense this year.
And even when you run successfully, it usually takes longer to score and thus your total points can drive down. The Packers were averaging 30 points per game before scoring 20 Monday night against the Bears.
How do you think the Eagles will approach it? Eight men in the box? Nine? How about 11?
Sheridan:
This sets up a bit like the Tampa Bay game, I guess.
Mike Glennon
was making his second start, and the Bucs' passing game was not expected to be a big threat. The Eagles focused on shutting down
Doug Martin
, and they did, holding him to 67 yards on 16 carries. It helps, of course, to get a lead and force the opponent to throw the ball more.
All season, the Eagles' focus has been to stop the run while limiting big pass plays downfield. That made them vulnerable to intermediate passing and runs after the catch. Tampa Bay's
Vincent Jackson
, for instance, had nine catches for 114 yards and two touchdowns while the Eagles were focused on Martin.
That has to be the Packers' blueprint for success. If Wallace can get the ball out quickly and catch
Jordy Nelson
and
Andrew Quarless
in stride, the Packers can move the ball. The Eagles are better at tackling and covering underneath than they were, but there's opportunity there.