Philadelphia Eagles:

Emmanuel Sanders
February, 21, 2014
Feb 21
8:00
AM ET
PHILADELPHIA -- In his combine press briefing Thursday, Eagles general manager Howie Roseman sounded very much like a man willing to shuffle the team's deck at wide receiver.
Of course, that's exactly how you would want to sound if you were a GM with two receivers about to test the free-agent market.
Cooper
Maclin
"We're trying to figure out the whole dynamics of it," Roseman said Thursday. "You can only put a limited amount of resources at a particular position before it starts taking out from other places. And then you've got to factor in the quality and the depth in the draft. ... We set prices for guys and try to stick to those and have walkaways numbers. The market is going to determine a lot of those things. It's hard to figure out the market until you're in it."
Because it's the most interesting situation for the Eagles this offseason, we saved our look at the wide receiver situation for last.
Jeremy Maclin
, a former first-round draft pick who missed 2013 with a torn ACL, and
Riley Cooper
, who started all season in Maclin's place, are about to become unrestricted free agents.
This isn't like the safety situation, where the Eagles simply need to upgrade from the guys who are about to become free agents. Maclin was a good player who hadn't gotten close to his ceiling before the injury. Cooper was a spare part who became a favorite target of
Nick Foles
, catching 47 passes for 835 yards and eight touchdowns.
It really seems as simple as this: If the market provides Maclin and Cooper opportunities that pay more than the Eagles think they are worth, they will be gone. If they like what the Eagles offer, in money and familiarity and the chance to win, either or both could be back.
And then there's the X factor that will help determine what Roseman called the "walkaway number" for each player. Does Kelly believe his offense would work as well or better with other wide receivers? He spoke highly of Cooper, both as a blocker and a pass-catcher. But if Kelly thinks a faster or more athletic receiver would put up even better numbers, Roseman will negotiate accordingly.
The only certainty at the position is that
DeSean Jackson
will be back. He is still a game-breaking deep threat who dictates the way defenses approach the Eagles offense. Jackson caught 82 passes for 1,332 yards and nine touchdowns.
Jason Avant
, the eight-year veteran who won Kelly over with his unselfish attitude, could be a victim of his $2 million salary. Avant was a starter who saw his playing time decrease as the season went on.
The rest of the wide receiver corps was unremarkable.
Damaris Johnson
vanished when he failed to spark the return game.
Brad Smith
took over kickoff returns and was the focus of some of Kelly's more unfortunate trickery.
Jeff Maehl
played special teams and saw scant playing time on offense.
Arrelious Benn
, who also missed the season with a torn ACL, has another year on his contract.
Compared to the imposing collections of receivers the Eagles defense faced almost weekly, this was not exactly a fearsome group. And yet the Eagles receivers were good enough for Foles to have a breakout season.
Did that say more about Cooper and Jackson and Avant or about Kelly's imaginative offense? How the Eagles answer that question internally will go a long way toward determining their strategy.
There are some free agents who could add different dimensions to the passing game --
Eric Decker
of Denver,
Emmanuel Sanders
of Pittsburgh,
Golden Tate
of Seattle -- but mostly there is the draft. We'll be taking a look at some of the wide receivers available in a post later.
February, 7, 2014
Feb 7
10:32
AM ET
PHILADELPHIA -- The Eagles would have loved having wide receiver
Jeremy Maclin
in coach Chip Kelly's offense in 2013. And they certainly would like to have Maclin back, fully recovered from his ACL tear, in 2014.
The issue was always going to be whether the soon-to-be free agent was overwhelmed by an offer from another team. According to a report in the New York Daily News, that could very well happen.
[+] Enlarge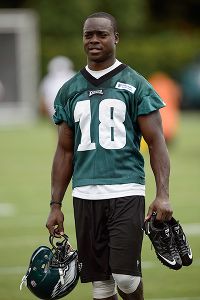 Howard Smith/USA TODAY SportsIn a weak free-agent class for receivers, Jeremy Maclin could be a hot commodity.
Jets beat writer Manish Mehta reported Friday that Maclin and Pittsburgh's
Emmanuel Sanders
are on the Jets' radar. New York had the No. 31 ranked passing offense in the NFL last season and is expected to part ways with
Santonio Holmes
to clear $8.25 million in salary-cap space.
Maclin would probably be a good fit in Kelly's system. But he knows for sure he would excel under Jets offensive coordinator Marty Mornhinweg. The same is true of former Eagles head coach Andy Reid in Kansas City.
So if Maclin has to settle for a one-year, prove-it contract to show he can return to his pre-injury form, he might feel more confident in an offense he's already had success in.
And if the Jets, Chiefs or another team in need of a receiver -- New England? Carolina? -- are willing to give Maclin a longer-term deal, he might just go for the security. He's still only 25, but two ACL surgeries have given him a keen sense of how quickly a career can be short-circuited.
With few elite receivers on the market this year, teams may be more willing to take a bit of a risk with Maclin -- especially teams with coaches who already have a relationship with him.
It's worth pointing out that the risk isn't nearly as daunting as it once was. The state of the art in repairing and rehabbing ACL injuries is very good.
While teams like the Jets might see a desperate need for Maclin's services, the Eagles' viewpoint is a little different. They did very well on offense without him in 2013.
Riley Cooper
, who is also on the brink of free agency, emerged as a legitimate weapon.
DeSean Jackson
remains a big-play threat.
By re-signing Cooper and bringing veteran
Jason Avant
back, the Eagles could have the same core group of receivers that combined for 167 receptions, 2,614 yards and 19 touchdowns.
Would Maclin make that group better? No doubt. But would he make it better by enough of a margin to outbid the Jets or another team for his services? And what about the possibility of getting a big-bodied receiver like Florida State's Kelvin Benjamin in the draft?
Those considerations don't even begin to address what Kelly might have in mind for his tight ends, especially
Zach Ertz
. Ertz was getting more playing time, often at the expense of Avant, in the last month of the season.
All things being equal, the Eagles would like to see what Maclin can do in Kelly's offense. But if all things aren't equal, and if a market develops for Maclin, the Eagles are in a position to move on.