Philadelphia Eagles:

Jeffrey Lurie
May, 19, 2014
May 19
8:03
AM ET
By
Andy Jasner
| ESPN.com
PHILADELPHIA -- Philadelphia Eagles owner Jeffrey Lurie discussed a number of subjects in an extensive interview
with the Philadelphia Inquirer
on Sunday.
Here are the highlights:
On the lack of a championship despite 12 playoff appearances, five NFC Championship games and one Super Bowl appearance: "Nobody feels the sting of not winning the Super Bowl more than me or any of the people that work here."
On allowing his coaches and personnel to make the football decisions: "I really demand from [general manager Howie Roseman], [coach] Chip [Kelly], the scouts, the people [who] do the work, have to be accountable, and they've got to make those decisions. Because they'll be better than my decision."
On the decision to let popular safety Brian Dawkins leave in free agency after the 2008 season: "What frustrated me after was I was not explicitly aware of where the negotiations were before it was too late. I fully expected we would be re-signing him."
On releasing three-time Pro Bowl wide receiver DeSean Jackson: "The head coach is the chemist. And if he felt the chemistry, what Chip demanded out of that position, wasn't necessarily there, then he had to make other moves. DeSean had a great career here. But I think you have to [trust] a coach who's putting together what he hopes is a very successful team and chemistry."
On owning the Eagles for 20 years: "Other than my family and my close friends, there's nothing I love more than owning the team and doing everything I can to make it a success. That's how I live. That is me."
April, 29, 2014
Apr 29
2:00
PM ET
By
Andy Jasner
| ESPN.com
The hottest topic surrounding the
Philadelphia Eagles
on Monday centered around reaction to the recent release of three-time Pro Bowl wide receiver
DeSean Jackson
.
At the 18th annual Playground Build, the Eagles' brass discussed the reasons for making the controversial move.
Coach Chip Kelly, general manager Howie Roseman and owner Jeffrey Lurie all said it was simply a football decision.
What about the financial reasons?
According
to the Philadelphia Daily News
, Jackson's salary cap number would have been $12.75 million this season in the third year of a five-year, $47 million contract signed in March 2012.
The Daily News also reported Jackson's cap number would have been higher than 20 of the 32 starting quarterbacks in the NFL this season.
"He had a very expensive contract," Kelly told the Daily News about Jackson's contract. "There's a guy who was one of the best corners in the NFL (
Darrelle Revis
) was let go this year. That guy is a helluva player. But there's a lot of economics that get involved."
Roseman also offered his thoughts on the economic aspects of the decision.
"We gave him the contract (two years ago) because he's a really good player," Roseman told the Daily News. "We felt comfortable with it. But two years is a long time. We had a lot of changes in two years, and circumstances change. We're trying to build something that lasts. With that comes hard decisions. When you're managing a team in the NFL, the amount of resources that you get in terms of salary cap and the players that come up in terms of contracts, you've got to make decisions. You've got to figure out how you're going to build your team and where you're going to put your resources. All of the decisions we made this offseason are about trying to put the best team together moving forward."
April, 29, 2014
Apr 29
8:00
AM ET
By
Andy Jasner
| ESPN.com
DeSean Jackson
caught only three passes for 53 yards in the
Philadelphia Eagles
' 26-24 playoff loss to the
New Orleans Saints
last season.
Jackson
Though reports have surfaced saying otherwise, Eagles coach Chip Kelly called it a "football decision" when the team decided to release the three-time Pro Bowl wide receiver.
Eagles owner Jeffrey Lurie continues to support his coach.
"It became clear at the end of the year he (Kelly) wanted to certainly go at the wide receiver position differently," Lurie
told the Philadelphia Inquirer
at the Eagles' 18th annual Playground Build on Monday. "Once that decision was made it was a matter of whether we were going to be able to make any kind of trade. And when it was obvious there were going to be no trade offers, the fair thing to the player was to release him.
"And in today's NFL, it's not surprising that would happen with double-digit contracts. You don't see players getting traded these days, you see them getting released."
Lurie clearly trusts his second-year coach, who guided the Eagles to a 10-6 record and an NFC East title in his rookie year.
"I think Chip's always going to not just base things on statistics," Lurie told the Philadelphia Inquirer, "but how ... you're going to perform in the playoffs and where do you get your ultimate goal. What's the best chance?"
Lurie was pressed some more on the decision to release Jackson.
"It was really a football decision," Lurie told the Philadelphia Inquirer. "Chip and his people were incredibly clear that for us to get better we need to take a step back and reconfigure the wide receiver position. I think common to a lot of really smart coaches, he knows exactly what he wants at every position. And for Chip on offense, it just wasn't a good fit. It just was not a good fit with what he asks wide receivers to do."
February, 26, 2014
Feb 26
10:00
AM ET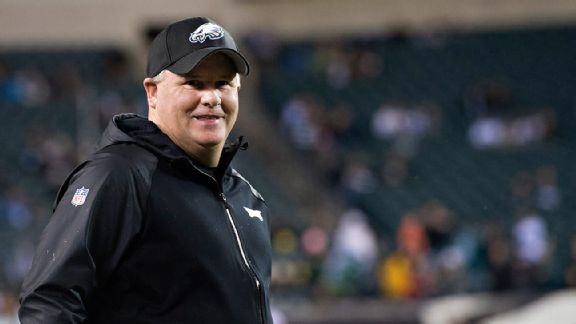 Tommy Gilligan/USA TODAY Sports
PHILADELPHIA -- The best news from the NFL combine, at least as far as the
Philadelphia Eagles
are concerned, might have come from the mouth of Jerry Jones.
The owner/general manager of the
Dallas Cowboys
told reporters that NFL realities make it impossible for his franchise to make a major change in direction.
"You can't do what I did in 1989 because of the contracts and cap," Jones said Monday,
according to ESPN.com's Todd Archer
. "The system automatically creates about a third turnover, but it also creates contractually for clubs a situation where you cannot just strip it. You couldn't even field a team with the hits against your cap by canceling the contracts."
If the chief decision-maker of their chief division rival feels constrained by the NFL system, that is very good news for the Eagles.
Good
because it means the Cowboys are more likely to remain trapped in a cycle of 8-8 finishes.
News
because the Eagles themselves just demonstrated that it is not only possible to tear things up and start over, but it is easier in the NFL than in any other major American sports league.
The Eagles went 4-12 in 2012 with Andy Reid as their head coach. It was Reid's 14th season, making the Eagles one of the most stable franchises in sports. While it was admittedly difficult for owner Jeffrey Lurie to pull the plug on Reid's tenure after working so closely together for so long, Lurie did just that.
Lurie hired Chip Kelly out of the University of Oregon. The Eagles went 10-6 in 2013, defeating the Cowboys in Week 17 to win the NFC East title.
If that isn't a quick turnaround, what is?
Across the parking lot from Lincoln Financial Field sits the Wells Fargo Center, where the
Philadelphia 76ers
are trying to turn their franchise around. The NBA's system -- fully guaranteed contracts and intricate trade rules that make salary dumping impossible -- all but forces teams to tank in order to have a shot at a superstar-caliber player.
The 76ers traded away most of the recognizable names from their already threadbare roster at the deadline. They were rewarded with a 20-point loss Monday night to the
Milwaukee Bucks
, the team with the worst record in the NBA.
A long 3-point basket away from the arena is Citizens Bank Park, where the
Philadelphia Phillies
reside. The 2008 World Series champions have spent massive amounts of payroll money to try to win another title while their core of
Ryan Howard
,
Jimmy Rollins
and
Chase Utley
remains intact. But age, injuries and (again) those fully guaranteed contracts have the Phillies trapped in a cycle of ever diminishing returns.
Baseball and basketball present enormous challenges for a team trying to turn itself around quickly. The NFL? Sorry, Jerry, that excuse just doesn't fly.
It may have been easier when Jones bought the franchise 25 years ago, hired Jimmy Johnson and started amassing the talent that won three Super Bowls in four seasons. Things did change with the introduction of free agency and a salary cap, but that was 22 years ago. There has been time to adjust.
Since the Cowboys' last title in 1996, the
Green Bay Packers
have built two separate Super Bowl-winning programs -- one with Mike Holmgren and
Brett Favre
, one with Mike McCarthy and
Aaron Rodgers
. So have the
Baltimore Ravens
, who won it all in 2000 with Brian Billick and
Trent Dilfer
and in 2012 with John Harbaugh and
Joe Flacco
.
The
New York Giants
won a Super Bowl in 2007. When they won another four years later, there were only 14 players left from the 2007 team. New England, the team the Giants beat both times, had only seven players on the roster for both games.
Seattle just won the Super Bowl with a team that had exactly four players who were on the roster before 2010.
You get the point. It is very possible in the NFL to change cultures, turn over rosters and flip a losing franchise into a winner in a short period of time. It takes two things: the ability to recognize change is needed and smart decisions when making it.
The
New Orleans Saints
established themselves as one of the league's elite teams and won a Super Bowl. The key was hiring Sean Payton, a coach who had spent the three previous seasons working as an assistant for Jones.
The Eagles have had three major reboots with Lurie as their owner. They hired Ray Rhodes in 1995 and cut their losses after a 3-13 season in 1998. Lurie hired the virtually unknown Reid in 1999. While Reid did not produce a championship, he was coach and eventually chief personnel man for a six-year stretch in which the Eagles were the class of the NFC East.
Lurie stuck with Reid a year or three too long, out of some combination of loyalty and finger-crossed hope things would improve. When he finally did make a change, Lurie admitted it was the toughest decision of his tenure as owner. Clearly, there was no guarantee he was going to find as good a coach as the one he fired.
For Jones, such a wrenching decision is even harder because the man whose work he's judging is one Jerry Jones. A clear-eyed owner wouldn't accept a GM's rationale that the team is stuck in mediocrity because of bad cap management, ill-advised contracts and misplaced loyalty.
It was hard for Lurie to reach that point with his friend Reid. Evidently, it's even harder to get there when the guy making excuses is yourself.