Philadelphia Eagles:

Jim Harbaugh
March, 20, 2014
3/20/14
10:08
AM ET
As mystery and rumor continue to shroud the
DeSean Jackson
situation,
I liked this Wednesday from Sheil Kapadia
on Birds 24/7. Sheil poses the question of why the
Philadelphia Eagles
would want to get rid of Jackson, who was one of their best players in 2013. He dismisses money, scheme fit and receiver depth as possible reasons (though he doesn't address the possibility that the crux of the thing is off-field, away-from-the-facility behavior) and reaches the conclusion that, "The only logical explanation for trading Jackson would be that the head coach doesn't want him around."
[+] Enlarge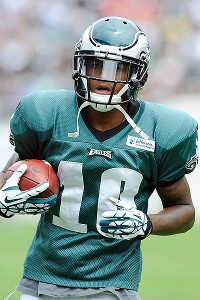 AP Photo/Michael PerezDeSean Jackson had 82 catches for 1,332 yards and 9 TDs in his first season with coach Chip Kelly.
I agree completely with that conclusion and also with the one Sheil articulates near the end of his post:
The best solution for Kelly would be to do what coaches are paid to do: figure it out. Last year, he put together a top-five offense, Jackson had a career year and the team went 10-6. Why not find a way to try and make it work?
Why not, indeed? Getting rid of Jackson would be a huge power play for the Eagles' second-year coach -- the biggest one I can think of since his arrival. It would constitute a territorial assertion and send a clear message to the rest of the roster and the rest of the league that, if you're not a Chip Kelly guy, don't expect to be on Chip Kelly's team. It could conceivably lead to other, similar moves and a slow purge of players who rub Kelly the wrong way.
Which on the one hand is okay, since he's the coach and obviously should have significant say in the matter of roster construction. He (and, heck, others in the organization) might have reasons we don't know about, reasons that making dumping Jackson the right move even though it looks weird from the outside. It's possible there is something behind this that would make the player look bad, and they are being secretive and delicate about it to avoid that.
But on the other hand, if this is the game Kelly's playing, it's a potentially dangerous one. When a coach starts operating as though he's determined to find "his kinds of guys" and plug them into his program, that's a recipe for trouble. The best coaches, the ones who are most successful long-term, are the ones that can win with whatever they have. And in Jackson, Kelly has something quite significant -- an elite talent who performed at an elite level in Kelly's first NFL season. There is no objective measure by which getting rid of Jackson would make the Eagles a better team, and if Kelly does end up doing it, he ought to have a very good reason.
Kelly's obviously very smart, and the division title in his rookie NFL season has earned him some benefit of the doubt. But let's be real here: His debut wasn't Jim Harbaugh. He didn't go 13-3 and get to the NFC Championship Game. I like what Kelly did a great deal and am eager to see what he does for an encore. But as fun and encouraging as the 2013 Eagles were to watch, the fact remains that it was only one season. If you're going to start ditching your best players after one good year, you'd better have big plans for several encores.
So all I'm saying is watch what happens here. We don't know how the Jackson situation will resolve itself. Could be a lot of noise about nothing. But if Kelly ends up getting rid of him, it's a significant moment early in his career that could have a major impact on future moves and the way the franchise is run going forward. Whether that's a good thing, of course, remains to be seen.
September, 5, 2013
9/05/13
6:30
AM ET
PHILADELPHIA – It must be like looking into a mirror for
Michael Vick
and
Robert Griffin III
-- only instead of a reflection, each sees a projection of himself across time.
Vick, 33, sees what was and what might have been if he'd harnessed his full potential when he was the hot young quarterback revolutionizing the game.
"I'm a fan of his just like he's a fan of mine," Vick said Wednesday. "I like the way he plays. I like the desire he brings to the game."
Griffin, 23, sees what might yet be, the good and the bad. Vick is still in the league, still starting at quarterback. But he has never been to a Super Bowl, hasn't won a playoff game since the 2004 season and has missed games due to injury in all but one of his NFL seasons.
That should resonate with Griffin, who is set to start for the
Washington Redskins
against Vick and the
Philadelphia Eagles
on Monday night -- his first game action since blowing out his knee in last season's playoffs. There is an obvious correlation between their style of play and their risk of injury.
"It's not something you want to harp on," Griffin said. "But it has been something I've heard for the past eight months, about sliding and getting out of bounds. So that's something I'm going to do. It's just a part of playing football. You live and you learn."
[+] Enlarge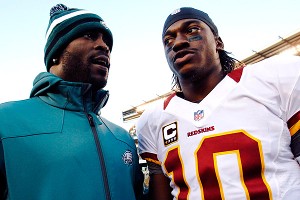 AP Photo/Mel Evans"I'm a fan of his just like he's a fan of mine," Michael Vick said of Redskins counterpart Robert Griffin III.
Vick has lived and learned that, well, sliding just doesn't really work for him. He has talked about it, too, but has shown no real commitment to doing it. Even in the preseason, he dived forward at the end of runs, sometimes as tacklers closed in on him.
Maybe Griffin will have more success learning to avoid contact. It won't be easy. It used to be that mobile quarterbacks were told they needed to remain in the pocket to avoid injury. Both Vick and Griffin will be in offenses that thrive on their ability to run.
The position is in a state of enormous flux. Being called a running quarterback isn't an insult. It's the highest compliment. Vick wasn't the first in the NFL, but he's definitely a major part of the evolution.
"He was a lot of fun to watch," Griffin said, "not just running the ball but throwing the ball. He paved the way for a lot of quarterbacks like myself, and guys before him paved the way for him. You always have a lot of respect for the guy. He's been through a lot in his life and still come out, still a starting quarterback in the NFL."
With the emergence of running quarterbacks and read-option-based offenses has come a backlash. Defensive coaches are advocating hitting the quarterback every chance defenders get. It is a penalty to hit a quarterback late in the pocket, but if the signal-caller hands off and pretends he still has the ball, he's fair game.
So at a time when Vick and Griffin need to prove they can stay healthy, they are at more risk than ever.
"I don't know what to expect from defenses," Griffin said. "They're always going to try to throw something special at you. But you've got to be careful when you talk about targeting quarterbacks because that sounds a whole lot like a bounty to me."
He's not alone in making that comparison. San Francisco head coach Jim Harbaugh watched the Ravens put as many hits as possible on
Colin Kaepernick
in the Super Bowl. Harbaugh was made aware of comments by Green Bay linebacker
Clay Matthews
, who will be chasing Kaepernick around Sunday.
Matthews said, in essence, that hitting quarterbacks after fakes might just discourage coaches from exposing them to such risks. That would be a huge boon to defenses trying to counter the game's latest trend.
Harbaugh told reporters he raised the issue with the league office and that Matthews' talk smacks of "targeting a player."
Eagles head coach Chip Kelly had a more direct solution.
"They've got to catch you first, right?" Kelly said. "So carry out your fake and run really fast. … Any quarterback has to be prepared for hits if they're carrying out fakes. That's just the rule in the game."
Time will tell if Griffin is able to deliver the championship that has eluded Vick. But he'll only get the chance if he's able to remain healthy and on the field. The same things that make Vick and Griffin such threats to defenses also threaten their well-being.