Philadelphia Eagles:

Joe Flacco
February, 26, 2014
Feb 26
10:00
AM ET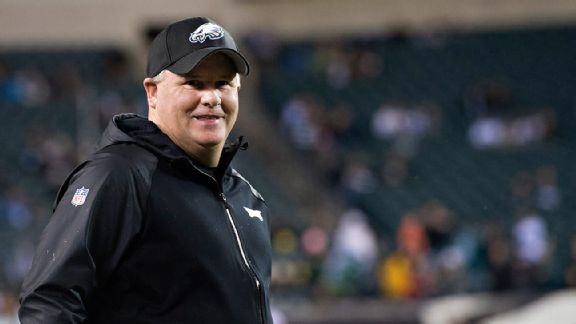 Tommy Gilligan/USA TODAY SportsEagles owner Jeffrey Lurie wasn't afraid to start over with a new coach in Chip Kelly in 2013.
PHILADELPHIA -- The best news from the NFL combine, at least as far as the
Philadelphia Eagles
are concerned, might have come from the mouth of Jerry Jones.
The owner/general manager of the
Dallas Cowboys
told reporters that NFL realities make it impossible for his franchise to make a major change in direction.
"You can't do what I did in 1989 because of the contracts and cap," Jones said Monday,
according to ESPN.com's Todd Archer
. "The system automatically creates about a third turnover, but it also creates contractually for clubs a situation where you cannot just strip it. You couldn't even field a team with the hits against your cap by canceling the contracts."
If the chief decision-maker of their chief division rival feels constrained by the NFL system, that is very good news for the Eagles.
Good
because it means the Cowboys are more likely to remain trapped in a cycle of 8-8 finishes.
News
because the Eagles themselves just demonstrated that it is not only possible to tear things up and start over, but it is easier in the NFL than in any other major American sports league.
The Eagles went 4-12 in 2012 with Andy Reid as their head coach. It was Reid's 14th season, making the Eagles one of the most stable franchises in sports. While it was admittedly difficult for owner Jeffrey Lurie to pull the plug on Reid's tenure after working so closely together for so long, Lurie did just that.
Lurie hired Chip Kelly out of the University of Oregon. The Eagles went 10-6 in 2013, defeating the Cowboys in Week 17 to win the NFC East title.
If that isn't a quick turnaround, what is?
Across the parking lot from Lincoln Financial Field sits the Wells Fargo Center, where the
Philadelphia 76ers
are trying to turn their franchise around. The NBA's system -- fully guaranteed contracts and intricate trade rules that make salary dumping impossible -- all but forces teams to tank in order to have a shot at a superstar-caliber player.
The 76ers traded away most of the recognizable names from their already threadbare roster at the deadline. They were rewarded with a 20-point loss Monday night to the
Milwaukee Bucks
, the team with the worst record in the NBA.
A long 3-point basket away from the arena is Citizens Bank Park, where the
Philadelphia Phillies
reside. The 2008 World Series champions have spent massive amounts of payroll money to try to win another title while their core of
Ryan Howard
,
Jimmy Rollins
and
Chase Utley
remains intact. But age, injuries and (again) those fully guaranteed contracts have the Phillies trapped in a cycle of ever diminishing returns.
Baseball and basketball present enormous challenges for a team trying to turn itself around quickly. The NFL? Sorry, Jerry, that excuse just doesn't fly.
It may have been easier when Jones bought the franchise 25 years ago, hired Jimmy Johnson and started amassing the talent that won three Super Bowls in four seasons. Things did change with the introduction of free agency and a salary cap, but that was 22 years ago. There has been time to adjust.
Since the Cowboys' last title in 1996, the
Green Bay Packers
have built two separate Super Bowl-winning programs -- one with Mike Holmgren and
Brett Favre
, one with Mike McCarthy and
Aaron Rodgers
. So have the
Baltimore Ravens
, who won it all in 2000 with Brian Billick and
Trent Dilfer
and in 2012 with John Harbaugh and
Joe Flacco
.
The
New York Giants
won a Super Bowl in 2007. When they won another four years later, there were only 14 players left from the 2007 team. New England, the team the Giants beat both times, had only seven players on the roster for both games.
Seattle just won the Super Bowl with a team that had exactly four players who were on the roster before 2010.
You get the point. It is very possible in the NFL to change cultures, turn over rosters and flip a losing franchise into a winner in a short period of time. It takes two things: the ability to recognize change is needed and smart decisions when making it.
The
New Orleans Saints
established themselves as one of the league's elite teams and won a Super Bowl. The key was hiring Sean Payton, a coach who had spent the three previous seasons working as an assistant for Jones.
The Eagles have had three major reboots with Lurie as their owner. They hired Ray Rhodes in 1995 and cut their losses after a 3-13 season in 1998. Lurie hired the virtually unknown Reid in 1999. While Reid did not produce a championship, he was coach and eventually chief personnel man for a six-year stretch in which the Eagles were the class of the NFC East.
Lurie stuck with Reid a year or three too long, out of some combination of loyalty and finger-crossed hope things would improve. When he finally did make a change, Lurie admitted it was the toughest decision of his tenure as owner. Clearly, there was no guarantee he was going to find as good a coach as the one he fired.
For Jones, such a wrenching decision is even harder because the man whose work he's judging is one Jerry Jones. A clear-eyed owner wouldn't accept a GM's rationale that the team is stuck in mediocrity because of bad cap management, ill-advised contracts and misplaced loyalty.
It was hard for Lurie to reach that point with his friend Reid. Evidently, it's even harder to get there when the guy making excuses is yourself.
January, 29, 2014
Jan 29
10:00
AM ET
He's out there somewhere. It will always be a mystery exactly who he is and what he was thinking.
He is the one NFL player, out of 320 surveyed by ESPN.com, who named
Michael Vick
as the quarterback he would want with two minutes left and the Super Bowl on the line.
Nothing against Vick personally, but his most significant postseason moment came 12 years ago, when he led Atlanta to a victory over Green Bay at Lambeau Field. In his one opportunity to lead a playoff comeback as an Eagle, he threw an interception in the end zone against the Packers three years ago.
Anyway, the national results were about what you'd expect. New England's
Tom Brady
was named by 128 players (40 percent). That's exactly the percentage of the 10 Eagles surveyed who named Brady.
If the results say anything, it is that achievement in the postseason resonates with people. Brady hasn't won a Super Bowl in 10 years, but there is no taking away what the three championships he did win.
Green Bay's
Aaron Rodgers
, the winning quarterback the day Vick was intercepted to end the Eagles' comeback, was named by two Eagles.
Peyton Manning
, who finished second nationally to Brady, was named by just one Eagle.
Drew Brees
,
Russell Wilson
and
Joe Flacco
-- who was in the situation a year ago -- were also named by Eagles players. Except for Wilson, all of the quarterbacks named by Eagles players have at least one ring. And Wilson may have earned one by Sunday night.
November, 27, 2013
11/27/13
2:30
PM ET
PHILADELPHIA -- Bruce Arians' assessment of the read-option raised an interesting point.
"It's a great college offense," Arians said in a conference call with Philadelphia media Wednesday. Arians went on to say that he thinks running the ball often takes too much of a physical toll on quarterbacks at the NFL level.
[+] Enlarge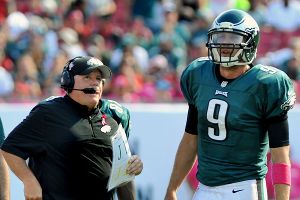 Al Messerschmidt/Getty ImagesChip Kelly argues that he doesn't use the read-option as often as people think, but he can count on a handful of rushing yards from Nick Foles.
Considering the Arizona coach has two decades of experience in the NFL and another 16 as a college coach, his point of view has serious credibility.
Eagles coach Chip Kelly has just 10 months of NFL experience. The read-option is a core element of his offensive philosophy. That philosophy, of course, was honed during a career coaching college football. Kelly was hired, at least in part, because of his command of the latest trend -- or fad -- to hit the pro game.
So here's the interesting point: As the backlash gains momentum against the read-option and running quarterbacks like
Robert Griffin III
and
Colin Kaepernick
,
Nick Foles
' stunning 2013 season might spare Kelly from getting on the wrong side of history.
I'm not looking to get in the middle of a war between adherents of old-school NFL pocket passers and believers in the revolutionary (or even evolutionary) changes brought by Griffin, Kaepernick,
Cam Newton
and others. That battle -- symbolized by Kaepernick versus Baltimore's
Joe Flacco
in the Super Bowl last winter -- will ultimately be decided on the field.
Even Kelly, obviously an acolyte of the read-option, acknowledges that he doesn't use it as often as people think. Some of the plays that appear to be read-option based aren't. The quarterback may appear to be making decisions based on the read of a defensive player, but the play actually has a predetermined design with no read or option involved. It's just a fake.
And even Foles, with his obvious limitations as a running threat, is still running read-option plays at times. Kelly has made it clear that he isn't abandoning his principles just because he doesn't have a sprinter at quarterback.
"When Nick takes off, it's not 60 yards, but it's 6," Kelly said. "In critical situations, he can still do that. We're not calling an entirely different package. But I think in everybody, there are subtleties in there that Nick may like this throw better than Mike [Vick] likes that throw. But overall, we're still running four verticals, double-post concepts. We're still running the quick game, still running our schemes."
So there is no mindless doctrine at work here. Kelly and Foles are both believers in the potential of the read-option while embracing the nuance of employing it in the NFL.
But let's just say
Michael Vick
had stayed healthy a bit longer this season and remained at quarterback. Kelly might have relied on his running ability more, as he did in the Oct. 6 game against the Giants in which Vick was injured. Vick ran the ball seven times for 79 yards in the first half. His rushing yardage basically was the Eagles' offense until he got hurt.
Once Foles took over, the Eagles offense became more diverse and more effective in the red zone. Wide receiver
Riley Cooper
instantly became a frequent and dangerous target. Kelly's play calling has evolved in order to take advantage of what Foles does best, just as it would have evolved toward what Vick did best.
That doesn't mean just standing statue-still in the pocket either. In his last game, against Washington, Foles was asked to run the ball more often. He did, picking up 48 yards on eight carries before losing a yard on a final kneeldown.
Foles' performance forced Kelly to stick with the second-year quarterback for the rest of this season. A strong finish will make it tough for Kelly to do anything but bring Foles back as his starter in 2014.
If the trend in the NFL favors running quarterbacks and the read-option, Kelly is a coach capable of getting the most out of that. He will have time to acquire and develop a young quarterback to play that style.
But if there really is a backlash and pocket passers like
Peyton Manning
,
Tom Brady
and
Drew Brees
remain dominant, Kelly will already have one in place. By playing well, Foles might have saved Kelly and the Eagles from going too far in a direction that could turn out to be a dead end.
August, 27, 2013
8/27/13
12:55
PM ET
The one certain thing about the NFL Rank project is that it invites debate. The placement of Eagles running back
LeSean McCoy
at No. 38 among offensive players is a perfect case in point.
McCoy
McCoy is 25. He is one of the most explosive offensive players in the game, capable of breaking a long run at any time. The 63 experts polled by ESPN to formulate these rankings gave him a score of 7.67, ranking him two spots ahead of Ravens QB
Joe Flacco
. Beating out the reigning Super Bowl MVP looks good, but McCoy is behind the three offensive linemen who landed from 40 to 42, as well as 30-year-old
Frank Gore
and 34-year-old
Reggie Wayne
.
It's hard to believe the average NFL coach or general manager wouldn't jump at McCoy ahead of some of those guys.
But McCoy bears the mark of being part of the Eagles' 4-12 debacle of a 2012 season. He played in only 12 games, rushing for 840 yards and only two touchdowns. A concussion sustained in the closing minutes of a 31-6 loss in Washington cost McCoy four games.
That said, McCoy appears poised for a monster season in new coach Chip Kelly's offense. Kelly will emphasize the run much more than Andy Reid ever did, and McCoy should be the beneficiary.