Philadelphia Eagles:

Johnny Manziel
May, 9, 2014
May 9
11:00
AM ET
By
Andy Jasner
| ESPN.com
PHILADELPHIA – Time will tell whether the
Philadelphia Eagles
made the right choice in selecting Louisville linebacker
Marcus Smith
with the No. 26 overall pick in the NFL draft.
It's also natural to wonder if they passed on other quality players.
Manziel

Lee
The Eagles originally held the No. 22 overall pick, but traded down with the
Cleveland Browns
.
And the Browns took Texas A&M quarterback
Johnny Manziel
.
Was Manziel a consideration for the Eagles?
"We're always going to go by our board," Eagles coach Chip Kelly said. "I love him, I think he's a dynamic quarterback. I think we have a very, very good quarterback situation, not only with
Nick (Foles)
, but you add
Mark Sanchez
in,
Matt Barkley
, we think quarterback is a strength for us right now. We felt like the pass-rusher who we had rated higher was the guy we were going to take."
The Eagles have a major need at wide receiver since they recently released three-time Pro Bowler
DeSean Jackson
and
Jason Avant
. Deciding to pass on USC wide receiver
Marqise Lee
had to be difficult.
"Yeah, I think Marqise is an outstanding player," Kelly said. "I wouldn't be surprised if by the time I get back upstairs he's not there. But I think we spend so much time on ordering it, so that when you get into the situation like 'where do we go,' it's a simple thing. We've had them all rated for a long time, and our board is our board. When you get in there you don't turn around and go 'oh, I kind of like him.' Well, we've had since last year to stack the board the right way.
"If we liked him, that should have been a discussion a while ago. So we were going to follow up. That's what you do rationally. You can't let emotion get into it. I think Marqise is a special kid. I tried to recruit him coming out of high school, and [he] had a tremendous career at USC. But for us, we think Marcus was the right pick."
April, 28, 2014
Apr 28
2:00
PM ET
By
Andy Jasner
| ESPN.com
Respected NFL columnist Peter King had a fascinating note in his latest "
Monday Morning Quarterback
" column on SI.com.
King floated the notion of the
Philadelphia Eagles
potentially trading up in next month's NFL draft to acquire Texas A&M quarterback
Johnny Manziel
.
Even if it's not true, it's interesting to ponder.
King: There's a rumor (apparently faulty) making the rounds about the Eagles moving up to try to get Johnny Manziel. I wouldn't pass it along if the person who told me wasn't smart and, to this point, reliable. But I just can't see it, and I have someone who would know better than the rumor source telling me it absolutely won't happen. Which seems smart to me, seeing that Nick Foles' 27 touchdowns and two interceptions and 119.2 passer rating would be pretty damned foolish to throw out the window for Manziel. I just put it out there as an example of the kind of stuff that makes the rounds when so much of what happens at this time of year is designed to be a misdirection play. As Bills GM Doug Whaley said Friday, speaking to western New York reporters: "It's finally one time where we can use you guys (reporters) to our advantage. There are things that you put out there to see if someone bites, and there are some things you put out there that are true. You have people read between the lines and you don't want to show your hand. I'm sure everyone is doing the same thing."
Eagles coach Chip Kelly has repeatedly said that Foles is his No. 1 option at quarterback.
But … anything is possible. Even if it seems highly unlikely.
April, 28, 2014
Apr 28
11:00
AM ET
By
Andy Jasner
| ESPN.com
The quarterback position was a prime topic in terms of reading the coverage from the weekend regarding the
Philadelphia Eagles
.
Philadelphiaeagles.com takes a detailed look
at the Eagles' depth chart at quarterback led by starter
Nick Foles
.
Foles threw 27 touchdowns and just two interceptions on his way to the NFC East title last season.
This piece also analyzes the backups led by
Mark Sanchez
, who was signed when
Michael Vick
joined the
New York Jets
.
In the Philadelphia Daily News, NFL Network analyst
Mike Mayock gives his list
of the top quarterbacks available in next month's draft.
Mayock has Texas A&M's
Johnny Manziel
as his top choice and wrote in his analysis:
"The two things you have to buy in with Manziel are his willingness to learn how to win from the pocket and whether he'll be OK as the face of the franchise. Those were the two main reservations I had as far as him being a top-10 type of pick. But his spontaneous playmaking ability overwhelms the rest of it. He doesn't like being confined. He likes those open spaces. The Missouri and LSU games were eye-openers with him last year because they used a mush rush against him and slowly pushed the pocket on him and he got frustrated and his accuracy went down. But I'm buying in that he's mature enough and intelligent enough to learn from that. I think he'll do enough from the pocket to give you the best of both worlds."
February, 28, 2014
Feb 28
8:00
AM ET
PHILADELPHIA – Eagles general manager Howie Roseman didn't want to talk specifically about
Johnny Manziel
or reports that he met with the Texas A&M quarterback at the combine last week.
Roseman did say there was more than one reason for teams to meet with players before the draft.
"We do interviews for a wide variety of reasons at a wide variety of positions," Roseman said Thursday. "We get 60 formal interviews at the combine, we get 30 players we're allowed to bring in [to Philadelphia]. Out coaches and scouts do an amazing job of tracking down basically every player on our draft board to talk to.
"So some of the guys that tell you they're interviewed, they may interview with us formally, they may interview informally. We're trying to get as much background as possible on as many guys as possible."
The value of that background information extends well beyond that year's draft, Roseman said.
"You never know when the opportunity is going to come to get a player," Roseman said. "It may be now in the draft, it may be in free agency, it may be via trade. If you look at your notes and you haven't met the guy and the head coach is coming down the hallway and he's going, 'Hey, how was this guy when he came out?' – and you're kind of going, 'Help.'
"It's just part of the process. We want to dot the I's and cross the T's and make sure we have as much information as possible. It's right in front of us [at the combine]. That's our job."
That would explain why the Eagles would use one of their interview slots on Manziel. They also met with
Robert Griffin
III at the 2012 combine, a player they had no chance of drafting.
Then again, Roseman has said the Eagles will take their highest-graded player regardless of position, even if it's a quarterback. So you never know.
February, 24, 2014
Feb 24
2:00
PM ET
PHILADELPHIA -- It might mean nothing. It might mean quite a lot. At the very least, the whole idea of the Eagles' meeting with
Johnny Manziel
in Indianapolis over the weekend is, like everything else Manziel-related, of interest.
Manziel is a little short for a lightning rod, let alone a quarterback, but the reality is that he and South Carolina defensive end
Jadeveon Clowney
are the two most intriguing players in the 2014 NFL draft.
Peter King mentioned the Eagles' meeting as almost an afterthought in his MMQB.com piece about Manziel, the Texas A&M quarterback:
"Manziel met with Houston (1), Jacksonville (3), Cleveland (4), Dallas (17), Tampa Bay (7) and Philadelphia coaches and team officials, and very likely Oakland (5), this weekend before flying back to Texas late Sunday afternoon," King wrote.
The numbers in parentheses weren't in King's original text. I added them. They are the draft positions for the teams mentioned. According to King, then, Manziel met with representatives of teams with five of the top seven picks in the draft. The Cowboys at 17 and the Eagles at 22 are jarringly out of place in that company.
That can mean one of two things as far as the Eagles are concerned: Either they believe Manziel could drop far enough on draft day to be an option for them, or they are contemplating a blockbuster deal to move up in the draft to have a shot at him.
The former is more likely, for several reasons. First, Eagles general manager Howie Roseman went out of his way last week to underscore that
Nick Foles
will be the Eagles' starting quarterback in 2014. Second, in a draft widely heralded as the deepest in years, the Eagles would be giving up valuable lower-round picks to move up for one guy.
Third, it would take a trade partner willing to give up a coveted high pick. The Rams (No. 2) and Falcons (No. 6) are the two top-seven teams that weren't on King's list. That's because they have quarterbacks:
Sam Bradford
in St. Louis and
Matt Ryan
in Atlanta.
The Eagles, of course, have Foles. So their meeting with Manziel would give new life to the suspicion that Chip Kelly deep down wants a more mobile quarterback to run his offense.
It is certainly the more entertaining possibility to discuss. Drafting Manziel would unite the most compelling college coach of recent years with perhaps the most compelling college player in one of the most football-centric markets in the NFL.
Either way, though, the Eagles' using valuable combine time to meet with Manziel is worth noting. Roseman has said the Eagles wouldn't rule out a quarterback if one was clearly the best player available when they are on the clock. In that regard, it makes sense to do their homework on Manziel.
Some draft experts have him going first overall to the Texans. Others have him dropping a few slots. It would be surprising for him to drop all the way to No. 22, but ask
Geno Smith
(second round last year) or even
Aaron Rodgers
(24th overall in 2005) whether that is possible.
The NFL evaluation process began in earnest with the combine. Manziel was measured at just under 6 feet tall but helped himself by running the 40 in 4.68 seconds. Manziel's hand size -- a major consideration for Kelly in evaluating quarterbacks -- was a very respectable 9-7/8 inches. Manziel didn't participate in the other drills. He will throw at his pro day on March 27.
Only then will teams begin to reach conclusions on Manziel. That includes the Eagles, which is suddenly kind of interesting to think about.
January, 13, 2014
Jan 13
1:00
PM ET
PHILADELPHIA -- It was interesting to watch the weekend's NFL playoff action with an eye on the quarterback play and what it told us about
Nick Foles
' place in the pecking order.
But the real takeaway was that the Eagles need to get better in almost every area other than quarterback if they're going to take a step forward next year. The teams that have won in this postseason have tended to be more complete and better able to crank up the intensity level a few notches.
[+] Enlarge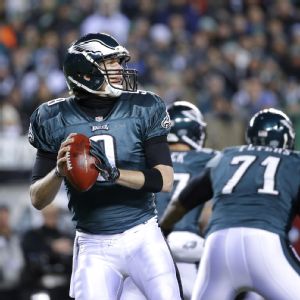 AP Photo/Matt RourkeDespite Nick Foles' 195 yards and two TDs against New Orleans, the Eagles still lost the game.
The Saints were better equipped for playoff-level football than the Eagles, and the Seahawks were better equipped than the Saints. San Francisco, Denver and New England all took the field running hotter than their opponents.
Seattle's
Russell Wilson
threw for 103 yards. San Francisco's
Colin Kaepernick
threw for 196 and one touchdown. If Foles had a game like that, the instant reaction would be that Chip Kelly needed to trade up and get Johnny Manziel in the draft.
But Wilson and Kaepernick won, because they were able to make some plays that didn't show up in their passer ratings (67.6 for Wilson, 87.8 for Kaepernick). They won, too, because their teams were able to run the ball and because their defenses were markedly better and more aggressive than the other teams'.
Carolina's
Cam Newton
was sacked five times and threw two interceptions. He looked overwhelmed by the Niners and the moment, or both.
Analysts who have
Andrew Luck
pegged as the next great NFL quarterback spent the weekend defending his four-interception performance against the Patriots. Again, it's hard to imagine Foles turning in a performance like that, let alone the backlash it would bring against him.
But even the winning quarterback in that game, the inarguably great
Tom Brady
, threw for just 198 yards and had a passer rating of 78.4.
Only in Denver's win against San Diego did we see the kind of quarterback play we associate with playoff wins.
Peyton Manning
threw for two touchdowns and 230 yards (a 93.5 rating), while
Philip Rivers
was efficient (18-for-27, two TDs, 115.8 rating), but threw for just 217 yards.
Foles' performance against the Saints the week before doesn't look so bad in comparison to this weekend's play. He completed 23 of 33 passes for 195 yards and two touchdowns. He didn't turn the ball over.
Based on the second round, that performance would have been more than good enough if the Eagles' defense had taken care of business or if the Eagles' running game had gotten going the way it usually did in the regular season.
It wound up being much more compelling to note how much better coached and prepared the winning teams appeared to be this weekend. John Harbaugh's 49ers played at a much higher level than Ron Rivera's Panthers. Same with Pete Carroll's Seahawks, who dominated the same coaching staff that got the better of Kelly a week earlier.
It probably isn't shocking that Bill Belichick and John Fox, who coached against each other in a Super Bowl a decade ago, defeated Chuck Pagano and Mike McCoy.
The better team, and the better-coached team, won in each of the four games this weekend. That reinforced the notion that the same was true the week before.
October, 30, 2013
10/30/13
12:30
PM ET
PHILADELPHIA -- Eagles coach Chip Kelly has heard the talk suggesting his team would be better off losing games this year in order to have a shot at a franchise quarterback in the 2014 draft.
Kelly's reaction: Thanks, but no tank.
Kelly
"We're all about winning games," Kelly said Wednesday. "If we start planning long term, I might not be here long term."
Shifting his focus toward next year?
"It doesn't come in," Kelly said. "It's about beating Oakland. That's it. It's a one-week season, and that's all there is. Last week, it was beating the Giants. There wasn't, 'Hey, what are we going to be like next year, let's active G.J. (Kinne, the practice squad quarterback) and throw him into the mix.' That's not our mentality."
Talk of tanking is in the air for many reasons. Fans see the instant turnaround effected by teams with elite young quarterbacks like
Andrew Luck
,
Russell Wilson
and
Robert Griffin
III. Meanwhile, across the street, the
Philadelphia 76ers
are almost openly conceding the 2013-14 season in an effort to get a possible franchise star like Andrew Wiggins in next year's draft.
But there are huge differences between the NFL and the NBA. NFL careers are much shorter, the game is much tougher and the contracts are not guaranteed. That makes it much harder to ask
LeSean McCoy
,
DeSean Jackson
,
Jason Peters
and the rest to risk injury and sacrifice a season of their brief careers for the uncertain promise of a high draft pick.
"I think it's a disservice to those other players on the team and it's a disservice to our fans if I'm thinking about who our quarterback is going to be next year," Kelly said. "I'm thinking about beating who we're playing this week. We're playing the
Oakland Raiders
and that's it."
Fans and media can discuss the possibilities of adding Kelly's Oregon quarterback, Marcus Mariota, or Louisville's Teddy Bridgewater or Texas A&M's Johnny Manziel. But it's impossible to know which of them will declare for the draft or how they will fare in the grueling NFL evaluation process. Eighteen months ago, USC's
Matt Barkley
was considered a high first-round pick. He stayed for his senior season and wound up being the No. 1 pick in the fourth round.
NBA superstars are almost impossible to get without drafting first or second. But NFL franchise quarterbacks can be found all over the draft or through free agency. Luck and Griffin went 1-2 in the 2012 draft. Wilson was a third-round pick.
Colin Kaepernick
was a second-round pick.
Aaron Rodgers
went 24th in the 2005 draft.
It may turn out the Eagles would have been better served taking a quarterback like
EJ Manuel
or
Geno Smith
in Kelly's first draft. There is no guarantee they will do better in the 2014 draft. But that's true whether they go 3-13 or 11-5 or somewhere in between.