Philadelphia Eagles:

Jonathan Brown
February, 19, 2014
2/19/14
11:05
AM ET
PHILADELPHIA -- You can trust your eyes or you can trust your eyes.
Trust them when
Philadelphia Eagles
inside linebacker
DeMeco Ryans
is on the field and you see a veteran who was playing, according to his defensive coordinator, at a Pro Bowl level late in the 2013 season.
Or trust them when you see the orange box in the
Pro Football Focus graphic
and the image of Ryans in the NFL.com photo display of veterans likely to be released by their teams for salary reasons.
[+] Enlarge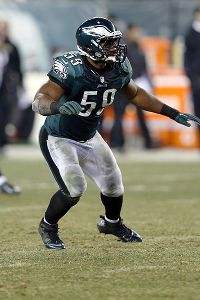 AP Photo/Paul SpinelliInside linebacker DeMeco Ryans had 4 sacks and 2 interceptions in his second season with the Eagles.
Reading through last week's positional analysis of the Eagles' inside linebackers, I certainly didn't portray Ryans as a huge issue. Bearing in mind that the Eagles moved from a 4-3 to a 3-4 defense, and that Ryans was in charge of getting everyone lined up correctly and maintaining order, the 29-year-old had a solid season. Defensive coordinator Bill Davis backed that up.
"DeMeco is the leader of our defense, and he's having an outstanding Pro Bowl year," Davis said in November. "We couldn't be happier with everything DeMeco is doing for us."
In its look at the Eagles' projected 2014 lineup, PFF classified Ryans as a "below-average starter/adequate role player" -- one of four orange boxes on the site's graphic representation of the Eagles' defense. Cornerback
Cary Williams
and safeties
Patrick Chung
and
Earl Wolff
were the others (free agents, including
Nate Allen
, were not included).
NFL.com's Gregg Rosenthal included Ryans on
his list
of veteran players whose 2014 salaries make them candidates to be released.
"His reputation and salary far exceed his play on the field (especially on passing downs)," Rosenthal writes. "Do the Eagles want to pay $6.9 million for leadership?"
Two quick reactions: Ryans provided more than leadership, especially as the defensive line improved in front of the linebackers. Logic suggests he can be even more effective as the rest of the defensive players improve within Davis' scheme.
But Rosenthal and the guys at PFF aren't making this stuff up. They know their stuff and viewed Ryans' play with dispassionate eyes. So it might make more sense that the Eagles spent a fair amount of time talking to inside linebackers during Senior Bowl week. Jimmy Kempski of
philly.com noted
Eagles personnel talking to LSU's
Lamin Barrow
, Wisconsin's
Chris Borland
, Illinois'
Jonathan Brown
, and Florida State's
Christian Jones
.
Ultimately, I think Ryans is still starting for the Eagles in September even if the Eagles draft his long-term replacement. Davis is not going to want his defense to take a step back while a rookie learns the system and how to diagnose offensive formations. Free agency doesn't seem like a viable option -- if the Eagles are going to pay top dollar for a veteran, they're better off with Ryans.
February, 10, 2014
2/10/14
11:30
AM ET
PHILADELPHIA -- When we left off looking at the Eagles position by position Friday, we were talking about the in-transition nature of the outside linebackers.
The inside linebacker situation would seem more settled based on the 2013 season.
DeMeco Ryans
was exactly the leader a team needs in the middle of its defense, and
Mychal Kendricks
developed into arguably the most dynamic playmaker on that side of the ball.
With glaring needs in the secondary and at edge pass-rusher, that would make the inside linebacker spots appear less than pressing. So it was surprising that the Eagles' personnel people and coaches spent so much time talking to inside linebackers during Senior Bowl activities – as documented by Jimmy Kempski of Philly.com.
Kempski noted four inside linebackers among the 14 players the Eagles showed special interest in. That doesn't mean they didn't have interest in other players. With the scouting combine later this month, and with pro days and the chance to bring players to Philadelphia for visits, the Eagles will certainly talk to dozens of potential picks before the draft.
Still, the interest in inside linebackers is itself interesting. According to Kempski, the Eagles talked to LSU's
Lamin Barrow
, Wisconsin's
Chris Borland
, Illinois'
Jonathan Brown
and Florida State's
Christian Jones
.
Ryans is due to make $6.9 million this year. I've always believed it's a bad idea for teams to ask important players to take pay cuts for a number of reasons. It's bad for morale, it undermines a player's ability to be a leader in a locker room where salary and stature are connected and it erodes every player's confidence in the team's commitment to the contracts it negotiates.
In this case, Ryans' contract was negotiated in Houston, before he was traded to Philadelphia. That eliminates one of those considerations. If general manager Howie Roseman can pitch a restructuring that helps the salary cap without hurting Ryans too much, then fine.
The larger question is whether, despite the Pro Bowl lobbying from defensive coordinator Bill Davis, the Eagles feel they need more impact from Ryans' spot. At the very least, they may want to start grooming a young successor for Ryans, who turns 30 before the season.
There are other possibilities, though. After a season in his scheme, Davis may think Kendricks could be effective on the outside, for example. He's a good pass-rusher and would be better at dropping into coverage than
Trent Cole
or
Brandon Graham
.
A relatively high draft pick at an inside spot could allow Kendricks to move outside while simultaneously developing into an eventual replacement for Ryans.
The counterargument there is that Kendricks spent his rookie season on the outside in the Eagles' 4-3 scheme. Moving him inside for a year and then back outside would negate the considerable progress he made during the 2013 season.
Maybe it's all just this simple: Roseman's approach is to take the best player on the Eagles' draft board regardless of position. If that player is an inside linebacker, then you take him and figure out exactly how to use him and the incumbent linebackers later.
Behind Ryans and Kendricks, the Eagles have a couple of special-teams guys in
Casey Matthews
and
Jake Knott
.
Najee Goode
showed promise playing in relief of Kendricks.
Jason Phillips
, signed for depth and special-teams prowess, tore his ACL in training camp and missed the entire season.
Bottom line: Assembling a deep group of versatile, athletic linebackers couldn't hurt.