Philadelphia Eagles:

Josh Freeman
March, 6, 2014
3/06/14
12:30
PM ET
When it comes to
Michael Vick
and the
Philadelphia Eagles
, the only thing that has changed is the date.
We are days away from the start of NFL free agency, when we will find out for sure whether (and where) Vick gets his chance to be a starting quarterback. Whatever happens, it has been clear since Jan. 6 that Vick's time in Philadelphia is almost certainly over.
As those other Eagles sang, he's "already gone."
Nick Foles
is the starter.
Matt Barkley
is going to be here. The team could very well draft a quarterback again this year. If coach Chip Kelly feels he needs a veteran backup, there will be several attractive options in free agency that aren't named Vick:
Matt Cassel
,
Josh Freeman
,
Kellen Clemens
among them.
None of those names may excite your imagination, but they're not supposed to. They're potential backup quarterbacks. Signing any one of them would provide competition for Barkley without what we'll call the Vick Factor -- a guy some percentage of the fans will be clamoring for the moment Foles has a bad game, or even a bad half.
Going into last season, I thought Kelly should have moved on from Vick. He judged him only on what he did in training camp and the preseason, ignoring the pre-Kelly history of injuries and turnovers. Lo and behold, Vick pulled his hamstring running out of bounds on Oct. 6.
When the Eagles were 3-5 at the midway point, and had gone two games in a row without a single offensive touchdown, Kelly explained the problem in five words: "instability at the quarterback position."
Anyone can get hurt. Foles missed a game with a concussion. But after a firsthand experience with Vick, the walking definition of "instability at the quarterback position," it's hard to see Kelly bringing him back for his age-34 season, especially when he has invested serious coaching time in Barkley.
But that was obvious on Jan. 6, when Vick gave what amounted to a farewell speech to the media and posed for photos with his soon-to-be former teammates. The only reason to report that Vick isn't coming back is that the calendar says March, and his departure is imminent.
Where will he go? It was fascinating to see
Adrian Peterson
tweet his interest
in bringing Vick to Minnesota. That seemed like a possible fit all along, although the hiring of Norv Turner as offensive coordinator didn't exactly line up with that. Peterson is 29 and has bounced back from a torn ACL. He wants to win now. It wouldn't be surprising if new head coach Mike Zimmer, who waited a long time for this opportunity, feels the same.
There are a number of teams that could use Vick as a quick-fix starter and a bridge to a young quarterback.
The Eagles aren't one of them. They've already crossed that bridge.
February, 17, 2014
2/17/14
12:00
PM ET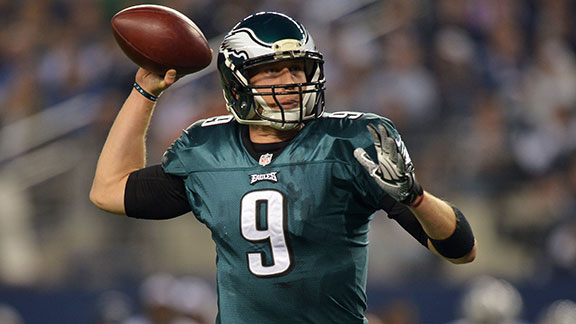 Drew Hallowell/Philadelphia Eagles/Getty ImagesNick Foles will enter the 2014 season as the Philadelphia Eagles' starting quarterback.
PHILADELPHIA -- Let's move to the offensive side of the ball this week in our position-by-position look at the state of the Eagles.
Since it's Presidents Day, let's look at the leader of the offense, the quarterback. This should be the easiest position on the team to assess, but in classic Eagles fashion, things are not as clear as they might seem.
Here's a mental exercise worth trying: Imagine the Eagles traded up in the 2012 draft and took
Nick Foles
with, say, the 12th pick in the first round. In this version of events, Andy Reid spent the summer of '12 talking about his plan to start
Michael Vick
early and ease Foles into the job -- just as he did with
Donovan McNabb
back in 1999.
When Chip Kelly took over, his approach would reflect Foles' status as a recent first-round pick. He might have the same competition between Vick and Foles that he had last summer, but Foles would have the edge in anything approaching a tie. Vick clearly had the edge in real life (and he played superbly in the preseason to claim the job).
Now put Foles' 2013 performance into the context of this alternate reality. The 27 touchdowns and two interceptions. The 8-2 record as a starter. The NFL-best passer rating. Offensive MVP of the Pro Bowl.
All that from a heralded first-round quarterback? Folks would be rushing to anoint Foles the starter for life instead of debating whether Kelly deep down wants a different style of quarterback to run his offense. When general manager Howie Roseman left open the possibility, however slight, of taking a quarterback in the first round of this year's draft, you would have checked him for a fever.
Imagine that kind of talk in Seattle, Indianapolis and Carolina, where young franchise quarterbacks are in place.
In Foles, the Eagles have their starter for 2014. Period. If he continues to perform at his 2013 level, Foles will get the kind of contract that establishes him as the franchise guy. If not, then we'll be talking about the true Kelly-style quarterbacks available in the 2015 draft.
There are legitimate reasons to withhold judgment on Foles. When things were going great, there was an unmistakable sense that he was very lucky as well as very good. When underthrown passes bounce off a defensive back's hands and into
DeSean Jackson
's for a touchdown -- which happened in Green Bay -- there is more than a little luck involved. On his record-tying seven touchdown passes in Oakland, Foles' receivers were almost comically open thanks to blown coverages and falling defenders.
In his final two games, Foles was frustrated by the defensive strategies deployed in Dallas and against New Orleans. He is going to see variations of those schemes next season until he and Kelly prove they have solved them. And he is going to face some pretty good defenses, Seattle, San Francisco and Carolina among them.
So 2014 will be Foles' acid test. He will be the unquestioned No. 1 quarterback all year, a first for him. As for his backups, that's another area where things get a little murky.
Roseman has said the Eagles would welcome Vick back if the veteran can't find a starting opportunity in free agency. The feeling here, though, is that everyone concerned feels it is best for Vick, and the Eagles, to move on.
Matt Barkley
was a fourth-round pick in the 2013 draft. He played in three games as a rookie. In the first two, he was forced to play because of injuries to the starter and without the benefit of any meaningful practice reps.
So take Barkley's stats with the appropriate grain of salt. He completed 30 of 49 passes (61.2 percent) for 300 yards. Those numbers are actually pretty encouraging. But Barkley threw four interceptions and fumbled away one red zone opportunity. Those plays tend to stick in the memory better than the rest.
Can Barkley be the No. 2 quarterback behind Foles? Absolutely. If he's forced to play? Well, a midround pick from a major Pac-12 program in his second season -- that description would have applied to Foles in 2013 just as it applies to Barkley in 2014.
G.J. Kinne
, who was on the practice squad, knows the offense, but is not likely to be in the mix. Of course, the media hasn't seen him practice since training camp, so information is limited.
If the Eagles want to bring in a veteran free agent to compete with Barkley for the No. 2 spot, they will have good options:
Matt Cassel
,
Josh Freeman
,
Tarvaris Jackson
,
Josh McCown
. Remember, we're talking about a solid veteran who would be competing with Barkley for the backup spot.
The draft should provide more possibilities. Using a first- or second-round pick would change the dynamic too much -- while shorting the many other areas the Eagles need to improve. But another midround pick? Certainly. Training and developing quarterbacks in the Kelly system should be a priority for as long the coach is here.
January, 27, 2014
1/27/14
3:45
PM ET
PHILADELPHIA – The Eagles officially announced the hiring of Bill Musgrave as their new quarterbacks coach Monday, a day after his primary pupil was named offensive MVP of the Pro Bowl.
Musgrave, 46, will be Nick Foles' third position coach in less than two calendar years in the NFL. Doug Pederson, the longtime NFL backup quarterback who worked with Foles in his rookie season, went with Andy Reid to Kansas City. Pederson is Reid's offensive coordinator.
Bill Lazor, who was hired from the University of Virginia last winter by Chip Kelly, moved on to become offensive coordinator of the
Miami Dolphins
. Lazor was the hands-on coach who worked directly with Foles through his breakout 2013 season.
Musgrave, who was offensive coordinator of the
Minnesota Vikings
for the past three years, takes on the task of keeping Foles' progression on track. It's a tricky assignment. Foles is unlikely to do much better than his 27-touchdown, two-interception season -- no one else ever has -- so Musgrave can't earn credit for molding the 25-year-old quarterback. If Foles falls too far back to earth, though, Musgrave could get undue blame for it.
That said, the Eagles situation must be preferable to what Musgrave faced in Minnesota, where
Christian Ponder
,
Matt Cassel
and
Josh Freeman
all started games in 2013.
Musgrave worked for the Eagles once before. He was hired by Ray Rhodes as a consultant in 1998, then installed as unofficial offensive coordinator during a disastrous 3-13 season. Since then, Musgrave has earned his stripes by working for Carolina, Jacksonville, Washington and Atlanta, where he coached both
Michael Vick
and
Matt Ryan
.
Like Lazor and offensive coordinator Pat Shurmur, Musgrave's roots are in the West Coast offense.
The Eagles also promoted Mike Dawson from defensive quality control coach to assistant defensive line coach. Dawson replaces Eric Chinander, who returned to Oregon after one season with the Eagles.
Michael Clay, a linebacker who played for Kelly at Oregon, joined the staff as a defensive quality control coach. Clay signed with the Dolphins last year as a rookie free agent but didn't make the team.
December, 23, 2013
12/23/13
6:40
PM ET
PHILADELPHIA -- If it's better to be lucky than good, the 2013
Philadelphia Eagles
could win the NFC East title by being a little of both.
They opened the season against Washington, with
Robert Griffin III
looking very much like a young quarterback who hadn't taken a preseason snap.
They played Tampa Bay in
Mike Glennon
's second career start, while the Buccaneers were dealing with fallout from the
Josh Freeman
mess and a MRSA outbreak.
[+] Enlarge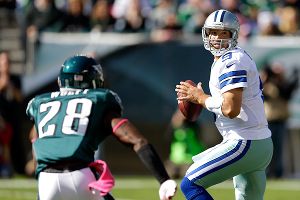 AP Photo/Matt RourkeTony Romo passed for 317 yards in Dallas' 17-3 win against Philadelphia on Oct. 20.
Green Bay's
Aaron Rodgers
broke his collarbone six days before the Eagles played the Packers, and his backup,
Seneca Wallace
, left with an injury in the first quarter.
When the Eagles were worried about how to cover
Calvin Johnson
, eight inches of snow covered the Detroit receiver for them.
Minnesota's
Adrian Peterson
injured his foot the week before the Eagles played the Vikings. His backup,
Toby Gerhart
, also missed that game.
And now
Tony Romo
will be out for the biggest game of the season, the virtual playoff game between the Eagles and Dallas, according to ESPN reports.
It's enough to make you wonder if Chip Kelly's super-secret sports science program includes hexes and voodoo dolls.
While there will be plenty of jokes about the Cowboys being better off without Romo and his 1-6 record in win-or-go-home games, his absence clearly takes some of the luster off of this much anticipated battle for the NFC East title.
Kelly, speaking before the news broke, had little regard for those criticisms of Romo. He cited the game-winning touchdown Romo threw Sunday to beat Washington and force the showdown with the Eagles.
"Fourth [down], game on the line, scrambles, keeps the ball alive, hits the mark to [DeMarco] Murray and they win the game," Kelly said. "I'm always on what you did last, and what he did last was pretty special -- the way he avoided the rush, kept drives alive, and I think he's as talented a quarterback as there is in this league.
"Any time with that position, sometimes I think you get probably too much credit and too much blame. But he's one of the really, really, really good quarterbacks we've seen, and I said that the first time we played him. If you're a fan of just quarterback play, he's pretty special."
As the Eagles learned the hard way, a little luck is no guarantee. They went to Minnesota two Sundays ago knowing that Peterson and Gerhart were unlikely to play. And they still were stomped 48-30 by
Matt Cassel
and the Vikings. A virtually unknown running back named
Matt Asiata
ran for three touchdowns in that game.
Cowboys backup quarterback
Kyle Orton
has more of a pedigree than Asiata or -- sticking with his position -- Glennon, Wallace or
Scott Tolzien
, who played most of the Packers game. Orton has faced the Eagles twice. He beat them in 2008 while with the Bears, and lost to them the following year as a Bronco.
Though the Eagles have had their share of luck this season, they aren't going to feel too sorry for the Cowboys. Remember,
Michael Vick
was their starting quarterback when the season began. After he was hurt,
Nick Foles
took over and played too well to be sent back down the depth chart.
Throughout that process, Kelly repeatedly said that you had to have two good quarterbacks in the NFL. The Packers found out what happens when you don't. If Orton isn't able to compete, that's on the Cowboys for not having another quarterback in development.
The year Orton and the Bears beat them, the Eagles went to the NFC Championship Game against Arizona. If Orton can beat them this time, they're going home.
December, 12, 2013
12/12/13
3:00
PM ET
PHILADELPHIA – Every offense presents challenges for the opposing defensive coordinator. Ultimately, it is tougher to stop
Adrian Peterson
than to cope with playing the
Minnesota Vikings
without him.
Peterson
"We prepare like everybody is healthy," Eagles defensive coordinator Bill Davis said. "We prepare that all people that are in question, if we don't know if they are healthy, we're going to get their best, all of them are up, and we're going to prepare that way. And then we'll adjust as the week goes on and we get more information, just like we would during a game."
Last week, the Eagles prepared to face the
Detroit Lions
with
Reggie Bush
,
Calvin Johnson
and
Matthew Stafford
in what was forecast as a "wintry mix" of rain and snow flurries. Instead, the field was buried in snow and Bush was a late scratch due to his calf injury.
"If something happens to one of those guys during a game, we would adjust accordingly, like we did in this game where all of a sudden at the last minute Reggie Bush wasn't up," Davis said. "You just kind of prepare for all of them and then adjust as you go."
The Vikings present more variables than most. Peterson injured his foot last week. Backup
Toby Gerhart
has a hamstring injury and could be out or limited. The Vikings will start
Matt Cassel
at quarterback for the second week in a row.
Christian Ponder
started the six games before that, and
Josh Freeman
remains in the mix.
"When you watch Minnesota, their gameplan doesn't change if Adrian doesn't play and Toby goes in," Eagles head coach Chip Kelly said. "Toby's a similar type back. We're preparing as if he's going to play."
There is a bigger adjustment to the quarterback, Kelly said.
""I don't know if [the offense] changes much," he said. "I just think they both have a little bit different skill set in terms of what they do. The gist of what Coach [Bill] Musgrave is doing there offensively doesn't change."
It will have to change at least a little if Peterson and Gerhart are out or hampered by injuries. They are the only two running backs who have carried the ball for the Vikings all season.
With the running game in doubt, Musgrave will have to try to get the ball to wideouts
Cordarrelle Patterson
and
Greg Jennings
. They represent challenges, too, but nothing like a healthy Adrian Peterson.
November, 21, 2013
11/21/13
4:00
PM ET
PHILADELPHIA -- Quarterbacks
Tony Romo
and
Nick Foles
will have a lot to say about whether Romo's
Dallas Cowboys
or Foles'
Philadelphia Eagles
wind up going to the playoffs as NFC East champions.
The two could even face off in a winner-take-all season finale at Dallas on Dec. 29.
Two other quarterbacks, however, could have almost as much impact on the NFC East race: the
Chicago Bears
'
Jay Cutler
and the
Green Bay Packers
'
Aaron Rodgers
.
The Eagles (6-5) already banked a win at Lambeau Field thanks in large measure to the absence of Rodgers, who broke his collarbone six days earlier during a Monday night game. The Cowboys (5-5) host the Packers on Dec. 15.
The availability and effectiveness of Rodgers, who has thrown on the side without a helmet or pads, will have a huge impact on that game, obviously. The Packers are 0-3 without him, including the game in which Rodgers was injured. They were 5-2 with him.
As for Cutler, he had the hard cast removed on the sprained ankle that has kept him out since Nov. 10. He is listed as week to week and, while
Josh McCown
has played well in his absence, Cutler is a difference-maker when healthy.
The Cowboys play the Bears at Soldier Field on Dec. 8. The Eagles host Chicago two weeks later. Cutler's status could have a huge impact on both games.
So Cutler and Rodgers could profoundly influence three of the 11 remaining games that will determine the NFC East champion. Here's how the path to Dec. 29 looks (if you want to use ESPN's Playoff Machine to work your own scenarios, it's
here
):

Sunday:
The Eagles, in their bye week, can watch Dallas play the
New York Giants
at the Meadowlands. That's a tough game for the Cowboys, who are coming off their own bye and, before that, a brutal beating at the hands of the
New Orleans Saints
.
A win would tie the Giants with the Cowboys at 5-6, so technically New York would also be in the race. We're omitting them for now because the possibility of a team that started 0-6 going to the playoffs is too depressing to consider.
Projection:
Eagles 6-5, Cowboys 5-6.

Week 13:
The Eagles host the
Arizona Cardinals
, who could be 7-4 pending the outcome of this weekend's home game against the
Indianapolis Colts
. With rookie head coach Bruce Arians and veteran quarterback
Carson Palmer
, the Cards' profile is similar to the one the Eagles encountered against
Philip Rivers
and the
San Diego Chargers
. The Eagles defense is miles better than it was then and, while this is a tough game to pick, the Eagles are likely to be favored.
By kickoff of that game, the Eagles will know exactly where the Cowboys stand. After the Giants game, Dallas has four days to prepare for a Thanksgiving Day home game against the
Oakland Raiders
. The Cowboys have to be favorites in that one.
Projection:
Eagles 7-5, Cowboys 6-6.

Week 14:
The Eagles host the
Detroit Lions
while the Bears play the Cowboys on an afternoon with profound consequences on the NFC East and North. With
Matthew Stafford
and
Calvin Johnson
on one side of the ball and
Ndamukong Suh
on the other, the Lions are probably the toughest of the Eagles' remaining opponents. Put another way, a win here would put the Eagles in a commanding position.
If Cutler is Cutler, the Bears are likely to be favored at home, especially as weather becomes a factor in Chicago.
Projection:
Eagles 7-6, Cowboys 6-7.

Week 15:
The Eagles travel to the
Minnesota Vikings
for what should be a comfortable win. Unless
Josh Freeman
is playing quarterback at an unexpectedly high level by then, the Eagles defense can focus on bottling up
Adrian Peterson
.
Dallas, meanwhile, hosts the Packers. Here's where Rodgers could really swing the NFC East race. If he plays at his usual level, it's hard to imagine Green Bay losing. If not, the game belongs to the Cowboys.
Projection:
Eagles 8-6, Cowboys 7-7.

Week 16:
Cutler comes back into the picture here. If he plays against the Eagles at Lincoln Financial Field, it's a very different game than if he doesn't. The guess here is that, with the Bears in playoff contention, he will.
Dallas goes to Washington.
Projection:
Eagles 8-7, Cowboys 8-7.

Week 17:
Eagles at Cowboys. Factoring in the Cutler and Rodgers variables, either team could be 9-6 or 7-8 just as easily. But what fun would that be? If they're both 8-7, this essentially becomes a playoff game.
Ah, but what if both teams are 7-8? That might be worse for the Eagles, since it would mean they went 1-3 between now and then. That could indicate injuries or instability at quarterback.
If the Eagles are 9-6 and Dallas is 8-7, the Eagles still might have to win the game to take the division. The first tie-breaker is head-to-head competition, so the Cowboys would edge them out if they both finish 9-7 that way. The second tie-breaker is record within the division. The Eagles are 3-2. Dallas is 3-0 with games against all three division opponents on their schedule. Winning any of those three would give the Cowboys the second tie-breaker.
Projection:
A big game in Arlington, Texas, on Dec. 29.