Philadelphia Eagles:

Julian Vandervelde
February, 20, 2014
2/20/14
8:00
AM ET
PHILADELPHIA – Numbers seldom tell the story when it comes to offensive line play. For the 2013 Eagles, though, these numbers were remarkably eloquent:
Jason Peters
: 1,019.
Evan Mathis
: 1,104.
Jason Kelce
: 1,096.
Todd Herremans
: 1,104.
Lane Johnson
: 1,103.
[+] Enlarge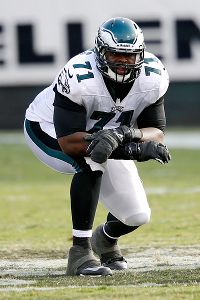 AP Photo/Kevin TerrellJason Peters was one of two Philadelphia offensive linemen to earn a Pro bowl nod in 2013.
Those are the snap counts for the Eagles' starting line, from left tackle to right tackle. Guards Evan Mathis and Todd Herremans played every single offensive snap. Right tackle Lane Johnson missed one play. Center Jason Kelce played 99 percent of the snaps. Left tackle Jason Peters, coming off two tears of the same Achilles tendon, played 92 percent.
A year after four of the five starting linemen were lost to injury, the Eagles enjoyed remarkable health at this most vital of positions. So it's no surprise the line was one of the team's strongest areas. Peters and Mathis were selected for the Pro Bowl. Kelce deserved to be.
The right side of the line wasn't as strong, but that's deceptive. The left side is the best in the NFL, according to Pro Football Focus. And the right had two players – veteran Herremans, who was relearning guard after playing tackle, and rookie Johnson – who improved noticeably as the season went on.
The line cleared the way for
LeSean McCoy
to lead the league in rushing and gave
Nick Foles
time to put up some unprecedented numbers and stake his claim to the starting quarterback spot.
There are two points to consider here. The first is that the Eagles aren't lucky to win the injury-free lottery every year, so they will need depth behind the starting five. The other is that Peters, Mathis and Herremans are all over 30. Top reserve
Allen Barbre
will be 30 in June. So it makes sense to have some young linemen in development.
The Eagles do. One consequence of the starters' health is that we never got to see any of them play.
In an interview with
Bleeding Green Nation
, Mathis cited
Matt Tobin
as a player to watch. The undrafted free agent from Iowa slipped ahead of
Dennis Kelly
, based on the weekly inactive list. At 6-foot-6, 290 pounds, Tobin is big enough to play tackle as well as guard.
And then there is
Michael Bamiro
, the 6-8, 340-pound project from Stony Brook. Bamiro spent the season working with offensive line coach Jeff Stoutland and his assistant, the similarly mammoth former tackle Tra Thomas.
Can Tobin, Bamiro, Kelly and center
Julian Vandervelde
provide enough depth behind the starters and the versatile Barbre? There is probably enough talent and potential there to make the offensive line relatively low on the priority list.
That said, the position is too important for the Eagles to pass on a player they like in the draft. That is GM Howie Roseman's philosophy, so it wouldn't be a surprise if the Eagles drafted a lineman or two.
While we're on the line, we should mention that long snapper
Jon Dorenbos
had another very fine season. It's a position you don't think much about until a mistake is made. Dorenbos, 33, doesn't make anyone think about it.
January, 4, 2014
1/04/14
7:35
PM ET
PHILADELPHIA -- The
Philadelphia Eagles
may lack quality at the safety position, so they're giving quantity a shot against the
New Orleans Saints
.
Wolff
Rookie safety
Earl Wolff
, listed as questionable with a knee injury, is active for Saturday night's playoff game. Wolff has played only a single defensive series since injuring the knee Nov. 10 in Green Bay.
Veterans
Patrick Chung
and
Kurt Coleman
took first-team practice reps this week. So defensive coordinator Bill Davis is likely to use a rotation opposite safety
Nate Allen
in an attempt to find a solid combination.
Colt Anderson
, who is coming back from a knee injury, is also active.
The Eagles have five safeties active for this first-round playoff game. Davis only has to find two who can execute his defensive game plan.
Wide receiver/punt returner
Damaris Johnson
is inactive. That means
DeSean Jackson
will handle punt returns. It also means the Eagles will be without a speedy backup if Jackson is injured. Johnson has been active the last five games.
Backup center
Julian Vandervelde
is out because of a back injury. Left guard
Evan Mathis
, who was named to the AP All-Pro team this week, has practiced with the second team at center. He would fill in should starting center
Jason Kelce
be injured.
December, 29, 2013
12/29/13
7:45
PM ET
ARLINGTON, Texas -- Eagles safety
Earl Wolff
is inactive for Sunday night's showdown against the
Dallas Cowboys
.
Wolff missed four games after injuring his right knee in Green Bay Nov. 10. He returned for last week's game against Chicago but left after playing one series. Veteran
Patrick Chung
will start at safety in place of the rookie.
Backup safety
Colt Anderson
(hamstring) and backup center
Julian Vandervelde
, who were listed as out, were both inactive. Otherwise, it was the usual group: quarterback
Matt Barkley
, running back
Matthew Tucker
, offensive lineman
Dennis Kelly
and cornerback
Curtis Marsh
.
Offensive lineman
Matt Tobin
is active for the second time this season. He takes Vandervelde's spot on the 46-man roster, but would not play center if anything happened to starter
Jason Kelce
. That role would likely fall to left guard
Evan Mathis
.
As expected, Cowboys quarterback
Tony Romo
and inside linebacker
Sean Lee
are inactive. So is former Eagle
Ernie Sims
, which leaves Dallas even thinner at linebacker.
December, 26, 2013
12/26/13
2:00
PM ET
PHILADELPHIA – Eagles head coach Chip Kelly talked about the Dallas Cowboys' quarterback situation, his own brief injury report, and the ol' banana-in-the-tailpipe trick. A few highlights from Kelly's Thursday press availability:
Kelly

Whether Tony Romo or Kyle Orton starts at quarterback, Kelly said, his team's preparations won't change."I don't think it changes their offense much just because of who the backup is," Kelly said. "I think they're going to stick with what they do. They obviously have playmakers in Dez Bryant and [Jason] Witten. They're going to run the ball with DeMarco Murray, who didn't play against us in the first game."On Monday, Kelly praised Romo's performance in bringing Dallas back for a fourth-quarter comeback win at Washington the day before. With reports that Romo has a serious back injury, Kelly was even more impressed."If he can't go, the first thing that came across my head will be that that performance against the Redskins was pretty special," Kelly said. "He did what he did, with the ability to bring them back and win that football game. The one thing you know about him is he's an unbelievable competitor."
Backup center Julian Vandervelde "tweaked" his back, Kelly said. Vandervelde did not practice Tuesday or Wednesday. He has been active for all 15 games because he's starter Jason Kelce's understudy. "We'll see how he is," Kelly said.Kelly said left guard Evan Mathis has played some center, but it was right guard Todd Herremans running with the second team during the open portion of practice.
This week's random non-football reference came courtesy of the Man in the Yellow Hat. Kelly was asked if he was curious about how his team will respond in a big-game situation in Dallas Sunday night."I don't think curious is the word, I think excited is the word," Kelly said. "I think we're all excited about going down there and what's at stake and what we can do. I'm not Curious George wondering whether we're going to show up or if we're going to show up. We're excited about playing a really good team that beat us the last time we played them. Obviously, there's a lot at stake."Curious George. Winston Churchill. Kent Tekulve. You never know with Kelly.

Maybe he had the "curious little monkey" on his mind a few minutes later. Asked if he was worried that the Eagles would let down based on the reports about Romo's injury, Kelly scoffed at the idea.

"I know this team's not going to fall for the banana-in-the-tailpipe trick," Kelly said.
November, 8, 2013
11/08/13
2:00
PM ET
PHILADELPHIA -- Eagles cornerback
Bradley Fletcher
was listed as questionable for Sunday's game in Green Bay due to a pectoral injury he sustained in Oakland.
Fletcher
Quarterback
Michael Vick
was listed as doubtful due to his hamstring strain. That would have been the headline in the past, but Vick's condition has become almost an afterthought five weeks after the original injury. Linebacker and special-teamer
Jake Knott
is also doubtful with a hamstring injury.
Fletcher's status would be a bigger issue if the Eagles were facing Packers quarterback
Aaron Rodgers
. But even with
Seneca Wallace
replacing the injured Rodgers, there are repercussions if Fletcher can't go or is limited.
With Fletcher on the defensive left and
Cary Williams
on the right, the Eagles don't move their corners around, or have one of them follow the other team's top receiver.
"As of right now," Williams said, "we're preparing like Bradley's going to play. Hopefully he does. If he doesn't, we'll probably keep to the same formula."
That could mean slot corner
Brandon Boykin
moving out to take Williams' side. Or
Roc Carmichael
, who was on the field for 20 defensive snaps in Oakland, could play outside with Boykin remaining in the slot.
"Roc's been impressive," defensive coordinator Bill Davis said. "Roc came out and competed well and made a couple of plays for us. And I've got all the confidence in the world in Roc, and him out at corner. He's a competitor, he's a bright young man that's picked up the defense well for not being here through the offseason. We're excited about Roc and feel very comfortable with him out there."
Safety
Patrick Chung
, who is listed as probable with a shoulder injury, can also play the slot corner spot. And the Eagles signed cornerback
Curtis Marsh
early in the week, giving them an extra option.
It's also possible that the Packers will use more two-back formations with Wallace at quarterback in order to focus on the running game.
And, of course, it's also possible that Fletcher will play and get through the entire game.
The other players listed as probable were Carmichael (groin), wide receiver
Damaris Johnson
(ankle), left tackle
Jason Peters
(pectoral, shoulder), running back
Chris Polk
(shoulder, knee), defensive end
Cedric Thornton
(knee) and offensive lineman
Julian Vandervelde
(knee).
August, 31, 2013
8/31/13
2:30
PM ET
The release of
Danny Watkins
says nearly as much about the
Philadelphia Eagles
as it does Watkins himself.
With the hiring of Chip Kelly, there is no more need to rationalize the mistakes of the Andy Reid era. Watkins, fairly or otherwise, became symbolic of that era's final unraveling.
His release wasn't even surprising. The only eyebrows raised Saturday were at the departures of wide receiver
Russell Shepard
and tight end/receiver
Clay Harbor
. They both had better preseasons than Watkins. The Eagles also released safety
David Sims
and offensive tackle
Michael Bamiro
.
The Eagles were a playoff team in 2010. Going into the 2011 draft, they were looking to fill a few key needs in order to remain a perennial contender. With the 23rd pick, they took Watkins, a guard from Baylor with an unusual backstory: A Canadian, Watkins didn't start playing football until he was 22 years old. He was a 26-year-old rookie.
The Eagles went 8-8 in 2011. They went 4-12 last year. Reid was fired. Kelly was hired.
Of the 11 players taken in that draft, just 30 months ago, only center
Jason Kelce
and kicker
Alex Henery
are in the starting lineup. Fifth-round pick
Julian Vandervelde
, who was released last year and re-signed, is the backup center.
Second-round pick
Jaiquawn Jarrett
is long gone. He started at safety for the Jets Thursday night. Third-round cornerback
Curtis Marsh
and fourth-round linebacker
Casey Matthews
are on the bubble and could be gone by opening day.
Watkins started 12 games as an overmatched rookie. He started six games last season. He never clicked with Howard Mudd, the coach Reid brought in to revamp the offensive line's approach. With Kelly and new line coach Jeff Stoutland, Watkins was pretty much a non-entity all summer.
Now he's gone and, with him, so is another reminder of what went wrong under Reid.
As for other known cuts:
Harbor became endangered in May, when Kelly asked him to work out at linebacker during OTAs. He moved back to tight end, then started taking reps at wide receiver early in camp.
Shepard got a really close look this summer. He seemed like a good bet to make the 53-man roster.
The 6-foot-8, 340-pound Bamiro was not eligible for the draft. The Eagles signed him in July. With his size and natural ability, he will almost certainly be on the practice squad if he clears waivers.
Sims started one game at safety last season. He never really became a factor in what turned out to be a lackluster competition for a starting job.