Philadelphia Eagles:

Karlos Dansby
November, 29, 2013
11/29/13
12:00
PM ET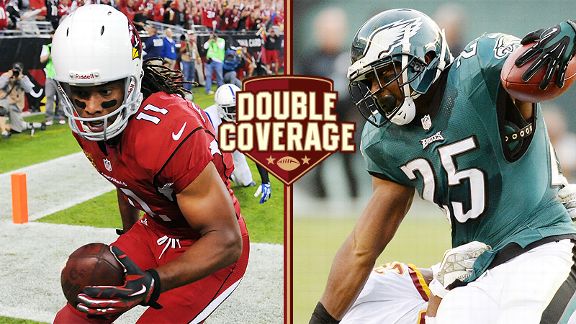 Getty ImagesLarry Fitzgerald and LeSean McCoy will look to keep their teams streaking on Sunday.
Bruce Arians and Chip Kelly come at their news jobs from very different places.
Kelly was the hot college head coach of the moment, hired by Eagles owner Jeffrey Lurie to replace the institution that was Andy Reid. Arians was a college head coach, too, at Temple back in the 1980s. He got his job with the
Arizona Cardinals
, though, based upon years as an often-overlooked NFL assistant.
And now here they are. Arians' Cardinals are 7-4 with a four-game winning streak, while Kelly's Eagles are 6-5 after a three-game winning streak. Their teams meet at Lincoln Financial Field Sunday in a game with major NFC playoff implications.
ESPN.com reporters Josh Weinfuss, who covers the Cardinals, and Phil Sheridan, who covers the Eagles, take a closer look at the matchup.
Phil Sheridan:
Bruce Arians is best known in Philadelphia as one of the rare coaches to survive a stint at Temple University. Nationally, he's known for winning the Coach of the Year Award after filling in for Chuck Pagano last year in Indianapolis. How has he conducted business and how much of this four-game winning streak results from that?
Josh Weinfuss:
I think all of it. Arians is the ultimate players coach and from everything I've heard about him from former players and current Cardinals who were with him in other places, he hasn't changed a bit. He'll tell the players like it is and if they can't handle it, they have to figure out a way to deal with it. He's not big on the sugarcoating, and the players appreciate it. As a head coach, he's taken a little bit from each of the coaches he worked for and put it into play in Arizona. He's learned how to delegate and put together a staff that complements him very well. On top of it all, he's an offensive genius who stayed patient with this team while they learned his scheme, and it's paying off.
On the topic of schemes, is Kelly's high-octane offense here to stay or will he need to adapt as the season progresses?
Sheridan:
Probably a little of both. Kelly already has adjusted to some degree. The foundation of his approach seems to be figuring out how a defense is designed to stop his offense and then exploiting whatever weaknesses and mismatches created by that design. When teams played man coverage and pressed to eliminate his bubble screens, Kelly shrugged and started throwing deep. When the Giants and Cowboys found a weakness in his run-blocking scheme, Kelly adjusted and got
LeSean McCoy
back on track. Kelly seems to enjoy the cat-and-mouse game with opposing coaches. That said, the foundations of what he does -- creating mismatches and exploiting weaknesses -- are as old as football. He just has some intriguing ways of getting there.
While we're on that side of the ball, how has Todd Bowles been able to win the hearts and minds of a defense that thrived under former coordinator Ray Horton? And how important is having
Karlos Dansby
back in the fold?
Weinfuss:
Bowles made one minor change up front and he's been the glimmer in the defensive line's eyes ever since. He went from a multi-gap system to a one-gap scheme, which has taken out the thinking from football. Now, the Cardinals front line can just rear back and go, and the changes are obvious.
Darnell Dockett
is having his best season in a while,
Calais Campbell
has emerged as one of the toughest defensive ends in the league and nose tackle
Dan Williams
has plugged the holes in the middle, forcing plays out to the edges -- and right into the hands of guys like
John Abraham
,
Matt Shaughnessy
,
Daryl Washington
and, of course, Dansby. He's playing at the lowest weight of his career and he's been able to fly around, going from sideline to sideline with relative ease for a guy who's been in this league for 10 years. While everything for the Cardinals' defense starts up front, each level has been benefiting from the line's presence.
Let's stay on defense. The Eagles have the worst pass defense in the league. How can they muster enough plays to slow the Cardinals' recently high-flying passing game under
Carson Palmer
?
Sheridan:
Josh, that could be the question that determines the outcome of this game. The only answer I have is that, somehow, that's just what the Eagles' defense has been doing in the seven games since
Peyton Manning
hung 52 points on them. They give up a lot of yards, but they haven't given up more than 21 points in a game since then. They've been good in the red zone and have started generating pressure and, in turn, turnovers. Palmer provides a very good measuring stick. The Eagles have thrived against the
Mike Glennon
s and
Scott Tolzien
s of the world, although in fairness they played well against
Eli Manning
and
Tony Romo
, too. But Palmer and that
Larry Fitzgerald
fellow definitely represent the kind of test the Eagles must pass before being considered a good defense.
Speaking of Palmer, the NFC Offensive Player of the Week, there seems to be a Kurt Warner vibe at work here -- veteran guy getting one more shot to prove he still has it. Warner did -- does Palmer? What's the ceiling on the offense with him at the helm?
Weinfuss:
All the evidence from the past four games points to yes -- Palmer does have a Warner-esque resurgence in him, but that's only because the Cardinals' offense is finally working. If it was still struggling, we'd be talking about Palmer being replaced either now or after the season. Crazy how that works. Palmer is the perfect quarterback for a Bruce Arians scheme. He has a big arm and can make throws on a dime. And those two things will carry this offense as far as it can until Palmer makes bad decisions. Even though the bad decisions have been cut down during the Cards' four-game winning streak, it would be na´ve of anybody to think they're totally done with. Arizona is just getting lucky. Twice against the Colts, Palmer had probable interceptions dropped, and against Jacksonville two weeks ago, a well-timed timeout by Arians saved Palmer from a potentially costly interception. If Palmer can take chances without making ill-advised throws, the ceiling is quite high, especially with the depth at receiver, tight end and running back.
A lot of University of Arizona fans out this way are loving the fact that
Nick Foles
is starting and playing well. Is he Mr. Right for the Eagles in Kelly's offense or Mr. Right Now?
Sheridan:
That's the question that will haunt the Eagles through the offseason. Foles has had some of the luck you described Palmer having. That seven-touchdown game against Oakland was partly the product of some of the worst defensive football I've ever seen (and I watched
Nnamdi Asomugha
jog through two years here). But Foles is smart, he's accurate and you can see him gaining confidence and comfort with every game. Clearly, he is not the quarterback Chip Kelly would order from the factory. But as he continues having success and winning games, you have to wonder how far Kelly is willing to tailor his offense to Foles for the long haul. It's the decision that will define the Kelly era, at least for the next few years. My gut says Foles is a good NFL quarterback, but Kelly will make a move to find his guy at the earliest possible convenience. If Foles keeps this up, though, my gut might be proven wrong.
November, 29, 2013
11/29/13
9:00
AM ET
PHILADELPHIA --
Nick Foles
was drafted 87 spots after
Andrew Luck
. On Sunday, the
Philadelphia Eagles
quarterback gets a chance to prove he's better -- against the
Arizona Cardinals
defense, at least.
Last week, the Cardinals held Luck to 163 yards and a late, meaningless touchdown. Luck completed 20 of 39 passes and threw one interception. He was sacked only once, but his passer rating was an abysmal 44.6 when the Cardinals pressured him, which was often.
"They have a lot of talent," Foles said. "They have a lot of size up front -- 'backers and secondary are very athletic. So it will be a great test for our whole offense."
For Foles, it is more than an opportunity to look better than Luck for a week. It is a chance to perform at the same high level he has for a month against a superior defense. He still has a chance at
Peyton Manning
's NFL record, set this year, of 20 touchdown passes before throwing an interception. Foles has thrown 16 touchdowns.
"I think Nick's done a really good job against the blitz," Eagles coach Chip Kelly said. "I think it's one of his strengths, because I think he's intelligent and he's got a really good understanding of what we're doing."
"I think he sees the field well," offensive coordinator Pat Shurmur said. "He understands what the defense is going to do going into the game, and he's able to come back and talk about where the pressure came, where he needed to go with the football. So I think he's very aware of what a defense can and will do to him. But I think that gets better with time, and I anticipate he'll even be better this week."
The Cards' reputation as a blitz-happy defense may be overblown a bit. According to ESPN Stats & Information, the Cardinals have rushed four or fewer players on 61 percent of opponent dropbacks during their four-game winning streak. They have intercepted five passes during that stretch without relying on the blitz to disrupt the quarterback.
Fewer pass-rushers means more players dropping into coverage, of course. For the Cards, that means playmakers like
Patrick Peterson
,
Tyrann Mathieu
and
Karlos Dansby
.
"The reason they don't get burned [when they do blitz] is that they have a good secondary," Foles said. "They really try to get a lot of pressure on the quarterback, and then their secondary hunkers down and tries to take away the easy routes. They make you work for it."
Overall, the Cardinals have 15 interceptions, which is tied for third most in the NFL. They are in the middle of the pack -- tied for 16th -- with 29 sacks.
The last time the Eagles played a defense this well-rounded, it was Kansas City and
Michael Vick
was the quarterback. The Eagles turned the ball over five times in a 26-16 loss.
Foles has excelled against Oakland, Green Bay and Washington the past three games. If he can be as successful against the Cardinals, that will take more talent than luck -- and more than Luck.