Philadelphia Eagles:

Keelan Johnson
March, 17, 2014
Mar 17
12:14
PM ET
Is it safe to say the
Philadelphia Eagles
will not be targeting a safety early in the May draft?

Nate Allen
re-signed with the team on Monday with a one-year, $2 million deal that can max out at $3 million. Last week, the Eagles signed
Malcolm Jenkins
to a three-year, $15.5 million deal that pays him $8.5 million guaranteed, and
Chris Maragos
to a three-year, $4 million deal.
The Eagles now have Allen, Jenkins, Maragos,
Earl Wolff
and
Keelan Johnson
at safety.
Philadelphia has struggled to replace
Brian Dawkins
the way the
Dallas Cowboys
have struggled to replace
Darren Woodson
.
Sean Jones
,
Kurt Coleman
and
Patrick Chung
had nothing more than moments. Allen has been better the past few years as a strong safety.
The Cowboys have been searching for Woodson's replacement since 2004 when a bad back forced him to retire early. Dawkins left the Eagles after the 2008 season and is one of the franchise's all-time greats.
With Jenkins, the Eagles finally hope they have something close to Dawkins to keep the back line in place. Keeping Allen allows them to have some continuity with a player who looked like he found a home in 2013. Allen had a career-high 94 tackles in starting every game in his career to go along with one interception.
February, 5, 2014
Feb 5
8:00
AM ET
PHILADELPHIA -- The secondary was already the
Philadelphia Eagles
' most obvious need area. After watching the NFL postseason, especially the Super Bowl, that need looked even more glaring.
Put another way: The Eagles got by with their secondary in 2013. Elite defenses do better than get by. Their safeties and cornerbacks are impact players.
Let's look at the more dire safety situation first. We'll address the cornerback position in a separate post.
Good safeties have been as elusive as unicorns for the Eagles since Brian Dawkins' unfortunate departure five years ago. (Say that out loud: Dawk's been gone for five years.) They have tried nearly everything to fill that void: second-round draft picks, second-day draft picks, midlevel free agents.
[+] Enlarge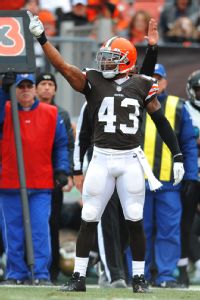 David Dermer/Diamond Images/Getty ImagesIt might be time for the Eagles to pursue a starting safety in free agency, like Cleveland's T.J. Ward.
As it happens, three of the safeties on the Eagles' roster are to become unrestricted free agents next month: starter
Nate Allen
, former starter
Kurt Coleman
, and special-teamer
Colt Anderson
.
That should be viewed as an opportunity more than a problem. By doing nothing, the Eagles can start the process of turning over this part of their roster. They can really turn the page if they release
Patrick Chung
, who lost his starting job twice during the season.
That would leave
Earl Wolff
, last year's fifth-round draft pick and the guy who took Chung's job before getting hurt, and
Keelan Johnson
as the only two safeties on the roster.
When we said the Eagles have tried nearly everything, it's because the one thing they haven't done is sign a top-level free agent. For years, the Eagles rated the safety position fairly low on their list of priorities. Dawkins was a homegrown superstar who transcended the position, but their emphasis was always on edge pass-rushers and cornerbacks.
General manager Howie Roseman has said the team will avoid splurging on big-ticket signings, and that is a reasonable position. But one reason the team has struggled to resolve the safety problem is its insistence on mediocre, small-ticket free agents. Chung and
Kenny Phillips
were last year's additions to a list that includes Sean Jones, Jarrad Page, Marlin Jackson and O.J. Atogwe.
Maybe Buffalo's
Jairus Byrd
or Cleveland's
T.J. Ward
will demand too much money to be options, but this might be the year the Eagles have to pay full-market price at this most challenging of positions. Miami's
Chris Clemons
might be a better value signing.
You could make a case for retaining Allen, who had his best season. Maybe spending more time in Bill Davis' defense will help Allen continue to grow. But the feeling here is that Allen personifies the concept of just getting by at the safety spot. The Eagles are not going to be a tough, hard-hitting, intimidating defense like Seattle or San Francisco by just getting by.
Sign one starter (Ward, preferably) and at least one veteran who can compete for playing time. Hope Wolff can lock down one starting position with a full offseason and some experience under his belt. Give Johnson a chance to earn a roster spot with special-teams play.
The timing is treacherous. If the Eagles allow Allen, Coleman and Anderson to walk, they will have to move quickly in free agency to fill at least a couple of those spots. They can hang on to Chung as security until they do. But the worst-case scenario is going into the draft in May with a desperate need for safety help.
The Eagles have done that before, and it has not ended well. But then, nothing they've done at safety has gone much better.
December, 20, 2013
12/20/13
4:00
PM ET
PHILADELPHIA -- The
Philadelphia Eagles
' injury report contained mixed news for Sunday night's game against the
Chicago Bears
.
Safeties
Kurt Coleman
(hamstring) and
Colt Anderson
(knee) are out. That has more impact on the Eagles' special teams than their defense. Both players are key members of the kicking and return teams.
Wolff
The defense will be helped by the likely return of safety
Earl Wolff
, who is listed as probable after missing five games with a knee injury. Nickel cornerback
Brandon Boykin
, who was knocked out of last week's game with a concussion, was also listed as probable.
That gives defensive coordinator Bill Davis close to a full complement of defensive backs as he tries to cope with the Bears' array of receiving options. Chicago likes to use wide receiver
Brandon Marshall
in the slot a fair percentage of the time.
Boykin
"They look for him," Boykin said. "I plan on being matched up with him quite a bit."
Although the Eagles have faced Denver's group,
Dez Bryant
,
Larry Fitzgerald
and
Calvin Johnson
, Boykin said he thought the Bears' Marshall and
Alshon Jeffery
presented the biggest overall challenge to the secondary.
"You're talking about guys that are 6-3, 6-4 and they're both playing at a very, very high level," Boykin said. "Normally, you might have two big guys, but one of them is better than the other. I don't think that's the case. They can throw to either one of them."
"Whenever the quarterback throws the ball in the air," Wolff said, "they go and get it. Those are the big plays we're going to have to stop. I feel like we're up for the challenge."
Wolff may be eased back into action after missing so much time.
Patrick Chung
could start and play a fair amount.
"I feel like I came in this week in a groove more than I was last week," Wolff said. "Last week, I was still kind of trying to get back into it. Now I feel like I'm pretty much back to where I was before."
As for special teams, the Eagles are likely to have linebacker
Najee Goode
back from his hamstring injury. He was also listed as questionable.
Keelan Johnson
, a safety signed off the practice squad earlier in the week, could also be active and help fill in for Coleman and Anderson.
Linebacker
Mychal Kendricks
(knee) and wide receiver/special teamer
Brad Smith
(hamstring) were also listed as questionable.
December, 19, 2013
12/19/13
1:45
PM ET
PHILADELPHIA -- The
Philadelphia Eagles
' blurry secondary picture is beginning to come into focus.
Nickel cornerback
Brandon Boykin
cleared the NFL's concussion protocol and was back at practice Thursday afternoon. Boykin was injured while returning a kickoff Sunday in Minnesota.
Rookie safety
Earl Wolff
said Wednesday his right knee feels the best it has felt since he injured it in Green Bay on Nov. 10. Wolff is almost certain to play, but likely to rotate with veteran
Patrick Chung
until he's reacclimated.
Safeties
Kurt Coleman
(hamstring) and
Colt Anderson
(knee) did not practice. There's a good chance
Keelan Johnson
, who was signed off the practice squad Tuesday, will be active for Sunday night's game against the
Chicago Bears
.
The 5-foot-11, 212-pound Johnson could serve as a backup to Wolff, Chung and
Nate Allen
. But his main contribution is likely to be on special teams, where Coleman and Anderson are key players.
"I'm actually on a couple of special teams," Johnson said. "I think that's where I'm likely to start out at during this game on Sunday and then work my way into the safety rotation. I just have to keep showing coach [Bill] Davis and my position coach I'm on top of the calls, I'm on top of my checks, things like that."
Johnson was undrafted despite a solid senior season at Arizona State. He signed with the
Miami Dolphins
and was released at the end of training camp. He has been on the Eagles' practice squad all season.
"I always felt like I was good enough to play," Johnson said. "I feel like I could have been a drafted player. I feel like I had a good season and all that stuff. It was just frustrating sitting on the sideline, watching these guys playing the sport I love, and I'm not out there with them."
Johnson might be forced into action if injuries strike as they did last week. But the return of Boykin and Wolff will help restore some normalcy to a secondary that was badly burned by the Vikings. That is a major development for a team preparing for a Bears offense that features
Brandon Marshall
and
Alshon Jeffery
.
"Don't sleep on
Earl Bennett
, either," Chung said. "He's really good, too."
Boykin has done an excellent job playing in the slot, leading the Eagles with four interceptions. Without him, Chung or
Roc Carmichael
would have to play the slot, which would lead to a domino effect. If Chung were to play the slot, that's one less safety available to Davis.
December, 17, 2013
12/17/13
5:45
PM ET
PHILADELPHIA – Figuring there's safety in numbers, the
Philadelphia Eagles
added to the number of safeties in their injury-strewn secondary Tuesday. They signed
Keelan Johnson
off their practice squad, releasing linebacker
Emmanuel Acho
to create a roster spot.
Going into their Sunday night game against the Chicago Bears' high-powered offense, the Eagles have serious issues with four of their safeties, plus nickel corner
Brandon Boykin
.

Rookie starter
Earl Wolff
, who injured his knee six weeks ago in Green Bay, said he expects to play.
"I'll be probable, which means I'll probably play," Wolff said. "If the game was today, I would play. On Sunday, it just didn't feel right. I thought this would be three or four weeks. I didn't think it would be this long."
Safeties
Kurt Coleman
(hamstring) and
Colt Anderson
(knee) were injured Sunday in Minnesota. Both are also important special-teams players. That is the role Johnson likely would fill if he is active for the Bears game.
"Right now, it's just about trying to get healthy and help this team out," Coleman said. "We're trying to make a push for the playoffs. I've got to get better as fast as possible because we need everyone out there."
The other safety with issues is veteran
Patrick Chung
. In his case, the issues are related to performance, not any injury. Eagles defensive coordinator Bill Davis said Chung was in "a slump" that had the coaches moving Coleman into the lineup before he was hurt.
"Until they separate themselves," Davis said, "I'll let the competition get the best out of both of them."
Wolff had separated himself from Chung earlier in the season before getting hurt.
"He was starting to really show some playmaking ability," Davis said. "He got injured and has been out for a while. We have to crawl him back into the mix as we go."
Boykin was knocked out of the Minnesota game with a concussion. He was out on the practice field Tuesday, which is a positive sign, but he still has to be cleared according to the NFL concussion protocol. If Boykin can't play, Davis said, either Chung or cornerback
Roc Carmichael
would move into his role in the slot.
"For me, I like playing outside more," Carmichael said. "That's what I've done my whole career. But going into the inside, it's still a defensive-back position. Playing man will be the same, but now I have to learn more of the zones – which 'backer do I have to help, is the end going to drop, little things like that."
The 5-foot-11, 212-pound Johnson was in training camp with the
Miami Dolphins
. He signed to the Eagles' practice squad in September.