Philadelphia Eagles:

Kenny Phillips
February, 21, 2014
Feb 21
4:30
PM ET
PHILADELPHIA -- The Eagles could wind up settling for a "stopgap" at safety in free agency, general manager Howie Roseman told reporters at the combine in Indianapolis.

Well, that would keep their streak alive. Roseman signed veterans
Patrick Chung
and
Kenny Phillips
last offseason. They followed in the soft footsteps of
Jarrad Page
,
Marlin Jackson
,
Sean Jones
and all the other stopgap safeties that have passed through Philadelphia in recent years.
It would seem like a good time to try the other way, especially with some very good safeties scheduled to hit free agency. Pro Football Focus published
its top-10 free agent safeties
Friday. It must be noted that
Nate Allen
, who started every game for the Eagles in 2013, is not on it at all.
PFF rates Buffalo's
Jairus Byrd
ahead of Cleveland's
T.J. Ward
. Frankly, I'd lean toward Ward if both players actually get to the market. He seems like the perfect blend of intimidating run stopper and solid pass defender. Byrd has a rep as more of a big play guy, but Ward would immediately be the best Eagles safety since
Brian Dawkins
left.
Chip Kelly happens to know both Byrd and Ward personally, since they played at Oregon when he was there.
Donte Whitner
is third on the PFF list, but it is considered very unlikely Whitner will leave San Francisco. If he hits the market, he would likely be looking for the kind of bank-busting contract the Eagles are reluctant to hand out.
PFF's No. 4-ranked safety, Miami's
Chris Clemons
, personifies the risk/reward of settling for bargain-priced stopgaps. Clemons was available last year. He signed a one-year deal with the Dolphins when no market developed for his services. It is safe to say he would have been a better signing than Chung, who lost his starting job early in the season, or Phillips, who was released during training camp.
If the Eagles do go with the stopgap type, veterans
Bernard Pollard
and
Antoine Bethea
could be options. They're the types who could help develop a rookie taken in the draft -- unfortunately, the Eagles won't know until May whether such a rookie exists.
Of course, if they're looking for a stopgap, there's always Allen.
February, 6, 2014
Feb 6
8:00
AM ET
PHILADELPHIA -- The Eagles were much better off at cornerback than at safety last year, and a million times better there than they were for the
Nnamdi Asomugha
/
Dominique Rodgers-Cromartie
jogathon of 2012.
[+] Enlarge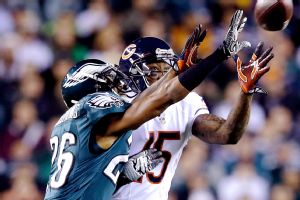 AP Photo/Michael PerezCary Williams' presence among the Eagles' cornerbacks can't be understated.
Still, cornerback is such a premium position, you can expect general manager Howie Roseman to look to upgrade there if he can. It is not an A-1 priority, not compared to safety, but it should always be a priority.
In many ways, Chip Kelly inherited an Eagles team much like the one Andy Reid did 14 years earlier, only in reverse. The 1998 Eagles were 3-13 but had the defensive personnel in place for a quick turnaround:
Brian Dawkins
,
Troy Vincent
,
Hugh Douglas
,
Jeremiah Trotter
and others.
The offense was another matter, especially at wide receiver. Saying the "cupboard was bare," Reid quickly added solid veterans
Charles Johnson
and
Torrance Small
just to get some inventory at the position.
For Kelly, it was the offense that was stocked and the defense that required the most attention. Roseman signed cornerbacks
Cary Williams
and
Bradley Fletcher
, along with safeties
Patrick Chung
and
Kenny Phillips
, just to stock that mostly empty cupboard.
Williams and Fletcher turned out to be better performers at cornerback than Johnson and Small were at wide receiver. They also have a better chance to stick around while their side of the ball develops. Their presence gives Roseman a little breathing room. If he can upgrade the position, he should. But he can address more pressing needs, especially safety, because Williams, Fletcher and
Brandon Boykin
represent a solid group of corners.
Aside: These corners would be that much more effective with an improved pass rush. So that becomes an even higher priority.
As the oldest of the three, Williams would appear most vulnerable to being replaced. But his value to the chemistry and personality of the Eagles defense in 2013 cannot be overstated. The Eagles were soft with DRC and Asomugha at the corners. Williams wasn't having any of that.
Fletcher was the polar opposite, personality-wise. He's as soft-spoken as Williams is outspoken. But he played a solid, reliable cornerback pretty much all season. Fletcher is 27 and another year removed from the ACL tear that cost him most of the 2011 season and made him expendable to the
St. Louis Rams
after the 2012 season.
Williams is 6-foot-1, Fletcher 6-0. They give the Eagles decent size and tackling ability (and willingness to tackle, which is not the same thing) on the outside. Each was also able to remain on one side, regardless of which receivers were matched up there. That allowed Davis the freedom to draw up schemes without having to move one shutdown corner around to compensate for a less competent player.
As for Boykin, he simply had a terrific season as the Eagles' nickel cornerback. Maybe too terrific, since he gave Davis a good reason to leave him where he excels rather than allow him to play outside. It's a win-win situation for the Eagles, though. If Boykin does develop into an outside corner, that gives them depth and flexibility. If he stays put, they have a nickel corner who was tied for second in the NFL with six interceptions despite limited playing time.
With so much work going into gradually improving the defense, there wasn't time to bring along young cornerback
Roc Carmichael
. He played almost exclusively when Fletcher or Williams was out because of injury or, in one case, Williams' temper tantrum in Minnesota. When Carmichael was in, he was targeted. He should benefit from a full offseason and training camp with Davis.
Curtis Marsh
, a 2011 draft pick who spent part of the season with Cincinnati, was active for only one game after being resigned by the Eagles in early November. It's hard to see a role for Marsh in 2014.
February, 5, 2014
Feb 5
8:00
AM ET
PHILADELPHIA -- The secondary was already the
Philadelphia Eagles
' most obvious need area. After watching the NFL postseason, especially the Super Bowl, that need looked even more glaring.
Put another way: The Eagles got by with their secondary in 2013. Elite defenses do better than get by. Their safeties and cornerbacks are impact players.
Let's look at the more dire safety situation first. We'll address the cornerback position in a separate post.
Good safeties have been as elusive as unicorns for the Eagles since Brian Dawkins' unfortunate departure five years ago. (Say that out loud: Dawk's been gone for five years.) They have tried nearly everything to fill that void: second-round draft picks, second-day draft picks, midlevel free agents.
[+] Enlarge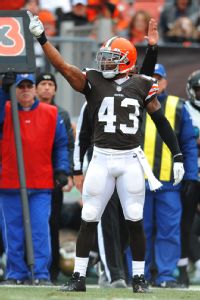 David Dermer/Diamond Images/Getty ImagesIt might be time for the Eagles to pursue a starting safety in free agency, like Cleveland's T.J. Ward.
As it happens, three of the safeties on the Eagles' roster are to become unrestricted free agents next month: starter
Nate Allen
, former starter
Kurt Coleman
, and special-teamer
Colt Anderson
.
That should be viewed as an opportunity more than a problem. By doing nothing, the Eagles can start the process of turning over this part of their roster. They can really turn the page if they release
Patrick Chung
, who lost his starting job twice during the season.
That would leave
Earl Wolff
, last year's fifth-round draft pick and the guy who took Chung's job before getting hurt, and
Keelan Johnson
as the only two safeties on the roster.
When we said the Eagles have tried nearly everything, it's because the one thing they haven't done is sign a top-level free agent. For years, the Eagles rated the safety position fairly low on their list of priorities. Dawkins was a homegrown superstar who transcended the position, but their emphasis was always on edge pass-rushers and cornerbacks.
General manager Howie Roseman has said the team will avoid splurging on big-ticket signings, and that is a reasonable position. But one reason the team has struggled to resolve the safety problem is its insistence on mediocre, small-ticket free agents. Chung and
Kenny Phillips
were last year's additions to a list that includes Sean Jones, Jarrad Page, Marlin Jackson and O.J. Atogwe.
Maybe Buffalo's
Jairus Byrd
or Cleveland's
T.J. Ward
will demand too much money to be options, but this might be the year the Eagles have to pay full-market price at this most challenging of positions. Miami's
Chris Clemons
might be a better value signing.
You could make a case for retaining Allen, who had his best season. Maybe spending more time in Bill Davis' defense will help Allen continue to grow. But the feeling here is that Allen personifies the concept of just getting by at the safety spot. The Eagles are not going to be a tough, hard-hitting, intimidating defense like Seattle or San Francisco by just getting by.
Sign one starter (Ward, preferably) and at least one veteran who can compete for playing time. Hope Wolff can lock down one starting position with a full offseason and some experience under his belt. Give Johnson a chance to earn a roster spot with special-teams play.
The timing is treacherous. If the Eagles allow Allen, Coleman and Anderson to walk, they will have to move quickly in free agency to fill at least a couple of those spots. They can hang on to Chung as security until they do. But the worst-case scenario is going into the draft in May with a desperate need for safety help.
The Eagles have done that before, and it has not ended well. But then, nothing they've done at safety has gone much better.
January, 23, 2014
Jan 23
12:00
PM ET
PHILADELPHIA -- With the draft so far off this year – May! – the next major item on the Eagles' to-do list is deciding on a strategy for free agency, which begins March 11.

General manager Howie Roseman has repeatedly said the team will continue to avoid huge free-agent deals in favor of making a number of smaller, less risky investments on the open market. That approach brought
Connor Barwin
,
Cary Williams
,
Bradley Fletcher
and
Donnie Jones
last offseason. It also brought
Patrick Chung
,
James Casey
and
Kenny Phillips
, moves that didn't hamstring the franchise when performance didn't equal compensation.
Before getting to March 11, though, the first order of business is deciding how to handle the current Eagles with expiring contracts. That group includes
Michael Vick
, who wants to explore opportunities to start, wide receivers
Riley Cooper
and
Jeremy Maclin
, and safeties
Nate Allen
,
Kurt Coleman
and
Colt Anderson
.
The Eagles could have extended any of those contracts before now, so they're clearly willing to risk losing any or all of those players once the market opens. The best guess here is the team will wait and see if the market convinces Cooper, Maclin and Allen that their best option is to remain in Philadelphia on reasonable contracts. If not, then adios.
There are a handful of veteran players whose contracts could dictate some action. Will the Eagles hang on to players like Williams, Casey,
Trent Cole
,
Brent Celek
and
Jason Avant
?
Once those decisions are made, the Eagles can move on to the next Next Big Thing, signing free agents and preparing for the May (May!) draft.
October, 31, 2013
10/31/13
2:00
PM ET
PHILADELPHIA -- The
Philadelphia Eagles
signed a handful of free agents last offseason. The departure of one of them, nose tackle
Isaac Sopoaga
, combined with the midway point of the season makes this a good time to see how general manager Howie Roseman fared.
"I think everything is an inexact science," coach Chip Kelly said. "Sometimes you miss on a draft pick. It's just what's available, what have you got to do, you've got to get your roster together. You always analyze at the end of the year. If this guy isn't exactly what we thought he was, why is that, and evaluate the whole process."
For perspective's sake, remember that the Eagles felt burned by free agency after the horrendous "Dream Team" crop -- led by
Nnamdi Asomugha
-- contributed to a 12-20 record in Andy Reid's final two seasons. And remember that Roseman was trying to stock a fairly empty cupboard on the defensive side of the ball without overpaying a la Asomugha and without a real feel for what coordinator Bill Davis was looking for.
• Safety
Kenny Phillips
was released in training camp after nagging injuries kept him from staking a claim to a roster spot. It speaks volumes that the former New York Giants' first-round pick, who was coming back from microfracture surgery, hasn't hooked on anywhere else.
Good deal, bad deal:
Neither really. Phillips was a low-risk gamble that didn't work out. This one move was not an issue. The issue is the Eagles' inability to find good safeties over the previous four years.
• Sopoaga made a few million dollars because the Eagles had no one who could play the nose as they made the switch to a 3-4 defense. He was a solid veteran presence who, by all accounts, helped coach up the younger linemen on the team. Those linemen made him expendable, and the Eagles traded Sopoaga to New England this week for virtually nothing.
Good deal, bad deal:
Bad deal, made worse when the Eagles drafted
Bennie Logan
in the third round out of LSU. If you're going young, go young. If they needed a vet, they could have hung on to
Cullen Jenkins
, who signed and is playing well with the Giants.
• Safety
Patrick Chung
has been a mixed bag. The former Patriots defensive back earned a starting job (against a relatively weak field, to be sure) but injured his shoulder in the third game of the season. Chung tried to come back too soon and has missed a total of four games. Meanwhile, rookie
Earl Wolff
has given the coaches a reason to believe he's the eventual starter.
Good deal, bad deal:
For $3 million? Bad deal. There's no way to anticipate injuries, of course, but Chung hasn't given the Eagles much they couldn't have gotten from
Kurt Coleman
while Wolff was learning on the job.
• Tight end
James Casey
was the only significant free agent pickup on the offensive side of the ball. His three-year, $12-million deal made sense when it appeared Roseman was stockpiling versatile weapons for Kelly's offense. After eight games, in which Casey caught 2 passes for 23 yards, and was on the field for just 5 percent of offensive plays, the deal makes much less sense.
Good deal, bad deal:
Bad deal, as much for Casey as anyone. You could also say that drafting tight end
Zach Ertz
in the second round was a mistake after spending so much on Casey. Either way, Roseman expended more capital than was wise on a position Kelly hasn't really utilized.
• Cornerbacks
Bradley Fletcher
and
Cary Williams
feel like a single entry. After parting ways with Asomugha and
Dominique Rodgers-Cromartie
(the right move, regardless of DRC's play in Denver), Roseman needed somebody who could line up across from opposing wide receivers. He got the fire-and-ice duo of Williams, a mercurial ex-Raven, and Fletcher, a softspoken former Ram. Grading on a curve because of the overall inconsistency of a defense in transition, they have been better than expected. Or maybe competent play at the position just looks so good after two years with those other guys.
Good deals, bad deals:
Good deals. Roseman paid more for Williams, who was coming off a Super Bowl title with the Ravens, but got a terrific bargain with Fletcher.
• Outside linebacker
Connor Barwin
was an intriguing signing. He had a huge 2011 season, with 11.5 sacks for the
Houston Texans
. He had only three in 2012, though, purportedly because he was used differently by coordinator Wade Phillips. As with Sopoaga, the Eagles really needed someone with the demonstrated ability to play OLB in the 3-4, and Roseman got Barwin for six years, $36 million. Unlike Sopoaga, they are getting production as well as a bell-cow for younger players to follow.
Good deal, bad deal:
Good deal. The money sounds like a lot, but the majority of it ($23 million) comes after the third season and is not guaranteed. Barwin is earning his money.
August, 26, 2013
8/26/13
12:54
PM ET
In a pre-practice meeting with reporters Monday,
Philadelphia Eagles
coach Chip Kelly said he will not play his starters against the
New York Jets
Thursday night. That was the headline, but Kelly offered a few tidbits about the state of his team after the first big roster cut.

• Kelly opted for caution over one last chance to work his starters in the preseason.
"We're going to keep the ones out," Kelly said. "We'll try to get the guys who are trying to (avoid) that cutdown from 75 to 53 the predominant amount of work. We've got some big decisions to make on Friday. ... You also have to think, our first three (regular-season) games happen in 11 days. We've got to play a Monday and then a Sunday and then a Thursday. There's got to be that balancing act. It's a very, very long season."
The final cut to 53 must be made by 6 p.m. ET on Saturday.
There was one exception, Kelly said. Because of injuries in the secondary, one or two of the projected starters may have to play Thursday. Cornerbacks
Curtis Marsh
and
Brandon Hughes
are both out with broken bones in their hands.
Nate Allen
, who has started all three preseason games, is likely to play.
"We can't go through with just four guys," Kelly said. "Pat (Chung) may not go, but the other guys will go."
At quarterback,
Nick Foles
will start. Rookie
Matt Barkley
will get most of the rest of the work.
• Kelly got a little testy when asked what the Jaguars did to confound his offense early in Saturday night's 31-24 win.
"I don't understand the question about taking away the things we did," Kelly said. "We had 450 yards of offense. There wasn't anything particular scheme-wise that we haven't seen before."
The Eagles had 452 yards of total offense, but 154 of those yards came with Foles directing the offense against the Jaguars' reserves in the fourth quarter. In the first half, against Jacksonville's first team,
Michael Vick
completed 13 of 21 passes for 164 yards. He threw one touchdown and one interception and was sacked twice. His passer rating was 82.2. More than anything, the offense just looked inconsistent, starting with the line.
"There wasn't any, the protection was set the wrong way and free runners were coming in," Kelly said. "We did get beat in some one-on-one matchups. That's just a matter of some of those guys were out for a little bit of time. Just little technical things. The deal with being really good is making sure you take care of those things."
• Kelly was struck more by
Bryce Brown
's positives -- the speed to the corner, the shiftiness -- than with the obvious negatives. The running back gained 92 yards on 11 carries, an 8.4-yard average. But he fumbled the ball through the end zone, turning a likely touchdown into a turnover. Considering Brown's fumbling problem as a rookie last year, that was a little worrisome. Not to Kelly.
"I know it's been an issue in the past," Kelly said. "On that particular play, their defensive back put their hat on the football. He did have the football tight against his body. It was swinging a little bit early in the run. We talk about ball security all the time, we do ball security drills."
• Kelly said he decided to release veteran safety
Kenny Phillips
, for two reasons: "Just our depth at the safety spot," Kelly said. "We do have a lot of guys there. Probably maybe giving (Phillips) an opportunity to see if he can catch on somewhere."
Because of a quadriceps injury, Phillips didn't get to play Saturday night. He also didn't do much work on special teams, which Kelly said was an important area for his safeties.
August, 25, 2013
8/25/13
6:00
PM ET
Is it impossible to find two competent NFL safeties? The
Philadelphia Eagles
certainly have made it look that way over the past few years.

The release of
Kenny Phillips
Sunday afternoon, as first reported by Pro Football Talk, continued a sorry trend that began with the departure of the beloved
Brian Dawkins
after the 2008 season. A team that once prided itself on dominating safeties -- from Bill Bradley and Randy Logan through
Wes Hopkins
and
Andre Waters
to Dawkins and
Michael Lewis
-- just cannot seem to find anyone to play the position.
The roll call is depressing to Eagles fans:
Marlin Jackson
, O.J. Atogwe,
Sean Jones
,
Macho Harris
,
Jarrad Page
,
Jaiquawn Jarrett
,
Nate Allen
and
Kurt Coleman
.
The latter two started last year in a secondary that surrendered a league-high 33 touchdown passes. General manager Howie Roseman flipped the secondary after the season, parting ways with corners
Nnamdi Asomugha
and
Dominique Rodgers-Cromartie
and signing four veteran DBs.
Three of them -- safety
Patrick Chung
and corners
Cary Williams
and
Bradley Fletcher
-- started Saturday night in Jacksonville and appear to be the starters going into the regular season.
The fourth was Phillips, who had a history of knee trouble. He was unable to play Saturday because of a quad injury. Like Jackson and Atogwe, he was a known injury risk that backfired on the Eagles.
That leaves Allen, who managed to play in 15 games (13 starts) last season without recording an interception, a sack or forcing a fumble. In three seasons, Allen has two sacks and five interceptions -- which would have been a good month for Dawkins.
Rookie
Earl Wolff
, a fifth-round pick, rotated in with the first team. But he and Chung were embarrassed on a 63-yard touchdown run by Jacksonville's
Jordan Todman
.
With Phillips gone, Roseman has few options on the roster. He can scan the waiver wire this week, as teams cut their rosters to 75 by Tuesday and to the final 53 by Saturday.
Or he can attempt a more ambitious solution. Eagles fans are already clamoring for
Jairus Byrd
, the two-time Pro Bowler who just signed his franchise tender in Buffalo. If the Bills decide to shop the unhappy safety, Roseman should at least consider it.
Byrd and Chung played together at Oregon, where a guy named Chip Kelly was the offensive coordinator.
With the release of Phillips and linebacker
Jamar Chaney
, who tweeted about being waived, the Eagles' roster was down to 76. It must be at 75 by Tuesday at 4 p.m. ET.
August, 24, 2013
8/24/13
10:59
PM ET
The
Philadelphia Eagles
returned to the site of their Super Bowl XXXIX loss for a preseason game against the
Jacksonville Jaguars
. It was the ghosts of 2012, not 2004, that haunted their starters in a come-from-behind
31-24 win
. Some thoughts:
" The third preseason game had some of the flavor of a regular-season game. The Eagles had better hope that flavor was pure vanilla.

It would take some of the sting out of the Eagles' ragged offensive play if coach Chip Kelly was holding back most of the good stuff in his playbook. If not, there was some real reason for concern here.
For starters,
Michael Vick
looked very much like the guy who held the Eagles' starting-quarterback job the last two years rather than the guy who was competing for it in the first two preseason games. Vick threw two terrible passes off his back foot (well, he was almost on his back the second time) while under pressure. One was intercepted, the other was ruled a sack. That sack came late in the first half when the Eagles needed to take advantage of a long return by
Damaris Johnson
.
Vick completed 13 of 15 passes for 199 yards while competing with
Nick Foles
in the first two preseason games. After being named the starter, he completed 15 of 23 for 184 yards, one TD and one INT.
" There was little evidence of the go-go pace that Kelly demands from his offense. The Eagles did not huddle, but there were long delays as plays were signaled in and the players sorted themselves out into the proper alignments. Vick has not really executed that fastbreak offense in this preseason. On the play before that late first-half sack, the ball was snapped with one second left on the play clock. Vick ran around, couldn't find a receiver and threw the ball away.
" Last year, running back
Bryce Brown
showed amazing quickness to the corner but came down with a bad case of the fumbles. In the third quarter, Brown sped around the right corner, then fumbled the ball through the end zone for a turnover. The fumble killed an opportunity for the Eagles to answer the Jaguars' long, second half-opening TD drive. Brown ran four yards for a touchdown in the fourth quarter.
" That late TD came at the end of the Eagles' best sustained drive of the game to that point. Foles was at quarterback for that one. Foles also managed the uptempo, go-ahead scoring drive that began on the Eagles 1 and ended with a
Chris Polk
TD run.
Foles completed 10 of 11 passes for 112 yards. To be fair, the Jaguars backups were playing defense on both of those drives.
" For the first time, the offensive line was complete. Left tackle
Jason Peters
took the field for the first time since the end of the 2011 season. For the first time, however, the line looked confused and unable to figure out its assignments. Early on, especially, Vick seldom had a clean pocket and resorted to running for his life. That has been a bad combination over the past few years, with Vick turning the ball over or getting hurt with great frequency.
" The Eagles defense had some great moments.
Connor Barwin
batted a pass in the air and caught it as he landed on his back. That gave the offense great field position, which Vick took advantage of for the first team's only touchdown. Barwin,
Trent Cole
,
Cedric Thornton
,
Vinny Curry
and
Mychal Kendricks
all disrupted the Jaguars offense at different times.
" The Eagles defense had some very 2012 moments.
Chad Henne
carved the Birds up on Jacksonville's first possession. It ended with a blown coverage: Henne found
Justin Blackmon
all alone between safety
Patrick Chung
and cornerback
Bradley Fletcher
. It looked like many of the league-high 33 passing TDs allowed by the Eagles last season.
"
Jordan Todman
's 63-yard touchdown run was another bad flashback to 2012. Todman ran off left tackle, then cut to his right. Both Eagles safeties,
Patrick Chung
and rookie
Earl Wolff
, took terrible angles and were unable to slow him down, let alone hit him. Todman got outside to the right and was gone.
Wolff replaced the mediocre
Nate Allen
in the first half but did little to stand out in a positive way.
Kenny Phillips
, the free agent brought in to challenge Allen for the starting job, said he expected to play after dealing with a sore quadriceps. Phillips did not play. Considering Chung's performance on the Blackmon and Todman TDs, there is real concern about both safety spots.
" Return man Damaris Johnson had an eventful night. He fumbled the ball away on a punt return, then got stopped inside his own 10 on a kickoff return. Later, he broke two long returns, 61 yards on a kickoff and 37 on a punt. The Eagles would love the undersized wideout to provide big-play potential on returns so they can avoid putting
DeSean Jackson
at risk.
August, 24, 2013
8/24/13
11:49
AM ET
It is no surprise the
Philadelphia Eagles
' quarterback competition was the dominant story of Chip Kelly's first training camp. The untold story is the lack of other spirited battles for starting jobs, especially on the defense.

New coordinator Bill Davis is expected to start the same 11 players in Jacksonville on Saturday night as he started last week against Carolina. And with the exception of cornerback
Cary Williams
, who was sidelined with an injury, Davis started the same group against New England on Aug. 9.
"This is a big preseason game for us," Davis said this week. "In the evaluation process, every game weighs a little heavier than the practices, obviously, because of the speed at which you play, and the tackles and all that. But this is a big preseason game to help us determine who the starters will be and the backups."
Especially, it turns out, the backups.
Williams and
Bradley Fletcher
appear to have the starting cornerback jobs sewn up.
Brandon Boykin
went into camp as the nickel corner, and he's still there. Neither
Brandon Hughes
nor
Curtis Marsh
(who had surgery on a broken bone in his hand this week) seriously challenged the top three.
Nate Allen
remains a starter at safety. Injuries have kept veteran
Kenny Phillips
from taking the job, and fifth-round pick
Earl Wolff
doesn't appear ready yet.
Patrick Chung
has never budged from the top of the depth chart at the other safety spot.
The starting front seven has looked the same throughout the preseason, as well. The good news there is along the line, where
Bennie Logan
,
Vinny Curry
and
Damion Square
have played their way into what could be a solid rotation.
The linebacking situation is another matter. It is a position that has vexed the Eagles nearly as much as safety over the past five years. There is a chance the four starters --
Connor Barwin
and
Trent Cole
on the outside,
DeMeco Ryans
and
Mychal Kendricks
on the inside -- will be adequate. But the Eagles' Friday trade of running back
Felix Jones
for linebacker
Adrian Robinson
shows how much they need depth and competition there.
Can Phillips make a late push to replace Allen? Can Logan slip ahead of veteran
Isaac Sopoaga
at the nose tackle spot? Does former first-round pick
Brandon Graham
need to make some plays in order to show he's completed the transition from defensive end to outside linebacker?
This game in Jacksonville is the last real chance Davis will get to see his first team in extended live action. It doesn't help that the Eagles will be facing backup quarterback
Chad Henne
and a rebuilding Jaguars team. If the Eagles looked better against
Cam Newton
than
Tom Brady
, they should look much improved against Henne.