Philadelphia Eagles:

Larry Fitzgerald
December, 31, 2013
12/31/13
5:30
PM ET
PHILADELPHIA -- If you're looking for signs the Eagles can handle
New Orleans Saints
tight end
Jimmy Graham
, you won't find much comfort in Sunday night's game against the
Dallas Cowboys
.
Tight end
Jason Witten
caught 12 passes for 135 yards in a game the Eagles hung on to win, 24-22.
Graham is bigger (6-foot-7), faster and just plain better than Witten at this point in his career. But Witten is probably not the best precedent for gauging the Eagles' ability to cover Graham. Wide receivers like
Brandon Marshall
,
Larry Fitzgerald
and
Calvin Johnson
are.
"I think Witten had a great game the other night on us, but he's a great player," Eagles defensive coordinator Bill Davis said. "He's a Pro Bowl player and he's going to make those plays. The first game, he didn't have so much but we kind of shifted where we were helping different places, put a little more help on Dez (Bryant). You move it around and great players play great, especially this time of the year when it's playoff football."
In other words, Davis focused on defending Bryant and running back
DeMarco Murray
. That left Witten more space to operate. The Saints present a number of challenges, but Graham is a lot closer to the top of the list of priorities.
"He's the No. 1 target they have and he's been their most consistent target," Davis said. "He's a big, athletic tight end, catches everything thrown near him. They move him all over the place so it's tough to practice and get a bead on how to help guys on him."
Against those big wide receivers, the Eagles were far from perfect, but they did limit the damage. And that will likely be their approach with Graham. It wouldn't be surprising if Davis used linebacker
Connor Barwin
as he did against Fitzgerald and other big wideouts. Barwin would line up at cornerback and jam the receiver, trying to throw him off his route and disrupt his timing. Usually, a defensive back would then pick the receiver up.
Considering how quickly quarterback
Drew Brees
makes his first read and gets the ball out, that could be enough to get him looking away from Graham at least some of the time.
"It's a big thing, messing up that timing between he and his receivers," linebacker
Mychal Kendricks
said. "With that quick release that he has, it's going to be huge."
New England used cornerback
Aqib Talib
to follow Graham all over the field. Davis has not used his corners that way all season.
Cary Williams
is on the right side and
Bradley Fletcher
is on the left. It seems unlikely Davis would ask them to change up at this late date.
But it wouldn't be shocking if Barwin, Kendricks and
Trent Cole
played Graham physically at the line and then a safety or nickel cornerback
Brandon Boykin
took over. Boykin can run with anyone, but he gives up nine inches to Graham. That requires a different solution.
"Jump," Kendricks said. "You're playing ball, man. You've just got to go for it. That factor's not going to change. You've got to study him and his routes and attack his hands."
December, 17, 2013
12/17/13
1:30
PM ET
PHILADELPHIA -- Coming off a game in which his defense gave up 48 points and lost three more defensive backs to injuries, Eagles defensive coordinator Bill Davis called Sunday's visit from the
Chicago Bears
"our biggest challenge of the season."
That's quite a distinction, considering the Eagles have faced
Peyton Manning
(allowing 52 points),
Philip Rivers
(33 points),
Jamaal Charles
(26 points),
Larry Fitzgerald
(21 points) and
Calvin Johnson
(20 snow-covered points).
But Davis was taking in all the factors: A game with enormous playoff implications for the Bears and possibly the Eagles; quarterback
Jay Cutler
and his array of weapons, including
Brandon Marshall
,
Alshon Jeffery
,
Martellus Bennett
and
Matt Forte
, and a secondary thrown into disarray by injuries and poor performance.
"Chicago might be one of the most talented offenses we face," Davis said. "They're obviously in the top five in scoring. They've got the big, physical Pro Bowl receivers – two of them. They've got a tight end who's a big, athletic pass receiving tight end. The running back is as rounded as any running back we've faced."
That would sound daunting coming off the nine consecutive games in which the Eagles' defense held the opposing team to 21 points or fewer. Coming off Sunday's debacle in Minnesota, and dealing with the smoking ruins of his secondary, you can see why Davis is concerned.
Nickel cornerback
Brandon Boykin
, who leads the team with four interceptions, has a concussion. His availability will be determined by the NFL concussion protocol. He would be replaced by safety
Patrick Chung
or cornerback
Roc Carmichael
, or a combination of both.
Davis may get rookie safety
Earl Wolff
back after a five-week absence due a knee injury. But Davis said Wolff will have to "crawl" back into the lineup before he's completely back to where he was in early November.
Wolff's replacement, the veteran Chung, was benched in favor of
Kurt Coleman
. Davis revealed Tuesday that decision was made before the game.
"Pat and Kurt knew we were rotating every two series," Davis said. "Now we were rotating because Patrick is in a little bit of a slump. We were prepared in practice, we were 50/50 with the reps. That wasn't something that was a knee-jerk reaction."
Coleman injured his hamstring and spent the second half in the locker room getting treatment.
Colt Anderson
, who plays mostly special teams, injured his knee while pressed into service on defense.
Davis said Wolff and Coleman are "day to day," while Anderson is "more week to week."
And those are just the injured players. Davis also has to regroup with starting cornerbacks,
Cary Williams
and
Bradley Fletcher
, who are coming off their worst performance since the Denver game. Safety
Nate Allen
earned the distinction of being the least-bad defensive back of the day for the Eagles.
"It is a well-rounded offense that's coming at us," Davis said. "We had a bad day in Minnesota. They're in the right mindset. Nobody's pouting about last week. We accepted it, we owned up to it, we talked about the mistakes. Now we're going forward and we're going to attack Chicago with everything we have."
December, 11, 2013
12/11/13
8:00
AM ET
PHILADELPHIA – Last week, while studying how the Eagles defense approached covering Arizona wide receiver
Larry Fitzgerald
, I noticed something else, too.
When the Cardinals ran the ball, Fitzgerald's approach to blocking was, shall we say, half-hearted at best. If a great block is a pancake, Fitzgerald was merely waffling.
Avant
That came back to mind when Eagles coach Chip Kelly brought up
Jason Avant
's sideline plea during Sunday's game against the
Detroit Lions
. Countless wide receivers have gone to their coaches on the sideline, claiming to be open on every down. Not Avant.
"I can remember Jason Avant going up to Chip during the game and saying, 'Run the ball my way,'" wide receiver
DeSean Jackson
said. "Not pass me the ball, but run the ball my way. That's being unselfish."
Avant delivered a block on Arizona defensive back
Bill Bentley
that helped spring
LeSean McCoy
for his 57-yard touchdown run. Avant,
Riley Cooper
and even Jackson have embraced their role in the running game.
"Obviously I'm not the best blocker," Jackson said. "You have to give an effort."
Kelly's approach to the run game is all about numbers, getting more blockers than defenders in a given space and letting McCoy take advantage. It is why he keeps the quarterback in play as a running threat, even when it's
Nick Foles
. If one defender accounts for the quarterback, he can't rush to the running back.
When the wide receivers are strong blockers, that vastly improves the numbers game. Kelly said one of the keys was appealing to the wideouts' self-interest.
"If you're running the ball really well, they've got to get another safety down in the box," Kelly said. "And if you do get a safety down in the box, then you're leaving DeSean and Riley one on one outside. If you're any receiver, you want one on one coverage. So if you're a receiver you want to be able to run the ball really well, where they can't help, and I think that's kind of the ongoing chess match that goes on."
Avant has not benefited much from that chess match. He has just 29 catches for 336 yards this season. For him, blocking well is its own reward.
"My mind set is a little bit different from most," Avant said. "I'm playing as hard as I can for God. He's going to judge me someday. With that being said, I think the mind set for most of the guys is playing hard for one another. As a receiver, you want to catch passes. But if you don't get that opportunity, there's other ways you can help."
Avant played at Michigan, where, he said, "If you don't block, you don't play."
He didn't think it was that unusual, asking Kelly to run the ball to his side. But you can bet most receivers, including Larry Fitzgerald, have never uttered those words.
December, 5, 2013
12/05/13
5:30
PM ET
PHILADELPHIA -- It was funny but totally understandable.
A week ago, as he prepared for the
Arizona Cardinals
, Eagles defensive coordinator Bill Davis declared
Larry Fitzgerald
"probably still the best receiver in the league." A week later, Davis was asked about Detroit's
Calvin Johnson
, this week's challenge for the Eagles defense.
"Well, he's 6-foot-5 and his range, he's got a huge vertical," Davis said. "So his radius, his catch radius, is second to none. There are similar players that are big bodied, go up and get the ball away from their body. They snatch it well out of the air. Fitzgerald is one of the top in the NFL, but Calvin is the best when you watch him game in and game out, what he does and what he can do at that size/speed ratio. He's the best."
[+] Enlarge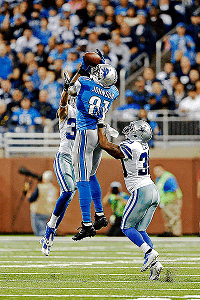 AP Photo/James D. SmithEagles defenders will be facing another daunting test on Sunday in Lions WR Calvin Johnson.
You can't blame Davis for being haunted by the video he's studying in a given week, even if it means
Brandon Marshall
will likely be the best receiver in the league while the Eagles are preparing for the Bears in a few weeks.
There are pluses and minuses to facing Fitzgerald and Johnson in consecutive weeks. Preparing and dealing with Fitzgerald can help the Eagles defenders be ready for the challenge of dealing with Johnson. On the other hand, Davis' scheme for dealing with big, talented wideouts is right there on Sunday's game tape for the Lions staff to dissect.
"There will be some carryover," outside linebacker
Connor Barwin
said. "We installed some certain things for big, productive receivers like Fitz. There will obviously be some carryover this week. But it's not all going to be the same."
So how did Davis defend Fitzgerald? Let's just say it took a village. If teams with a shutdown corner try to match him on Johnson all over the field, Davis took the opposite approach. Nine different Eagles had primary coverage on Fitzgerald during the course of the game. Along with the obvious guys -- defensive backs
Cary Williams
,
Bradley Fletcher
,
Brandon Boykin
,
Nate Allen
and
Patrick Chung
-- Davis had all four of his linebackers cover Fitzgerald at different times.
Barwin, especially, lined up across from Fitzgerald as a cornerback. Usually, he was in the slot, but on a couple plays Barwin was basically an outside corner. His job was to jam Fitzgerald, disrupt his route and his timing, then usually give him up to a defensive back.
Trent Cole
did surprisingly well on the few times he dropped into coverage with Fitzgerald. Linebacker
Mychal Kendricks
ran with him on several plays down the middle before quarterback
Carson Palmer
found Fitzgerald for a first-down completion in the fourth quarter.
Williams slapped one ball away as Fitzgerald attempted to catch it. Fletcher and Allen did a good job limiting his yardage on quick outs. Boykin made the single biggest play, leaping to bat a pass away in the end zone just before the Cardinals' final touchdown. Chung blanketed Fitzgerald in the end zone on the play in which
Roc Carmichael
drew a pass interference call at the 1-yard line.
Fitzgerald's biggest play, of course, was his 43-yard touchdown catch on a third-and-20 play. Boykin had excellent coverage on the play, but he and Chung collided just as the ball arrived. They went down in a heap, allowing Fitzgerald to sprint the last 26 yards untouched.
Palmer threw the ball 41 times. He targeted Fitzgerald eight times, completing five passes for 72 yards and a touchdown. That's not exactly shutting a receiver down, but if the Eagles can limit Johnson to that kind of damage, they'll have a very real chance of beating Detroit. Johnson is that good.
"The combination of his size and his speed and explosiveness, I don't think there's anybody else like that in this league," Eagles coach Chip Kelly said. "He can just go get the football."
In other words, Johnson is the best there is. This week, at least.
December, 5, 2013
12/05/13
8:00
AM ET
PHILADELPHIA -- It is obvious that players have to learn a coach's system in order to succeed in football. That was a major hurdle for the Eagles as they switched from a 4-3 defense to new coordinator Bill Davis' 3-4 scheme.
The Eagles' remarkable progress over the past few weeks, though, has as much to do with Davis learning his players as with the players learning the defense. As Davis has figured out players' strengths and vulnerabilities, he has been able to come up with formations, coverages and pressure schemes to suit them.
"It's always players over scheme," Davis said. "Players are making the plays. Nothing to do with scheme."
[+] Enlarge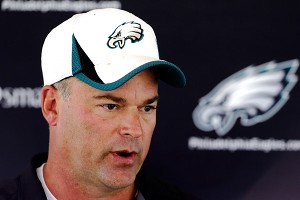 AP Photo/Matt Rourke"Players are making the plays," defensive coordinator Bill Davis said. "Nothing to do with scheme."
That is one of the principles that eroded with the Eagles in Andy Reid's latter days. Reid brought in Jim Washburn to coach the very specific "Wide 9" defensive line formation without making sure there were players, especially linebackers, capable of supporting it. And he brought in the equally idiosyncratic offensive line coach, Howard Mudd, which created a steep learning curve and some turnover at that vital position.
Putting scheme over players did not work, not for the 2011 and 2012 Eagles.
There is learning involved here, too, of course. One of the big questions going into this season was whether defensive ends
Trent Cole
and
Brandon Graham
could make the transition to outside linebacker. And it is a change. They have different pass-rushing techniques and different responsibilities in the run game. They have to drop into pass coverage at times.
Each of them had two sacks in Sunday's 24-21 win over Arizona. Both of Cole's came when he had his hand on the ground and rushed like the defensive end he was for eight seasons. Graham stood up on both his sacks, but he was in a low crouch in a defensive end formation on one, and he slid over and rushed between the guard and center on the other.
"It's definitely nice that he plays into our strengths and tries to maximize them the best he can," Graham said. "Coach Davis is a great coach, a great coordinator. I think he's utilizing us the best way he can in his scheme."
It probably helps that it's not exactly Davis' scheme. The Eagles defense is more of a collaborative effort being created and developed on the fly.
"Right now," Davis said, "you're not looking at my defense. You're looking at the
Philadelphia Eagles
defense. You're looking at our staff, our personnel group. We built the playbook as a group. I didn't just bring my playbook and put it down and say, `Hey, that's what we're running.' That's not how this defense has been built.
"It's been built through a collection of great position coaches and we built it from scratch. We named things the way we wanted to name it and call it and verbalize it, and then from there, we have built to our players strengths and weaknesses as we as a group see what they can do well and what they can't do well."
Head coach Chip Kelly said Davis' scheme wasn't the reason he hired him.
"I looked at what does he know from a football standpoint, how intelligent is he and what type of teacher is he," Kelly said.
Kelly also brought defensive line coach Jerry Azzinaro with him from Oregon. Azzinaro is one of those position coaches Davis mentioned with great input into the defense.
Watching the defense evolve has been almost as entertaining as watching Kelly's innovative offensive ideas unfold.
Connor Barwin
is a 6-foot-4, 264-pound linebacker who lined up as a cornerback at times against
Larry Fitzgerald
Sunday. Inside linebacker
Mychal Kendricks
lined up outside Cole, who was back at defensive end in some formations. Davis has been blitzing different defensive backs, trying to get a feel for who can get to the quarterback and who can't.
The progress through the first three-quarters of the season has been impressive. It makes you wonder how good this defense can be as Davis, Kelly and GM Howie Roseman identify and acquire players who are even better suited to it.
December, 4, 2013
12/04/13
8:00
AM ET
PHILADELPHIA -- It was a common refrain the past few years, when the Eagles' defense just wasn't the dominating force that it used to be: It didn't have a real impact player, one who had opposing offensive coaches reaching for the antacid tablets.
The past few weeks, the Eagles have had one of those players. The twist is that it's
Trent Cole
, who was here all along.
Cole had two sacks against the
Arizona Cardinals
on Sunday. He has five in his past four games after going eight games without one. If it had seemed that Cole, 31, was on the decline, then the switch from defensive end to outside linebacker in a 3-4 scheme apparently finished him off.
[+] Enlarge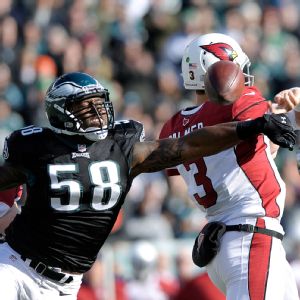 AP Photo/Michael PerezTrent Cole had two sacks and forced a fumble against the Cardinals.
But those perceptions weren't really supported by the facts. Cole had a career-low three sacks last season, but that had more to do with the decline of the Eagles in Andy Reid's desultory final season than with Cole himself. And while he admittedly struggled with the demands of his new position, Cole's commitment to the change and his innate athleticism have paid off.
"I do think Trent has played at a high level the whole year," defensive coordinator Bill Davis said. "The sack numbers, to me, we put way too much on that. Sometimes the best rusher, the best pass rush doesn't get the sack. It gets the quarterback moved off the spot, and then a guy that might have had a horrible pass rush gets the sack. When we watch film week in and week out, who is disrupting or moving the quarterback off the spot the most, Trent is one of our leaders. He moves the quarterback off his spot."
Analytic and scouting website Profootballfocus.com named Cole the Eagles' MVP from Sunday's 24-21 win over the Cardinals. He forced a
Carson Palmer
fumble with a sack on the Cards' first possession. He got to Palmer again late in the game. In between, Cole was virtually unstoppable when he rushed the passer.
Watching the game again, with a focus on Cole, was telling. PFF had Cole with 29 rushes on his 71 snaps. He didn't make many plays in the run game, but that's because the Cardinals constantly ran to their right, away from Cole and defensive end
Fletcher Cox
.
Davis doesn't ask Cole to drop into coverage too often, but he acquitted himself well there, too. He got beat on a first-down catch by Arizona tight end Rob Housler, but he ran with
Larry Fitzgerald
on two plays. He set the edge on the run effectively and tied up blockers a couple of times when defensive backs blitzed from his side.
But Cole's game is getting to the quarterback, and he remains a relentless pass-rusher. Davis has been smart enough to adapt his scheme to his players' strengths. By my count, Cole lined up with his hand on the ground as a defensive end (and in two cases, as a defensive tackle) 16 times. Both of his sacks came on plays when his hand was on the ground.
Mixing in a little familiarity with the new stuff is simply good coaching, putting the player ahead of the scheme.
Pro Football Focus credited Cole with a hit and five hurries of Palmer. There were a half-dozen plays where Cole was a half-step from getting to the quarterback when the ball was released. He's getting the hang of this new defense, to say the least.
"I learned the way the 3-4 defense goes, everybody has to be disciplined," Cole said. "Everybody has to do their assignment. One mess-up can cost us the game. I think everybody is playing well together, we're learning each other. I'm getting comfortable, and my pace is speeding up. I'm playing fast."
It shows up on film enough to boost antacid sales in a few NFL cities.
December, 2, 2013
12/02/13
8:00
AM ET
PHILADELPHIA -- A look at four issues from the
Philadelphia Eagles
'
24-21 win
against the
Arizona Cardinals
Sunday.
[+] Enlarge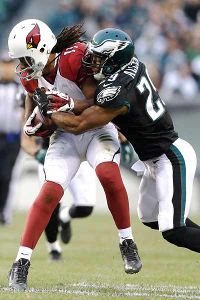 Matt Rourke/AP PhotoEagles safety Nate Allen did his best to keep Cardinals receiver Larry Fitzgerald in check during their Week 13 game Sunday.
Foles is lucky as well as good.
Nick Foles
needs to throw just two more touchdown passes to break
Peyton Manning
's NFL record of 20 touchdown passes without an interception. Foles also broke teammate
Michael Vick
's team record of 224 consecutive pass attempts without an interception. Going back to late last year, Foles has thrown 233 pick-free passes.
That's all good. But luck came in when he threw an ill-advised pass as he was being hit in the fourth quarter. The ball landed in the hands of Arizona cornerback
Patrick Peterson
, but the interception was negated by a holding penalty on safety
Tyrann Mathieu
.
"It definitely was a mistake by me," Foles said. "I was happy there was a penalty that kept our drive going. It wasn't a smart decision." It was the kind of decision that can turn a game around. Luck kept that from happening.
"That's just the game of football," Foles said. "It's a crazy game, and things happen."
Nate Allen isn't Brian Dawkins, but that's OK.
Allen, the fourth-year safety from South Florida, made a nice break on an underthrown
Carson Palmer
pass for an early interception. Allen was part of an egregiously bad secondary the past two years and has not exactly been a huge fan favorite. But his improved play has been a big part of the defense's development.
"He's one of the hardest workers in the building," Eagles defensive coordinator Bill Davis said. "It means so much to him. He's motivated because he hasn't had the success and everyone has been on him for a couple years here. Everyone wanted him to be Brian Dawkins and now everybody's kind of letting him be Nate Allen."
Fitzgerald? Check. Megatron?
The Eagles' defense did a decent enough job on Arizona's
Larry Fitzgerald
and
Michael Floyd
. Each caught a touchdown pass. Fitzgerald caught five passes for 72 yards, Floyd five for 99. Those are very good numbers, but neither could break open the game. That's encouraging, because the Eagles defenders get Detroit's
Calvin Johnson
here next Sunday.
"Those guys stepped up and took on the challenge of playing this top receiving group," Davis said. "There's a lot of times they were one-on-one. Throughout the game, I was mixing in [coverages], but there were a lot of snaps that were, 'Hey, get your man.'"
Davis often had linebacker
Connor Barwin
lined up directly across from Fitzgerald, especially in the slot. Barwin was able to get a more physical jam on Fitzgerald at the line before giving him up to a defensive back to cover.
The NFC playoff picture is a little clearer after this.
The Eagles earned a tiebreaker over Arizona should they wind up with the same record in the wild-card race. Sunday's win also keeps them within a game of San Francisco (8-4), which is currently in position to earn the second wild card. Chicago's loss to Minnesota leaves the Bears at 6-6, a game behind Detroit. The Eagles face those three NFC North teams over the next three weeks -- Detroit and Chicago at home, with Minnesota on the road in the middle.
The Eagles' best shot at the playoffs remains in beating Dallas (7-5) for the NFC East title, but the Cowboys are one of the teams with a realistic shot at a wild card.
November, 29, 2013
11/29/13
12:00
PM ET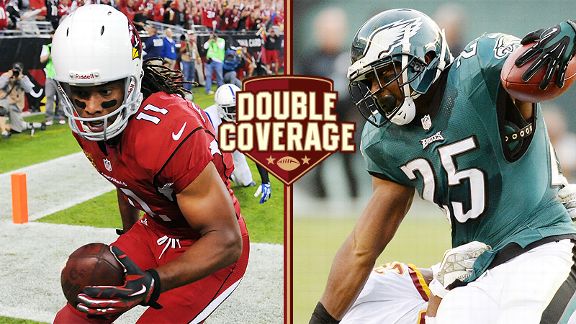 Getty ImagesLarry Fitzgerald and LeSean McCoy will look to keep their teams streaking on Sunday.
Bruce Arians and Chip Kelly come at their news jobs from very different places.
Kelly was the hot college head coach of the moment, hired by Eagles owner Jeffrey Lurie to replace the institution that was Andy Reid. Arians was a college head coach, too, at Temple back in the 1980s. He got his job with the
Arizona Cardinals
, though, based upon years as an often-overlooked NFL assistant.
And now here they are. Arians' Cardinals are 7-4 with a four-game winning streak, while Kelly's Eagles are 6-5 after a three-game winning streak. Their teams meet at Lincoln Financial Field Sunday in a game with major NFC playoff implications.
ESPN.com reporters Josh Weinfuss, who covers the Cardinals, and Phil Sheridan, who covers the Eagles, take a closer look at the matchup.
Phil Sheridan:
Bruce Arians is best known in Philadelphia as one of the rare coaches to survive a stint at Temple University. Nationally, he's known for winning the Coach of the Year Award after filling in for Chuck Pagano last year in Indianapolis. How has he conducted business and how much of this four-game winning streak results from that?
Josh Weinfuss:
I think all of it. Arians is the ultimate players coach and from everything I've heard about him from former players and current Cardinals who were with him in other places, he hasn't changed a bit. He'll tell the players like it is and if they can't handle it, they have to figure out a way to deal with it. He's not big on the sugarcoating, and the players appreciate it. As a head coach, he's taken a little bit from each of the coaches he worked for and put it into play in Arizona. He's learned how to delegate and put together a staff that complements him very well. On top of it all, he's an offensive genius who stayed patient with this team while they learned his scheme, and it's paying off.
On the topic of schemes, is Kelly's high-octane offense here to stay or will he need to adapt as the season progresses?
Sheridan:
Probably a little of both. Kelly already has adjusted to some degree. The foundation of his approach seems to be figuring out how a defense is designed to stop his offense and then exploiting whatever weaknesses and mismatches created by that design. When teams played man coverage and pressed to eliminate his bubble screens, Kelly shrugged and started throwing deep. When the Giants and Cowboys found a weakness in his run-blocking scheme, Kelly adjusted and got
LeSean McCoy
back on track. Kelly seems to enjoy the cat-and-mouse game with opposing coaches. That said, the foundations of what he does -- creating mismatches and exploiting weaknesses -- are as old as football. He just has some intriguing ways of getting there.
While we're on that side of the ball, how has Todd Bowles been able to win the hearts and minds of a defense that thrived under former coordinator Ray Horton? And how important is having
Karlos Dansby
back in the fold?
Weinfuss:
Bowles made one minor change up front and he's been the glimmer in the defensive line's eyes ever since. He went from a multi-gap system to a one-gap scheme, which has taken out the thinking from football. Now, the Cardinals front line can just rear back and go, and the changes are obvious.
Darnell Dockett
is having his best season in a while,
Calais Campbell
has emerged as one of the toughest defensive ends in the league and nose tackle
Dan Williams
has plugged the holes in the middle, forcing plays out to the edges -- and right into the hands of guys like
John Abraham
,
Matt Shaughnessy
,
Daryl Washington
and, of course, Dansby. He's playing at the lowest weight of his career and he's been able to fly around, going from sideline to sideline with relative ease for a guy who's been in this league for 10 years. While everything for the Cardinals' defense starts up front, each level has been benefiting from the line's presence.
Let's stay on defense. The Eagles have the worst pass defense in the league. How can they muster enough plays to slow the Cardinals' recently high-flying passing game under
Carson Palmer
?
Sheridan:
Josh, that could be the question that determines the outcome of this game. The only answer I have is that, somehow, that's just what the Eagles' defense has been doing in the seven games since
Peyton Manning
hung 52 points on them. They give up a lot of yards, but they haven't given up more than 21 points in a game since then. They've been good in the red zone and have started generating pressure and, in turn, turnovers. Palmer provides a very good measuring stick. The Eagles have thrived against the
Mike Glennon
s and
Scott Tolzien
s of the world, although in fairness they played well against
Eli Manning
and
Tony Romo
, too. But Palmer and that
Larry Fitzgerald
fellow definitely represent the kind of test the Eagles must pass before being considered a good defense.
Speaking of Palmer, the NFC Offensive Player of the Week, there seems to be a Kurt Warner vibe at work here -- veteran guy getting one more shot to prove he still has it. Warner did -- does Palmer? What's the ceiling on the offense with him at the helm?
Weinfuss:
All the evidence from the past four games points to yes -- Palmer does have a Warner-esque resurgence in him, but that's only because the Cardinals' offense is finally working. If it was still struggling, we'd be talking about Palmer being replaced either now or after the season. Crazy how that works. Palmer is the perfect quarterback for a Bruce Arians scheme. He has a big arm and can make throws on a dime. And those two things will carry this offense as far as it can until Palmer makes bad decisions. Even though the bad decisions have been cut down during the Cards' four-game winning streak, it would be na´ve of anybody to think they're totally done with. Arizona is just getting lucky. Twice against the Colts, Palmer had probable interceptions dropped, and against Jacksonville two weeks ago, a well-timed timeout by Arians saved Palmer from a potentially costly interception. If Palmer can take chances without making ill-advised throws, the ceiling is quite high, especially with the depth at receiver, tight end and running back.
A lot of University of Arizona fans out this way are loving the fact that
Nick Foles
is starting and playing well. Is he Mr. Right for the Eagles in Kelly's offense or Mr. Right Now?
Sheridan:
That's the question that will haunt the Eagles through the offseason. Foles has had some of the luck you described Palmer having. That seven-touchdown game against Oakland was partly the product of some of the worst defensive football I've ever seen (and I watched
Nnamdi Asomugha
jog through two years here). But Foles is smart, he's accurate and you can see him gaining confidence and comfort with every game. Clearly, he is not the quarterback Chip Kelly would order from the factory. But as he continues having success and winning games, you have to wonder how far Kelly is willing to tailor his offense to Foles for the long haul. It's the decision that will define the Kelly era, at least for the next few years. My gut says Foles is a good NFL quarterback, but Kelly will make a move to find his guy at the earliest possible convenience. If Foles keeps this up, though, my gut might be proven wrong.
November, 28, 2013
11/28/13
8:00
AM ET
PHILADELPHIA – Funny thing, the NFL schedule. It stays exactly the same, but looks completely different depending on when you look at it.
In the spring, Sunday's matchup with the
Arizona Cardinals
didn't exactly jump out at fans of the
Philadelphia Eagles
. The opener at Washington did. That game in Green Bay was daunting. And of course the season finale at Dallas loomed large. But the Cardinals at Lincoln Financial Field in Week 13?
Now that Week 13 is here, this game is a big one in every sense for the Eagles. The Cardinals (7-4) are another team with a first-year head coach looking for a way into the playoffs. It is the first game of the season in which
Nick Foles
officially is the Eagles' No. 1 quarterback. And, as fate and the schedule-makers would have it, the Cards are almost perfectly designed to test every facet of the Eagles.
[+] Enlarge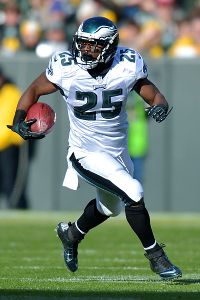 Drew Hallowell/Philadelphia Eagles/Getty ImagesLeSean McCoy will face one of the NFL's toughest run defenses.
The highlights:
*
The Cardinals' defense is very good against the run, and the Eagles' offense starts with
LeSean McCoy
.
"They're a very stingy defense," McCoy said. "They're a good group. I'm not sure if they'll be the best defense we face, but they're definitely one of them."
The Eagles' offense has had two truly poor games, failing to score a single touchdown in back-to-back home games against Dallas and the Giants. McCoy was held under 60 yards rushing in both games. That isn't coincidental.
McCoy had only 44 rushing yards in a 49-20 win in Oakland, but that was a case of Chip Kelly choosing not to run the ball, not of the Eagles being unable to run the ball.
*
The Eagles' defense has been vastly improved, but when it struggled, it was against veteran quarterbacks with big-time receivers.
Carson Palmer
and
Larry Fitzgerald
will be an acid test of the defense's progress.
"[Palmer] is playing his best football I've seen in years," Eagles defensive coordinator Bill Davis said. "His offense in the last four weeks … is as explosive and hitting on all cylinders as we've faced in a while now. It would be our biggest challenge of the last five, six weeks."
Davis also called Fitzgerald "probably still the best receiver in the league," an evaluation that may change next week after he studies tape of
Calvin Johnson
.
The Eagles' defense has continued to give up enormous yardage but has done well in the red zone and limited scoring. Palmer, Fitzgerald and the rest of the Cards' weapons will test that formula.
*
Foles has had some good fortune – underthrown balls becoming touchdowns, defensive backs falling down – on his side during his player-of-the-month November. The Cardinals can blitz, tackle and cover with the best of them.
"They've got Pro Bowl players all over the place," Eagles offensive coordinator Pat Shurmur said. "They're big, they're physical, they like to pressure and they challenge everything. … Their blitz percentage has been pretty consistent no matter who they've played or what style of offense. So I think they believe in pressuring. They trust their corners in their ability to cover, whether it's a man pressure or some kind of a fire zone."
Blitzing presents challenges and opportunities in equal measure. If Foles can move the ball against arguably the toughest defense he's faced this season, that would be another step in his development.
*
Finally, the Eagles have to re-establish the Linc as their home field. They snapped their 10-game home losing streak against Washington. A home winning streak – with three of four at home against NFC contenders – would go a long way toward earning them a playoff berth.
Arizona is coming off a big home win against Indianapolis. The Cards are traveling west to east for a game that probably didn't look all that important to them when their schedule came out. The Eagles failed a similar test against San Diego early in the season. If they've really made progress, they'll find a way to pass this time.
November, 26, 2013
11/26/13
8:00
AM ET
PHILADELPHIA -- Good coaches get fired all the time in the NFL. For proof of that, look no further than Sunday's game between the Eagles and the
Arizona Cardinals
.
Todd Bowles, fired by the Eagles for his thankless role in Andy Reid's final season, is the defensive coordinator of the red-hot Cardinals. A year after trying to salvage the mess left when Reid fired Juan Castillo and line coach Jim Washburn in season, Bowles is the architect of a top-10 defense -- No. 1 against the run.
Bill Davis, fired by the Cardinals after two years as coordinator under Ken Whisenhunt, has the Eagles defense playing better every week. The Eagles have won three games in a row, the Cardinals have won four, and their defensive coaches have a lot to do with it.
[+] Enlarge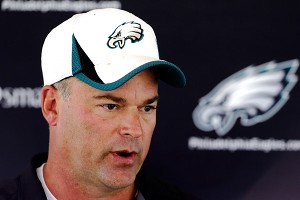 AP Photo/Matt RourkeBill Davis' next task is slowing down a Cardinals offense that has been picking up steam lately.
The two men walked into very different situations. Bowles took over a very good defense from a very good coach, Ray Horton. His task was to meet relatively high expectations, and he's done that.
"There was obviously a bulls-eye on [Bowles'] chest the minute he walked in the door," Cardinals general manager Steve Keim said earlier this month in an interview on Arizona Sports 620-AM radio. "Todd has really stepped up to the plate and done a fantastic job for us."
Davis, meanwhile, inherited a mess and was tasked with teaching an entirely different style of defense. Expectations were low, especially early, but they are rising with each solid performance of Davis' squad.
"I like where we are in our stage," Davis said last week. "But we are so far from the finish line, so far from being a defense we want to be."
Davis was the linebackers coach on Whisenhunt's staff when the Cardinals went to the Super Bowl five years ago. (You may recall they beat the Eagles in the NFC title game to get there.) Whisenhunt fired his defensive coordinator, Clancy Pendergrast, after that season and promoted Davis. Two years later, Davis became the scapegoat for a 5-11 season.
"We built a team that got them to the Super Bowl, which was neat," Davis said. "Then we took a hard dive. You kind of see how slippery the slope is in the profession of NFL coaching. Tomorrow is guaranteed to nobody. It can turn on you so quick."
And it can turn back just as quickly. After two years on Pat Shurmur's staff in Cleveland, Davis got fired again. This time, he got a chance to interview with Chip Kelly for a coordinator spot.
"You never really lose confidence in yourself," Davis said. "There's so many factors. You take any team, any offensive coordinator, defensive coordinator, special teams -- you can see where is their roster as far as how far along are they in a championship team. I think there's a lot of great coaches that are struggling right now."
He and Bowles are two coaches enjoying success at the moment after experiencing failure that wasn't entirely of their making.
"[Bowles] was put in a tough situation," Keim said in the radio interview. "He wasn't running his defense and didn't have time to install the defensive philosophy he had. But he's had some time here and feel we can continue to grow and get better on that side of the ball."
The two coaches will cross paths at Lincoln Financial Field Sunday. Bowles' top-ranked run defense will try to stop
LeSean McCoy
, the league's leading rusher. Davis' still evolving defense will have to find a way to cover
Larry Fitzgerald
and get pressure on veteran quarterback
Carson Palmer
.
It is a game with playoff implications for both teams. That wouldn't be the case if Davis and Bowles weren't both good NFL coaches.