Philadelphia Eagles:

LeGarrette Blount
February, 18, 2014
Feb 18
8:00
AM ET
PHILADELPHIA -- You learn a little bit about what coaches are thinking by listening to them speak. You learn a lot more by watching what they do when the pressure is on.
All season, Eagles coach Chip Kelly had positive things to say about
Bryce Brown
and
Chris Polk
, his backup running backs. They were coming along. They would get some carries as Kelly sought to lighten the load on
LeSean McCoy
.
[+] Enlarge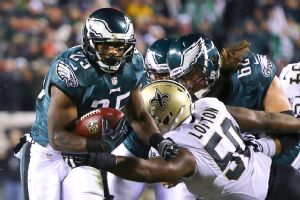 Al Bello/Getty ImagesLeSean McCoy rushed for 1,607 yards and had 539 yards receiving last season.
When the Eagles played Dallas in the final game of the season with the NFC East title on the line, Brown got exactly two carries when McCoy desperately needed a blow late in the game. Polk had zero carries and one catch.
The next week, in the Eagles' playoff loss to the
New Orleans Saints
, neither Brown nor Polk touched the ball. No carries, no catches, no nothing.
That tells you that the Eagles, the team with the NFL's leading rusher and No. 1 overall running game, need an upgrade at the running back position.
McCoy, who is still just 25, is and will be the man. Part of the reality here is that it is just plain tough to take him out of a game. He's that good. But his career is going to be longer if the Eagles can find a way to lessen his workload.
McCoy carried the ball 314 times in 2013 and caught 52 passes for a total of 366 touches. That's more touches than anyone in football (Chicago's
Matt Forte
was close with 363 -- 289 rushes and 74 receptions). When you add pass blocking, that's a lot of contact.
But sheer volume isn't the only factor. There were several games in which the run game just wasn't clicking. The offensive linemen talked about not being "on the same page" with McCoy at times. McCoy himself admitted to being too fine at times and not just hitting the holes that were there.
That might be an opportune time to get another back a series or two. See if things start working better. Once the run game gets into a groove, McCoy just might slide right into it and produce as he normally does.
The two most notable of those not-on-the-same-page games were the touchdown-less losses to the Giants and Cowboys in consecutive weeks. Brown got a total of five carries in those games. Polk was inactive for one and had zero touches in the other.
With
Matt Barkley
forced to play quarterback because of injuries to
Nick Foles
and
Michael Vick
, the run game was needed even more. It produced even less.
Polk had surgery on his shoulder after the season, so it's possible he was limited by that injury in the second half of the season. Brown and Polk both got in on the snowy rout of Detroit in December, but neither made much of a mark otherwise.
So yes, the Eagles have arguably the best running back and the most productive running game in the NFL. But they are still very likely to look to upgrade the running back position during this offseason.
There are a number of backs available in free agency, including Minnesota's
Toby Gerhart
-- a player Kelly went out of his way to praise and who played for new Eagles quarterbacks coach Bill Musgrave.
If Kelly is sentimental, he could look at New England's
LeGarrette Blount
, who played for Kelly at Oregon. If Kelly is feeling mischievous, he could bring in Denver's
Knowshon Moreno
, who was on the receiving end of some barbed comments from McCoy back in September.
More likely, the Eagles will keep an eye out for a back they like in the draft. Another Oregon product,
De'Anthony Thomas
, could be an interesting match. Thomas is just 5-9, 176 pounds, but has elite speed and could be the answer to the Eagles' need for a big-play return man as well.
August, 26, 2013
8/26/13
4:19
PM ET
PHILADELPHIA -- As far as Chip Kelly is concerned, nothing before Jan. 16 matters. That's the day he was hired as head coach of the Eagles.
That approach makes sense. Kelly has a big enough job preparing the team for the 2013 season. There isn't much he can do to fix 2012.
[+] Enlarge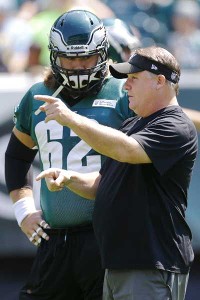 Matt Rourke/AP PhotoCoach Chip Kelly and the Eagles have one more game to work out any holes on both sides of the ball.
But there is a bit of a disconnect at times for fans who watched the last couple years of Andy Reid's tenure, as well as the media who covered it. Something about ignoring the mistakes of the past and being doomed to repeat it.
The disconnect "expresses itself," as Kelly likes to say, in three major areas. All were on display in the third preseason game in Jacksonville Saturday night. All had fans reliving lowlights from that 4-12 nightmare last year. All had Kelly focused on the moment at hand and trying to resolve problems.
The three areas:
"
Michael Vick's return from the stratosphere.
After winning the starting quarterback job with an unearthly 86.7 completion percentage through two games, Vick looked much more like the player we saw in 2011 and 2012.
That started with some breakdowns along the offensive line. Vick held the ball longer than he had in winning the job. He took two sacks and threw one terrible interception off his back foot.
But Kelly has said all along that he didn't put much stock in watching tape of Vick's previous performances. The coach was sanguine about Vick's play in Jacksonville.
"There was great coverage," Kelly said. "A couple of those were seven-man protections, so we didn't have everybody out. Three-man routes. Jacksonville wasn't blitzing, so there was great coverage. Part of being a great quarterback is making great decisions. If people are covered, I would rather our quarterback hold onto the ball than release the ball."
" Bryce Brown's fumble-itis.
The rookie back fumbled the ball four times in 115 carries last season. That was the cloud. The silver lining was the promise he showed as a combination speed and power runner.
So there was Brown busting a run outside and streaking toward the end zone. And there was Brown fumbling at the 1-yard line. The ball went through the end zone for a turnover.
"I know it's been an issue in the past," Kelly said. "On that particular play, their defensive back put their hat on the football. He did have the football tight against his body. It was swinging a little bit early in the run. We talk about ball security all the time, we do ball security drills."
"Props to him for making a great play," Brown said. "We spend a lot of time in traffic, keeping the ball when you're in traffic. Everybody says (turnovers) will kill you. This team has turned the ball over a lot in the past."
"
The defense has gotten gashed for long runs.
On the very first play from scrimmage in the preseason opener, New England's
Stevan Ridley
burst through a huge hole for a 62-yard run. Later,
LeGarrette Blount
picked his way through the defense for a 51-yard touchdown.
So a chill went up the spines of Eagles fans when Jacksonville's
Jordan Todman
ran 63 yards for a TD Saturday night.
"You look at the long run we had, we had two kids cut (blocked) and knocked down on the ground," Kelly said. "One of the guys missed his gap integrity. And we had two guys take very poor angles to the football. We really didn't get a hand on the guy. It's all part of it when you look at that specific play."
That's how Kelly and, to a large extent, his players have to look at it. It was a play to study and there were mistakes to correct. Period. There is nothing to be gained by dwelling on previous struggles. The Eagles are likely to have only four or five starters from last year's defense.
"It's preseason," said linebacker
DeMeco Ryans
, one of the returning starters. "Took some bad angles a couple plays. I feel like we're good in the run game. It's just a couple times we got cut or took a bad angle. It's not like guys were screwing up the play totally.
"It's easily fixable."
With no more preseason action for Ryans and the starters, it's going to have be fixed in practice.