Philadelphia Eagles:

London Fletcher
April, 3, 2014
Apr 3
12:01
PM ET
The NFL's fame and glory machine didn't spit out
DeSean Jackson
this time around. It just showed him the blueprint.
Jackson is too young and too good for his ugly release last week by the
Philadelphia Eagles
to end his career. Regardless of anything that came out publicly (or whatever the Eagles or other teams may know privately) about the off-field detriments that undermine Jackson's wondrous on-field benefits, someone was going to pick him up.
[+] Enlarge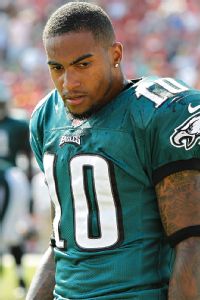 Kim Klement/USA TODAY SportsAt 27, DeSean Jackson must realize that his relatively young NFL career is at risk.
The
Washington Redskins
didn't waste time and they didn't scrimp.
But what Jackson got to see was the manner in which the machine will spit him out if he lets it. A team can cut you, it turns out, without explaining why, and can let everyone assume it's because of the way you act and the friends you hang out with away from the field. A team can do this and have the wide NFL world nod in agreement at phrases like "doesn't fit" and "what's best for the football team."
So while the week's debate has been about whether this turn of events is good/bad for the Eagles, good/bad for the Redskins, good/bad for the Jets or any other team that may have been involved or interested, why not take a moment to debate whether this is good for the player? Is getting cut by the Eagles and signed by the Redskins going to benefit DeSean Jackson? Or is the machine determined to spit him out long before his desire and skill level dictate that it must?
I've been talking to people about Jackson for three years now, and here are a few things I believe I know:
Jackson is not an evil person. The
Aaron Hernandez
comparisons you may have heard or read are shameful and irresponsible. One guy is in jail on first-degree murder charges. The guy we're talking about here appears to have some childhood friends with shady connections. That's a pretty wide gulf, and it deserves to be treated as such in our analysis. We could sit here and say that someone of Jackson's fame and wealth is risking a lot if he refuses to cut ties with people who have nothing to lose. And if he's allegedly flashing gang signs after touchdowns, on his Instagram page or in his videos, as the police officers in the NJ.com story that hit last week minutes before his release say he has, then he's doing himself a disservice.
Jackson is a 27-year-old who's been famous for almost half his life, but he knows the right thing to do with his platform. He goes into schools to speak actively against bullying, talking to bullies, victims, teachers ... anyone who can help with the problem. He doesn't just throw money at his causes; he works actively to help.
But he also conveys an untethered element. He was incredibly close with his father, who died quickly and cruelly from pancreatic cancer in 2009, and people who have spent time around Jackson will tell you the past five years have been rough. I once asked a player in the Eagles' locker room about Jackson and was told, "Not a bad guy, but sometimes you shake your head." I have heard stories about him pouting in the locker room. He himself admitted to dealing poorly with his last contract year; he let it affect him on the field, and he was suspended for missed meetings. Eagles personnel have for years expressed concern about the extent to which Jackson liked to focus on making rap music, sometimes to the detriment of his football business, in their opinion.
And the NJ.com story got into his off-field associations in pretty strong detail. While the national takeaway was the uber-simplistic bit about alleged gang ties, the reasonable takeaway is that Jackson doesn't always make the best-looking choices. What I know about gang culture couldn't fill a shot glass, but I don't think DeSean Jackson is in a street gang.
The problem Jackson has now is that, right or wrong, some people who've been following this story for the past week
do
think he's in a gang. So the next time the NFL's fame and glory machine finds him caught in the works and tries to spit him out, there's going to be a chorus that thinks it's the right thing to do.
I wonder if he's in the right environment to succeed. The Redskins have a new, inexperienced head coach in Jay Gruden. They have a 28-year-old first-time offensive coordinator in Sean McVay. They have an attention-magnet quarterback in
Robert Griffin III
who's coming off a year that handed him a slate of his own problems to work out. The Redskins have lost locker-room leadership in recent years, most significantly with the retirement of
London Fletcher
. One of the top leaders on their offense is wide receiver
Santana Moss
, whose roster spot one would think is in jeopardy as a result of the Jackson signing. If Jackson is looking for another tether now that the Eagles' tether has been severed, it may be tough for him to find it in Washington.
Which makes it even more important for Jackson to realize what's happened here and work to make sure he's prepared the next time it happens. It's important for a lesson to be learned. Jackson doesn't have to change who he is or what he does away from the field if he doesn't want to. But his is now an at-risk career at the age of 27, and he needs to understand that. The next time the machine tries to spit him out, it's going to have a lot more impetus than it did this time around. Jackson's mission going forward is to fight that off -- to realize he's under a new and frightening kind of scrutiny, and to work to make sure he doesn't give anyone a reason to think he's something he's not.
January, 16, 2014
Jan 16
10:00
AM ET
PHILADELPHIA -- Unlike the first two categories in our NFL Nation survey, the
Philadelphia Eagles
' results were markedly different from the national totals when it came to naming the most respected player in the NFL.
Nationally, Denver quarterback
Peyton Manning
was the runaway winner. Although he beat Philadelphia 52-20 early in the 2013 season, the 10 Eagles polled did not name Manning.
Indeed, they didn't show much of a consensus on anyone. Minnesota running back
Adrian Peterson
was the only player to get two votes from the Eagles. One player said he had the most respect for the guys who play special teams and run the scout team in practice.
Eagles quarterback
Michael Vick
got one vote. So did
London Fletcher
,
Calvin Johnson
,
Tamba Hali
,
Andre Johnson
,
Ed Reed
and
Earl Thomas
.
November, 19, 2013
11/19/13
8:00
AM ET
PHILADELPHIA -- Chip Kelly has had a few misadventures in his first circuit around the National Football League. But his play calling in the second half of Sunday's 24-16, white-knuckle victory over Washington does not qualify.
The first-year Eagles coach has been criticized locally for taking his foot off the gas while protecting (and almost failing to protect) a 24-0, fourth-quarter lead. But Kelly was only doing what he did in wins against Tampa Bay and Green Bay, and he was universally praised for fourth-quarter, clock-draining drives in those games.
Kelly
"When we have an opportunity to put people away," Kelly said, "we have to put them away, and we didn't do that."
Well, they did, but it took until
Robert Griffin
III threw a floater into the arms of Eagles cornerback
Brandon Boykin
with 24 seconds left. The issue is whether or not Kelly's play calling facilitated the Washington comeback, and the answer really comes down to two plays.
The first: On fourth-and-1 at the Washington 38,
Bryce Brown
was stuffed for no gain by linebacker
London Fletcher
. Kelly might have been wrong for not having
LeSean McCoy
, the NFL's leading rusher, carry the ball there. But a rushing game that averages 4.9 yards per carry should be able to pick up a yard with Brown toting the ball.
"No. 1," Kelly said, "we were on the 38-yard line, so we weren't going to kick a field goal in that situation. I felt at the time if we could get another first down there, that would have been huge for us. We had had a 13-play drive for a touchdown in the third quarter, so we had proven we could consistently move the football, and we were just half a yard short on the (third-down) pass play to LeSean. Thought we could go with it really quick and try to get one in there.
"I'll give them credit. Fletcher made a great play standing Bryce up in the hole and made the tackle and we didn't convert."
Kelly is forgiven for not anticipating that a defense pitching a shutout would allow a touchdown on the very next play. And it was a very strange play. Griffin bought some time with his legs and found fullback
Darrel Young
standing alone along the left sideline. If you're the Eagles, Young is probably the one guy you don't expect to beat you for a 62-yard touchdown.
"We've got to convert offensively," Kelly said, "but we also can't let them go one play and score a touchdown defensively. It's a combination of both."
The Eagles' next series was probably Kelly's least impressive, in terms of play calling. But that's better understood if you accept the fluky nature of Young's touchdown, and if you harken back to the 9-minute, 32-second drive in Green Bay.
The Eagles moved the ball from their own 20 to their 44, picking up two first downs on five runs and two passes. If Foles completed the third-down pass to
Riley Cooper
on third-and-12, maybe we're discussing another epic, game-clinching drive. But he didn't, and Washington scored another touchdown on their ensuing possession.
That brings us to the second pivotal play. On third-and-4 at the Eagles' 23, Foles was flushed from the pocket. He ran to his right, and Washington cornerback
Josh Wilson
caught him. Foles reached forward, and the on-field officials marked the ball at the 27 for a first down. Washington coach Mike Shanahan challenged the spot and it was moved back far enough to make it fourth-and-inches.
That was the margin between another long, clock-killing drive and giving Griffin the ball with a chance to tie.
"If we had gotten the first down, we may have put them away," Kelly said. "I know we're trying to do it, but we're not there yet."
They were there in Tampa and in Green Bay. They were very close Sunday. The play calling was the same in all three situations.