Philadelphia Eagles:

Louis Delmas
February, 17, 2014
2/17/14
2:30
PM ET
PHILADELPHIA -- Since Eagles general manager Howie Roseman said the team would like to address the safety position before the draft -- in other words, during free agency -- he couldn't be certain what the market would look like.
He still can't. But as other teams clear roster spots (and cap space) and with the window open for using franchise and transition tags now open, there is more clarity every day.
Two of the elite safeties due for free agency, Cleveland's
T.J. Ward
and Buffalo's
Jairus Byrd
, could be tagged. That would not only take them off the market, it would have a domino effect on the players who do hit free agency. A guy like Miami's
Chris Clemons
might command more money than he would if Ward and Byrd were in the market.
And then there's San Francisco's
Donte Whitner
. The 49ers want him back, but it might be tougher to negotiate a new deal without using a tag on him if he is by far the best safety available.
Judging by Roseman's comments, he isn't likely to get in a mad bidding war for the hot commodity. The Eagles' recent approach has been to look for value among players in the second tier, after the market settles a little bit.
In that sense, the picture has improved for the Eagles in recent days. New Orleans released
Roman Harper
and Detroit parted ways with
Louis Delmas
late last week. Whether they are good fits in Philadelphia or not, they add to the pool of available talent and create more options.
Delmas is an interesting possibility. He is only 27, same as Ward and Byrd. He is a relatively physical player who has had some knee trouble. That could actually help keep his asking price down, which might make him that much more appealing to the Eagles.
Delmas was taken one pick ahead of
Patrick Chung
in the 2009 draft. But then, the Eagles took
Nate Allen
one pick ahead of Ward in the 2010 draft.
Allen and Chung finished the season as the Eagles' starting safeties. Rookie
Earl Wolff
had taken Chung's starting job before injuring his knee in Green Bay in October.
Allen will be an unrestricted free agent, as will safeties/special-teamers
Kurt Coleman
and
Colt Anderson
. With the Eagles lukewarm on Chung, there could be as many as four roster spots open for safeties.
Roseman said recently that he doesn't want to go into the draft with a gaping hole on his roster. That, he said, leads to mistakes as teams reach for a position of need. So it is likely the Eagles will look to add safeties in free agency. The market is shaping up.
December, 9, 2013
12/09/13
4:30
PM ET
It took three quarters, but Philadelphia finally began going to its zone-read rushes in the fourth quarter on Sunday during the Eagles' 34-20 win against Detroit.
And it changed the game.
Perhaps no play shifted things more than
LeSean McCoy
's 57-yard run in the fourth quarter, a touchdown where Detroit's once-stout run defense fell completely apart, part of a fourth quarter when the Lions couldn't stop anything or any rusher the Eagles used.
[+] Enlarge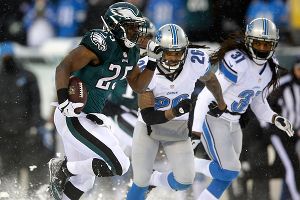 AP Photo/Michael PerezLeSean McCoy ran past Detroit's Louis Delmas, 26, on his way to a 57-yard TD in the fourth quarter.
It was the second big touchdown rush of the game for Philadelphia, and was the last time the Lions had the lead Sunday.
Everything Detroit tried to do on the play essentially failed.
The Eagles lined up in shotgun with 13:24 left in the fourth quarter and the Lions up, 20-14. They had McCoy to the right of quarterback
Nick Foles
and three receivers to the left side, the side McCoy would eventually try to run to.
Detroit had its nickel package on the field, including two defensive backs playing within two yards of the line of scrimmage. Foles snapped the ball and used a zone-read to eventually give the ball to McCoy moving forward behind the left side of his offensive line.
At the time the ball was snapped, the Eagles' offensive line also had a good jump on the Detroit defensive front.
Nick Fairley
was blocked wide to open the hole for McCoy, and he was also blocked into linebacker
DeAndre Levy
, essentially taking him out of the play as well.
This was only the start of Detroit's issues on the play.
"It was just a missed run fit, somebody was in the wrong gap and they split us," Levy said.
This opened up a hole for McCoy, who was already at the second level and almost the third level of the defense. This was what he did much more effectively in the fourth quarter -- he essentially made one cut and then accelerated forward.
Meanwhile, the Lions were struggling with assignments and tackles.
"They lost gap integrity a couple times," Philadelphia center
Jason Kelce
said. "That's when you saw Shady (McCoy) get those big runs."
Once McCoy got past the initial line,
Stephen Tulloch
was slow on his read of the run, taking him out of the play.
Ndamukong Suh
appeared to be held early on the play as well, but he likely wasn't going to be able to get there fast enough to make the play at the line.
What turned this particular run into a touchdown was receiver
Jason Avant
. The veteran was downfield and had Detroit nickel back
Bill Bentley
blocked well. What sealed the touchdown was the angle safety
Louis Delmas
took to the ball.
It appeared Delmas was heading the opposite direction of McCoy anyway, but then Avant blocked Bentley into Delmas, knocking him off track as well. Delmas then tried to catch McCoy, as did
Willie Young
from the back side of the run on the line, but neither could catch him.
"Missed tackles, missed tackles," Delmas said. "You've got to find a way to get the ball on the ground. You've got to grab cloth or pick up a snowball and hit him in the back of the head with it.
"But you've got to find a way and we didn't."
Young actually ended up being the closest player to McCoy when he reached the end zone. Delmas dove for him after the mistake and missed, and
Rashean Mathis
couldn't catch up with him, either.
It was just part of what Detroit coach Jim Schwartz said were 180 yards after missed tackles Sunday. And part of what was a record-setting day from McCoy.
"The guys up front gave me opportunities one-on-one by blowing those guys off the ball," McCoy said about his running game in general. "I think everybody was so intimidated and scared up front, but I thought the big guys on my team took the challenge and stepped up.
"The whole week they talked about just running the ball and giving me different matchups one-on-one. Not only myself, but with the backs that we have, I think in one-on-one opportunities, we're going to win. (Sunday), that's what happened."
December, 9, 2013
12/09/13
3:00
PM ET
PHILADELPHIA -- Sports science, blocking schemes, dome teams, Winston Churchill -- you just don't know what you're going to get when you go to a Chip Kelly news conference.
The
Philadelphia Eagles
coach addressed a few issues and made a few observations a day after his team's snowy
34-20 victory
over Detroit.
Fight them on the beaches.
"The problems of victory are more agreeable than the problems of defeat, but no less difficult." Kelly (fairly accurately) quoted Churchill in explaining how he approaches game tape after a win.
McCoy
"There's always lessons you can learn," Kelly said. "Shame on you if you don't look back and analyze what happened and what were the positives and what can you take from it. But I also think you have to take what did we do wrong and how can we continue to execute? When you have a big win, sometimes it's well, we made a couple mistakes but don't worry about it. We've never been that way."
As an example, Kelly cited a
LeSean McCoy
run. McCoy broke the franchise record with 217 rushing yards in the game, but the tape showed room for improvement.
"LeSean could have had a 70-yard run," Kelly said. "He cut back and got tackled by (Ndamukong) Suh and a defensive lineman. If he had broken to his left, he could have had another (touchdown). Those are things we'll continue to work on."
Taking advice.
While it's not unusual for a player to make a suggestion on the sideline, it's unusual for Kelly to take the suggestion as seriously as he took cornerback
Cary Williams
' advice to throw deep Sunday.
Williams
"I've had a lot of players come up and suggest a lot of things," Kelly said. "You just have to be smart enough to know which ones to listen to. Trust me, I don't think I've ever had a receiver that's ever been covered.
"It's an amazing phenomenon: 'I'm wide open!' 'I know you're wide open because the ball went over there and the entire defense went over there. That's why you're standing by yourself. Now if you were blocking like you were supposed to be, you wouldn't be open, because it was a run play.'"
Williams suggested taking some deep shots in the passing game. If he was having trouble recovering from moves made by
Calvin Johnson
, Williams reasoned, the Lions' secondary would be similarly vulnerable. Kelly responded by calling for that 44-yard pass from
Nick Foles
to
Riley Cooper
, which kickstarted the Eagles' comeback.
"Cary's one of the guys on this team, he's all football," Kelly said. "He's a student of the game. He's got a great football mind. He made a really valid point. You can run by these guys because they can't transition, because he can't transition. I've had a lot of guys make suggestions. I'll listen to Cary because Cary really understands the game."
Avant
Avant guard.
Wide receiver
Jason Avant
also understands the game. Kelly listened to him, too.
"One of the unsung heroes yesterday -- I don't even think he had a pass thrown to him -- was Jason Avant," Kelly said. "You watch the block he threw on LeSean's (57-yard touchdown) where he took the safety back into the free safety. That's the type of team we have. Jason's on the sideline asking me, 'Can we run the ball my way?' I don't know how many wide receivers in this league are asking to have the ball run their way."
Watching the play on tape, Avant's block was the one that turned a 20-yard run into a touchdown. As McCoy bursts through the middle of the Eagles' line, Avant drove
Bill Bentley
back into
Louis Delmas
. Bentley went down in a cloud of snow. Delmas was knocked off balance. By the time he turned and got his footing, McCoy was beyond him. Delmas dove helplessly at McCoy's feet.
Already iced.
The Eagles had zero injuries reported after the game. Whether that was luck, the players getting ice treatment every time they hit the ground or the lack of traction keeping joints from twisting, it's impossible to say.
Kelly said rookie safety
Earl Wolff
(knee) is expected to try to practice this week. Wolff has been inactive since getting hurt in the Green Bay game. Linebacker
Najee Goode
(hamstring) is the only other Eagle expected on the injury report.